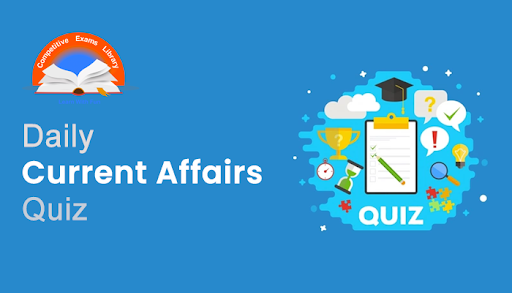 Dear Readers, Daily Current Affairs Questions Quiz for SBI, IBPS, RBI, RRB, SSC Exam 2021 of 14th May 2021. Daily GK quiz online for bank & competitive exam. Here we have given the Daily Current Affairs Quiz based on the previous days Daily Current Affairs updates. Candidates preparing for IBPS, SBI, RBI, RRB, SSC Exam 2021 & other competitive exams can make use of these Current Affairs Quiz.
1) CJI has launched an official mobile App for Journalists. Who is the current CJI?
A) Sunil Singh
B) Anand Raj
C) NV Ramana
D) Sudip Sharma
E) Navneet Tyagi
2) Elisabetta Belloni has become the ____ woman to head Italy secret service.
A) 5th
B) 4th
C) 3rd
D) 1st
E) 2nd
3) Which state government has launched 'My Village – Corona Free Village' campaign ?
A) Jharkhand
B) Bihar
C) Haryana
D) Madhya Pradesh
E) Gujarat
4) SWAMIH has recently completed its ____ residential project.
A) 5th
B) 4th
C) 3rd
D) 1st
E) 2nd
5) GoAir has been rebranded as Go First after ____ years of flying.
A) 21
B) 15
C) 12
D) 10
E) 8
6) Unmanned Aircraft System for delivery of vaccines and medicines being Operated by which company?
A) Buzzbees
B) Delivery
C) Blue Dart
D) DTDC
E) DHL
7) Which Payments Bank has introduced Digigold?
A) PayTm
B) Capital Local
C) Nevuoo
D) Equitas
E) Airtel
8) Which company has appointed a new leadership team for Norton?
A) Suzuki
B) Mahindra
C) Bajaj
D) TVS Motor
E) Honda
9) Suzuki Motorcycle India has appointed who among the following as new Head?
A) Robert Njorge
B) Sumesh Sabharwal
C) Arnie Bernaudt
D) Nakao Toma
E) Satoshi Uchida
10) Who among the following has been re-appointed as London's Deputy Mayor for Business?
A) Mahesh Tyagi
B) Rajesh Agrawal
C) Anand Singh
D) Sudip Sharma
E) Anil Raj
11) DCGI grants life saving drug ____ for covid patients developed by Indian Scientists.
A) 5DG
B) 4DG
C) 3DG
D) 1DG
E) 2DG
12) BCCI has appointed _____ as head coach of Indian women's cricket team.
A) Mukesh Varma
B) Manish Tyagi
C) Sudhir Sharma
D) Ramesh Powar
E) Anand Raj
13) OneWeb announced an agreement with which bank to roll out satellite communication services?
A) Afdb
B) ADB
C) Softbank
D) World Bank
E) IMF
14) In southern Arabian Sea Indian and which country's navy has carried out military drill?
A) Laos
B) Vietnam
C) Myanmar
D) Thailand
E) Indonesia
15) Who has been named captain of the Sri Lanka's ODI team?
A) Dimuth Karunaratne
B) Isuru Udana
C) Kusal Mendis
D) Kusal Perera
E) Upal Thiranga
16) Rahothaman who passed away was former director of ____.
A) HDFC
B) CBI
C) RBI
D) ICICI
E) SBI
17) Smarajit Jana who passed away recently was an ____.
A) Singer
B) Director
C) Writer
D) Physician
E) Epidemiologist
18) Who among the following is set to be reappointed as Nepal PM?
A) Sudip Singh
B) Nitya Swami
C) Bidya Bhandari
D) KP Sharma Oli
E) Anil Sharma
Answers :
1) Answer: C
Chief Justice of India N.V. Ramana launched an official mobile application for Journalists to cover proceedings of the apex court.
The New feature, called 'Indicative Notes' is aimed at providing concise summaries of landmark judgments in an easy-to-understand format.
Chief Justice Ramana asserted that transparency is a time-honoured principle when it comes to the judicial process in our country.
The mobile application will help journalists to cover the Supreme Court proceedings in a responsible and fair way from the comfort and safety of their homes, in view of the growing concerns of the COVID pandemic.
The Chief Justice also informed that the Supreme Court is also contemplating to telecast live proceedings of the court cases in the apex court, for which the process of further considerations and consensus is already underway.
2) Answer: D
Prime Minister Mario Draghi has appointed diplomat Elisabetta Belloni as the head of Italy's spy agency, the first woman to lead the Department of Information Security (DIS).
Belloni, 62, has since 2016 been secretary general of the foreign ministry – the top job in the diplomatic service.
3) Answer: E
In Gujarat, 'Maru Gam – Corona Mukt Gam' or My Village – Corona Free Village – campaign launched by the state government has helped in checking the spread of Covid-19 in rural areas.
Gujarat Chief Minister Vijay Rupani had launched this 15-day campaign on the 1st of May on the occasion of the state's foundation day.
The campaign was launched to check the spread of infection due to coronavirus at village level to ensure the villagers remain free from the pandemic.
4) Answer: D
According to a statement released by the Ministry of Finance, the residential project – 'Rivali Park', situated in suburban Mumbai, was the first housing project in the country to have received funding under the government's SWAMIH Fund, managed by the SBICap ventures.
Finance Minister Nirmala Sitharaman handed over possession to home buyers virtually as the Centre's Special Window for Affordable and Mid-Income Housing (SWAMIH) completed its first residential project.
5) Answer: B
Low-cost carrier GoAir has rebranded itself as Go First after 15 years, the company announced.
The purpose of the revamp is to fully embrace the ultra-low-cost airline model to gain an advantage over its peers.
The carrier is aiming at young travellers with the rebrand.
The airline was preparing for an initial share sale to raise funds for its ambitious expansion plans.
The Go First as ULCC (ultra-low-cost carrier) would operate single aircraft type across its fleet, which currently has both Airbus A320 and A320Neos (new engine option) planes in operation
6) Answer: C
Blue Dart, a leading express logistics service provider, said it formed Blue Dart Med-Express Consortium with a mission of revolutionizing the delivery of vaccines and emergency medical supplies to the remotest parts of India using drones.
According to a press release from the logistics major, Blue Dart Med-Express Consortium is part of the 'Medicine from the Sky' project in collaboration with the Telangana government, World Economic Forum, Niti Aayog and Healthnet Global.
The Ministry of Civil Aviation (MoCA) has granted the project with necessary exemptions and rights to fly drone flights on an experimental basis in Telangana.
7) Answer: E
Airtel Payments Bank launched DigiGold, a digital platform for its customers to make investments in gold.
DigiGold has been launched in partnership with SafeGold, a provider of digital gold.
With DigiGold, Airtel Payments Bank's savings account customers can invest in 24K gold using the Airtel Thanks app.
Customers can also gift DigiGold to their family and friends, who have a savings account with Airtel Payments Bank
8) Answer: D
TVS Motor Company has announced the appointment of Dr. Robert Hentschel as Chief Executive Officer (CEO) and Vittorio Urciuoli as Chief Technical Officer (CTO) of The Norton Motorcycle Co. Ltd.
The appointment of the new leadership team of Norton Motorcycles forms the next key phase of the historic motorcycle brand's transformation, 'as it builds on its newly re-established foundations and prepares for the revitalisation of the brand for the future,' a press statement from TVS Motor Company said.
Hentschel and Urciuoli will take up their new positions as John Russell steps down from his role as Interim CEO.
9) Answer: E
Suzuki Motorcycle India Pvt Ltd (SMIPL) announced that appointment of Satoshi Uchida as its new Company Head as part of a global revamp by parent Suzuki Motor Corporation (SMC).
Uchida has succeeded Koichiro Hirao with effect from May 1, 2021.
In his last role, he was assigned to the US.
10) Answer: B
India-born entrepreneur Rajesh Agrawal has been re-appointed as London's Deputy Mayor for Business by Mayor Sadiq Khan after he won a second term in local elections.
Agrawal also committed himself to the agenda and made a pledge to focus on a "fairer and greener recovery" for the UK capital from the coronavirus pandemic.
11) Answer: E
The Drugs Controller General of India (DCGI) has granted permission for emergency use of anti-COVID-19 therapeutic application of the drug 2-deoxy-D-glucose (2-DG) developed by Institute of Nuclear Medicine and Allied Sciences (INMAS), a lab of Defence Research and Development Organisation (DRDO), in collaboration with Dr. Reddy's Laboratories (DRL),Hyderabad.
The Ministry of Defence said that as per the order, emergency use of this drug as adjunct therapy in moderate to severe COVID-19 patients is permitted.
It added that being a generic molecule and analogue of glucose, it can be easily produced and made available in plenty in the country.
12) Answer: D
The appointment of former India spinner Ramesh Powar as India women's cricket team head coach came as a surprise after the Cricket Advisory Committee (CAC) chose him for the post, replacing WV Raman.
The three-member Cricket Advisory Committee comprising Ms Sulakshana Naik, Mr Madan Lal and Mr Rudra Pratap Singh interviewed the applicants and unanimously agreed on Mr Powar's candidature.
13) Answer: C
SoftBank and OneWeb will jointly engage in technical and product development for Japan and global markets.
SoftBank Corp and Sunil Mittal-backed OneWeb, announced an agreement for mutual cooperation to promote OneWeb's satellite communication services in the global and Japan markets.
14) Answer: E
On May 08, 2021, The navies of India and Indonesia carried out a military drill in the Southern Arabian Sea.
It is focused on further improving their interoperability.
The Indian Navy was represented at the 'Passage' exercise by INS Sharda, an offshore patrol vessel (OPV), and the Indonesian Navy was represented by KRI Sultan Hasanudin, a corvette.
Aim :
The exercise was aimed at improving interoperability and understanding between both the friendly navies.
The 'Passage' exercises are regularly conducted by the Indian Navy with friendly foreign navies.
15) Answer: D
Kusal Perera was named Sri Lanka's ODI captain ahead of their three-match series against Bangladesh.
It is Starting From May 23, 2021.
Meanwhile, Kusal Mendis has been named as the 18-man squad's vice-captain.
Sri Lanka have named a young squad for the series with Only three players in the team are aged more than 30 while 33-year-old Isuru Udana.
In naming a young squad, Sri Lanka's new selection committee – headed by Pramodya Wickramasinghe – and coach Mickey Arthur have signalled .
16) Answer: B
On May 12, 2021, Former Director of Central Bureau of Investigation Rahothaman passed away.
He was 76.
He was the chief investigation officer of the Special Investigation Team (SIT).
He played an important role on the Rajiv Gandhi assassination case.
Ragothaman joined the CBI as a Sub-Inspector in 1968.
He wrote a Books Titled Rajiv Gandhi murder, Assassination of Mahatma- Indira- Rajiv Gandhi and Third Degree Crime Investigation Management.
His latest book titled 'Rarest of rare case – Murder of an advocate' was published recently.
17) Answer: E
On May 08, 2021, Epidemiologist Smarajit Jana passed away.
He was 68.
About Smarajit Jana :He is a leader of the rights movement for sex workers in India and a public health expert known for his contribution to the prevention of HIV in the country.
He was also a member of the National Task Force on COVID-19.
Dr. Jana founded and spearheaded the first rights-based HIV intervention programmes in India by collectivising the sex workers of Sonagachi.
He was also a member of the National AIDS Control Organisation's (NACO) steering committee.
18) Answer: D
K P Sharma Oli was set to be reappointed as Nepal Prime Minister as the Opposition alliance of Nepali Congress and the Communist Party of Nepal (Maoist Centre) failed to muster majority support to form the next government.
President Bidya Devi Bhandari had asked the Opposition parties to come up with the support of majority lawmakers to form a new government after Oli lost a crucial trust vote in the House of Representatives.