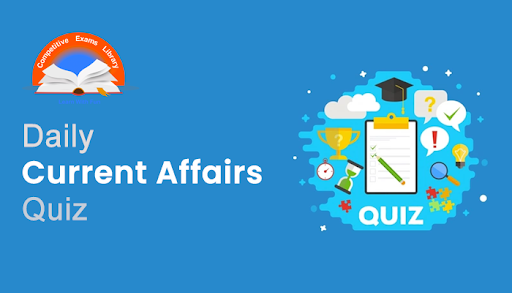 Dear Readers, Daily Current Affairs Questions Quiz for SBI, IBPS, RBI, RRB, SSC Exam 2021 of 14th to 16th January 2021. Daily GK quiz online for bank & competitive exam. Here we have given the Daily Current Affairs Quiz based on the previous days Daily Current Affairs updates. Candidates preparing for IBPS, SBI, RBI, RRB, SSC Exam 2021 & other competitive exams can make use of these Current Affairs Quiz.
1) Indian Armed Forces Veterans Day is being observed On which date?
A) January 11
B) January 12
C) January 14
D) January 13
E) January 15
2) Tesla will set up India's subsidiary in which city?
A) Raipur
B) Chandigarh
C) Puducherry
D) Bengaluru
E) Chennai
3) Aviation services have recently been launched between Chandigarh and which city?
A) Dehradun
B) Hyderabad
C) Chennai
D) Delhi
E) Hisar
4) Who among the following has unveiled India's first indigenously developed driverless metro car?
A) Prahlad Patel
B) Venkiah Naidu
C) Harsh Vardhan
D) Rajnath Singh
E) Narendra Modi
5) Indian Army Day is being Observed On which date?
A) January 11
B) January 15
C) January 13
D) January 16
E) January 17
6) Which edition of the Dhaka International Film Festival will pay tribute to Satyajit Ray?
A) 15th
B) 16th
C) 19th
D) 18th
E) 17th
7) India's first Fire Park will come up in which state?
A) Punjab
B) Karnataka
C) Maharashtra
D) Kerala
E) Odisha
8) Dr Harsh Vardhan inaugurates the new entity CSIR-NIScPR in which city?
A) Chennai
B) Hyderabad
C) New Delhi
D) Chandigarh
E) Pune
9) ICT Grand Challenge for development of 'smart water supply measurement and monitoring system' is being held by which ministry?
A) Ministry of Earth Sciences
B) Ministry of Education
C) Ministry of Human Resource Development
D) Ministry of Electronics and Information Technology
E) Ministry of
10) RBI forms 6 Member working group to study digital lending activities of the regulated and unregulated players, the panel headed by?
A) Ajay Kumar Choudhary
B) Jayant Kumar Dash
C) Vikram Mehta
D) P Vasudevan
E) Manoranjan Mishra
11) Cabinet has cleared the purchase of _____ Tejas fighter jets for Indian Air Force.
A) 79
B) 75
C) 85
D) 90
E) 83
12) Which Ministry has launched NCAVES India Forum 2021?
A) Ministry of Education
B) Ministry of Science & Technology
C) Ministry of Statistics and Programme Implementation
D) Ministry of Earth Sciences
E) Ministry of Biotechnology
13) Who among the following has won the presidency of Kyrgyzstan?
A) Almazbek Atambayev
B) Sadyr Japarov
C) Rustam Japarov
D) Dastan Japarov
E) Aigul Japarova
14) Fitch Ratings Projects GDP of India at -9.4% in FY21 & _______ percent in FY22.
A) 11.5
B) 9.5
C) 8.5
D) 10.5
E) 11
15) D PrakashRao who passed Away at 63 was a ______.
A) Producer
B) Actor
C) Social Activist
D) Dancer
E) Writer
16) India has inked a MoU with which country to Enhance Cooperation in the Field of ICT?
A) Netherlands
B) France
C) Germany
D) Japan
E) Sweden
17) Indian Army has signed a $______ million contract with ideaForge to buy SWITCH drones.
A) 30
B) 26
C) 24
D) 22
E) 20
18) PM Modi has launched the ______ Phase of PM KaushalVikasYojana.
A) 6th
B) 3rd
C) 2nd
D) 4th
E) 5th
19) The Governor of which state has released a book titled Making of a General A Himalayan Echo?
A) Tripura
B) Karnataka
C) Assam
D) Manipur
E) Kerala
20) First ever Ice climbing festival is being celebrated in which valley?
A) Chenab
B) Lidder
C) Kashmir
D) Parvati
E) Nubra
Answers :
1) Answer: C
Indian Armed Forces Veterans Day is observed each year on 14 January since 2017.
This day is celebrated on 14th of January every year to honour services rendered by veterans of the Army.
This year is being celebrated as Swarnim Vijay Varsh.
It marks the 50th Anniversary of 1971 Indo-Pak War.
Significance : This day is celebrated mainly for a recognition of the services rendered by the first Commander-in-Chief of Indian Armed Forces, Field Marshal KM Cariappa, OBE who retired on 14 Jan 1953.
2) Answer: D
Elon Musk-owned electric vehicle (EV) company Tesla has registered a fully-owned subsidiary in Bengaluru, Karnataka.
The firm is looking at setting up an R&D facility and eventually an assembly plant.
Tesla's global senior director David Jon Feinstein, chief accounting officer VaibhavTaneja and Bengaluru-based entrepreneur VenkatrangamSreeram are on the board of the India unit, Tesla India Motors and Energy Pvt Ltd.
The total paid up capital of the company is Rs 1,00,000 and authorised share capital is Rs 15 lakhs.
3) Answer: E
Haryana Chief Minister ManoharLalKhattar launched an air taxi service between Chandigarh and Hisar from the Chandigarh International Airport under the UDAN scheme of the central government.
The airline Aviation Connectivity & Infrastructure Developers Pvt. Ltd (Air Taxi) was awarded the Hisar – Chandigarh – Hisar route under the UDAN 4 bidding process.
The airline has become the first startup airline of the country to assist the nation with Air Taxi services.
These UDAN flights will reduce the journey time between Hisar to Chandigarh from 4.50 hours to a comfortable 45 minutes journey that too at an affordable fare since financial incentives in the form of Viability Gap Funding (VGF) is being provided from the Centre, State governments & airport operators to selected airlines to encourage operations from unserved and underserved airports under the scheme.
4) Answer: D
Defence Minister Rajnath Singh unveiled the country's first indigenously designed and developed Driverless Metro Car at the BEML manufacturing facility in Bengaluru.
The indigenously designed & developed state-of-the-art Driverless Metro trains are being manufactured at BEML Bangalore manufacturing facility, for Mumbai Metropolitan Region Development Authority (MMRDA).
BEML bagged a total order of 576 cars for Mumbai Metropolitan Region Development Authority (MMRDA)'s MRS1 project and the supply is scheduled progressively up to January 2024.
BEML recently opened its Depot office at Charkop Metro Depot, MMRDA, Mumbai for commissioning, testing and round-the-clock services for Driverless Metro cars.
5) Answer: B
Army Day is celebrated on January 15 every year to honor the soldiers of the country, who have set the greatest example of selfless service and brotherhood and more than anything the love for the country.
In 2021 Marks India's 73rd Army Day.
Army Day is celebrated every year at all Army Command headquarters.
On the occasion of the 73rd Indian Army Day, the Indian Army will organise a marathon 'Vijay Run' to commemorate Swarnim Vijay Varsh celebrations of India's resounding victory over Pakistan in 1971.
6) Answer: C
The 19th Dhaka International Film Festival (DIFF) will be inaugurated on 16th January. The film festival this year is dedicated to the birth centenary of Bangabandhu Sheikh MujiburRahman.
The Festival that will Screen 225 films from 73 countries will be screened during the 9 day long festival between 16-24 January.
The festival will have 10 categories including Cinema of the world, Children's Film, Women Film Maker's section, Spiritual Films, Bangladesh Panorama, Tribute and Retrospective among others.
Spring Blossom, a film from France, directed by Suzanne Lindon will be the opening film of the festival.
The tribute section of the festival will be dedicated to the legendary filmmaker Satyajit Ray to commemorate his birth centenary.
The festival will also hold seminars and discussions around the work and life of Satyajit Ray.
The section will showcase PatherPanchali, Aparajito, Jalsaghar, Sonar Kella and HirokRajarDeshe directed by Satyajit Ray.
7) Answer: E
OdishaChief Minister Naveen Patnaik inaugurated the 'Fire Park', a first of its kind initiative in the country, to bring awareness on fire safety measures.
This Will Facilitate Demonstrations on use of first aid fire-fighting equipment, rescue and disaster operations, visit to exhibition hall, screening of films and distribution of leaflets on fire safety will be part of the activities. Students from schools and colleges will be the focus group.
He also launched a dynamic online portal, 'AgnishamaSeva' of Odisha Fire Service on virtual platform.
8) Answer: C
The Union Minister of Science &Technology, Earth Sciences and Health & Family Welfare Dr. Harsh Vardhan inaugurated a new institute of Council of Scientific and Industrial Research (CSIR) and National Institute of Science Communication and Policy Research (CSIR-NIScPR), in New Delhi.
The new institute has been established consequent to the merger of two prestigious institutes of CSIR namely, CSIR-National Institute of Science Communication and Information Resources (CSIR-NISCAIR)and CSIR-National Institute of Science, Technology and Development Studies (CSIR-NISTADS) which work at the interface of S&T and Society; and Science Communication and Policy Research.
The purpose of this merger is to combine the strength of the two institutes in a synergistic way with a VISION to become a globally respected Think Tank and Resource Centre for understanding Science, Technology & Innovation (STI) Policy Research and Communication.
9) Answer: D
An ICT Grand Challenge for development of a 'smart water supply measurement and monitoring system' is underway.
It was launched on the 15th of September, 2020 by National JalJeevan Mission in partnership with the Ministry of Electronics and Information Technology.
JalJeevan Mission would be the user agent of the Grand Challenge and C-DAC, Bangalore is the implementing agency, providing technical support for the challenge.
Currently, 10 applicants which were selected are developing prototypes.
They will be evaluated in the last week of January wherein best four techno-economically viable prototypes will be selected for product development.
JalJeevan Mission is a flagship programme of the Union Government which aims to provide tap water connection to every rural household by 2024. Announced by the Prime Minister on 15th August 2019, the Mission so far has provided 3.13 crore household tap connections in rural areas.
10) Answer: B
The Reserve Bank of India has set up a working group to study digital lending activities of the regulated and unregulated players.
The group will suggest steps to regulate digital lending including online lending platform and mobile lending.
The six-member panel comprised of four RBI internal and two external members
Chairman :Jayant Kumar Dash, Executive Director,
Ajay Kumar Choudhary, Chief General Manager-in-Charge, Department of Supervision,
P Vasudevan, Chief General Manager, Department of Payment and Settlement Systems, RBI
Manoranjan Mishra, Chief General Manager, Department of Regulation.
The two external members are
Vikram Mehta, Co-founder, MonexoFintech and Rahul Sasi,
Cyber Security Expert & Founder of CloudSEK.
This Group will submit its report within 3 months.
The group will evaluate digital lending activities and assess the penetration and standards of outsourced digital lending activities in RBI regulated entities.
11) Answer: E
Government has approved procurement of 83 Light Combat Aircraft, LCA, Tejas worth about 48 thousand crore rupees from Hindustan Aeronautics Limited for Indian Air Force.
The Cabinet Committee on Security, CCS chaired by Prime Minister NarendraModi in New Delhi.
The procurement of 73 LCA Tejas Mk-1A fighter aircrafts and 10 LCA Tejas Mk-1 Trainer aircrafts at the cost of Rs. 45,696 crore along with Design and Development of Infrastructure sanctions worth Rs.1,202 crore has been approved by the Cabinet under the PM Modi.
Light Combat Aircraft Mk-1A variant is an indigenously designed, developed and manufactured state-of-the-art modern 4+ generation fighter aircraft.
This aircraft is equipped with critical operational capabilities of Active Electronically Scanned Array (AESA) Radar, Beyond Visual Range (BVR) Missile, Electronic Warfare (EW) Suite and Air to Air Refuelling (AAR).
12) Answer: C
Natural Capital Accounting and Valuation of the Ecosystem Services (NCAVES) India Forum 2021 is being organised by the Ministry of Statistics and Programme Implementation (MoSPI) virtually over three separate days, on 14, 21, and 28 January 2021.
In India, the NCAVES project is being implemented by the MoSPI in close collaboration with the Ministry of Environment, Forest and Climate Change (MoEF&CC) and the National Remote Sensing Centre (NRSC).
India is one of the five countries taking part in this project – the other countries being Brazil, China, South Africa and Mexico.
The NCAVES India Forum will be organized in collaboration with the United Nations Statistics Division (UNSD), European Union and UN Environment.
13) Answer: B
Nationalist politician SadyrJaparov won a landslide victory in Kyrgyzstan's snap presidential election, which was triggered by the collapse of the previous government.
Japarov has won almost 80% of the vote in the Central Asian nation which is closely allied with Russia, preliminary results cited by Kyrgyzstan's Central Election Commission.
Kyrgyzstan has been in crisis since parliamentary elections last October.
The results of those elections were disputed, leading to protests and the resignation of then-President SooronbayJeenbekov.
14) Answer: E
The Fitch Ratings expect gross domestic product (GDP) of India to contract by 9.4 percent in FY21 (April 2020 to March 2021).
Fitch further projects the GDP to expand by 11 percent in FY22 (April 2021 to March 2022).
15) Answer: C
Social activist Padma Shri D PrakashRao passed away while undergoing treatment at the SCB Medical College and Hospital in Cuttack.He was 63.
Rao started the school 'Asha O Ashwasana' in Buxi Bazar area in 2000 to provide free education to slum kids when he saw kids in his neighbourhood talking about petty crimes.
He was conferred with the prestigious Padma Shri award in 2019 for his contribution towards boosting the value of education among slum kids in Cuttack.
Apart from this, he was also a well-known blood donor and tea seller.
16) Answer: D
India and Japan signed a memorandum of understanding (MoU) to enhance cooperation in the field of Information and Communications Technology (ICT), including 5G standardisation.
The MoU was signed between Ravi Shankar Prasad, Minister for Communications, Electronics and IT and the Japanese Minister for Internal Affairs and Communications Takeda Ryota, through a video conference.
As per the agreement, both the countries will enhance mutual cooperation in the field of 5G technologies, telecom security, submarine optical fibre cable system to islands of India, spectrum management, smart cities, high-altitude platform for broadband in unconnected areas, disaster management and public safety.
The new agreement will bring the cooperation between Japan and India in the field of ICT to another level, which has already been close under the Japan-India ICT Comprehensive Cooperation Framework of 2014
17) Answer: E
The Indian Army has signed an approximately $20 million contract for undisclosed quantities of a high-altitude variant of ideaForge's SWITCH UAV which will be delivered over a period of 1 year.
IdeaForge has been awarded this contract after it emerged as the only vendor that qualified the operational requirements in an evaluation done in real-world conditions, for a fast-track procurement.
The contract marks a strategic shift in the Indian defence procurement process as the Indian Army goes on an aggressive modernization drive. It has also cemented ideaForge's position as India's largest manufacturer of drones for defence, homeland security and industrial applications.
18) Answer: B
The Third Phase of PradhanMantriKaushalVikasYojana was launched in 600 districts across the country.
This phase will focus on new-age and COVID-related skills.
Skill India Mission-PMKVY 3.0 envisages training of eight lakh candidates over a scheme period of 2020-2021 with an outlay of Rs 949 crore.
Prime Minister NarendraModi launched the Skill India Programme in 2015 and it has gained tremendous momentum through the launch of its flagship scheme PMKVY to unlock the vision of making India the Skill Capital of the world.
19) Answer: D
Manipur Governor NajmaHeptulla virtually released Lt Gen Singh's  book Making of a General-A Himalayan Echo (Konark Publishers) at Durbar Hall, Raj Bhavan, Imphal
The book elegantly summons the essence and imperatives of superior command of one of the most formidable forces in the world.
20) Answer: E
In Leh, the primary ever Ice climbing festival was celebrated in Nubra valley.
The Seven Day occasion was organized by Nubra Adventure Club.
Ice Climbing is a Popular Winter sport abroad and that will attract adventure tourists.
The motive to conduct the Ice festival is to promote tourism in the region.
18 participants across Nubra valley including 4 women, have taken part in Ice climbing.
Three trainers Rigzintsewang, TsewangNamgyal and KranKowshik imparted ice climbing skills.