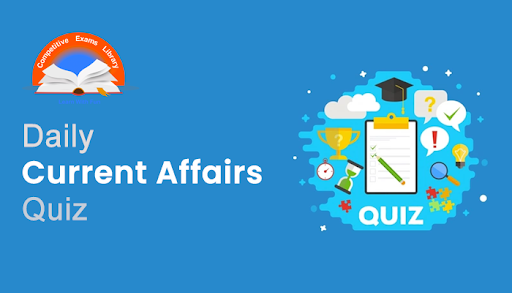 Dear Readers, Daily Current Affairs Questions Quiz for SBI, IBPS, RBI, RRB, SSC Exam 2021 of 15th April 2021. Daily GK quiz online for bank & competitive exam. Here we have given the Daily Current Affairs Quiz based on the previous days Daily Current Affairs updates. Candidates preparing for IBPS, SBI, RBI, RRB, SSC Exam 2021 & other competitive exams can make use of these Current Affairs Quiz.
1) World Art Day is Observed on which of the following date?
A) April 11
B) April 3
C) April 15
D) April 4
E) April 7
2) Who among the following has launched the Aahaar Kranti mission?
A) Prahlad Patel
B) Narendra Modi
C) NS Tomar
D) Harsh Vardhan
E) Amit Shah
3) The Governor of which state has conducted sensitization-cum-consultation meeting with all tribal hoho leaders of State?
A) Assam
B) Manipur
C) Tripura
D) Mizoram
E) Nagaland
4) The ____ Anniversary of Flag Hoisting Day is being observed at Manipur.
A) 71st
B) 77th
C) 75th
D) 73rd
E) 72nd
5) Which bank has decided to raise Rs 50,000 crore through bonds within 12 months?
A) Bandhan
B) Axis
C) ICICI
D) HDFC
E) SBI
6) Which Municipal Corporation has provided India's First Green Bonds?
A) Surat
B) Chennai
C) Meerut
D) Delhi
E) Ghaziabad
7) NCAER has appointed who among the following as its new Director General?
A) Anand Ramesh
B) Rajkumar Sharma
C) Poonam Gupta
D) Ashish Singh
E) Neeraj Negi
8) National Titanic Remembrance Day is Observed on which date?
A) April 3
B) April 15
C) April 5
D) April 7
E) April 9
9) Who among the following has appointed as Pega India Head of People Organization?
A) Vimal Gupta
B) Radhey Shyam
C) Sunil Sharma
D) Smriti Mathur
E) Anuj Kapoor
10) Who among the following has won the Mana Telugu Tejam Award?
A) Dr Raman
B) Dr Shashi
C) Dr Vimal
D) Dr Sujata
E) Dr Vajrala
11) Who among the following has introduced an Online Grievance Management Portal of National Commission for Scheduled Castes?
A) Amit Shah
B) Narendra Modi
C) Ravi Shankar Prasad
D) Prahlad Patel
E) NS Tomar
12) Atal Innovation Mission and which institution have jointly signed an agreement with Dassault Systemes Foundation?
A) NABARD
B) Assocham
C) FICCI
D) Niti Aayog
E) CII
13) Balbir Singh Junior who passed away at 88 was an eminent ____.
A) Actor
B) Hockey Player
C) Dancer
D) Writer
E) Singer
14) Oberoi Group and which company have signed an MoU?
A) BHEL
B) PGCIL
C) EESL
D) IIFCL
E) NTPC
15) CCI has approved the acquisition of _____ per cent stake in Gangavaram port by Adani Ports.
A) 57.6
B) 90.5
C) 83.2
D) 84.5
E) 89.6
16) Government has launched which community mental-health digital platform? 
A) RAJAS
B) SEHAT
C) MANAS
D) SEHAS
E) SAHAS
17) Which institution has Launched the Poshan Gyan', a Digital Repository on Nutrition Information?
A) NABARD
B) FICCI
C) ASSOCHAM
D) NITI Aayog
E) CII
18) Union Agriculture Ministry has signed an MoU with which company for a pilot project in 100 villages of six states?
A) Infosys
B) Microsoft
C) IBM
D) HCL
E) HP
19) Who among the following has Launched a National Nursery Portal?
A) Nitin Gadkari
B) Harsh Vardhan
C) Amit Shah
D) Prahlad Patel
E) NS Tomar
20) Who among the following along with Lizelle Lee has won ICC Players of the Month for March 2021?
A) Ajinkya Rahane
B) Hardik Pandya
C) Bhuvneshwar Kumar
D) MS Dhoni
E) Virat Kohli
21) Yogesh Praveen who passed Away recently was an eminent ___.
A) Dancer
B) Hockey player
C) Actor
D) Historian
E) Singer
Answers :
1) Answer: C
World Art Day is celebrated globally on 15 April every year to promote the development, diffusion and enjoyment of art.
The first World Art Day was held on April 15th, 2012, a date chosen in honor of Leonardo da Vinci's birthday.
As a symbol of world peace, freedom of expression, tolerance and brotherhood, da Vinci is also a testament to the influence of the Fine Arts on other fields.
This day is being celebrated all over the world to emphasize the importance of art that nurtures creativity, innovation and cultural diversity for all peoples across the globe.
World Art Day is an international celebration of the fine arts which was declared by the International Association of Art in order to promote awareness of creative activity worldwide.
2) Answer: D
Government has launched Aahaar Kranti, a mission dedicated to spread awareness about nutrition.
It is designed to address the peculiar problem of hunger and diseases in abundance, being faced by India and the world.
Studies show that India produces as much as two times the amount of calories it consumes.
However, many in the country are still malnourished.
The root cause of this strange phenomenon is a lack of nutritional awareness.
Keeping this in mind, Aahaar Kranti has been launched with the motto of Uttam Aahaar- Uttam Vichaar or Good Diet-Good Cognition.
Launching the initiative, Health Minister Dr. Harsh Vardhan said, when the country is reeling under the onslaught of pandemic COVID -19, a balanced diet serves as a special tool to reduce the impact of the pandemic.
He stressed on the need to create awareness about the importance of a balanced diet saying it has become more vital than ever before.
The movement proposes to address the problem by working to rouse the people to the values and richness of India's traditional diet, to the healing powers of local fruits and vegetables and to the miracles of a balanced diet.
3) Answer: E
In view of the second wave of COVID-19 pandemic in the country, Nagaland Governor R. N. Ravi held a sensitization-cum-consultation meeting with all the tribal hoho leaders of the State at Raj Bhavan in Kohima.
A press release from the PRO Raj Bhavan stated that Governor Ravi recalled the significant contributions of the tribal leaders and their cooperation with the State Government in combating the first wave of COVID-19.
He observed that cooperation of the tribal leaders is crucial as the pandemic cannot be successfully fought by the Government alone.
Ravi therefore, urged the community leaders to encourage and ensure people to observe COVID-19 appropriate behaviours.
The Governor also appreciated the valuable practical suggestions given by the tribal leaders based on their experiences and observations.
He said the suggestions will be conveyed to the State Government for necessary action.
The Governor will meet GBs, Church leaders and leaders of other faith based organizations of the State in the coming days.
4) Answer: B
The 77th Anniversary of Flag Hoisting Day was observed at INA Martyr's Memorial Complex at Moirang of Manipur with Chief Minister N. Biren Singh unfurling the Indian Tricolour Flag and led the other in paying floral tribute to the Statue of Netaji Subhas Chandra Bose installed inside the complex.
It was on 14th April, 1944 that the flag of the Indian National Army was hoisted for the first time on Indian soil at Moirang.
5) Answer: D
HDFC Bank said it is planning to raise up Rs 50,000 crore during the next 12 months through issuing bonds.
The bank's board of directors will take up the proposal at its meeting on April 17, it said in a regulatory filing.
"The bank proposes to raise funds by issuing perpetual debt instruments (part of additional tier-I capital), tier-II capital bonds and long-term bonds (financing of infrastructure and affordable housing) up to a total amount of Rs 50,000 crore over the period of the next 12 months through the private placement mode," HDFC Bank said.
Perpetual bonds carry no maturity date, so they may be treated as equity, not as debt.
6) Answer: E
The Ghaziabad Municipal Corporation (GMC) has issued India's first Green Municipal bond.
The green bond was listed on the BSE bond platform on April 08, 2021.
It opened for a subscription on March 31, 2021.
GMC has raised Rs. 150 crore at a cost of 8.1 percent through the issuance of green bonds.
The money will be used to clean up dirty water by setting up a tertiary water treatment plant to benefit industries in Ghaziabad and supply piped water through water-meters to places like Sahibabad.
7) Answer: C
World bank economist Poonam Gupta has been appointed as the new Director General of the policy think tank "National Council of Applied Economic Research (NCAER)".
Gupta is the first woman director general of NCAER.
She would succeed Shekhar Shah who was appointed in 2011 and will complete his second five year term in early May 2021.
Gupta is currently working as a lead economist at the Washington DC-based World Bank.
President of NCAER – Nandan Nilekani.
8) Answer: B
Each year on April 15th, National Titanic Remembrance Day is dedicated to the memory of the lives lost when the Titanic sank into the icy waters of the North Atlantic Ocean in April 1912.
We remember the more than 1,500 people who died that day.
9) Answer: D
Pegasystems Inc., a US-based software company with huge presence in India, has appointed Smriti Mathur as Senior Director and Head of People Organisation in India.
Mathur will be responsible for ensuring a diverse and inclusive work culture at the software company, while driving a strong people strategy that leverages technology to meet business agility and outcomes.
The Company has some robust plans in the pipeline to acquire quality talent for this year and Mathur will be spearheading these plans.
She will provide strategic direction towards attracting, developing, and retaining the best talent in the industry and delivering digital innovation to the world's leading organizations.
10) Answer: E
As part of former Prime Minister PV Narasimha Rao's centenary celebrations, Mana Telugu Tejam National Awards were presented to people from various fields at the Birla Auditorium in Hyderabad on April 9.
Dr Vajrala VL Narasimha Rao is now law officer of APCPDCL and APSPDCL.
He is also a former member of District Consumer Forum, Ranga Reddy and Visakhapatnam.
The advocate was awarded Mana Telugu Tejam National Legendary Award in Legal Service.
The alumni of NMH School and advocates congratulated Dr Vajrala.
11) Answer: C
Law Minister Ravi Shankar Prasad launched the Online Grievance Management Portal of the National Commission for Scheduled Castes.
Presently the complaints of victims, who are members of Scheduled Caste are processed manually in the commission.
The new mechanism has been introduced to handle the complaints in online mode from the victim.
The National Commission for Scheduled Castes is an Indian constitutional body established with a view to provide safeguards against the exploitation of Scheduled Castes.
Speaking on the occasion, Mr Prasad said, this launching of Online Grievance Management Portal is especially important as the nation is observing the birth anniversary of one of India's great luminaries Dr. B.R. Ambedkar.
Mr Prasad said, Dr. Ambedkar worked for the upliftment of the marginalised and downtrodden sections of the society.
The Minister opined that digital India needs to be a mass movement in the country.
Addressing the gathering, Minister of State for Social Justice and Empowerment, Rattan Lal Kataria said that the portal will make it easier for the Scheduled Castes population to register their complaint from any part of the country.
He said, the portal will enable them to file their application and other atrocity and services related
12) Answer: D
Atal Innovation Mission and NITI Aayog signed an agreement with Dassault Systemes Foundation to jointly work towards providing a digitally rich ecosystem of Innovation among aspiring young minds across the country.
The Atal Tinkering Labs has played a pivotal role in fostering creativity and imagination amongst school children.
Dassault Systemes Fondation is dedicated to transform the future of education and research in India with 3D technologies.
The fondation will contribute to the Atal Tinkering Labs program in three broad areas – project based, self-paced learning content, hackathons and challenges and inter-country academia collaborations.
Under this agreement, Dassault Systemes Fondation will design and organize innovative challenges, hackathons for Atal Tinkering Labs, promoting problem solving skills and innovation culture amongst students and teachers.
To raise farmers income, Agriculture Ministry signs MoU with Microsoft for a pilot project in 100 villages of six states
13) Answer: B
Balbir Singh Junior who was a member of the silver medal- winning 1958 Asian Games Indian hockey team Passed away.
He was 88.
About Balbir Singh Junior :
Balbir Singh Junior was born on May 2, 1932, at Sansarpur in Jalandhar
He is also known as the nursery of hockey players in India.
Singh started playing hockey when he was six years old and was first selected to play for the Indian hockey team in 1951.
In 1962, he joined the Army as an emergency commissioned officer.
Singh retired as a Major in 1984 and later settled in Chandigarh.
14) Answer: C
Energy Efficiency Services Limited (EESL), a joint venture of PSUs under the Ministry of Power, announced it has signed a MoU with The Oberoi Group to augment its sustainability initiatives.
EESL said that it will assist The Oberoi Group in implementing several energy-efficient initiatives, including clean energy systems across its properties through its Building Energy Efficiency Program (BEEP).
These initiatives will help reduce the group's overall carbon footprint and strengthen its energy conservation efforts, the company said.
15) Answer: E
On April 13, 2021, The Competition Commission of India (CCI) approved billionaire Gautam Adani-controlled Adani Ports and Special Economic Zones Ltd's acquisition of 89.6% stake in Gangavaram Port Ltd.
It was under Section 31(1) of the Competition Act, 2002.
Adani Ports and SEZ had announced the acquisition of 58.1% stake in the port located in the northern part of Andhra Pradesh, from D.V.S. Raju and family for Rs.3,604 crore.
Adani Ports had also announced the acquisition of Warburg Pincus's 31.5% stake in Gangavaram.
16) Answer: C
The Principal Scientific Adviser to the Government of India Prof. K VijayRaghavan has virtually launched the "MANAS" App to promote wellbeing across age groups.
About MANAS :
MANAS stands for Mental Health and Normalcy Augmentation System.
MANAS was initiated by the Office of the Principal Scientific Adviser to the Government of India. It was jointly executed by NIMHANS Bengaluru, AFMC Pune and C-DAC Bengaluru.
The app MANAS is developed under the Prime Minister's Science, Technology, and Innovation Advisory Council (PM-STIAC), to promote wellbeing across age groups.
Features of MANAS :
MANAS is a comprehensive, scalable, and national digital wellbeing platform and an app   developed to augment mental well-being of Indian citizens.
MANAS   App integrates the health and wellness efforts of various government ministries, scientifically validated indigenous tools with gamified interfaces developed/researched by various National bodies and Research institutions.
17) Answer: D
On April 13, 2021, NITI Aayog launched a national digital repository on health and nutrition, called "Poshan Gyan.
It is a national digital repository on health and nutrition.
Poshan Gyan has been unveiled by NITI Aayog in partnership with Bill and Melinda Gates Foundation and Centre for Social and Behaviour Change, Ashoka University.
The website can be accessed through : https://poshangyan.niti.gov.in/
About Poshan Gyan :
The repository introduces a unique crowdsourcing feature that allows anyone to submit communication material for inclusion on the website, followed by a review by a designated committee.
The portal highlights the "Theme of the Month" (in line with MoHFWandMoWCD guidelines to promote key topics).
The Poshan Gyan repository was conceptualized as a resource, enabling search of communication materials on 14 thematic areas of health and nutrition across diverse languages, media types, target audiences and sources.
Content for the repository was sourced from the Ministries of Health and Family Welfare and Women and Child Development and developmental organizations.
The website provides an intuitive interface (multi-parametric search, multiple downloads at a point in time, easy sharing of materials via social media and easy viewing on any type of smartphone).
It also provides links to other important sites and resources, such as the webpages of MoHFW,
18) Answer: B
This project will carry out various tasks for the betterment of farmers in the selected villages, which will enhance their income.
This will also reduce the input costs for farmers and make farming easy.
These states are Uttar Pradesh, Madhya Pradesh, Gujarat, Haryana, Rajasthan and Andhra Pradesh.
Microsoft will develop farmer interface for smart and well-organized agriculture, including post-harvest management and distribution.
Agriculture Minister Narendra Singh Tomar said, Prime Minister Narendra Modi's idea of digital agriculture is now taking shape.
He said, since taking over as the Prime Minister in 2014, Mr Modi has laid great emphasis on the use of modern technologies in farming sector to enhance farmers income.
He said, the agricultural economy is the backbone of the country and any loss to agriculture is a loss for the country.
Mr Tomar said, the agriculture sector has contributed positively to the country's economy even in adverse conditions like Corona epidemic.
19) Answer: E
Agriculture Minister Narendra Singh Tomar launched a 'National Nursery Portal' to connect nursery operators with consumers.
The National Nursery Portal, developed by the National Horticulture Board.
It will help consumers to connect with nurseries and get information about the availability and prices of quality planting material.
It will also help nursery operators in assessing market demand for their products.
20) Answer: C
On April 13, 2021, The International Cricket Council (ICC) announced the winners of the ICC Player of the Month Awards for March 2021.
In Men's Category, ICC Men's Player of the Month : Bhuvneshwar Kumar
In the women's category, ICC Women's Player of the Month for March : Lizelle Lee
21) Answer: D
Eminent Historian and an expert on Awadh Yogesh Praveen has Passed away.
He was 82.
About Yogesh Praveen :
He was known as the Encyclopedia of Lucknow.
Yogesh Praveen had a deep knowledge of the culture and history of Avadh, especially Lucknow.
He wrote more than 30 books on Awadhi culture and Lucknow and contributed several articles in newspapers and magazines.
The titles of his books like 'Dastan-e-Avadh', 'Tajdare-Avadh', 'Bahar-e-Avadh', 'Gulistan-e-Avadh', 'Doobta Avadh', 'Dastan-e-Lucknow' and 'Aapka Lucknow' tell a long-lasting affair he had with the city.
Awarded Padma Shri in 2019.