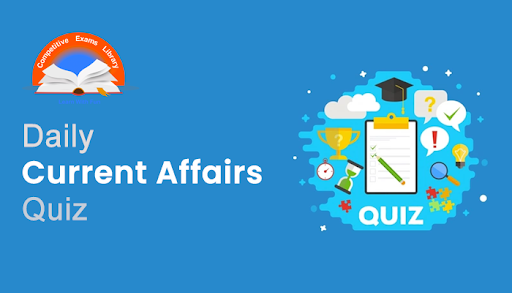 Dear Readers, Daily Current Affairs Questions Quiz for SBI, IBPS, RBI, RRB, SSC Exam 2021 of 15th May 2021. Daily GK quiz online for bank & competitive exam. Here we have given the Daily Current Affairs Quiz based on the previous days Daily Current Affairs updates. Candidates preparing for IBPS, SBI, RBI, RRB, SSC Exam 2021 & other competitive exams can make use of these Current Affairs Quiz.
1) International Day of Families is Observed on which date?
A) May 1
B) May 2
C) May 15
D) May 3
E) May 4
2) ADB has recorded a total USD 3.92 billion loan to India in which year?
A) 2019
B) 2018
C) 2017
D) 2020
E) 2016
3) Armed Forces Day is Observed on ____ Saturday of May.
A) 6th
B) 5th
C) 2nd
D) 4th
E) 3rd
4) Paris city council plans to reduce car traffic in the centre of French capital by which year?
A) 2026
B) 2025
C) 2022
D) 2023
E) 2024
5) Which state government AYUSH Dept has launched a statewide wellness programme 'AYUSH Ghar Dwar' ?
A) Madhya Pradesh
B) Kerala
C) Chhattisgarh
D) Himachal Pradesh
E) Haryana
6) Which company has topped the 4G speed chart with a data download rate of 20.1MBbps in April?
A) BSNL
B) Vodafone
C) Idea
D) Airtel
E) Jio
7) The World Bank extends USD 80.5 million to which country?
A) Brunei
B) Laos
C) Vietnam
D) Sri Lanka
E) Thailand
8) Who among the following has been appointed as White House senior adviser?
A) Amit Mishra
B) Rajeev Tandon
C) Sudha Bansal
D) Ashish Kumar
E) Neera Tanden
9) Which company has appointed Gunjan Shah as new CEO?
A) IBM
B) HCL
C) Bata
D) TCS
E) Infosys
10) Which company has appointed Tulsi Naidu as its Board of Directors?
A) Dell
B) HP
C) HCL
D) Wipro
E) Infosys
11) Who among the following will receive the Basavashree award 2019?
A) Pandit Arun Dutt
B) Pandit Sudha Mishra
C) Pandit Rajeev Taranath
D) Pandit Anil Deshpande
E) Pandit Man Singh
12) Groww to acquire Indiabulls MF for Rs ____ crore.
A) 110
B) 100
C) 125
D) 150
E) 175
13) Which institution will  set up CovAid portal for real-time monitoring of relief?
A) HCL
B) Tata
C) FICCI
D) Niti Aayog
E) CII
14) NASA, Axiom Agree to ____ Private Astronaut Mission on International Space Station.
A) 5th
B) 4th
C) 3rd
D) 2nd
E) 1st
15) 2021 AIBA Men's World Boxing Championships will be held in ____.
A) Kazakhstan
B) Turkmenistan
C) Belgrade
D) Russia
E) Uzbekistan
16) Rugby World Cup : Women's Rugby World Cup to kick off on New Zealand in October ____.
A) 2026
B) 2025
C) 2024
D) 2022
E) 2023
17) In which state has Malerkotla become a new district?
A) Madhya Pradesh
B) Kerala
C) Chhattisgarh
D) Haryana
E) Punjab
18) Indu Jain who passed away was an eminent ___.
A) Actor
B) Hockey player
C) Business man
D) Singer
E) Writer
Answers :
1) Answer: C
The International Day of Families is observed on the 15 May every year.
The theme of this year's International Day of Families is "Families and New Technologies."
The Day was proclaimed by the UN General Assembly in 1993 and reflects the importance the international community attaches to families.
Gender equality and children's rights in contemporary families".
The United Nations proclaimed the year 1994 as the International Year of Families.
This day is marked to celebrate the bond of families, societies, traditions, and culture around the world.
It has been held every year since 1995.
Family provides a sense of stability and a feeling of home, for people of all ages.
2) Answer: D
The Asian Development Bank stated that, it has committed a record USD 3.92 billion in sovereign loans for 13 projects to India in 2020, including USD 1.8 billion in COVID-19 related projects to support the government's pandemic response.
ADB also approved financing to help the government improve equitable access to comprehensive primary health care in urban areas.
3) Answer: E
May 15 this year 2021, commemorates the very special Armed Forces Day.
Celebrated on the third Saturday of May every year, this is a very crucial day dedicated to honour the US military forces for relentlessly providing security and protection to the nation.
4) Answer: C
A plan to drastically reduce car traffic in the centre of the French capital Paris by 2022 has been put forward by the city council.
The council informed, low-traffic zones will result in a less polluted, greener, more peaceful and safer city.
During the COVID pandemic, Paris added hundreds of kilometres of cycle lanes.
5) Answer: D
In Himachal Pradesh, AYUSH Division launched a state-wide wellness programme 'AYUSH  Ghar Dwar' for COVID-19 sufferers, in Sloan district.
The initiative aims to offer a Holistic Healthcare Strategy by way of AYUSH to make sure not solely bodily but in addition psychological, social and religious wellbeing to COVID sufferers by way of AYUSH.
The Ayush Ghar Dwar program is being launched by AYUSH Vibhag Himachal Pradesh in collaboration with the Artwork of Dwelling Group.
Beneath this program round 1000 digital teams might be made on totally different social media platforms by way of which educated instructors on Ayurveda will conduct digital periods on Yoga, Pranayam, Respiratory Workout routines, Meditation, therapies, medicines and practices to calm the thoughts apart from others.
6) Answer: E
Reliance Jio topped the 4G speed chart with a data download rate of 20.1MBbps, while Vodafone was ahead of others in upload speed at 6.7 Mbps in April, according to the latest data from telecom regulator TRAI.
Jio has almost three times higher download speed compared to its closest competitor Vodafone.
7) Answer: D
The World Bank extended USD 80.5 million to Sri Lanka for its COVID-19 vaccination drive.
This useful and timely resource will help us ensure equitable vaccine deployment among the eligible populations of Sri Lanka, said Health Minister Pavithra Wanniarachchi, after the agreement was signed with the global financial body.
Sri Lanka has so far inoculated 1.1 million people with the first dose of the coronavirus vaccine, of whom 244,000 people have been given the second dose.
The vaccination programme was rolled out in late January after India gifted 500,000 doses of the AstraZeneca Covishield vaccine.
8) Answer: E
Indian-American Neera Tanden has been appointed senior adviser to US President Joe Biden, two months after she withdrew her nomination as Director of the White House Office of Management and Budget due to stiff opposition from Republican senators.
Tanden (50) is slated to join the White House.
9) Answer: C
Footwear major Bata India Limited announced the appointment of Gunjan Shah as its new Chief Executive Officer.
Shah will be at the helm of the brand's operations in India.
He takes over from Sandeep Kataria who has been elevated as the Global CEO of Bata Brands.
Shah has extensive experience of working across varied sectors spanning Consumer Durables, Telecom and FMCG.
10) Answer: D
IT Company Wipro has appointed Zurich Insurance Group CEO for Asia Pacific Tulsi Naidu as an independent director on its board for five years, the company stated that his appointment  effective July 1, 2021.
The appointment of Naidu is subject to the approval of shareholders.
11) Answer: C
Classical musician Pandit Rajeev Taranath and space scientist Dr K Kasturirangan will receive the prestigious Basavashree award for 2019 and 2020, respectively, announced Murugha Mutt pontiff Dr Shivamurthy Murugha Sharanaru.
12) Answer: E
On May 11, 2021, Online investment platform Groww announced that it will be acquiring Indiabulls Mutual Fund for a total consideration of Rs 175 crore.
The digital platform will acquire Indiabulls Asset Management Company (IBAMC) and the trustee company for Rs 175 crore, which includes a cash and equivalent component of Rs 100 crore.
The Alternate Investment Fund (AIF) and Portfolio Management Service (PMS) businesses will be demerged from the existing IBAMC structure, and remain under Indiabulls Housing Finance.
13) Answer: D
The NITI Aayog has set up a dedicated portal CovAid for tracking all aid coming via missions or by individual organisations.
It can be tracked online end-to-end till distribution by the donors.
HLL Lifecare Limited and Concor have been engaged for logistical support.
The Indian Red Cross Society is the consignee for all consignments of donations from foreign countries being received by the missions.
HLL Lifecare is functioning as the customs agent for the processing of customs and other regulatory clearances.
The mission forwards the list to the Ministry of External Affairs (MEA) which is further shared with the health ministry for allocation.
14) Answer: E
On May 10, 2021, NASA and Axiom Space have signed an order for the first private astronaut mission to the International Space Station by January 2022.
It has been designated as Axiom Mission 1 (AX-1).
It will consist of a crew of 4 astronauts and it will be launched from NASA's Kennedy Space Centre, Florida, US.
4 Astronauts :
The 4 Astronauts are Michael López-Alegría- veteran of 4 spaceflights and vice chairman of Axiom Space.
Larry Connor, an American actual property entrepreneur who will function pilot on the mission
Mark Pathy, a Canadian investor and philanthropist.
15) Answer: C
The dates of the 2021 AIBA Men's World Boxing Championships held in Belgrade, Serbia.
The tournament will be held from 26 October – 6 November 2021.
The event will be overseen by the President of Serbia, Mr. Aleksandar Vucic, who is the Head of the Local Organising Committee (LOC).
16) Answer: D
On May 12, 2021, World Rugby released a new schedule for the Women's World Rugby Tournament.
For 2022 women's Rugby World Cup in New Zealand, with the tournament to run from 8th October to 12th November 2022.
The final and bronze medal match will be played at Auckland's Eden Park on Nov. 12.
The 12-team tournament was actually held in 2021, but it was postponed due to the Covid-19 pandemic.
The tournament has been extended from 35 to 43 days, allowing all teams a break of at least five days between matches.
17) Answer: E
Punjab Chief Minister Amarinder Singh announced the creation of a new district of Malerkotla, carving the state's only Muslim-majority town from Sangrur district.
Adjoining Amargarh and Ahmedgarh will also form part of Punjab's 23rd district, according to the announcement at a state-level event on Eid-ul-Fitr.
According to Malerkotla, which is 35 km from the Sangrur district headquarters, a district status was a pre-poll promise by the Congress.
18) Answer: C
On May 13, 2021, Times Group chairperson Indu Jain Passed Away.
She was 84.
About Indu Jain :
She was the chairperson of Bennett, Coleman & Co. Ltd (BCCL).
Indu Jain was married to the late Ashok Kumar Jain, former chairman of Times Group or BCCL.
She was the founder president of Ficci Ladies Organisation.
From 1999, she also served as chairperson of Bharatiya Jnanpith Trust, founded in 1944 a literary and research foundation presenting India's highest literary awards for work in Indian languages.