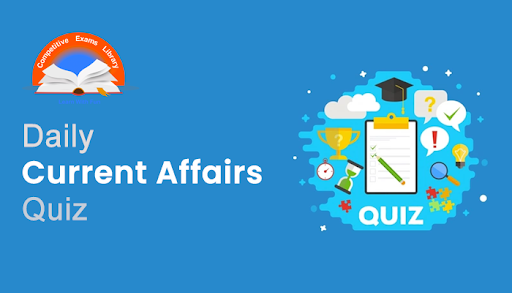 Dear Readers, Daily Current Affairs Questions Quiz for SBI, IBPS, RBI, RRB, SSC Exam 2021 of 16th & 17th May 2021. Daily GK quiz online for bank & competitive exam. Here we have given the Daily Current Affairs Quiz based on the previous days Daily Current Affairs updates. Candidates preparing for IBPS, SBI, RBI, RRB, SSC Exam 2021 & other competitive exams can make use of these Current Affairs Quiz.
1) International Day of Light is Observed on which date?
A) May 11
B) May 2
C) May 16
D) May 3
E) May 4
2) National Gallery of Modern Art begins online summer workshop titled ____.
A) VIDYA 2021
B) ART 2021
C) AIM 2021
D) NAIMISHA 2021
E) WORKSHOP 2021
3) Who among the following has bagged the 'International Invincible Gold Medal'?
A) Prahlad Patel
B) Amit Shah
C) Narendra Modi
D) NS Tomar
E) RP Nishank
4) In the Italian Open who among the following has won the Women's Singles title?
A) BJ King
B) Iga Swiatek
C) Karolina Pliskova
D) Coco Gauff
E) Simona Halep
5) Sunil Jain who passed away recently was a veteran ___.
A) Director
B) Writer
C) Actor
D) Journalist
E) Singer
6) World Telecommunication and Information Society Day is Observed on which date?
A) May 1
B) May 2
C) May 3
D) May 4
E) May 17
7) Which institution has developed an Oxycare system for soldiers?
A) BHEL
B) BEL
C) DRDO
D) HAL
E) BEL
8) Sikkim celebrates its statehood day on May ___.
A) 11
B) 12
C) 13
D) 16
E) 15
9) Indian Railways reported that it commissions Wi-Fi at _____ Railway stations in 5 years.
A) 2,500
B) 6,000
C) 5,000
D) 4,000
E) 3,500
10) Which company has launched MINI TV, a new video streaming service?
A) Xiaomi
B) Realme
C) Samsung
D) Sony
E) Amazon
11) Which Bank has appointed Sitaram and Sarkar as CFO and Internal Auditor respectively?
A) Bandhan
B) HDFC
C) IDBI
D) SBI
E) ICICI
12) Which company has appointed Meghna Hareendran as 'Wellness Officer'?
A) HP
B) HCL
C) Infosys
D) Tech Mahindra
E) IBM
13) Who has been appointed as President & CEO of Mitsubishi Mahindra Agricultural Machinery Co Ltd?
A) Amit Mehta
B) Arun Sabharwal
C) Nikhil Mitra
D) Arun Singh
E) Toru Saito
14) Which edition of Kalasagar awards will be announced to honour kathakali artists?
A) 8th
B) 9th
C) 11th
D) 12th
E) 13th
15) Which Payments Bank has launched DigiGold for digital gold investment?
A) Capital Local
B) Idea
C) Airtel
D) PayU
E) PayTM
16) Rajeev Satav who passed away belonged to which party?
A) DMK
B) AIADMK
C) BJD
D) Congress
E) BJP
17) MS Narasimhan who Passed Away recently was an eminent ___.
A) Actor
B) Singer
C) Musician
D) Doctor
E) Mathematician
18) World Hypertension Day is Observed on which date?
A) May 1
B) May 2
C) May 3
D) May 12
E) May 17
19) National Dengue Day is Observed on May ___.
A) 4
B) 3
C) 16
D) 12
E) 11
20) Ranjana Nirula who passed Away recently was an ____.
A) Scientist
B) Activist
C) Singer
D) Actor
E) Director
Answers :
1) Answer: C
The International Day of Light is celebrated on 16 May each year, the anniversary of the first successful operation of the laser in 1960 by physicist and engineer, Theodore Maiman.
The theme for International Day of Families 2021 is 'Families and new technologies'.
It focuses on the impact of new technologies on the well-being of families.
This day is a call to strengthen scientific cooperation and harness its potential to foster peace and sustainable development.
2) Answer: D
National Gallery of Modern Art will start a month long online summer workshop- NAIMISHA 2021.
Culture Ministry has said that this unique art fiesta will provide a platform to create and engage with the arts.
The current duration of the programme is 17th May to 13th June.
The planned workshops and hosts of related events are expected to spark imagination, creativity and interest in visual and other related arts.
The idea behind designing and delivering online interactive programmes is to provide a creative outlet to children, and indeed all interested adults.
3) Answer: E
The International Invincible Gold Medal of this year has been conferred on Union Training Minister Dr Ramesh Pokhriyal Nishank.
Maharshi Organization's around the globe president Dr Tony Nader, states that Dr. Nishank has been recognized for his remarkable determination and excellent support to humanity through his writings, social and illustrious general public lifetime.
The choice was built soon after thanks deliberations by a high-driven committee duly constituted underneath the leadership of Dr Tony Nader.
4) Answer: B
In Tennis, Polish teenager Iga Swiatek ( 19 Years )  has won the Women's Singles title of Italian Open.
She had entered the finals after trouncing 17-year-old American Coco Gauff 7-6, 6-3 in the last four.
She Defeated Czech Karolina Pliskova 6-0, 6-0 with what is known as a "double bagel" score in the summit clash in Rome that lasted just 46 minutes.
Iga Swiatek will move into the top 10 of WTA Rankings for the first time in her career after a ruthless performance in the Italian Open final against former World No. 1 Karolina Pliskova
5) Answer: D
On May 15, 2021, Veteran journalist Sunil Jain Passed away.
He was 58.
About Sunil Jain :
He was the managing editor of the Financial Express.
He was the Business Editor at the Indian Express and worked in critical senior roles at Business Standard and the Financial Express.
6) Answer: E
World Telecommunication and Information Society Day is an international day proclaimed in November 2006 by the International Telecommunication Union Plenipotentiary Conference in Antalya, Turkey, to be celebrated annually on 17 May.
The theme of World Telecommunication Day 2021 is: Accelerating digital transformation in challenging times.
From children's school education to adults' working from home and important activities like banking and even just staying in touch with family, the role played by telecommunication has become crucial.
The Day commemorates the founding of the International Telecommunication Union (ITU) on 17 May, 1865.
Therefore, The World Telecommunication and Information Society Day is dedicated to the evolution of communication and how information travels across the world.
7) Answer: C
The DRDO-developed 'Oxycare' system for soldiers, which is used in high altitude areas where oxygen levels drop, will now be used for Covid patients.
A total of 1,50,000 units worth Rs 322 crore will be purchased under the PM Cares Fund.
Oxycare is a SpO2-based oxygen supply system, which regulates oxygen that is administered to patients based on the sensed SpO2 levels.
The Ministry of Defence stated that PM Cares Fund has accorded sanction for procurement of 1, 50,000 units of 'Oxycare' system developed by Defence Research and Development Organisation (DRDO) at a cost of Rs 322.5 crore.
8) Answer: D
Sikkim celebrates its statehood day on May 16. The 45th State Day of Sikkim was observed in a brief function held here at Chintan Bhawan.
The function was attended by Governor Ganga Prasad as the chief guest, while chief minister Prem Singh Tamang was present as the guest of honour.
Union Information & Broadcasting Minister Prakash Javadekar extended greetings to the people of Sikkim on the occasion of Sikkim State Foundation Day.
Governor, chief minister and other dignitaries offered garlands and paid rich tribute to the statue of Padma Vibhushan Late Kazi Lhendup Dorji Khangsarpa, the first chief minister of Sikkim.
The 16th day of May is being celebrated as the State Day, the day when Sikkim became the 22nd state of the Indian Union in 1975.
9) Answer: B
Railways commissioned Wi-Fi at 6,000 Railway stations in five years.
A railway has commissioned Wi-Fi at six thousand Railway stations in five years.
Railway Ministry informed,, Indian Railways continues to contribute to Digital India initiative and connect different parts of the country with high speed Wi-Fi facility.
With the commissioning of Wi-Fi at Hazaribagh Town falling under Hazaribagh district of Jharkhand state in Dhanbad Division of East Central Railway as on 15.05.2021, Indian Railways commissioned Wi-Fi at 6,000 Railway stations.
10) Answer: E
Amazon has launched a new video streaming service, called miniTV.
The service offers users "professionally" created and curated content across web series, comedy shows, tech news, food, beauty, fashion and more.
It is free of cost, but users will witness ads.
It is available within the Amazon shopping app.
11) Answer: C
The Board of Directors IDBI Bank has approved the appointment of P Sitaram, Executive Director (ED), as Chief Financial Officer (CFO) and Key Managerial Personnel with effect from June 1, 2021.
Sitaram will take charge from incumbent ED & CFO Ajay Sharma.
IDBI Bank, in a regulatory filing, said the change in CFO is as per the Reserve Bank of India's directions to the Bank to ensure adherence to the minimum qualification criteria for CFO.
Meanwhile, IDBI Bank's board also approved the appointment of Sunit Sarkar, ED (In-Situ) as Internal Auditor of the Bank with effect from June 1, 2021 in place of MV Phadke, ED & Internal Auditor.
Sarkar is a qualified ICWA and has done Post Graduate Diploma in Business Management.
12) Answer: D
IT services major Tech Mahindra appointed Meghna Hareendran as its 'Wellness Officer' with immediate effect.
The new role has been created to institutionalize holistic wellness of all associates, and to ensure the access to medicine, hospitals and other medical supplies amidst the COVID crisis, while maintaining the mental well-being of the Tech Mahindra family.
Hareendran will work as a central programme manager to take care of the healthcare needs of the associates, it added.
She will also be responsible for managing relationships with Tech Mahindra partners and vendors to ensure a comprehensive suite of wellness offerings to them.
13) Answer: E
Homegrown utility vehicles and farm equipment major Mahindra & Mahindra announced the appointment of Toru Saito as the President & CEO of Mitsubishi Mahindra Agricultural Machinery Co Ltd, Japan (MAM).
In his new role, Saito who has more than 33 years of experience with Nissan Motors and Audi Japan, will also be a representative Director on the board of MAM, the company said in a statement.
14) Answer: C
The 11th Kalasagar awards for exemplary contribution in the field of traditional performing arts for the year have been announced
The awards will be presented on October 14 at Kunnamkulam Badhani School Palace on the occasion of the 28th death anniversary of Kalamandalam Krishnankutty Poduval, kathakali maestro and founder
of Kalasagar.
Kalasagar awards are given in honour of artists in the field of kathakali (vesham, music, chenda, maddalam and chutti) bharathanatyam, mohiniyattam, kuchipudi, ottanthullal, chakyarkoothu, koodiyattam, thayambaka and panchavadyam (thimila, maddalam, edakka, thalam and kombu).
15) Answer: C
On May 13, 2021, Airtel Payments Bank launched a digital platform DigiGold.
DigiGold is launched in partnership with SafeGold, a provider of digital gold.
Purpose :
It is for customers to make investments in gold, in partnership with digital gold provider SafeGold.
16) Answer: D
On May 16, 2021, Rajya Sabha MP and the senior Congress leader Rajeev Satav passed away.
He was 46.
About Rajeev Satav :
Rajeev Satav was the member of the Rajya Sabha from Maharashtra.
He was in-charge of the All India Congress Committee (AICC) affairs in Gujarat & He was Congress General Secretary.
Satav was from Maharashtra, was known to be a close aide of the former Congress chief.
He was earlier president of Indian Youth Congress.
17) Answer: E
On May 16, 2021, Famous mathematician Professor MS Narasimhan passed away.
He was 88.
About MS Narasumhan :
Professor Narasimhan, along with C. S. Seshadri, both were known for their proof of the Narasimhan–Seshadri theorem.
His contributions are in the areas of Algebraic Geometry, Differential Geometry, Representation Theory of Lie groups and Partial Differential Equations.
18) Answer: E
World Hypertension Day is Observed on May 17. World Hypertension Day is a day designated and initiated by The World Hypertension League, which is itself an umbrella to organizations of 85 national hypertension societies and leagues.
The theme of World Hypertension Day 2021 is – "Measure Your Blood Pressure Accurately, Control It, Live Longer".
The focus of this year's theme is to create awareness and communicate in our social networks about accurately measuring blood pressure regularly.
Blood pressure is one the main risk factors for heart diseases, kidney problems and dementia.
The day was initiated to increase the awareness of hypertension.
19) Answer: C
India observes Nation Dengue Day on May 16 as suggested by the Union Health Ministry to create awareness about the disease.
Measures to prevent and preparing to control the spread of dengue are among a few things that are discussed and shared on this day.
The dengue spreading mosquito is the most active in the day time. Majorly two hours after sunrise and hours before sunset.
But these mosquitoes have evidently found biting people at night time, mainly in areas that are well lit.
20) Answer: B
On May 10, 2021, Activist Ranjana Nirula Passed away
She was 75.
About Ranjana Nirula :
She was working committee member and former Treasurer of Centre of Indian Trade Unions (CITU).
She was introduced to the Left movement as a student in the United States, and was active in the anti-Vietnam war movement.
She became a full-time CITU member in 1978.
She would work in working-class colonies and among factory workers in South Delhi and Faridabad.
She was One of the founders of the All India Democratic Women's Association (AIDWA) in Delhi.
Nirula was also a member of the Delhi State Committee of CPI(M).