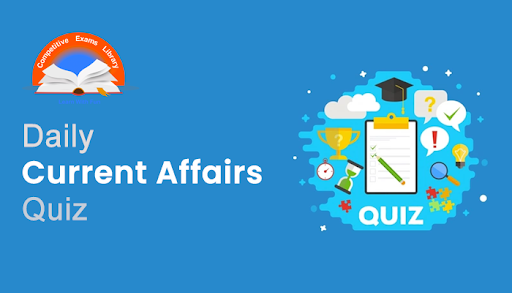 Dear Readers, Daily Current Affairs Questions Quiz for SBI, IBPS, RBI, RRB, SSC Exam 2021 of 16th April 2021. Daily GK quiz online for bank & competitive exam. Here we have given the Daily Current Affairs Quiz based on the previous days Daily Current Affairs updates. Candidates preparing for IBPS, SBI, RBI, RRB, SSC Exam 2021 & other competitive exams can make use of these Current Affairs Quiz.
1) World Homeopathy Week is Observed from _______.
A) April 7-15
B) April 11-17
C) April 10-16
D) April 12-18
E) April 13-19
2) Who among the following will lead the first meeting of National Startup Advisory Council?
A) NS Tomar
B) Amit Shah
C) Piyush Goyal
D) Prahlad Patel
E) Nitin Gadkari
3) The Government has planned _____new hospitals to have their own oxygen plant under PM-CARES fund.
A) 95
B) 90
C) 110
D) 120
E) 100
4) Secretary MeitY has launched _____ new initiatives of NIXI.
A) 7
B) 3
C) 4
D) 5
E) 6
5) Which of the following Ministry has unveiled the EatSmart Cities Challenge and Transport 4 All Challenge?
A) Earth Sciences
B) Finance
C) Housing and Urban Affairs
D) Science & Technology
E) Education
6) Joseph Jouthe who resigned recently was the PM of which country?
A) Ethiopia
B) Madgascar
C) Sudan
D) Haiti
E) Nigeria
7) World Voice Day is Observed on which of the following date?
A) April 1
B) April 3
C) April 4
D) April 5
E) April 16
8) Which company will start manufacturing in India soon?
A) Apple
B) HP
C) Tesla
D) Dell
E) Microsoft
9) Facebook-EIU : India has Ranked _____ In World Internet Inclusion Index 2021.
A) 53rd
B) 49th
C) 51st
D) 52nd
E) 54th
10) Amazon has planned to use USD ____ million fund, to focus on digitising small and medium businesses.
A) 450
B) 400
C) 350
D) 250
E) 300
11) ______ applicants have been queued for universal bank, small finance bank licenses.
A) 4
B) 5
C) 6
D) 7
E) 8
12) SoftBank will invest up to $______ million in Swiggy.
A) 350
B) 300
C) 500
D) 450
E) 400
13) Which company has declared a robust hiring plan, skill-based bonuses for existing employees?
A) HP
B) Wipro
C) Infosys
D) Dell
E) HCL
14) Which Bank has appointed Deputy GM Jyothi Biju Nair as new company secretary?
A) Bandhan
B) HDFC
C) ICICI
D) SBI
E) IDBI
15) The Lifetime Achievement Award has been received by Roberto Benigni at the _____ Venice International Film Festival.
A) 63rd
B) 65th
C) 78th
D) 75th
E) 70th
16) The educators of which state/UT have bagged Lead Z Awards?
A) Ladakh
B) Karnataka
C) Tamil Nadu
D) Delhi
E) J&K
17) Which of the following company has acquired Cleartrip?
A) FoodPanda
B) Infosys
C) Dell
D) Amazon
E) Flipkart
18) Who among the following has chaired the ICMR's One Health Symposium?
A) Narendra Modi
B) Amit Shah
C) Harsh Vardhan
D) Prahlad Patel
E) NS Tomar
19) Infant, Toddler and Caregiver Training and Capacity Building Programme has been Launched by which institution?
A) Niti Aayog
B) FICCI
C) NIBM
D) National Institute of Urban Affairs
E) CII
20) Facebook has partnered with CleanMax to make _____% renewable energy in India.
A) 80
B) 100
C) 50
D) 70
E) 60
Answers :
1) Answer: C
The World Homoeopathy Day is observed every year on April 10 to commemorate the Birthday of Dr. Hahnemann, the Founder of Homoeopathy.
The date of 10th April was chosen to mark the start of this event as it is the birthday of Dr Samuel Hahnemann, the German physician who is credited with creating homeopathy.
World Homeopathy Awareness Week is celebrated annually between April 10th and April 16th.
This year, the theme of the celebration is "Homeopathy- Roadmap for Integrative Medicine".
It has been working towards strengthening education and infrastructure to promote the practice of homeopathy in the country.
Organized by the World Homeopathy Awareness Organization, the week is a celebration of both homeopaths and those who have been healed with homeopathy.
Homeopathy is a system of alternative medicine that uses small, highly diluted doses of natural substances to trigger the bodies own healing abilities.
During the week, there are free public events held across the world, such as lectures, media interviews and free and reduced-price clinics.
2) Answer: C
Commerce and Industry Minister Piyush Goyal chaired the first meeting of the National Startup Advisory Council.
The Department for Promotion of Industry and Internal Trade had constituted this Council to advise the Government on measures needed to build a strong ecosystem for nurturing innovation and startups in the country.
Mr Goyal said that this council will act as the guiding light for many budding startup entrepreneurs in India.
Appreciating the work done by the startups in all sectors, for finding innovative solutions to various problems, Mr Goyal said that India is a hub of innovation and out-of-the-box thinking.
He said that Startup movement has stirred the entrepreneurial spirit in the last 5 years.
The Minister described the Startups as the New Champions of Aatmanirbhar Bharat.
He said, India has the potential to become World's largest and most innovative startup ecosystem.
3) Answer: E
Union Health Ministry has said that 100 new Hospitals in the country will have their own Oxygen plant under Prime Minister's Citizen Assistance and Relief in Emergency Situations (PM-CARES) Fund.
The decision was taken at a meeting of Empowered Group 2 (EG2) which was held to review the availability of essential medical equipment and oxygen during COVID.
The Ministry said, Pressure Swing Adsorption (PSA) plants manufacture oxygen and help hospitals become self-sufficient in their requirement for medical oxygen.
It said, 162 PSA plants sanctioned under PM-CARES are being closely reviewed for early completion of 100 percent of the plants to enhance self-generation of oxygen in hospitals especially in remote areas.
The Empowered Group 2 has directed the Health Ministry to identify 100 hospitals in far flung locations for consideration of sanction for installation of PSA plants.
4) Answer: B
Secretary, Ministry of Electronics and Information Technology Ajay Prakash Sawhney inaugurated three path breaking initiatives for National Internet Exchange of India, NIXI.
These initiatives are IP Guru, NIXI Academy and NIXI-IP-INDEX.
The IP Guru is a group to extend support to all the Indian entities who are finding it technically challenging to migrate and adopt Internet Protocol version, IPv6.
In addition to this the group will help in identifying and hiring agency that will help end customer by providing necessary technical support to adopt IPv6.
The NIXI Academy has been created to educate technical and non-technical people in India about technologies like IPv6 which will lead to better management of Internet resources in the country.
The NIXI-IP-INDEX portal has been launched to showcase IPv6 adoption rate in India and across the world.
5) Answer: C
Housing and Urban Affairs Minister Hardeep Singh Puri launched the EatSmart Cities Challenge and Transport 4 All Challenge through video conferencing.
EatSmart Cities Challenge is an opportunity for India to play a pioneering role in developing the concept of integrating food systems into city planning and development.
Mr Puri said, this movement will nudge the urban populace to make the right food choices and help build a healthier and happier nation.
The EatSmart Cities Challenge is envisioned as a competition among cities to recognize their efforts in adopting and scaling up various initiatives under Eat Right India.
The challenge is open to all Smart Cities, capital cities of States and Union Territories, and cities with a population of more than five lakh.
The Transport 4 All Challenge aims to bring together cities, citizen groups, and start-ups to develop solutions that improve public transport to better serve the needs of all citizens.
Mr Puri said that COVID-19 has brought the entire world to a halt with transport being one of the worst-hit sectors.
He added that the Transport4All Digital Innovation Challenge will support cities to recover from this mobility crisis.
6) Answer: D
Haitian Prime Minister Joseph Jouthe has resigned as the country faces a spike in killings and kidnappings and prepares for an upcoming constitutional referendum and general election later this year.
He has served as the Prime Minister since March 2020.
He did not give an explanation for his resignation.
Jouthe previously had tried to submit his resignation, but President Jovenel Moïse at the time had rejected it.
This time, Moïse accepted it and nominated Claude Joseph as Haiti's new Prime Minister.
The President tweeted that Jouthe's resignation will make it possible to address the glaring problem of insecurity and continue discussions with the aim of reaching the consensus necessary for the political and institutional stability of the country.
Haiti has seen eight Prime Ministers since 2015.
7) Answer: E
World Voice Day is a worldwide annual event that takes place on April 16 devoted to the celebration of the phenomenon of voice.
The aim is to demonstrate the enormous importance of the voice in the daily lives of all people.
The theme of 2021 is ONE WORLD MANY VOICES.
World Voice Day is a global annual event dedicated to recognizing the boundless limits of the human voice.
The mission is to share the excitement of the voice phenomenon with people, scientists, and other funding bodies.
The day revolves around contributions made by head and neck surgeons as well as other health professionals who encourage the youth and elderly alike to assess their vocal health and take action to maintain good voice habits.
Frequently, something as familiar as our voice becomes easily overlooked.
World Voice Day reminds us to protect this vital tool we rely upon daily, so it remains with us throughout our lives.
8) Answer: C
Union Minister Nitin Gadkari said American electric car major Tesla has a golden opportunity to set up its manufacturing facility in India given the country's thrust on e-vehicles.
Tesla is already sourcing various auto components from Indian automakers and setting up base here would be economically viable for it, Road Transport, Highways and MSMEs Minister Gadkari said while addressing a session at the Raisina Dialogue.
"I will suggest them (Tesla) that it will be golden opportunity for them to start manufacturing facility in India because as the automobile components are concerned, already Tesla is taking a lot of components from the Indian manufacturers.
So there will be availability," the minister said.At the same time, the Indian market will be good for Tesla also, he added.
9) Answer: B
The Economist Intelligence Unit(EIU), in partnership with Facebook, has released the Inclusive Internet Index 2021.
The index measures the extent to which the internet is available and affordable by region, and highlights additional insight into how people around the world are using the web.
India is tied with Thailand in 49th place this year on the scores of internet availability.
The 'Inclusive Internet Index' surveyed 120 countries, representing 98 percent of global GDP and 96 percent of global population.
The overall Index score is based on four parameters, which are:
Availability
Affordability
Relevance
Readiness
The aim of the Inclusive Internet Index is to provide researchers and policymakers with the information they need to enable users to benefit from the Internet, irrespective of their age, gender, location or background.
Top 5 Countries
Sweden
United States
Spain
Australia
Hong Kong
10) Answer: D
E-commerce giant Amazon announced a USD 250 million (about Rs 1,873 crore) fund that will focus on digitising small and medium businesses, and driving innovation in the areas of agri-tech and health-tech in India.
"Small and medium-sized businesses are often the engine and the lifeblood of economies and I think it's true in India as well.
And we are very passionate about trying to enable acceleration of SMBs in fuelling innovation and the economy in India," Amazon Web Services CEO Andrew Jassy said.
Building on last year's announcement, Amazon is announcing a new USD 250 million Amazon Smbhav Venture Fund, Jassy, who will take over as the CEO of Amazon Inc later this year, said during the second Amazon Smbhav event.
11) Answer: E
As many as eight institutions and individuals have applied for on-tap licenses to set up universal banks and small finance banks.
UAE Exchange and Financial Services, REPCO Bank and Chaitanya India Fin Credit are among the four applicants who have applied for a universal banking license, while VSoft Technologies, Calicut City Service Co-operative Bank and Dvara Kshetriya Gramin Financial Services have sought small finance bank license.
There are two individual applicants, who include Pankaj Vaish and others, who have shown interest in setting up universal banks, and Akhil Kumar Gupta, who have sought on-tap licenses for universal banks, the Reserve Bank said.
This is not the first time that UAE Exchange is attempting a banking foray.
12) Answer: C
Food delivery platform Swiggy is set to raise up to $500 million from SoftBank Vision Fund 2 at a market valuation of nearly $5.5 billion, according to reliable industry sources.
The competition is getting fierce as people order more food online in India amid the second wave of COVID-19.
Softbank is in "advanced stages of talks to invest "up to $400-$500 million" into the food delivery startup, sources told IANS.
This funding will be additional to $800 million (about Rs 5,862 crore) Swiggy raised earlier this month with Falcon Edge Capital, Amansa Capital, Think Investments, Carmignac and Goldman Sachs joining as new investors.
Swiggy was valued at $3.7 billion when it raised funds in February last year.
13) Answer: B
Wipro will embark on a robust hiring plan (with a YoY growth in recruitments), and offer skill-based bonuses and salary increments for senior employees after the IT services firm adopted a new operating model last quarter with a more linear structure.
Wipro's top leadership said during a press conference that the skill-based bonuses will be released as soon as this week and will be essentially for domains like data analytics, cyber security and based on individual performances.
The salary increments, promotion cycles are likely to be effective June 2021.
The company added a total of 14,826 employees during FY20-21, which included hiring 3,000 graduates during the last quarter.
The Bengaluru-based IT services provider reported the best fourth-quarter results in a decade, CEO Thierry Delaporte said, with the net profit growing by 27.7% YoY to Rs 2972 crore.
The operating margin for Q4, FY21 saw an expansion by 344 basis points YoY at 21%.
14) Answer: E
IDBI Bank said it has appointed the company's deputy general manager Jyothi Biju Nair as the new company secretary with effect from April 16.
"The board of directors of the bank has, at its meeting held on April 15, 2021, approved the appointment of Jyothi Biju Nair, deputy general manager as company secretary and key managerial personnel of IDBI Bank with effect from April 16, 2021, in place of Pawan Agrawal, CS," IDBI Bank said in a regulatory filing.
It said that Agrawal would be joining Life Insurance Corporation of India (LIC) as company secretary with effect from April 16, 2021.
LIC is the promoter of IDBI Bank.
Nair is an associate member of the Institute of Company Secretaries of India (ICSI).
15) Answer: C
Director Roberto Benigni will be receiving the Golden Lion for Lifetime Achievement at the 78th Venice International Film Festival, which runs from September 1 to 11.
The organisers confirmed the news about the two-time Oscar-winning actor-director.
"My heart is full of joy and gratitude.
It is an immense honour to receive such an important recognition of my work from the Venice International Film Festival," Benigni said in a statement.
The filmmaker had starred in and directed the holocaust comedy-drama film Life Is Beautiful (1997), for which he received the Academy Awards for Best Actor (the first for a non-English speaking male performance) and Best International Feature Film.
He was last seen in Matteo Garrone's live-action Pinocchio, for which he won a David di Donatello Award.
16) Answer: D
One Million for One Billion (1M1B) Foundation, a United Nations accredited not-for-profit organization is holding Lead Z Teacher Awards in July for educators across India who made extraordinary efforts to provide quality education during the pandemic.
1M1B had received 1,000 applications, out of which, 100 teachers were selected; four educators being from Delhi.
The final 10 winners will get the opportunity to showcase their work at the sixth edition of the 1M1B Activate Impact Summit scheduled at United Nations, New York in December 2021.
Manav Subodh, while noting that 1M1B had worked with over 10,000 teachers on programmes such as AI and digital creativity, says, "In March 2020, overnight the teachers were asked to change their teaching methods, go online, and expected to keep the students engaged in the new virtual classrooms.
17) Answer: E
Indian e-commerce company, Flipkart announced that it will be acquiring Cleartrip, an online travel technology company.
The e-commerce made the announcement that it will acquire 100% of Cleartrip's shareholding, as the company further enhances its investments to strengthen its digital commerce offerings for customers.
Under the terms of the agreement, Cleartrip operations will be acquired by Flipkart.
However, Cleartrip will continue to operate as a separate brand, retaining all employees while working closely with Flipkart to further develop technology solutions which will be focused on making travel easier for customers.
The deal closing is still subject to applicable regulatory approvals, according to Flipkart.
18) Answer: C
On April 12, 2021, Dr Harsh Vardhan, Union Minister for Health and Family Welfare chaired ICMR's International Symposium titled 'One Health in India: Research informing biosafety, preparedness and response' through video conference.
He launched a special issue of ICMR's Indian Journal of Medical Research which discusses the One Health approach, corroborating multi sectoral research informing regarding biosafety, preparedness and response and has original articles, viewpoints, perspectives and reviews from the eminent experts in the field.
The Commission's secretariat will be hosted by ICMR and will also be supported by the National One Health Institute, which will be located in Nagpur.
19) Answer: D
On April 13, 2021, The 'Infant Toddler and Caregiver-friendly Neighbourhoods (ITCN) Training and Capacity Building Programme' was launched.
It was  launched virtually by the National Institute of Urban Affairs (NIUA) in partnership with Bernard van Leer Foundation (BvLF).
Purpose :
The Programme is designed to help build capacities of city officials and young professionals for developing young children and family-friendly neighbourhoods within cities in India.
Under the programme, city officials and young professionals are proposed to be skilled through certified training and capacity building modules.
Objectives :
embedding the learnings from the inventory of knowledge developed by NIUA and BvLF within the on-going and proposed urban development initiatives at neighbourhood and city level.
hand holding participants to embed learnings into the various initiatives of the cities which take into account the everyday needs of young children and caregivers.
20) Answer: B
Facebook partners CleanMax to make 100% renewable energy in India. Facebook is partnering with Mumbai-based clean energy company, CleanMax, to set up 32 megawatts (MW) wind power project in Karnataka.
While CleanMax will own and operate the project, Facebook will buy power off the grid via environmental attribute certificates.