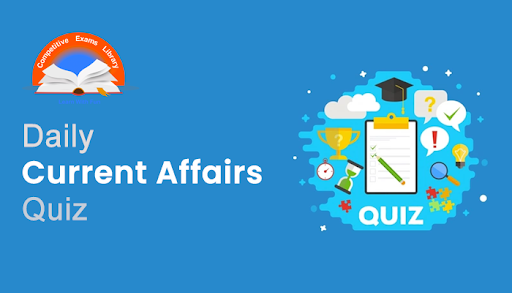 Dear Readers, Daily Current Affairs Questions Quiz for SBI, IBPS, RBI, RRB, SSC Exam 2021 of 16th February 2021. Daily GK quiz online for bank & competitive exam. Here we have given the Daily Current Affairs Quiz based on the previous days Daily Current Affairs updates. Candidates preparing for IBPS, SBI, RBI, RRB, SSC Exam 2021 & other competitive exams can make use of these Current Affairs Quiz.
1) National Productivity Day 2021 is observed on which of the following date?
A) February 11
B) February 13
C) February 12
D) February 4
E) February 5
2) The government of which state will construct the 'COVID Warrior Memorial' at BijuPatnaik Park?
A) Haryana
B) Bihar
C) Chhattisgarh
D) Odisha
E) Delhi
3) Who among the following will lay the foundation stone of Maharaja Suheldev Memorial?
A) Ram Nath Kovind
B) Venkiah Naidu
C) Anurag Thakur
D) Prahlad Patel
E) Narendra Modi
4) The Minority Affairs Ministry has organized the _____HunarHaat in New Delhi.
A) 22nd
B) 23rd
C) 24th
D) 26th
E) 25th
5) India will fund USD _____ million for restoration of 3 cultural heritage projects in Nepal.
A) 35
B) 50
C) 55
D) 40
E) 45
6) Which of the following state will organize the RashtriyaSanskritiMahotsav from 14th to 28th Feb?
A) Chhattisgarh
B) Punjab
C) West Bengal
D) Haryana
E) Bihar
7) The LokSabha has passed the Arbitration & Conciliation (Amendment) Bill, 2021 and will amend the Arbitration and Conciliation Act of which year?
A) 1990
B) 1992
C) 1993
D) 1996
E) 1995
8) Which country has extended the New START nuclear treaty with Russia for 5 years?
A) Sweden
B) Germany
C) Iran
D) France
E) US
9) Foreign Secretary Harsh VardhanShringla is on a 2-day visit to which of the following country?
A) Japan
B) Germany
C) Russia
D) France
E) US
10) The Annual Convention of Association of Domestic Tour Operators of India has recently been concluded in which state?
A) Chhattisgarh
B) Gujarat
C) Haryana
D) Delhi
E) Bihar
11) Robotic Spa' facility has been inaugurated in which of the following railway station?
A) Mewat
B) Delhi
C) Chandigarh
D) Visakhapatnam
E) Patna
12) Which state has become the 13th State to complete the ONOR Card?
A) Chhattisgarh
B) Madhya Pradesh
C) Delhi
D) Haryana
E) Punjab
13) Who among the following has won the Best novel award by Kerala SahityaAkademi?
A) Jisha Abhinaya
B) Anand Rathi
C) S Hareesh
D) Mukesh Gupta
E) Neel Singh
14) CREDAI has inked a pact with which bank to open bank accounts for construction workers?
A) Bandhan
B) IPPB
C) Paytm
D) SBI
E) ICICI
15) Who among the following has been sworn in as Italy's new prime minister?
A) Fedrick Draghi
B) Mario Draghi
C) Jens Weldmann
D) Sergio Matarella
E) Giacomo Draghi
16) Which of the following company has become the first Indian startup in the WEF accelerator program?
A) Haptik
B) Nykaa
C) Recykal
D) Instamojo
E) Shuttl
17) NITI Aayog'sAtal Innovation Mission & which organization has kickstarted the I-ACE Hackathon, 2021?
A) CII
B) Ficci
C) Assocham
D) NitiAayog
E) CSIRO
18) Who among the following has recently announced the memoir titled Unfinished?
A) Sonakshi Sinha
B) Priyanka Chopra
C) Dia Mirza
D) Kareena Kapoor
E) Rani Mukherjee
19) Who among the following has turned a novelist with the book Mapping Love?
A) Vasu Srivastava
B) Raj Gupta
C) Sushil Mittal
D) AshwiniIyerTiwari
E) Anand Abhishek
Answers :
1) Answer: C
The National Productivity Day is observed every year on February 12 by the National Productivity Council (NPC).
The main objective of the celebration is to encourage stakeholders in implementing productivity tools and techniques.
The National Productivity Council celebrates the National Productivity Week from 12 February to 18 February, 2020
2) Answer: D
Odisha government to construct 'COVID Warrior Memorial' at BijuPatnaik Park in Bhubaneswar in recognition of the sacrifice & services rendered by COVID19 warriors who have lost their lives fighting the pandemic.
More than 60 Covid warriors including health workers in Odisha have succumbed to coronavirus. 19.
The state government plans to inaugurate the memorial on August 15 2021.
Last year, Odisha chief minister Naveen Patnaik had announced that the martyr status would be accorded to all health personnel and other support services who succumbed to Covid19.
The state government also announced ₹50 lakh ex-gratia to all health personnel (private and public) and members of all other support services who died of Covid-19.
3) Answer: E
Prime Minister NarendraModi will lay the foundation stone of Maharaja Suheldev Memorial and development work of Chittaura Lake in Bahraich, Uttar Pradesh through video conferencing.
The event marks the birth anniversary of Maharaja Suheldev.
UP Chief Minister Yogi Adityanath will also be present on the occasion.
The complete project will include installation of an equestrian statue of Maharaja Suheldev and development of various tourist amenities like cafeteria, guest house and a children's park
4) Answer: D
Minority Affairs Ministry is organising 26th HunarHaat of indigenous artisans and craftsmen from across the country at Jawaharlal Nehru Stadium in New Delhi.
More than 600 artisans and craftsmen, including a large number of women artisans, from more than 31 States and Union Territories will participate in the event.
The HunarHaat will be organised with the theme of Vocal for Local from 20th February to 1st March this year.
Minority Affairs Minister Mukhtar Abbas Naqvi has said that the HunarHaat is a perfect platform to promote indigenous products of artisans and craftsmen from across the country.
He said, it has provided employment and employment opportunities to more than five lakh artisans, craftsmen and artists yet.
5) Answer: B
India will provide Nepalese Rupees(NR) 142 million to Nepal for the restoration and conservation of three cultural heritage sites in the Kathmandu Valley.
The three sites are part of cultural heritage projects being taken up by India for post-earthquake conservation and restoration under anMoU signed between the two countries.
The projects are being implemented under USD 50 million grant assistance committed by India for post-earthquake reconstruction of the cultural heritage sites across eight districts of Nepal.
The agreements were signed by the Project Director of CLPIU (Building) of National Reconstruction Authority and Contractors for conservation and retrofitting of SetoMachindranath Temple ( Total Cost – NRs 626 million ), construction of Dharamshala at Budhaneelkantha ( Total Cost NRs – 334 million ) and conservation and development of Kumari Home in Lalitpur district ( Total Cost NRs – 456 million ), according to a press release issued by the Indian Embassy.
6) Answer: C
The 11th RashtriyaSanskritiMahotsav is being held between 14th to 28th February at Cooch Behar, Darjeeling and Murshidabad in West Bengal.
The inaugural programme is going to take place at Coochbehar.
Governor JagdeepDhankhar and Union Minister of State for Culture and Tourism Prahlad Singh Patel will be present in the inauguration.
All arrangements are in place for hosting the RashtriyaSanskritiMahotsav at Coochbehar Palace.
7) Answer: D
The LokSabha passed the Arbitration and Conciliation (Amendment) Bill, 2021 by voice vote.
The Bill was introduced in the LokSabha on February 4, 2021 by Law Minister Ravi Shankar Prasad.
It seeks to amend the Arbitration and Conciliation Act, 1996 so as to (i) enable automatic stay on awards in certain cases and (ii) specify by regulations
8) Answer: E
The United States extended the nuclear arms control treaty known as the New START with Russia for the next five years.
The United States took the first step toward making good on that pledge when it extended the New START (Strategic Arms Reduction Treaty) Treaty with the Russian Federation for five years
The new strategic arms reduction treaty, was formally signed on April 8, 2010 and after ratification, entered into force on 5 February 2011.
Blinken added that extending the New START Treaty ensures the US has verifiable limits on Russian ICBMs, SLBMs, and heavy bombers until February 5, 2026.
The agreement also included a five-year extension clause that allowed both nations to extend the pact with approval from both presidents.
9) Answer: C
Foreign Secretary Harsh VardhanShringla will pay a two-day visit to Moscow on 17th and 18th of February at the invitation of Russian Deputy Foreign Minister Igor Morgulov.
The Foreign Secretary will hold the next round of India-Russia Foreign Office Consultations with Deputy Foreign Minister Morgulov, during which the two sides will review the entire gamut of bilateral relations, including the forthcoming high-level exchanges.
During the visit, the Foreign Secretary will also meet Russian Deputy Foreign Minister Sergey Ryabkov for an exchange of views on topical issues of regional and international importance.
He will also deliver a speech on India-Russia relations at the prestigious Diplomatic Academy of the Russian Ministry of Foreign Affairs.
10) Answer: B
The Annual Convention of Association of Domestic Tour Operators of India (ADTOI) concluded at Kevadia in Gujarat.
The convention was jointly organized by the Ministry of Tourism and ADTOI with support from Gujarat Tourism.
It aimed at building public confidence to travel for the revival of domestic tourism in the country.
The conference was attended by around 400 delegates comprising ADTOI members from across India, hoteliers, airlines representatives, senior government officials, media-persons among other stakeholders of the tourism industry.
11) Answer: D
Waltair Division, in its efforts to enhance the passenger amenities at Railway stations, has commissioned another innovative facility called Robotic Spa under Non-fare revenue here at Visakhapatnam railway station.
The first of its kind facility at Railway station in East Coast Railway was inaugurated by Divisional Railway Manager, WaltairChetan Kumar Shrivastava.
The Robotic Spa comprising Relaxing Chair, Foot massager and Fish pedicure spa gives a pleasant experience to the Rail Customers waiting at Visakhapatnam railway station.
The motto behind such an innovative model is to facilitate the esteemed rail customers to spend quality time while waiting for trains.
12) Answer: E
Punjab has become the 13th State in the country to successfully undertake "One Nation One Ration Card system" reform.
The State has become eligible to mobilise additional financial resources of one thousand five hundred and sixteen crore rupees through Open Market Borrowings.
12 other States which have completed this reform are Andhra Pradesh, Goa, Gujarat, Haryana, Karnataka, Kerala, Madhya Pradesh, Rajasthan, Telangana, Tamil Nadu, Tripura and Uttar Pradesh.
The implementation of One Nation One Ration Card System ensures availability of ration to beneficiaries under National Food Security Act and other welfare schemes at any Fair Price Shop across the country.
13) Answer: C
S Hareesh's novel 'Meesha', which mixes magic, myth and metaphor into a tale set in Kuttanad, was named the best novel for the year 2019 by Kerala SahityaAkademi.
Writer P Valsala and writer-academician N V P Unithiri were selected for the Akademi fellowships, which comprise a cheque of Rs 50,000, a gold plaque and a citation.
P Raman's 'RathriPandhradarakkuOruTharattu' was selected for the best poem award while Vinoy Thomas's 'Ramachi' received Akademy's award for the best short story for 2019.
SajithaMadathil's 'ArangileMatsyagandhikal' and JishaAbhinaya's 'Eli Eli Lama Sabaktani' shared the award for the best play.
14) Answer: B
The Confederation of Real Estate Developers' Associations of India (CREDAI) has entered into a memorandum of understanding with Indian Payments and Postal Bank (IPPB) to facilitate opening of bank accounts for construction workers.
This labour welfare initiative is aimed at ensuring financial literacy and digital inclusion of construction workers
At present, around 3 crore workers are engaged in construction activities across real estate projects in the country.
The pact aims to cover around 10 lakh workers under this initiative in a year.
15) Answer: B
The former European Central Bank chief Mario Draghi has been sworn in as Italy's prime minister at the head of a unity government
Draghi,73 year old who formerly served as the head of the European Central Bank.
Draghi's predecessor, Giuseppe Conte, resigned only weeks ago after infighting among political groups over his handling of the pandemic.
16) Answer: C
Recykal, a digital 'waste commerce' solutions provider, has been selected as the first member from India for the World Economic Forum's Circulars Accelerator programme 2021.
This programme is led by Accenture along with Ecolab, Schneider Electric and the World Economic Forum, and will connect industry leaders with 17 circular economy entrepreneurs.
The aim of this programme is to recognise individuals and companies that are making a notable contribution to the circular economy.
17) Answer: E
AIM and Australia's national science agency (CSIRO) kick started the India-Australia Circular Economy (I-ACE) Hackathon, 2021.
The concept of I-ACE joint Hackathon originated in the virtual bilateral summit between the Hon. Prime Minister of India and the Hon. Prime Minister of Australia, held on June 4th, 2020 where they committed to joint circular economy innovation initiatives between the two countries.
I-ACE is supported by the Australian Department of Industry, Science, Energy and Resources (DISER), AIM Atal Incubation Centre network, and various domain experts.
The total prize pool for the I-ACE Hackathon is around fifty-six lakh rupees altogether. The winners will be felicitated in presence of key Government dignitaries from both the countries.
AIM and CSIRO are committed towards enabling the youth of their countries to further strengthen the circular economy in both India and Australia.
18) Answer: B
Former Miss World and actor Priyanka Chopra Jonas created ripples when she announced her memoir titled Unfinished.
Published by Penguin Random House, the unconventional title hints at the fact that Chopra has many more story-worthy years to live.
Unfinished looks back on Chopra Jonas' childhood and teenage years in India and the United States respectively, her return to her homeland where she won a national beauty contest, a pageant, she explains in her book, her acting career, her American TV acting debut on the ABC-TV hit drama Quantico, among other things.
She also executive produced the film based on the Man Booker Prize-winning book.
19) Answer: D
Director AshwinyIyerTiwari (Bareilly Ki Barfi, Panga) has turned novelist with her debut fiction novel, 'Mapping Love'.
The teaser of the novel was released by Rupa Publications.
IyerTiwari, known for acclaimed films like Nil BatteySannata, Bareilly Ki Barfi and Panga, said it took her three years to bring the book to life.
AshwinyIyerTiwari  won the best debut director award in 2017 filmfare for nil batteysannata
In 2018 she won the Best Director for Bareilly Ki Barfi.