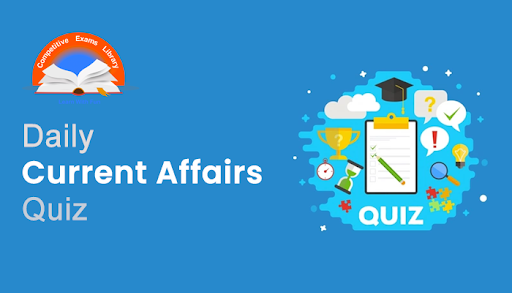 Dear Readers, Daily Current Affairs Questions Quiz for SBI, IBPS, RBI, RRB, SSC Exam 2021 of 16th March 2021. Daily GK quiz online for bank & competitive exam. Here we have given the Daily Current Affairs Quiz based on the previous days Daily Current Affairs updates. Candidates preparing for IBPS, SBI, RBI, RRB, SSC Exam 2021 & other competitive exams can make use of these Current Affairs Quiz.
1) National Vaccination Day is observed on which of the following date?
A) March 3
B) March 4
C) March 16
D) March 5
E) March 7
2) The Central Government has notified that ______ is not being privatized in Lok Sabha.
A) DFI
B) ICICI
C) SBI
D) LIC
E) IDBI
3) In the Lok Sabha Mines & Minerals (Development and Regulation) Amendment Bill 2021 has been introduced to replace the act of _____.
A) 1964
B) 1965
C) 1961
D) 1960
E) 1957
4) Agriculture Department of which state/UT has organized Kisan Mela in Kupwara district?
A) Madhya Pradesh
B) Jammu & Kashmir
C) Haryana
D) Punjab
E) Uttar Pradesh
5) In Lok Sabha Juvenile Justice (Care and Protection of Children) Amendment Bill 2021 has been introduced to replace the act of _____.
A) 2017
B) 2019
C) 2015
D) 2013
E) 2020
6) The IPU President is on a weeklong visit to India. What is the full form of IPU?
A) International Packaging Union
B) India Packaging Union
C) Intra Parliamentary Union
D) Inter Parliamentary Union
E) International Parliamentary Union
7) PM Modi recently virtually met the Prime Minister of which country?
A) Sweden
B) Germany
C) France
D) Denmark
E) Finland
8) Which of the following ministries has organised a seminar with District Officers?
A) Biotechnology
B) Women & Child Development
C) Earth Sciences
D) Finance
E) Education
9) For the development of Sewage Treatment Plants in UP's Moradabad – Agreement has been signed between which organization and GA Infra Pvt. Limited?
A) Niti Aayog
B) FICCI
C) NMCG
D) Nasscom
E) CII
10) Urban Forest Division of which city recently observed the Chinar Day?
A) Chennai
B) Pune
C) Chandigarh
D) Srinagar
E) Surat
11) Which state/UT is organizing the "Nasha Mukt Bharat Abhiyan" programme?
A) Madhya Pradesh
B) Bihar
C) Punjab
D) Chandigarh
E) J&K
12) February WPI inflation has risen to ______ per cent recently.
A) 5.1
B) 4.5
C) 4.17
D) 4.12
E) 4.3
13) AU Small Finance Bank has raised ______ crore by QIP.
A) 530
B) 625
C) 615
D) 610
E) 510
14) Govt will sell _____ per cent stake in Tata Communications Ltd via OFS.
A) 11.12
B) 13.12
C) 14.12
D) 16.12
E) 15.12
15) Image-based Cheque Truncation System needs to be implemented in all branches by which date as directed by RBI?
A) February 28
B) January 31
C) September 30
D) November 30
E) December 31
16) WEF has honoured ________ named as Global Lighthouse Network.
A) Vikram Solar
B) Tata Power
C) Azure Power
D) Suzlon
E) ReNew Power
17) Which institution has recently signed MoU with CUSAT ?
A) FICCI
B) CII
C) ICSI
D) AIMCAT
E) Niti Aayog
18) Which institution has launched the UPI-Help on BHIM app for BHIM-UPI Users?
A) Axis
B) NPCI
C) DFI
D) SBI
E) ICICI
19) Which of the following naval ship has reached Comoros To Deliver 1,000 Tonnes of Riceas part of the Mission Sagar-IV?
A) INS Vikram
B) INS Vikrant
C) INS Sagar
D) INS Jalashwa
E) INS Dilli
20) Which company has Launched the first ever PCs with plastic waste in ocean,a move that builds on the company's sustainability commitment?
A) Toshiba
B) Lenovo
C) Dell
D) HCL
E) HP
21) Guru Chemancheri who passed Away at 105 was an eminent ____.
A) Cricketer
B) Tennis Player
C) Dancer
D) Singer
E) Writer
22) Who has become the first Indian fencer to qualify for the Olympic Games?
A) Sudhir Singh
B) Anand Raj
C) Nitin Verma
D) Rajni Kumari
E) Bhavani Devi
23) World class winter sports academy will be set up in _____.
A) Drass
B) Kargil
C) Gulmarg
D) Surat
E) Ladakh
24) Laxman Pai who passed away at 95 was a renowned ____.
A) Actor
B) Singer
C) Writer
D) Painter
E) Dancer
Answers :
1) Answer: C
The National Vaccination Day, also called the National Immunization Day, is celebrated every year on March 16 to convey the importance of vaccination to the entire nation.
March 16 as on the same day the first dose of Oral Polio Vaccine was given in India in 1995.
The day is observed to celebrate the Indian government's Pulse Polio Campaign which was an initiative to eradicate polio from the country.
2) Answer: D
The Government said that Life Insurance Corporation of India (LIC) has not been privatized.
Replying to a supplementary question during the Question Hour in Lok Sabha, Minister of State for Finance, Anurag Thakur mentioned, the government is bringing in the IPO to usher in transparency and valuation.
He said, the IPO will increase the investment in LIC.
He said the decision on percentage for shareholders will be taken later.
Mr. Thakur said, the IPO will benefit the country and shareholders as well.
3) Answer: E
The Mines and Minerals (Development and Regulation) Amendment Bill 2021 was introduced in the Lok Sabha.
Coal Minister Pralhad Joshi introduced the Bill which amends the Minerals (Development and Regulation) Act 1957.
The legislation seeks to remove the distinction between captive and merchant mines.
The Bill empowers the Central Government to issue directions regarding composition and utilisation of funds maintained by the District Mineral Foundation.
The Bill aims at fully harnessing the potential of the mineral sector, increasing employment and investment in the mining sector.
This will also help in increasing the revenue of the States.
The legislation will also help in increasing the production and time bound operationalization of mines in the country.
4) Answer: B
In the Union Territory of Jammu and Kashmir, the Agriculture Department organized a day-long Kisan Mela at the Agriculture Complex in Kupwara district.
The Agriculture department and allied departments installed their stalls to showcase machinery and high yielding variety seeds.
The Mela was organized as a part of 'Aazadi Ka Amrit Mahotsov' and was attended by hundreds of progressive farmers of the district.
The District Development Commissioner Kupwara, Imam Din in his address said that the objective of holding such a farmer awareness programme is to transform the knowledge bank of agriculture scientists and farm experts to the field so that the ambitious programme of Government of India to double the income of farmer community is achieved by the target period of 2022.
The DDC directed the Agriculture Department to hold such programmes in every part of the district and simultaneously advised farmers to take advantage of the new and innovative techniques of Agriculture Farming to yield better results at ground level
5) Answer: C
Juvenile Justice (Care and Protection of Children) Amendment Bill 2021 was introduced in the Lok Sabha.
Women and Child Development Minister Smriti Irani introduced the Bill that seeks to amend the Juvenile Justice (Care and Protection of Children) Act, 2015.
The amendments include authorizing District Magistrate including Additional District Magistrate to issue adoption orders to ensure speedy disposal of cases and enhance accountability.
Defining eligibility parameters for appointment of Child Welfare Committee members and categorizing previously undefined offences as serious offences are some of the other aspects of the Bill.
The Marine Aids to Navigation Bill 2021 was also introduced in the House.
The Bill provides for the development, maintenance and management of aids to navigation in India for training and certification of operators of aids to navigation.
The Bill was introduced by Minister of State for Ports and Shipping Manshukh Mandaviya.
The Government of National Capital Territory of Delhi (Amendment) Bill 2021, the Mines and Minerals (Development and Regulation) Amendment Bill 2021 and the National Institute of Pharmaceutical Education and Research (Amendment) Bill 2021 were also introduced in the Lok Sabha.
6) Answer: D
Inter Parliamentary Union President Mr. Duarte Pacheco called on Lok Sabha Speaker Om Birla and witnessed the proceedings of the Upper House.
Mr. Pacheco is on a weeklong visit to India on the invitation of Indian Parliament.
He is scheduled to attend a felicitation ceremony and address the Parliament Members under the auspices of the Indian Parliamentary Group (IPG) in the Central Hall of Parliament House.
Inter-Parliamentary Union (IPU) formed in 1889, is one of the oldest and largest international Parliamentary bodies consisting of more than 179 Members.
IPU espouses the cause of promoting democracy across the world and takes up issues of international importance, such as, Sustainable Development Goals (SDGs), Climate Change, Gender Equality, etc.
Since independence, India has always been an active Member of Inter Parliamentary Union (IPU).In the past, Shri G.S. Dhillon, the then Speaker of Lok Sabha and Dr. Smt. Najma Heptulla, the then Deputy Chairman of Rajya Sabha had served as the President of IPU.
India has been contributing to the deliberations and outcomes of IPU by being on various Standing Committees, Forums and Advisory.
7) Answer: E
Prime Minister Narendra Modi will hold a Virtual Summit with Prime Minister of Finland Sanna Marin.
During the Summit, the two leaders will cover the entire spectrum of bilateral relationship and will also exchange views on regional and global issues of mutual interest.
The Virtual Summit will provide a blueprint for the future expansion and diversification of India-Finland Partnership.
India and Finland enjoy warm and friendly relations based on shared values of democracy, freedom and rules based international order.
Both countries have very close cooperation in the areas of trade and investment, education, innovation, Science and Technology as well as Research and Development.
Both sides also have ongoing collaboration in the joint development of a Quantum Computer using Artificial Intelligence to address societal challenges.
Around 100 Finnish companies are actively operating in India in various sectors such as telecom, elevators, machinery and energy including Renewable Energy.
Around 30 Indian companies are also active in Finland mainly in the IT, auto-components and
8) Answer: B
The Ministry of Women and Child Development organized a seminar with District Officers from Aspirational Districts and Districts with high rates of crime against women and children.
Women and Child Development Minister Smriti Irani addressed the seminar.
Later talking to reporters, Ms Irani said, during the seminar discussions were held on important umbrella schemes Poshan Abhiyaan, Mission Shakti and Mission Vatsalya.
She said, discussions were also held on ways to provide mobile Creches in rural areas for women engaged in the construction and agriculture sector.
The Minister said, her Ministry is also considering integrating the Women and Child helplines for quick assistance to distressed women and children and also for better redressal of grievances.
District Officers from 112 Aspirational Districts and officials from 100 Districts with high rates of crime against women and children attended the seminar.
9) Answer: C
A tripartite Concession Agreement has been signed between the National Mission for Clean Ganga (NMCG), Uttar Pradesh Jal Nigam and GA Infra Private Limited-Lahoti Buildcon Limited for development of Sewage Treatment Plants (STPs) for Moradabad.
The contract was awarded at a total cost of 99.68 crore rupees.
Ministry of Jal Shakti said that the project is aimed at eliminating flow of untreated sewage from Moradabad city into the River Ganga thereby reducing pollution load in the river.
The NMCG approved the project for construction of the 25 Million Litre per Day (MLD) Sewage Treatment Plant, developing Interception and Diversion structures and Sewage Pumping Stations including Operation.
This project also aims to take care of the existing sewerage problems in the town and the resultant sewage pollution in the Ram Ganga.
The lending for these projects is already offered by SBI Capital.
10) Answer: D
In the Union Territory of Jammu and Kashmir, the Urban Forest Division Srinagar organized a programme to observe Chinar Day at Shuhama Campus of Sher-e-Kashmir University of Agricultural Sciences and Technology (SKUAST) where the Chinar saplings were planted within the premises.
Conservator of Forests Srinagar, Zubair Ahmad Shah said that we have assembled to celebrate Chinar Day and exchange the ideas about this Heritage Tree.
Without Chinar, the landscape of Kashmir is incomplete.
While divulging into the details, he said that the department currently is planting about 2000 Chinar saplings besides twelve thousand five hundred more Chinar saplings shall be planted during the year.
Mr Shah added that it is our conscious effort to preserve this heritage and shall grow more and more Chinars as it enhances the beauty of Kashmir besides providing gallons of oxygen to our atmosphere and helping in the maintenance of the environment.
11) Answer: E
In the Union Territory of Jammu and Kashmir, a day-long "Nasha Mukt Bharat Abhiyan" programme was held at Budgam.
The event was inaugurated by District Development Commissioner Shahbaz Ahmad Mirza and was jointly organized by the Social Welfare Department and District Administration in collaboration with the Department of Health and many NGOs.
The DDC noted that relentless efforts and commitment is required to take the Nasha Mukt Bharat Abhiyan, a result oriented campaign.
He said rigorous mass awareness at all levels to spread the message among common people is needed for the hour, as this is a complicated problem which requires serious steps at the right time to curb it.
He said drug addiction has the capacity of devastating the future of our young generation.
He said that we jointly have to share the responsibility in keeping vigil at our wards and their close ones to prevent them from getting into this menace.
12) Answer: C
The wholesale price-based inflation rose to 4.17 percent to hit 27 month high in February this year.
The Commerce and Industry Ministry data release showed that WPI rose mainly due to rise in food, fuel and manufactured goods prices.
As compared to January this year, provisional food prices were up by 3.31 percent and manufactured products rose 5.81 percent in the reported month.WPI stood at 2.03 percent in January this year while rose to 2.26 percent in the same month last year.
Retail inflation also climbed to a three-month high of 5.03 in February this year.
About Wholesale price index:
The Wholesale Price Index is the price of a representative basket of wholesale goods.
Some countries use WPI changes as a central measure of inflation.
But now India has adopted a new CPI to measure inflation.
However, the United States now reports a producer price index instead.
The WPI is published by the Economic Adviser in the Ministry of Commerce and Industry.
The Wholesale Price Index focuses on the price of goods traded between corporations, rather than the goods bought by consumers, which is measured by the Consumer Price Index.
Wholesale Price Index, or WPI, measures the changes in the prices of goods sold and traded in bulk by wholesale businesses to other businesses.
WPI is unlike the Consumer Price Index (CPI), which tracks the prices of goods and services purchased by consumers.
13) Answer: B
AU Small Finance Bank announced that it has completed the allotment of equity shares under its Qualified Institutions Placement and has raised Rs.625.5 crore through the issuance of 50 lakh equity shares at an issue price of Rs.1,251 per share.
About the Bank:
AU Small Finance Bank Limited is an Indian scheduled commercial bank that was founded as vehicle finance company AU Financiers Ltd in 1996 and converted to a small finance bank on 19 April 2017.
14) Answer: D
Government has decided to sell 16.12 per cent stake in Tata Communications Limited TCL through an Offer for Sale, OFS.
The floor price of each share of face value of ten rupees is fixed at one thousand one hundred 61 rupees.
Secretary Department of Investment and Public Asset Management DIPAM Tuhin Kanta Pandey mentioned, on the first day the sale is open to non-retail investors and retail investors can participate in the bid.
Government holds 26.12 per cent stake in TCL earlier known as Videsh Sanchar Nigam Limited.
As per the decision of Cabinet Committee on Economic Affairs, the remaining stake of Government in TCL post OFS, including the unsubscribed portion of the OFS would be sold to Panatone Finvest Limited, a Tata group company at the price discovered in OFS.
The whole transaction is likely to raise more than 8 thousand 6 hundred 42 crore rupees for the Government.
15) Answer: C
The Reserve Bank of India has asked banks to implement the image-based Cheque Truncation System (CTS) in all branches by September 30 this year.
The move is aimed at faster settlement of cheques resulting in better customer service.
Last month, the RBI had announced pan-India coverage of CTS by bringing all bank branches under the image-based clearing mechanism.
The Apex bank said that to leverage the availability of CTS and provide uniform customer experience irrespective of location of her/his bank branch, it has been decided to extend CTS across all bank branches in the country.
To facilitate this, banks will have to ensure that all their branches participate in image-based CTS under respective grids by September 30.
Image Cheque clearing system:
There's now a new way of clearing cheques more easily and quickly across the UK.
The Image Clearing System allows banks and building societies to exchange images of cheques instead of moving paper around the country.
This new approach means you can withdraw money much sooner.
Cheque Truncation System:
Cheque truncation system is an arrangement which facilitates the electronic processing of a cheque with the use of Magnetic Ink Character Reader (MICR) data and the scanned image of the instrument without involving any physical exchange or movement of the financial instrument.
16) Answer: E
"ReNew Power has been named to the World Economic Forum's (WEF) Global Lighthouse Network, which recognises companies using new technologies to achieve environmentally sustainable, community supportive, profitable growth," the company said in a statement.
About ReNew Power:
ReNew Power is an Indian renewable energy company. It has an asset base of over 8 GW, with around 5 GW operational.
17) Answer: C
The Institute of Company Secretaries of India has signed a memorandum of understanding with the Cochin University of Science and Technology for academic collaboration in which three top students from the School of Legal Studies of the University will be bestowed with the ICSI Signature Gold Award.
18) Answer: B
National Payments Corporation of India (NPCI), the umbrella entity for digital payments in India, has launched  UPI-Help on BHIM UPI.
That will act as a grievance redressal mechanism for the users of the BHIM application.
The redressal mechanism is aimed at creating a hassle-free experience for BHIM UPI app users regarding resolution of various issues.
Initially the UPI-Help has been made live on the BHIM app for the customers of State Bank of India, AXIS Bank, HDFC Bank, and ICICI Bank.
Customers of Paytm Payments Bank and TJSB Sahakari Bank will also be able to use UPI-Help soon.
19) Answer: D
On March 14, 2021 Indian Naval Ship (INS) Jalashwa reached Port Anjouan in Comoros to deliver 1,000 tonnes of rice as part of the Mission Sagar-IV.
This is the second visit of an Indian Navy ship to the island country within a span of one year.
It will be received by Foreign Minister of Comoros Dhoihir Dhoulkamal in a ceremony
INS Jalashwa, the largest amphibious ship of Indian Navy
About SAGAR :
Security and Growth for all in the Indian Ocean Region
It was started by Prime Minister Narendra Modi in May 2020.
It is mainly To assist maritime neighbours such as Comoros amid the coronavirus pandemic.
20) Answer: E
HP made its first ever consumer PC using plastic waste in the ocean, a move that builds on the company's sustainability commitment.
Newly launched Pavilion 13, Pavilion 14, and Pavilion 15 Laptops were manufactured using ocean-bound plastics.
HP estimates that the use of these plastics in devices will keep around 92,000 plastic bottles out of the oceans and landfills.
The outer boxes and fibre cushions used to pack the products and that also 100% recyclable material.
HP Pavilion 15 with a screen size of 15″ will be available in Silver, Ceramic White and Fog Blue colours
HP Pavilion 13 will be available in silver and ceramic white colour
HP Pavilion 14 will be available in silver, ceramic white and tranquil pink
21) Answer: C
Veteran Kathakali exponent Guru Chemancheri Kunhiraman Nair, has passed away.
He was 105.
About Guru Chemancheri :
Born to Chadayankandy Chathukutty Nair and Kinattinkara Kunhamnakutty Amma on June 16, 1916
He had his debut performance at Keezhpayur Kuniyil Paradevatha temple in 1930.
He founded Bharatiya Natyakalalayam in 1945, which was the first school of dance in north Kerala
After that several other dance schools, including the Cheliya Kathakali Vidyalayam in his native village, about 30 km from here.
22) Answer: E
Tamil Nadu's Chadalavada Anandha Bhavani Devi became the first-ever fencer from India to qualify for the Olympic Games.
Bhavani qualified through the Adjusted Official Ranking (AOR) Method.
Two individual spots were up for grabs for the Asia-Oceania region based on the world rankings as of April 5, 2021.
She is ranked 45th and occupies one of the two available slots based on the ranking.
The Tokyo Olympics 2021 is scheduled to take place from July 23 to August 8 2021.
23) Answer: C
The Government announced the Rajya Sabha would soon set up a world class winter sports academy in Gulmarg.
In addition to that 100 small sports centres under the "Khelo India" mission across Jammu and Kashmir would be set up by the government.
Minister of State for Youth Affairs and Sports (Independent Charge) Kiren Rijiju mentioned the government will also hold the national camp for winter games in Gulmarg this year
Two 'khelo India' centres of excellence would also be set up in Srinagar and Jammu, with different disciplines.
The Government has sanctioned setting up of 40 small centres under 'Khelo India' 60 more such centres would be opened soon.
24) Answer: D
On March 14, 2021, Renowned artist & painter from Goa and Padma Bhushan awardee Laxman Pai passed away in Goa.
He was 95.
About Laxman Pai :
Born in Margao, Goa in 1926.
He also served as the principal of Goa College of Art.
Among Pai's latest works was a 100-foot acrylic on linen painting which he worked on in five parts and completed in four months.
He was a recipient of several awards including the India's highest civilian honour Padma Bhushan, Padma Shri, Nehru Award and Lalit Kala Akademi Award.( 3 Times )