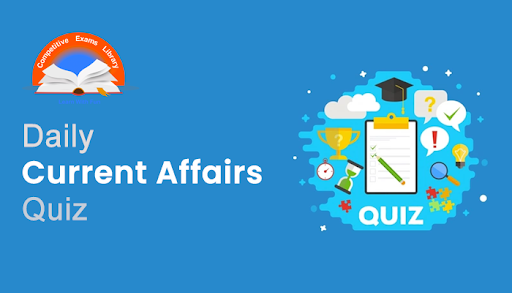 Dear Readers, Daily Current Affairs Questions Quiz for SBI, IBPS, RBI, RRB, SSC Exam 2021 of 17th & 18th January 2021. Daily GK quiz online for bank & competitive exam. Here we have given the Daily Current Affairs Quiz based on the previous days Daily Current Affairs updates. Candidates preparing for IBPS, SBI, RBI, RRB, SSC Exam 2021 & other competitive exams can make use of these Current Affairs Quiz.
1) PM Modi has rolled out the world's largest vaccination drive for COVID-19 which is estimated ______ crore people by the end of the first phase.
A) 1
B) 1.5
C) 3
D) 2.5
E) 2
2) Which institution has partnered with CBSE to jointly launch CollabCAD Software?
A) Infosys
B) HCL
C) Dell
D) NIC
E) Microsoft
3) The Country celebrates the Harvest festival MakarSankranti on which of the following date?
A) January 11
B) January 12
C) January 15
D) January 16
E) January 14
4) Who among the following has inaugurated the Prarambh Startup India International Summit?
A) Nirmala Sitharaman
B) Anurag Thakur
C) Prahlad Patel
D) PiyushGoyal
E) Narendra Modi
5) PM NarendraModi has announced a _______ crore, 'Startup India Seed Fund'.
A) 1300
B) 1000
C) 1200
D) 1500
E) 1100
6) Dr. Harsh Vardhan has dedicated an Innovation Portal developed By _______.
A) Ficci
B) Assocham
C) NitiAayog
D) NIC
E) NIF
7) The Petroleum & Natural Gas Ministry has launched the ________ campaign to spread awareness about green energy.
A) PRATISHTA
B) SHIKSHA
C) SAKSHAM
D) NISHTHA
E) SAHAKAR
8) Donald Trump has become the ______ US President to be impeached twice.
A) 5th
B) 4th
C) 3rd
D) 1st
E) 2nd
9) Cherry Blossom Mao Festival is held in which state?
A) Nagaland
B) Assam
C) Madhya Pradesh
D) Kerala
E) Manipur
10) Which company has collaborated with NitiAayog to enhance Women Entrepreneurship Platform?
A) Jabong
B) Amazon
C) Flipkart
D) Myntra
E) Snapdeal
11) Which institution has developed India's first indigenous 9mm machine pistol ASMI?
A) BEL
B) BDL
C) HAL
D) DRDO
E) ISRO
12) Who will head the IRDAI committee to Examine health insurance products?
A) BK Mohanti
B) Subash Chandra Khuntia
C) NachiketMor
D) AK Chand
E) Hari Prasad
13) Intel has appointed who among the following as its new CEO?
A) Robert Mackenzie
B) Nel Michel
C) Pat Gelsinger
D) Rudy Smith
E) Kevin Pattison
14) Which bank has partnered with Aditya Birla Wellness to launch wellness themed credit card?
A) HDFC
B) ICICI
C) SBI
D) Yes Bank
E) Axis
15) FSS and which bank have collaborated to promote AePS Partnership Advances Financial Inclusion in India?
A) HDFC
B) ICICI
C) SBI
D) Paytm
E) IPPB
Answers :
1) Answer: C
India launched the much awaited, world's largest COVID-19 vaccination programme.
Prime Minister NarendraModi launched the programme through video conferencing.
A total of 3006 session sites across all states and union territories will be virtually connected during the launch.
In the first phase government and private sector health care workers, including Integrated Child Development Services (ICDS) workers, will receive the vaccine.
The drive aims to first inoculate millions of its healthcare and frontline workers and reach an estimated 3 crore people by the end of its first phase.
2) Answer: D
National Informatics Centre and Central Board of Secondary Education, CBSE will jointly launch CollabCAD Software to provide a total engineering solution for students and Faculty of Engineering Graphics Curriculum.
Aim : To provide a great platform to students across the country to create and modify 3D digital designs with a free flow of creativity and imagination.
This software will also enable students to collaborate over designs across the network and concurrently access the same design data for storage and visualization.
National Informatics Centre, NIC, CBSE, and Atal Innovation Mission will also jointly release a comprehensive e-book on CollabCAD 3D modeling.
3) Answer: E
On Jan 14, 2021, Harvest Festival MakarSankranti is being celebrated.
The festival is seen as a celebration of the end of the winter solstice month and also marks the end of the winter harvest.
The harvest festival is referred to by different names in different parts of the country such as
Pongal in Tamil Nadu,
MakaraSankranti in Gujarat, West Bengal, and Karnataka
Bihu in Assam,
PaushParbon in Bengal
Lohri in Punjab and Jammu
Saen-Kraat in Kashmir
Sukaraat in MP
KhichdiParw in Bihar, Jharkhand, UP
4) Answer: D
The two day 'Prarambh', Startup India International Summit began in New Delhi,  with members of BIMSTEC (Bay of Bengal Initiative for Multi-Sectoral Technical and Economic Cooperation) countries participating in the inaugural event.
It was inaugurated by the union minister for railways, consumer affairs, commerce and industry PiyushGoyal.
5) Answer: B
Prime Minister NarendraModi announced the launch of Rs 1,000-crore 'Startup India Seed Fund' to support startups and help budding entrepreneurs pursue innovative ideas.
Modi stated in 2014 there were only four startups in the unicorn club, but today there are more than 30.
This initiative will help in building up new startups and promote their growth.
The action plan of this initiative is focussing on three areas:
Simplification and Handholding.
Funding Support and Incentives.
Industry-Academia Partnership and Incubation.
6) Answer: E
The Union Minister for Science & Technology, Earth Sciences, Health & Family Welfare Dr. Harsh Vardhan dedicated an Innovation Portal, developed by National Innovation Foundation (NIF)  India, an autonomous body of the Department of Science and Technology (DST), Government of India, to the nation, in New Delhi.
The National Innovation Portal(NIP)  is currently home to about 1.15 lakh innovations scouted from common people of the country, covering Engineering, Agriculture, Veterinary and Human Health.
Innovation Portal is a step towards Atmanirbhar Bharat and an excellent resource for students, entrepreneurs, MSME's, Technology Business Incubators (TBI's) and common people engaged in a variety of occupations.
This Innovation Portal will help institutionalise new ideas by common people towards finding solutions to local problems.
7) Answer: C
The Petroleum and Natural Gas Ministry launched a month-long mass awareness campaign 'SAKSHAM' to spread awareness about green and clean energy.
The Secretary Ministry of Petroleum and Natural Gas and Chairman, PCRA ShriTarunKapoor launched the campaign.
The campaign through various pan-India activities such as cyclothon, farmer workshops, seminars, painting competition, CNG vehicle driving contest, etc will spread awareness among masses about the advantages of using clean fuels.
The campaign will also spread awareness about 7 key drivers mentioned by Prime Minister NarendraModi, to help India move towards cleaner energy. These are:
moving towards a gas-based economy,cleaner use of fossil fuels,greater reliance on domestic sources to drive biofuels,achieving renewable targets with the set deadlines,increased use of electric vehicles to decarbonize mobility,increased use of cleaner fuels like Hydrogen, anddigital innovation across all energy systems.
A Memorandum of Understanding (MoU) was signed between PCRA and EESL for promotion of Energy Efficient PNG Stove on the occasion.
8) Answer: D
Donald Trump became the first US president in history to be impeached twice.
The House of Representatives voted to charge him with inciting last week's mob attack on Congress.
He was impeached by historic 232-197 vote, making Trump the only U.S. president to be impeached twice, a little more than a year since his first. It was supported by all Democrats and 10 Republicans, including Liz Cheney, the third-ranking GOP leader in the House.
9) Answer: E
In Manipur, the Cherry Blossom Mao Festival was held at Senapati district marking the beginning of pink season in the district.
Manipur Chief Minister N. Biren Singh graced the function virtually due to the pandemic.
The Manipur government started organizing the festival every year from 2017 onward.
The virtual festival featured the picturesque landscape of Mao adorned with beautiful cherry trees, which are laden with pink flowers which have traditionally attracted visitors from across the world.
The virtual Cherry Blossom Festival at Mao, Manipur was jointly organised by the Department of Tourism and Indian Council of Cultural Relations (ICCR), Shillong in association with the Organising Committee Flower Festival, Mao.
10) Answer: C
Walmart-owned Flipkart has partnered with NitiAayog to launch the revamped Women Entrepreneurship Platform.
The Women Entrepreneurship Platform (WEP) is a first of its kind, unified access portal which brings together women from different parts of India to realize their entrepreneurial aspirations.
The idea of the platform was first mooted by Amitabh Kant, CEO, NITI Aayog who announced the setting-up of a Women Entrepreneurship Platform in NITI Aayog at the conclusion of the 8th Global Entrepreneurship Summit (GES) held in Hyderabad in 2017, with an overarching theme of 'Women first, prosperity for all'.
11) Answer: D
Defence Research and Development Organisation(DRDO) has developed the country's first indigenous machine pistol ASMI.
The pistol which is developed by DRDO along with the help of Indian Army is set to replace the 9mm pistols in the defence forces. It was displayed at an event of the Indian Army.
DRDO's Pune-based facility Armament Research and Development Establishment (ARDE) and the Infantry School designed and developed this weapon utilising their respective areas of expertise in a record time of four months.
About Asmi Machine Pistol :
The Asmi machine pistol fires the in-service 9 mm ammunition and has an upper receiver made from aircraft-grade aluminum and lower receiver from carbon fibre.
The 3D printing technology has been used in designing and prototyping of various parts, including trigger components which have been made by metal 3D printing.
The weapon has huge potential in armed forces as a personal weapon for heavy weapon detachments, commanders, tank and aircraft crews, drivers and dispatch riders, radio or radar operators, for closed quarter battles, counter-insurgency and counter-terrorism operations etc.
This is also likely to find huge employability with the central and state police organisations, as well as VIP protection duties and policing.
The Machine Pistol is likely to have production cost under Rs 50,000 each and has potential for exports.
The weapon is aptly named Asmi, which means pride, self respect and also hard work
12) Answer: B
Insurance Regulatory & Development Authority of India (IRDAI) has set-up a committee to study health insurance products with the help of scientists and doctors in the panel.
The expert committee will be headed by IRDAI Chairperson, Subhash Chandra Khuntia and will have a Member (Non-Life) as the vice-chairperson. The committee, which has a term of one year.
Member of the committee include:
DrNachiketMor, PhD, Visiting Scientist, The Banyan Academy of Leadership in Mental Health
Dr A.K. Chand, Professor and Neurosurgeon, Bangalore
Dr B.K. Mohanti, Former Professor and Oncologist, AIIMS
Dr K. Hari Prasad, Anaesthetist, Hyderabad
13) Answer: C
Intel announced that its board of directors has appointed 40-year technology industry leader Pat Gelsinger as its new chief executive officer, effective February 15, 2021.
He will succeed Bob Swan.
About Pat Gelsinger :
Gelsinger is a highly respected CEO and industry veteran with more than four decades of technology and leadership experience, including 30 years at Intel where he began his career.
Gelsinger served as the CEO of VMware since 2012, where he significantly transformed the company into a recognized global leader in cloud infrastructure, enterprise mobility and cyber security, almost tripling the company's annual revenues.
Prior to joining VMware, Gelsinger was president and chief operating officer of EMC Information Infrastructure Products at EMC, overseeing engineering and operations for information storage, data computing, backup and recovery, RSA security and enterprise solutions.
He was the architect of the original 80486 processor, led 14 different microprocessor programs and played key roles in the Core and Xeon families.
14) Answer: D
YES Bank in collaboration with Aditya Birla Wellness Private Limited has launched 'YES BANK Wellness' and 'YES BANK Wellness Plus' credit cards with the aim of holistic health, self-care and wellness growth of the consumers.
Cardholders will be able to enjoy the complimentary health benefits by simply registering on the Aditya Birla Multiply App.
The app will allow consumers to avail complimentary benefits such as annual health check-up, round the clock doctor or counsellor helpline, in-studio or home-based workout sessions, personalized diet plans, among others.
This credit card comes with a first year membership fee of Rs 1,999 plus taxes and renewal fee of Rs 1,999 and taxes.
15) Answer: E
FSS (Financial Software and Systems), a leading global payment processor and provider of integrated payment products, announced partnering with India Post Payments Bank (IPPB) to promote financial inclusion among underserved and unbanked segments.
As part of the collaboration, IPPB will use FSS' Aadhaar Enabled Payment System (AePS) to deliver interoperable and affordable doorstep banking services to customers across India.
This strategic partnership offers significant opportunities to bring millions of unbanked customers into the financial mainstream.
IPPB has been set up with the vision to build the most accessible, affordable, and trusted bank for the common man in India to deliver banking at the customer's doorstep.