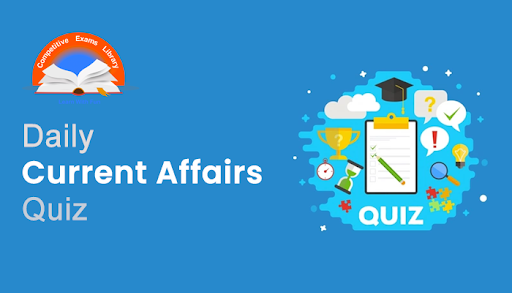 Dear Readers, Daily Current Affairs Questions Quiz for SBI, IBPS, RBI, RRB, SSC Exam 2021 of 18th February 2021. Daily GK quiz online for bank & competitive exam. Here we have given the Daily Current Affairs Quiz based on the previous days Daily Current Affairs updates. Candidates preparing for IBPS, SBI, RBI, RRB, SSC Exam 2021 & other competitive exams can make use of these Current Affairs Quiz.
1) What is the theme of the Taj Mahotsav being observed from 18 February to 27 February?
A) The rich heritage of Taj
B) Enjoying the dance and music
C) The best of memories
D) Together in the diverse culture
E) Promoting rich arts and crafts
2) As per the World Bank comprehensive report, India Accounts for _____ % of Global death in Road Accidents.
A) 12.5
B) 10
C) 11
D) 10.5
E) 9.5
3) The government has increased the budget of the Department of Science and Technology and the Ministry of Earth Sciences by ____ per cent.
A) 45
B) 25
C) 40
D) 30
E) 35
4) Who among the following has inaugurated Rashtrapati Bhavan Krida Sthal in the President's Estate?
A) Anurag Thakur
B) Narendra Modi
C) Ram Nath Kovind
D) Venkiah Naidu
E) Amit Shah
5) PM Modi has unveiled several development projects in which state?
A) Uttar Pradesh
B) Assam
C) Gujarat
D) Madhya Pradesh
E) Haryana
6) Which of the following Ministry has unveiled the Pilot Pey Jal Survekshan?
A) Ministry of Education
B) Ministry of Agriculture
C) Ministry of Housing and Urban Affairs
D) Ministry of Jal Shakti
E) Ministry of Agriculture
7) Which of the following Minister has launched the e-Chhawani portal?
A) Prahlad Patel
B) NS Tomar
C) Narendra Tomar
D) Rajnath Singh
E) Amit Shah
8) Which of the following country has overtaken the US and become the European Union's biggest trading partner?
A) Israel
B) France
C) Germany
D) Japan
E) China
9) The Deputy PM of which country has recently arrived in New Delhi?
A) Sweden
B) Netherlands
C) France
D) Ethiopia
E) Germany
10) PM Narendra Modi has laid the foundation stone for Maharaja Suheldev Memorial in which state?
A) Punjab
B) Bihar
C) Uttar Pradesh
D) Madhya Pradesh
E) Haryana
11) Government has made FASTag mandatory on all National Highways. Entering into the FASTag lane of the fee plaza will have to pay a fee equivalent to ____ times of the fee applicable to that category.
A) 10
B) 2
C) 3
D) 4
E) 5
12) PM Modi has unveiled several key projects of oil & gas sector in which state?
A) Gujarat
B) Bihar
C) Madhya Pradesh
D) Haryana
E) Tamil Nadu
13) Which of the following insurance provider has launched the corporate risk index?
A) Max Life
B) Apollo Munich
C) ICICI Lombard
D) Religare
E) Nippon
14) Who has been removed from the post of Puducherry Lieutenant Governor?
A) Vaithilingam
B) Rangaswamy
C) Narayanasamy
D) Kiran Bedi
E) None of these
15) How many states have successfully attained Ease of Doing Business reforms?
A) 13
B) 15
C) 10
D) 11
E) 12
16) Who among the following will head the 8 member panel to suggest steps for strengthening, consolidating UCBs?
A) MS Sriram
B) Mukund Chitale
C) RN Roshni
D) NS Vishwanathan
E) Harsh Kumar Bhanwala
17) Which of the following software firm has unveiled the intelligent neo banking solution?
A) BPay
B) Cred
C) Neobass
D) Machint
E) Uluka
18) Who among the following has become the first female chief of WTO?
A) Onyinye Iweala
B) Uzodinma Iweala
C) Ngozi Okonjo-Iweala
D) Ikemba Iweala
E) Onyinye Iweala
19) Mahender Kanyal has been appointed India's Ambassador to which country?
A) Kenya
B) Syria
C) Saudi Arabia
D) Oman
E) Qatar
20) Which of the following company has bagged the Genome Valley Excellence Award?
A) SII
B) Pfizer
C) Ranbaxy
D) Cipla
E) Bharat Biotech
21) Who has been appointed as GE T&D India Chairman?
A) Naresh Mehta
B) Rajesh Kakkar
C) Mahesh Palashikar
D) Rajat Verma
E) Suraj Singh
22) Who among the following will lead the UN Capital Development Fund?
A) Nikesh Aggarwal
B) Rajni Rawat
C) Naresh Singh
D) Preeti Sinha
E) Prakash Kumar
23) Who among the following has been appointed as IRMA director?
A) Anand Raj
B) Raj Kumar
C) Rajni Mittal
D) Naresh Gupta
E) Umakant Dash
24) Nihar N Jambusaria has been elected President of which institution?
A) NASSCOm
B) CII
C) ICAI
D) ICSI
E) FICCI
25) The chief minister of which state has been conferred the Skoch Chief Minister of the Year Award?
A) Madhya Pradesh
B) Punjab
C) Bihar
D) Andhra Pradesh
E) Haryana
Answers :
1) Answer: D
Taj Mahotsav has been celebrated successfully since 1992 in Agra in the month of February for ten days, from 18th February to 27th February in Shilpgram, Near Taj Mahal, Agra.
This festival invokes the memories of the old Mughal era and nawabi style prevalent in Uttar Pradesh in the 18th and 19th centuries.
Organized by: Department of Tourism, Government of India
2021 Theme: Together in the diverse culture
Celebrated to promote rich arts, crafts, culture, cuisine, dance and music of the state and country.
A procession taken out in the typical Mughal era style, food festival, performances by folk musicians and dancers, etc
2) Answer: C
The World Bank has released a comprehensive report  titled 'Traffic Crash Injuries and Disabilities: The Burden on Indian Society'  in association with the SaveLife Foundation.
About SaveLife Foundation :
It is an independent, non-profit, non-governmental organization committed to improving road safety and emergency medical care across India.
On Feb 13, 2021 a report was released by Union transport minister, Nitin Gadkari.
As per report "India tops the world in road crash deaths and injuries. It has 1 percent of the world's vehicles but accounts for 11 per cent of all road crash deaths, witnessing 53 road crashes every hour; killing 1 person every 4 minutes.
A recent study commissioned by the Ministry of Road Transport and Highways (MoRTH) estimates the socio-economic costs of road crashes at Rs 1,47,114 crore in India, which is equivalent to 0.77 per cent of the country's GDP.
70 percent of the fatalities are the age group of 18 to 45 years, impacting the country as a whole.
3) Answer: D
The Union Government has increased the budget of Department of Science and Technology and Ministry of Earth Sciences by 30 per cent as compared to the revised estimate of 2020-21.
An allocation of Rs 16,695 crore has been given for the two ministries which will add thrust to India's remarkable, accelerated growth in the fields of Science and Technology.
Rs 50 thousand crore have been allocated for the National Research Foundation.
The Minister informed that the National Research Foundation (NRF) will be an independent society and it will build on existing national strengths in research and innovation. It will fill gaps in the current research and education ecosystem to augment India's research and innovation achievements.
4) Answer: C
President Ram Nath Kovind inaugurated the Rashtrapati Bhavan Krida Sthal in the President's Estate which includes renovated Football Ground and Basketball Court.
On the occasion, an exhibition football match was played between the children of My Angels Academy, a trust working for the cause of underprivileged children.
These state-of-art sports facilities are developed with the aim to cater to the needs of the employees of Rashtrapati Bhavan and their families.
An inter-departmental football tournament with five teams namely – President's Secretariat Heroes, Household Youngs, PBG Warriors, Army Guard Daredevils and Delhi Police Stalwarts starts to encourage the employees and their family members to take part in the sports activities
5) Answer: B
Prime Minister Narendra Modi will launch the Mahabahu-Brahmaputra initiative, lay the foundation stone of Dhubri-Phulbari Bridge and perform Bhoomi Poojan for construction of Majuli Bridge Assam through video conferencing.
Mr Modi said it is a landmark day for Assam's development journey as the Mahabahu-Brahmaputra initiative will be launched.
Union Road Transport and Highways Minister Nitin Gadkari, Minister for Ports, Shipping and Waterways Mansukh Mandaviya, DoNER minister Dr. Jitendra Singh and Chief Minister of Assam Sarbananda Sonowal, Chief Minister of Meghalaya Conrad K Sangma will be present on the occasion.
6) Answer: C
Ministry of Housing and Urban Affairs has launched a Pilot Pey Jal Survekshan under Jal Jeevan Mission- Urban, JJM-U.
Secretary Housing and Urban Affairs Durga Shanker Mishra  informed that  it  will be conducted in cities to ascertain equitable distribution of water, reuse of wastewater and mapping of water bodies with respect to quantity and quality of water through a challenge process.
He said, as a first step, the Ministry has decided to launch the Survekshan in 10 cities- Agra, Badlapur, Bhubaneswar, Churu, Kochi, Madurai, Patiala, Rohtak, Surat and Tumkur.
7) Answer: D
Defence Minister Rajnath Singh launched e-Chhawani portal.
Launching the portal, Mr Singh said, residents of Cantonment areas can register their complaints regarding civic issues and resolve them while sitting at home.
The minister said, government is committed to refine the system and improve the Ease of Living for people.
Mr Singh said, e-Chhawani project aims to provide online municipal services to more than 20 lakh citizens across 62 Cantonment Boards through a multi-tenancy central platform.
Through this portal, online application for renewal of leases, online registration of births and deaths and   online application for water and sewerage connection will be very simpler.
CDS General Bipin Rawat was also present at the event.
8) Answer: E
China last year overtook the United States as the EU's biggest trading partner, the EU statistics agency Eurostat
The European Union, was the third-largest trading partner for the bloc, behind China and the United States.
Eurostat said the trade volume with China reached 586 billion euros ($711 billion) in 2020, compared to 555 billion euros ($673 billion) for the US.
The agency said EU exports rose by 2.2 percent to 202.5 billion euros while at the same time, imports from the People's Republic of China increased by 5.6 percent to 383.5 billion euros.
9) Answer: D
Ethiopian Deputy Prime Minister and Minister of Foreign Affairs Demeke Mekonnen Hassen arrived in New Delhi on a four-day official visit to India.
Mr Hassen will inaugurate the new Chancery and Residence at Ethiopian Embassy in New Delhi along with External Affairs Minister Dr. S. Jaishankar.
He is scheduled to meet Dr Jaishankar at Hyderabad House.
10) Answer: C
Prime Minister Narendra Modi laid the foundation stone of Maharaja Suheldev Memorial and Maharaja Suheldev Development project and dedicated it to the public Maharaja Suheldev State Medical College (Bahraich) in Uttar Pradesh via video conferencing.
The project includes the installation of a horse-riding statue of Maharaja Suheldev, separate tourist facilities such as a cafeteria, guest house, and children's park.
The Prime Minister will also address a webinar for consultation on the roadmap for effective implementation of Union Budget 2021-22 in the infrastructure sector.
11) Answer: B
Government has made FASTag mandatory on the National Highways. All lanes in the fee plazas on National Highways were declared as FASTag lanes.
As per NH Fee Rules 2008, any vehicle not fitted with FASTag or vehicle without valid, functional FASTag, entering into the FASTag lane of the fee plaza will have to pay a fee equivalent to two times of the fee applicable to that category.
FASTags will prove to be beneficial both to the passengers as well as to the toll management authorities.
FASTag is a RFID tag which is linked with a payment instrument and can be easily affixed on the windscreen of any vehicle.
12) Answer: E
Prime Minister Narendra Modi will dedicate to the nation and lay the foundation of key projects of the oil and gas sector in Tamil Nadu through video conferencing.
Mr Modi will dedicate to the nation the Ramanathapuram -Thoothukudi natural gas pipeline and the Gasoline Desulphurisation Unit at Chennai Petroleum Corporation Limited, Manali.
He will also lay the foundation stone of Cauvery Basin Refinery at Nagapattinam.
These projects will bring in substantial socio-economic benefits and will boost the country's march towards Urja Aatmanirbharta.
13) Answer: C
Private general insurer ICICI Lombard has launched the 'Corporate India Risk Index'. This is intended to be a unified, standardised corporate risk index that spans industries and companies.
Corporate risk index that uses a risk measurement tool has been developed with the management consulting firm Frost & Sullivan covering 150 top companies from its own investment portfolio across 15 key sectors, ICICI Lombard chief executive Bhargav Dasgupta told reporters.
The insurer said that this will help companies understand the level of risk that their business is facing and also assist in developing a successful risk aversion plan. It has worked with consulting firm Frost and Sullivan to develop the risk measurement tool.
The index showed that most of corporate India's risk management strategies are focused primarily on operational and natural hazard risks, influenced by COVID-19. It added that there is a scope for improvement in the way market, economic, technological and crime or security risks are being managed.
14) Answer: D
Dr. Kiran Bedi has been removed from the post of Puducherry Lieutenant Governor.
In a press communiqué, Rashtrapati Bhawan said, Telangana Governor Dr. Tamilisai Soundararajan has been given additional charge as Lieutenant Governor of Puducherry.
15) Answer: B
The number of states successfully completing the Ease of Doing Business reforms has increased to 15.
The Finance Ministry has said that three more states – Gujarat, Uttar Pradesh and Uttarakhand have completed Ease of Doing Business reforms.
On receipt of recommendation from the Department for Promotion of Industry and Internal Trade, the Department of Expenditure has granted permission to these three states to raise additional financial resources of nine thousand 905 crore rupees through Open Market Borrowings.
The Ministry said, earlier, Andhra Pradesh, Assam, Haryana, Himachal Pradesh, Karnataka, Kerala, Madhya Pradesh, Odisha, Punjab, Rajasthan, Tamil Nadu and Telangana had also reported completion of this reform.
On completion of reforms facilitating ease of doing business, these 15 states have been granted additional borrowing permission of over 38 thousand crore rupees.
16) Answer: D
The Reserve Bank set up a committee to draw a vision document for strengthening urban cooperative banks (UCBs) and exploring the potential of consolidation in the sector.
The committee, to be headed by former RBI Deputy Governor N.S. Vishwanathan,
Other Members are :
Harsh Kumar Bhanwala ( chairman of Nabard )
Mukund Chitale
NC Muniyappa
RN Roshi
MS Sriram
Jyotindra Mehta
Neeraj Niga
The panel will "draw up a vision document for a vibrant and resilient urban co-operative banking sector having regards to the Principles of Cooperation as well as depositors' interest and systemic issues.
The committee will consider the need for differential regulations and examine prospects to allow more leeway in permissible activities for UCBs with a view to enhancing their resilience.
17) Answer: E
Hyderabad-based product development and software services startup Machint Solutions has launched an intelligent neo banking platform, Uluka.
The launch took place at Hyderabad International Convention Center, Novotel & HICC in the presence of Home Minister Mohd Mahmood Ali, Agriculture Minister S Niranjan Reddy, Serilingampally MLA Arekapudi Gandhi, and Chevella MP Dr G Ranjith Reddy, and banking & IT leaders.
18) Answer: C
Nigerian economist Ngozi Okonjo-Iweala became the first woman and first African to be appointed as the head of the World Trade Organization.
The appointment, which takes effect from March 1, came after U.S. President Joe Biden endorsed her candidacy.
Okonjo-Iweala has been Nigeria's finance minister and, briefly, foreign minister, and has had a 25-year career at the World Bank as an advocate for economic growth and development in poorer countries.
19) Answer: B
Mahender Singh Kanyal has been appointed as the next Indian Ambassador to Syria.
Kanyal, who is presently Ambassador of India to Suriname, is expected to take up the assignment shortly.
20) Answer: E
Bharat Biotech is being presented the Genome Valley Excellence Award for 2021 for its "breakthrough, pioneering research, development and commercialisation of vaccines, including COVID-19 vaccine Covaxin," a release said.
BioAsia, organised by the Government of Telangana, has announced that the Genome Valley Excellence Award for the year 2021 will be bestowed upon Bharat Biotech International for research, development and commercialisation of vaccines including COVAXIN (COVID-19 Vaccine), Rabies vaccine, Rotavirus vaccine, Japanese Encephalitis vaccine, Polio vaccine and Typhoid Conjugate vaccines, among others. Dr Krishna M Ella, Chairman & MD, and Suchitra Ella, Joint MD, Bharat Biotech International will receive the award on February 22, 2021, during the inaugural event of BioAsia 2021.
21) Answer: C
GE T&D India Ltd (GETDIL) has announced Mahesh Palashikar as Chairman of its Board of Directors.
Palashikar will assume the new role on March 1, succeeding Vishal K Wanchoo who resigned from the Board upon taking a new job with another company after retirement from GE, the company said.
22) Answer: D
Sinha will oversee UNCDF's 'last mile' finance models to reduce poverty and support local economic development.
The UN Capital Development Fund has appointed Indian-origin investment and development banker Preeti Sinha as its Executive Secretary, whose focus will be on providing micro-finance assistance to women, youth, small and medium-sized enterprises in under-served communities.
Sinha commenced her tenure as UNCDF Executive Secretary, the highest leadership rank in the institution.
23) Answer: E
The Institute of Rural Management- Anand (IRMA) announced the appointment of Dr. Umakant Dash to the post of Director.
Dash, a PhD in Applied Economics from the Indian Institute of Technology, Kanpur, has more than 25 years of experience in teaching and research.
Prior to joining IRMA, he served as the Head of Department of Humanities and Social Sciences at IIT- Madras and as Adjunct Professor at IIM – Tiruchirappalli.
24) Answer: C
Debhashis Mitra has been elected as Vice President.
The CA Institute appointed its new President Nihar N Jambusaria.
He has been elected as President of the Institute of Chartered Accountants of India (ICAI) for 2021-22.
25) Answer: D
The Andhra Pradesh Chief Minister, Y. S. Jagan Mohan Reddy has been conferred the Skoch Chief Minister of the Year Award.
The Award has been presented to the CM by Chairman, Skoch group, Sameer Kochhar personally at Tadepalli in Andhra Pradesh.
SKOCH Group Chairman Sameer Kochhar called on the Chief Minister at his camp office at Tadepalli and presented the award to him.