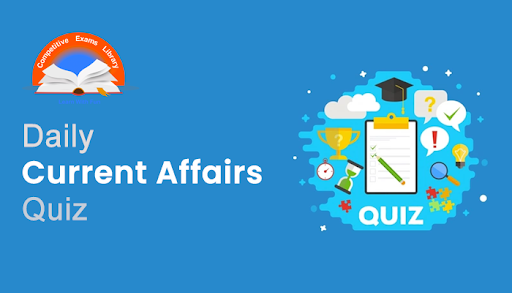 Dear Readers, Daily Current Affairs Questions Quiz for SBI, IBPS, RBI, RRB, SSC Exam 2021 of 18th May 2021. Daily GK quiz online for bank & competitive exam. Here we have given the Daily Current Affairs Quiz based on the previous days Daily Current Affairs updates. Candidates preparing for IBPS, SBI, RBI, RRB, SSC Exam 2021 & other competitive exams can make use of these Current Affairs Quiz.
1) International Museum Day is Observed on which date?
A) May 1
B) May 2
C) May 18
D) May 3
E) May 4
2) DRDO's which drug has been Launched for treating Covid-19 patients ?
A) 6-DG
B) 5-DG
C) 4-DG
D) 2-DG
E) 3-DG
3) Rajendrasinh Jadeja who passed away recently was an eminent ____.
A) Singer
B) Dancer
C) Hockey player
D) Tennis player
E) Cricketer
4) Fortune's World's 50 Greatest Leaders list released and has been topped by ___.
A) Steve Balmer
B) Warren Buffett
C) Narendra Modi
D) Jacinda Arden
E) Jessica Tan
5) Which state government has launched 'HIT Covid App' ?
A) Kerala
B) Uttar Pradesh
C) Chhattisgarh
D) Madhya Pradesh
E) Bihar
6)  Which company has appointed Reema Jain as Chief Digital Officer?
A) Dell
B) Microsoft
C) VI
D) Nokia
E) Jio
7) Who among the following has bagged the prestigious Whitley Award 2021?
A) Anllela Sagra
B) Y Nuklu Phom
C) Pham Tam
D) Mike Smith
E) Arnie Schmidt
8) The Tribal Affairs Ministry has signed an MOU with which company?
A) HCL
B) HP
C) IBM
D) Microsoft
E) Dell
9) Which drug firm has inked a pact with Natco Pharma ?
A) Jubilant Lifesciences
B) Liv Sciences
C) Cipla
D) Ranbaxy
E) Eli Lilly
10) Which institution has launched Indian Language Learning App Innovation Challenge?
A) HP
B) Dell
C) MyGov
D) Xiaomi
E) Google
11) Who among the following has been appointed as MD & CEO of Dai-ichi Life Insurance Company ?
A) Nishi Jain
B) Abhay Tewari
C) Sudhir Mishra
D) Anand Raj
E) Rajat Mittal
12) NGMA virtual summer workshop Starts from May ____.
A) 14
B) 13
C) 12
D) 11
E) 17
13) Italian Open title has been won by who among the following?
A) Nikola Mektic
B) Mate Pavic
C) Rafael Nadal
D) Novak Djkovic
E) Iga Swiatek
Answers :
1) Answer: C
International Museum Day is an international day held annually on or around 18 May, coordinated by the International Council of Museums.
The theme for IMD 2021 is 'The Future of Museums – Recover and Reimagine'.
ICOM has invited museum professionals and the community to offer innovative business models in order to overcome the economic, social and environmental changes which they are facing at the moment.
The event highlights a specific theme which changes every year to reflect the basis of the international museum community's preoccupations.
2) Answer: D
On May 17, 2021, Union Defence Minister Rajnath Singh and Health Minister Dr Harsh Vardhan launched the first batch of drug 2-deoxy-D-glucose drug to treat Covid-19 patients.
It has been developed by DRDO's Institute of Nuclear Medicine and Allied Sciences (INMAS) in collaboration with Dr Reddy's Laboratories.
About 2-DG Drug :
The 2-DG (2-deoxy-D-glucose) is an anti-COVID-19 therapeutic application of the drug.
It received Drugs Controller General of India (DCGI) approval for emergency use after the medicine was found to be safe for treating COVID-19 patients in its phase 2 trials.
It helps in faster recovery of hospitalised patients and reduces oxygen dependence.
3) Answer: E
On May 16, 2021, Former Saurashtra pacer and BCCI match referee Rajendrasinh Jadeja Passed away.
He was 66.
Rajendrasinh was one of the finest right-arm medium pacers and a remarkable all-rounder.
He played 50 first-class matches and 11 List A games, taking 134 and 14 wickets respectively.
Rajendrasinh served as the BCCI's official referee in 53 first-class matches, 18 List A games and 34 T20s.
4) Answer: D
New Zealand Prime Minister Jacinda Arden topped Fortune's list of the world's 50 greatest leaders and Adar Poonawalla too made it to the list.
CEO of Serum Institute of India, Poonawalla is the only Indian among the top 10 names on the list.
Ardern has been lauded for her efficiency in tackling and stopping the coronavirus surge in her country.
Poonawalla, on the other hand, has also played a significant role in the manufacturing and supplying COVID-19 vaccines.
Other names who made it to the list of top 10 of the top 50 leaders include mRNA pioneers; Paypal CEO Daniel H Schulman; NBA Rescuers; Africa Centres for Disease Control and Prevention's John Nkengasong; Ping An's Jessica Tan among others.
5) Answer: E
Bihar government launched 'HIT Covid App' to ensure regular monitoring and tracking of those Covid-19 patients, who are in home isolation across the state.
HIT stands for home isolation tracking. Chief Minister Nitish Kumar said the app will help the health workers in regular monitoring of home – isolated patients.
Well being employees will go to the sufferers at dwelling daily and feed knowledge within the app after measuring their temperature and oxygen stage.
This knowledge will probably be monitored on the district stage.
If the oxygen stage is under 94, the affected person will probably be shifted to the close by devoted Covid wellbeing centres for correct therapy.
6) Answer: C
Jain will lead digital strategy, execution and adoption across the company.
Vodafone Idea Ltd (VIL) has appointed Reema Jain as its Chief Digital Officer. She joins the telecom operator from Unilever, where she was the head of IT.
However, the company managed to attract senior talent including Jagbir Singh who joined as the new CTO.
It also appointed Vivek Jain as the executive vice president of marketing and Mathan Babu Kasilingam as executive vice president of technology security.
7) Answer: B
Nuklu Phom the only person from India to win the prestigious #WhitleyAwards 2021 for his work;
"Establishing a biodiversity peace corridor'.
The Whitley Award,also known as the "Green Oscar", was given to a church worker from Nagaland for his efforts to establish a network of community-owned forests in the state and preserve the rare Amur falcon.
The award is one of the world's leading prizes for grassroots conservation.
8) Answer: D
Tribal Affairs Ministry and Microsoft have signed a MoU for digital transformation of Tribal Schools such as Eklavya Model Residential Schools and Ashram Schools.
Under the program, 250 Eklavya Model Residential school, EMRS have been adopted by Microsoft out of which 50 EMRS schools will be given intensive training.
This MOU will support the digital transformation of schools such as Eklavya Model Residential Schools (EMRS) and Ashram Schools, among others under the Ministry at an online event 'Empowering Youth For Success'.
Under affirmative action initiative, Microsoft will make AI curriculum available to tribal students in both English and Hindi at all EMRS schools under the Ministry to skill educators and students in next-generation technologies including Artificial Intelligence.
9) Answer: E
Drug firm Eli Lilly signed a voluntary licensing agreement with Natco Pharma to further expedite the availability of baricitinib for COVID-19 patients in India.
The company has issued an additional royalty-free, non-exclusive voluntary license to Natco Pharma and the Hyderabad-based company will be collaborating with Eli Lilly to further accelerate and expand the availability of baricitinib in India during this pandemic.
Eli Lilly and Company has received permission for restricted emergency use by the Central Drugs Standard Control Organization (CDSCO), for baricitinib to be used in combination with remdesivir for the treatment of suspected or laboratory confirmed COVID-19 in hospitalized adults requiring supplemental oxygen, invasive mechanical ventilation, or extracorporeal membrane oxygenation.
10) Answer: C
MyGov has launched the Innovation Challenge to create an app that will enable individuals to learn simple sentences of any Indian language and acquire working knowledge of a language.
The objective is to create an app that will promote regional language literacy, and create greater cultural understanding.
MyGov, the citizen engagement platform of the Federal government has released an Innovation Obstacle for creating an Indian Language Understanding Application.
This Innovation Problem has been released to get ahead of Prime Minister Narendra Modi's eyesight of celebrating India's cultural diversity through larger conversation.
MyGov has released the Innovation Obstacle to build an app that will permit individuals to master basic sentences of any Indian language and receive working know-how of a language.
The objective is to generate an application that will boost regional language literacy, and build larger cultural comprehending.
11) Answer: B
Star Union Dai-ichi Life Insurance Company Ltd (SUD LIFE) announced the appointment of Abhay Tewari as Managing Director and Chief Executive Officer of the Company w.e.f 15th May 2021.
Abhay Tewari joined the company in the year 2014 as Appointed Actuary.
Prior to his appointment as Managing Director & CEO of the company, he was promoted as Joint President – Corporate & Chief Actuary, overseeing Operations, Actuarial, Risk and Corporate Governance functions.
12) Answer: E
The National Gallery of Modern Art (NGMA), New Delhi, would be starting it's virtual summer workshops for children and adults from May 17.
It will be held from 17th May to till June 13, 2021
It includes workshops and other events to spark the participants' imagination.
The workshops would include painting, sculpting, printmaking, videography and puppeteering. The NGMA portal would also stream a curated film festival for participants.
13) Answer: C
On May 16, 2021,In tennis, Rafael Nadal beat world number one Novak Djokovic by 7-5, 1-6, 6-3 to win a 10th Italian Open title.
Nadal also equalled Djokovic's record of 36 ATP Masters 1000 titles in his 12th Rome final.
The title also re-established Nadal as the overwhelming favorite for the French Open, where he will be aiming for an even harder-to-believe 14th title starting in two weeks.
Note :
The Women's Singles title has been won by Polish teenager Iga Swiatek.
Men's doubles : Nikola Mektic and Mate Pavic
Women's Doubles title : Sharon Fichman and Giuliana Olmos