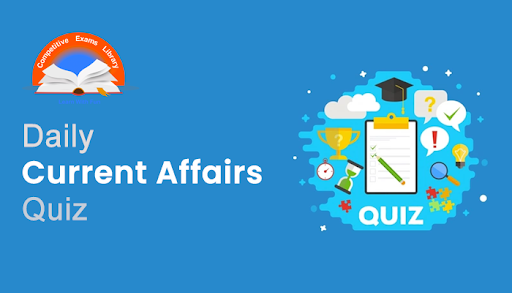 Dear Readers, Daily Current Affairs Questions Quiz for SBI, IBPS, RBI, RRB, SSC Exam 2021 of 18th September 2021. Daily GK quiz online for bank & competitive exam. Here we have given the Daily Current Affairs Quiz based on the previous days Daily Current Affairs updates. Candidates preparing for IBPS, SBI, RBI, RRB, SSC Exam 2021 & other competitive exams can make use of these Current Affairs Quiz.
1) What is the edition of this year World Bamboo Day, celebrated every year on 18th September?
(a) 16th
(b) 15th
(c) 14th
(d) 13th
(e) 12th
2) On which of the following date International Equal Pay Day has been observed every year?
(a) 16th September
(b) 17th September
(c) 18th September
(d) 19th September
(e) 20th September
3) What is the theme of the World Water Monitoring Day 2021,celebrated annually on September 18?
(a) Valuing Water
(b) Saving Water
(c) Treating Water
(d) Feeding Water
(e) Monitoring Water
4) On which of the following day the International Coastal Cleanup Day has been observed?
(a) Third Sunday of September
(b) Third Friday of September
(c) Third Monday of September
(d) Third Saturday of September
(e) Third Thursday of September
5) Which Telcom company has partnered with the Andhra Pradesh State Disaster Management Authority and Celltick to launch the first cell broadcast-based Public Warning System?
(a) Bharati Airtel
(b) Vodafone Idea
(c) Reliance Jio
(d) BSNL
(e) None of these
6) Which of the following organisation has conducted the latest survey on All India Debt & Investment Survey?
(a) NITI Aayog
(b) Finance Ministry
(c) Reserve Bank of India
(d) National Statistical Office
(e) Security Exchange Board of India
7) Which of the following agencies have released a multi-billion-dollar opportunity: Repurposing agricultural support to transform food systems?
(a) UN Development Programme
(b) UN Environment Programme
(c) UN Food and Agriculture Organization
(d) Only A & C
(e) All of these
8) Stefan Yanev, the incumbent Prime Minister of which among the following country has won the country's recent election?
(a) Sweden
(b) Bulgaria
(c) Denmark
(d) Norway
(e) Algeria
9) Which among the educational platform has partnered with NITI Aayog to provide free access to tech-driven learning programmes to children from India's 112 aspirational districts?
(a) Byju's
(b) Unacademy
(c) Vendantu
(d) Bankers Adda
(e) Test Book
10) Which of the bank has launched a digital proposition called UniTransact for simplifying cross-border transactions?
(a) DBS Bank
(b) Citi Bank
(c) HSBC Bank
(d) SBM Bank
(e) Deutsche Bank
11) Euromoney has reported __________ bank as the world's best bank.
(a) DBS Bank
(b) Bank of America
(c) RBL Bank
(d) HDFC Bank
(e) ICICI Bank
12) Who has been appointed as the TAGGSTER (Brand Ambassador) of TAGG?
(a) MS Dhoni
(b) Virat Kholi
(c) Jasprit Bumrah
(d) Rohit Sharma
(e) Shikar Dhawan
13) Amit Saxena has joined RBI Innovation Hub as the CTO. He is the Global Deputy CTO of which of the following Bank?
(a) Bank of Baroda
(b) State Bank of India
(c) Axis Bank
(d) Kotak Mahindra Bank
(e) Yes Bank
14) Who has been appointed as the Chairman cum Managing Director of National Small Industries Corporation Ltd?
(a) Sudhir Garg
(b) Vijayendra Gokhale
(c) Ashwani Kumar Mishra
(d) P Udayakumar
(e) Alka Nangia Arora
15) Amal Clooney along with _________ special advisers have been appointed as the new chief prosecutor of the International Criminal Court.
(a) 20
(b) 11
(c) 16
(d) 15
(e) 25
16) Which organisation has launched the Prof. S.K. Joshi Laboratory Excellence Award virtually amidst eminent dignitaries from Government & Industry?
(a) Confederation of Indian Industry
(b) National Association of Software and Service Companies
(c) The Energy and Resources Institute
(d) Federation of Indian Chambers of Commerce & Industry
(e) Quality Council of India
17) Who has conferred the National Florence Nightingale awards to nursing personnel?
(a) Venkaiah Naidu
(b) Narendra Modi
(c) Ramnath Kovind
(d) Manushuk Mandaviya
(e) Smriti Irani
18) The 21st Meeting of the Council of Heads of State of the Shanghai Cooperation Organisation has held in which country?
(a) Nepal
(b) Tajikistan
(c) India
(d) Bangladesh
(e) Saudi Arabia
19) What is the name of the 15th Edition of Indo-Nepal joint military training exercise held recently?
(a) Vaayu Kiran
(b) Agni Kiran
(c) Aditya Kiran
(d) Surya Kiran
(e) Vastra  Kiran
20) Which Space company has launched 4 Amateurs on Private Earth-Circling Trip in Florida?
(a) SpaceX
(b) ISRO
(c) NASA
(d) European Space Agency
(e) None of these
21) Casimir Oye Mba passed away recently. He associated with which field?
(a) Journalism
(b) Film
(c) Activism
(d) Politics
(e) Medicine
Answers :
1) Answer: E
World Bamboo Day is celebrated every year on 18th September.
The theme for 12th edition of WBD 2021 is '#PlantBamboo: It Is Time To Plant Bamboo'.
World Bamboo Day is a day of celebration to increase the awareness of bamboo globally.
It was officially established by the World Bamboo organization at the 8th World Bamboo Congress held in Bangkok in 2009.
Where bamboo grows naturally, bamboo has been a daily element, but its utilization has not always been sustainable due to exploitation.
The World Bamboo Organization aims to bring the potential of bamboo to a more elevated exposure – to protect natural resources and the environment, to ensure sustainable utilization, to promote new cultivation of bamboo for new industries in regions around the world, as well as promote traditional uses locally for community economic development.
2) Answer: C
"To build momentum around the urgent need to address the gender pay gap," the United Nations observes the International Equal Pay Day on September 18 each year.
The first International Equal Pay Day was observed in 2020 and this year marks the second edition of this international reminder.
257 years — that is how long it will take to close the pay gap between the salaries of men and women, as per the World Economic Forum.
This quantification signifies that human society has left women behind in economic terms by more than two-and-a-half centuries, even if we set aside the oppression and other inequalities existing for centuries.
"Globally, despite decades of activism, and dozens of laws on equal pay, women still earn less than 80 cents for every dollar men do".
Guterres emphasises that this inequality is even bigger for women with children, women of colour, women migrants and refugees, and women with disabilities.
3) Answer: A
World Water Monitoring Day was originally celebrated annually on September 18.
The theme of World Water Day 2021 is valuing water.
World Water Monitoring Day was established in 2003 by America's Clean Water Foundation (ACWF) as a global educational outreach program.
The program, subsequently named the "World Water Monitoring Challenge" and "EarthEcho Water Challenge," aims to build public awareness and involvement in protecting water resources around the world by empowering citizens to carry out basic monitoring of their local water bodies.
This date was initially chosen to be a month later (October 18) to recognize the anniversary of the US Clean Water Act, which was enacted by Congress in 1972 to restore and protect the country's water resources.
In 2007, the date was changed to facilitate participation in parts of the world where temperatures reach freezing conditions at that time.
4) Answer: D
The International Coastal Cleanup Day is traditionally held on the third Saturday in September.
Theme 2021: "Keep trash in the bin and not in the ocean".
More than 8 million tons of plastic end up in the oceans every year, polluting the water, endangering marine life, and littering our beaches.
Our oceans are in trouble.
But volunteers around the world are rallying together to clean up our coasts and waterways.
For more than 35 years, Ocean Conservancy has brought together millions of volunteers from all over the world to participate in the annual International Coastal Cleanup (ICC).
Events for plucking debris from waterways and shorelines take on a variety of forms.
Often volunteers slather on sunscreen and work on foot.
Sometimes, they paddle out on watercraft or scuba dive to retrieve trash drifting in the surf.
In Oregon, a volunteer provided goats for help hauling out beach litter.
5) Answer: B
Vi (Vodafone-Idea) has partnered with the Andhra Pradesh State Disaster Management Authority and Celltick to launch the first cell broadcast-based Public Warning System to alert citizens on a real-time basis on disasters.
Celltick's state-of-the-art Cell Broadcast Entity (CBE) and its Cell Broadcast Center (CBC) will deliver emergency warning alerts on Vi's network in the state.
Vi is the first telecom service provider in the state to support the Common Alerting Protocol-compliant Integrated Public Alert and Warning System (IPAWS).
This would enable alerts in real-time based on location prior to, during or post-disaster.
IPAWS is a World Bank-aided project and AP now joins countries like USA, Canada, Japan, Australia, Israel and South Korea in deploying the system.
The new system would enable the state government to automate the alerting process and disseminate geo-tagged alert messages in real-time with minimal manual intervention.
6) Answer: D
The National Statistical Office (NSO), Ministry of Statistics and Programme Implementation has conducted the latest survey on All India Debt & Investment Survey during the period January – December, 2019 as a part of 77th round of National Sample Survey (NSS).
The main objective of the survey on Debt & Investment was to collect basic quantitative information on the assets and liabilities of the households as on 30.6.2018.
Besides, the survey gathered information on the amount of capital expenditure incurred by the households during the Agricultural Year 2018-19 (July-June), under different heads, like residential buildings, farm business and non-farm business.
The present survey was spread over the entire Indian Union and data were collected in two visits (Visit 1: January-August, 2019 and Visit 2: September – December, 2019) from the same set of sample households.
The survey was spread over 5,940 villages covering 69,455 households in the rural sector and 3,995 blocks covering 47,006 households in the urban sector.
7) Answer: E
Agencies of the United Nations (UN) have called for a sweeping review of global support to farmers that are making the planet warmer and also keeping it away from attaining the Sustainable Development Goals (SDGs) by 2030.
This is ahead of the Food Systems Summit that will take place September 23, 2021.
Three UN agencies — Food and Agriculture Organization (FAO), UN Development Programme (UNDP) and UN Environment Programme (UNEP) — released A multi-billion-dollar opportunity: Repurposing agricultural support to transform food systems.
The report analysed countries' support to farmers and the consequent adverse impacts on food prices, environment, global warming and farmers, specifically smallholders.
Support to farmers by countries has been a contentious issue in the regime of the World Trade Organization, putting the developed and developing countries at loggerheads.
The contemporary food production system has always been a cause of concern due to its high greenhouse gas (GHG) emissions.
8) Answer: B
Bulgarian President Rumen Radev has reappointed incumbent caretaker premier Stefan Yanev to lead an interim administration until a new government is formed, the official state gazette has shown.
The European Union's poorest member state will hold its third parliamentary elections this year on November 14, after inconclusive polls in April and July failed to produce a government.
Radev, who is running for re-election in a presidential vote also set for November 14, dissolved parliament and re-appointed most of the interim ministers who took office in May after almost a decade of political dominance by former centre-right Prime Minister Boyko Borissov.
The new interim government will have to submit a national plan to Brussels on how it plans to use more than 6 billion euros from the EU's corona virus recovery fund and shield the country from an upsurge of new infections and the possible arrival of migrants from Afghanistan.
9) Answer: A
Byju's and NITI Aayog have partnered together to provide free access to tech-driven learning programmes to children from India's 112 aspirational districts.
Aspirational district represent India's most developmentally challenged districts in terms of access to health and nutrition; education; agriculture and water resources; basic infrastructure; and financial inclusion and skill development.
Under the project, a dedicated working group will focus on creating knowledge, innovation, and strategy support system.
It will also actively monitor and evaluate programme implementation to enable efficacy and ensure better scope of delivery.
10) Answer: C
HSBC India has launched a digital proposition aimed at simplifying cross-border transactions.
Called HSBC UniTransact, it aims to provide seamless integration of all aspects of transaction banking while minimising manual intervention through the transaction journey.
It provides a range of benefits, including a comprehensive dashboard, real-time status throughout the life-cycle of all the cross border transactions, online discrepancy resolution, efficient management of documentation, alerts and notifications and seamless execution.
"The launch of HSBC UniTransact is aimed at unifying all the processes and interactions for our clients in any cross border transaction journey.
From reducing the number of touch points they need to go through, to providing them end-to-end visibility of each transaction, we are confident that UniTransact will create a truly unique world class user experience for our clients".
11) Answer: A
DBS has been named the world's best bank by UK-based financial publication Euromoney, making it the fourth consecutive year it has gained the accolade from a financial publication.
The Singapore-headquartered bank was also named the world's best digital bank, making it the first time a bank worldwide has held both titles concurrently.
DBS received its first global best bank accolade from New-York based publication Global Finance in 2018, and was also named Global Bank of the Year by Financial Times publication The Banker in the same year.
In 2019, Euromoney also named DBS the World's Best Bank, and in 2020, Global Finance named it the Best Bank in the World.
12) Answer: D
TAGG, a leading homegrown tech-driven lifestyle electronics brand, onboards the Vice-Captain of the Indian Cricket Team and the Captain of Mumbai Indians, Rohit Sharma as a TAGGSTER (Brand Ambassador) to help steer the brand to new heights in the audio and wearable industry.
TAGG is a purpose-led Indian brand with a mission to make technologically advanced products accessible to everyone.
FOSSIL is thrilled to announce our partnership with Kriti Sanon as the newest celebrity brand ambassador in India.
With a versatile and original sense of style, the talented Bollywood actress exudes effortless charisma, constantly inspiring her fans and the people around her.
Kriti's optimism and organic take on fashion closely align with Fossil's dedication to authenticity and creative spirit.
Her collaboration with Fossil will extend to promoting the watch & accessory categories ranging from traditional & smartwatches to leather products and jewellery for women.
13) Answer: B
Amit Saxena, Global Deputy CTO of State Bank of India joins RBI Innovation Hub as the CTO.
On Aug 6, 2020, the Reserve Bank announced that it would set up Reserve Bank Innovation Hub (RBIH) to promote innovation across the financial sector by leveraging on technology and creating an environment that would facilitate and foster innovation.
The RBIH shall create an ecosystem that would focus on promoting access to financial services and products. This will also promote financial inclusion.
The Hub will collaborate with financial sector institutions, the technology industry, and academic institutions and coordinate efforts for the exchange of ideas and development of prototypes related to financial innovations.
It would develop internal infrastructure to promote fintech research and facilitate engagement with innovators and start-ups.
14) Answer: E
Alka Nangia Arora, IDAS (91) assumed the additional charge of the post of Chairman cum Managing Director (CMD), The National Small Industries Corporation Ltd. (NSIC) on 14th September, 2021.
she interacted with senior officers of NSIC and encouraged all employees to continue giving their best performance during 2021-22.
15) Answer: C
British human rights lawyer Amal Clooney was named as one of 17 special advisers to the new chief prosecutor of the International Criminal Court.
Clooney was appointed as an adviser on the Darfur region of Sudan, where prosecutors allege that government forces and militias backed by Khartoum carried out a campaign of genocide.
Other advisers focus on topics including crimes against children, gender persecution, sexual violence and slavery.
16) Answer: E
QCI launched the Prof. S.K. Joshi Laboratory Excellence Award virtually amidst eminent dignitaries from Government & Industry.
This is country's first-of-its- kind Laboratory Excellence Award.
This Award has been instituted to promote Laboratory Quality and performance improvement in the country.
The award has been incepted to ensure the laboratory's commitment to achieve excellence in providing high precision testing and calibration services in line with the prevalent national/international quality systems legislations, including Health, Safety & Environment.
This award will be open to all currently operational Laboratories pertaining to Testing, Calibration & Medical including their Proficiency Testing Providers & Reference Material Producers located in India.
17) Answer: C
The President stated that it was the unrelenting support provided by the nurses, which has helped us in fighting the Covid-19 pandemic.
It is only because of their sustained efforts that we have achieved the distinction of vaccinating a sizeable portion of our population.
The milestone of vaccinating one crore-plus people in a single day in India was possible only because of their dedication and untiring efforts.
The President noted that nurses in India are adapting themselves for innovative and challenging roles.
The government has launched the 'Midwifery Service Initiative' to create a new cadre of midwives.
They would be called Nurse Practitioner Midwife (NPM) who would be equipped with the requisite knowledge and competencies.
With the help of this initiative, health services would be able to reach the women of the last rung of the society.
18) Answer: B
On September 17, 2021, Prime Minister Shri Narendra Modi, addressed the 21st Meeting of the Council of Heads of State of the Shanghai Cooperation Organisation (SCO), in hybrid format in Dushanbe, Tajikistan.
The meeting was chaired by H.E. Emomali Rahmon, the President of Tajikistan.
At Dushanbe, India was represented by External Affairs Minister, Dr. S. Jaishankar.
This was the first SCO meet which took place in a hybrid format and the fourth summit in which India participated as a full-fledged member of the Shanghai Cooperation Organisation (SCO).
The SCO Summit was followed by an Outreach session on Afghanistan between SCO and the Collective Security Treaty Organisation (CSTO).
During the meeting, Narendra Modi highlighted the problems caused by growing radicalisation and extremism in the broader SCO region, which runs counter to the history of the region as a bastion of moderate and progressive cultures and values.
Also, the leaders reviewed the organization's activities over the past two decades and discussed the state and prospects of future cooperation.
19) Answer: D
The 15th Edition of Indo-Nepal joint military training 'Exercise Surya Kiran' is commencing from September 20 at Pithoragarh in Uttarakhand.
During the exercise, the Indian Army and Nepali Army would share their experiences of various counter-insurgency operations over a prolonged period in their respective countries.
Also both the Armies would familiarise themselves with each other's weapons, equipment, tactics, techniques and procedures of operating in a counter-insurgency environment in mountainous terrain.
The exercise is part of an initiative to develop interoperability and sharing expertise between the two nations & it will help in improving bilateral relations and further strengthen the traditional friendship between the two nations.
The last edition of 'Exercise Surya Kiran' was conducted in Nepal in 2019.
20) Answer: A
SpaceX's first private flight has been launched 4 Amateurs On Private Earth-Circling Trip at Kennedy Space Center, in Cape Canaveral, in Florida.
38 year old Jared Isaacman sponsored the trip & he is leading the flight.
Joining Isaacman on the trip dubbed Inspiration4 is Hayley Arceneaux, 29, Also along for the ride are sweepstakes winners Chris Sembroski, 42, a data engineer in Everett, Washington, and Sian Proctor, 51, a community college educator in Tempe, Arizona.
Arceneaux became the youngest American in space and the first person in space with a prosthesis, a titanium rod in her left leg.
It was the first time a spacecraft circled Earth with an all-amateur crew and no professional astronauts.
The Dragon capsule's two men and two women are looking to spend three days going round and round the planet.
The Dragon capsule aimed for an altitude of 357 miles (575 kilometers), just beyond the Hubble Space Telescope.
21) Answer: D
Former Gabonese Prime Minister Casimir Oye Mba Passed away.
He was 79.
About Casimir Oye Mba :
Casimir Oyé-Mba was born in Nzamaligué,Gabon.
He Served as Governor of the Bank of Central African States (BEAC) from 1978 to 1990.
Oyé-Mba was Prime Minister of Gabon from 3 May 1990 to 2 November 1994.
He remained in the government as Minister of State for Foreign Affairs from 1994 to 1999, Minister of State for Planning from 1999 to 2007, and Minister of State for Mines and Oil from 2007 to 2009.