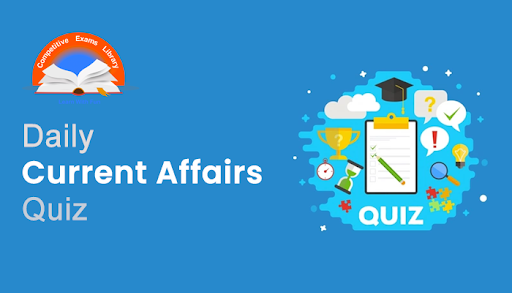 Dear Readers, Daily Current Affairs Questions Quiz for SBI, IBPS, RBI, RRB, SSC Exam 2021 of 19th February 2021. Daily GK quiz online for bank & competitive exam. Here we have given the Daily Current Affairs Quiz based on the previous days Daily Current Affairs updates. Candidates preparing for IBPS, SBI, RBI, RRB, SSC Exam 2021 & other competitive exams can make use of these Current Affairs Quiz.
1) Which company has announced its first device manufacturing line in India?
A) Nokia
B) Huawei
C) Amazon
D) Tesla
E) Walmart
2) Which institution has -incubated Pi Beam launches PiMo e-bike?
A) IIT Roorkee
B) IIT Guwahati
C) IIT Bombay
D) IIT Madras
E) IIT Delhi
3) The Union Cabinet has approved a production-linked incentive scheme – telecom sector worth _____crores.
A) 11560
B) 12450
C) 13400
D) 12300
E) 12195
4) Shri Thaawarchand Gehlot will Virtually Release the ____ Edition of Indian Sign Language dictionary.
A) 5th
B) 1st
C) 2nd
D) 3rd
E) 4th
5) Ministry of Housing and Urban Affairs launches Pilot Pey Jal Survekshan in accordance with which of the following SDGs?
A) 9
B) 8
C) 6
D) 5
E) 7
6) Prime Minister Giorgi Gakharia of which country has resigned recently?
A) Estonia
B) Georgia
C) Netherlands
D) Latvia
E) Ethiopia
7) PM Modi will inaugurate key projects of which state virtually?
A) Madhya Pradesh
B) Bihar
C) Punjab
D) Haryana
E) Kerala
8) Facebook has blocked users from which country from sharing or viewing news content?
A) US
B) Israel
C) Australia
D) Germany
E) France
9)  'Free Gift Milk to Girl Students of Sikkim' initiative aims to provide _____mls of milk every day.
A) 300
B) 100
C) 150
D) 200
E) 250
10) The Odisha Government has announced Rs _____ crore Development Package for Maa Samaleswari Temple.
A) 350
B) 300
C) 150
D) 250
E) 200
11) Dharmendra Pradhan has urged the Centre to set up a Centre of Excellence on Maritime Biotechnology in which city?
A) Dispur
B) Bhubaneswar
C) Chandigarh
D) Delhi
E) Patna
12) Which company has signed an MoU with Indian School of Mines?
A) BPCL
B) ONGC
C) HPCL
D) Essrar
E) Reliance
13) Oxford Economics ups India growth forecast to _____ per cent for 2021.
A) 10.6
B) 10.5
C) 10.4
D) 10.3
E) 10.2
14) ISRO has planned to launch a satellite of which country on February 28?
A) US
B) Israel
C) Brazil
D) France
E) Germany
15) Toshihiro Mibe has been appointed as the new CEO of which company?
A) Volkswagen
B) Honda
C) Mitsubishi
D) Hyundai
E) GM
16) Cabinet has approved over Rs ______crores PLI scheme for the telecom sector.
A) 14500
B) 13500
C) 13000
D) 12000
E) 12500
17) How many children have been selected from Kerala for national awards?
A) 7
B) 6
C) 3
D) 4
E) 5
18) Who among the following has recently announced retirement from all forms of cricket?
A) Suresh Raj
B) Anand Tiwari
C) Naman Ojha
D) Ashok Dinda
E) Dinesh Sharma
19) Captain Satish Sharma who passed away at 73 belonged to which political party?
A) JDU
B) AIADMK
C) BJD
D) BJP
E) Congress
20) Noted jurist M Rama Jois who passed away at 88 was formed governor of which state?
A) Madhya Pradesh
B) Haryana
C) Bihar
D) UP
E) Himachal Pradesh
Answers :
1) Answer: C
E-commerce giant Amazon has announced its plans to begin manufacturing devices in India.
This is the first Amazon manufacturing line in India and reiterates the firm's commitment to the government's "Make in India" for an Atma Nirbhar Bharat.
Amazon will commence manufacturing with contract manufacturer Cloud Network Technology, a subsidiary of Foxconn, in Chennai, and start production later this year.
The programme will churn out hundreds of thousands of Fire TV Stick devices every year. Amazon will evaluate scaling capacity to additional marketplaces and cities, depending on the domestic demand.
In 2020 Amazon announced "Local Shops on Amazon", a programme that retailers and local shops be self-dependent, and benefit from selling online.
It now has over 22,000 neighbourhood stores registered across the country, gathering additional footfalls through their online presence and furthering their earning potential by acting as pickup points, logistics partners, and experience centres for e-commerce.
2) Answer: D
IIT Madras-incubated startup Pi Beam has launched an electric two-wheeler, PiMo, for Rs 30,000.
The utility e-bike, which is targeted at personal and commercial applications, has a range of 50 km.
The e-bike does not require a license or registration and has localised most of the components including the lithium-ion batteries and controllers.
The company aims to sell 10,000 units by the end of next financial year (2021-22).
PiMo is a vehicle that's between an electric bicycle and entry-level electric scooter.
Pi Beam is an incubated company at IIT-M to bring electric mobility in India.
3) Answer: E
The Union Cabinet approved a production-linked incentive scheme for the telecom sector.
Briefing reporters after the cabinet meeting, Electronic and IT Minister Ravi Shankar Prasad said, the production-linked incentive worth Rs 12,195 Crore has been cleared for the telecom sector.
He said this will create 40 thousand direct and indirect employment.
Production Linked Incentive Scheme intends to promote manufacture of Telecom and Networking Products in India and proposes a financial incentive to boost domestic manufacturing and attract investments in the target segments of telecom and networking products in order to encourage make in India.
The scheme will also encourage exports of telecom and networking products 'Made in India'.
Support under the Scheme will be provided to companies and entities engaged in manufacturing of specified telecom and networking products in India.
4) Answer: D
Union Minister for Social Justice and Empowerment Shri Thaawarchand Gehlot will virtually release the 3rd edition of the Indian Sign Language (ISL) Dictionary with 10,000 terms (including 6,000 earlier terms)  on 17th February 2021 in a virtual programme.
The programme will be webcast live at the following link: https://webcast.gov.in/msje/
The Dictionary has been brought out by the Indian Sign Language Research and Training Centre (ISLRTC), an autonomous Institute under the Department of Empowerment of Persons with Disabilities (Divyangjan), Ministry of Social Justice & Empowerment.
The 1st edition of the ISL Dictionary was launched on 23rd March 2018 with 3000 terms and the 2nd edition with 6000 terms (including earlier 3000 terms) was launched on 27th February 2019.
The 3rd edition of the ISL Dictionary contains a total 10,000 terms of everyday use, academic terms, legal & administrative terms, medical terms, technical terms and agricultural terms.
5) Answer: C
Ministry of Housing and Urban Affairs has launched a Pilot Pey Jal Survekshan under Jal Jeevan Mission- Urban.
It will be conducted in cities to ascertain equitable distribution of water, reuse of wastewater and mapping of water bodies with respect to quantity and quality of water through a challenge process.
As a first step, the Ministry has decided to launch the Survekshan in 10 cities-  Agra, Badlapur, Bhubaneswar, Churu, Kochi, Madurai, Patiala, Rohtak, Surat and Tumkur
Jal Jeevan Mission Urban is designed to provide universal coverage of water supply to all households through functional taps in all 4,378 statutory towns in accordance with Sustainable  Development Goal – 6.
The total outlay proposed for JJM (U) is 2 lakh 87 thousand crore rupees which includes 10 thousand  crore rupees  for continuing financial support to AMRUT Mission.
6) Answer: B
On February 18, 2021, The Prime Minister of Georgia, Giorgi Gakharia has announced his resignation
Gakharia said in a statement he was stepping down because of disagreements within his own team over the decision to arrest Nika Melia, chairman of the United National Movement opposition party.
Gakharia served as the Prime Minister from 8 September 2019 to 18 February 2021.
7) Answer: E
Prime Minister Narendra Modi will inaugurate and lay the foundation stone of key projects of power and urban sector in Kerala through video conferencing.
He will inaugurate the 320 KV Pugalur – Thrissur Power Transmission Project.
It is a Voltage Source Inverter based High Voltage Direct Current (HVDC) Project and has India's first HVDC link featuring state-of-the-art VSC technology.
Built at a cost of Rs 5070 crore, it will facilitate transfer of 2000 MW power from the western region and help meet the growth in load for the people of Kerala.
The Prime Minister will also dedicate to the nation the 50 MW Kasaragod Solar Power Project.
It has been developed under the National Solar Energy Mission.
8) Answer: C
Facebook has blocked Australian users from sharing or viewing news content on the platform, causing alarm over public access to key information.
Australians woke up this morning to find the Facebook pages of all local and global news sites were unavailable.
Several government health, emergency and other pages were also blocked.
Later the tech giant asserted it was a mistake.
Those outside of Australia are also unable to read or access any Australian news publications on the platform.
Facebook's move is in response to a proposed law in Australia which would make tech giants pay for news content.
9) Answer: D
Sikkim Chief Minister P. S. Tamang launched the 'Free Gift Milk to Girl Students of Sikkim' initiative at Gangtok.
The initiative will benefit around 1,500 students who would be provided 200 mls of milk every day.
Mr Tamang called the initiative a step towards eradicating malnutrition and other health problems among the young generation.
He said that the State Government is planning to extend it on a larger scale.
He said that proper nutrition is the foundation of a healthy mind and body, and this should be emphasized in educational institutions.
10) Answer: E
Patnaik announced a Rs 200-crore package for the development of the 16th-century shrine of Maa Samaleswari, the presiding deity of western Odisha.
The SAMALEI (Samaleswari Temple Area Management and Local Economy Initiatives) project will be implemented during the 2021-22 fiscal.
Launching the Samaleswari Temple Area Management and Local Economy Initiative (SAMALEI), the Chief Minister said the government will spend Rs 200 crore in 2021-22 to develop an area of 108 acres around the temple.
Unveiling a slew of measures, the Chief Minister said gates will be erected on the four sides of the temple to facilitate smooth entry and exit of devotees. The temple office, an interpretation centre and other facilities will be developed at the main gate for convenience of the visitors and smooth darshan of the presiding deity.
The temple, situated on a 12-acre land on the bank of Mahanadi river, will have adequate facilities for religious functions, a bhoga mandap and rest rooms for sevayats.
Housing will be developed for servitors and a 30- metre-wide road will be constructed from the temple to the Mahanadi Gate Road.
11) Answer: B
Union Minister Dharmendra Pradhan has urged the Centre to set up a Centre of Excellence on Maritime Biotechnology in Bhubaneswar in Odisha.
In his letter to the Union Minister for Health and Family Welfare, Earth Sciences and Science and Technology, Dr. Harsh Vardhan, Mr. Pradhan said that in order to strike a balance between Odisha's delicate maritime ecosystems and the growth of its blue economy, there is a need for enhanced focus on scientific research, which can be ensured by the setting up of the Centre of Excellence on Maritime Biotechnology at the Institute of Life Sciences in Bhubaneswar.
12) Answer: D
Essar Oil and Gas Exploration and Production Ltd (EOGEPL), India's leading Coal Bed Methane (CBM) gas producer, said it has signed a Memorandum of Understanding for collaboration with the prestigious IIT (Indian School of Mines), Dhanbad, to jointly work on research and development of various advanced CBM technological innovations indigenously.
EOGEPL, an investee company of Essar Global Fund Limited (EGFL), is one of India's largest operators of unconventional hydrocarbon acreages.
EGFL's investments in EOGEPL are a part of its portfolio of Essar Capital's upstream business, which is increasingly focused on clean energy.
As energy transitions happen in the world, CBM gas is widely seen as the green fuel of this century.
13) Answer: E
Global forecasting firm Oxford Economics revised India's economic growth projection for 2021 to 10.2 percent from the earlier 8.8 percent.
Because the receding COVID-19 risks and the shift in the monetary policy outlook.
The Budget 2021-22 will create positive externalities for the private sector, and forecast slower fiscal consolidation in FY22 than the government projections.
The Economic Survey has projected an 11 per cent growth for 2021-22, aided by a V-shaped recovery and a 7.7 per cent contraction for the current year. It also projects a lower 6.8 per cent growth in 2022-23.
The Reserve Bank of India has projected a GDP growth rate of 10.5 percent for the financial year beginning April 1, on the back of recovery in economic activities.
14) Answer: C
In its first mission in 2021, India's space agency ISRO planned to launch on February 28 Brazilian satellite Amazonia-1 and three Indian payloads, including one built by a home-grown start-up.
The satellites are slated to be launched on board the Polar Satellite Launch Vehicle (PSLV) C-51 at 10.28 am from the Sriharikota spaceport, over 100 kms from Chennai.
PSLV – C51/Amazonia – 1 is the first dedicated commercial mission of NewSpace India Limited (NSIL), a Government of India company under the Department of Space.
Secretary in the Department of Space and Chairman of Bengaluru-headquartered ISRO (Indian Space Research Organisation) K Sivan confirmed the PSLV-C51 schedule to PTI.
Amazonia – 1 is the primary payload on board ISRO's PSLV (Polar Satellite Launch Vehicle) rocket.
'Anand' is built by Indian space startup, Pixxel, and 'Satish Dhawan Satellite' by Chennai-based Space Kidz India.
UNITYsat is a combination of three satellites designed and built as a joint development by Jeppiaar Institute of Technology, Sriperumbudur (JITsat), G.H.Raisoni College of Engineering, Nagpur (GHRCEsat) and Sri Shakthi Institute of Engineering and Technology, Coimbatore (Sri Shakthi Sat).
15) Answer: B
Mibe, who is already a director at Honda, would replace Takahiro Hachigo, who has held the CEO post for six years.
Executive Vice President and Chief Operating Officer Seiji Kuraishi will remain in his post to support Mine, the sources said.
16) Answer: D
The Union Cabinet approved a production-linked incentive (PLI) scheme worth Rs 12,195 crore for telecom equipment manufacturing.
It will be implemented from April 01, 2021.
The decision was taken to offset the imports of telecom equipment worth more than Rs 50,000 crore and reinforce it with "Made in India" products both for domestic markets and exports.
The support under the PLI scheme will be provided to companies manufacturers of specified telecom and networking products in India like Gigabit Passive Optical Networks (GPON), base routers, Dense Wavelength Division Multiplexing (DWDM), Multiprotocol Label Switching (MPLS/ IPMPLS) and 5G/4G radios.
17) Answer: C
Three children from the state have been selected for the national bravery awards instituted by the Indian Council for Child Welfare (ICCW).
Ummer Mukthar of Malappuram who won the special award will get a medal and a cash prize of Rs 75,000, while Jayakrishnan Babu of Wayanad and Muhammed Hamras K of Malappuram who won the general awards will each get a medal and a cash prize of Rs 40,000.
The ICCW will also bear the education expenses of the children, including the cost of their school, degree, post graduate and professional courses, said a statement issued by the State Council for Child Welfare.
18) Answer: C
Former India wicketkeeper-batsman Naman Ojha  announced his retirement from all forms of cricket.
The 37-year-old from Madhya Pradesh, who holds the record for the most dismissals by a wicketkeeper in the Ranji Trophy, has featured in one Test, one ODI and two T20 Internationals.
Ojha made his international debut in 2010 in his only ODI against Sri Lanka, followed by his first T20I match in Zimbabwe a week later. His lone Test came in 2015 against Sri Lanka in Colombo.
He last appeared in a Ranji Trophy match for MP against Uttar Pradesh in January last year.
He captained MP in that Ranji Trophy Elite Group B match in Indore.
In the Indian Premier League, Ojha played for Rajasthan Royals, Sunrisers Hyderabad and Delhi Daredevils.
19) Answer: E
Congress leader and former union minister Captain Satish Sharma Passed away. He was 73.
Sharma was Union Minister of Petroleum and Natural Gas from 1993 to 1996 in the Narasimha Rao government.
Born on October 11, 1947 in Andhra Pradesh's Secunderabad, Sharma was a professional commercial pilot.
A three-time Lok Sabha MP who represented RaeBareli and Amethi constituencies, Sharma was a Rajya Sabha member for three terms representing the states of Madhya Pradesh, Uttarakhand and Uttar Pradesh.
He first became a member of Rajya Sabha in June 1986 and was later elected to the Lok Sabha from Amethi in 1991 after the death of Rajiv Gandhi.
He was later a member of Rajya Sabha from July 2004 to 2016.
20) Answer: C
Former Bihar-Jharkhand governor and noted jurist Justice (Retd.) Mandagadde Rama Jois passed away at 88.
M Rama Jois, a former Rajya Sabha MP, had also served as the Chief Justice of Punjab and Haryana High Court.
Born on July 27, 1932, at Shivamogga, M Rama Jois did his BA and Law degree. He was associated with the Rashtriya Swayamsevak Sangh (RSS) from the beginning.
He had also served as the Governor of Jharkhand and Bihar and as a member of the Rajya Sabha from the Bharatiya Janata Party (BJP).
His book The Legal and Constitutional History of India is a treatise.