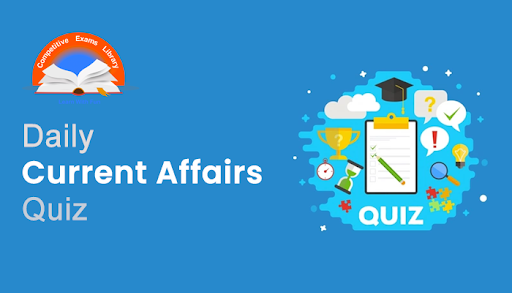 Dear Readers, Daily Current Affairs Questions Quiz for SBI, IBPS, RBI, RRB, SSC Exam 2021 of 19th January 2021. Daily GK quiz online for bank & competitive exam. Here we have given the Daily Current Affairs Quiz based on the previous days Daily Current Affairs updates. Candidates preparing for IBPS, SBI, RBI, RRB, SSC Exam 2021 & other competitive exams can make use of these Current Affairs Quiz.
1) NDRF recently celebrated its ______ Raising Day On January 18.
A) 13th
B) 12th
C) 16th
D) 15th
E) 14th
2) Who among the following has inaugurated the Road Safety Month?
A) Piyush Goyal
B) Nitin Gadkari
C) Prahlad Patel
D) Narendra Modi
E) Anurag Thakur
3) The US has designated which countries as its 'major strategic partners'?
A) Iraq and UAE
B) Qatar and UAE
C) Qatar and Oman
D) Oman and UAE
E) UAE and Bahrain
4) PM NarendraModi has flagged off _______trains to boost connectivity to the Statue of Unity.
A) 4
B) 5
C) 6
D) 8
E) 7
5) CARE has lowered the Centre's fiscal deficit projection to ______ per cent of GDP.
A) 6.6
B) 6.5
C) 7.8
D) 7.5
E) 7.3
6) Which space agency has targeted the final test of 'world's most powerful rocket'?
A) JAXA
B) NASA
C) CNES
D) ISRO
E) ROSCOMOS
7) Pakistan PM Imran Khan has given special permit for royals of which country to hunt houbara bustard?
A) Turkey
B) Iraq
C) Saudi Arabia
D) Oman
E) UAE
8) Union Health Minister Dr. Harsh Vardhan has digitally chaired _______ the session of the Executive Board of WHO.
A) 144
B) 145
C) 146
D) 148
E) 147
9) India has signed anMoU with which country for Agreement to Promote movement of Skilled Workers?
A) Israel
B) Japan
C) France
D) Germany
E) Sweden
10) Which state will launch the 'One school, One IAS' programme?
A) Uttar Pradesh
B) Haryana
C) Karnataka
D) Madhya Pradesh
E) Kerala
11) Who among the following has been selected as one of the US-India Business Council's vice-chair?
A) Indra Nooyi
B) Pooja Kochar
C) Kiran Mazumdar-Shaw
D) Gautam Adani
E) Roshni Nadar
12) Ghulam Mustafa Khan who passed away at 89 was a legendary _____.
A) Producer
B) Director
C) Actor
D) Musician
E) Cricketer
13) Uganda's Museveni has won his ______ term extending his rule to four decades.
A) 3rd
B) 7th
C) 4th
D) 5th
E) 6th
14) In IFFI who among the following has been conferred 'Indian Personality of the Year' award?
A) Vikram Mehta
B) Ramesh Gupta
C) Biswajit Chatterjee
D) Rajesh Singh
E) Neelesh Kumar
15) In LadakhKhelo India _____ edition of the Zanskar Winter Sports Festival has begun.
A) 5th
B) 1st
C) 2nd
D) 3rd
E) 4th
16) Axelsen And Marin has won Titles AtYonex Open being held in ______.
A) Brunei
B) Malaysia
C) Vietnam
D) Singapore
E) Thailand
17) Kamal Morarka who passed away At 74 was RajyaSabha member from which state?
A) Gujarat
B) Bihar
C) Rajasthan
D) Madhya Pradesh
E) Haryana
Answers :
1) Answer: C
The National Disaster Response Force (NDRF) celebrated  its 16th Raising Day On 18th January.
About NDRF :
The National Disaster Response Force is an Indian specialized force constituted "for the purpose of special response to a threatening disaster situation or disaster" under the Disaster Management Act, 2005.
The Apex Body  for Disaster Management in India is the National Disaster Management Authority
2) Answer: B
Union Minister of Road Transport and Highways, NitinGadkari, inaugurated Road Safety Month where he highlighted the Central Government's commitment towards safety.
National Road Safety Month to be held from January 18 to February 17, 2021 and India accounts for 11 percent of accident-related fatalities worldwide
The function was launched by Union Minister for Defence, Rajnath Singh and Union Minister for Road Transport and Highways & MSME, NitinGadkari. The Minister of State for RTH, Gen (Retd) VK Singh and CEO, NITI Aayog, Amitabh Kant also participated.
The initiative aims to build awareness about road safety and reduce road accidents in the country. It will be held till 17 February 2021.
Globally India is one of the worst-hit nations when it comes to road accidents. India accounts for about 5 lakh road accidents annually, one of the highest in the world, in which about 1.5 lakh people die and another 3 lakh become crippled.
Centre is also taking several measures to reduce road accidents by Restructuring and Strengthening 4E's of Road safety, which are:
Engineering
Education
Enforcement
Emergency care Services
3) Answer: E
The United States has designated the United Arab Emirates (UAE) and Bahrain as its major strategic partners of the Country.
The announcement was made by White House Press Secretary KayleighMcEnany here.
A new level of partnership between the United States, the United Arab Emirates, and the Kingdom Bahrain, and represents an enduring commitment to economic and security cooperation.
It also reflects their extraordinary courage, determination, and leadership in entering into the Abraham Accords.
In addition to that,  Both of the countries have been designated for their commitment to countering violent extremism across the region, exceptional security partnership and exemplified by their hosting thousands of US airmen, soldiers, marines and sailors.
4) Answer: D
On Jan 17, 2021, Prime Minister NarendraModi flagged off eight trains connecting different regions of the country to Kevadiya with an aim to facilitate seamless connectivity to the Statue of Unity in Gujarat.
Gujarat chief minister Vijay Rupani and Union railways minister PiyushGoyal were also present on the occasion.
These trains will connect Kevadia to Varanasi, Dadar, Ahmedabad, HazratNizamuddin, Rewa, Chennai and Pratapnagar.
PM Modi also inaugurated the DabhoiChandod converted broad gauge railway line, ChandodKevadia new broad gauge rail line, newly electrified PratapnagarKevadia section and the new station buildings of Dabhoi, Chandod and Kevadia.
Purpose :
This connectivity will be beneficial for tourists coming to see the Statue of Unity but it will also help in changing the lives of the tribal community of Kevadiya.
It will bring new opportunities for jobs and self-employment.
These trains will help boost tourism in the tribal region and increase connectivity to the world's tallest statue, the Statue of Unity, which he inaugurated in October 2018 on the occasion of SardarVallabhbhai Patel's 143rd birth anniversary.
5) Answer: C
CARE Ratings has revised downwards its projection of the Centre's fiscal deficit to 7.8 percent of GDP during FY21 against its earlier estimate of 9-9.5 per cent.
The combined effect of lower revenues and higher expenditure is likely to push the fiscal deficit to 7.8 percent of GDP
6) Answer: B
The National Aeronautics and Space Administration (NASA) is looking to carry out the eighth and final test in its "Green Run" test series on January 17.
This eighth stage, termed hot fire will bring to an end a series of tests which, NASA says, will gradually bring together the core stage of the Space Launch System (SLS) to life for the very first time.
The core stage of the SLS will form the backbone of what NASA says will be the "most powerful rocket in the world" and will power its next-generation human Moon Missions
7) Answer: E
The Pakistan government has issued at least seven special permits to Dubai Ruler Sheikh Mohammed bin Rashid Al-Maktoum and six other members of the ruling family to hunt the internationally protected bird houbara bustard during the 2020-21 hunting season.
After the Permission, eleven members of the UAE royal family reached the Panjgur district in Balochistan, Pakistan for hunting the highly vulnerable and internationally protected houbara bustard under pakistan,s foreign ministry license.
8) Answer: D
Union Health Minister Dr. Harsh Vardhan digitally chaired the 148th session of the Executive Board of the World Health Organization through video conference.
Distinguished Members of the WHO Executive Board,Hon'ble Ministers, Excellencies& Member State representatives,WHO Director-General, Regional Director of WHO South-East Asia and Other Regional Directors,Heads& Representatives of UN Agencies and Partner Organizations
The 148th session of the Executive Board has been organised from 18-26 January 2021.
In addition to that the WHO has declared the Year 2021 as the Year of Global Solidarity and Survival.
The meeting provides a platform to bring together all member states to set the directions and agenda to continue striving for our objective of health as a state of complete physical, mental and social well-being.
9) Answer: B
India and Japan have signed a Memorandum of Cooperation (MoC) on a basic partnership framework for operation of the 'specified skilled worker' (SSW) system under which the Japanese government accepts foreign nationals who have a certain level of expertise and skill.
The memorandum was signed by Japanese Ambassador to India Suzuki Satoki and Foreign Secretary Harsh VardhanShringla
There are 14 specified industry fields that fall under SSW and workers and professionals in those sectors could be eligible,
These are: nursing care (caregiving); building-cleaning management; machine parts and tooling industries; industrial machinery industry; electric, electronics and information industries; construction industry; shipbuilding and ship machinery industry; automobile repair and maintenance; aviation industry; accommodation industry; agriculture, fishery & aquaculture; manufacture of food and beverages; and food service industry.
10) Answer: E
Kerala Governor Arif Mohammad Khan has launched Vedhik Erudite Foundation's ambitious scheme to provide free coaching for civil services and other competitive examinations to 10,000 meritorious students.
This higher education platform will give children a chance to completely redecorate their future plans and broaden their horizons totally, rewriting their value capital.
The Programme will be providing free training to the students who are economically backward but are academically brilliant aspirants of civil service and other competitive exams.
The beneficiaries will be selected by a panel headed by the heads of respective educational institutions.
11) Answer: C
US-India Business Council (USIBC) has selected Biocon Executive Chairperson KiranMazumdar-Shaw as one of its vice-chairs effective immediately.
US Chamber of Commerce's USIBC on January 14 announced three vice-chairs to its 2021 Global Board of Directors.
The two other business executives joining Shaw as vice-chairs are Amway CEO Milind Pant and Edward Knight who is the vice-chair at Nasdaq.
The Council advocates for strengthening the US-India commercial relationship for the future.
The three new appointees will now work with USIBC President NishaBiswal and the Council's policy directors.
Their aim is to elevate priorities in important sectors and also to lead meetings between the government and the industries.
12) Answer: D
Indian classical musician UstadGhulam Mustafa Khan passed away at the age of 89.
He was known for the Hindustani classical genre of music.
Achievements :
He was awarded the Padma Shri in 1991, followed by Padma Bhushan in 2006 and Padma Vibhushan in 2018.
In 2003, he was honoured with the SangeetNatakAkademi award, the highest Indian recognition given to practicing artistes.
13) Answer: E
President YoweriMuseveni won a sixth five-year term, extending his rule to four decades, according to official results announced .
Museveni received 58 percent of the vote to Wine's 34  percent, with a voter turnout of 52  percent.
The 76-year-old Museveni, in power since 1986 and one of Africa's longest-serving leaders and is one of Africa's longest-serving presidents.
14) Answer: C
Union Minister for Information and Broadcasting, PrakashJavadekar, announced a new 'Indian Personality of the Year' award.
The 84-year-old actor is known for featuring in films like Bees SaalBaad, "Night In London" and "April Fool".
Chatterjee started his career in the late 1950s and went on to work in films like "BiwiAurMakan", "Sagaai", "Kohra" among others.
In 1975, he directed and produced "KahteHainMujhko Raja", featuring himself along with Dharmendra, HemaMalini and Rekha.
Some of Chatterjee's Bengali films include "Chowringhee" (1968), "GarhNasimpur" and "Amar Geeti".  Chatterjee had also contested the 2014 general elections from a Delhi seat on a Trinamool Congress ticket but had later joined BJP in February 2019.
15) Answer: B
In Ladakh, Khelo India 1st Zanskar Winter Sports Festival began On Jan 18, 2021.
Aim : Engaging the Youth and opening new vistas of tourism in Zanskar are the main aims of the festival.
Ladakh MP JamyangTseringNamgyal inaugurated Chadar Trek to kick start and set the tone for 13- Day Zanskar Winter Sports Festival from the confluence of Indus and Zanskar rivers near Sangam, Leh.
On 21st January Union Youth Affairs & Sports Minister KirrenRijiju will be inaugurating the Zanskar Winter festival.
A series of snow based activities are scheduled for next 13 days in the Snow bound, picturesque remote Zanskar.
16) Answer: E
Denmark's Viktor Axelsen and Spain's Carolina Marin have won the men's and women's singles titles at the Badminton World Federation (BWF) Yonex Thailand in Bangkok, the first of three competitions in the Thai capital.
It was held from 12 January 2021 to 17 January 2021.
It was the first badminton tournament of 2021 by Badminton World Federation (BWF).
Other Winners List :
Men's Double – Taiwan's Lee Yang and Wang Chi-Lin
Women's Double – Indonesia's GreysiaPolii and ApriyaniRahayu
Mixed Double – Thailand's DechapolPuavaranukroh and SapsireeTaerattanachai
17) Answer: C
Former Union minister and noted businessman Kamal Morarka has passed away. He was 74.
About Kamal Morarka :
MrMorarka was a Union minister in the Chandra Shekhar government in 1990-91 and a RajyaSabha member from Rajasthan from Janata Dal (Secular) during 1988-94.
He has headed the SamajwadiJanata Party (Rashtriya) since 2012.
In addition to that, MrMorarka had a keen interest in sports and served as vice-president of the Board of Control for Cricket in India (BCCI) and Vice President of Rajasthan Cricket Association.
He was also a philanthropist and social worker and contributed to organic farming in his native Shekhawati in Rajasthan.
He also published a book of wild life photographs.