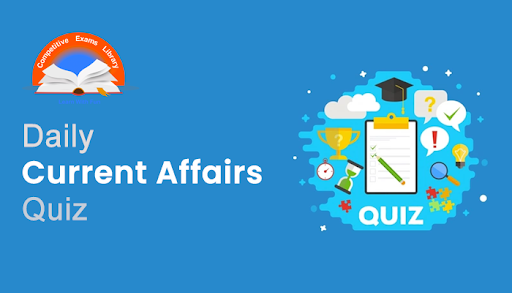 Dear Readers, Daily Current Affairs Questions Quiz for SBI, IBPS, RBI, RRB, SSC Exam 2021 of 19th March 2021. Daily GK quiz online for bank & competitive exam. Here we have given the Daily Current Affairs Quiz based on the previous days Daily Current Affairs updates. Candidates preparing for IBPS, SBI, RBI, RRB, SSC Exam 2021 & other competitive exams can make use of these Current Affairs Quiz.
1) Lloyd J Austin will soon visit India. He is the Defence Secretary of which country?
A) UK
B) France
C) Germany
D) Netherlands
E) US
2) AIM, NITI Aayog and which of the following company have recently announced new initiatives in India to strengthen the innovation and entrepreneurship ecosystem in the country?
A) Infosys
B) HP
C) AWS
D) HCL
E) TCS
3) The Prime Minister of which country has recently inaugurated Amar Ekushey book fair?
A) Mongolia
B) Uzbekistan
C) Afghanistan
D) Bangladesh
E) Pakistan
4) PM Modi will gift 'Made in India' vaccines to which of the following country?
A) Sri Lanka
B) Jamaica
C) Madagascar
D) Uganda
E) Mauritius
5) Insurance Amendment Bill, 2021 has been passed in Rajya Sabha with the FDI limit increased from 49 per cent to _____ per cent.
A) 90
B) 80
C) 74
D) 51
E) 100
6) The World Bank will provide USD ____ million to Bangladesh as financial assistance.
A) 400
B) 350
C) 300
D) 200
E) 250
7) The Swarnim Vijay Mashaal' stick is out of the 'Akashvani Bhawan' in Kolkata to celebrate the golden jubilee. How many vijay marshalls were further lit and sent to different parts of the country?
A) 2
B) 6
C) 5
D) 3
E) 4
8) The government of which state will create an integrated technology solution for DBT schemes?
A) Karnataka
B) Madhya Pradesh
C) Punjab
D) Kerala
E) Uttar Pradesh
9) 'Kaushal Mela' organized by the Department of Technical Education & Skill development has been held in which place?
A) Chandigarh
B) Surat
C) Pune
D) Kargil
E) Ladakh
10) As per Anurag Thakur , the Country's economy is witnessing a _____ shaped recovery.
A) L
B) V
C) U
D) Y
E) W
11) Madhya Pradesh CM along with Union Minister Narendra Singh Tomar has launched which of the following Mission in the state?
A) Vishwas
B) Vikar
C) Gramodaya
D) Ananda
E) Daya
12) India will contribute the 2nd batch of 20,000 litres of Malathion 95% ULV pesticide to which of the following country?
A) UAE
B) Ethiopia
C) Nigeria
D) Iran
E) Afghanistan
13) Nabard has set up a Rural Business Incubation Centre in which of the following state?
A) Chhattisgarh
B) Punjab
C) Haryana
D) Bihar
E) Gujarat
14) WE HUB has tied up with which of the following universities for women-led startups?
A) University of Buckingham
B) University of Bolton
C) University of Salford
D) University of Central Lancashire
E) University of Preston
15) India has recently signed a Free trade agreement with which country?
A) Israel
B) Germany
C) UK
D) France
E) US
16) Samia Suluhu Hassan has been sworn as the President of which country?
A) Niger
B) Ethiopia
C) Nigeria
D) Tanzania
E) Sudan
17) Jan Dhan accounts have now increased to _____crores with total balance at Rs.1.4-lakh crores.
A) 28
B) 37
C) 35
D) 40
E) 42
18) Dutch Prime Minister Mark Rutte led his People's Party for Freedom and Democracy (VVD) to a _____ victory in a row.
A) 6th
B) 5th
C) 4th
D) 3rd
E) 2nd
19) To Boost Bilateral Cooperation In Research And Development Artificial Intelligence Initiative has been launched by India along with which country?
A) Israel
B) US
C) Japan
D) France
E) Germany
20) Through the OFS route, the Government may sell up to _____ per cent stake in Tata Communications.
A) 11.12
B) 13.12
C) 14.12
D) 15.12
E) 16.12
21) Adani Ports will acquire _____ per cent stake in Gangavaram Port for Rs 1,954 crores.
A) 30.5
B) 25.5
C) 31.5
D) 22.5
E) 28.5
22) Which of the following company has rolled out the first batch of MRSAM missile kits for Indian Army?
A) GRSE
B) BDL
C) BHEL
D) KRAS
E) DRDO
23) Which institution has launched a vendor onboarding mobile app for its e-commerce portal 'Bharat e Market'?
A) DRDO
B) CAIT
C) FICCI
D) Niti Aayog
E) ISRO
24) As per the SIRPI REPORT , India's arms imports are down by ______per cent.
A) 25
B) 28
C) 33
D) 31
E) 30
25) Which of the following company has set up an innovation lab at Delhi Technological University?
A) Panasonic
B) Xiaomi
C) Huawei
D) Nokia
E) Samsung
26) Rawalpindi's KRL Stadium has been renamed after who among the following?
A) Waqar Younis
B) Imran Khan
C) Shoaib Akhtar
D) Shahid Afridi
E) Wasim Akram
27) John Magufuli who passed away at 61 was the President of which country?
A) Egypt
B) Tanzania
C) Sudan
D) Nigeria
E) Ethiopia
Answers :
1) Answer: E
US Defence Secretary Lloyd J Austin will arrive in India.
During the visit, he will meet Defence Minister Rajnath Singh, and other senior dignitaries of the government to discuss deepening the India US Major Defense Partnership.
They will also discuss advancing cooperation for a free, prosperous and open Indo-Pacific Region.
Discussions regarding defence cooperation would also focus on how both countries could consolidate military to military cooperation and defence trade and industry cooperation.
Mr Austin's visit to India as part of his first overseas travel emphasizes the strength of the India-US strategic partnership.
About Defence cooperation:
Defence cooperation is an ideal tool to advance the national foreign policy objectives by building bridges of friendship, preventing conflicts, building mutual trust and capacities on a global basis.
As India grows in stature, it needs to utilize defence diplomacy to the fullest extent to enhance its national interest.
2) Answer: C
Atal Innovation Mission, NITI Aayog, and Amazon Web Services announced new initiatives to strengthen the innovation and entrepreneurship ecosystem in India.
This will be done by empowering school students with cloud computing skills, and enabling entrepreneurs to build innovative education technology solutions on the cloud.
A Statement of Intent was signed between NITI Aayog and Amazon Internet Services Private Limited, which undertakes the resale and marketing of Amazon Web Services Cloud services in India.
Innovation Mission will leverage Amazon Web Services Educate, which is Amazon's global program that provides resources for students and educators to accelerate cloud-related learning.
3) Answer: D
Bangladesh Prime Minister Sheikh Hasina inaugurated the Amar Ekushey book fair in Dhaka.
Participating in the inaugural event through video conferencing Prime Minister Hasina urged upon all to develop the habit of book reading.
Prime Minister Hasina also released the book 'New China 1952' which is the English translation of Bangabandhu Sheikh Mujib's book 'Amar Dekha Naya Chin'.
She also distributed prizes among the winners of the Bangla Academy Literary Award 2020.
The theme of this year's book fair is the birth centenary of Bangabandhu Sheikh Mujibur Rahman and golden jubilee of independence.
The book fair has been dedicated to the martyrs of the liberation war of 1971.
The book fair is spread over more than 15 lakh square ft area on the premises of Bangla Academy and Shaheed Suhrawardy Udyan.
4) Answer: B
Legendary Jamaican and West Indies Cricketer Chris Gayle has thanked Prime Minister Narendra Modi, people and government of India for the gift of Made In India vaccines to Jamaica.
He said India's Vaccine Maitri is very much appreciated.
The Jamaican batsman is the second player from his team after Andre Russell to thank India for sending 50,000 doses of coronavirus vaccines to the Caribbean nation.
5) Answer: C
The Rajya Sabha has passed the Insurance (Amendment) Bill, 2021.
It seeks to amend the Insurance Act, 1938 which will increase the limit of foreign investment allowed in Indian insurance companies.
The Bill provides to increase the foreign direct investment limit from existing 49 percent to 74 percent.
It also has a provision for removal of restrictions on ownership and control of the insurance companies.
Replying to a discussion, Finance Minister, Nirmala Sitharaman said, that a higher FDI limit of 74 per cent is not a compulsion for every insurance company, as it sets only an upper limit.
She clarified that increasing the limit does not mean automatic foreign investment to that level to all companies, and each and every company will decide the limit of investment.
Responding to members' questions with regard to reservation policy, the minister assured the House that the Government is fully committed to social justice and existing reservation policy will continue in the insurance sector.
6) Answer: D
The World Bank has approved USD 200 million to help Bangladesh to provide support and services to the low-income urban youths impacted by COVID 19 pandemic and the migrants who had to return involuntarily.
The Recovery and Advancement of Informal Sector Employment (RAISE) project of World Bank is aimed to benefit about 1.75 lakh poor urban youth through training, apprenticeship programme, counselling, micro and self-employment support.
It will also help about 2 lakh migrants who were forced to return to Bangladesh to reintegrate in the domestic labour migrate or prepare for re-migration.
The funding will provide them cash grants and counselling services based on their needs and aspirations.
World Bank Country Director for Bangladesh and Bhutan, Mercy Tembon said that migration and the urban informal sector played a key role in Bangladesh's remarkable success in reducing poverty over the years.
The project will support both the groups of workers to overcome structural barriers to gain employment.
7) Answer: E
The golden jubilee celebrations of the 1971 war across the nation continue with the Victory flame reaching the Akashvani Bhawan in Kolkata.
The head of office of All India Radio Kolkata, Deputy Director General Anima Das Debnath received the Swarnim Vijay Mashal.
Celebration of the 'Swarnim Vijay Varsh' had been launched on 1st March from Delhi by lighting up the 'Swarnim Vijay Mashaal' from the Eternal Flame of National War Memorial.
Four 'Vijay Mashaals' were further lit from it and sent to various parts of the country.
The victory flame started its journey in Kolkata from Netaji Bhawan, the house of the great freedom fighter Netaji Subhash Chandra Bose and later travelled to places including Science city, Victoria Memorial and Akashvani Bhawan, Kolkata.
8) Answer: C
Punjab Government has decided to create a robust and integrated technology solution to implement and review the progress of the Direct Benefit Transfer (DBT) schemes in the state to ensure accountability, transparency, and responsiveness.
An in-principle approval to this project was accorded at the maiden meeting of the Advisory Board of the Punjab State DBT Cell, chaired by the Chief Secretary, Ms Vini Mahajan, at Chandigarh.
The Board also decided to ensure that the financial requirements for the development of such a system will be taken care of by the government.
9) Answer: D
In Kargil the department of Technical Education and Skill development is organizing Kaushal Mela as part of the skill development programme of the government of India.
This Kaushal Mehla will be organized under Pradhan Mantri Kaushal Vikas Yojana (PMKVY) on March 24 and in Leh on 27th of March.
About Kaushal & Rozgar Mela:
Social and community mobilisation is extremely critical for the success of PMKVY.
Active participation of the community ensures transparency and accountability and helps in leveraging the cumulative knowledge of the community for better functioning.
10) Answer: B
Minister of State for Finance Anurag Thakur said, due to better planning under the leadership of Prime Minister Narendra Modi, the country's economy is witnessing a 'V' shaped recovery.
He said this is achieved while meeting the welfare and security measures in the toughest times triggered due to Covid pandemic and border turbulence.
Replying to a discussion on the second batch of supplementary demands for grants for 2020-21, the Minister said, while strengthening the border infrastructure and personnel with bullet proof jackets and fighter jets like Rafales to secure the borders, the government also took several welfare measures under the PM Garib Kalyan Yojana.
He said, Rs. 35,000 Crore have been allocated for the fight against Covid pandemic.
Mr. Thakur also said, over Nine Crore farmers were disbursed with Rs. 18,000 crore during the covid pandemic.
'V' shaped recovery:
In a V-shaped recession, the economy suffers a sharp but brief period of economic decline with a clearly defined through, followed by a strong recovery.
V-shapes are the normal shape for a recession, as the strength of the economic recovery is typically closely related to the severity of the preceding recession.
11) Answer: C
In Madhya Pradesh, Union Agriculture Minister Narendra Singh Tomar and Chief Minister Shivraj Singh Chouhan have launched the Mission Gramodaya in the state.
Under the Gramodaya mission, besides providing housing facilities in rural areas, basic and fundamental infrastructure will also be expanded.
Union Minister Narendra Singh Tomar while addressing the state-level programme of Gramodaya Mission virtually said that rural development schemes, especially Pradhan Mantri Awas Yojna and Pradhan Mantri Gram Sadak Yojana are being effectively implemented in Madhya Pradesh.
Chief Minister Shivraj Singh Chouhan said that under  Pradhan Mantri Awas Yojana construction of 3 lakh houses was completed  under the adverse circumstances of the Corona period.
About 1 lakh 25 thousand beneficiary families of Pradhan Mantri Awas Yojana were given houses during the programme.
12) Answer: D
India has supplied a second batch of 20 thousand litres of Malathion 95 percent ULV pesticide to Iran under a Government-to-Government Locust Control Programme.
The consignment reached Chabahar Port and was handed over to the Plant Protection Organization, Iran.
The External Affairs Ministry said India had approached Iran and Pakistan for a coordinated regional response to the threat to approaching swarms of desert locusts.
It was in this context that Iran had requested the supply of pesticides.
There was no response from Pakistan.
India supplied the first tranche of 20 thousand litres of Malathion to Iran in June last year.
The second tranche of 20,000 litres for Iran has been handed over.
13) Answer: E
In order to boost rural innovation and entrepreneurship in the agri-businesses, National Bank for Agriculture and Rural Development (Nabard) launched Rural Business Incubation Centre (RBIC) in Gujarat.
The seventh in the country and first for Gujarat, the RBIC is set up at Sardar Krushinagar Dantiwada Agricultural University, in Banaskantha district.
The centre is being set up with a total project outlay of Rs.10.31 crore of which, the NABARD grant assistance is Rs.7.81 crore over five years, during which it looks to support 140 new start-ups, of which 125 will be graduated and 102 new products/technologies commercialized.
Besides Gujarat, the RBICs are also functional in the States of Tamil Nadu, Haryana, West Bengal, Telangana, and Madhya Pradesh.
About Rural Business Incubation Centers:
The Rural Business Incubation Centers (RBICs) would be established in institutions directly associated with agriculture and rural development.
These centres would incubate the startups working in identified areas in agriculture, allied and off farm activities.
14) Answer: B
WE HUB, an exclusive incubator for women-led startups, has signed an agreement with the University of Bolton, based in the UK.
The partnership, valid for two years, will help women entrepreneurs at the WE HUB get access to the UK market.
"It will also open communication with relevant ecosystem players for both parties for future collaborations," Deepthi Ravula, Chief Executive Officer of WE HUB, said.
Earlier, she signed the agreement with Kondal Reddy Kandadi, Deputy Vice-Chancellor of the University of Bolton.
15) Answer: C
The Textile Ministry has put its weight behind an early limited Free Trade Deal between India and the UK which, it says, must include tariff reduction for textile and clothing items, resulting in possible gains for the sector, officials have said.
"The textile industry is very keen that India should sign an early Free Trade Agreement (FTA) with the UK as it could benefit enormously from tariff cuts.
The Textile Ministry has thus conveyed to the Commerce Ministry that a limited trade deal, including textiles and clothing, among other products, should be considered for an early conclusion,"
16) Answer: D
Tanzania's President John Magufuli has passed away at a hospital in Dar es Salaam. He was 61.
Vice President Samia Suluhu Hassan said, the President died of a heart ailment that he has battled for over 10 years.
She added that the president had been receiving treatment at Mzena hospital.
The Vice President announced 14 days of national mourning.
According to the African country's constitution, Ms Hassan will be sworn in as the new president and should serve the remainder of Magufuli's five-year team which he began last year.
While a date for her swearing in has not yet been announced, she will be Tanzania's first female president.
17) Answer: E
The total number of basic bank accounts under Pradhan Mantri Jan Dhan Yojana (PMJDY) has reached 42 crore.
According to the latest data available with the government, the total number of beneficiaries (account holders) stood at 42 crore, with a total deposits of Rs.1,39,864 crore as on March 10, 2021.
RuPay cards have been issued to 30.85 crore account holders.
Of this, public sector banks and regional rural banks have 33.23 crore and 7.52 crore accounts, respectively, while private sector banks have 1.25 crore accounts with them.
More than half of the beneficiaries of PMJDY are women at 23.27 crore.
About Pradhan Mantri Jan Dhan Yojana:
Pradhan Mantri Jan Dhan Yojana is a financial inclusion program of the Government of India open to Indian citizens,that aims to expand affordable access to financial services such as bank accounts, remittances, credit, insurance and pensions.
18) Answer: C
Dutch Prime Minister Mark Rutte led his People's Party for Freedom and Democracy (VVD) to a fourth victory in a row.
Mark Rutte, one of Europe's longest-serving leaders, saw his Party for Freedom and Democracy win big in Dutch elections, setting him up for a fourth term as prime minister of the Netherlands.
19) Answer: B
The Indo-U.S. Science and Technology Forum's (IUSSTF) US India Artificial Intelligence (USIAI) Initiative was launched.
IUSSTF is a bilateral organization funded by the department of Science and Technology (DST), Government of India and the US Department of States.
About USIAI :
USIAI Initiative focuses on Artificial Intelligence (AI) cooperation in critical areas prioritized by both countries.
It will serve as a platform to discuss opportunities, challenges, and barriers for bilateral AI research and development collaboration, enable AI innovation, help share ideas for developing an AI workforce, and recommend modes and mechanisms for catalyzing partnerships.
The US-India AI Initiative will provide an opportunity for key stakeholder groups to share experiences, identify new research and development areas that would benefit from synergistic activities, discuss the emerging AI landscape, and address the challenges of developing an AI workforce.
20) Answer: E
On March 15, 2021, The government will sell up to 16.12 percent stake in Tata Communications Ltd (TCL) through an Offer for Sale starting at the floor price of Rs.1,161 per equity share.
The government is initially offering to sell up to 2.85 crore equity shares representing up to 10 per cent of the total paid up equity share capital of the company.
The Government of India holds 26.12 percent stake while Panatone Finvest holds 34.80 percent and Tata Sons holds 14.07 percent.The remaining 25.01 percent is with the public.
21) Answer: C
Adani Ports and Special Economic Zones (APSEZ) is acquiring the 31.5 percent stake held by Windy Lakeside Investment Limited (an affiliate of Warburg Pincus) in Gangavaram Port Limited (GPL) for around Rs 1,954 crore.
The latest acquisition expands its market share to 30 percent across 12 locations in India.
Adani Ports is also in discussions with DVS Raju and Family for their 58.1 per cent stake in GPL.
22) Answer: D
Kalyani Rafael Advanced Systems (KRAS) has rolled out its first batch of Medium Range Surface to Air Missile (MRSAM).
It is for the Indian Army and the Air Force from its facility located near the Hyderabad international airport.
DRDO is the custodian of the missile programme and Bharat Dynamics (BDL) the integrator.
It was Designed by RAFAEL Advanced Defense System (100% Rafael design output and the indigenous content is not more than 30%.)
It will supply through Rafael to BDL
23) Answer: B
CAIT launched a vendor onboarding mobile app for its upcoming e-commerce portal 'Bharat e Market'.
The app will allow businesses and service providers to register on the portal and create their own "e-dukaan".
It has been engaged in a tirade against foreign e-commerce companies, accusing them of violating the country's FDI policy norms
There will be no charge for creating an e-dukan nor any commission on business done on the portal. The other e-commerce portals are charging commission from 5 percent to 35 percent on transactions happening on their portal
The portal will comply with all rules and regulations of the government both in letter and spirit.
24) Answer: C
India's arms imports fell 33 % between the 2011-15 and 2016-20 report released by the Sweden-based think-tank Stockholm International Peace Research Institute (SIPRI).
However, despite a cut in import rates, India continues to be the second largest importer in the world during 2016-2020.
During 2016-20 were Russia, accounted for 49% of total imports, followed by France 18%, and Israel 13%.
India's import accounted for 9.5 percent of all arms sales during 2016-2020, compared to 14 percent in the previous five year block (2011-2015).
Largest Importers :
The five largest arms importers in 2016-20
Saudi Arabia
India
Egypt
Australia
China.
25) Answer: E
Samsung Electronics set up an innovation lab at Delhi Technological University (DTU) to promote joint research and training on domains such as artificial intelligence, machine learning and computer vision.
It has set up the innovation lab under the Samsung Innovation Campus initiative as part of its new #PoweringDigitalIndia vision.
Samsung now has eight technical labs spread across the country as part of its Samsung Innovation Campus initiative, which was earlier called Samsung Digital Academy.
About the Lab :
The lab, engineers at Samsung R&D Institute, Noida (SRI-N) will work with students and faculty at DTU on collaborative research projects on smartphone domains.
The students and faculty at DTU will work on domains such as Application Framework, Multimedia, Health and Security, at the lab. Projects will focus on technology areas such as Artificial Intelligence, Machine Learning and Computer Vision.
Till now, over 200 students have worked with SRI-N engineers on research projects and have received training
Collaborative research projects will be open to B.Tech, M.Tech and PhD students at DTU, who will receive certificates for their contribution at the end of each project.
Samsung has so far set up seven Samsung innovation labs at IIT-Delhi, IIT-Kanpur, IIT-Hyderabad, IIT-Kharagpur, IIT-Roorkee, IIT-Guwahati and IIT-Jodhpur as part of its campus initiative.
26) Answer: C
The KRL Stadium in Rawalpindi has been renamed after former Pakistan speedster Shoaib Akhtar.
Cricket authorities in Rawalpindi honoured Akhtar for his services to Pakistan Cricket for years.
About Akhtar :
Akhtar, was one of the most lethal fast bowlers,
He battled several injury issues to represent Pakistan in 224 international games.
Akhtar played 46 Tests, 163 ODIs, and 15 T20Is for Pakistan snaring 178, 247, and 19 wickets in his illustrious 14-year career.
He was recognized as the world's fastest bowler, having bowled a delivery at 161.3 km/h (100.23 mph) in an ODI against England.
27) Answer: B
On March 17, 2021, Tanzania's President John Magufuli passed away.
He was 61.
About John Magufuli :
Born in Chato, north-west Tanzania, in 1959
Magufuli, popularly nicknamed the "Bulldozer.
First elected as an MP in 1995 and He become a cabinet minister in 2000
He first won the presidential election in October 2015 and was sworn in on 5 November 2015.
He was re-elected in 2020.
He served as the fifth President of Tanzania from 2015 until 2021