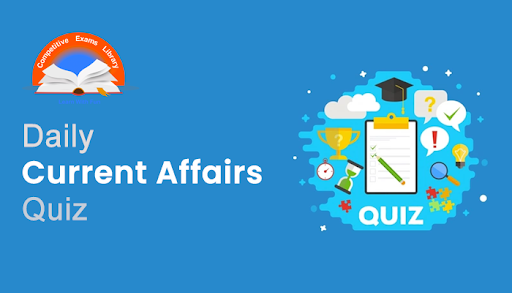 Dear Readers, Daily Current Affairs Questions Quiz for SBI, IBPS, RBI, RRB, SSC Exam 2021 of 19th November 2021. Daily GK quiz online for bank & competitive exam. Here we have given the Daily Current Affairs Quiz based on the previous days Daily Current Affairs updates. Candidates preparing for IBPS, SBI, RBI, RRB, SSC Exam 2021 & other competitive exams can make use of these Current Affairs Quiz.
1) In which of the following year, UNESCO has introduced the World Philosophy Day?
(a)1990
(b)1994
(c)1998
(d)2002
(e)2005
2) Which of the following date of November has been observed as the National Naturopathy Day every year?
(a)November 15
(b)November 16
(c)November 17
(d)November 18
(e)November 19
3) Recently the Vice president Venkaiah Naidu has inaugurated which edition of Bengaluru Tech Summit 2021?
(a)18th
(b)20th
(c)16th
(d)24th
(e)29th
4) Who has inaugurated the "First Global Innovation Summit of the Pharmaceuticals sector" on November 2021?
(a) Mansukh Mandaviya
(b) Bharati Pawar
(c) Narendra Modi
(d) Both A & C
(e) Both B & C
5) On November 19, 2021, the Cabinet has gave its nod for 4G mobile services in uncovered villages of 'aspirational districts '______states.
(a) 5
(b) 7
(c) 9
(d) 10
(e) 12
6) Name the city where the 21st meeting of the SCO Council of Heads of State heldon 17 September 2021?
(a) Doha
(b) Singapore
(c) Tashkent
(d) Muscat
(e)Dushanbe
7) The CBIC chairman has recently inaugurated the Custom & GST pavilion in the India International Trade Fair. Name the chairman.
(a)Bhagwat Karad
(b)Ajit Kumar
(c)Pankaj Chaudhary
(d)Sandeep Kumar
(e)Vivek Johri
8) India with along which country held a meeting on counter-terrorism and the threats posed terror networks?
(a)France
(b)USA
(c)Russia
(d)Italy
(e)UK
9) In which of the following districts of Uttar Pradesh,the Prime Minister has inaugurated the Purvanchal Expressway?
(a)Ghaziabad
(b)Aligarh
(c)Moradabad
(d)Kushinagar
(e)Sultanpur
10) The ADB in association has signed a _________million loan topromote new developments to accommodate the expanding population in Agartala.
(a)$ 41 million
(b)$ 51 million
(c)$ 61 million
(d)$ 71 million
(e)$ 81 million
11) An elusive swallowtail butterfly named 'Kaiser-i-Hind' has been declared as the state butterfly of which state?
(a)Arunachal Pradesh
(b)Tripura
(c)Nagaland
(d)Mizoram
(e)Assam
12) What is the revised GDP growth projection of India for FY 2021-22 as per the Swiss brokerage firm, UBS Securities?
(a) 9.5%
(b)8.5%
(c)7.7%
(d)7.2%
(e)6.0%
13) Which of the following online payment app has introduced AI powered 'Voice Trading' to provide information about stocks via single voice command to its users?
(a)Google Pay
(b)Amazon Pay
(c)Paytm
(d)Yono SBI
(e)Airtel Money
14) Which among the following private sector lender has launched the 2nd edition of 'Mooh Band Rakho' campaign to raise awareness on fraud prevention?
(a)HDFC Bank
(b)ICICI Bank
(c)Axis Bank
(d)Yes Bank
(e)None of the above
15) The SIDBI in collaboration with Google would provide a financial assistance of upto ________amount to micro enterprises at competitive rates.
(a)25 lakh
(b)50 lakh
(c)1 crore
(d)2 crore
(e)5 crore
16) Jamshedpur Football Clubhas tied up with which of the following bank to promote football in the country?
(a)Bank Of Baroda
(b)Punjab National Bank
(c)Indian Overseas Bank
(d)State Bank of India
(e)Indian Bank
17) As per the World Bank, Which among the following country is the biggest source of remittances to India in 2021?
(a)China
(b)USA
(c)Iran
(d)Philippines
(e)Egypt
18) MIT Technology Review in association with which company  haslaunched 'the Cloud Hub' forum in November 2021?
(a)HCL
(b)Infosys
(c)TCS
(d)Microsoft
(e)Accenture
19) Which among the following airports has partnered with Microsoft India launched Genie hackathonto develop an Application for passengers?
(a)Thiruvananthapuram International airport
(b)Bangalore International Airport
(c)Ahmedabad International Airport
(d)Guwahati International Airport
(e)Chennai International Airport
20) Who among the following teenagers has won the 17th annual Kids Rights International Children's Peace Prize for tackling pollution in Delhi?
(a)Vihaan Aggarwal
(b)Nav Aggarwal
(c)Bhavya Aggarwal
(d)Both a & b
(e)All of the above
21) Which among the following organisation has hosted a virtual Agriculture Summit on November 17-18, 2021?
(a)FSSAI
(b)FICCI
(c)IFFCO
(d)FAO
(e)None of these
22) On November 17, 2021, PM Modi has inaugurated 82nd All India Presiding Officers Conference (AIPOC) in which of the following places?
(a) Dehradun
(b)Shimla
(c)Indore
(d)New Delhi
(e)Hyderabad
23) Recently the Defence Minister Rajnath Singh has inaugurated the Rashtra Raksha Samparpan Parv in which of the following states?
(a)Uttar Pradesh
(b)Haryana
(c)Punjab
(d)Uttarakhand
(e)Rajasthan
24) On Nov 15, 2021, the Indian Air Force and the Indian Army hasconducted a joint airlift exercise. Name the exercise.
(a)Operation Airlift
(b)Operation Tricolour
(c)Operation Hercules
(d)Operation Gati
(e)Operation Hero
25) Who among the following has inaugurated the Public Procurement Policy (Make In India) portal?
(a)Uday Prasad
(b)Shamrao Dhotre
(c)Ashwini Vaishnaw
(d)K Rajaraman
(e)Piyush Goyal
26) What is the rank of India in the 2021 Global Bribery Risk rankings among 194 nations?
(a)77th
(b)82nd
(c)65th
(d)59th
(e)96th
27) Which country has become the new T20 World Cup champion in the summit clash at Dubai International Cricket Stadium, UAE?
(a) New Zealand
(b)England
(c)Pakistan
(d)Australia
(e)Afghanistan
28) How many athletes and coacheshave beenconferred SAI Institutional Awards bythe Sports Minister Anurag Thakur in New Delhi?
(a)216
(b)246
(c)236
(d)276
(e)256
29) MahelaJayawardene along with Shaun Pollock and Janette Brittin have been inducted into ICC Cricket Hall of Fame in 2021. Mahela belongs to which country?
(a) South Africa
(b)England
(c)Sri Lanka
(d)New Zealand
(e)Australia
Answers :
1) Answer: D
World Philosophy Day is celebrated on the Third Thursday of November each year.In 2021, the day falls on 18 November. WPD aims to raise public awareness of the importance of philosophy.
World Philosophy Day was introduced in 2002 by UNESCO.In 2005 the UNESCO General Conference proclaimed that World Philosophy Day would be celebrated every third Thursday of November
Philosophy comes from the Greek word phílosophía which means 'the love of wisdom.'It is the study of the nature of reality and existence, of what is possible to know, and of right and wrong behaviour.
2) Answer: D
Every year, National Naturopathy Day is observed on 18th November in India.
The main objective of this day is to promote positive mental and physical health through a drugless system of medicine, called Naturopathy.
The day was declared by the Ministry of AYUSH (Ayurveda, Yoga and Naturopathy, Unani, Siddha and Homeopathy), Government of India, on November 18, 2018.
It was on this day in 1945, when Mahatma Gandhi became lifetime Chairman of the All India Nature Cure Foundation Trust and signed the deed with the object of making the benefits of Nature Cure available to all classes of people
3) Answer: D
Vice-President Venkaiah Naidu has inaugurated the 24th edition of Bengaluru Tech Summit 2021 being organised by the Department of Electronics, IT & BT of the Government of Karnataka jointly with Software Technology Parks of India.
Inaugurating the 24th edition of Karnataka's flagship three-day technology event 'Bengaluru Tech Summit-2021' themed 'Driving the Next'.
More than 30 countries, including the likes of Israel, Japan, Sweden, UK, Canada, Australia, Germany, France, Taiwan, Denmark, Netherlands, Lithuania, Switzerland, Vietnam, Finland and other members of the EU are expected to participate in the event.
4) Answer: C
Prime Minister Narendra Modi has inaugurated the "First Global Innovation Summit of the Pharmaceuticals sector" on November 18, 2021.
The global innovation summit will be launched in virtual mode. It is a two-day Summit comprising 12 Sessions.
In the summit, around 40 national and international speakers will deliberate on several subjects including regulatory environment, industry-academia collaboration, funding for innovation, and innovation infrastructure.
5) Answer: A
The Cabinet has approved provisioning of mobile services in uncovered villages of 'aspirational districts' across five States of Andhra Pradesh, Chhattisgarh, Jharkhand, Maharashtra and Odisha, at an estimated cost of ₹6,466 crore.
The project envisages 4G based mobile services in the 7,287 uncovered villages of 44 Aspirational Districts across these five States. The project cost includes operational expenses for five years.
It will be supported by the Universal Service Obligation Fund (USOF) and will be completed within 18 months after the signing of the agreement and likely to be completed
The Cabinet Committee on Economic Affairs (CCEA) also approved continuation of Road Connectivity Project for Left Wing Extremism Affected Areas (RCPLWEA) up to March, 2023.
A total expense of ₹1,12,419 crore, including States' share is likely to be incurred from 2021-22 to 2024-25 for completion of all the ongoing interventions of PMGSY
6) Answer: E
Prime Minister participated virtually in the 21st Meeting of the Council of Heads of State of the Shanghai Cooperation Organisation (SCO), and through video-message in the Joint SCO-CSTO Outreach Session on Afghanistan.
The 21st meeting of the SCO Council of Heads of State was held on 17 September 2021 in Dushanbe in hybrid format.  The meeting was chaired by H.E. EmomaliRahmon, the President of Tajikistan.
Prime Minister Shri Narendra Modi has addressed the Summit via video-link.  At Dushanbe, India was represented by External Affairs Minister, Dr. S. Jaishankar.
The SCO Summit was followed by an Outreach session on Afghanistan between SCO and the Collective Security Treaty Organisation (CSTO).
7) Answer: B
The Central Board of Indirect Taxes and Customs (CBIC) has set up a Customs & GST pavilion in the 40th edition of India International Trade Fair.
Sessions on Government of India initiatives to encourage 'Make in India' such as Manufacturing and other Operations in Warehouse Regulations (MOOWR) Scheme, Production linked Incentive (PLI) Scheme and Import of Goods at Concessional Rate of Duty Rules, 2017 (IGCR, 2017) are being organised.
Various Industry partners such as Invest India, EICI, FIEO and CII have associated with CBIC to organise these theme-based events.
About CBIC :
Chairperson: M. Ajit Kumar
Headquarters : New Delhi
Founded: 1 January 1964
About Ministry of Finance :
Cabinet Minister :NirmalaSitharaman
Minister of State :BhagwatKarad, PankajChoudhary
Headquarters : New Delhi
8) Answer: B
In a counter-terrorism meeting in Paris, India and France shared their assessment of the evolution of the terrorist threat on their respective territories and in their regional environment.
They also emphasized the need to ensure that Afghan territory does not become a source of radicalization and terrorism and is never again used to threaten or attack any country or to shelter, recruit or train terrorists, or to plan or finance terrorist attacks in accordance with the UNSC Resolution.
They emphasized the need for taking concerted action against all terrorist networks including al-Qaeda and ISIS/Daesh, as well as Lashkar e-Tayyiba (LeT), Jaish-e-Mohammad (JeM), and Hizb-ulMujahideen including making sure that perpetrators of terrorist attacks are systematically and expeditiously brought to justice.
In the 15th Meeting of their Joint Working Group on Counter-Terrorism in Paris, the two sides also exchanged views on the proscription of terrorist individuals and entities as one of the tools to combat terrorism.
The next meeting of the Joint Working Group on Counter-Terrorism shall be held in India in 2022.
9) Answer: E
Prime Minister Shri Narendra Modi inaugurated Purvanchal Expressway in Sultanpur district, UP.
He also witnessed the Airshow on the 3.2 km long airstrip constructed on the Expressway in Sultanpur district.
The Prime Minister remarked that security of the country is equally important as the prosperity of the country.
About UP:
Governor: Anandiben Patel
Capital: Lucknow
Chief minister: Yogi Adityanath
WLS:  Bakhira Sanctuary, Chandra Prabha Wildlife Sanctuary, Hastinapur Wildlife Sanctuary, Kachhua Sanctuary, Kaimoor Sanctuary, Katarniaghat Wildlife
Sanctuary, Kishanpur Wildlife Sanctuary.
10) Answer: C
The Government of India and Asian Development Bank (ADB) signed a $61 million loan to improve liveability, harness technology, and promote new developments to accommodate the expanding population in Agartala city while building capacity of state agencies for improved service delivery.
ShriRajat Kumar Mishra, Additional Secretary, Department of Economic Affairs in India's Ministry of Finance, signed for the Government of India, the agreement for Agartala City Urban Development Project while Mr Takeo Konishi, Country Director of ADB's India Resident Mission signed for ADB.
The Project will build and upgrade 48 kilometers of new or existing storm water drainage and construct 23 km of climate-resilient urban roads.
Other interventions would include renovating open spaces and creating water recreation and lakeside walkways in the Maharaja BirBikram College lake and the Ujjayanta Palace which are major tourist attractions in the city.
About ADB:
Headquarters: Mandaluyong, Philippines
President: MasatsuguAsakawa
Membership: 68 countries
Founded: 19 December 1966
11) Answer: A
An elusive swallowtail butterfly carrying 'India' in its name and found in next-door China will become the State butterfly of Arunachal Pradesh.
The State Cabinet headed by Chief Minister PemaKhandu has approved the large, brightly coloured Kaiser-i-Hind as the State butterfly. The Cabinet meeting was for the first time held outside State capital Itanagar at an unusual location — Pakke Tiger Reserve.
The Cabinet also adopted the Pakke Tiger Reserve 2047 declaration on climate change-resilient and responsive Arunachal Pradesh aimed at lowering emissions and sustainable development.
The butterfly also flutters in Nepal, Bhutan, Myanmar, Laos, Vietnam and southern China.
12) Answer: A
The Swiss brokerage firm, UBS Securities has revised India's real GDP growth projection for 2021-22 to 9.5 percent from 8.5 percent estimated earlier.
For 2021-22 (FY22) = 9.5%
For 2022-23 (FY23) = 7.7%
For 2023-24 (FY24) = 60%
13) Answer: C
Paytm Money, a wholly-owned subsidiary of Paytm, launched Voice Trading that allows users to place a trade or get information about stocks via single voice command.
The service has been launched in line with Paytm Money's efforts to offer next-gen and AI driven tech to elevate user experience.
Paytm Money's R&D team leveraged its experience in disruptive tech to specifically solve this problem with Voice Trading. The voice trading feature enables a single voice command, with the use of Neural Networks and Natural Language Processing (NLP) to allow instant processing.
About Paytm:
CEO: Vijay Shekhar Sharma
Founder: Vijay Shekhar Sharma
Founded: August 2010, Noida
Headquarters: B-121, Sector 5, Noida, Uttar Pradesh, India
14) Answer: A
HDFC Bank Ltd has launched the second edition of its "Mooh Band Rakho" campaign to raise awareness on fraud prevention in support of International Fraud Awareness Week 2021 (November 14-20, 2021).
HDFC Bank aims to increase awareness of its customers on all types of frauds and the importance of keeping your mouth shut to ensure their prevention and taking a pledge and not share confidential banking information with anyone.
HDFC Bank will organise 2,000 workshops in the next four months under this campaign.
About HDFC:
Headquarters: Mumbai, Maharashtra;
MD and CEO: SashidharJagdishan;
Tagline: We understand your world.
15) Answer: C
Small Industries Development Bank of India (SIDBI) has entered into a collaboration with Google for having a social impact lending programme, entailing financial assistance up to ₹1 crore at competitive interest rates targeted at micro- enterprises.
To reinvigorate micro-enterprises affected due to Covid-19 with the collaborate corpus of ₹110 crore.
The collaboration envisages a loan programme targeted at micro enterprises (having turnover up to ₹5 crore), with loan sizes ranging between ₹25 lakh to ₹1 crore, being implemented by SIDBI, which is an All India Financial Institution (AIFI) engaged in the promotion, financing and development of Micro, Small and Medium Enterprises (MSMEs)
16) Answer: D
State Bank of India (SBI) has entered into a strategic partnership with Jamshedpur Football Club (JFC), a fully owned Tata Steel subsidiary, to promote football in the country.
With this partnership, SBI will be one of the principal sponsors of the JFC, India's largest bank
There have been rapid strides in Indian football over the past decade, especially with the advent of the Indian Super League.
With the agreement coming into existence, the JFC match jersey will now feature the SBI logo. On anonymity that the partnership agreement is a multicrore deal done for the upcoming season (2021-22) but in all likelihood the partnership will go beyond the upcoming season.
About SBI:
Chairperson: Dinesh Kumar Khara
Founded: 1 July 1955
Headquarters: Mumbai
17) Answer: B
India received $87 billion in remittances in 2021, and the United States was the biggest source, accounting for over 20 percent of these funds, the World Bank.
Flows to India (the world's largest recipient of remittances) are expected to reach $87 billion, a gain of 4.6 per cent with the severity of Covid-19 caseloads and deaths during the second quarter playing a prominent role in drawing altruistic flows to the country
India is followed by China, Mexico, the Philippines, and Egypt. In India, remittances are projected to grow three per cent in 2022 to $89.6 billion, reflecting a drop in overall migrant stock, as a large proportion of returnees from the Arab countries await return
18) Answer: B
Infosys, a leading digital services and consulting company, and MIT Technology Review, a world-renowned technology media brand and its custom publishing division Insights, have announced the launch of 'The Cloud Hub', a forum offering insights and learning from successful cloud transformations to help global enterprises accelerate their cloud journey.
As per the Infosys' 2021 'Cloud Radar' report, enterprises surveyed can add up to $414 billion in net new profits, annually, through effective cloud adoption.
19) Answer: B
Bangalore International Airport Limited (BIAL), operator of Kempegowda International Airport, Bengaluru (BLR Airport), has partnered with Microsoft India for the 'BIAL Genie Hackathon' to develop an app using Microsoft Azure.
The hackathon invited professional developers, data scientists, data engineers and hackathon enthusiasts to participate in this challenge and design innovative solutions that will improve the end-to-end passenger experience at BLR Airport.
The hackathon which commenced on October 27 and will end on January 21, 2022, will allow developers to leverage Microsoft Azure services to improve a passenger's experience across different stages of their journey – starting from planning the journey and boarding the flight to arriving at their destination airport.
The winning teams will be announced on January 24, 2022, with the winner and runner up being awarded cash rewards of ₹1.5 lakh and ₹1 lakh, respectively
20) Answer: D
Two Delhi-based teenage brothers Vihaan (17) and NavAgarwal (14) have won the 17th annual KidsRights International Children's Peace Prize for tackling pollution in their home city by recycling household waste.
The duo received the prestigious award by Indian Nobel Peace Prize laureate KailashSatyarthi.
Vihaan and Nav have developed an "One Step Greener" initiative for segregating rubbish and organizing waste pickups for trash from thousands of homes, schools, and offices.
The International Children's Peace Prize is given annually by the International children's rights organization KidsRights based in Amsterdam, the Netherlands.
It is given to a child who has made a significant contribution to advocating children's rights and improving the situation of vulnerable children such as orphans, child laborers and children with HIV/AIDS.
21) Answer: B
The Federation of Indian Chamber of Commerce and Industry (FICCI) is organising a virtual agriculture summit and awards event titled Envisioning Smart & Sustainable Agriculture on November 17 and 18.
Aiming to bring all key stakeholders on a common platform to ideate an implementable strategy for smart and sustainable agriculture.
The overall goal of the initiative is to discuss and highly suggest workable pathways for large-scale promotion and adoption of sustainable agricultural practises, as well as to raise awareness about the already available solutions for smart and sustainable agriculture.
During the event, FICCI- YES Bank Knowledge Report entitled 'India Beyond 75: Envisioning Smart and Sustainable Agriculture will be released.
About FICCI :
Founded: 1927
President: HarshavardhanNeotia
CEO: Sangita Reddy
Headquarters location: New Delhi
22) Answer: B
On Nov 17, 2021, Prime Minister ShriNarendra Modi virtually inaugurated two-days 82nd All India Presiding Officers Conference (AIPOC) in Shimla Himachal Pradesh.
The 82nd All India Presiding Officers' Conference will be attended by a total of 378 dignitaries, including 288 presiding officers of 36 state assemblies.
The conference will deliberate on various issues such as reviewing the centenary journey, strengthening democracy, and the responsibility of the presiding officers towards the house and the people.
About AIPOC :
The All India Presiding Officers' Conference (AIPOC), the apex body of the Legislatures in India.
The year 2021 marks the centennial year of the AIPOC (100th anniversary).
The conference was first held in the year 1921 in Shimla.
So far, A total of six conferences were held in Shimla out of which four were held pre-independence in 1921, 1926, 1933, 1939, and two took place in the post-independence era in 1996 and 1997.
23) Answer: A
Defence Minister Rajnath Singh inaugurated the Rashtra Raksha Samparpan Parv in Jhansi, Uttar Pradesh.
The three day event has been organised by the Ministry of Defence from November 17-19, 2021 as a part of 'Azadi Ka Amrit Mahaotsav' celebrations.
The festival will culminate on the birth anniversary of Rani of Jhansi Laxmi Bai on 19th November.
24) Answer: C
On Nov 15, 2021, the Indian Air Force and the Indian Army conducted a joint airlift exercise named Operation Hercules.
To strengthen the logistics supply in the Northern sector and to augment winter stocking in the operational areas.
The platforms utilised for the airlift were C-17, IL-76 and An-32 aircraft, which took off from one of the forward bases of Western Air Command.
It was a real-time demonstration of the inherent heavy-lift capability of the Indian Air Force, which has played a major role in ensuring the ability to quickly respond to any contingency during the past.
25) Answer: D
Shri K. Rajaraman, Secretary, Department of Telecommunications & Chairman, Digital Communication Commission(DCC) inaugurated the Public Procurement Policy (Make In India) portal for Telecom Product.
On this portal the manufacturers/vendors & other stakeholders can register their grievances and track the status of their complaints.
He also released the technical report on "Emerging Communication Technologies and Use Cases in IoT Domain",  concept paper on " Optical Fibre & Cable in Indian Telecom Network" and "TEC Handbook-2021" documented by IoT, Regional TECs and RC Division of TEC respectively.
Along with the Public Procurement Policy portal, the DoT secretary also inaugurated the Nationwide MTCTE Helpdesk and Evaluation Centre infrastructure and Control Lab, situated in TEC premises.
26) Answer: B
India has slipped five points in the global bribery risk rankings settling at the 82nd spot among 194 nations analysed for compliance risks businesses face internationally.
In 2021, India ranked 82nd position with a score of 44 meanwhile, in 2020, India ranked 77 with a score of 45.
Denmark (with a risk score of 2 ) , Norway ( with a risk score of 5 ) , Sweden ( with a risk score of 7 ) , Finland and New Zealand are the top five ranked nations on the TRACE matrix and the least corrupt societies.
The highest bribe risk worldwide is in North Korea ( 194th rank with a risk score of 94 ) , ranked last on the table, followed by Turkmenistan ( 193 – risk score 86 ) , Eritrea ( 192 – 81 ) and Venezuela.
India fared better than its neighbours – Pakistan, China, Nepal and Bangladesh. Bhutan, meanwhile, secured 62nd rank.
China slipped nine points on the rankings from 126 in 2020 to 135 in 2021.
Vanuatu, Peru, Northare Macedonia and Montenegro also scored 44, the same as that of India.
27) Answer: D
Australia became the new T20 World Cup champions after registering a comprehensive 8 wicket win over New Zealand in the summit clash at Dubai International Cricket Stadium, UAE.
New Zealand managed to reach a total of 172/4 from their quota of 20 overs.
Australia lifted the T20 World Cup trophy for the first time since the tournament's inception in 2007.
28) Answer: B
On Nov 17, 2021, Union Minister of Youth Affairs & Sports Shri Anurag Thakur conferred the first ever SAI Institutional Awards to 246 athletes and coaches in New Delhi.
Minister of State for Youth Affairs and Sports Shri Nisith Pramanik. Secretary of the Department of Sports Smt. Sujata Chaturvedi, DG SAI Shri Sandip Pradhan and other officials of the Ministry were also present on this occasion.
A total of 162 athletes and 84 coaches ( 246 awardees ) have been conferred awards in the Outstanding Award and Best Award category for their performance in national and international competitions, with cash awards amounting to a total of Rs 85.02 Lakhs.
The awards acknowledge the exceptional performance of the SAI athletes and coaches under the various sports promotion schemes at the national and international level from 2016.
The awards thus have been granted to the deserving candidates for the years of 2016-17, 2017-18, 2018-19 and 2019-20.
About SAI :
Headquarters : New Delhi
Secretary-cum-Director General :Sandip Pradhan
29) Answer: C
Janette Brittin (England) ,Mahela Jayawardene (Sri Lanka) and Shaun Pollock (South Africa) have been inducted into ICC Cricket Hall of Fame in 2021.
Now the total inductees in the list has become 106, which includes 10 women, since the launch of the list in 2009.
Jayawardena scored 1,493 runs in 55 T20 internationals and a total of 374 runs in a single match against South Africa in 2006, which is the fourth-highest on the all-time list.
He scored 11,814 Test runs at an average of 50.05 and 12,650 one-day runs from 448 ODIs.
About ICC :
Chairman: Greg Barclay
Headquarters: Dubai, United Arab Emirates
Founded: 15 June 1909