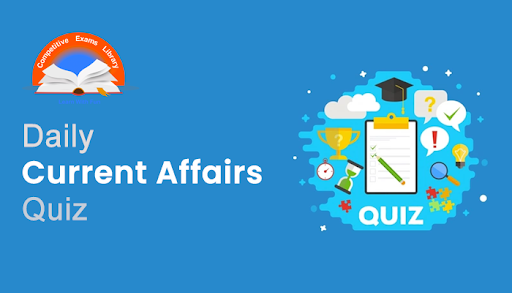 Dear Readers, Daily Current Affairs Questions Quiz for SBI, IBPS, RBI, RRB, SSC Exam 2021 of 20th January 2021. Daily GK quiz online for bank & competitive exam. Here we have given the Daily Current Affairs Quiz based on the previous days Daily Current Affairs updates. Candidates preparing for IBPS, SBI, RBI, RRB, SSC Exam 2021 & other competitive exams can make use of these Current Affairs Quiz.
1) The Union Government has declared Netaji's birthday to be marked as _______ every year.
A) Shakti Diwas
B) Shiksha Diwas
C) Parakram Diwas
D) Vijay Diwas
E) Azad Diwas
2) Which institution has handed over MotorBike Ambulance Rakshita to CRPF?
A) BEL
B) HAL
C) BDL
D) DRDO
E) ISRO
3) Who among the following has inaugurated the SwachhataPakhwadaorganised by NCC at India Gate?
A) Anurag Thakur
B) Prahlad Patel
C) Ravish Kumar
D) Ajay Bhalla
E) Ajay Kumar
4) Which country has set out new laws to protect historic statues, monuments?
A) Thailand
B) UK
C) France
D) Germany
E) Singapore
5) Which state has signed anMoU with Madhya Pradesh on Responsible Tourism?
A) Chhattisgarh
B) Assam
C) Haryana
D) Kerala
E) Uttar Pradesh
6) The First bird fest at Mahananda sanctuary will open from February 20. It is located in which state?
A) Haryana
B) Mizoram
C) West Bengal
D) Assam
E) Manipur
7) India is set to procure more MiG-29 and Sukhoi fighter jets from which country?
A) Israel
B) France
C) Germany
D) US
E) Russia
8) Nepali climbers have made history and have become first to scale which of the following mountain?
A) Aconcagua
B) Denali
C) Elbrus
D) K2
E) Kilmanjaro
9) Which institution and IFFDC have inked MoU to work together for tribal livelihood generation?
A) BHEL
B) TRIFED
C) NAREDCO
D) NAFED
E) BEL
10) Who among the following has been appointed chairman of Somnath temple trust?
A) Nirmala Sitharaman
B) Anurag Thakur
C) Narendra Modi
D) Prahlad Patel
E) Ram Nath Kovind
11) Indian and French air forces will conduct which of the following Exercise?
A) Sampriti
B) Milan 2020
C) SahyogKaijin
D) Desert Knight-21
E) Foal Eagle
12) Who among the following has been conferred with QuaideMilleth Award?
A) Raj Gupta
B) Anand Mehta
C) Naresh Singh
D) Suresh Kumar
E) BilkisDadi
13) Goa Chief Minister has released the book 'ManoharParrikar – Off the Record'. It has been written by who among the following?
A) Rajinder Singh
B) Waman Subha Prabhu
C) Navid Hamid
D) Suresh Gupta
E) Naresh Mehta
14) Phil Spector who passed away recently was an eminent _____.
A) Producer
B) Director
C) Music producer
D) Writer
E) Actor
Answers :
1) Answer: C
The Government of India has decided to celebrate the birthday of NetajiSubhas Chandra Bose that falls on January 23 as 'ParakramDiwas' from now on every year.
This day is Mainly for To honour and remember Netaji's indomitable spirit and selfless service to the nation.
The Government of India has decided to celebrate the 125th birth anniversary year of Netaji beginning from January 2021 in befitting manner at national and international level.
The announcement assumes significance ahead of the West Bengal Assembly elections scheduled later this year.
Bose, a noted freedom fighter, had floated Azad Hind Fauj to fight for India's independence.
2) Answer: D
Defence Research and Development Organisation handed over MotorBike Ambulance Rakshita to the Central Reserve Police Force (CRPF).
Director General of CRPF Dr A P Maheshwari flagged off the contingent of 21 bikes on the occasion.
It is a bike-based casualty transport emergency vehicle.
It was Developed by DRDO lab Institute of Nuclear Medicine and Allied Sciences (INMAS) in New Delhi.
Rakshita is fitted with a customized reclining Casualty Evacuation Seat (CES), which can be fitted in and taken out as per requirement.
Other major features are the head immobilizer, safety harness jacket, hand and foot straps for safety, adjustable footrest, physiological parameter measuring equipment with wireless monitoring capability and auto warning system for the driver.
Purpose :
The bike ambulance will help in overcoming the problems faced by Indian security forces and emergency health care providers. The bike ambulances will provide life-saving aid for evacuation of injured patients from low intensity conflict areas.
3) Answer: E
Defence Secretary Ajay Kumar inaugurated SwachhataPakhwadaorganised by National Cadet Corps, NCC at India Gate.
The theme of this SwachhataPakhwada is 'Clean India, Green India, YehHaiMera Dream India'.
It has contributed immensely towards nation building, through activities such as 'Ek Bharat, Shrestha Bharat' and Special National Integration Camps, Leadership and Personality Development and SwachhataAbhiyanProgrammes.
During the SwachhataPakhwada the NCC cadets will keep Rajpath clean for the Republic Day Parade – 2021 by spreading awareness through displaying banners, distribution of pamphlets and showcasing Swachhata through NukkadNataks
4) Answer: B
The UK government unveiled new laws to protect England's cultural and historic heritage in the form of statues and monuments to ensure they are not removed at a whim.
The move comes in the wake of Black Lives Matter protests in the country last year targeting several historic monuments, including with graffiti on Mahatma Gandhi's statue in Parliament Square in London.
New legal protections mean that historic statues should be retained and explained for future generations and individuals who want to remove any historic statue, whether protected with a listed status or not, will now require listed building consent or planning permission.
5) Answer: D
Madhya Pradesh signed a memorandum of understanding with Kerala for replicating the latter's pioneering Responsible Tourism (RT) initiative.
The States signed a joint declaration underneath which Kerala will prolong a sequence of companies underneath a 16-point programme.
The MoU was exchanged by Tourism Minister KadakampallySurendran and his Madhya Pradesh counterpart Usha Thakur.
Next week, a 13-member staff from Bhopal, led by Ms Thakur, will tour totally different elements of Kerala to assemble first-hand information about RT within the State.
6) Answer: C
First, a bird festival is being organised at the Mahananda wildlife sanctuary in West Bengal to provide an opportunity to enthusiasts to explore the forest and watch different birds.
The Darjeeling Wildlife Division will be organising the 1st Mahananda Bird Festival from February 20 to 23
Mahananda Wildlife Sanctuary is rich in fauna and has more than 300 species of birds.
The sanctuary has been designated as an 'important bird area' due to its critical role in the conservation of birds and their habitat.
The sanctuary is well known among the birding community, and bird watchers flock to it for sighting the Rufous-necked hornbill, among other birds.
7) Answer: E
The government is set to procure 21 MiG-29 and 12 Sukhoi-30MKI fighter aircraft from Russia.
The Cabinet Committee on Security (CCS) approved the purchase of 83 Light Combat Aircraft Tejas from Hindustan Aeronautics Limited (HAL).
The Centre will also purchase the upgrades of the aircraft's existing fleets.
The Request for Proposal (RFP) will soon be issued to Russian state-run defence export arm Rosoboronexport.
The MiG-29s are expected to be acquired at "relatively lower prices" and will add to 59 such jets already with the Indian Air Force (IAF).
Before this, the Union cabinet had approved Rs 48000 crores acquisition of 83 LCA (Light Combat Aircraft) Tejas aircraft from Hindustan Aeronautics Limited (HAL).
This will include 73 improved Tejas Light Combat Aircraft Mk.1A fighters and ten LCA Mk.1 trainers.
8) Answer: D
A team of 10 Nepali climbers made history by becoming the first to scale in winter the world's second highest mountain K2, considered as the world's most dangerous and challenging peak.
K2 with its daunting 8,611 meters height is located in Gilgit-Baltistan side of the Karakoram range.
It was the only among 8,000-meter high peaks that was never scaled in winter.
The achievement was the result of a collaborative effort between the climbers affiliated with multiple teams: one led by NirmalPurja and the other by MingmaGyalje Sherpa.
9) Answer: B
The Tribal Cooperative Marketing Development Federation of India (TRIFED) signed a Memorandum of Understanding (MoU) with Indian Farm Forestry Development Co-operative Ltd (IFFDC)  to promote livelihood generation of tribal people.
TRIFED is focusing its efforts on finding new ways to improve the lives and the livelihoods of the tribal people. As a part of its continued efforts, TRIFED has been partnering with like-minded organisations to create synergies together.
The two organizations have agreed to partner with each other to organise training programmes for tribal artisans in the area of entrepreneurship skill and business development.
They will also collaborate further to identify and implement CSR initiatives and tribal development efforts
10) Answer: C
Prime Minister NarendraModi was appointed the new chairman of the trust which manages the world famous Somnath Temple at PrabhasPatan town in Gujarat's Gir-Somnath district.
Modi, one of the trustees of the Shree Somnath Trust, was named to the top post unanimously
PM Modi is the only second Prime Minister to hold the post, after Prime Minister Morarji Desai.
Other members of the trust includes:
Union Home Minister Amit Shah,
11) Answer: D
The Indian Air Force (IAF) and French Air and Space Force are set to participate in Exercise Desert Knight-21.
The bilateral air exercise will be held at Jodhpur Air Force station in Rajasthan, India, from 20 to 24 January.
Exercise Desert Knight-21 aims to improve interoperability between the forces while exchanging 'ideas and best practices' gained from operational experience.
According to the Indian Ministry of Defence, the exercise will see the deployment of Rafale aircraft by both countries.
Both the air forces will deploy frontline fighter jets as well as transport, and tanker aircraft in the exercise.
12) Answer: E
BilkisDadi, and an eminent social activist and writer Harsh Mander of "Karwan -e- Mohabbat" were presented the QuaideMilleth Award.
The awards consist of a Shawl, citation and a cash of Rs 2.5lakh rupees were presented to the recipients by Navaid Hamid, President, All India Majlis e Mushawarat.
They are awarded for Probity in Political and Public Life at the India Islamic Cultural Centre, New Delhi.
Both recipients had made a mark in public life with their determination and zeal to protect the secular fabric of the country.
13) Answer: B
Goa Chief Minister PramodSawant released a book 'ManoharParrikar- Off the Record' at a function organized at Institute Menezes Braganza hall in the city.
The book has been written by senior journalist WamanSubhaPrabhu.
The book 'ManoharParrikar- Off the Record' is a collection of memories of MrPrabhu who happened to be with late Parrikar during the journey of his life.
In the book the author has endeavored to narrate the multi-faceted personality of late ManoharParrikar.
This book, no doubt, will serve the purpose as it will help to inspire generations to generations
14) Answer: C
Phil Spector, the eccentric and revolutionary music producer who transformed rock music with his "Wall of Sound" method and who later was convicted of murder, has died. He was 81
Spector was convicted of murdering actress Lana Clarkson in 2003 at his castle-like mansion on the edge of Los Angeles.
After a trial in 2009, he was sentenced to 19 years to life.
While most sources give Spector's birth date as 1940, it was listed as 1939 in court documents following his arrest.
Decades before, Spector had been hailed as a visionary for channeling Wagnerian ambition into the three-minute song, creating the "Wall of Sound" that merged spirited vocal harmonies with lavish orchestral arrangements to produce such pop monuments as "Da Doo Ron Ron," "Be My Baby" and "He's a Rebel."
In 1969, Spector was called in to salvage the Beatles' "Let It Be" album, a troubled "back to basics" production marked by dissension within the band.