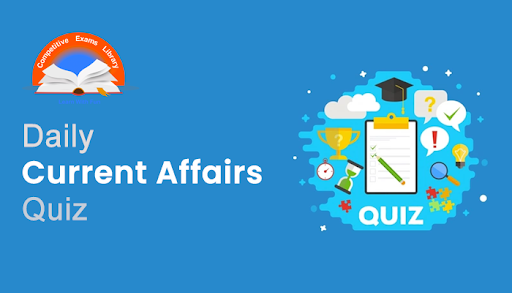 Dear Readers, Daily Current Affairs Questions Quiz for SBI, IBPS, RBI, RRB, SSC Exam 2021 of 20th March 2021. Daily GK quiz online for bank & competitive exam. Here we have given the Daily Current Affairs Quiz based on the previous days Daily Current Affairs updates. Candidates preparing for IBPS, SBI, RBI, RRB, SSC Exam 2021 & other competitive exams can make use of these Current Affairs Quiz.
1) International Day of Happiness is observed on which of the following dates?
A) March 1
B) March 3
C) March 20
D) March 11
E) March 12
2) US Defence Secretary Lloyd J Austin recently met who among the following to strengthen the United States and India defense partnership?
A) Nirmala Sithraman
B) Amit Shah
C) Rajnath Singh
D) Narendra Modi
E) Ajit Doval
3) Which of the following institute has started a Yoga Volunteer Training Programme?
A) Himalayan Yoga
B) Morarji Desai
C) Bajrangi Yoga
D) Yogdhara
E) Kunwar Yoga
4) World Oral Health Day is observed on which of the following date?
A) March 1
B) March 3
C) March 4
D) March 20
E) March 5
5) The Government has said that _____ Kisan Rail services operated on 43 routes.
A) 343
B) 353
C) 373
D) 323
E) 313
6) World Sparrow Day is observed on March 20. The first sparrow day was celebrated in which year?
A) 2008
B) 2007
C) 2009
D) 2010
E) 2011
7) Which country is building the World's Biggest Solar Farms To Fight Climate Change?
A) Germany
B) Singapore
C) US
D) China
E) Japan
8) Tourist arrival in Jammu & Kashmir has touched a ______ year high in 2021.
A) 14
B) 12
C) 16
D) 15
E) 13
9) The Union Government has received  ________ crores  from GAIL share buy back.
A) 717
B) 727
C) 737
D) 747
E) 757
10) First high-level U.S-China meeting will be held in ______.
A) Canada
B) Texas
C) Greenland
D) Hawaii
E) Alaska
11) The Labour Bureau has signed a service level agreement with which company recently?
A) TCE
B) BECIL
C) CCIL
D) B&S
E) ODE
12) The Defence Ministry has signed a contract with BDL to supply _____ Anti-Tank Guided Missiles to Army.
A) 4100
B) 4320
C) 4500
D) 4960
E) 4200
13) For Gaganyaan Mission- data patterns have been delivered to indigenous checkout systems. The ISRO manned mission is scheduled to be launched in _____.
A) 2021-22
B) 2025-26
C) 2022-23
D) 2023-24
E) 2024-25
14) MSME book has grown _____ per cent to cross Rs.2-lakh crores in HDFC.
A) 20
B) 25
C) 40
D) 35
E) 30
15) Who among the following has set a New National Record In Men's 3000m Steeplechase?
A) Raj Rathi
B) Suresh Mitra
C) Avinash Sable
D) Anand Kumar
E) Rajesh Singh
Answers :
1) Answer: C
The International Day of Happiness is celebrated throughout the world on the 20th of March.
The theme of International Day of Happiness for 2021 is "Happiness For All, Forever" which implies the significance of happiness for people all over the world.
It was established by the United Nations General Assembly on 28 June 2012.
Since 2013, the United Nations has celebrated this day to recognize the importance of happiness in the lives of people around the world.
2) Answer: E
US Defence Secretary Lloyd J Austin met with National Security Advisor Ajit Doval.
Mr. Austin mentioned, the breadth of collaboration between the United States and India reflects the significance of major defense partnerships.
He added that both the countries are working together to address the most pressing challenges faced by Indo-Pacific region.
3) Answer: B
The Ministry of AYUSH through its autonomous body- Morarji Desai National Institute of Yoga, New Delhi has started a Yoga Volunteer Training Programme on Common Yoga Protocol (CYP) from 1st of February this year.
The program divides the Yoga Protocol into short modules like appreciation, introduction and volunteer program allowing persons of varying capabilities to gradually learn and adopt Yoga.
It is a monthly training module and would be repeated every month till month of June.
In a written reply to a question in the Lok Sabha, AYUSH Minister Kiren Rijiju noted that the objective of the programme is to increase mass awareness about the health benefits of Yoga as well as to introduce basic well-being principles and practices to common people.
He said, the Central Council for Research in Yoga and Naturopathy, New Delhi conducts
research and development in the field of Yoga and Naturopathy.
4) Answer: D
The World Oral Health Day is marked every year on March 20.
The theme for the next three years, 2021-2023 is: Be Proud Of Your Mouth.
This day is observed annually on March 20 to spread awareness about oral disease and hygiene and on how to keep your teeth healthy.
Purpose
The purpose of its special day is to instill confidence in people for their oral health.
To raise global awareness of the issues around oral health and the importance of oral hygiene so that governments, health associations and the general public can work together to achieve healthier mouths and happier lives.
The day is an initiative of FDI World Dental Federation; an organization that brings together the world of dentistry with the aim of achieving optimal oral health for everyone.
5) Answer: C
Government has said that around 373 Kisan Rail services have operated on 43 routes till date, transporting more than one lakh 20 thousand tonnes of commodities.
Minister of Railways Piyush Goyal said this in a written reply to a question in Rajya Sabha.
Kisan Rail has been a game changer in ensuring fast transportation of agriculture produce across the nation.
It provides a seamless supply chain of perishable produce.
Mr Goyal said the Kisan Rail services are planned by railways in a way to ensure easy accessibility to farmers.
Most of the services have originated from small stations such as Devlali, Sangola, Sangli, Nagarsol, Dhahanu Road and Dhoraji, Mahuva, which lie within agricultural zones.
The Kisan Rail trains also have adequate stoppages to facilitate enroute loading.
Kisan rail scheme:
As per the announcement made in the Union Budget 2020-21, Indian Railways has started running Kisan Rail train services, to transport perishables and agri-product, including milk, meat and fish.
6) Answer: D
World Sparrow Day is celebrated every year on March 20 to raise awareness about the House Sparrow and other common birds to urban environments, and of threats to their populations.
Theme of 2021 World Sparrow Day "I LOVE Sparrows"
It's a day to raise awareness and protect the common house sparrows, which are not so commonly seen now due to increasing noise pollution.
The day was initiated by the Nature Forever Society of India in collaboration with the Eco-Sys Action Foundation (France) and numerous other national and international organisations across the world.
The first World Sparrow Day was celebrated in 2010.
7) Answer: B
Singapore is building the largest floating solar farm of the world, in a bid to tackle climate change.
The 60 megawatt-peak floating solar system is being built at Tengeh Reservoir by Sembcorp Industries in collaboration with Singapore Public Utilities Board.
The system comes with a digital monitoring platform that allows staff to keep an eye remotely.
Once completed, the 122,000-panel solar farm will be one of the biggest in Southeast Asia covering an area the size of 45 football pitches.
Solar Farm:
A solar farm is a large collection of photovoltaic (PV) solar panels that absorb energy from the sun, convert it into electricity and send that electricity to the power grid for distribution and consumption by customers.
A photovoltaic power station, also known as a solar park, solar farm, or solar power plant is a large-scale photovoltaic system designed for the supply of merchant power into the electricity grid.
8) Answer: C
Government has set a target to make India the number one tourist destination and focusing on doubling the number of international tourists coming to India by 2024.
Replying to discussion in the Rajya Sabha on the working of his Ministry, Tourism Minister Prahlad Singh Patel said, several steps have been taken to revive the tourism sector which was deeply affected due to Covid-19 pandemic.
He said, all aspects of tourism including wellness, adventure, yoga, are being promoted to attract more tourists to India.
He said, the tourist footfall in Jammu and Kashmir this year has broken the record of the last 16 years.
J&K govt to spend Rs 200 cr for employment & uplift of youth in next financial year
The Jammu and Kashmir Government will spend Rs 200 crore through Mission Youth for the employment and uplift of youth during next financial year.
An amount of Rs 200 crore has been earmarked for the youth engagement in the Union Territory's budget, unveiled by the Finance Minister Nirmala Sitharaman.
The mission would facilitate establishment of required organizational and administrative structure for proactive outreach and purposeful engagement of the youth of the Union Territory.
9) Answer: D
Secretary, Department of Investment and Public Asset Management (DIPAM) Tuhin Kanta Pandey has said that GAIL buyback of shares have been fully subscribed.
Mr Pandey said, Government received 747 crore rupees out of the total buyback size of one thousand 46 crore rupees.
The DIPAM Secretary said the Central Public Sector Enterprise (CPSE) continues to be a Government company with 51.45 per cent shareholding.
10) Answer: E
The first high-level U.S.-China meeting in Alaska began on a fiery start, with an acrimonious exchange of words in a rare public display as two powers tried to score over the other.
After the telephonic conversation between both the presidents, hopes were rekindled and China called for a reset in the ties.
But as the summit neared, both sides began taking tough stands towards each other, downplaying the chances of real progress.
Responding to the fiery opening session, China put the onus on the US to break the diplomatic protocols and said that it accepted the talks at the request of the US and that formal talks are yet to take place.
Reports suggest that after the opening remarks, closed-door interactions appear to have been more congenial and the talks were "substantive, serious, and direct.
Both the sides outlined their interests and priorities.
Another round of closed door talks will take place.
11) Answer: B
The Labour Bureau signed a service level agreement with Broadcast Engineering Consultants India Limited, BECIL for conducting all India surveys on Migrant Workers and All India Quarterly Establishment based Employment Survey.
The agreement was signed between Director General, Labour Bureau, DPS Negi and CMD, BECIL George Kuruvilla in the presence of Labour and Employment Minister Santosh Kumar Gangwar.
Mr Gangwar said, these surveys will prove highly useful and a game changer in providing the Government with crucial data on migrant workers and the employment situation in formal and informal establishments.
The Minister expressed happiness that the Bureau is integrating the survey work with latest available technology to achieve timely and faster results.
12) Answer: D
On March 19, 2021, The Defence Ministry sealed a deal with state-run Bharat Dynamics Ltd (BDL) to acquire 4,960 anti-tank guided missiles at a cost of Rs.1,188 crore for the Indian Army.
The missiles, having a range of 1,850 metres.
It can be fired from ground as well as vehicle-based launchers and their induction is planned to be completed in three years.
The missiles are being produced by BDL under license from French defence major MBDA Missile Systems.
These missiles can be fired from ground as well as vehicle-based launchers and can be deployed in anti-tank roles for both offensive and defensive tasks.
These missiles will further enhance the operational preparedness of the armed forces.
13) Answer: C
Data Patterns India Private Limited handed over the indigenously made checkout system to the Indian Space Research Organisation (ISRO) for its ambitious 'Gaganyaan' mission.
The checkout system developed by Data Patterns would be utilised to carry out the health checks of all the cable harness assemblies used in the crew module of India's first human space flight programme 'Gaganyaan' mission.
ISRO's manned mission is scheduled to be launched in 2022-23.
Data Patterns CMD S Rangarajan handed over the 20,000 lines automatic cable harness tester for the Gaganyaan programme to ISRO, Human Space Flight Centre, ASTRUE, Deputy Director, K Xavier Raja in the presence of Human Space Flight Centre Director S Unnikrishnan Nair and Project Director R Hutton.
14) Answer: E
Lender disburses Rs.23,000 crore under ECLG scheme.
HDFC Bank's MSME book grew 30 per cent year-on-year to cross the Rs.2-lakh-crore-mark as of December-end, mainly boosted by the pandemic-induced ECLG scheme under which it disbursed over Rs.23,000 crore.
The growth is also driven by a renewed push towards customers in semi-urban and rural areas, the bank said.
In December 2019, the bank's MSME book stood at Rs.1.4-lakh crore.
This grew by over 60,000 crore, or 30 per cent, to Rs.2,01,758 crore by the December 2020 quarter, giving it a 10.6 per cent share system-wide MSME lending, becoming the second-largest lender in this segment after State Bank of India, the bank added.
15) Answer: C
Steeplechaser Avinash Sable was one of the first Indian track and field athletes to make the cut for the Olympics for the fifth time during the ongoing Federation Cup in Patiala.
He set a new national record in the men's 3000m steeplechase after clocking 8:20.20.
In 2019, he clocked 8 minutes and 21.37 seconds at the Doha World Championships.
The army man from the arid Beed district of Maharashtra broke the national record for the fifth time in his career.
The 26-year-old Avinash broke his own record of 8:21.37 which he set in 2019, after finishing 13th in the final of the World Athletics Championships in Doha.
He first broke the national record in 2018 when he crushed Gopi Saini's 37-year-old record.