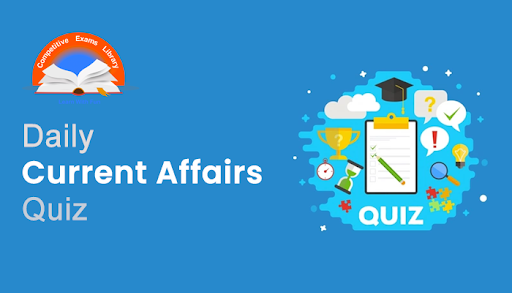 Dear Readers, Daily Current Affairs Questions Quiz for SBI, IBPS, RBI, RRB, SSC Exam 2021 of 21st and 22nd February 2021. Daily GK quiz online for bank & competitive exam. Here we have given the Daily Current Affairs Quiz based on the previous days Daily Current Affairs updates. Candidates preparing for IBPS, SBI, RBI, RRB, SSC Exam 2021 & other competitive exams can make use of these Current Affairs Quiz.
1) International Mother Language Day is observed on which of the following date?
A) February 11
B) February 12
C) February 22
D) February 23
E) February 21
2) The Union government has kicked off which of the following campaigns to promote e-mobility?
A) Go Efficient
B) Go E-mobile
C) Go Electric
D) Go Green
E) Go Clean
3) Which of the following city has received recognition as the 2020 Tree City of the World?
A) Delhi
B) Chennai
C) Surat
D) Hyderabad
E) Pune
4) Free period products to all students are being offered by which of the following country?
A) Germany
B) Sweden
C) France
D) US
E) New Zealand
5) The chief minister of which state has launched KFON to provide free internet connectivity to Poor families?
A) Punjab
B) Haryana
C) Kerala
D) Madhya Pradesh
E) Karnataka
6) Snakepedia' mobile app has been launched in which state to help people, doctors treat snake bites?
A) Gujarat
B) Kerala
C) Karnataka
D) Punjab
E) Haryana
7) Who among the following has launched the Intensified Mission Indradhanush 3.0 to expand immunization coverage across the country?
A) Anurag Thakur
B) Narendar Modi
C) Harsh Vardhan
D) Nitin Gadkari
E) NS Tomar
8) In which state/UT has launched a 7-day long exhibition of NSSH scheme concluded?
A) Bihar
B) J&K
C) Haryana
D) Puducherry
E) Chhattisgarh
9) Which Bank has signed an MoU with IISc initiative to fund start-ups, MSMEs?
A) BOI
B) UCO
C) Bandhan
D) Axis
E) Indian
10) Which of the following Bank has partnered with Vayana Network to offer help MSMEs?
A) UCO
B) Bandhan
C) Axis
D) Bank of Maharashtra
E) Bank of India
11) ICICI Lombard has partnered with which company to offer 'Hospicash' Insurance?
A) OlaPe
B) Freecharge
C) Flipkart
D) Amazon
E) Snapdeal
12) India has successfully test fired which missile recently?
A) Amogha
B) Helina
C) Prithvi
D) Aakash
E) Nag
13) Indian And the Navy of which country will Conduct Exercise In Arabian Sea?
A) Japan
B) US
C) France
D) Indonesia
E) Germany
14) Environmental Enforcement Awards has recognized _____ winners on the frontline of protecting our planet.
A) 4
B) 6
C) 5
D) 7
E) 8
15) 'Amar Ekushey' – International Mother Language Award is being celebrated in which country? 
A) Maldives
B) Nepal
C) Bangladesh
D) Sri Lanka
E) Bhutan
16) Which company has become the title sponsor for IPL 2021?
A) Realme
B) Vivo
C) Nokia
D) Samsung
E) Xiaomi
17) India has signed an agreement with which country on visa facilitation & leather technology?
A) Singapore
B) China
C) Sweden
D) Germany
E) Ethiopia
18) Who among the following has won the  maiden WTA title, clinches Phillip Island Trophy doubles?
A) Sakshi Rawat
B) Anastasia Potapava
C) Ankita Raina
D) Deeksha Vashisht
E) Anna Blinkova
19) Who among the following has won the national title, eyes Tokyo Olympic spot via Doha?
A) Nilesh Pant
B) Surender Singh
C) Anand Rawat
D) Manika Batra
E) Reeth Rishya
20) Naomi Osaka overpowers Jennifer Brady to win ______ Australian Open Title.
A) 6th
B) 5th
C) 4th
D) 3rd
E) 2nd
Answers :
1) Answer:E
International Mother Language Day is a worldwide annual observance held on 21 February to promote awareness of linguistic and cultural diversity and to promote multilingualism.
The theme of International Mother Language Day 2021 is "fostering multilingualism for inclusion in education and society."
International Mother Language Day recognizes that languages and multilingualism can advance inclusion and the Sustainable Development Goals' focus on leaving no one behind.
UNESCO believes education, based on the first language or mother tongue, must begin from the early years as early childhood care and education is the foundation of learning.
2) Answer:C
The Union government launched the 'Go Electric' campaign to spread awareness about the benefits of e-mobility and electric vehicle (EV) charging infrastructure in India.
The campaign was launched in the presence of Nitin Gadkari, Union Minister for Road Transport and Highways, Micro, Small, Medium Enterprise and R K Singh, MoS (IC) Power and New & Renewable Energy, MoS Skill Development and Entrepreneurship.
Bureau of Energy Efficiency (BEE), under the aegis of the Ministry of Power, is mandated to undertake an awareness drive for promoting public charging, e-mobility and its ecosystem
To implement the Go Electric campaign at the national and state levels, BEE will extend technical support to the State Designated Agencies (SDAs) and other partners to ensure uniformity of information.
State agencies are expected to support BEE in consumer awareness initiatives to accelerate the deployment of EV charging infrastructure and electric mobility ecosystem at the state level.
3) Answer:D
The United Nations Food and Agriculture Organization and the Arbor Day Foundation have recognized Hyderabad as a 2020 Tree City of World, for its commitment to growing and maintaining urban forests.
Hyderabad earned recognition in the Foundation's second year of the programme along with 51 other cities globally (120 cities from 63 countries assessed) and the only city in India to get this recognition so far.
List of Five Factors to be Eligible for 'Tree City'
To be eligible for Tree City, the city must affirm its five requirements, include
Defining responsibility (the declaration written by civic representatives to assign the responsibility for trees)
Setting down the rules (the law or official policy that regulates forest and tree management)
Knowing what you have (an updated inventory or assessment of the local tree resources)
Allocate funds (a dedicated annual tree management plan routine budget)
Celebrate achievements (an annual celebration of trees to raise awareness).
4) Answer:E
The scheme to provide free menstrual products for the next three years comes after a six-month pilot program launched last year in 15 schools in the Waikato region where 3,200 young people were provided with period products.
Every school in New Zealand will be stocked with free period products for female students from June, the prime minister, Jacinda Ardern, has confirmed.
Principals and poverty groups have been calling for the move for years, saying period poverty meant some girls ended up skipping school during their periods because they could not afford the sanitary products to manage them hygienically.
5) Answer:C
Kerala Chief Minister Pinarayi Vijayan inaugurated the Kerala Fibre Optic Network (KFON) project intended to provide free internet connections to Below Poverty Line (BPL) families in the state.
The first phase of the project, which will also help connect users in schools, hospitals, offices and houses, was launched in Ernakulam, Thrissur, Palakkad, Pathanamthitta, Alappuzha, Kollam and Thiruvananthapuram districts.
In Kerala, which became the first state that declared access to internet as a basic human right, private sector Vodafone-Idea is a leading service provider with 51.9% market share, Reliance Jio has 22.6% market share, while public sector BSNL's share is 12.6%.
The KFON project is a mega infrastructure project that aims to build a high-speed, reliable and scalable fibre network across the state to provide connectivity to 30,000 government institutions and 20 lakh households through the transmission and distribution facility of the Kerala State Electricity Board (KSEB).
Both the KSEB and the Kerala State Information Technology Infrastructure Limited (KSITIL) have 50% shares each in KFON. The 52,746 km-long fibre optic cables are being laid using the poles of KSEB.
6) Answer:B
A team of scientists, nature lovers and doctors have come up with a mobile application 'Snakepedia' on snakes in Kerala to help the public as well as doctors to treat snake bites.
Snakepedia is a comprehensive android mobile application that documents information on snakes with the help of pictures, infographics and podcasts and analyses its first aid, treatment, myths and superstitions.
The main aim of the app is to help the public identify snakes, avail proper treatment on time for snakebites
There are about 3,600 species of snakes known so far in the world and over 300 species are found in India.
Snakepedia was developed as an answer to the question of how to find a useful way for the general public to identify snakes.
7) Answer:C
Health and Family Welfare Minister Dr. Harsh Vardhan launched Intensified Mission Indradhanush 3.0, (IMI 3.0) to expand immunization coverage across the country.
It will have two rounds starting from the 22nd of this month and the 22nd of March this year and will be conducted in pre-identified 250 districts and urban areas across 29 States and UTs in the country.
Both rounds will be for 15 days each.
A portal of IMI 3.0 has also been launched besides releasing the Operational Guidelines and the awareness material of the campaign.
The focus of the Intensified Mission Indradhanush 3.0 will be the children and pregnant women who have missed their vaccine doses during the COVID-19 pandemic.
They will be identified and vaccinated during the two rounds.
Beneficiaries from migration areas and hard to reach areas will be targeted as they may have missed their vaccine doses during COVID19.
8) Answer:B
In the Union Territory of Jammu and Kashmir, a seven day long exhibition of National Scheduled Caste and Scheduled Tribe Hub (NSSH) scheme concluded at ITI, Ground in Rajouri.
The valedictory function of the exhibition was attended by Vice Chairperson, Khadi and Village Industries Board (KVIB), Dr. Hina Shafi, DDC, Rajouri, Rajesh Shavan besides officers of KVIB.
Dr. Hina while speaking on the occasion said that the Government has taken slew of measures to ensure the upliftment of SC and ST communities and such awareness camps and exhibitions are organised for that purpose.
She added that under NSSH many such exhibitions will be conducted on a regular basis across the Union Territory.
9) Answer:E
Indian Bank has entered into an MOU with Society for Innovation and Development (SID), an initiative of Indian Institute of Science, for extending exclusive credit facility to Start-ups and MSMEs.
This initiative is a part of the Banks scheme Ind SpringBoard for financing Start-ups and will empower Start-ups and MSMEs to realise their research efforts powered by financial support from the Bank and backed by incubation facilities offered by SID,
The Bank will extend loans of up to Rs 50 crore to these start-ups for their working capital requirements or for purchase of machinery, equipment etc,
Under the MOU, SID will identify the start-ups and MSMEs based on their credentials and past experience and will refer the list of such members who require financial assistance to the Bank
10) Answer:D
Bank of Maharashtra has entered into a strategic partnership with Vayana Network to offer financial support to the MSME sector.
Through this association, BoM will provide short term credit to meet funding requirements of dealers of corporates via "Mahabank Channel Financing Scheme" launched by the bank, through Vayana Network's expertise in this segment.
Under the partnership, Vayana Network will provide its Supply Chain Financing solutions (SCF) to the bank supported by Vayana's technology and service expertise.
The SCF solutions will include vendor and dealer financing programs across the bank's network of 1,870 branches across the country.
Vayana Network's proprietary tech platform will help to digitize the transactions of Supply Chain Financing, while the market services will help to increase penetration in the under-served MSME segment.
11) Answer:C
E-commerce company Flipkart has partnered with ICICI Lombard to offer 'Group SafeGuard' insurance, a group insurance policy to its consumers.
Compared to the standard indemnity health insurance policies, Group SafeGuard is a benefit offering that allows consumers to avail a payout for each day of hospitalisation,
The fixed daily amount enables consumers to pay for incidental medical or emergency expenses
The insurance is affordably priced, paperless, and flexible; covering both accidental hospitalisations or planned surgeries/treatment"
With daily cash benefits starting from Rs 500, 'Hospicash' benefit under Group SafeGuard insurance will provide cover to Flipkart consumers,
12) Answer:B
India successfully test fired indigenously-developed anti-tank guided missile systems 'Helina' and 'Dhruvastra', paving their induction into the Army and the Indian Air Force respectively.
The missiles were test fired at Pokhran deserts in Rajasthan.
The missile systems have been designed and developed indigenously by the Defence Research and Development Organisation (DRDO).
Helina, which is the helicopter-launched version of the Nag missile system, is a third-generation fire and forget class anti-tank guided missile (ATGM) system mounted on the ALH.
The Helina has also undergone successful trials in 2018. Both Nag and Helina were part of the DRDO's Republic Day display, which showcased its entire anti-tank missile family
13) Answer:D
The Indian and Indonesian navies carried out a military exercise in the Arabian sea to enhance operational interoperability and overall cooperation.
Indian naval ship INS Talwar and Indonesian Navy's multirole corvette KRI Bung Tomo were part of the exercise,
Purpose :
Enhancing Interoperability & strengthening Bilateral Maritime Cooperation Indian Navy Ship INS Talwar and Indonesian Navy's multirole Corvette KRI Bung Tomo, conducted Passage Exercise (PASSEX) in the Arabian Sea.
The Indian Navy participated in maritime exercises in the last few months with a number of countries, including Japan, Russia, Australia and the US.
14) Answer:E
Environmental Enforcement Awards recognize 8 winners on the frontline of protecting our planet
Exceptional efforts on the frontlines to stop environmental crime, including the illegal trade in wildlife and in plastic waste, have been recognized by the United Nations, INTERPOL and the World Customs Organization with the presentation of the 5th Asia Environmental Enforcement Awards.
The Awards are given annually for achievement in combating transboundary environmental crime.
About the Asia Environmental Enforcement Awards 2020
The 2020 Asia Environmental Enforcement Awards are presented by the UN Environment Programme in partnership with the UN Development Programme, the UN Office on Drugs and Crime, INTERPOL, the secretariat of the Convention on International Trade in Endangered Species of Wild Fauna and Flora (CITES), and the World Customs Organization.
The awards encourage government officials and institutions or teams in the region to combat environmental crime and reward excellence in enforcement.
15) Answer:C
Bangladesh observed the Language martyr's day with Prime Minister Sheikh Hasina and President M Abdul Hamid paying tributes to the martyrs of the historic language movement by placing wreaths at the Central Shaheed Minar in Dhaka.
Prime Minister Sheikh Hasina gave away the first International Mother Language Day award to three individuals and one organisation.
Education Minister Dipu Moni handed over the award to renowned Nazrul scholar and national Professor Rafiqul Islam in a function in Dhaka on behalf of the Prime Minister.
Mathura Bikash Tripura got the award for his contribution in preserving and promoting mother languages of small ethnic groups in Bangladesh.
Uzbek Researcher Islaimov Gulom Mirzaevich and a Bolivian organisation named Activismo Lenguas also got the biennial prize.
Activismo Lenguas is an online initiative for supporting the indigenous language digital activists in Latin America.
Ministers, members of parliament, chief of armed services and several other dignitaries also paid tributes to the martyrs of the language movement.
People from various walks of life, students, members of the civil society joined others in paying tributes to the martyrs who sacrificed their lives in 1952 demanding that Bangla should be the language of the nation.
16) Answer:B
Indian Premier League Governing Council chairman Brijesh Patel revealed at the IPL 2021 Auction that VIVO is back as the title sponsor of the league.
Brijesh Patel spoke ahead of the auction in Chennai on February 18 and announced that VIVO is back as the title sponsor of the T20 league after Dream 11 had been roped in as sponsor for the 2020 season.
Last year, the IPL signed up Dream 11 for Rs 222 crore for one season whereas they had been getting Rs 440 crore per year from VIVO.
In 2018, VIVO had signed a five-year deal worth Rs 2199 crore
17) Answer:E
India and Ethiopia signed two agreements related to visa facilitation and leather technology.
The agreements were signed in the presence of Ethiopia Deputy Prime Minister and Foreign Minister, Demeke Mekonnen Hassen and External Affairs Minister S Jaishankar.
Hassen is on a 4-day visit to India, from February 16.
S.Jaishankar tweeted that he had useful and productive discussions with Hassen on a range of bilateral and regional issues.
The two ministers agreed to expand India and Ethiopia bilateral agenda especially defence, economic, S&T, digital and cultural cooperation.
18) Answer:C
India's Ankita Raina On February 19 won her maiden WTA title as she and her Russian partner Kamilla Rakhimova clinched the doubles event in the Phillip Island Trophy in Melbourne.
The Ankita-Kamilla pair beat Russia's Anna Blinkova and Anastasia Potapova 2-6 6-4 10-7 in the final.
The win will propel the 28-year-old Ankita to top-100 in the WTA rankings in doubles. She will be the second Indian woman player to be in top-100 after Sania Mirza.
Ankita had won the ITF doubles title and WTA 125k series title before Friday's win.
About WTA :
The Women's Tennis Association (WTA) is the principal organizing body of women's professional tennis.
It governs the WTA Tour which is the worldwide professional tennis tour for women and was founded to create a better future for women's tennis. The WTA's corporate headquarters is in St.
19) Answer:D
Star paddler Manika Batra clinched her second title by defeating Reeth Rishya 4-2 in the women's singles final of the Senior National Table Tennis Championship
Manika Batra ,in action during final of women's singles final at the 82nd Senior National Table Tennis Championship 2020 at Tau Devi Lal Sports Complex in Panchkula.
She ranked 63rd in world ranking.
She had just beaten Reeth Rishya 8-11, 10-12, 11-1, 11-9, 11-5, 11-6 at the Tau Devi Lal Sports Complex in Panchkula to win the 82nd Senior National Table Tennis Championship
She represented the Petroleum Sports Promotion Board (PSPB) had won her maiden title in 2015 at Hyderabad.
20) Answer:E
Japan's Naomi Osaka Has won the Women's single title in the Australian open 2021.
She defeated Jennifer Brady in straight sets to clinch the women's singles final of the 2021 Australian Open.
This is Osaka's second Australian Open title, she had earlier conquered the Melbourne Grand Slam in 2019.
Naomi Osaka won her fourth Grand Slam title as she defeated Jennifer Brady in straight sets to clinch the women's singles final of the 2021 Australian Open.
Osaka, the first Japanese player to win a major, extended her winning streak to 21 matches with this victory.
She won the US Open in 2018 and 2020.