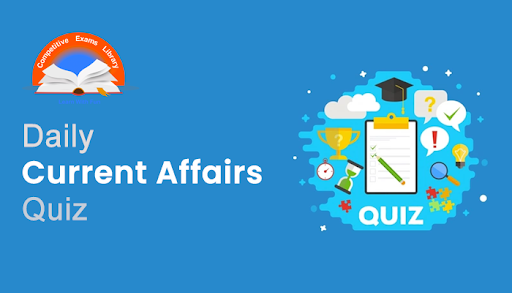 Dear Readers, Daily Current Affairs Questions Quiz for SBI, IBPS, RBI, RRB, SSC Exam 2021 of 22nd April 2021. Daily GK quiz online for bank & competitive exam. Here we have given the Daily Current Affairs Quiz based on the previous days Daily Current Affairs updates. Candidates preparing for IBPS, SBI, RBI, RRB, SSC Exam 2021 & other competitive exams can make use of these Current Affairs Quiz.
1) National Earth Day is Observed on which date?
A) April 3
B) April 4
C) April 22
D) April 1
E) April 12
2) IdrissDeby who passed away recently was the President of which country?
A) Ethiopia
B) Eritrea
C) Sudan
D) Chad
E) Nigeria
3) Covishield will cost Rs ______ for state government hospitals and Rs 600 for government hospitals.
A) 500
B) 350
C) 300
D) 450
E) 400
4) _____ Bangladeshis featured in Forbes 30 under 30 lists of innovators in 10 industries for Asia.
A) 7
B) 8
C) 9
D) 11
E) 10
5) Who among the following has been appointed as Head – Products and Business Development of HDFC Securities?
A) Nalin Sharma
B) Anand Raj
C) Neeraj Kholi
D) Rajeev Srivastava
E) Amar Singh
6) The President of which country took part in the US-led Climate Summit?
A) US
B) China
C) Japan
D) France
E) Germany
7) India's export of Agricultural and allied commodities expressed an impressive increase of _______ per cent during 2020-2021.
A) 14.39
B) 15.39
C) 16.39
D) 17.39
E) 18.49
8) Which company has joined hands with Taiwan's Gogoro?
A) Apple
B) Nokia
C) Hero
D) TVS
E) Motorola
9) ReNew Power projects ______-megawatt solar project in Gujarat.
A) 85
B) 80
C) 90
D) 105
E) 100
10) Who among the following has been selected for maiden Golden Lantern Award?
A) PK Kurian
B) Malankara Jacobite
C) Niranam
D) Coorilose Geevarghese
E) Mar Coorilos
11) Who among the following has address the Leaders' Summit on Climate?
A) Nitin Gadkari
B) Amit Shah
C) Narendra Modi
D) NS Tomar
E) Prahlad Patel
12) India's ______ Scientific Expedition To Antarctica Returns To Capetown.        
A) 20th
B) 40th
C) 35th
D) 30th
E) 25th
13) ISRO will support _____ joint research projects of IIT-Delhi.
A) 10
B) 9
C) 8
D) 7
E) 6
14) ITBP has set up water sports & adventure training institute in which state?
A) Chhattisgarh
B) Bihar
C) Haryana
D) Uttarakhand
E) Madhya Pradesh
15) Shankha Ghosh who passed away was an eminent _____.
A) Hockey Player
B) Director
C) Singer
D) Dancer
E) Poet
16) Kishore Nandlaskar who passed away recently was a veteran _____.
A) Producer
B) Director
C) Actor
D) Singer
E) Writer
Answers :
1) Answer: C
Earth Day is an annual event on April 22 to demonstrate support for environmental protection.
The theme this year is "Restore Our Earth" and its focus is on natural processes, emerging green technologies and innovative thinking that can restore the world's ecosystems. And therefore, the theme also rejects the belief that only mitigation and adaptation are the ways to address climate change.
First held on April 22, 1970, it now includes a wide range of events coordinated globally by EARTHDAY.ORG including 1 billion people in more than 193 countries.
International Mother Earth Day (Earth Day) is celebrated every year on 22 April to recognize that the Earth and its ecosystems are our home and that it is necessary to promote harmony with nature and the Earth.
The day was established in 2009 by the United Nations General Assembly.
Every year around the world, Earth Day organizers promote green campaigns to save the Earth.
Celebrate National Earth Day by getting engaged in Earth Day activities in your area.
2) Answer: D
On April 20, 2021, The President of the Republic of Chad, IdrissDebyItno, passed away.
Deby was 68.
Déby, spent more than three decades in power and was one of Africa's longest-serving leaders.
He was even declared winner of the 2021  presidential election, paving the way for him to stay in power for six more years.
Deby first won elections in 1996 and 2001.
After this he continued to win in 2006, 2011, 2016, and 2021.
3) Answer: E
Serum Institute of India has announced the price for its COVISHIELD vaccine for State governments and Private Hospitals in the country.
The Vaccine will cost 400 rupees per dose for the state governments whereas Private Hospitals will have to pay 600 rupees for each dose.
The announcement by the manufacturer of the COVISHIELD vaccine in India comes in light of the recent relaxation given by the Centre to accelerate the vaccination drive in the country.
Under the new provisions the vaccine manufacturers and suppliers will be selling 50 per cent of their COVID vaccines to the Centre whereas the remaining 50 per cent will be given to State governments and Private Hospitals in open market.
Serum Institute in a media statement released said that the new directive will help in scaling up the production of vaccines and will also ease its procurement by the state administrations, private hospitals and vaccination centres.
4) Answer: C
Nine Bangladeshis feature in the Forbes 30 under 30 lists of innovators in 10 industries for Asia.
Forbes announced its 6th annual 30 under 30 Asia list for 2021 featuring 300 young entrepreneurs, leaders and trailblazers across Asia.
The list includes people who are finding new opportunities amidst the challenging environment brought out by the COVID pandemic.
The nine Bangladeshis have been included under the categories enterprise technology, social impact and retail and e-commerce.
Earlier, between 2016 till 2020 nine Bangladeshis were listed in the Forbes 30 under 30 lists for Asia.
Shehzad NooTausPriyo and Motasim Bir Rahman co-founded Gaze which builds API for visual recognition with AI supporting features.
The AWARENESS 360 is an NGO founded by Shomy Chowdhury and RijveArefin which works on personal hygiene issues like hand washing, sanitation etc.
Ahmed Imtiaz Jami has supported 1 million people to help overcome poverty.
It has provided support for education, health and nutrition through the NGO OBHIZATRIK.
Morin Talukder's e-commerce venture Pickaboo lists quality products and helps in fast delivery of products.
Mir Sakib's startup company Cramstack helps industries with natural language driven search interfaces to analyse and visualise data.
The list is announced for ten categories including arts, entertainment and sports, Finance and venture capital, media, marketing and advertising, enterprise technology, social impact and consumer technology among others.
Each category lists 30 young individuals under 30 years of age making their mark in the respective categories.
The list was compiled through a rigorous process of selection from more than 2500 online nominations, said the Forbes.
5) Answer: D
HDFC securities announced the appointment of Rajeev Srivastava as Head of Products and Business Development.
Srivastava has almost two decades of experience in working with large retail companies including ICICI Bank and PerfettiVanmelle, according to a statement.
He was previously associated with Reliance Securities as Chief Business Officer.
Dhiraj Relli, MD and CEO, HDFC securities, said, "Rajeev brings along with him a wealth of experience in dealing with products and outlining business strategies.
He would add great value to our product offerings while helping our customers with a wide spectrum of investment options to choose from.
Rajeev's understanding of the markets will play a critical role in greater penetration of HSL brands for our existing and new customers."
6) Answer: B
Chinese President Xi Jinping will take part in the virtual climate summit convened by US President Joe Biden in which several world leaders, including Prime Minister Narendra Modi, will participate. Xi's confirmation comes days after John Kerry, US special envoy on climate change, held talks with his Chinese counterpart, XieZhenhua, in Shanghai.
Chinese Foreign Ministry announced, "At the invitation of US President Joe Biden, President Xi will attend and deliver an 'important speech' at the Leaders' Summit on Climate by video link from Beijing."
The US and China are the world's largest emitters of greenhouse gases.
Xi made veiled references to the US-led West in an online speech delivered at an economic forum, rejecting what he called hegemonic powers in global governance and saying there should be no 'bossing' and 'meddling' in other countries which is seen as a continuation from Alaska meeting last month between the two countries.
7) Answer: E
India has witnessed an impressive increase of almost 18.5 per cent in export of Agricultural and allied products during April 2020 to February 2021 as compared to the same period, the previous year.
The country had witnessed tremendous growth of 727 per cent in Wheat export and 132 per cent in Non-Basmati Rice export, despite the prevalence of COVID-19 pandemic.
Some other commodities that posted significant positive growth in exports include cereals, soya meal, spices, sugar, raw cotton, fresh vegetable, processed vegetables and alcoholic beverages.
India took care not to disturb the world food supply chain and continued to export even during the pandemic.
The export of Agricultural and allied commodities during April 2020 to February 2021 was over Rs 2 lakh 70 thousand crore.
The imports of Agricultural and allied commodities during this period witnessed a slight increase of 2.93 per cent.
During this period, despite COVID-19, the balance of trade in agriculture has favorably increased.
8) Answer: C
Hero MotoCorp has formed a partnership with Taiwan's Gogoro Inc to develop electric vehicles for the Indian market.
The two companies will establish a battery swapping joint venture to bring Gogoro's battery swapping platform to India and will collaborate on EV development to bring Hero-branded, powered-by-Gogoro Network vehicles to the domestic auto market.
With this partnership, Hero MotorCorp will make its first direct entry into the EV space, which at present is dominated by another Hero Group company, Hero Electric, and Hero MotoCorp-backed start-up Ather Energy.
Hero's main rivals, Bajaj Auto and TVS Motor Company, also already have a small presence in this fast growing category.
India's two-wheeler EV market saw a 1.6-fold increase in FY21, from 24,839 units sold in FY20 to 40,837 in FY21. Experts believe EVs may account for 25-30 percent of total two-wheeler sales by 2030.
9) Answer: D
ReNew Power informed it has commissioned a 105 megawatt (MW) solar generation facility in Gujarat.
The project has a 25-year power purchase agreement with Gujarat Urja Vikas Nigam Ltd (GUVNL) to provide clean electricity to the state at a tariff of Rs 2.68/kWh, a company statement said.
This project located in the Patan district of Gujarat, takes ReNew's total operational solar capacity in the state to 145 MW and total aggregate solar capacity to 4.7 GW across India.
Since March, ReNew Power has announced commissioning of over 500 MW of combined wind and solar energy projects in Gujarat and Rajasthan.
"The 105 MW Gujarat project commissioning is a significant step forward for ReNew Power.
The project has been commissioned amidst a COVID-19 surge and reflects the commitment of our team to contribute towards India's ambition of achieving 450 GW of clean energy by 2030,"
said Founder, Chairman and CEO of ReNew Power, Sumant Sinha.
10) Answer: E
WHI, an organization having special consultative status with the Economic and Social Council, UN, has chosen Geevarghese Mar Coorilos Metropolitan, Diocese of Mumbai, for its maiden Golden Lantern Award.
The award is being conferred on the metropolitan for his outstanding efforts in social, educational and charitable spheres.
He was chosen for the award for his free education initiatives for slum children, health and treatment schemes designed for TB patients, exemplary contributions to the education sector and opening up of theology learning for women in the upcoming Theo University.
Governor Arif Mohammed Khan will give away the award in Thiruvananthapuram in mid-July.
11) Answer: C
Prime Minister Narendra Modi will address Leaders' Summit on Climate.
The two-day summit will be held virtually and Mr Modi will make his remarks in the session which has the theme – Our Collective Sprint to 2030.
The Prime Minister was invited by US President Joe Biden to participate in this summit.
Nearly 40 other world leaders are participating in the Summit.
They will represent countries which are members of the Major Economies Forum and those vulnerable to climate change, among others.
The leaders will exchange views on climate change, enhancing climate actions, mobilizing finance towards climate mitigation and adaptation; nature based solutions, climate security as well as technological innovations for clean energy.
They will also deliberate on how the world can align climate action with inclusive and resilient economic development, while respecting national circumstances and sustainable development priorities.
The summit is a part of a series of global meetings focusing on climate issues, being held in the run up to COP26 in November 2021.
12) Answer: B
On April 10, 2021, The 40th Indian Scientific Expedition to Antarctica (40-ISEA) hosted by the Ministry of Earth Sciences successfully returned to Cape Town, after completing a journey of around 12 thousand nautical miles in 94 days.
The 40-ISEA comprised Indian scientists, engineers, doctors, and technicians, who began their journey from the Mormugao Port of Goa to Antarctica on 7 January, 2021.
The team reached its destination station Bharati on 27 February, 2021, and Maitri on 8 March, 2021.
On the way to Antarctica, the voyage team deployed four autonomous Ocean Observing DWS (Directional Wave Spectra) wave drifters between 35 degree and 50 degree south latitudes in collaboration with Indian National Centre for Ocean Information Services (INCOIS), Hyderabad.
The expedition positioned a team of 20 personnel at Bharati led by Atul Suresh Kulkarni from the Indian Institute of Geomagnetism and 21 personnel at Maitri led by Ravindra Santosh from the Indian Meteorological Department.
13) Answer: C
The Indian Space Research Organisation (ISRO) will support eight joint research projects mooted by the space technology cell (STC) of the Indian Institute of Technology (IIT), Delhi.
Space Technology Cell (STC), which was set up in the year 2019 as part of a Memorandum of Understanding signed between ISRO and IIT Delhi.
The ISRO will support the projects under its "respond" programme for varying duration of one to three years.
The eight collaborative research projects on which the scientists from different ISRO centres and IIT, Delhi, will work jointly include application for aerospace, space and hydro-extremes to bring about applications for drought and flood forecasting.
The unit will establish an Indian Land Data Assimilation System (ILDAS) for identifying hydrologic extremes.
Names of eight joint research projects of IIT-D :
Establishing a Coupled Indian Land Data Assimilation System (ILDAS) for identifying hydrologic extremes.
Classical Trajectory Monte Carlo Simulations of the Plasma dynamics in electrodeless plasma thruster.
Analysis of Variable Stiffness Composite Honeycomb Sandwich Structures with Embedded Delamination.
Indigenous Sensor based Real Time Flood Warning Smart System.
Impact of Satellite Observations in a Coupled System for Predicting Storm Tides and its Coastal Inundation.
Development of a Numerical Simulator for Micro-fabricated Electrospray Thrusters.
Designing Speciality Glasses Employing Machine Learning and Meta-Heuristic Optimization.
Low-Pressure Systems (LPSs) and their nonlinear interaction with other scales in the atmosphere through the lens of Scale Energetics.
About IIT Delhi space technology :
The IIT Delhi space technology cell has been functional since November 2019.
14) Answer: D
A Water Sports and Adventure Institute (WSAI) has been established by the Indo-Tibetan Border Police (ITBP) at Tehri Dam in Uttarakhand.
On April 16, 2021, The institute was inaugurated by Chief Minister Tirath Singh Rawat and Sports Minister Kiren Rijiju.
ITBP's Mountaineering and Skiing Institute at Auli, will independently run this institution.
It will impart training in aero, water and land-related sports and adventure activities.
Currently, three ITBP teams – kayaking, canoeing and rowing – have been deployed here, in which around 59 sports persons are available.
This institution will boost national and international tourism and it will increase opportunity of employment for the people of the state.
15) Answer: E
On April 21, 2021, Eminent Bengali poet Shankha Ghosh passed away.
He was 89.
Ghosh was born on February 6, 1932, at Chandpur in present-day Bangladesh.
Achievements :
In 2011, he was awarded Padma Bhushan and in 2016 he received the Jnanpith Award.
In 1977, he received the Sahitya Akademi Award for his book 'BabarerPrarthana'.
He was honoured with a second Sahitya Akademi Award in 1999.
16)  Answer: C
On April 20, 2021, Veteran actor Kishore Nandlaskar, who was a popular face in both Marathi and Hindi films, passed away.
He was 81.
The actor made his debut in 1982 with Marathi film 'Navare Sagle Gadhav' and went on to act in movies like 'BhavishyachaAishiTaishi: The Prediction', 'Gaon Thor PudhariChor' and 'JaraJapun Kara'.
He was last seen in Mahesh Manjrekar web-series '1962: The War In The Hills'.
In Hindi films, his notable performances,  Nandlaskar is known for his roles in Khakee (2004), Vaastav: The Reality (1999), Singham (2011), JisDesh Mein Ganga Rehta Hain (2000), Simmba (2018).