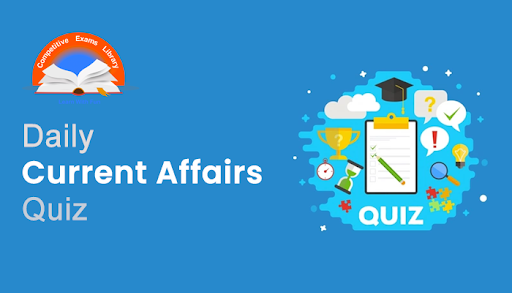 Dear Readers, Daily Current Affairs Questions Quiz for SBI, IBPS, RBI, RRB, SSC Exam 2021 of 22nd January 2021. Daily GK quiz online for bank & competitive exam. Here we have given the Daily Current Affairs Quiz based on the previous days Daily Current Affairs updates. Candidates preparing for IBPS, SBI, RBI, RRB, SSC Exam 2021 & other competitive exams can make use of these Current Affairs Quiz.
1) How many non-official members have been nominated to the startup council?
A) 24
B) 26
C) 28
D) 25
E) 27
2) Which institution along with the Road Transport and Highways Ministry have signed an MoU for technical exchange on sustainable geo-hazard management?
A) BEL
B) HAL
C) BDL
D) DRDO
E) ISRO
3) Which institution has recently released a report on faecal sludge and septage management in urban areas?
A) AIIB
B) ADB
C) World Bank
D) IMF
E) NitiAayog
4) The Union Cabinet has approved the Ratle Hydro Power Project in which state/UT recently?
A) Bihar
B) Chhattisgarh
C) J&K
D) Karnataka
E) Madhya Pradesh
5) Meghalaya, Manipur & Tripura observe the Statehood Day on which date?
A) January 11
B) January 14
C) January 15
D) January 21
E) January 18
6) India and ______recently held a virtual maritime security dialogue for the first time.
A) France
B) EU
C) Qatar
D) Philippines
E) Germany
7) The government of which state will rename dragon fruit as kamalam?
A) Uttar Pradesh
B) Bihar
C) Maharashtra
D) Gujarat
E) Haryana
8) The Chief minister of which state has launched the first online youth radio station?
A) Bihar
B) Chhattisgarh
C) Uttar Pradesh
D) Haryana
E) Himachal Pradesh
9) Who among the following has released the financial assistance for UP under PMAY-G?
A) Amit Shah
B) Prahlad Patel
C) Narendra Modi
D) Nirmala Sitharaman
E) Anurag Thakur
10) The Chief Minister of which state has flagged off Door to door Delivery Vehicles?
A) Kerala
B) Andhra Pradesh
C) Haryana
D) Bihar
E) Chhattisgarh
11) The Ministry of Minority Affairs has recently organisedHunarHaat in which city?
A) Surat
B) Hyderabad
C) Lucknow
D) Pune
E) Delhi
12) Karnataka Chief Minister has launched which software to enable the government to access data on sanctions?
A) Agnikul
B) Satyam
C) BhoomiRashi
D) Avolokana
E) Rashmi
13) Which bank looks to become part of Andhra Pradesh's economic growth?
A) Bandhan
B) ICICI
C) SBI
D) PNB
E) Bank of Baroda
14) Which bank has recently donated books to children?
A) BOB
B) HDFC
C) PNB
D) SBI
E) ICICI
15) The State Cooperative Bank of which state has bagged the first prize for the overall best performance for the year 2018-19?
A) Madhya Pradesh
B) Chhattisgarh
C) Bihar
D) Andhra Pradesh
E) Haryana
16) Joe Biden has taken oath as ______ US President.
A) 49th
B) 48th
C) 47th
D) 45th
E) 46th
17) Which company has signed anMoU with HPSEBL to improve telecom connectivity in hilly areas of Himachal Pradesh?
A) HPCL
B) ONGC
C) Powergrid
D) NTPC
E) NHPC
18) Five day Indo-French Air exercise, Ex Desert Knight-21 has recently begun in _____.
A) Pune
B) Jodhpur
C) Jaisalmer
D) Pithoragarh
E) Surat
19) Which bank has recently launched a 'safe pay' feature?
A) Bandhan
B) HDFC
C) SBI
D) Airtel Payments Bank
E) ICICI
20) The Government has appointed who among the following as managing director of LIC from February 1?
A) Hidayat Khan
B) Ravi Mishra
C) Nilesh Kumar
D) Rakesh Gupta
E) Siddhartha Mohanty
21) The Appointments Committee of the Cabinet has appointed MTNL Director ________as new CMD of TCIL.
A) Rajat Chauhan
B) Ajay Mishra
C) Sanjeev Kumar
D) Anil Kumar
E) Rajeev Kumar
22) Rajiv Lochan has been appointed as Managing Director of which company?
A) Max Bupa
B) Sundaram Finance
C) Bajaj Finance
D) Hero Finance
E) Aviva
23) Who among the following has bagged the Bharat Gaurav Award?
A) Rajat Mittal
B) Anand Sharma
C) Nalin Aggarwal
D) Rakesh Mishra
E) Karuna Sagar
24) Mata Prasad who passed away at 95 was the former Governor of which state?
A) Punjab
B) Chhattisgarh
C) Arunachal Pradesh
D) Haryana
E) Bihar
25) The Union Cabinet has approved anMoU between India and which country recently?
A) Armenia
B) Turkmenistan
C) Uzbekistan
D) Tanzania
E) Kazakhstan
26) Gajendra Singh Shaktawat was a ______ MLA from Vallabhnagar who passed away recently.
A) BJP
B) BJD
C) AIADMK
D) JDU
E) Congress
27) Unni krishnan Namboothiri who passed away recently was an eminent _____.
A) Producer
B) Actor
C) Dancer
D) Singer
E) Director
Answers :
1) Answer: C
The government has nominated 28 non-official members on the National Startup Advisory Council.
The Department for Promotion of Industry and Internal Trade (DPIIT) had set up the National Startup Advisory Council a year back to advise the government on measures needed to build an ecosystem for nurturing innovation and startups in the country.
The term of the non-official members of the council is for a period of two years.
The Nominated members:
ByjuRaveendran (Founder of Byju's)
Lizzie Chapman (ZestMoney Co-founder)
Kris Gopalkrishnan (Axilor Ventures founder)
2) Answer: D
Road Transport and Highways Ministry and Defence Research and Development Organisation, DRDO signed a Memorandum of Understanding to strengthen collaboration in the field of technical exchange and co-operation on sustainable geo-hazard management.
The MoU was signed by Secretary Ministry of Road and Transport GiridharAramane and Secretary DRDO DrSatieesh Reddy.
It has been agreed that both will cooperate in the areas of mutual benefit including, conceptual planning of integrated avalanche and landslide protection schemes for all weather connectivity in snow bound areas of the country.
This initiative will ensure safety of road users on National Highways in the country and safeguard them from the adverse effects of landslides and other natural calamities.
3) Answer: E
NITI Aayog released a book on faecal sludge and septage management in urban areas.
It is Jointly developed with National Faecal Sludge and Septage Management (NFSSM) Alliance.
The book presents 27 case studies across 10 states and various service and business models adopted by Indian cities while implementing faecal sludge and septage management (FSSM) initiatives.
The book was released by NITI Aayog CEO Mr Amitabh Kant, MoHUA Secretary MrDurga Shankar Mishra, and NITI Aayog Additional Secretary Dr K. RajeswaraRao in a virtual event.
The target of open-defecation-free, India has now moved towards becoming ODF+ and ODF++
This book provides a timely repository of FSSM best practices that can be adapted and replicated appropriately across the country.
4) Answer: C
The Cabinet has given its approval for the investment of over Rs.5200 crore for 850 MW Ratle Hydro Electric (HE) Project located on river Chenab, in Kishtwar in the Union Territory of Jammu and Kashmir.
This will be a new Joint Venture Company (JVC) of National Hydroelectric Power Corporation (NHPC) and Jammu and Kashmir State Power Development Corporation Ltd (JKSPDC) with equity contribution of 51 per cent and 49 per cent respectively.
The construction activities of the Project will provide direct and indirect employment to around 4000 persons and will contribute immensely in the overall socio-economic development of Jammu and Kashmir.
5) Answer: D
President, Vice President and Prime Minister have greeted the people of Meghalaya, Manipur and Tripura on the occasion of their Statehood Day on January 21, 2021.
President Ram NathKovind said, blessed with immense natural beauty, rich history and vibrant culture, these states are fascinating.
He extended his warm wishes as they continue to move ahead on the path of multi-faceted development.
Prime Minister NarendraModi said, the culture and warm-hearted nature of the people of Tripura is admired across India.
The state has achieved outstanding progress in various fields.
He said, India is proud of Manipur's contribution to national development.
Manipur is a powerhouse of innovation and sporting talent.
MrModi said, Meghalaya is known for its remarkable kindness and spirit of brotherhood.
Youngsters from Meghalaya are creative and enterprising.
6) Answer: B
India and the EU have held their first maritime security dialogue in a virtual format.
The consultations involved exchanges on developments in maritime security environment, regional cooperation activities, developments of mutual interest and opportunities for cooperation between India and the EU.
The EU-India Maritime Dialogue was chaired by Director JoannekeBalfoort on the European Union External Action Service side and Joint Secretary SandeepArya on the Indian side.
It seeks to develop mutual understanding and cooperation opportunities between India and the EU in the maritime security domain as another factor of the strategic partnership between the two sides consistent with the India-EU Roadmap to 2025.
7) Answer: D
Gujarat Chief Minister Vijay Rupani has proposed to rename dragon fruit as 'Kamalam.
The dragon fruit has been renamed Kamalam because of the shape of the fruit.
This was announced at the launch of the Chief Minister Horticulture Development Mission.
The Horticulture Development Mission, a new scheme to promote horticulture in the State's unproductive land parcels.
8) Answer: E
Chief Minister Jai Ram Thakur launched Himachal Pradesh"s first online youth radio station "Radio Hills-YoungistanKa Dil.
The chief minister appreciated the efforts of the young entrepreneurs and said the online radio station would go a long way in promoting culture and traditions of the state besides providing an opportunity to the youth to exhibit their talents.
Deepika and Saurabh, co-founders of the online radio station, informed Thakur that it would also be available on Apple and Android mobile phones.
Developers of the online radio station Karan, Radio Jockeys Palak, Rahul and Nidhi were also present on the occasion.
The online radio would go a long way in promoting the culture and traditions of the state, besides providing an opportunity to the youth to exhibit their talents.
9) Answer: C
Prime Minister NarendraModi released financial assistance of around Rs 2,691 crore to over six lakh beneficiaries in Uttar Pradesh under PradhanMantriAwasYojana – Gramin (PMAY-G), through video conferencing.
The financial assistance includes release of first installment to 5.30 lakh beneficiaries and second installment to 80 thousand beneficiaries who have already availed first installment of assistance under PMAY-G.
PradhanMantriAwasYojna has moved rapidly under the present government and has helped the poorest of the poor in Uttar Pradesh.
He stressed on the aspect of women empowerment in the scheme as these units are mostly in the name of women of the family.
10) Answer: B
In Andhra Pradesh, Chief Minister Y. S. Jagan Mohan Reddy flagged off Mobile Dispensing Units/ Door to door Delivery Vehicles in Vijayawada.
As many as 9,260 of such vehicles will supply ration with quality rice at the door steps of ration card beneficiaries across the state.
The State Government has come forward with the door delivery programme with a view to supply quality rice and also other essential commodities.
As promised in his Padayatra, Mr Reddy has taken up this initiative to supply quality rice to the BPL people.
The mobile vehicles were purchased at a cost of Rs 539 crore and these vehicles were provided by the government at 60% subsidy to eligible beneficiaries through various corporations under the Employment Guarantee Scheme for unemployed youth.
The value of each vehicle is Rs 5,81,000, of which Rs 3,48,600 was provided as subsidy from various Corporations and Civil Supplies Corporation.
11) Answer: C
Ministry of Minority Affairs will organise the 24th HunarHaat at AvadhShilpgram, Lucknow, Uttar Pradesh from 22nd January to 4th February with the theme of Vocal for Local.
Artisans and craftsmen from 31 States and Union Territories of the country will participate in the HunarHaat.
About 500 artisans, craftsmen and culinary experts from different States including Andhra Pradesh, Assam, Bihar, Delhi, Gujarat, Haryana, Chattisgarh, Jammu-Kashmir, Jharkhand, Karnataka, Kerala, Ladakh, Madhya Pradesh, Odisha, Punjab, Rajasthan, Tamil Nadu and West Bengal will display and sell their exquisite handmade products.
The Ministry said renowned artists of the country will perform cultural events on the theme of AtmaNirbhar Bharat every day at HunarHaat.
12) Answer: D
In Karnataka, Chief Minister B. S. Yediyurappa launched Avolokana software that will enable the government to access data on sanctions and expenditures incurred by 39 departments on 1,800 programmes implemented by them.
District Deputy Commissioners and ZillaPanchayat Chief Executive Officers in Bengaluru, the Chief Minister also unveiled Karnataka statistics on Development programmes for the year 2019-20.
13) Answer: E
Bank of Baroda (BoB) Executive Director Vikramaditya Singh Khichi called on Chief Minister YS Jagan Mohan Reddy at the CM's camp office in Tadepalli.
Vikramaditya Singh said that the BoB wants to be a part of AP's economic growth, adding that they are funding various development activities in the State.
14) Answer: C
Punjab National Bank, one of the leading nationalized banks of the country, established in 1895, and completed 126 years of banking service.
On the occasion, the Bank's Zonal Manager, AshutoshChoudhury, visited Vijayawada circle and participated in the Corporate Social Responsibility activities.
An industrial jumbo air cooler was donated to Sri DurgaMalleswaraSwamyDevasthanam.
Bank officials distributed bags, uniforms, books and pens to orphans and needy children at SKCV Children's trust.
The bank has also donated the Armed Forces Flag Fund to the Directorate of Sainik Welfare Association, Vijayawada.
Further, a customer meet of all local branches was conducted and many customers were honoured.
15) Answer: D
The Andhra Pradesh State Cooperative Bank (APCOB), Vijayawada was awarded the first prize for the overall best performance for the year 2018-19, among all the state cooperative banks in the country, by the National Federation of State Cooperative Banks, Mumbai, taking into consideration its share capital of Rs 1,600 crore, business turnover of Rs 13,300 crore and Rs 145 crore profit.
16) Answer: E
Joe Biden took oath as the 46th President of the United States of America at a scaled-back ceremony in the US Capitol building in Washington.
78 year old Biden has become the oldest US President and only the second Roman Catholic president.
Biden, who was vice president under Barack Obama and first ran for president in 1987, plans to kick off his tenure with a flurry of 17 orders.
His deputy Kamala Harris was also sworn in as 49th Vice-President of the country.
Kamala Harris made history as America's first woman and first person with south Asian roots to take the office of the Vice President.
She was sworn in by Supreme Court Justice Sonia Sotomayor
17) Answer: C
To improve telecom connectivity in hilly areas, Power Grid Corporation of India Limited (POWERGRID), the PSU under Ministry of Power, has recently signed an agreement with Himachal Pradesh State Electricity Board Limited. (HPSEBL) in Shimla (H.P.)
This total 850 Kms long telecom network will enable POWERGRID Telecom to reach remote areas of Kangra, Una, Mandi, Kullu, Bilaspur, Sirmour, Palampur, Sundernagar, Banikhet, Amb, Paonta Sahib, Nahan etc.
Through this OPGW Network, Telecom Service providers will be able to provide uninterrupted mobile/Internet services to the people of the state.
OPGW: an optical fiber composite overhead ground wire.
18) Answer: B
Indian Air Force and French Air and Space Force are conducting a bilateral Air exercise, Ex Desert Knight-21 in Jodhpur .
The exercise marks an important milestone in the series of engagements between the two Air forces.
It is unique as it includes fielding of Rafale aircraft by both sides and is indicative of the growing interaction between the two premier Air Forces.
The French side will participate with Rafale, Airbus A-330 Multi-Role Tanker Transport, A-400M Tactical Transport aircraft and approximately 175 personnel.
The Indian Air Force aircraft participating in the exercise will include Rafale, Mirage 2000, Sukhoi-30 MKI among other aircraft.
19) Answer: D
Airtel Payments Bank launched a mode of safe digital transactions to protect customers from online frauds.
20) Answer: E
The government appointed Siddhartha Mohanty, currently serving as the managing director (MD) and chief executive officer (CEO) of LIC Housing Finance, as the MD of India's largest insurer Life Insurance Corporation (LIC) from February 1 onwards.
He will serve as the MD of LIC till his superannuation on June 30, 2023. Mohanty will be replacing TC Suseel Kumar, who is set to retire on January 31, 2021.
LIC has four MDs and one chairman. Currently, MR Kumar is serving as the chairman of the corporation and TC Suseel Kumar, VipinAnand, Mukesh Kumar Gupta, and Raj Kumar are serving as the MDs of LIC.
Mohanty was the chief operating officer of LIC Housing Finance before he was appointed the CEO of the housing finance company. Prior to that, he was with the executive director in LIC, handling the legal department.
21) Answer: C
The Appointments Committee of the Cabinet (ACC) has approved the appointment of Sanjeev Kumar as the new Chairman & Managing Director (CMD) of Telecommunications Consultants India Limited (TCIL) .
According to an order from the Department of Personnel & Training (DoPT), Kumar has been appointed to the post for a period of five years from the date of assumption of the charge of the post, or till the age of superannuation, or until further orders, whichever is earlier. He is currently serving as Director (Technical) in Mahanagar Telephone Nigam Limited (MTNL).
22) Answer: B
Chennai headquartered Non-Banking Finance Company Sundaram Finance has announced that Managing Director TT Srinivasaraghavan will retire on March 31, 2021 and Rajiv Lochan will become the next Managing Director from April 1.
TT Srinivasaraghavan, the current MD, completes his term on March 31 and is retiring from service after 38 years with the company, the last 18 years being the MD.
HarshaViji, deputy MD, will assume the office of executive vice chairman, and take responsibility for the overall strategy and direction of Sundaram Finance and other group companies in financial services.
23) Answer: E
KarunaSagar, a 1991 batch IPS officer of the TN cadre, has bagged the prestigious Bharat Gaurav Award for the year 2020 under the public service category.
The award ceremony, held at the national capital, was presided over by Union Minister Mansukh L Mandaviya and Minister of State Faggan Singh Kulaste.
The awards are given out annually to citizens who make exemplary contributions in their fields or go beyond the call of duty in service to society.
Previous winners of the awards include Padma Shri awardees KalpanaSaroj and A Muruganantham aka 'PadMan'.
24) Answer: C
Former Arunachal Pradesh Governor Mata Prasad died. He was 95 years old.
Mata Prasad served as minister in the Congress government in Uttar Pradesh in 1988- 89 and was appointed as Governor of Arunachal Pradesh in 1993.
25) Answer: C
The Union Cabinet was apprised of signing of Memorandum of Understanding (MoU) between India and Uzbekistan for cooperation in the field of Solar Energy.
The main area of work under the MoU is to identify research, demonstration and initiation of pilot projects between the National Institute of Solar Energy (NISE) under the Ministry of New and Renewable Energy, India and the International Solar Energy Institute, Uzbekistan.
The research and cooperation will primarily focus in the areas of Solar Photovoltaic, Storage Technologies and Transfer of Technologies.
Based on mutual agreement, both parties would work for implementation and deployment of pilot projects in International Solar Alliance (ISA) member countries.
26) Answer: E
Congress legislator from Udaipur's Vallabhnagar constituency Gajendra Singh Shaktawat died. He was 48.
He is the fourth legislator of the current Rajasthan assembly to have died of illness in past six months
27) Answer: B
Veteran actor UnnikrishnanNamboothiri passed away in Kannur. He was 98.
Unnikrishnan made his acting debut with Desadanam 1996. However, he became a household name among the Malayalam film audience for his performance as a witty grandfather in Kalyanaraman (2002).
He had also played a pivotal role in Kamal Haasan's hit comedy-drama, Pammal K Sambandam (2002).
UnnikrishnanNamboothiri was known for movies like KaikudunnaNilavu (1998), Kaliyattam (1997), SadanandanteSamayam (2003), Madhuranombarakattu (2000), Rappakal (2005), and Pokkiri Raja (2010).