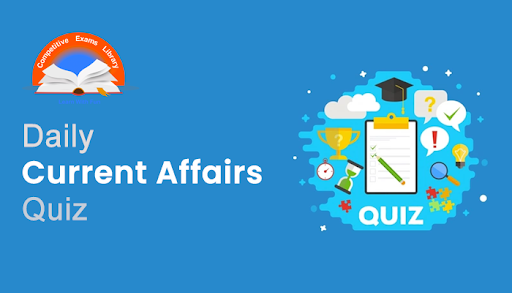 Dear Readers, Daily Current Affairs Questions Quiz for SBI, IBPS, RBI, RRB, SSC Exam 2021 of 23rd & 24th May 2021. Daily GK quiz online for bank & competitive exam. Here we have given the Daily Current Affairs Quiz based on the previous days Daily Current Affairs updates. Candidates preparing for IBPS, SBI, RBI, RRB, SSC Exam 2021 & other competitive exams can make use of these Current Affairs Quiz.
1) World Turtle Day is Observed in May ___.
A) 13
B) 11
C) 23
D) 22
E) 10
2) Raam Laxman who passed away was an eminent ___.
A) Choreographer
B) Director
C) Actor
D) Music director
E) Singer
3) The Ministry of Ayush has recently organized a series of __ webinars .
A) 8
B) 7
C) 6
D) 4
E) 5
4) SC's E-Committee has prepared and unveiled manual for its free e-Courts Services Mobile App which is not available in which of the following language?
A) Gujarati
B) Kashmiri
C) Hindi
D) Kannada
E) Bengali
5) ___ Indian places have been included into the tentative list of UNESCO World Heritage Sites.
A) 10
B) 9
C) 8
D) 6
E) 7
6) The World Bank has approved ____ million US Dollars for Bangladesh.
A) 500
B) 700
C) 800
D) 650
E) 600
7) Which state has declared Vatsalya Yojana for children orphaned due to Corona?
A) Bihar
B) Uttarakhand
C) Haryana
D) Chhattisgarh
E) Kerala
8) Which state's Chief Minister has Launched a Mobile App 'Amrit Vahini'?
A) Madhya Pradesh
B) Haryana
C) Bihar
D) Jharkhand
E) Chhattisgarh
9) The Madhya Pradesh government has recently launched which scheme under which citizens will be awarded for planting trees during monsoon?
A) Avinash
B) Akshay
C) Abhipray
D) Abhilash
E) Ankur
10) RBI decided to transfer Rs 99,122 cr as dividend to government for ___ months ended March 31.
A) 5
B) 7
C) 9
D) 8
E) 6
11) Which life insurance provider has launched the Vision LifeIncome Plus?
A) Aviva
B) Apolo
C) Religare
D) Aditya Birla
E) Nippon
12) Who among the following has been Elected as Oxford Student Union President ?
A) Sudhir Singh
B) Anvee Bhutani
C) Neeraj Kumar
D) Arvind Singh
E) Nilesh Gupta
13) Dr. Jane Goodall has bagged the prestigious 2021 Templeton Prize which has a monetary award of ___ million.
A) 3
B) 2.5
C) 1
D) 2
E) 1.5
14) Dun & Bradstreet India has signed an MoU with which exchange?
A) Calcutta Stock exchange
B) OTCEI
C) BSE
D) NSE
E) MCX
15) Haiyang-2D has been successfully launched into new ocean observation satellite by which country?
A) US
B) England
C) Germany
D) China
E) Japan
16) India to Host ____ FIFA Under-17 Women's World Cup in October.
A) 2026
B) 2024
C) 2025
D) 2023
E) 2022
17) International Day to End Obstetric Fistula is Observed on May __.
A) 25
B) 20
C) 23
D) 22
E) 21
18) Srikumar Banerjee who passed away recently was chief of which organization?
A) Election commission
B) UPSC
C) SEBI
D) RBI
E) Atomic Energy commission
Answers :
1) Answer: C
World Turtle Day Observed on May 23.
The purpose of World Turtle Day, May 23, sponsored yearly since 2000 by American Tortoise Rescue, is to bring attention to, and increase knowledge of and respect for, turtles and tortoises, and encourage human action to help them survive and thrive.
The theme for this year "Turtles Rock!" encourages a worldwide audience to see turtles as more than just rocks with legs.
This day aims to raise knowledge about turtles and tortoises.
2) Answer: D
On May 22, 2021, Veteran music director Raam Laxman Passed away.
He was 78.
About Raam Laxman :
Patil, known by cinema aficionados as 'Laxman' of duo composers Raam-Laxman.
Raam Laxman's real name was Vijay Patil.
He had a four-decade-long career in the music industry.
He was most famous for his work with Rajshri Productions of Hindi films.
He composed music for films like Maine Pyar Kiya and Hum Aapke Hain Koun, among others.
Some of his other memorable works are "Agent Vinod", "100 Days", "Anmol", "Tarana", "PattharKePhool" and "Hum Se Badhkar Kaun".
He gave music for more than 200 films in Hindi, Marathi and Bhojpuri languages.
3) Answer: E
The Ministry of Ayush is organizing various activities in the run up to the International Day of Yoga, 2021.
One among these is a series of five webinars that the Ministry is organizing under the broad theme of "Be with Yoga, Be at Home.
It is being organized in collaboration with five renowned organizations of the country who will present one webinar each on a particular topic of importance in the current scenario.
The first among the series will be held on 24 May by The Art of Living on "Finding inner strength amidst outer crisis."
All the webinars will be live-streamed on YouTube & Facebook Page of the Ministry of Ayush.
The other four webinars to follow in this series will be presented by The Yoga Institute, Krishnamacharya Yoga Mandiram, Arham Dhyan Yog, and Kaivalyadhama Yoga Institute.
4) Answer: B
The Supreme Court E-committee released a manual for its free e-courts mobile application in 14 languages for better reach among litigants and lawyers.
The manual has been made available in English, Hindi, Assamese, Bengali, Gujarati, Kannada, Khasi, Malayalam, Marathi, Nepali, and Odia, Punjabi, Tamil and Telugu.
The application has crossed 57 lakh downloads on the play store so far.
The App which acts as a personalized digital case diary with case details available on the handset throughout the day and free of cost.
Through the e-Courts services mobile app- one can get the case status and case details of both High Courts and District Courts.
5) Answer: D
The Ministry of Culture announced Six Indian sites, including the temples of Kanchipuram in Tamil Nadu, the Ganga ghats in Varanasi, and the Satpura Tiger Reserve in Madhya Pradesh, have been added to the tentative list of UNESCO's world heritage sites.
The six sites are namely Satpura Tiger Reserve, Iconic riverfront of the historic city of Varanasi, Megalithic site of Hire Benkal, Maratha Military Architecture in Maharashtra, Bhedaghat-Lametaghat in Narmada Valley- Jabalpur, and temples of Kanchipuram.
UNESCO has 48 proposals in the tentative list of India.
As per Operational Guidelines, 2019, it is mandatory to put any monument/site on the Tentative List (TL) before it is considered for the final nomination dossier.
6) Answer: E
The World Bank approves 600 million US Dollars for two projects in Bangladesh.
It is for to help over 1.75 million poor and vulnerable people in the country.
The two projects will work with the youth, women, disadvantaged groups, and returnee migrant workers in improving employability and livelihood opportunities, and build their resilience against future shocks.
Dandan Chen, Acting World Bank Country Director for Bangladesh and Bhutan stated that "In Bangladesh, the Covid-19 pandemic has affected the livelihoods of thousands of people, particularly, female workers, youth, and returnee migrant workers".
"These two projects will help empower and mobilize rural poor people, prepare them for the future job market and support entrepreneurial opportunities, especially for women and disadvantaged groups".
7) Answer: B
Uttarakhand Chief Minister Tirath Singh Rawat has announced Chief Minister Vatsalya Yojana for orphaned children who have lost their parents due to Covid-19.
Chief Minister said that such orphaned children of the state will be given a maintenance allowance of 3000 rupees per month.
Chief Minister Tirath Singh Rawat mentioned that, "The government has decided that to bear the responsibility of children who have lost their parents due to the Covid-19 pandemic.
For this, the state government came up with 'Mukhyamantri Vatsalya Yojana'.
"According to the Union Health Ministry, there are 5,270 active coronavirus cases, 8,780 discharges/recoveries and 116 deaths.
The scheme will be implemented on May 30, the day the NDA government led by Prime Minister Narendra Modi completes seven years in office.
8) Answer: D
Corona patients in Jharkhand can book hospital beds online through 'Amrit Vahini' App launched by CM Hemant Soren.
Soren also launched 'Chatbot' through which one may also get all information related to coronavirus.
Through the 'Amrit Vahini' App or website one can get all information about the availability of hospital beds and even book one for himself or anybody else online.
9) Answer: E
The Madhya Pradesh government announced the launch of Ankur, a scheme under which citizens will be awarded for planting trees during monsoon.
The Government announced that the People who take the initiative to plant saplings will be given the Pranvayu Award for their participation.
The State Govt decided to set up oxygen plants in the state.Trees provide natural oxygen. No oxygen plant is bigger than trees.
A sapling plantation campaign will be carried out under the Ankur scheme during monsoon."
The imbalance in nature has to be corrected, he said, urging citizens to pledge to plant more trees in monsoon.
The Government mentioned that the People who wish to participate in the tree plantation drive can register themselves on the Vayudoot app.
10) Answer: C
The Reserve Bank of India (RBI) will transfer Rs 99,122 crore as surplus to the central government for the nine months ended March 31 (July 2020-March 2021).
This is much higher than what most had estimated and what the government itself had budgeted for.
Finance Minister Nirmala Sitharaman had earmarked a transfer of Rs 53,511 crore.
The transfer was approved, in the meeting of the regulator's central board, during which the
RBI's annual report was also approved.
11) Answer: D
Aditya Birla Sun Life Insurance (ABSLI), the life insurance subsidiary of Aditya Birla Capital Limited (ABCL), announced the launch of a hyper-flexible savings plan – ABSLI Vision Life Income Plus Plan that provides guaranteed regular income plus flexible bonus pay-outs.
This non-linked participating individual plan has been designed to offer various plan options which can be tailor-made to perfectly suit the customers' unique financial needs across different life-stages.
12) Answer: B
An Indian-origin Human Sciences student from Magdalen College at the University of Oxford has been declared the winner at the end of a Student Union (SU) byelection.
Anvee Bhutani, Co-Chair Campaign for Racial Awareness and Equality (CRAE) at Oxford SU and President of the Oxford India Society, was in the fray for the by-election for the 2021-22 academic years, which attracted a record turnout.
13) Answer: E
The John Templeton Foundation has awarded the 2021 Templeton Prize to world-renowned ethologist and conservationist Jane Goodall, whose groundbreaking discoveries have changed humanity's understanding of its role in the natural world.
The annual prize, which includes a monetary award of more than $1.5 million, honors individuals whose achievements have advanced the late Sir John Templeton's philanthropic vision of harnessing science to explore the deepest questions of the universe and humankind's place and purpose within it.
14) Answer: C
Dun & Bradstreet Information Services India, a global provider of B2B data, insights, and AI-driven platforms, signed a Memorandum of Understanding (MoU) with BSE to create an ecosystem for promoting, aiding, and fostering the growth of Small and Medium Enterprises (SMEs) in the country.
The partnership will help SMEs in India to increase their visibility, expand access to global markets, find potential customers, uncover new suppliers and channel partners, manage risk and identify growth opportunities.
15) Answer: D
On May 19, 2021, China successfully launched a new ocean-monitoring satellite Haiyang-2D (HY-2D) into orbit.
The satellite was launched by a Long March-4B rocket from the Jiuquan Satellite Launch Centre in northwest China.
This launch was the 370th by the Long March rocket series. Enditem
16) Answer: E
The 2022 FIFA under-17 Women's World Cup will be held in India from October 11 to 30, 2022.
Earlier this event was scheduled to be held in India in 2021, but it was cancelled due to the Covid-19 pandemic.
This event will be the second FIFA tournament to be hosted by India after the FIFA under-17 World Cup in 2017, which broke the record for being the most attended youth World Cup in FIFA's history.
The FIFA Council also approved the tournament dates for the Women's World Cup Australia and New Zealand 2023 from July 20 to August 20, 2023.
17) Answer: C
International Day to End Obstetric Fistula Observed on May 23
Obstetric fistula is one of the most serious and tragic injuries that can occur during childbirth.
It is a hole between the birth canal and the bladder or rectum caused by prolonged, obstructed labour without treatment.
The theme for this year is "Women's rights are human rights! End fistula now!".
An estimated 2 million women in sub-Saharan Africa, Asia, the Arab region, and Latin America and the Caribbean are living with this injury, and some 50,000 to 100,000 new cases develop each year.
18) Answer: E
On May 23, 2021, former chairman of the Atomic Energy Commission, Srikumar Banerjee Passed away.
He was 70.
About Srikumar Banerjee :
Srikumar Banerjee retired as chairman of the Atomic Energy Commission and secretary of the Department of Atomic Energy in 2012.
He also served as the director of the Bhabha Atomic Research Centre (BARC) for six years till 2010.
Banerjee's work focused on physical metallurgy and material science.