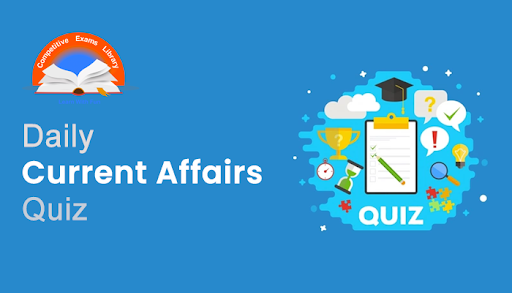 Dear Readers, Daily Current Affairs Questions Quiz for SBI, IBPS, RBI, RRB, SSC Exam 2021 of 23rd February 2021. Daily GK quiz online for bank & competitive exam. Here we have given the Daily Current Affairs Quiz based on the previous days Daily Current Affairs updates. Candidates preparing for IBPS, SBI, RBI, RRB, SSC Exam 2021 & other competitive exams can make use of these Current Affairs Quiz.
1) World Thinking Day is observed on which of the following date?
A) February 1
B) February 4
C) February 22
D) February 5
E) February 6
2) India and Maldives have signed _____ pacts to boost infrastructure projects.
A) 8
B) 7
C) 6
D) 5
E) 4
3)  Who among the following will inaugurate the Incredible India Mega Homestay Development?
A) Narendra Modi
B) Amit Shah
C) NS Tomar
D) Anurag Thakur
E) Prahlad Patel
4) National Toy Fair will be organized from which date?
A) February 21
B) February 22
C) February 23
D) February 27
E) February 25
5) Several projects have been launched by PM Modi in which two states?
A) Kerala and Assam
B) Punjab and Assam
C) Assam and West Bengal
D) Haryana and Assam
E) Haryana and Punjab
6) World Day of Social Justice 2021 is being Observed On which date?
A) February 9
B) February 20
C) February 11
D) February 2
E) February 23
7) Prakash Javadekar has inaugurated the Atal Paryavaran Bhavan in which state/UT?
A) Punjab
B) Chandigarh
C) Lakshadweep
D) Puducherry
E) Delhi
8) World Pangolin Day 2021 is observed on which of the following date?
A) February 2
B) February 3
C) February 4
D) February 20
E) February 8
9)  The chief minister of which state has laid the foundation of the first skill university of eastern India?
A) Mizoram
B) Manipur
C) Tripura
D) Nagaland
E) Assam
10) PM Modi will address the ______ annual convocation of IIT Kharagpur.
A) 57th
B) 66th
C) 56th
D) 67th
E) 58th
11) The Central government has sanctioned over _____ thousand more houses under the PMAY (Urban).
A) 52
B) 53
C) 56
D) 55
E) 54
12) Which of the following country has recently Officially rejoined the Paris Climate Agreement?
A) UAE
B) Germany
C) Israel
D) US
E) France
13) Which of the following state will host the second Khelo India University Games this year?
A) Chhattisgarh
B) Punjab
C) Haryana
D) Kerala
E) Karnataka
14) First paperless budget will be presented in the Assembly of which state?
A) Delhi
B) Chhattisgarh
C) Uttar Pradesh
D) Haryana
E) Bihar
15) Uttar Pradesh government has developed Jewar Airport as Asia's biggest airport, with the government setting aside _____ crore for its development.
A) 1500
B) 3500
C) 3000
D) 2000
E) 2500
16) Who among the following has been re-elected as President of PDP?
A) Irfan Iqbal
B) Mehbooba Mufti
C) Gulam Nabi Azad
D) Javed Iqbal
E) Itija Iqbal
17) As per which rating agency,  India will be among the fastest-growing emerging economies in FY22?
A) NACER
B) CRISIL
C) Indra
D) Fitch
E) S&P
18) India and World Bank have inked a project for which state?
A) Chhattisgarh
B) Bihar
C) Nagaland
D) Assam
E) Haryana
19) YONO merchant app has been launched by which bank?
A) Bandhan
B) Axis
C) Yes
D) SBI
E) ICICI
20) India has signed a _____ million dollar Defence line of Credit agreement with Maldives.
A) 65
B) 50
C) 55
D) 60
E) 56
21) Pacer Dhammika Prasad who has quit international cricket belonged to which country?
A) Australia
B) South Africa
C) Sri Lanka
D) England
E) Pakistan
22) Kerala government has sanctioned _____crore to build 'smart' anganwadis.
A) 12
B) 10
C) 11
D) 8
E) 9
23) Which company has launched a premium VOD service on Vi Movies & TV app?
A) MTNL
B) Jio
C) VI
D) BSNL
E) Airtel
24)  Who has been appointed as H&M Country Sales Manager for India?
A) Rajesh Talwar
B) Mudita Gandhi
C) Anand Ramesh
D) Yanira Ramirez
E) Vanita Kohli
25)  Who among the following has been appointed as one of the judges of Delhi High court?
A) Sudesh Gupta
B) Rashmi Singh
C) Sudhanshu Taneja
D) Anand Tiwary
E) Jasmeet Singh
26) Who has been appointed as the Executive Director & CEO of Page Industries?
A) Raj Malhotra
B) VS Ganesh
C) VedjiTikku
D) Ramesh Kumar
E) Anand Gupta
27) Which company has signed a pact with Greenstat Norway for hydrogen fuel?
A) Reliance Energy
B) Essar
C) IOCL
D) HPCL
E) BPCL
Answers:
1) Answer: C
World Thinking Day is celebrated each year by the Girl Guides and Girl Scouts across the world on the 22nd February.
The aim of Thinking Day is to bring together young people from across the world; nearly 150 countries choose to take part in the celebrations  to celebrate international fun and friendship, as well as to help raise money and focus on the year's global theme.
2021 Theme of World Thinking Day is: "Peacebuilding"
Importance Of The Day :
Thinking Day offers the Girl Guiding and Girl Scouting community the opportunity to think about others and focus on the wider issues impacting those within the Guiding and Scouting movement.
History :
Thinking Day originated from a desire by the Girl Guides and Girl Scouts to dedicate a day to thinking about and appreciating the global spread of these movements.
The observance of Thinking Day has been celebrated every year since 1926, and began over 90 years ago.
2) Answer: D
India and its Southern neighbour Maldives signed five agreements that would boost infrastructure in the island nation.
The pacts that were signed during Foreign Minister S Jaishankar's visit.
India has offered a standalone Line of Credit of $40 million for sports infrastructure in the Maldives.
Jaishankar, who arrived here on the first leg of his two-nation tour that will also take him to Mauritius, handed over 100,000 additional doses of COVID-19 vaccine to the Foreign Minister and Health Minister Kerafa Naseem.
Apart from this, five pacts were signed between India and Maldives to boost infrastructure in the island nation.
Amendatory Agreement to repurpose an older EXIM Bank of India Line of Credit of USD 25 million for Road Devt
Letter of Intent between EXIM Bank and local authorities for financing a housing project of 2000 units in Hulhumale.
MoU on grant funding USD 0.5 million for a fish processing plant in Kendhikulhudhoo in the northern Maldives.
MoU on capacity building and exchange of content and expertise between Prasar Bharati and Public State Media, Maldives.
MoU on sustainable urban development between MoHUA and Ministry of national planning, housing and infrastructure, Maldives.
3) Answer: E
Culture and Tourism Minister Prahlad Singh Patel will inaugurate the three day Incredible India Mega Homestay Development and Training Workshop in Darjeeling.
The concept of Homestay is getting popular in Darjeeling and Kalimpong districts of Northern part of West Bengal.
The involvement of the local community is more than ever in this Homestay Tourism at one of the most favoured hill stations for domestic and inbound tourists.
The Tourism Ministry said, a total of 450 homestay owners will be trained in the workshop where IIAS School of Management will train them free of cost in different spheres of Hospitality.
The aim of this robust hospitality training workshop is to upgrade the hospitality skills of local community stakeholders by capacity building.
4) Answer: D
The first-ever National Toy Fair will be organized from 27th February to 2nd March through a virtual medium.
IIT Gandhinagar based Centre for Creative Learning (CCL) will showcase its unique 75 toy creations in the fair.
IIT Gandhinagar is the only IIT in the country which is running such a centre for creative learning.
The centre is inculcating scientific temperament among students and teachers by developing a range of scientific and educational toys.
Founder of CCL, Manish Jain said education is supposed to ignite the brains of the children and for this to happen, it is important the children find education interesting
5) Answer: C
Prime Minister Narendra Modi will visit Assam and West Bengal.
In Assam, Mr Modi will dedicate important projects of the oil and gas sector to the nation at Silapathar in Dhemaji district.
The Prime Minister will dedicate to the nation the INDMAX Unit at Indian Oil's Bongaigaon Refinery, Oil India Limited's Secondary Tank Farm at Madhuban, Dibrugarh and a Gas Compressor Station at Hebeda Village, Makum, Tinsukia.
He will also inaugurate the Dhemaji Engineering College and lay the foundation stone for Sualkuchi Engineering College.
These projects will usher in an era of energy security and prosperity, and open bright avenues of opportunity for local youth.
They are in line with the Prime Minister's vision of Purvodaya to drive Eastern India's socio-economic growth.
6) Answer: B
World Day of Social Justice is observed on February 20 every year.
The main objective of celebrating World Day of Social Justice is to raise a voice against social injustice and to bring the various communities internationally together to eliminate poverty, gender, and physical discrimination, illiteracy, religious discrimination to make a socially integrated society.
The theme of World Day of Social Justice 2021: "A Call for Social Justice in the Digital Economy".
History :
On 26 November 2007, the General Assembly declared that starting from the sixty-third session of the General Assembly, 20 February will be celebrated annually as the World Day of Social Justice.
The International Labour Organization unanimously adopted the ILO Declaration on Social Justice for a Fair Globalization on 10 June 2008. This is the third major statement of principles and policies adopted by the International Labour Conference since the ILO's Constitution of 1919.
7) Answer: C
Union Minister for Environment, Forest and Climate Change, Prakash Javadekar, inaugurated the Atal Paryavaran Bhavan at Lakshadweep on Feb 19, 2021.
Prakash Javadekar is on a four day official visit to Lakshadweep from February 19 to 22, 2021.
The minister attended high level meetings with the Secretaries of various departments in UT's administration.
The Minister is to attend programmes at Suheli, Kadmat and Bangaram islands and evaluate major innovative initiatives of the Forest and Environment Department of the Union Territory.
Suheli Par is an oval-shaped and 17 km long coral atoll in Lakshadweep, that is surrounded by a zone of rich marine fauna.
It is located in the South-West of Kavaratti and 76 km to the south of Agatti.
The Nine Degree channel in the Indian Ocean, is located between the Islands of Kalpeni and Suheli Par, and Maliku Atoll.
He will also evaluate the major innovative initiatives of the Union Territory's Forest and Environment Department.
8) Answer: D
The World Pangolin Day is celebrated on the "Third Saturday of February" every year.
In 2021, the annual World Pangolin Day is being celebrated on 20 February 2020.
It marks the 10th edition of the event.
The day aims to raise awareness about these unique mammals and speed up conservation efforts.
Pangolin numbers are rapidly declining in Asia and Africa.
Across the world, there are eight species ranging from Vulnerable to Critically Endangered, so today is the day to start helping in raising awareness of these under-appreciated animals.
9) Answer: E
Assam Chief Minister SarbanandaSonowal laid the foundation of the first skill university of eastern India in Darrang district, aimed at imparting training to over 10,000 students in 12 disciplines.
The varsity would be built with a financial outlay of Rs.1,000 crore.
It is expected to be completed by 2026, and will have understandings with countries like Germany, Taiwan, South Korea, Israel, Japan, England.
Skill, Employment and Entrepreneurship Development Minister Chandra Mohan Patowary termed the day as historic, as the process has been initiated for setting up the third skill university in India.
10) Answer: B
Prime Minister Narendra Modi will address the 66th annual convocation of IIT Kharagpur via video conferencing.
The institute is organizing its convocation in virtual mode, keeping in view the safety measures during the post pandemic situation.
Union Education Minister Ramesh PokhriyalNishank and Minister of State for Education Sanjay Dhotre will also attend the convocation.
As many as 75 students including nine Institute Gold medal winners and 66 Institute Silver medal winners have been invited to receive the awards in person.
More than 2,800 students will be awarded degrees in online mode.
The Institute will also confer DSc, IIT Kharagpur Life Fellow Award and distinguished Alumnus Award to 27 achievers for their contribution to academics and research, social service and public welfare.
11) Answer: C
Government has sanctioned over 56 thousand more houses under the Pradhan Mantri Awas Yojana (Urban).
The Central Sanctioning and Monitoring Committee has approved them.
Housing and Urban Affairs Minister Hardeep Singh Puri said, out of the total validated demand of one crore 12 lakh houses by 2022, nearly one crore 11 lakh homes are now sanctioned.
He informed that over 73 lakh houses have now been grounded.
The Minister said, 42 lakh 70 thousand houses have been handed over to the beneficiaries.
12) Answer: D
The United States officially rejoined the Paris Agreement on climate change designed to limit global warming and avoid its potentially catastrophic impacts.
Nearly 200 nations have signed on to the landmark accord and committed to limit their greenhouse gas emissions in an attempt to keep global warming below 2 degrees Celsius, preferably below 1.5 degrees Celsius  compared to pre-industrial temperatures.
Earlier, in November 2020, the US had officially exited the agreement on the order of the then President Donald Trump.
The landmark Paris climate agreement was signed in 2015, as per which countries are expected to enhance their commitments to curb greenhouse gas emissions every five years.
13) Answer: E
Union Sports Minister Kiren Rijiju has announced that the second Khelo India University Games will be hosted by Karnataka.
Bengaluru along with Chief Minister BS Yediyurappa, MrRijiju said that the largest University games in the country scheduled later this year will be held in Bengaluru in partnership with Association of Indian Universities.
Over 4,000 sportsmen under the age of 25 will compete with an opportunity to be selected for the national teams.
14) Answer: C
The first paperless budget will be presented in the Uttar Pradesh Assembly.
UP will be the first state in the country to table a paperless budget.
The State Finance Minister Suresh Khanna will present the first paperless budget in the history of the State.
All members of the State Legislature have been provided iPads to view the budget highlights which will also be available on two big screens put up in the House.
The 2021-2022 budgets will also be available on an App which can be downloaded from Google Play Store with the name 'Uttar Pradesh Sarkar Ka Budget'.
15) Answer: D
Yogi Adityanath-led Uttar Pradesh government plans to develop Jewar Airport as Asia's biggest airport with six runways.
The state government has to set aside 2,000 crore for Jewar Airport in its budget for 2021-22 presenting in the Assembly.
The state government has also increased the number of runways of the Jewar Airport to six, from two proposed earlier.
The under construction airport in Ayodhya will be named as MaryadaPurushottam Sriram Airport.
A provision of 101 crore rupees has been made for it in the budget.
Ayodhya airport will also be subsequently made an international airport.
16) Answer: B
Former Chief Minister of Jammu and Kashmir Mehbooba Mufti has been re-elected as President of Peoples' Democratic Party.
The party announced through its official twitter handle that MsMehbooba Mufti was unanimously re-elected as JK-PDP President for a period of three years.
Party members and leaders from both Jammu and Kashmir participated in the election process.
17) Answer: E
S&P Global Ratings said India will be one of the fastest growing emerging market economies with a 10% growth in the next fiscal, and future sovereign rating action would hinge on lowering fiscal deficit and sustaining debt burden.
For the next 2021-22 fiscal, the deficit has been put at 6.8% of the GDP, which will be further lowered to 4.5% by 2025-26 fiscal ending March 31, 2026.
The continuous good performance by the agriculture sector, flattening of COVID-19 infection curve, pickup in government spending and the recently released budget are some of the factors for the positive growth prospect of the country.
18) Answer: C
Indian government, Government of Nagaland and the World Bank signed a $68 million project to enhance the governance of schools across Nagaland as well as to improve teaching practices and learning environments in select schools.
The "Nagaland: Enhancing Classroom Teaching and Resources Project" will improve classroom instruction; create opportunities for the professional development of teachers; and build technology systems to provide students and teachers with more access to blended and online learning as well as allow better monitoring of policies and programs, a Finance Ministry statement said.
19) Answer: D
India's largest lender, State Bank of India, will launch a YONO merchant's app to enable 20 million merchants from tier 2, 3 cities to adopt digital payments.
The lender plans to deploy low-cost acceptance infrastructure across India over the next two years targeting the potential merchants across India in the Retail and Enterprise segment.
The initiative will enable near field communication (NFC) enabled smart phones of merchants to turn into Point-of- sale devices after downloading the app.
20) Answer: B
Reaffirming its commitment for overall development and security of its maritime neighbour, India has signed a 50 million dollar Line of Credit agreement in the defence sector with the Maldives.
External Affair Minister S Jaishankar, who was in the Maldives, said that the agreement will facilitate capability building in the maritime domain.
The credit line agreement for defence projects was signed between the Finance Ministry of Maldives and the Export-Import Bank of India to boost the maritime capabilities of the strategically vital Indian Ocean island nation.
Dr Jaishankar also co-signed the UTF Harbour Project agreement with Maldives Defence Minister Mariya Didi.
21) Answer: C
Sri Lanka fast bowler Dhammika Prasad has announced his retirement from international cricket.
Prasad, 37, last played a Test match in October 2015 against the West Indies here.
He represented Sri Lanka in 25 Tests and 24 ODIs, bagging 75 and 32 wickets respectively.
He also played the lone T20 International against Australia in 2011.
22) Answer: E
The Kerala government has sanctioned Rs.9 crore to convert the conventional anganwadis into "smart" structures with better amenities.
Under the Smart Anganwadi scheme, the Department of Women and Child Development has granted 48 anganwadis in the state to construct new buildings.
To provide early childhood care, the Kerala government has decided to build 'smart anganwadis' in a phased manner. The aim is to make the facility more child-friendly to nurture the mental and physical development of children.
The smart anganwadis are being designed and constructed as part of the Integrated Child Development Scheme (ICDS).
It is expected to have various amenities, ranging from study hall, kitchen, dining area, store room, creative zone, garden to swimming pool and outdoor play area as per the availability of land.
23) Answer: C
Vodafone Idea announced the launch of Premium Video On Demand (PVOD) service on Vi Movies and TV App, in partnership with Hungama, as the Telco looks to strengthen its OTT play.
The PVOD market in India is "premature but promising" as the Indian audience continues to be price-conscious and choosy, Vodafone Idea (VIL) said in a statement adding such models are changing in the new post pandemic era as consumers explore alternate options of entertainment from the comfort of their homes.
24) Answer: D
Fashion retail major H&M announced the appointment of Yanira Ramirez as the Country Sales Manager for India.
The appointment comes at a time when the brand has been focusing on rapid expansion and now has 50 stores across 25 cities.
Answer: E
Explanation:
President Ram Nath Kovind has appointed Jasmeet Singh and Amit Bansal as Judges of the Delhi High Court.
Mr Kovind has also appointed four Additional Judges in the Kerala High Court.Four Additional Judges of the Karnataka High Court have been elevated as Judges of this Court.
The Law Ministry has issued notifications in this regard.
26) Answer: B
The board of Page Industries on 22 February 2021, approved the appointment of VS Ganesh as the Executive Director & Chief Executive Officer of the company for a period of five years effective from 1 June 2021.
VedjiTicku, Chief Executive Officer and Executive Director, has resigned from Page Industries.
27) Answer: C
A national hydrogen mission to accelerate plans to generate the carbon-free fuel from renewables, state-owned Indian Oil Corporation (IOC) signed a pact with Greenstat Norway for setting up a Centre of Excellence on Hydrogen.
In the Union Budget for 2021-22, the government pledged to focus on generating hydrogen from green power sources as well as build more diverse and efficient energy infrastructure.
This association aims to develop a Centre of Excellence on Hydrogen (CoE-H) including CCUS and Fuel Cells by IndianOil and M/s Greenstat for clean energy in cooperation with Indo-Norwegian Hydrogen Cluster companies/organizations.
The CoE-H will facilitate the transfer and sharing of technology, know-how and experience through the green hydrogen value chain and other relevant technologies including hydrogen storage and fuel cells.
The CoE-H will be a vehicle for promoting R&D projects in Green and Blue Hydrogen between Norwegian and Indian R&D institutions/universities.
The partnership between IOC and Greenstat will actively assist partners/stakeholders to develop business models based upon feasibility studies besides facilitating consultancies to industry, utilities and regulators on hydrogen storage, hydrogen production, refueling stations, fuel cells and CCUS technologies.