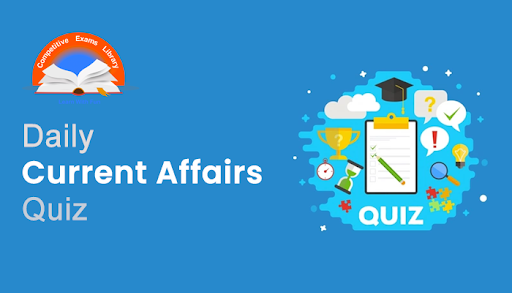 Dear Readers, Daily Current Affairs Questions Quiz for SBI, IBPS, RBI, RRB, SSC Exam 2021 of 23rd January 2021. Daily GK quiz online for bank & competitive exam. Here we have given the Daily Current Affairs Quiz based on the previous days Daily Current Affairs updates. Candidates preparing for IBPS, SBI, RBI, RRB, SSC Exam 2021 & other competitive exams can make use of these Current Affairs Quiz.
1) Indian Railways renames iconic Howrah-Kalka Mail as ________ Express.
A) Azad Hind
B) Swaraj
C) Netaji
D) Subash
E) Bose
2) The Chief minister of which state has inaugurated the state's first child-friendly police station?
A) Chhattisgarh
B) Uttar Pradesh
C) Madhya Pradesh
D) Uttarakhand
E) Bihar
3) The Supreme Court has upheld which section of the IBC to make immune successful bidders for a corporate debtor from any investigation by investigating agencies?
A) 9
B) 7A
C) 18
D) 11
E) 32A
4) DPIIT has recently which portal to act as a bridge between citizens, industries and the government to minimise burdensome compliances?
A) Atma Nirbhar Portal
B) Regulatory Compliance Portal
C) Shakti Portal
D) Achievers Portal
E) Business First Portal
5) RBI has imposed a ______ crores penalty on Standard Chartered Bank.
A) 4
B) 3.5
C) 2
D) 3
E) 2.5
6) Who among the following has inaugurated the new 4-lane Thaltej-Shilaj-Rancharda railway overbridge in Ahmedabad?
A) Nitin Patel
B) Venkiah Naidu
C) Anurag Thakur
D) Amit Shah
E) Narendra Modi
7) SBI, ICICI Bank and HDFC Bank remain systemically important banks. RBI has issued the framework for dealing with D-SIB in which year?
A) 2012
B) 2011
C) 2015
D) 2013
E) 2014
8) Which of the following Bank has unveiled the Aura Credit Card with health, wellness solutions?
A) PNB
B) Axis
C) SBI
D) ICICI
E) Bandhan
9) India's longest Road Arch Bridge has recently been inaugurated in which state?
A) Tripura
B) Manipur
C) Nagaland
D) Assam
E) Meghalaya
10) Dr Harsh Vardhan has recently inaugurated the ______ Edition of MASCRADE 2021 organized by FICCI.
A) 5th
B) 9th
C) 7th
D) 6th
E) 8th
11) CCI has approved Flipkart's ______ per cent acquisition of Aditya Birla Fashion and Retail.
A) 5.4
B) 6.3
C) 7.4
D) 7.8
E) 8.5
12) Andaman and Nicobar Command will conduct which of the following joint military exercise?
A) Vajra Prahar
B) Kavach
C) Shakti
D) Maitree
E) Mitra Shakti
13) Narendra Chanchal who passed away at 80 was an eminent _____.
A) Writer
B) Director
C) Singer
D) Dancer
E) Producer
14) The Global Risks Report 2021, 16th Edition was recently released by which organization?
A) WB
B) AIIB
C) ADB
D) IMF
E) WEF
15) MeITY has announced the establishment of a Quantum Computing Applications Lab in India in collaboration with ______.
A) HCL
B) Deloitte
C) Wipro
D) Amazon
E) Infosys
Answers :
1) Answer: C
Indian Railways in a tribute to freedom fighter Subhas Chandra Bose who is also known as 'Netaji' has decided to rename the Howrah-Kalka Mail as 'Netaji Express'
The train first operated in the year 1866 and it has been in service of the nation for more than 150 years.
The Howrah-Kalka Mail is one of the oldest running trains at present in the Indian Railways network.
The Howrah-Kalka Mail runs between Howrah (Eastern Railway) and Kalka (Northern Railway) via Delhi.
2) Answer: D
Uttarakhand Chief Minister Trivendra Singh Rawat inaugurated the state's first child friendly police station describing it as a major reformative step by the police.
Purpose : It is a new initiative and a major reformative step towards protection of children by the state police, Rawat said after inaugurating the BalMitra police station in Dalanwala area here.
The child friendly police unit has been set up in the Dalanwala police station with a budget of about Rs five lakhs on the recommendation of the Child Protection Committee of Uttarakhand.
According to the chairperson of State Commission for Protection of Child Rights (SCPCR) UshaNegi, the children who are either victims or need proper counselling or visit police stations due to other reasons should be provided with a comfortable and intimidating environment rather than keeping them in a dull and scary atmosphere.
To keep children at ease, the walls are painted in bright colours and cartoons and the police personnel will also be dressed in casual clothes rather than their uniforms.
3) Answer: E
In its judgment, the apex court, while upholding the validity of Section 32 A of IBC, said it was important for the IBC to attract bidders who would offer reasonable and fair value for the corporate debtor to ensure the timely completion of corporate insolvency resolution process (CIRP).The Supreme Court  held that the successful bidders for a corporate debtor under the Insolvency and Bankruptcy Code (IBC) would be immune from any investigations being conducted either by any investigating agencies such as the Enforcement Directorate (ED) or other statutory bodies such as Securities and Exchange Board of India (SEBI).
Successful bidders for corporate debtors under IBC would be immune from any investigations being conducted by any investigating agencies or Enforcement Directorate (ED).
4) Answer: B
The Department for Promotion of Industry and Internal Trade (DPIIT) has launched a regulatory compliance portal that will act as a bridge between citizens, industries and the government to minimise burdensome compliances.
It will also act as a first-of-its-kind central online repository of all central and state-level compliances
Objective : The objective of this portal is to act as a bridge between citizens, industries and the Government in order to minimize burdensome compliances.
About Regulatory Compliance Portal :
The Regulatory Compliance Portal will be instrumental in achieving the vision of a truly Atmanirbhar Bharat and help usher ease of doing business for industry and ease of living for Indian citizens.
5) Answer: C
The Reserve Bank of India (RBI) has imposed a monetary penalty of Rs.2 crore on Standard Chartered Bank–India for delays in reporting of frauds.
The penalty has been imposed on the bank for non-compliance with certain directions issued by it contained in the 'Reserve Bank of India (Frauds – Classification and Reporting by commercial banks and select FIs) Directions 2016'.
A notice was issued to the bank advising it to show cause as to why penalty should not be imposed on it for such non-compliance with the directions.
After considering the bank's reply to the notice and oral submissions made in the personal hearing, the RBI concluded that the charge of non-compliance with the aforesaid RBI directions was substantiated and warranted imposition of monetary penalty.
This action is based on the deficiencies in regulatory compliance and is not intended to pronounce upon the validity of any transaction or agreement entered into by the bank with its customers.
6) Answer: D
The Union Home Minister ShriAmit Shah inaugurated the new 4-lane Thaltej-Shilaj-Rancharda railway overbridge, in Ahmedabad city of Gujarat through video conferencing from New Delhi.
It has been built at a cost of Rs 55 crore.
Several dignitaries including Gujarat Deputy Chief Minister ShriNitin Patel were present at the programme
7) Answer: E
The RBI state-owned SBI, along with private sector lenders ICICI Bank and HDFC Bank continue to be Domestic Systemically Important Banks (D-SIBs) or institutions which are 'too big to fail'.
SBIs are subjected to higher levels of supervision so as to prevent disruption in financial services in the event of any failure.
The Reserve Bank had issued the framework for dealing with D-SIBs in July 2014.
SBI, ICICI Bank, and HDFC Bank continue to be identified as Domestic Systemically Important Banks (D-SIBs), under the same bucketing structure as in the 2018 list of D-SIBs.
The D-SIB framework requires the central to disclose the names of banks designated as D-SIBs starting from 2015 and place these lenders in appropriate buckets depending upon their Systemic Importance Scores (SISs).
The additional Common Equity Tier 1 (CET1) requirement for D-SIBs was phased-in from April 1, 2016 and became fully effective from April 1, 2019. The additional CET1 requirement will be in addition to the capital conservation buffer.
SIBs are seen as 'too big to fail (TBTF)', creating expectations of government support for them in times of financial distress. These banks also enjoy certain advantages in funding markets.
8) Answer: B
Axis Bank has unveiled a credit 'AURA' exclusively loaded with several health and wellness benefits for its users at an affordable price.
The bank has also tied up with Decathlon. As part of the welcome benefit, cardholders get a Decathlon voucher of Rs750.
It also offers up to four free online interactive fitness sessions per month powered by Fitternity, a health and fitness platform. Cardholders also get access to 16 recorded training sessions per month and can choose from various sessions such as yoga and cross-functional training programmes.
According to the bank's website, the joining and annual fee for the card is Rs749. The finance charges will be 3.4% a month or 49.36% a year.
9) Answer: E
Meghalaya chief minister Conrad K Sangma inaugurated India's longest road arch bridge, the Wahrew Bridge at Sohbar in East Khasi Hills district.
The bridge has been constructed at a cost of Rs 49.395 crore under Non Lapsable Central Pool of Resources (NLCPR) of the DoNER ministry.
The bridge connects Bholaganj and Sohbar to Nongjri in East Khasi Hills, bordering Bangladesh.
The 169 metreWahrew suspension bridge connects Bholaganj and Sohbar to Nongjri. The project was sanctioned in 2013 while work started the following year and was completed in December, 2018.
10) Answer: C
Dr. Harsh Vardhan,Union Minister of Health and Family welfare today inaugurated the 7th Edition of "MASCRADE 2021"- Movement against Smuggled & Counterfeit Trade
The aim of MASCRADE 2021 is to foster a healthy discussion on newer and practical strategies to mitigate the challenges of counterfeiting and smuggling especially in a post COVID era.
The two-day programme was organized by FICCI CASCADE (Committee Against Smuggling and Counterfeiting Activities Destroying the Economy).
It provided a platform to deliberate and discuss actionable, innovative policy solutions that can reverse the rising incidences of counterfeit, smuggled and spurious products, causing significant damage to the economy of the nation
11) Answer: D
The Competition Commission of India (CCI) approves acquisition of a minority stake in Aditya Birla Fashion and Retail Limited (ABFRL) by Flipkart Investments Private Limited (FIPL).
About FIPL :
FIPL is a newly incorporated company and is a wholly owned subsidiary of Flipkart Private Limited (FPL). FPL belongs to the Walmart Group, which comprises Walmart Inc. (Walmart) and its affiliates.
The Walmart Group undertakes various business activities in India, such as wholesale trading of products, providing e-commerce marketplace services and digital payments services.
The proposed combination relates to acquisition by FIPL of a minority shareholding of 7.8%, on a fully diluted basis in ABFRL, by way of subscription equity shares.
12) Answer: B
A large-scale joint military exercise 'ExcerciseKavach' will be conducted in the coming week under the aegis of Andaman and Nicobar Command (ANC), the only Joint Forces Command of India.
The joint military exercise Kavach will involve the Indian Navy, Indian Army, Indian Air Force and Indian Coast Guard.
Aim : The tri-services exercise aims to fine-tune joint war-fighting capabilities and SOPs towards enhancing operational synergy.
During the exercise, the joint force will implement high-density offensive and defensive measures in the Andaman Sea and the Bay of Bengal. In addition, they will carry out amphibious landing operations, with helicopters transporting maritime special forces, and finally tactical follow-up operations on land.
In addition to the Kavach exercise, a joint intelligence surveillance and reconnaissance (ISR) exercise will also be held. ISR will verify the intelligence gathering capabilities. In addition, it will verify information sharing capabilities from space, land, air and sea.
13) Answer: C
Popular bhajan singer NarendraChanchal passed away in New Delhi. He was 80.
Chanchal was known for his religious songs and bhajan.
Chanchal's songs like "ChaloBulavaAayaHai" from Avtaar and "BeshakMandir Masjid Todo" from Bobby became immensely popular.
Besides several bhajans, Chanchal had also given voice in several Hindi films as well.
He won the Filmfare Award for Best Male Singer for Bobby
14) Answer: E
Infectious diseases topped the global risks chart, displacing climate change, in a report by the World Economic Forum (WEF).
In the Global Risks Report 2021, we share the results of the latest Global Risks Perception Survey (GRPS), followed by analysis of growing social, economic and industrial divisions, their interconnections, and their implications on our ability to resolve major global risks requiring societal cohesion and global cooperation.
The report is being released before WEF upcoming virtual Davos Agenda scheduled to be held between January 25 to 29, 2021.
The Main objective behind the publishing of the report is to enable better preparation by Government & other International Communities during the times of crisis.
15) Answer: D
The Ministry of Electronics and Information Technology (MeitY) has announced the establishment of a Quantum Computing Applications Lab in partnership with Amazon Web Services (AWS).
The move will give select researchers, scientists access to Amazon's Braket cloud-based quantum computing service.
The Quantum Computing Application Lab in collaboration with AWS is the first lab on AWS that's aligned to a government mission.
It is to be implemented by the Department of Science and Technology operating under the Ministry of Science and Technology.
The MeitY Quantum Computing Applications Lab will provide quantum computing as a service to government ministries and departments, researchers, scientists, academia, and developers, to enable advances in areas such as manufacturing, healthcare, agriculture, and aerospace engineering.
The Union Budget 2020-21 had proposed to spend Rs. 8000 crores on the National Mission on Quantum Technologies and Applications.