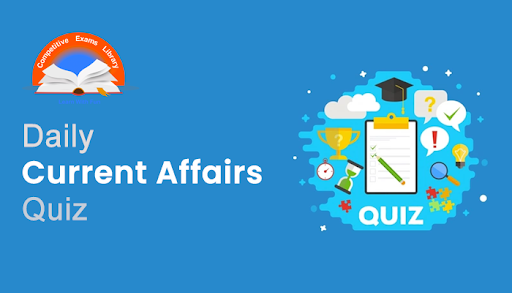 Dear Readers, Daily Current Affairs Questions Quiz for SBI, IBPS, RBI, RRB, SSC Exam 2021 of 24th April 2021. Daily GK quiz online for bank & competitive exam. Here we have given the Daily Current Affairs Quiz based on the previous days Daily Current Affairs updates. Candidates preparing for IBPS, SBI, RBI, RRB, SSC Exam 2021 & other competitive exams can make use of these Current Affairs Quiz.
1) World Veterinary Day is Observed on which day of April?
A) Last Monday
B) Last Tuesday
C) Last Saturday
D) Last Wednesday
E) Last Thursday
2) Shravan Rathod of "Nadeem-Shravan" Fame Passed Away recently. He was an eminent ____.
A) Director
B) Cricketer
C) Dancer
D) Music composer
E) Writer
3) International Day of Multilateralism and Diplomacy for Peace is Observed on which date?
A) April 1
B) April 3
C) April 4
D) April 14
E) April 24
4) World Day for Laboratory Animals is Observed on which date?
A) April 1
B) April 13
C) April 11
D) April 24
E) April 12
5) Which movie has bagged the top honours at Independent Spirit Awards, Riz Ahmed best actor?
A) Sound of Metal
B) Nomadland
C) Wings
D) Minari
E) Monk
6) Which of the following country has joined the India-Sweden climate initiative, the Leadership Group for Industry Transition, LeadIT?
A) UK
B) Germany
C) Japan
D) Bangladesh
E) USA
7) Which association has planned to set global standards for AI?
A) UNESCO
B) IMF
C) UNICEF
D) EU
E) ASEAN
8) National Panchayati Raj Day is Observed on which date?
A) April 19
B) April 30
C) April 24
D) April 14
E) April 25
9) Ind Ra predicts India's FY22 GDP growth forecast to _____ per cent.
A) 10.5
B) 10.1
C) 9.1
D) 9.5
E) 8.5
10) Which institution has restricted American Express Banking Corp, Diners Club International Ltd to adding new customers?
A) LIC
B) SEBI
C) NHB
D) NABARD
E) RBI
11) Justice NV Ramana has been sworn as _____ Chief Justice of India.
A) 43rd
B) 44th
C) 48th
D) 47th
E) 46th
12) Which country is now ready to consider the digital currency 'Britcoin'?
A) Germany
B) Japan
C) China
D) UK
E) US
13) GC Murmu was elected as External Auditor by OPCW for ____ years.
A) 2
B) 3
C) 4
D) 5
E) 6
14) AP panchayat raj department has recently conferred _____ awards.
A) 13
B) 14
C) 15
D) 16
E) 17
15) Russia's Space Agency Roscosmos, will launch its own space station in which year?
A) 2027
B) 2026
C) 2025
D) 2023
E) 2024
16) Climate Change Activist-Author Aakash Ranison Launches His E-Book Titled Climate Change Explained – For One And All on the occasion of Earth day which is celebrated on _____.
A) April 11
B) April 13
C) April 14
D) April 22
E) April 15
17) 2021 AIBA Youth World Boxing Championships : India has Clinched Historic Win with ____ Medals.
A) 15
B) 11
C) 12
D) 13
E) 14
18) Amit Mistry who passed Away recently was an eminent ____.
A) Hockey player
B) Music Composer
C) Director
D) Writer
E) Actor
Answers :
1) Answer: C
The World Veterinary Association (WVA) started celebrating the day in the year 2000.
WVA is the world's largest family of veterinarians and aims at providing a "common voice" for all the veterinary doctors across the globe.
The World Veterinary Day is celebrated annually on the last Saturday of April.
The World Veterinary Association declared the theme for 2021 as 'The Veterinarian Response to the Covid-19 Crisis'; keeping in mind the ongoing pandemic situation that took a toll on animal welfare as well.
2) Answer: D
Shravan Rathod of the iconic composer duo Nadeem-Shravan Passed away.
He was 66.
Nadeem Saifi and Shravan Rathod, who were popularly known as Nadeem-Shravan, were among the most sought-after composers of the 90s.
Together, They composed some of the iconic hits as part of the soundtracks for movies such as Aashiqui (1990), Saajan (1991), Hum Hain Rahi Pyar Ke (1993), Pardes (1997) and Raja Hindustani (1996), among others.
Nadeem-Shravan parted ways in the 2000s and reunited to compose for David Dhawan-directed Do Knot Disturb in 2009.
3) Answer: E
The International Day of Multilateralism and Diplomacy for Peace is marked on 24 April since 2019.
The day was declared by the UN General Assembly in December 2018 and was observed for the first time on 24 April 2019.
Multilateralism requires states to follow international norms and pay more respect to international institutions; this is contrasted with unilateralism, where a single state can influence how international relations can be conducted.
The day aims to spread knowledge about the advantages of multilateralism and diplomacy for peace, including through educational and public awareness-raising activities.
4) Answer: D
World Day for Animals in Laboratories is observed every year on 24 April.
The surrounding week has come to be known as "World Week for Animals In Laboratories".
The National Anti-Vivisection Society describes the day as an "international day of commemoration" for animals in laboratories.
The World Day of Laboratory Animals has been observed annually on April 24th with the associated "Lab Animal Week" (20th-26th April) since 1979 as a movement to end the sufferings of the animals that are used for testing in the laboratories around the world and replace them with the advanced scientific non-animal .
5) Answer: B
Chloe Zhao's meditative drama "Nomadland" continued its winning streak this award season by bagging best picture, best director and other awards at the 36th annual Film Independent Spirit Awards.
The story, about a woman who embarks on a nomadic journey through American west after she loses her job, has emerged as the Oscars frontrunner after winning accolades at Producer's Guild of America (PGA) Awards, British Academy Film and Television Awards (BAFTA) and Directors Guild of America (DGA) Awards.
Nomadland also won Zhao the best editing trophy while the best cinematography honour went to its cinematographer Joshua James Richards.
Hosted by 'Saturday Night Live' cast member Melissa Villasenor, the awards were broadcasted live on IFC channel on April 22, three days before the Oscars.
6) Answer: E
The US has joined the India-Sweden climate initiative, the Leadership Group for Industry Transition, LeadIT.
Prime Minister Narendra Modi welcomed US President Joe Biden for joining LeadIT.
The Prime Minister said it will help us meet Paris Agreement goals, strengthen competitiveness and create new sustainable jobs.
7) Answer: D
The European Commission announced tough draft rules on the use of artificial intelligence, including a ban on most surveillance, in an attempt to set global standards for a key technology dominated by China and the United States.
The rules, which envisage hefty fines for violations and set strict safeguards for high-risk applications, could help the EU take the lead in regulating AI, which critics say has harmful social effects and can be exploited by repressive governments.
The move comes as China moves ahead in the AI race, while the Covid-19 pandemic has underlined the importance of algorithms and internet-connected gadgets in daily life.
"On artificial intelligence, trust is a must, not a nice to have.
With these landmark rules, the EU is spearheading the development of new global norms to make sure AI can be trusted," European tech chief Margrethe Vestager said in a statement.
8) Answer: C
National Panchayati Raj Day is the national day of Panchayati Raj System in India celebrated by the Ministry of Panchayati Raj on 24 April annually.
Then Prime Minister of India Manmohan Singh declared the first National Panchayati Raj Day on 24 April 2010.
The reason for celebrating Panchayati Raj day is the 73rd Constitution Amendment Act, 1992.
The passing of the 73rd Constitution Amendment Act, 1992 came into force with effect from 24
9) Answer: B
India Ratings and Research revised down India's FY22 real GDP growth forecast to 10.1 per cent, from earlier projection of 10.4 per cent, citing the second wave of COVID-19 infections and slower pace of vaccination.
At a time when large parts of the country are experiencing tremendous pressure on medical infrastructure, the agency said it expects the second wave to start subsiding by mid-May.
Earlier this month, the Reserve Bank maintained its 10.5 per cent GDP growth estimate, but Governor Shaktikanta Das has flagged the rising cases as the biggest impediment to recovery.
Other brokerages and analysts have also been revising down their forecasts in the light of the second wave.
The economy is estimated to have contracted by 7.6 per cent in FY21.
10) Answer: E
Reserve Bank of India has imposed restrictions on American Express Banking Corp and Diners Club International Limited from adding new customers to their card networks from 1st of next month.
RBI said, these entities have been found non-compliant with the directions on Storage of Payment System Data.
The apex bank clarified that the order will not impact existing customers.
The RBI indicated that both these service providers had failed to comply with directions regarding mandatory storage of customer data within systems in India.
11) Answer: C
Justice NV Ramana took oath as the 48th Chief Justice of India.
President Ram Nath Kovind administered him the oath at Rashtrapati Bhavan in Delhi in a small ceremony due to Covid restrictions.
In the farewell to Justice SA Bobde, who retired as the Chief Justice, Justice Ramana said, "We are going through testing times as we battle the Covid wave.
Lawyers, judges and court staff are all affected due to the virus. Some hard measures may be necessary to break the chain of transmission. We can defeat the pandemic together with dedication.
"Another challenge Justice NV Ramana faces is filling up six vacancies in the top court.
During Justice SA Bobde's tenure, not a single judge has been appointed to the top court.
Born in an agricultural family in Andhra Pradesh's Krishna district on August 27, 1957, Justice Ramana, 63, will be the country's top judge for a year and four months till August 26, 2022.
He is the second Chief Justice of India from Andhra Pradesh; Justice K Subba Rao was the ninth Chief Justice of India from 1966-67.
12) Answer: D
British authorities are exploring the possibility of creating a new digital currency that Treasury chief Rishi Sunak indicated could be known as Britcoin".
The Bank of England and the Treasury said that they will work together to assess the benefits of a central bank digital currency, at a time when cash payments are generally on the decline, partly as a result of the coronavirus pandemic.
The bank said the new currency, if it comes to pass, would be a new form of digital money for use by households and businesses and would exist alongside cash and bank deposits, rather than replacing them.
Digital currencies, which are only available in digital or electronic form, are already being explored or even implemented in several other countries, with many proponents drawing inspiration from the success of Bitcoin and other so-called cryptocurrencies.
13) Answer: B
India's Comptroller and Auditor General (CAG) GC Murmu has been chosen as the external auditor of the Hague-based Organization for the Prohibition of Chemical Weapons (OPCW).
GC Murmu has been appointed as the external auditor of OPCW for a period of three-year starting 2021.
OPCW is a prestigious intergovernmental organization based in "The Hague, Netherlands", working for the elimination of chemical weapons.
14) Answer: E
The State Panchayat Raj department has bagged 17 awards announced by the Union Panchayat Raj Ministry.
The awards are under different categories, including Deen Dayal Upadhyay Panchayat Sashaktikaran, Nanaji Deshmukh Rashtriya Gaurav Gram Sabha Purashkar, Gram Panchayat Development Plans, Child-friendly Gram Panchayat Award and e-Panchayat Puraskar.
While Guntur and Krishna districts got awards in the district level,
Sadum (Chittoor district),
Kakinada Rural (East Godavari),
Penugonda (Anantapur) and
Vijayawada Rural (Krishna district) got awards in the mandal level.
Renimakulapalle (Chittoor),
Tallapalem (Nellore),
Kondepalli (Prakasam),
Tada Kandriga (Nellore),
Peddalabudu (Visakhapatnam),
Gullapalli (Guntur)
Varkuru (Kurnool),
Pennabarthi (Nellore),
G Ragampeta (East Godavari),
Vellanti (Nellore) got awards under different categories in the gram panchayat level.
Minister Peddireddy Ramachandra Reddy said it bagged 15 awards last year.
15) Answer: C
On April 20, 2021, Russian space agency Roscosmos announced that it will launch its own space station in 2025.
Russia's Deputy Prime Minister Yury Borisov informed in recent days that Moscow was considering whether to leave the ISS programme from 2025.
About ISS :
International Space Station (ISS) which is currently in orbit is one of the most ambitious international collaborations in human history.
The ISS was launched in 1998 with cooperation between Russia, the US, Japan, Canada and the European Space Agency.
About Roscosmos :
16) Answer: D
On the occasion of Earth Day on April 22, 2021, Aakash Ranison, a well-knownClimate Change Activist and Sustainability Influencer launches an eBook "Climate Change Explained – for one and all.
About the book :
The book focuses on the serious topic of climate change and how it can affect every individual's life.
The book is exclusively available on climateaction.aakashranison.com for free from 22nd April 2021.
It will also be available on Amazon, iBook, & Google Books as well at a nominal cost of INR 20 from 10th May 2021.
The author explains the impact of climate change and aims to motivate readers to reduce its outcome with the help of simple sustainable solutions.
17) Answer: B
From April 13 to 23, 2021, The 2021 AIBA Youth World Boxing Championships was held in Kielce, Poland.
It is a 10-day biennial event
It witnessed 414 boxers from 52 countries.
From India, eight boxers competed in the finals
Eight Boxers including 7 female players and one male.
In that, India ended the tournament with 11 medals (8 gold & 3 bronze) to finish top in the medal table.
The previous best outing for India had come in the 2018 edition where they won 10 medals.
List of Winners :
Gold Medal Winners
Gitika – 48kg
Naorem Babyrojisana Chanu – 51kg
18) Answer: E
Popular Gujarati and Hindi film actor Amit Mistry, Passes away.
He was 47.
The actor was a prominent face in the Gujarati theatre circuit.
His work in Hindi films like "Kya Kehna", "Ek Chalis Ki Last Local" and especially his collaborations with filmmaker Raj-DK including "99", "Shor In The City" and "A Gentleman" got him wider attention.
He is known for starring in films like "Shor In The City", "Bey Yaar" and Amazon Prime Video series "Bandish Bandits".
Mistry earned acclaim in the 2020 hit web series "Bandish Bandits" in which he played musician Devendra Rathod.