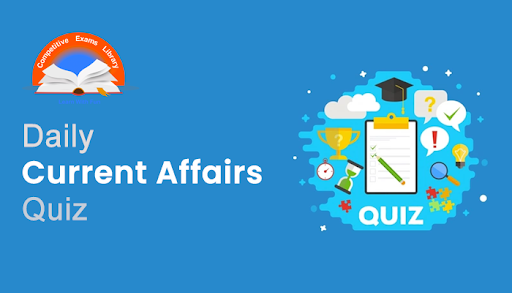 Dear Readers, Daily Current Affairs Questions Quiz for SBI, IBPS, RBI, RRB, SSC Exam 2021 of 24th February 2021. Daily GK quiz online for bank & competitive exam. Here we have given the Daily Current Affairs Quiz based on the previous days Daily Current Affairs updates. Candidates preparing for IBPS, SBI, RBI, RRB, SSC Exam 2021 & other competitive exams can make use of these Current Affairs Quiz.
1) V Narayanasamy who resigned recently was the chief minister of which state/UT?
A) Mizoram
B) Manipur
C) Puducherry
D) Daman & Diu
E) Andhra Pradesh
2) Who among the following will inaugurate the Sardar Vallabhbhai Patel Cricket Stadium?
A) Anurag Thakur
B) Prahlad Patel
C) NS Tomar
D) Ram Nath Kovind
E) Narendra Modi
3) DRDO has conducted ______successful launches of Vertical Launch Short Range Surface to Air Missile.
A) 6
B) 5
C) 4
D) 3
E) 2
4) Nitin Gadkari has inaugurated ______ artisan-based SFURTI clusters.
A) 55
B) 50
C) 35
D) 40
E) 45
5) Which country has become the 1st in the world to identify the need for action for Non-Alcoholic Fatty Liver Disease?
A) Sweden
B) Denmark
C) India
D) France
E) Israel
6) Piyush Goyal has dedicated how many railway projects to nation?
A) 82
B) 81
C) 80
D) 85
E) 88
7) India has offered USD _____ million line of credit to Mauritius.
A) 140
B) 130
C) 120
D) 100
E) 110
8) Which country has launched a "green pass" for people with vaccination certificates?
A) China
B) US
C) Germany
D) France
E) Israel
9) Which UT/state has become the first state or Union Territory in India to launch Carbon Watch?
A) Mizoram
B) Chandigarh
C) Daman & Diu
D) Delhi
E) Manipur
10) Which of the state has recently hiked the daily wage of tea garden workers by Rs 50?
A) Karnataka
B) Kerala
C) Mizoram
D) Assam
E) Manipur
11) Union Minister Kiren Rijiju has inaugurated the state of the art gym complex and modern change room facilities in which city?
A) Pune
B) Surat
C) Bengaluru
D) Delhi
E) Chandigarh
12) Which state government has presented the biggest ever budget of around Rs 5,50,270 crores to make a self-reliant state?
A) Chhattisgarh
B) Karnataka
C) Kerala
D) Uttar Pradesh
E) Haryana
13) e-Kuber payments system has been launched in which state/UT recently?
A) Telangana
B) Puducherry
C) Daman & Diu
D) Chandigarh
E) J&K
14) The Cabinet of which state has approved the mission 'Lal Lakir' in all villages?
A) Kerala
B) Punjab
C) Chhattisgarh
D) Haryana
E) Bihar
15) Who among the following has been appointed as Shriram Capital Chairman of the board?
A) Suresh Raj
B) Anand Sinha
C) K P Krishnan
D) Anil Kumar
E) Rajat Gupta
16) All-women operated customer service centre has been opened in Punjab by which company?
A) VI
B) 3M
C) Bosch
D) CEAT
E) MRF
17) Who among the following has been made the global CEO of OLX Autos?
A) Suresh Sinha
B) Vasu Kumar
C) Anand Raj
D) Sushil Singh
E) Gautam Thakar
18) GR Arun Kumar who resigned recently was the Chief financial officer of which company?
A) HCL
B) Wipo
C) Vedanta
D) TCS
E) Infosys
19) Who among the following has addressed the 'Population versus Planet' Conference?
A) Prahlad Patel
B) Anurag Thakur
C) Narendra Modi
D) Harsh Vardhan
E) NS Tomar
20) Sachin Tendulkar has become the brand ambassador of which company?
A) Khan Academy
B) Unacademy
C) Flipkart
D) Wi-Fi study
E) Udemy
21) Which institution has signed an MoU with the Bill & Melinda Gates Foundation in the area of health research?
A) UNICEF
B) WHO
C) UNDP
D) Niti Aayog
E) CSIR
22) Who among the following has become the most expensive player in auction history as per IPL Auction 2021?
A) Faf du Pleiss
B) Dale Steyn
C) Chris Morris
D) Isuru Udana
E) Keerat Singh
23) PM has addressed the _____ edition of NASSCOM Technology and Leadership Forum 2021.
A) 25th
B) 26th
C) 27th
D) 29th
E) 28th
24) Which institution has bagged six awards at the PRSI National Awards 2020 in the field of communication?
A) BPCL
B) SAIL
C) ONGC
D) HP
E) HCL
25) Chemicals and Fertilizers Minister DV Sadananda Gowda will present the ______ National Awards for Technology Innovation in Petrochemicals and Downstream Plastics Processing Industry in New Delhi.
A) 14th
B) 13th
C) 12th
D) 11th
E) 10th
26) Liberty Steel has formed a tie-up with a hydrogen-based steel plant in which country recently?
A) China
B) US
C) France
D) Germany
E) Israel
Answers :
1) Answer: C
Puducherry chief minister V Narayanasamy, has submitted the letter of his resignation and his council of ministers on February 22, 2021 to the Lieutenant Governor TamilisaiSoundararajan.
The decision was taken as the Congress-led Government in the UT lost its majority in the House, which is 14.
Following a series of resignations, the ruling government was reduced to a strength of 12. Two MLA resigned in January 2021 while 2 resigned in February 2021.
Lt. Governor TamilisaiSoundararajan has forwarded the resignation letter of Mr. Narayanasamy and a report on the Assembly proceedings to the Union Ministry of Home Affairs for its consideration.
2) Answer: D
President Ram Nath Kovind will formally inaugurate the world's largest Sardar Vallabhbhai Patel Cricket Stadium at Motera in Ahmedabad, Gujarat.
President Kovind is expected to watch the third cricket test match between India and England for some time with the Union Home Minister Amit Shah soon after the inauguration ceremony.
Sardar Patel Cricket Stadium at Motera in Ahmedabad is all set to make history by hosting the day-night pink ball test match between India and England.
3) Answer: E
Defence Research and Development Organisation (DRDO) has conducted two successful launches of Vertical Launch Short Range Surface to Air Missile (VL-SRSAM).
The launches were carried out from a static vertical launcher from Integrated Test Range, Chandipur off the coast of Odisha.
Indigenously designed and developed by the DRDO for Indian Navy, VL-SRSAM is meant for neutralizing various aerial threats at close ranges including sea-skimming targets.
The launches were monitored by senior scientists from various DRDO labs involved in the design and development of the system.
During the test launches, flight path and vehicle performance parameters were monitored using flight data, captured by various Range instruments.
4) Answer: B
Micro, Small and Medium Enterprises Minister Nitin Gadkari has inaugurated 50 artisan-based SFURTI clusters spread over 18 States.
In these clusters, over 42 thousand artisans have been supported in the traditional segments of muslin, khadi, coir, handicraft, handlooms, wood craft, leather, pottery, carpet weaving, bamboo, agro processing, tea and others.
These clusters have been inaugurated in Andhra Pradesh, Arunachal Pradesh, Assam, Chhattisgarh, Gujarat, Haryana, Jharkhand, Karnataka, Kerala, Madhya Pradesh, Maharashtra, Manipur, Nagaland, Odisha, Rajasthan, Tamil Nadu, Uttar Pradesh and West Bengal.
The MSME Ministry has funded 85 crore rupees for development of these SFURTI clusters.
The Center is implementing the Scheme of Fund for Regeneration of Traditional Industries (SFURTI) to organize traditional industries and artisans into clusters to make them competitive and increase their income.
5) Answer: C
Health Minister Dr Harsh Vardhan said that India has become the first country in the world to identify the need for action for Non-Alcoholic Fatty Liver Disease.
He said this while launching the operational guidelines for integration of Non-Alcoholic Fatty Liver Disease with the National Programme for Prevention & Control of Cancer, Diabetes, Cardiovascular Diseases and Stroke.
6) Answer: E
Railways Minister Piyush Goyal inaugurated and dedicated a host of infrastructure projects and projects related to passenger amenities at various railway stations in Kerala, Tamil Nadu, Madhya Pradesh and Karnataka through video conferencing.
88 Railway projects were dedicated to the nation worth over one thousand crore rupees making Indian Railways future ready.
Inaugurating the rail projects in Kerala, Mr Goyal said that it is important to improve connectivity in the state which is a keeper of Indian Heritage and for the railway passengers using the various amenities in the state.
7) Answer: D
India offered a USD 100 million line of credit to Mauritius to facilitate procurement of defence assets and the two countries signed a Comprehensive Economic Cooperation Partnership Agreement following talks between External Affairs Minister S Jaishankar and Mauritius Prime Minister Pravind Jugnauth here.
"SAGAR policy reaffirmed. Pleased to witness, along with PM @JugnauthKumar, the exchange of USD 100 million Defence Line of Credit.
Will facilitate procurement of defence assets, guided by the needs of Mauritius,".
8) Answer: E
Israel has launched a coronavirus 'green pass' system, and that allows people who have been vaccinated to access public facilities.
Israelis who have gotten both Pfizer vaccine shots and those who have recovered from the virus get a "Green Pass" certificate in the form of a QR code or printout for people without smartphones.
Pass-holders could prove their status by presenting a vaccination certificate or downloading a health ministry app linked to their medical files.
The pass allows entry to gyms, swimming pools, hotels, entertainment venues and sporting events. Restaurants and bars will be added to the list in March.
Meanwhile, Israel has faced international criticism for largely excluding Palestinians in the West Bank and Gaza Strip from its highly successful vaccination campaign, widening the persistent inequality with Israelis that began long before the pandemic.
9) Answer: B
Chandigarh became the first state or Union Territory in India to launch Carbon Watch, a mobile application to assess the carbon footprint of an individual.
Although the app can be accessed by everyone, it has specific options for the residents of Chandigarh to compile a detailed study.
The application can be downloaded through a QR code in Android supported smart cell phones.
Carbon footprint is the amount of greenhouse gases-especially carbon dioxide-released into the atmosphere by a particular human activity
About the Carbon Watch Mobile app :
As a person downloads the application, they will need to fill details in four parts Water, Energy, Waste Generation and Transport (Vehicular movement).
In the category of Water, the person will be required to inform about the consumption of water.
In the Energy category, the details regarding the electricity units consumed every month at the house, monthly bill etc and usage of solar energy will have to be furnished.
In the Waste category, the individual will need to inform about the waste generation on their part and their family. In the transport section, the individual will have to inform them about the mode of transport used by them- four wheeler, two-wheeler or bicycle.
With the mentioned information, the mobile application will automatically calculate the carbon footprint of the individual. The application will also provide information such as the national and world average of the emission, and the individual's level of emission generation.
The mobile application will suggest methods to reduce the carbon footprints. The application will suggest ways as per the information furnished by the individuals.
10) Answer: D
The Assam cabinet, chaired by Assam Chief Minister SarbanandaSonowal, approved a proposal to increase the daily wage of tea garden workers to Rs 217, a hike from Rs 167.
Assam Transport Minister Chandra Mohan Patowary said the decision was taken by the Assam cabinet after talks between tea garden owners, workers' union and the sub-committee of the state government.
The Assam cabinet also gave its nod to a proposal seeking the constitution of a one-member committee for fixing an equal wage for small tea garden workers.
According to the proposal, the labour department's principal secretary JB Ekka will be the only member of the panel.
The tea tribe community  comprising 17% of the state's population  is a deciding factor in almost 40 Assam Assembly seats out of the 126.
11) Answer: C
Union Minister of State for Sports and Youth Affairs Kiren Rijiju inaugurated gym complex and modern change room and laid the foundation stone for 330-bedded hostel, upgradation of kitchen and dining hall and synthetic athletics track in the Bengaluru campus of Sports Authority of India.
He said that sportsmen who bring laurels to the country are our heroes and they deserve the best state of the art training facilities, hostels and nutritious food.
12) Answer: D
Uttar Pradesh Government presented the biggest ever budget to the tune of around Rs 5,50,270 crores to make AtmaNirbhar or self-reliant Uttar Pradesh.
The budget presented by Finance Minister Suresh Khanna  in the State Assembly was also the first paperless budget of any state in the country.
The budget focuses on farmers' welfare, women empowerment and health sector along with the development projects.
AtmanirbharKrishakSamanvit Vikas Yojna has been launched for the welfare of the farmers of the state.
Seven hundred crores have been allocated for free irrigation to the farmers
The State Government also focused on heritage tourism in the state and particularly the overall development of Ayodhya.
To improve the tourism in Ayodhya city, Rs 101 crore have been allocated in the budget for development of MaryadaPurushottam Shri Ram Airport.
Yogi Adityanath Government has also announced to provide financial help to destitute women under MahilaSamarthya Yojana till they get alimony from the Court.
The State Government will provide free tablets to the eligible students under Abhyudaya Scheme.
13) Answer: E
Jammu and Kashmir formally rolled out e-Kuber payments system of Reserve Bank of India.
J&K is the first Union Territory to implement version 2.9 of e-Kuber payments system
e-Kuber would be implemented in the Civil Secretariat treasury on a pilot basis and rollout of this system for other treasuries shall follow shortly.
The system is capable of making 50,000 transactions at a time, while all government-related financial transactions would be dealt directly with RBI, without any intermediary bank.
The system would also overcome payment delays and eliminate risk of paper vouchers being lost in transit
14) Answer: B
The Punjab Cabinet approved implementation of mission 'Lal Lakir'
It aimed at facilitating villagers to monetise property rights and availing benefits provided by government departments, institutions and banks in all villages across the state.
'Lal Lakir' refers to land that is part of the village 'abaadi' (habitation) and is used for non-agriculture purposes only.
Under the mission, the right of record of properties within 'Lal Lakir' in the villages of the state will be prepared with the cooperation of the government of India under the SVAMITVA (Survey of Villages and Mapping with Improvised Technology in Village Areas) scheme.
This will enable mapping the land, households, habitation and all other areas falling within 'Lal Lakir'.
15) Answer: C
Shriram Capital, the holding company for the financial services and insurance entities of the Shriram Group, announced the appointment of retired IAS officer K P Krishnan as the chairman of its board.
16) Answer: D
Tyre maker CEAT announced the opening of all-women operated customer service centre Shoppes at Bhatinda in Punjab and said it plans to set up such outlets pan-India in the next few months.
The all-women CEAT Shoppes include a women workforce for all service-related assistance to customers.
This also includes manual jobs like wheel changing, balancing and operating various machinery to service a vehicle, the company said in a release.
17) Answer: E
OLX Group appoints Gautam Thakar as global CEO of OLX Autos.
Thakar will lead a worldwide organisation with a workforce of more than 4,000 employees across Asia, Africa, Latam, and the United States.
OLX Group announced the appointment of Gautam Thakar as global CEO of OLX Autos effective March 15, 2021.
18) Answer: C
Vedanta said G R Arun Kumar has resigned as chief financial officer (CFO) of the company.
The company will announce the effective date of relieving Kumar and details of the successor in due course, Vedanta Ltd said in a filing to BSE.
"The board has taken note of the resignation of GR Arun Kumar from the post of Whole-Time Director & Chief Financial Officer of the company to pursue a career outside of the Group," Vedanta said.
19) Answer: D
Dr.Harsh Vardhan, Union Minister for Health and Family Welfare today participated and expressed his views in WION and Zee Media's 'Population versus Planet' Conference
It is a part of its year-long campaign called 'Mission Sustainability: Population Vs Planet'.
This e-conclave marking the campaign's launch will host deliberations between numerous policy experts, demographic researchers & academicians on socially important themes like population stabilisation, empowering women & youth through education among various others as the world population witnesses an increase from 1 billion in the year 1800 to 7.8 billion today.
The crude birth rate which was recorded at 40.8 per 1000 in 1951 has declined to 20.0 in 2018;
Total Fertility Rate (TFR) has declined from 6.0 in 1951 to 2.2 in 2015-16;
The death rate in India has declined from 7 in 2012 to 6.2 in 2018.
20) Answer: B
Cricket legend Sachin Tendulkar has picked up stake in edtech major Unacademy and signed up a strategic partnership with the company.
The iconic cricketer has also been roped in as its brand ambassador.
As a part of the agreement, Tendulkar will conduct a series of interactive classes which will be available to Unacademy learners.
"Sachin's life and journey is a beacon to the values of resilience and determination in the face of insurmountable odds.
Current Affairs: Agreements
21) Answer: E
Bill & Melinda Gates Foundation and the Council of Scientific and Industrial Research (CSIR) have signed a memorandum of understanding to support the development, conduct and promotion of health research in the country.
Gates Foundation and CSIR will work together to identify opportunities to initiate scientific and technological collaborations.
The MoU was signed by Hari Menon, Director, India Country Office on behalf of Bill & Melinda Gates Foundation and G N Dayananda, Head, Technology Management Directorate – Industry Interface, CSIR.
These will focus on developing and testing new preventions, therapies and interventions that can help to solve major health concerns that affect India and other developing countries.
Areas of research:
Genetic diseases that impact infant and neonatal mortality
New diagnostics and devices for infectious disease and environmental surveillance
Development of cost-effective processes for drug, vaccines, biologics, and diagnostics manufacturing
Novel microbiome-directed foods; socio-economic impact of science and technological tools
Other areas of health and development.
22) Answer: C
South-African all-rounder Chris Morris became the costliest player in the history of Indian Premier League (IPL) auction when Rajasthan Royals snapped him up for Rs 16.25 crore in the 2021 auction in Chennai.
The 33-year-old was released by Royal Challengers Bangalore after the IPL 2020 season.
Morris has played 218 T20s overall and scored 1764 runs at 21 and a strike rate of 151.02. He has also picked up 270 wickets at 22.09 and an economy rate of 7.76 runs per over.
Morris has played 70 IPL matches for 80 wickets at an economy of 7.81, apart from 551 runs at a strike rate above 157.
Earlier, Yuvraj Singh was the costliest-ever buy in auction history as he was bought for Rs 16 crore by Delhi Daredevils in IPL 2015. Following the former India all-rounder are Pat Cummins (Rs 15.5 crore, 2020) and Ben Stokes (14.5 crore, 2017).
23) Answer: D
Prime Minister Narendra Modi addressed the 29th edition of Nasscom Technology and Leadership Forum (NTLF) which is being organized from 17th – 19th Feb through video conferencing.
It is the flagship event of the National Association of Software and Service Companies.
This is a vibrant platform that brings together key leaders from the world of technology and innovation.
The event is hosting almost 1600 participants from more than 30 countries and more than 30 products will be showcased during the three-days of talks.
NTLF 2021 with the overarching theme 'Shaping the future towards a better normal'
24) Answer: B
The Steel Authority of India Limited (SAIL) has bagged six awards for its efforts in the field of communication at the PRSI National Awards-2020 conferred upon by the Public Relations Society of India.
The awards were presented by Union Education Minister Ramesh PokhriyalNishank and Uttarakhand Governor Baby Rani Maurya during a virtual ceremony on February 21.
"SAIL has been awarded in House Journal (English), Best Communication Campaign (External Publics), Communications Campaign of the Year – COVID-19, Special/Prestige Publication, E-newsletter, and Corporate Website categories," according to an official statement.
10th National Awards for Technology Innovation in Petrochemicals and Downstream Plastics
25) Answer: E
Chemicals and Fertilizers Minister DV Sadananda Gowda will present the 10th National Awards for Technology Innovation in Petrochemicals and Downstream Plastics Processing Industry in New Delhi.
The award is aimed at felicitating and recognizing the innovative efforts of renowned scientists, researchers and industrialists in the broad areas of Polymer Science and Technologies.
26) Answer: C
UK-based Liberty Steel Group, owned by Indian-origin metals tycoon Sanjeev Gupta, has signed MoUs with two European companies to set up France"s first hydrogen-based steel making plant.
Liberty Steel Group is part of diversified GFG Alliance, which has a presence in India.
Last year in February, GFG Alliance made a foray into the domestic steel industry with the acquisition of AdhunikMetaliks Ltd and its arm Zion Steel for about Rs 425 crore.