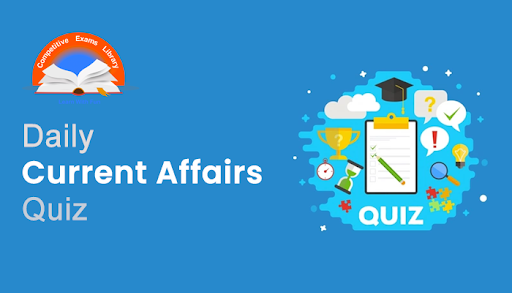 Dear Readers, Daily Current Affairs Questions Quiz for SBI, IBPS, RBI, RRB, SSC Exam 2021 of 25th & 26th April 2021. Daily GK quiz online for bank & competitive exam. Here we have given the Daily Current Affairs Quiz based on the previous days Daily Current Affairs updates. Candidates preparing for IBPS, SBI, RBI, RRB, SSC Exam 2021 & other competitive exams can make use of these Current Affairs Quiz.
1) National DNA Day is Observed on which date?
A) April 1
B) April 3
C) April 25
D) April 4
E) April 12
2) Which movie has bagged the worst movie at 2021 Razzie Awards?
A) Movie 43
B) Swept Away
C) Gigil
D) Absolute Proof
E) The Messenger
3) M Narasimham who passed away at 94 was an eminent ____.
A) Director
B) Musician
C) Singer
D) Dancer
E) Banker
4) New Book Titled The Living Mountain has been written By who among the following?
A) Anandita Ghosh
B) Rajlaxmi Singh
C) Amitav Ghosh
D) Surbhi Tandon
E) Neeraj Pandya
5) International Delegate's day is Observed on which date?
A) April 11
B) April 25
C) April 3
D) April 4
E) April 5
6) Which company has introduced 'Wealth Community' for young investors?
A) Dell
B) Visa
C) Paytm
D) Ola
E) Mastercard
7) World Intellectual Property Day is Observed on which date?
A) April 14
B) April 4
C) April 11
D) April 26
E) April 3
8) ITBP-run Sardar Patel Covid Care Centre will become operational in which city?
A) Gwalior
B) Surat
C) Delhi
D) Chandigarh
E) Pune
9) In J&K,  _____ Gram Panchayats won National Panchayat Awards-2021.
A) 7
B) 6
C) 3
D) 5
E) 4
10) Bharat Biotech is now ready to sell Covaxin at Rs ______ to States, Rs 1200 to private hospitals.
A) 1000
B) 600
C) 700
D) 800
E) 900
11) Government has extended the deadline to making payment for Vivad Se Vishwas scheme till which date?
A) November 30
B) September 30
C) August 30
D) July 31
E) June 30
12) Which company has planned to buy majority stake in Mphasis?
A) Infosys
B) Dell
C) HP
D) Blackstone
E) HCL
13) Who among the following has announced grief over demise of nuclear scientist Krishnamurthy Santhanam?
A) Narendra Modi
B) S Jaishankar
C) Prahlad Patel
D) Amit Shah
E) NS Tomar
14) Which edition of the OSCAR Awards has recently been conferred?
A) 89th
B) 90th
C) 91st
D) 92nd
E) 93rd
15) Thilakan award for Theatre and film director will be conferred on ______.
A) Sushil Mishra
B) Narayan Rane
C) Pramod Payyannur
D) Anand Singh
E) Sudheer Verma
16) VARUNA – 2021 is being conducted between India and which country?
A) Sri Lanka
B) Vietnam
C) Thailand
D) France
E) Germany
17) SpaceX rocket ship has launched ______ astronauts on NASA mission to ISS.
A) 6
B) 5
C) 2
D) 3
E) 4
18) New species of insect discovered in Kosovo – Potamophylax coronavirus has been discovered by who among the following?
A) Narayan Rane
B) Anand Kumar
C) HalilIbrahimi
D) Sudhir Krishna
E) Narendra Singh
19) World Malaria Day is Observed on which date?
A) April 1
B) April 25
C) April 3
D) April 4
E) April 5
20) In which month will Houston will Host Table Tennis World Championships?
A) December
B) July
C) September
D) August
E) November
Answers :
1) Answer: C
National DNA Day is a United States holiday celebrated on April 25.
It commemorates the day in 1953 when James Watson, Francis Crick, Maurice Wilkins, Rosalind Franklin and colleagues published papers in the journal Nature on the structure of DNA.
In the United States, DNA Day was first celebrated on April 25, 2003, by proclamation of both the Senate and the House of Representatives.
However, they only declared a one-time celebration, not an annual holiday.
Every year from 2003 onward, annual DNA Day celebrations have been organized by the National Human Genome Research Institute (NHGRI), starting as early as April 23 in 2010, April 15 in 2011 and April 20 in 2012.
April 25 has since been declared "International DNA Day" and "World DNA Day" by several groups.
2) Answer: D
The election-fraud film "Absolute Proof", singer Sia's heavily panned directorial debut "Music" and Rudy Giuliani, former New York City mayor, were the top winners at the 2021 Razzie Awards, given to the worst movies and performances of the year.
The Golden Raspberry Awards, popularly known as the Razzies, were held, as per the tradition.
"Absolute Proof", directed by My Pillow CEO Mike Lindell, which claimed that the 2020 presidential election was stolen from former President Donald Trump, was named the worst picture at the ceremony, reported Entertainment Weekly.
The pro-Donald Trump film also bagged the worst acting title for Lindell for his appearance in the film as himself.
3) Answer: E
On April 20, 2021, Former Reserve Bank of India (RBI) governor M Narasimham passed away.
He was 94.
About M Narasimham :
Narasimham served the first and only governor to be appointed from the Reserve Bank cadre.
He was the 13th RBI governor for seven months from May and November, 1977 prior to the joining of IG Patel as the Governor.
Narasimham stepped in the RBI bank as a Research Officer in the Economic Department. However, later he joined the government and served as Additional Secretary in the Department of Economic Affairs.
4) Answer: C
The Living Mountain is a new story by Jnanpith winner and internationally renowned author Amitav Ghosh.
It will be Published by HarperCollins Publishers India.
About the book :
The Living Mountain is a beautifully told story within the structure of a fable. It is a tale about Mahaparbat, the Living Mountain.
It is a fable for the current times: a cautionary tale of how humans have systematically exploited nature, leading to an environmental collapse.
The book will also be published simultaneously in Hindi, and as an ebook and an audiobook.
5) Answer: B
The International Delegate's Day is observed on April 25, to raise awareness of the role of representatives and delegates of the Member States to the United Nations, in preventing war and conflict and paving the way for peaceful and prosperous societies through dialogue and collaboration, particularly during the most difficult of times.
United Nations (UN) organized the first official International Delegate's Day on April 25, 2020.
The day acknowledges the 850 delegates who participated in the San Francisco Conference seventy-six years ago in 1945, followed by signing of the Charter of the United Nations.
The agreement resulted in the creation of the United Nations, an organization that now comprises 193 Member States.
6) Answer: C
Home-grown digital financial services platform Paytm has launched a new video-based wealth community called the Paytm Wealth Community.
Paytm Wealth Community is an investing community based on video, and "will enable users to attend live sessions conducted by subject matter experts across an array of wealth topics like Stocks, F&O, IPO, ETFs, Mutual Funds, Gold, Fixed Income, and Personal Finance," the company said in an official release.
"Users will be able to learn from experts, interact with them to clarify doubts, and also chat with other users on the platform to discuss various wealth-related topics," it said.
7)  Answer: D
World Intellectual Property Day is observed annually on 26 April.
The event was established by the World Intellectual Property Organization (WIPO) in 2000 to "raise awareness of how patents, copyright, trademarks and designs impact on daily life" and "to celebrate creativity, and the contribution made by creators and innovators to the development of societies across the globe".
26 April was chosen as the date for World Intellectual Property Day because it coincides with the date on which the Convention Establishing the World Intellectual Property Organization entered into force in 1970.
This event has been criticized by a number of activists and scholars as one-sided propaganda in favor of traditional copyright, ignoring alternatives related to copy left and the free culture movement.
8) Answer: C
Sardar Patel Covid Care Centre and Hospital at Chhatarpur in South Delhi will start functioning.
Standard Operating Procedure for admission of patients will be strictly followed and all laid down protocols will be adhered to.
ITBP DG, SS Deswal said that no walk-in admissions will be allowed in this Centre and only patients referred by District Surveillance Officers will be admitted.
ITBP said patients will be first reporting at the reception, after initial documentation, physical examination will be done and they will then be admitted to the Hospital at their allotted bed.
A kit will be provided to them after their admission.
All medical treatment, medicines, food and other facilities will be provided free of cost.
Services of stress counselors will also be provided.
The Home Ministry has designated ITBP as the nodal force for operationalizing the Sardar Patel Covid Care Centre at Radha Soami Beas, Chhatarpur in the National Capital.
9) Answer: D
In the Union Territory of Jammu and Kashmir, five Gram Panchayats have bagged prestigious National Panchayat Awards-2021.
Gram Panchayat Kangroosa of district Baramulla and Gram Panchayat Hakermulla of district Budgam won DeenDayal Upadhyay Panchayat SashaktikaranPuraskar (DDUPSP).
Gram Panchayat Kootah of Kathua district was conferred with Nanaji Deshmukh Rashtriya Gaurav Gram Sabha Puraskar (NDRGGSP), Gram Panchayat Panzgam A, of Kupwara district won Gram Panchayat Development Plan Award (GPDPA), while, Gram Panchayat Achabal A, of Baramulla district bagged Child Friendly Gram Panchayat Award (CFGPA).
Lieutenant Governor Manoj Sinha applauded the Sarpanches and other PRI members of the Awardee Panchayats for putting in outstanding efforts for the effective and efficient delivery of public services for transformation of rural J&K.
10) Answer: B
Bharat Biotech has announced the cost of COVAXIN for State governments and Private Hospitals.
It will cost 600 rupees per dose for State Governments and 1200 rupees per dose for Private Hospitals.
The price of vaccines for export is 15 to 20 dollars.
11) Answer: E
Government has extended certain timelines in order to give respite to taxpayers in difficult COVID times.
It has extended the deadline for making payment under tax dispute resolution scheme Vivad Se Vishwas by two months till 30th of June.
Time limit for passing of any order for assessment or reassessment under the Income Tax Act has been extended till 30th June.
Finance Ministry said the decision was taken following requests received from taxpayers, tax consultants, and other stakeholders that various time barring dates, which were earlier extended to 30th April, may be further extended.
12) Answer: D
Blackstone said that the private equity funds managed by it have entered into definitive agreements to acquire a majority stake in Mphasis Ltd.
A wholly-owned subsidiary of the Abu Dhabi Investment Authority (ADIA), UC Investments and other long-term investors will co-invest along with Blackstone.
Mphasis is one of the leading providers of information technology services, specializing in cloud and digital solutions.
It has deep domain expertise in banking, financial services and insurance sectors (BFSI) and serves 35 of the top 50 US BFSI firms.
Mphasis also has long-term relationships with multiple marquee global customers.
13) Answer: B
External Affairs Minister Dr S Jaishankar has expressed grief over the demise of an Indian nuclear scientist Krishnamurthy Santhanam.
Dr Jaishankar said, K.Santhanam was deeply associated with Defence Research and Development Organization, Department of Atomic Energy and Institute for Defence Studies and Analyses.
He said, Krishnamurthy Santhanam was a key figure in the Pokhran -2, 1998 tests.
Dr Jaishankar said he educated a generation in the Ministry of External Affairs on technology regimes and export controls.
Defence Minister Rajnath Singh has said that he is deeply anguished by the demise of Dr. K. Santhanam.
Mr Singh said, he will be remembered for his remarkable efforts and contribution in the field of Science and Technology in India. He said, Dr. Santhanam was associated with institutions like DRDO, DAE and IDSA.
Defence Minister said, his role in successful 1998 nuclear tests was noteworthy
14) Answer: E
Actor-filmmaker Emerald Fennell, "Another Round" and Daniel Kaluuya were the early winners at the 93rd Academy Awards.
Fennell won best original screenplay Oscar for her #MeToo drama "Promising Young Woman", while best adapted screenplay Academy Award went to Christopher Hampton and Florian Zeller for their Anthony Hopkins-Olivia Colman-starrer "The Father".
Daniel Kaluuya won best supporting actor Oscar for his role in "Judas and the Black Messiah".
"Another Round" from Denmark won the Oscar for best international feature film.
The film is directed by Thomas Vinterburg and stars Mads Mikkelson.
"Ma Rainey's Black Bottom" won makeup and hairstyling, and costume design Oscars.
Filmmaker Chloe Zhao has scripted history at the 93rd Academy Awards by becoming the first woman of colour and only the second woman in the Oscars' history to win the best director trophy.
Kathryn Bigelow was the first woman to win best director in 2009 for her film "The Hurt Locker".
The 2021 Oscar for the 'Best Animated Feature Film' was taken home by Pixar's 'Soul', becoming the only film ever to win that award without playing in the US movie theatres.
Last October, with the COVID pandemic having closed most of the nation's cinemas, Disney announced that it would release 'Soul' as a Christmas release exclusively on its streaming service Disney+.
The movie centered on a jazz musician who's trying to reunite his accidentally separated soul and body.
This marked the first time a full-length Pixar feature had been released for home viewing without first playing in movie theaters.
South Korean actor YounYuh-jung,' the feisty grandmother in "Minari", captured more than her grandson's heart.
Youn, a prominent film and TV actor in her home country of South Korea, won the best supporting actress award at Oscars.
She's the second Asian actress to win in the category; more than four decades after Japanese-born Miyoshi Umeki earned the trophy for 1957's "Sayonara".
15) Answer: C
Theatre and film director Pramod Payyannur has been selected for the ThilakanSmarakavedi's "Thilakan Award", named after the late actor, for overall contribution.
The jury noted that Pramod's new cultural mission titled "TheatrumFarme" and multimedia presentations uphold a value-based new cultural view.
The award comprises Rs 30,001 cash prize and a citation.
ThilakanSmarakavedi secretary Kodumon Gopalakrishnan and President Babu Kiliroor said the award will be presented in July first week.
The jury members were Ibrahim Vengara, ThottamBhuvanachandran, Sreeja Arangottukara and Manilal.
16) Answer: D
From April, 25 to 27 2021, The 19th edition of the Indian and French Navy bilateral exercise 'Varuna-2021' has started in the Arabian Sea.
The three-days exercise between the navies of two countries will be seeing high tempo-level operations at the sea, which will include advanced anti-submarine and air defence exercises, tactical manoeuvres, intense fixed and rotary wing flying operations.
The aircraft carrier Charles de Gaulle with its carrier air wing (Rafale marine, E-2C Hawkeye, hélicoptèresCaïman marine and Dauphin), "one multi-mission frigate, Provence, one air defence destroyer, Chevalier Paul, and one command and supply ship, Var
Objective :
The units of the two navies in the Varuna bilateral naval exercise will endeavour to enhance their warfighting skills in order to demonstrate their ability as an integrated force to promote security, peace and stability in the maritime domain.
17) Answer: E
On April 23, 2021, NASA and Elon Musk's commercial rocket company SpaceX launched a new four-astronaut team on a flight to the International Space Station the first crew ever propelled into orbit by a rocket booster recycled from a previous spaceflight.
The company's Crew Dragon capsule Endeavour, also making its second flight, streaked into the darkened pre-dawn sky atop a SpaceX Falcon 9 rocket as its nine Merlin engines from NASA's Kennedy Space Center in Florida.
18) Answer: C
Professor HalilIbrahimi has discovered a new insect species named  Potamophylax coronavirus found in Kosovo's western Bjeshket e Nemuna (Accursed Mountains) national park.
As an associate professor of the Natural Sciences Faculty at Pristina University, Prof Ibrahimi collected the species, which turned out to be endemic to the national park, 75 miles (120km) west of the capital Pristina, and found it was quite different from the other species in the Balkans.
It is considerably smaller, and lives in a different habitat, in open, high-altitude zones, some 2,000 metres (6,500ft) above sea level.
19) Answer: B
World Malaria Day is an international observance commemorated every year on 25 April and recognizes global efforts to control malaria.
Globally, 3.3 billion people in 106 countries are at risk of malaria.
In 2012, malaria caused an estimated 627,000 deaths, mostly among African children.
The day aimed at taking urgent action in the control of the deadly disease.
Malaria is a life-threatening disease that is caused by the bites of infected mosquitoes.
The World Health Assembly established World Malaria Day in May 2007.
The goal of the event is to furnish countries in the impacted regions the platform to study from each other's experiences and support one another's initiatives.
20) Answer: E
The ITTF World Table Tennis Championships, the Harris County  Houston Sports Authority has announced that it will host the event November 23–29, 2021, at the George R. Brown Convention Center.
It will be the first time the United States has hosted the tournament.
The rescheduled event will coincide with and commemorate the 50th anniversary of the diplomatic mission between the United States and China that was dubbed "Ping Pong Diplomacy."
The Decision was made at a meeting of the ITTF executive committee on April 11.