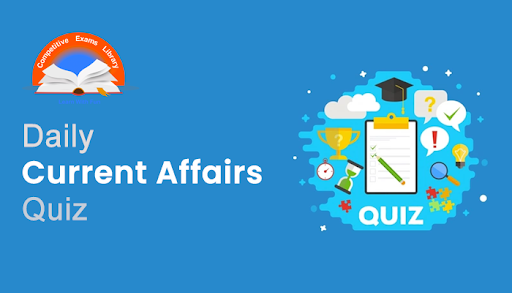 Dear Readers, Daily Current Affairs Questions Quiz for SBI, IBPS, RBI, RRB, SSC Exam 2021 of 25th February 2021. Daily GK quiz online for bank & competitive exam. Here we have given the Daily Current Affairs Quiz based on the previous days Daily Current Affairs updates. Candidates preparing for IBPS, SBI, RBI, RRB, SSC Exam 2021 & other competitive exams can make use of these Current Affairs Quiz.
1) Central Excise Day is observed on which of the following date?
A) February 22
B) February 21
C) February 24
D) February 20
E) February 25
2) Nitin Gadkari has inaugurated _____ artisan-based SFURTI clusters spread over 18 states.
A) 70
B) 65
C) 60
D) 50
E) 55
3) Sardar Patel Cricket Stadium In Motera has been renamed Narendra Modi Stadium. It is located in which state?
A) Mizoram
B) Manipur
C) Punjab
D) Assam
E) Gujarat
4) Who among the following has become the youngest woman to row solo across the ocean?
A) Sarah Hughes
B) Hagar Finer
C) Jasmine Harrison
D) Ellen van Dijk
E) Sasha Cohen
5) The External Affairs Minister has inaugurated a new Indian High Commission building in which country?
A) Sri Lanka
B) Bhutan
C) Bangladesh
D) Mauritius
E) Maldives
6) Who among the following has released the book 'Rashtra Pratham – 82 varshon ki Swarnim Gatha'?
A) Narendra Modi
B) Amit Shah
C) Prahlad Patel
D) Anurag Thakur
E) NS Tomar
7) Ramky Enviro has entered into a contract with which city for waste management?
A) Bhopal
B) Chandigarh
C) Pune
D) Surat
E) Chennai
8) The Union Government and AIIB has signed a loan agreement of USD _____ million for Assam.
A) 180
B) 200
C) 304
D) 300
E) 250
9) The 47th Khajuraho Dance Festival has recently begun in which state?
A) Kerala
B) Chhattisgarh
C) Karnataka
D) Madhya Pradesh
E) Haryana
10) PM KISAN scheme has completed two years on which of the following date?
A) February 11
B) February 3
C) February 5
D) February 6
E) February 24
11) Rajnath Singh has inaugurated the DRDO Skill Development Centre for Fire Safety Training in which state?
A) Kerala
B) Haryana
C) Uttar Pradesh
D) Karnataka
E) Punjab
12) Narendra Modi has inaugurated Railway projects in which state recently?
A) Punjab
B) West Bengal
C) Haryana
D) Bihar
E) Madhya Pradesh
13) Desi cloud storage platform DigiBoxx has been launched in _____.
A) Madhya Pradesh
B) Bihar
C) Haryana
D) Tamil Nadu
E) Punjab
14) The ______ India-EU Macroeconomic dialogue has been held through video conferencing recently.
A) 9th
B) 8th
C) 11th
D) 12th
E) 10th
15) Which of the following bank has recently been placed under Reserve Bank of India's regulatory purview?
A) Bank of India
B) OBC
C) UCO
D) Bandhan Bank
E) State Bank of Sikkim
16) HSBC has increased India's FY22 GDP forecast to ______ per cent recently.
A) 9.3
B) 9.5
C) 11.2
D) 10.5
E) 10.2
17) Stellapps has tied up with which bank to drive financial inclusion for dairy farmers?
A) Axis
B) IPPBx
C) SBI
D) ICICI
E) Bandhan
18) Who among the following has launched the BRICS 2021 Website?
A) Narendra Modi
B) Prahlad Patel
C) NS Tomar
D) S Jaishankar
E) Anurag Thakur
19) Fullerton India Credit Company has been appointed ______ as CEO and MD.
A) Anuj Chauhan
B) Suresh Gupta
C) Shantanu Mitra
D) Anand Raj
E) Narendra Verma
20) Timothy Prentice has been appointed as VP of which company?
A) ICICI
B) TVS
C) Hero Honda
D) Bajaj
E) HDFC
21) Who among the following has been appointed Executive director for Madurai AIIMS?
A) Suresh Kumar
B) Anand Raj
C) Mangu Hanumantha Rao
D) Rahul Rajput
E) Ganesh Singh
22) Asia Economic Dialogue 2021 will begin from which date?
A) February 11
B) February 13
C) February 14
D) February 26
E) February 8
23) Rahul Khullar who passed away recently was the former chief of which institution?
A) BPCL
B) HPCL
C) ONGC
D) ICAI
E) TRAI
24) Who among the following has recently released the 'Maverick Messiah', the Biography of former Andhra Pradesh CM 'NTR'?
A) Anurag Thakur
B) Narendra Modi
C) Venkiah Naidu
D) Prahlad Patel
E) NS Tomar
25) Who among the following has been awarded posthumously at Dadasaheb Phalke International Film Festival Awards?
A) Nimmi
B) Wajid Khan
C) Irfan Khan
D) Sushant Singh Rajput
E) Rishi Kapoor
26) Akshaya Oorja Awards have been distributed in which state?
A) Uttar Pradesh
B) Punjab
C) Haryana
D) Madhya Pradesh
E) Kerala
27) Which institution has inked MoU with NCDC for promotion of marine exports?
A) BPCL
B) MPEDA
C) FICCI
D) HPCL
E) ONGC
28) India and which country have signed a ink pact for Comprehensive Economic Cooperation and Partnership Agreement?
A) Maldives
B) Bhutan
C) Mauritius
D) Bangladesh
E) Sri Lanka
Answers : 
1) Answer: C
Central Excise Day is observed every year on '24 February'.
On this day in the year 1944, the Central Excise and Salt Law was created.
The Central Excise Department has an important role in the industrial development of the country.
Objective: to encourage the employees of the excise department in carrying out the central excise duty in a better way.
This Ministry has reformed the tax system to make payment of taxes easier and has also increased the use of techniques.
About Customs and Central Excise :
The Customs & Central Excise department was established in the year 1855 by the then British Governor General of India, to administer customs laws in India and collection of import duties / land revenue.
It is one of the oldest government departments of India.
2) Answer: D
Micro, Small and Medium Enterprises Minister Nitin Gadkari  has inaugurated 50 artisan-based SFURTI clusters spread over 18 States.
In these clusters, over 42 thousand artisans have been supported in the traditional segments of muslin, khadi, coir, handicraft, handlooms, wood craft, leather, pottery, carpet weaving, bamboo, agro processing, tea and others.
These clusters have been inaugurated in Andhra Pradesh, Arunachal Pradesh, Assam, Chhattisgarh, Gujarat, Haryana, Jharkhand, Karnataka, Kerala, Madhya Pradesh, Maharashtra, Manipur, Nagaland, Odisha, Rajasthan, Tamil Nadu, Uttar Pradesh and West Bengal.
The MSME Ministry has funded 85 crore rupees for development of these SFURTI clusters.
The Center is implementing the  Scheme of Fund for Regeneration of Traditional Industries (SFURTI)  to organize traditional industries and artisans into clusters to make them competitive and increase their income.
3) Answer: E
President Ram Nath Kovind inaugurated the newly revamped Motera cricket stadium in Ahmedabad, which has been renamed the Narendra Modi Stadium.
The ground, which was earlier named the Sardar Patel Stadium, and more popularly known as the Motera stadium, has been renamed after the Prime Minister, who was also formerly a president of the Gujarat Cricket Association.
The Narendra Modi Stadium, which is the world's largest cricket stadium with a capacity of 1,10,000 spectators, will host the first international match since the stadium was revamped.
Home Minister Amit Shah and Sports Minister Kiren Rijiju, along with the Board of Control for Cricket in India (BCCI) secretary Jay Shah, were also present at the event.
The Narendra Modi Stadium, the largest cricket ground in the world will host its first international match on Wednesday, when India will take on England in the Day-Night Test.
The stadium will be a part of the planned Sardar Vallabhbhai Patel Sports Enclave in the city.
The stadium is spread across 63 acres of land and has three entry points. It has a seating capacity of 1,32,000 people.
4) Answer: C
A British woman, Jasmine Harrison of England has become the youngest woman to row solo across an Ocean by completing a 3,000-mile ( 4828 km )  journey across the Atlantic.
The 21-year-old from the landlocked town of Thirsk, England, set a world record as the youngest female to row solo across any ocean in 70 days, 3 hours and 48 minutes  by finishing the 2020 Talisker Whisky Atlantic Challenge, according to organizer Atlantic Campaigns.
Harrison began her journey in Spain's Canary Islands on December 12, 2020 and arrived in Antigua on February 20, 2021.
5) Answer: D
External Affairs Minister Dr. S. Jaishankar inaugurated the new Indian High Commission building in Mauritius in the presence of Prime Minister of Mauritius Pravind Jugnauth and Foreign Minister Alan Ganoo.
Dr Jaishankar said, the green and efficient project reflects New India.
He expressed confidence that it will inspire the work of the Indian High Commission even more.
He reviewed the Dagotière Social Housing Project in Mauritius accompanied by Deputy Prime Minister and Housing Minister Louis Steven Obeegadoo.
Dr Jaishankar expressed happiness that the 956 Housing Units built with Indian support will be occupied soon.
He thanked the workers who have done India proud.
6) Answer: B
Home Minister Amit Shah released a book 'Rashtra Pratham – 82 varshon ki Swarnim Gatha' in New Delhi.
The book chronicles the glorious history of CRPF since its raising in 1939 and it has detailed and thoroughly researched accounts of CRPF's journey, challenges, successes, and sacrifices.
The Home Minister said, The Government is working on a scheme that all CAPF jawans should remain at least 100 days out of 365 days with their family members.
The CRPF celebrated its first-ever Veterans Day on February 19, 2021, which was on Friday.
From now on every third Friday of February will be celebrated as the Veterans Day of the CRPF every year.
7) Answer: E
Ramky Enviro Engineers Ltd (REEL), a leading waste management company, announced that it has entered into a seven-year contract with the Greater Chennai Corporation to design and implement an IOT-enabled solid waste collection programme.
The Hyderabad-based company said it will cover four zones in Chennai including Tiruvottriyur (Zone 1), Manali (Zone 2), Madhavaram (Zone 3), and Ambattur (Zone 7).
The programme which has been launched by Tamil Nadu Chief Minister Edappadi K. Palaniswami, will involve 100 per cent waste segregation at source across all the households in the four zones within one year and sustain these efforts consistently.
8) Answer: C
The Union Government and the Asian Infrastructure Investment Bank (AIIB) signed a loan agreement for a 304 million dollar Assam Intra-State Transmission System Enhancement Project to improve reliability, capacity and security of the power transmission network in the State of Assam.
The project aims to strengthen Assam's electricity transmission system by constructing 10 transmission substations and laying transmission lines, upgrading 15 existing substations and providing technical assistance to support project implementation.
9) Answer: D
The week-long 47th Khajuraho Dance Festival began in Khajuraho, Madhya Pradesh which is based on the Indian classical dance tradition.
The festival is being organized by the Culture Department through Ustad Alauddin Khan Music and Arts Academy Bhopal. Director of the Academy,
Festival will give the audience a chance to watch the performance of the dancers amid the aura of the temple as the event is being held once again in the temple complex of the Western Temple Group of Khajuraho after a gap of 44 years.
10) Answer: E
Feb 24  is the second anniversary of Pradhan Mantri Kisan Samman Nidhi, PM KISAN.
The Scheme was formally launched on 24th February in the year 2019 by Prime Minister Narendra Modi at a function at Gorakhpur in Uttar Pradesh.
PM KISAN was started with a view to augment the income of the farmers by providing income support to all landholding farmers' families across the country.
Under the PM KISAN Scheme, an amount of 6000 rupees per year is transferred in three installments of 2000 rupees directly into the bank accounts of the farmers.
11) Answer: C
Raksha Mantri Shri Rajnath Singh has inaugurated Skill Development Centre (SDC) for Fire Safety Training of Defence Research and Development Organisation (DRDO) at Pilkhuwa in Uttar Pradesh through virtual mode on February 22, 2021
The facility, created by Delhi based DRDO laboratory Centre for Fire, Explosive and Environment Safety (CFEES)
Aim : At developing trained human resources, fire safety technology and products to save precious human lives and valued assets.
12) Answer: B
Prime Minister Narendra Modi harped on the importance of infrastructure projects as a development index for West Bengal.
While he said infrastructure was the priority for his government, Modi pulled up the ruling Trinamool Congress for tardy execution of development work.
Syndicates, extortion and cut-money have been a recurring poll theme in Bengal.
13) Answer: D
DigiBoxx, India's first digital asset management platform has launched its services in the Tamil Nadu market.
State Industries Minister MC Sampath inaugurated the service.
Digiboxx is an Indian digital file storage, sharing and management SaaS (Software as a Service) product that provides storage options for businesses as well as individual users to store all files in one centralised location.
As part of the Atmanirbhar Bharat initiative, NITI Aayog first launched the indigenously developed platform on December 22, 2020, to provide affordable storage services to individuals and businesses and most importantly to store user data within India.
14) Answer: C
The 11th India-EU Macroeconomic dialogue was held through video conferencing.
Secretary Economic Affairs Tarun Bajaj led the Indian delegation. The delegation from European Union was led by Director General of Economic and Financial Affairs ECFIN in European Commission Maarten Verwey.
The dialogue today covered sharing of their experiences to enable both sides on various aspects including collaboration in the G20 on finance track matters.
It covers all dimensions-political, economic, security, trade and investment, environment, research and innovation.
The EU is one of India's largest trading partners, one of the largest investors in India and an
important source for technology, innovation and best practices.
15) Answer: E
The Reserve Bank of India (RBI) has brought State Bank of Sikkim under its regulatory purview.
The bank, established five years before Sikkim acceded to India in 1973, provides treasury operations for the state government.
It only operates within Sikkim and is wholly-owned by the state government.
The bank's ownership structure will not change, but it will be regulated by the RBI on a par with other banks.
16) Answer: C
India HSBC has raised their growth forecasts from 9 percent to 11.2 percent for the coming fiscal year 2021-22 (FY22).
The 2020-21 GDP forecast of India by HSBC remains -6.3 percent, as projected earlier.
17) Answer: B
Dairy-tech start-up Stellapps has tied up with India Post Payments Bank (IPPB) to digitise the milk procurement value chain and promote banking facilities at milk collection centres.
Through the tie-up, Stellapps is aiming to deliver dairy farmers within the monetary mainstream throughout villages in Tamil Nadu, Odisha, Bihar, and Rajasthan within the coming months, the corporation mentioned in a statement.
IPPB will present entry to money and different banking providers like deposits, Aadhar-enabled cost providers, home cash switch, invoice funds, and different associated providers.
Stellapps mentioned it plans to leverage IPPB's last-mile distribution community of over 1.36 lakh publishing places of work and practically 1.9 lakh postmen and Grameen Dak Sevaks, geared up with smartphones and biometric gadgets.
18) Answer: D
The External Affairs Minister of India S. Jaishankar on February 19, 2021, unveiled India's BRICS 2021 website www.brics2021.gov.in in New Delhi.
India assumed the BRICS Chairship in 2021, at a time when BRICS is celebrating its 15th anniversary.
Under the theme [email protected]: Intra-BRICS Cooperation, India's approach is focused on strengthening collaboration through Continuity, Consolidation and Consensus.
The newly launched website will be maintaining a dynamic and updated information repository and will be displaying all the relevant information for BRICS, along with the press releases, documents, a media gallery, and a registration platform for the events that have been planned over the year.
19) Answer: C
Fullerton India Credit Company has appointed Shantanu Mitra as the new CEO and Managing Director.
The appointment is with effect from April 2, it said in a statement.
Mitra has over 40 years of experience in financial services, with over 20 years at Standard Chartered and Citibank, where he had stints in India, Singapore and Thailand.
His last role in Standard Chartered was Senior Regional Risk Officer, India, Middle East and Africa.
His previous experience with Fullerton included a stint from 2010 to 2017.
20) Answer: B
TVS Motor Company said it has appointed Timothy Prentice as Vice President – Design.
Prentice brings on board 35 years of experience in motorcycle design, project management and product development.
His appointment is expected to further boost the company's ability to stay ahead of rapid changes in design trends and maintain its competitive edge in future technology, TVS Motor Company said in a statement.
21) Answer: C
Dr Mangu Hanumantha Rao, the dean of SV Institute of Sciences in Tirupati has been appointed as the executive director of the All India Institute Medical Sciences (AIIMS) in Madurai.
A notification issued by the Union Ministry of Personnel, Public Grievances and Training dated February 22, 2021, stated, "The Appointments Committee of the Cabinet has approved the appointment of Dr. Mangu Hanumantha Rao as the executive director of AIIMS at Madurai."
Dr. Rao now serves as the Dean of SV Institute of Medical Sciences at Tirupati.
22) Answer: D
The Asia Economic Dialogue 2021 (AED 2021) jointly convened by the Ministry of External Affairs and Pune International Centre (PIC)
It will be held over three days from February 26 to February 28.
This is the fifth AED and the second one organised by PIC, a prominent policy research think tank based in Pune, with the well-known scientist Dr. R A Mashelkar as its President and the noted economist, Dr. Vijay Kelkar, as Vice President.
The theme for this year's conference is 'Post Covid-19 Global Trade and Finance Dynamics' featuring high-level international participation from foreign ministers of a number of countries, senior bureaucrats, industry leaders and global financial experts.
The Asia Economic Dialogue is a geoeconomics conference supported by India's Ministry of External Affairs.
23) Answer: E
Former chairman of the Telecom Regulatory Authority of India (TRAI) Rahul Khullar passed away.
About Rahul Khullar :
Khullar, a 1975-batch Indian Administrative Service (IAS) officer, was appointed as TRAI chief in May 2012.
He served at TRAI for three years.
Before being appointed as TRAI chief, he was a secretary of the Ministry of Commerce and Trade.
He had topped MA Economics in 1974 from Delhi School of Economics and then taught briefly at Hansaraj College, Delhi University, before joining the IAS in 1975.
24) Answer: C
Vice-President M Venkaiah Naidu released a book 'Maverick Messiah' on February 18, 2021.
The book is a political biography of 'N T Rama Rao', the former Chief Minister of Andhra Pradesh.
NTR ranked among the top pioneers of 'alternative politics'.
His entry into politics and his 'dramatic' success within about nine months of floating a regional party gave a new direction to national politics.
25) Answer: D
The Dadasaheb Phalke International Film Festival Awards 2021, has honoured late actor Sushant Singh Rajput with the Critic's Best Actor accolade in the award ceremony.
The Dadasaheb Phalke International Film Festival Awards was introduced by the Government of India in 1969, to commemorate 'the father of Indian cinema', Dadasaheb Phalke.
The winner of the Award for 2021 :
Best Actor (Female) – Deepika Padukone, Chhapaak
Best Actor (Male) – Akshay Kumar, Laxmii
Critic's Best Actress – Kiara Advani, Guilty
Critic's Best Actor – Late Sushant Singh Rajput, Dil Bechara
Best Film – Tanhaji: The Unsung Warrior
Best International Feature Film – Parasite Most Versatile Actor – Kay Kay Menon
Best Director – Anurag Basu, Ludo
Best Actor in a Supporting Role – Vikrant Massey, Chhapaak
Best Actress in Supporting Role – Radhika Madan, Angrezi Medium
Best Actor in Comic Role – Kunal Kemmu, Lootcase
Best Actor (Web Series) – Bobby Deol, Aashram
Best Actress (Web Series) – Sushmita Sen, Aarya
Best Web Series – Scam: 1992
Album of the Year – Titliyaan
26) Answer: E
The Akshaya Oorja Awards 2019, instituted by the Agency for Non-conventional Energy and Rural Technology (ANERT), were distributed here y at the agency's headquarters.
Chief Minister Pinarayi Vijayan inaugurated the function through videoconference.
Power minister MM Mani chaired the event.
The individual award for outstanding contribution was handed over to field expert and researcher V K Damodaran by V K Prasanth, MLA, while the best industrial unit went to Malayala Manorama and Neelambari Exports.
Perinjayam panchayat in Thrissur won the best local body award.
The best education institution was awarded to National Skill Training Institute, Kozhikode, while the best commercial establishment was shared by Calicut University Cooperative Stores Ltd and Vallapat Clinic and Dentistry in Thrissur.
In the category of non-profit organisations, Care Home Helping Hands, Kozhikode, won the award.
27) Answer: B
The Marine Products Export Development Authority (MPEDA) and the National Cooperative Development Corporation (NCDC) have inked a memorandum of understanding to synergies their various programmes in the interest of export-oriented capture and culture of fisheries and allied sectors for bringing better value to the stakeholders.
The MoU was signed by KS Srinivas, Chairman, MPEDA and Sundeep Kumar Nayak, Managing Director, NCDC, here.
28) Answer: C
India and Mauritius have signed a Comprehensive Economic Cooperation and Partnership Agreement (CECPA).
This is the first trade Agreement signed by India with a country in Africa.
The Agreement is a limited agreement, which will cover Trade in Goods, Rules of Origin, Trade in Services, Technical Barriers to Trade (TBT), Sanitary and Phytosanitary (SPS) measures, Dispute Settlement, Movement of Natural Persons, Telecom, Financial Services, Customs Procedures and Cooperation in other areas.
Commerce Secretary Dr Anup Wadhawan and Secretary of Foreign Affairs of Mauritius Haymandoyal Dillum signed the  agreement in Port Louis.
Prime Minister of Mauritius Pravind Jugnauth and External Affairs Minister Dr. S. Jaishankar were also present on the occasion.