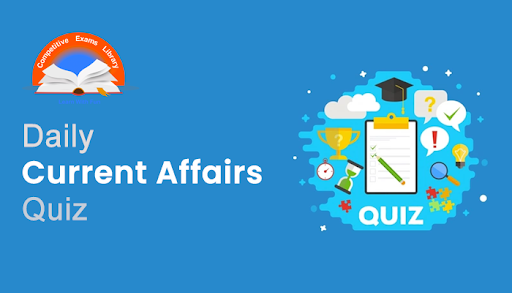 Dear Readers, Daily Current Affairs Questions Quiz for SBI, IBPS, RBI, RRB, SSC Exam 2021 of 25th June 2021. Daily GK quiz online for bank & competitive exam. Here we have given the Daily Current Affairs Quiz based on the previous days Daily Current Affairs updates. Candidates preparing for IBPS, SBI, RBI, RRB, SSC Exam 2021 & other competitive exams can make use of these Current Affairs Quiz.
1) What is the theme of the Seafarerday, observed every year on June 25?
(a) Am On Board with gender equality
(b) Seafarers: at the core of shipping's future
(c) Seafarers' Wellbeing
(d) Connecting Ships, Ports and People
(e) Seafarers are the Key workers
2) On June 25, the World Vitiligo Day has been observed every year on the remembrance of whom among the following?
(a) Daniel Dancer
(b) Patrick Swayze
(c) Nelson Mandela
(d)Marliyn Monrae
(e) Michael Jackson
3) What is the basic interest rate charged for the Central Government employees under House Building Advance,remain available till 31st March 2022?
(a) 7.9 %
(b) 7.1%
(c) 7.5%
(d) 7.7%
(e) 7.0%
4) Which of the following states has participated in the first batch of NISHTHA capacity-building programme, launched together by Tribal Ministry and NCERT?
(a) Himachal Pradesh
(b)Odisha
(c) Chhattisgarh
(d) Both A & B
(e) Both A & C
5) What is the outlay of the road project, inaugurated by Union minister NitinGadkari in Himachal Pradesh?
(a) Rs 6152 Crore
(b) Rs 6153 Crore
(c) Rs 6154 Crore
(d) Rs 6155 Crore
(e) Rs 6156 Crore
6) Who among the following would laid the foundation stone for the Bengaluru Suburban Rail project within next three months?
(a)Yediyurappa
(b)Narendra Modi
(c)Nitin Kadkari
(d)Vajubhai Rudabhai Vala
(e)Piyush Goyal
7) The S&P Global Ratings has lowered India's GDP growth rate for the current fiscal to 9.5%. What is its estimation for the FY2023?
(a) 11.0%
(b) 7.5%
(c) 8.3%
(d) 7.8%
(e) 10.1%
8) Fabindia has partnered with which among the following to launch contactless co-branded credit cards to the premium segment customers?
(a)SBI Cards
(b)PayPal
(c)Paytm
(d)HDFC Credila
(e)None of these
9) Which among the following service has been launched by Kotak Mahindra Bank to send money or make payments to any of their contacts across all payment apps simply by entering the beneficiary's mobile number?
(a)Pay Own Contact
(b)Pay By Contact
(c)Pay Your Contact
(d)Pay Via Contact
(e)Pay Us Contact
10) Under which of the following act, the State government has appointed 41 Honorary Wildlife Wardens across all the districts for two years?
(a) Forest Conservation Act, 1980
(b) Biological Diversity Act, 2002
(c) Indian Forests Act 1927
(d)Wildlife Protection Act, 1972
(e) The Environmental Protection Act,1986
11) Mastercard has recently appointed Nikhil Sahni as the new Division President for South Asia and Country Corporate Officer by replacing Porush Singh. Porush Singh has been relocated to which among the following country for a new role?
(a)Saudi Arabia
(b) Singapore
(c) Nepal
(d) Bangladesh
(e) Malaysia
12) A two day Passage exercise has been recently held between the Indian Air Force and the Indian Navy with US Navy in which among the following region?
(a)Indian Ocean
(b) Arabian Sea
(c)Lakshadweep
(d) Andaman & Nicobar Islands
(e) Bay of Bengal
13) Which country has agreed to be a co-host for the 9th Asian Ministerial Energy Roundtable Summit for the year 2022?
(a) Saudi Arabia
(b) Tajikistan
(c) Denmark
(d) India
(e) Nepal
14) Which company has organised a two-day workshop on Green Hydrogen under the Ministry of Power?
(a) NHPC
(b) Power grid
(c) REP
(d) PFC
(e) NTPC
15) The IIT Madras has recently launched a centre called CREST to provide academic and thought leadership in innovation, entrepreneurship and risk capital. What does S mean in CREST?
(a) Scholarship
(b) Science
(c) Start-ups
(d) Space
(e) Survey
16) As per the Reuters Institute Digital News Report, 2021 Which country has the lowest levels of trust among 46 Countries?
(a) Finland
(b) India
(c) Russia
(d) Syria
(e) US
17) Recently,the Sports Minister has launched the Official Summer Olympic Theme Song called 'LakshyaTeraSamneHai'.Who has composed the song?
(a)A R Rahman
(b)Amaal Mallik
(c)Mohit Chauhan
(d) Shankar Mahadevan
(e)Amit Trivedi
18) Former President of Philippine Benigno Aquino has passed away recently. He served as the ______ president of Philippine.
(a) 13th
(b) 15th
(c) 18th
(d) 11th
(e) 16th
Answers :
1) Answer:B
25 June of each year is the "Day of the Seafarer", recognizing the invaluable contribution seafarers make to international trade and the world economy, often at great personal cost to themselves and their families.
The theme for 2021 Day of the Seafarer "Seafarers: at the core of shipping's future". The theme "seeks to increase the visibility of seafarers by drawing attention to the invaluable role they play now and will continue to play in the future.
This year the campaign for Day of Seafarer calls for a "fair future for seafarers." The campaign aims to discuss "issues that will still be relevant to seafarers after the pandemic, such as fair treatment of seafarers, fair working conditions, fair training, fair safety, etc".
2) Answer: E
The World Vitiligo Day, observed on June 25, is an initiative aimed to build global awareness about vitiligo. The theme for 2021 is "Embracing Life with Vitiligo".
Another key theme for 2021 – "Patients with vitiligo have the same COVID experience as anybody else and should not fear vaccination".
Vitiligo occurs in 1-2% of the population worldwide; a loss of color in the skin creating a variety of patterns on the skin from loss of pigment.
The 25th of June was selected in remembrance of Michael Jackson, who suffered from vitiligo and died on that day in 2009.
3) Answer: A
With an aim to help central government employees who want to construct their own house, the center is offering House Building Advance (HBA) benefits to all central government servants (CGS).
The basic interest rate charged on this HBA is 7.9 percent and the benefit will remain available till 31st March 2022.
Keeping 7th pay commission pay matrix and 7th CPC approval provisions in focus, the center has already updated the HBA guidelines for the central government servants.
The HBA amount for expansion of the house is capped at Rs.10 lakh or 34 months of basic pay or cost of the expansion of the house or amount according to repaying capacity, whichever is the least.
The total amount that a central government employee can avail of under House Building Advance is up to his or her 34 month basic monthly salary or Rs 25 lakh or cost of the house or the amount as per the repaying ability of the employee, whichever is lower for new construction or purchase of new house or flat.
4) Answer: E
The Ministry of Tribal Affairs and the National Council of Educational Research and Training (NCERT), recently collaborated on a joint mission for the forEklavya school teachers and principals.
Under the programme, teachers and principals from 120 Eklavya Model Residential Schools (EMRSs) from 3 States (Himachal Pradesh, Madhya Pradesh, and Chhattisgarh) participated in the first batch of the programme. NISHTHA stands for National Initiative for School Heads' and Teachers' Holistic Advancement.
Eklavya Model Residential Schools (EMRSs) is a Central government scheme initiated in 1998-99 for setting up a model residential school from Class VI to XII for imparting quality education to tribal children in their own environment.
5) Answer: D
Union minister NitinGadkari inaugurated and laid foundation stones of road projects worth Rs 6,155 crore in Himachal Pradesh through video conferencing from Manali in Kullu district.
The projects included the 39-km-long Parwanoo-Solan section of the NH-22, constructed at a cost of Rs 1,303 crore.
On this occasion, Gadkari stated roads are prerequisite for the overall development of any nation. Chief Minister Jai Ram Thakur mentioned that the state has a road network of 40,000 kilometres but a lot more needs to be done.
6) Answer: B
Karnataka CM announced that Prime Minister Narendra Modi would lay the foundation stone for the Bengaluru Suburban Rail project within the next three months.
Inspecting the railway works being carried out between Bengaluru Cantonment and Heelalige, the chief minister said that the work on the doubling of Baiyappanahalli-Hosur railway lines (Rs 499 crore) and Yeshwantpur-Channasandra (Rs 315 crore) had commenced in October 2020 and would be completed by December 2023. Yediyurappa said the suburban rail project, estimated to cost Rs 15,760 crore, would connect the surrounding towns to the Bengaluru airport.
The doubling of Hosur and Channasandra railway lines will be completed by 2023. The project is being implemented by K-RIDE (Karnataka Rail Infrastructure Development Enterprises), a special purpose vehicle jointly set up by the state and Centre. Both will share 20 percent each of the project cost and the rest would be through borrowings.
7) Answer: D
S&P Global Ratings cut India's growth forecast for the current fiscal to 9.5 percent, from 11 percent earlier, and warned of risk to the outlook from further waves of COVID pandemic.
The agency lowered the growth outlook, saying that a severe second COVID-19 outbreak in April and May led to lockdowns imposed by states and sharp contraction in economic activity.
"S&P forecast growth of 9.5 per cent this fiscal year from our March forecast of 11 per cent".
Stating that permanent damage to private and public sector balance sheets will constrain growth over the next couple of years, it projected India's growth at 7.8 per cent in the next fiscal ending March 31, 2023.
8) Answer: A
SBI Card has joined hands with lifestyle retail chain Fabindia by launching contactless co-branded credit cards to cater to the premium segment customers.
SBI Card mentioned The new co-branded contactless credit card combines the best in class rewards points on retail spends with the value back on varied spending categories, thus addressing overall spending needs of premium cardholders.
The card is designed with curated benefits and privileges to offer a rewarding shopping experience to its premium customers. The card comes in two variants – Fabindia SBI Card SELECT and Fabindia SBI Card.
The Fabindia SBI Card customer gets direct entry to Fabindia'sFabFamily loyalty programmes at higher tiers (Gold and Platinum) which is otherwise provided to the customers only after qualifying the minimum annual spending of Rs 30,000 and Rs 75,000 respectively.
9) Answer: C
Kotak Mahindra Bank has announced the launch of 'Pay Your Contact' an innovative feature on KMBL's mobile banking app that uses the Unified Payments Interface (UPI) platform and allows customers to send money or make payments to any of their contacts across all payment apps simply by entering the beneficiary's mobile number.
With 'Pay Your Contact', KMBL customers no longer need to remember or obtain the bank account number or IFSC code or remember UPI IDs to send money or make payments.
The 'Pay Your Contact' feature is interoperable across all payment apps and is available on both Android and iOS. "The other key issue that 'Pay Your Contact' addresses are that of interoperability.
Given the immense popularity of UPI in the Indian market, almost every Indian with a bank account has a UPI ID. With 'Pay Your Contact' customers can now transfer funds easily to any UPI-linked bank account across payment apps with just a mobile number to identify their beneficiary"
10) Answer: D
The State government appointed 41 Honorary Wildlife Wardens (HWWs) across all the districts as per the provision of Wildlife (Protection) Act 1972. They have been appointed for a period of two years till June 2023.
Wildlife conservationist Aditya Chandra Panda along with Pradeep Kumar Sahoo has been appointed as the HWWs for Angul district. Snake Helpline general secretary SubhenduMallik is the new HWW for Khurda district.
Apart from Mallik, Speak for Animal founder KusalBiswas and JyotirmayaBarik will also serve as HWWs of Khurda. PradiptaKabi, Akshay Kumar Mohanty and BibekanandaPattnaik have been appointed as the HWWs for Mayurbhanj district, while SibaramSahoo and HrudanandaNaik will look into Sambalpur district.
Suresh Chandra Tripathy will be the HWW for Cuttack, while Bijay Kumar Dash and Surya Narayan Lenka would look into Dhenkanal and Kendrapara respectively. The appointments were delayed for around a year as terms of the HWWs appointment in the State had expired in July 2020.
11) Answer: B
Global payments technology major Mastercard announced the appointment of Nikhil Sahni as the new Division President, South Asia and Country Corporate Officer, India.
Sahni replaces Porush Singh, who will be relocating to Singapore and will assume a new role within the company.
He will oversee Mastercard's operations, and position the company's extensive suite of products, solutions and services across the sub-continent, including Sri Lanka, Bangladesh, Nepal, Maldives and Bhutan, in addition to India.
Nikhil has nearly 25 years of experience in strategy, investment banking, corporate, commercial, SME, retail, branch, and government banking.
12) Answer: A
On June 23, 2021, Indian Air Force (IAF) and the Indian Navy commenced two-day Passage exercise.
The exercise will be held two days, June 23, 2021 and June 24, 2021. It is the joint operational passage exercise with the US Navy Carrier Strike Group in the Indian Ocean Region (IOR).
It will be carried out south of Thiruvananthapuram, on the western seaboard.To strengthen the bilateral relationship and cooperation by demonstrating the ability to integrate and coordinate comprehensively in maritime operations.
As part of the exercise, Sukhois, Jaguars, IAF refuelling aircraft and warships and maritime patrol aircraft of the Navy will participate in the exercise.INS Kochi and Teg, along with P8I and MiG-29K aircraft will participate in a 'Passage Exercise' with US Navy CSG Ronald Reagan.
13) Answer: D
On June 22, 2021, the International Energy Forum of Riyadh (Saudi Arabia) informed India that it has agreed to host the 9th Asian Ministerial Energy Roundtable (AMER9) in 2022.
It will take forward the understandings reached in the previous meeting in Abu Dhabi during 2018.The Summit was co-hosted by India.
The Summit Focusing on global energy security in the age of change. The International Energy Forum (IEF) is the world's largest energy organisation with 71 member countries, accounting for 90% of the global energy market.
The Forum holds energy dialogue promotes energy security, market stability and transparency in the transition to a sustainable and inclusive future.
14) Answer: E
Under the Ministry of Power, NTPC Limited, organised a two-day workshop on Green Hydrogen.
The event will be anchored by India's state-run power major NTPC.The online event will be held through a video conference from June 22, 2021 to 23, 2021.
Experts from Brazil, Russia, India, China, South Africa (BRICS) countries participated. In addition to that, the Central government also launched a National Hydrogen Mission this year.
15) Answer: C
The Indian Institute of Technology Madras, has launched a 'Centre for Research on Start-Ups and Risk Financing' (CREST).
To provide academic and thought leadership in innovation, entrepreneurship and risk capital.
To create a unique world-class data repository on Indian start-ups and ventures to address a major hurdle for engaging in high-quality research.
CREST is to be globally recognized as a leading centre of research engaged in scholarly research in the areas of creation, development, and financing of innovation, start-ups, and entrepreneurship.
To engage in scholarly research encompassing the areas of innovation, entrepreneurship, and risk capital.
16) Answer: E
Out of 46 countries, India ranked 31 in the Reuters Institute Digital News Report, 2021. Finland had the highest levels of overall trust in news (65%) while the US had the lowest levels of trust (29%).
Only 38% of the respondents from India informed they trust the news overall. The Asian College of Journalism (ACJ) provided logistical support for surveying the Indian market.
The survey shows India is one of the strongest mobile-focused markets. The 10th edition of the Digital News Report featured India for the first time in the main report.
The report is based on an online survey of 46 media markets to understand how news is consumed in different countries. The 2021 report focuses on trust in news, the pandemic induced economic pressure on news publishers, misinformation and COVID-19.
17) Answer: C
On June 23, 2021, Sports Minister KirenRijiju launched India's Official Olympic Theme Song 'LakshyaTeraSamneHai' for the Summer Games in July-August.
MohitChauhan has composed and sung the song. The event was organised by Indian Olympic Association (IOA) and attended by its President, Secretary General, Deputy Chef De Mission, Sports Secretary and DG Sports Authority of India (SAI).
The Games will open on July 23 and over 100 Indian athletes have qualified for the event so far.
18) Answer: B
On June 24, 2021, Former Philippine President Benigno Aquino Passed away. He was 61.
Benigno Aquino also Known as PNoy&Noynoy. He was born in 1960, in Manila, Philippines. He served as the 15th president of the Philippines from 2010 to 2016.
He was the son of politician Benigno Aquino Jr. and President Corazon Aquino. In the Aquino family, he was a fourth-generation politician. From 1998 to 2010, he was also a member of the House of Representatives and Senate.
He also served as a deputy speaker of the House of Representatives from 2004 to 2006. In 2013, Times Magazine named him one of the 100 Most Influential People in the World.