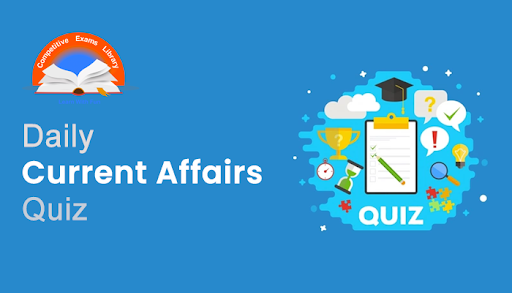 Dear Readers, Daily Current Affairs Questions Quiz for SBI, IBPS, RBI, RRB, SSC Exam 2021 of 25th March 2021. Daily GK quiz online for bank & competitive exam. Here we have given the Daily Current Affairs Quiz based on the previous days Daily Current Affairs updates. Candidates preparing for IBPS, SBI, RBI, RRB, SSC Exam 2021 & other competitive exams can make use of these Current Affairs Quiz.
1) Parliament recently passed the Finance Bill 2021 raising the interest earned on PF contribution from 2.5 lakh to _____ lakh rupees.
A) 5.5
B) 4.5
C) 5
D) 3
E) 4
2) PM Modi will soon visit to which country starting 26 March?
A) Madagascar
B) Maldives
C) Bhutan
D) Sri Lanka
E) Bangladesh
3) GRAM UJALA programme has been launched in which of the following city?
A) Gwalior
B) Varanasi
C) Surat
D) Jind
E) Panipat
4) Asia's largest Tulip Garden has recently been opened in which of the following state/UT?
A) Bihar
B) Punjab
C) Delhi
D) J&K
E) Haryana
5) The LG of Ladakh has launched the first Solar Lift Irrigation Scheme of KREDA in which of the following village?
A) Chuchot
B) Hanle
C) Das
D) Arya
E) Latoo
6) NHAI has planned to develop world class 'Wayside Amenities' – more than 600 locations with a target of _____ sites in 2021-22.
A) 180
B) 160
C) 130
D) 140
E) 150
7) How many new AYUSH Health & Wellness Centres have been e-inaugurated in J&K by Lieutenant Governor?
A) 93
B) 83
C) 53
D) 63
E) 73
8) Who among the following has inaugurated the Pashudhan Mela' in Kathua?
A) Prahlad Patel
B) Manoj Sinha
C) Naveen Kumar Chaudhury
D) Narendra Modi
E) Amit Shah
9) DS Ravindran has been appointed as additional director of which bank?
A) Yes Bank
B) Karnataka Bank
C) Bandhan Bank
D) Axis Bank
E) UCO Bank
10) The CCI has ordered a probe into the new privacy policy of WhatsApp under contravention of which of the following act?
A) RBI Act, 1934
B) IPC Act, 1960
C) Data Protection Act, 2018
D) Competition Act, 2000
E) IT Act, 2000
11) NABARD has recently organized a credit camp in Samba district of which state/UT?
A) Pondicherry
B) Daman & Diu
C) J&K
D) Punjab
E) Chandigarh
12) CJI Justice has recommended to the Union government to appoint who among the following as the next Chief Justice of India?
A) Surya Kant
B) NV Ramanna
C) Ramayyagari Subhash Reddy
D) Dinesh Maheshwari
E) Sanjib Khanna
13) Regional SARAS Fair 2021 has been organized by SHGs in which of the following state?
A) Mizoram
B) Manipur
C) Tripura
D) Nagaland
E) Assam
14) Which company has appointed Uri Levine as Board Chairman?
A) Meru
B) Zoomcar
C) Myles Car
D) Uber
E) Ola
15) Who among the following has been appointed as head of newly standalone foundry business unit of Intel?
A) Dr Manas Khatri
B) Dr Anand Gupta
C) Dr Randhir Thakur
D) Dr Nalini Srivastava
E) Dr Raj Aggarwal
16) Who among the following has been appointed in Seagate Technology's board?
A) Nalin Sharma
B) Subah Arya
C) Rajan Mathur
D) Shankar Arumugavelu
E) Anand Kumar
17) New species of diatoms Epithemia agharkarii has been found in which of the following river?
A) Tapi
B) Mula
C) Kaveri
D) Narmada
E) Krishna
18) Which of the following University has been selected for the Chancellor's Award 2020?
A) Odisha Agricultural University
B) CCS Haryana Agricultural University
C) Anand Agricultural University
D) Punjab Agricultural University
E) Kerala Agricultural University
19) Which port trust has signed a MoU with CNB Logitech signing a ink pact for a digital port-yard ecosystem?
A) Deendayal
B) JNPT
C) Kolkata
D) Mundra
E) Kochi
20) Which country will hold Pabbi-Antiterror-2021, under the aegis of Shanghai Cooperation Organisation later this year?
A) Kazakhstan
B) Uzbekistan
C) Russia
D) China
E) Pakistan
21) ISRO Demonstrated India's First Free-Space Quantum Communication Over a distance of ______ Metres.
A) 500
B) 450
C) 400
D) 300
E) 350
22) Which country has launched 38 Satellites For 18 Countries into orbit?
A) Germany
B) US
C) Russia
D) Japan
E) China
23) Virat Kohli has moved to the ______ position while Rohit Sharma has moved to 14th  as per the ICC T20 Player rankings.
A) 3rd
B) 4th
C) 5th
D) 6th
E) 7th
Answers :
1) Answer: C
Parliament has passed the Finance Bill, 2021 with the Rajya Sabha returning it to Lok Sabha.
With this, Parliament has completed all the budgetary exercise.
For tax exemption raised on interest earned on PF contribution from 2.5 lakh to 5 lakh rupees per annum
Replying to a discussion on the Finance Bill, 2021, Finance Minister Nirmala Sitharaman said the NDA rule has provided corruption free governance and brought Indian economy out of policy paralysis and fragile five.
She alleged that the economy was mismanaged under UPA rule and the Narendra Modi government had got a legacy of high inflation which has been checked.
Mrs Sitharaman also said NPA has brought down to around 8 lakh 99 thousand crore rupees by March 2020.
Talking about GST, the Minister said GST compensation due to states prior to COVID has all been paid.
She informed that 30 thousand crore rupees of GST compensation will be released to states this month.
She also elaborated several measures taken to provide relief to the common man during the COVI-19 pandemic.
When the Finance Minister alleged that the West Bengal government has deprived farmers of benefits under the central government's PM Kisan Samman Nidhi scheme, the  House witnessed heated arguments between the treasury bench and TMC members.
2) Answer: E
The visit of Prime Minister Narendra Modi to Bangladesh starting on 26 March will be of very special significance in reinforcing the comprehensive strategic partnership between the two countries.
Briefing media ahead of the official state visit of Prime Minister Narendra Modi to Bangladesh Foreign Secretary Harsh Vardhan Shringla said that Prime Minister's first visit to a foreign country after the Covid 19 pandemic signifies the importance India attaches to its ties with Bangladesh.
During his visit to Bangladesh Prime Minister Modi will join the national day celebration of Bangladesh on 26th March and deliver an address at the National Parade ground in Dhaka.
He will also hold delegation level talks and restricted talks with Prime Minister Sheikh Hasina of Bangladesh.
Prime Minister Modi will pay homage at the National Martyr's memorial at Savar just outside Dhaka.
He will also jointly inaugurate the Bangabandhu- Bapu exhibition with Prime Minister Sheikh Hasina of Bangladesh.
3) Answer: B
The Union Minister of State (I/C) for Power & New and Renewable Energy, RK Singh, launched the GRAM UJALA programme in Varanasi of Uttar Pradesh.
Under this program Convergence Energy Services Limited, CESL, a wholly owned subsidiary of Energy Efficiency Services Limited -EESL, will distribute high quality LED bulbs, at an affordable cost in rural areas.
Under the scheme One crore 50 lakh LED bulbs will be distributed in phase 1 resulting in energy savings of 2025 million KWh/year and CO2 reductions of 1.65 million T CO2/year.
He said, the scheme has crossed 6,150 distribution mark in Arrah, Bihar within 2 days of launch of scheme.
The Power Minister said that India is leading in energy transition as well as energy efficiency.
This scheme is designed specifically for rural homes keeping affordability in mind and it will also result in energy savings as a 12 Watt LED bulb gives equivalent light as a 100 watt incandescent bulb.
4) Answer: D
In the Union Territory of Jammu and Kashmir, Asia's largest Tulip Garden in Srinagar is scheduled to be opened for the general public and tourists.
The Tulip Garden in Srinagar is a spectrum of colours featuring lakhs of tulips which have blossomed in the lap of Zabarwan Hills along the banks of world famous Dal Lake in Srinagar city.
Prime Minister Narendra Modi in his tweet has urged the people to visit Jammu and Kashmir and enjoy the scenic Tulip Garden Festival in Srinagar where 15 lakh flowers of more than 64 varieties are in full bloom nowadays.
Mr Modi has also not missed to convey the hospitality of the people of Jammu and Kashmir.
5) Answer: E
Ladakh Lieutenant Governor  R K Mathur has inaugurated the first Solar Lift Irrigation Scheme of Kargil Renewable Energy Development Agency (KREDA) at Latoo Village.
This is the last Village on the LOC.
The project is inspired by the Vision of the Prime Minister Narendra Modi for solarising Ladakh as a model region by making it fully solarised and Carbon Neutral.
The agency has successfully installed and Commissioned a 41 Hp Submersible Pump backed with 50 Kw Solar Photovoltaic Plant making the first prototype of the Solar Lift Irrigation System in Ladakh in coloration with Ladakh Autonomous Hill Development Council Kargil.
Mr.Mathur said,   after preliminary analyses which will be completed in a week, it will be a model and it can be replicated in most parts of Ladakh without any running cost.
6) Answer: C
In a major move to improve commuters' experience on National Highways for both passengers and truckers, the National Highways Authority of India (NHAI) will develop world class 'Wayside Amenities' at more than 600 locations across 22 states in the next five years.
Out of these, 130 are targeted for development in 2021-22.
NHAI has already invited bids to develop 120 such wayside amenities.
As per plan, wayside amenities will be developed every 30 to 50 kilometer along the current and upcoming Highways and Expressways.
The amenities will include numerous facilities for passengers such as Fuel Station, Electric Charging Facilities, Food Court, Retail Shops, ATM, and Toilets with shower facility, Children Playing Area, Clinic, Village Haat for local handicrafts etc.
Keeping in view the specific requirements of truckers, separate 'Truckers Blocks' will be developed at large amenities that will include Truck and Trailer Parking, Auto Workshop, Truckers Dormitory, Cooking and Washing area, Toilets with showers, Clinic, Eateries and  Retail shops .
7) Answer: E
In the Union Territory of Jammu and Kashmir, with the aim of promoting good health and expanding the outreach of comprehensive primary healthcare services to the people of J&K, Lieutenant Governor, Manoj Sinha e-inaugurated as many as 73 AYUSH Health & Wellness Centres under Ayushman Bharat across the UT.
The LG observed that healthcare services in J&K witnessed a revolutionary transformation in the past several months and unprecedented work is being done for advancement and upgradation of medical facilities for ensuring quality and affordable healthcare services in the UT.
8) Answer: C
In  Jammu and Kashmir, Principal Secretary Animal & Sheep Husbandry Department, Naveen Kumar Chaudhary has  inaugurated 'Pashudhan Mela' in Kathua.
A variety of breeds of cattle and buffalo from the neighboring state of Punjab including breeds from Kashmir were put on display.
The Principal Secretary said the 'Pashudhan Mela' is the first of its kind Mela held in the Union Territory organized with the objective to educate farmers about the latest cattle breeds.
He said Cattle Mela will be a regular affair in J&K covering each district in a phased manner.
He said the Department of Animal Husbandry has taken a series of steps to empower farmers and livestock owners to adopt dairy which have huge market demand.
He appealed to youth to come forward to start their units in dairy farming under Integrated Dairy Development Scheme (IDDS) which provides expertise and necessary machinery at subsidized rates.
9) Answer: B
Leading Private Sector lender Karnataka Bank Ltd. has appointed Dr. D S Ravindran as Additional Director (Non-Executive, Independent) on 24th March, 2021 and the appointment will be effective from 1st April, 2021.
10) Answer: D
The Competition Commission of India ordered a probe into the new privacy policy of WhatsApp.
In a Suo-Motu order on the Updated Terms of Service and Privacy Policy for WhatsApp Users the Anti-trust Watchdog said that WhatsApp has prima facie contravened the Competition Act, 2000.
The order says that WhatsApp through its exploitative and exclusionary conduct, in the garb of policy update violated the provisions of Section 4 of the act.
It added that the conduct of WhatsApp in sharing of users' personalized data with other Facebook Companies, in a manner that is neither fully transparent nor based on voluntary and specific user consent, appears prima facie unfair to users.
11) Answer: C
In the Union Territory of Jammu and Kashmir, NABARD organized a credit camp in Samba district for the members of Joint Liability Groups (JLGs) to provide collateral free institutional credit support to landless farmers, sharecroppers, oral lessees, small & marginal farmers and other rural poor to take up farm, off-farm and non-farm activities.
More than 60 members from various JLGs promoted by NABARD participated in the credit camp. Deputy General Manager (DGM), NABARD, Jammu, Anamika while speaking on the occasion, informed that the formation of JLGs was started by NABARD with the objective to augment the credit flow to farmer's especially landless farmers, sharecroppers, oral lessees, small & marginal farmers and other rural poor to take up livelihood activities for their income generation.
12) Answer: B
Chief Justice of India Justice S A Bobde has recommended Union Government to appoint the senior most Supreme Court Judge Justice N V Ramanna as the next Chief Justice of India.
Chief Justice Bobde is set to retire on 23rd April.
Justice Bobde was sworn in as the 47th Chief Justice of India in November 2019.
Traditionally, the sitting Chief Justice writes a recommendation for his likely successor.
13) Answer: D
The Regional SARAS Fair 2021, an initiative of Ministry of Rural Development, to promote rural products and build capacities of Self Help Groups, SHGs got underway at Kohima Local Ground Launching the SARAS fair, Advisor Urban Development and Municipal Affairs Dr. Neikiesalie (Nicky) Kire emphasised on the need for more participation of SHGs in such exhibitions and not to confine to their own self.
He said this will help the members to exhibit their products, learn from each other but also gain experience in the field of marketing.
Mission Director Nagaland State Rural Livelihoods Mission, NSRLM Imtimenla said the main objective is to bring the local artisans and Self Help Groups to promote and sale their products as well as get exposure in a bigger entrepreneurial platform.
14) Answer: B
Levine is a co-founder, Chairman or board member for several other start-ups, including FeeX, FairFly, Seetree, and Refundit.
"We're thrilled to welcome Uri Levine to the Board as the Chairman" said Greg Moran, CEO and co-founder, Zoomcar.
"His appointment will help us with international expansion and to further disrupt the market with ZMS (Zoomcar Mobility Stack technology), our one-stop shop mobility offering for OEMs (original equipment manufacturers), operators and insurance companies," said Zoomcar Chief Executive Officer and co-founder Greg Moran.
15) Answer: C
Intel has announced that it will be establishing a new standalone business unit, Intel Foundry Services (IFS) which will be led by the National Institute of Technology, Kurukshetra alumni Randhir Thakur as part of the company's new IDM 2.0 strategy for its integrated device manufacturing model.
16) Answer: D
Seagate Technology plc, a worldwide knowledge storage and infrastructure options firm introduced the appointment of Shankar Arumugavelu to the corporation's Board of Directors and to serve on the Audit and Finance Committee of the Board, effective March 19.
Arumugavelu is the Senior Vice President and Global Chief Information Officer for Verizon Communications Inc.
The place he leads the corporate's data expertise technique, structure, improvement, and administration of the data techniques portfolio together with the continued evolution of digital platforms and operation of supporting infrastructure throughout all Verizon enterprise models.
17) Answer: B
The study led by researchers from Pune-based Agharkar Research Institute (ARI) named the new species found in the Mula river as Epithemia agharkarii, in honour of the institute's founder-director SP Agharka.
The species was found thriving on submerged stones located downstream Mulshi dam, indicating its preferred ecosystem to be freshwater reserves.
18) Answer: E
Kerala Agricultural University has been selected for the Chancellor's Award 2020 in the category of specialised universities.
The award is based on competitive grading of all the universities in the State on parameters of higher education, research and technology transfer.
Mahatma Gandhi University (MGU) has bagged the fourth Chancellor's Award for 2017-18.
Kerala Veterinary and Animal Sciences University (KVASU) has been selected for the Chancellor's Award for the Best Emerging Young University during the same period.
The Raj Bhavan made the formal announcement after Governor P. Sathasivam accepted the recommendations of the selection committee that was constituted by the Kerala State Higher Education Council (KSHEC) to identify the award recipients.
The Chancellor's Award carries a cash prize of Rs.5 crore, while the Best Emerging Young University will receive a prize of Rs.1 crore.
19) Answer: B
State-owned Jawaharlal Nehru Port Trust (JNPT) has signed a memorandum of understanding with CNB Logitech to monitor, track and optimize the movement of 5 million containers through the port located near Mumbai.
The partnership seeks to enhance efficiency and help India improve its ranking in the "Ease of Doing Business".
20) Answer: E
Pakistan will hold Pabbi-Antiterror-2021, under the aegis of Shanghai Cooperation Organisation later this year.
India's participation would come amid a fresh peace process between both nations.
It would be a historic event, given that it would be the first time that Indian forces will travel to Pakistan for any military exercise.
The exercise will be held at an anti-terrorism centre in Nowshera, Khyber Pakhtunkhwa.
The exercise was announced at the 36th meeting of Council of Regional Anti-Terrorist Structure (RATS) held in Tashkent, Uzbekistan.
It, under the aegis of the inter-governmental organisation comprising eight nations, will be held at the National Counter Terrorism Centre (NCTC) Pabbi, near Mangla Cantonment.
21) Answer: D
For the first time in the country, The Indian Space Research Organisation (ISRO) has successfully demonstrated free-space Quantum Communication over a distance of 300 metres.
The demonstration has included live video conferencing using quantum-key-encrypted signals.
This is a major milestone achievement for unconditionally secured satellite data communication using quantum technologies.
The free-space QKD was demonstrated at Space Applications Centre (SAC), Ahmedabad, between two line-of-sight buildings within the campus.
The Quantum Key Distribution (QKD) technology underpins Quantum Communication technology that ensures unconditional data security by virtue of the principles of quantum mechanics, which is not possible with the conventional encryption systems.
The experiment was performed at night, in order to ensure that there is no interference of the direct sunlight.
The experiment is a major breakthrough towards ISRO's goal of demonstrating Satellite Based Quantum Communication (SBQC).
Quantum communication technology will be useful for a variety of strategic sectors including defence and digital money transactions.
22) Answer: C
Russian space agency 'Roscosmos' successfully launched 38 foreign satellites into orbit, onboard Soyuz-2.1a carrier rocket from the Baikonur cosmodrome in Kazakhstan.
The rocket will place in orbit 38 satellites and it belongs to 18 countries, including South Korea, Japan, Canada, Saudi Arabia, Germany, Italy and Brazil.
Among them is the Challenge-1, the first satellite made completely in Tunisia, which was created by the Telnet telecommunications group.
In 2018, a Soyuz rocket carrying a Russian cosmonaut and a NASA astronaut failed mid-flight, forcing the crew to carry out an emergency landing. Both survived without injuries.
23) Answer: B
India captain Virat Kohli and vice-captain Rohit Sharma are among the India batsmen to progress in the ICC Men's T20I Player Rankings after clinching the home series against England 3-2 in Ahmedabad.
Kohli has moved up one place to fourth position and he is the highest-ranked from India ahead of KL Rahul.
Rohit moved up three places to 14th in the ICC Men's T20I Player Rankings.
While Yadav rose from the bottom to the 66th position, Pant has moved up 11 places to 69th in the rankings.
Shreyas Iyer has moved up five places to a career-best 26th position while rookie Suryakumar Yadav and wicketkeeper-batsman Rishabh Pant also made rapid progress.
Seam bowler Bhuvneshwar Kumar has moved up 21 places to 24th while Hardik Pandya has advanced 47 places to 78th.