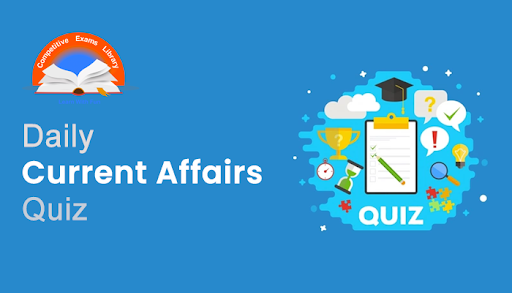 Dear Readers, Daily Current Affairs Questions Quiz for SBI, IBPS, RBI, RRB, SSC Exam 2021 of 25th May 2021. Daily GK quiz online for bank & competitive exam. Here we have given the Daily Current Affairs Quiz based on the previous days Daily Current Affairs updates. Candidates preparing for IBPS, SBI, RBI, RRB, SSC Exam 2021 & other competitive exams can make use of these Current Affairs Quiz.
1) National Missing Children's Day is Observed on May __.
A) 20
B) 30
C) 25
D) 22
E) 21
2) Which company has won the Guinness title for the world's largest programming competition?
A) Xiaomi
B) Microsoft
C) Dell
D) TCS
E) HCL
3) PGA Championship who has become the major winner?
A) Arnie Schmidt
B) Ringgit Jones
C) Connor Den
D) Mike Bryan
E) Phil Michelson
4) The Union Health Minister recently chaired ___ World Health Assembly.
A) 69th
B) 74th
C) 73rd
D) 72nd
E) 71st
5) Which state has achieved 1st rank for implementing Smart City Mission schemes?
A) Kerala
B) Bihar
C) Gujarat
D) Jharkhand
E) Haryana
6) Which team 's boss has bagged England's manager of the year award?
A) AS Roma
B) Barcelona
C) Tottenham
D) Arsenal
E) Manchester City
7) Which institution will honour 'Annapurna Award' for Indian restaurants abroad?
A) Assocham
B) FICCI
C) ICCR
D) Niti Aayog
E) CII
8) Who among the following has become the first Indian to win the Rudolf Schindler Award?
A) Dr Sudhir Kumar
B) Dr Nageshwar Reddy
C) Dr Anand Sharma
D) Dr Nitin Kulkarni
E) Dr Amit Sharma
9) NHA signs MoU with the Government of which state?
A) Gujarat
B) Bihar
C) Kerala
D) Haryana
E) Telangana
10) Forbes Highest-Paid Athletes for 2021 : UFC Champion Conor McGregor has topped with ____ million earnings.                                  
A) 90
B) 100
C) 180
D) 120
E) 110
11) Book titled "India and Asian Geopolitics: The Past, Present" Authored by who among the following?
A) NS Tomar
B) Anurag Srivastava
C) Prahlad Patel
D) Shivshankar Menon
E) Amit Shah
12) BBB has recommended BoB's ED Jain as MD & CEO of which Bank?
A) BOI
B) Oriental
C) UCO
D) Axis
E) Indian
13) New species of snake Platycepsjosephi has been found in which state?
A) Uttar Pradesh
B) Tamil Nadu
C) Gujarat
D) Bihar
E) Madhya Pradesh
14) OP Bhardwaj who passed away recently was a ______.
A) Director
B) Actor
C) Writer
D) Musician
E) Hockey coach
Answers :
1) Answer: C
National Missing Children's Day has been commemorated in the United States on May 25, since 1983, when it was first proclaimed by President Ronald Reagan.
It falls on the same day as the International Missing Children's Day, which was established in 2001.
The 2021 National Missing Children's Day poster contest winner is Heidy Jimena Perez Veleta from Sunnyside Elementary School in Dodge City, Kansas.
Heidy's poster represents the theme "Bringing Our Missing Children Home," through her colorful representation of two hands forming a heart.
Missing Children's Day with a ceremony honoring the heroic and exemplary efforts of agencies, organizations, and individuals to protect children.
2) Answer: D
Tata Consultancy Services' programming contest, TCS CodeVita, has won a Guinness World Records title for the world's largest computer programming competition.
"The ninth season of TCS CodeVita has won a Guinness World Records title as the world's largest computer programming competition with 136,054 participants from 34 countries".
The 2021 TCS CodeVita competition invited college students from around the world to pit their programming skills against each other to be ranked among the top student programmers globally.
3) Answer: E
On May 23, 2021, Phil Mickelson won the PGA Championship by two shots over Brooks Koepka and South African Louis Oosthuizen.
Mickelson (50 Years old) is the oldest winner in the 161 years of major championship golf.
He sealed the deal with a one-over-par 73 at the Ocean Course that left him at six under on the week.
The victory by Mickelson marked the sixth major championship win of his career and first since the 2013 British Open.
Mickelson became the 10th player to win majors in three decades, an elite list that starts with Harry Vardon and was most recently achieved by Tiger Woods.
4) Answer: B
Union Health Minister Dr. Harsh Vardhan chairs 74th World Health Assembly.
Director-General of the World Health Organization Dr Tedros was also present on the occasion.
Highlighting the achievements of the 148th session, which was held from 18th January to 26th January 2021, Dr Harsh Vardhan noted that the Board called for further efforts to ensure fair and equitable access to COVID-19 vaccines through the COVAX Facility and encouraged WHO to work closely with World Organization for Animal Health (OIE), and the Food and Agriculture Organisation (FAO) to identify the zoonotic source of the virus.
The Board emphasized the importance of adopting a 'One Health' approach following consideration of a report on anti-microbial resistance and welcomed Member State's participation in the revision of the Codex Code of Practice to Minimize and Contain Foodborne Antimicrobial Resistance."
5) Answer: D
Jharkhand has clinched the first position in the recent ranking released by the Union Ministry of Housing and Urban Affairs, Government of India, based on the progress of the implementation of the Smart City Mission's schemes running in different 100 cities of the Country's 36 states and union territories.
At the same time, Jharkhand's Capital Ranchi has risen to 12th position in terms of progress of the ongoing mission plans in 100 cities.
On the other hand, Delhi is at number 11 in the list of States and Union Territories and Bihar at number 27 and New Delhi Municipal Corporation is at number 41 and Bihar Capital Patna at 68th position in the list of cities.
The Urban and Housing Development Department, Government of Jharkhand informed this through a press note.
6) Answer: E
Guardiola's award came just days after it was announced that City defender Ruben Dias had been voted the footballer of the year by England's Football Writers Association.
London Manchester City's Pep Guardiola has been named manager of the year by England's League Managers' Association.
City finished 12 points ahead of second-placed Manchester United and also won a fourth consecutive League Cup, beating Tottenham Hotspur 1-0 at Wembley in April.
Guardiola's team takes on Chelsea in the Champions League final.
7) Answer: C
The Indian Council for Cultural Relations is likely to institute 'Annapurna Award' for Indian restaurants abroad that attract the highest footfall of local non-NRI people.
ICCR president Vinay Sahasrabuddhe recently made the announcement on the occasion of the fourth Deendayal Upadhyay Memorial International Oration, it said, noting that Chicago-based food historian Collin Taylor Sen also spoke on India"s culinary culture as soft power.
Observing that India's influence on world's cuisine is greater than that of any other civilization, Sen said vegetarianism and Ayurveda-based food are two most significant contributions of the country to global food traditions.
8) Answer: B
Padma Bhushan awardee Dr D Nageshwar Reddy, who is also the chairman of AIG Hospitals, has won the highest honour from the American Society of Gastrointestinal Endoscopy (ASGE) — the Rudolf V Schindler Award.
Dr D Nageshwar Reddy has received the Rudolf V Schindler award in the annual Crystal Award of American Society of Gastrointestinal Endoscopy (ASGE), one of the apex bodies of GI Endoscopy, a press release said.
Named after Dr Schindler, who is widely considered as 'father of gastroscopy', the Rudolf V Schindler award is the highest category in the Crystal Awards of ASGE.
9) Answer: E
The National Health Authority, NHA has signed an MoU with Telangana Government for implementation of Ayushman Bharat Pradhan Mantri Jan Arogya Yojana (AB PM-JAY) in the state with immediate effect.
The Ayushman Bharat scheme has been integrated with the existing state scheme 'Aarogyasri' and this converged scheme is being called Ayushman Bharat PM-JAY Aarogyasri.
NHA will provide several auxiliary support to State Health Agency including related to fraud and abuse control.
10) Answer: C
The 2021 Forbes' list of the world's highest-paid athletes, the former Ultimate Fighting Championship (UFC) and renowned mixed martial arts superstar Conor McGregor, has been ranked top position.
This is the first time when McGregor has topped the coveted Forbes list.
From May 1, 2020 to May 1, 2021, as measured he earned a massive $180 million.
Followed by Professional Footballer Lionel Messi stood second place with an earning of $130 million and Cristiano Ronaldo earned $120 million he was in third place.
11) Answer: D
A new book titled "India and Asian Geopolitics: The Past, Present which has been authored by Indian diplomat Shivshankar Menon has been released.
The book is published by Brookings Institution.
12) Answer: E
The Banks Board Bureau (BBB) has recommended the name of S L Jain for the post of managing director (MD) of state-owned Indian Bank.
The term of incumbent MD of the Chennai-based lender, Padmaja Chunduru, would superannuate later this month.
The bureau interviewed nine candidates from various public sector banks on May 24 for the forthcoming vacancy of managing director and chief executive officer in the Indian Bank.
13) Answer: B
A group of researchers has discovered a new species of racer snake named Platycepsjosephi from Tuticorin, Tamil Nadu
The new species is named after late herpetologist Naveen Joseph.
It is published in Vertebrate Zoology.
About Platycepsjosephi :
Platycepsjosephi, colubrid medium sized (maximum total length 951 mm) snake.
It can be seen in the open grasslands with rocky and scrub habitats.
It has distinct white bands on its body and irregular white spots on its head.
It is a non-venomous terrestrial snake.
Note :
Platycepsjosephi should be considered a species in the Vulnerable category according to the IUCN criteria.
14) Answer: E
India's first Dronacharya awardee coach in boxing, O P Bhardwaj, Passed away.
He was 82.
About OP Bhardwaj :
Bhardwaj was India's national boxing coach from 1968 to 1989 and also served as a national selector.
He was the first chief instructor for the sport at the National Institute of Sports India in Patiala.
Under Bhardwaj's coaching stint, India boxers won medals at the Asian Games, the Commonwealth Games and the South Asian Games.
Achievements :
Bharadwaj also got the Best Coach in Asia award around the 1990s
Prakash Bhardwaj was awarded India's highest award in the field of coaching of sports and athletics the Dronacharya Award, in 1985.