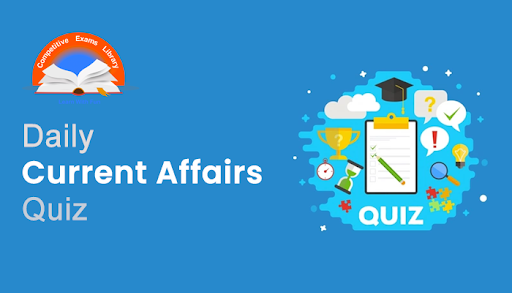 Dear Readers, Daily Current Affairs Questions Quiz for SBI, IBPS, RBI, RRB, SSC Exam 2021 of 26th February 2021. Daily GK quiz online for bank & competitive exam. Here we have given the Daily Current Affairs Quiz based on the previous days Daily Current Affairs updates. Candidates preparing for IBPS, SBI, RBI, RRB, SSC Exam 2021 & other competitive exams can make use of these Current Affairs Quiz.
1) Kushinagar Airport located in which state has received International Airport License From DGCA?
A) Kerala
B) Punjab
C) UP
D) Haryana
E) Bihar
2) Which state is set to add value to its flower power in collaboration with the International Flower Auction Bangalore (IFAB)?
A) Chhattisgarh
B) Punjab
C) Bihar
D) Karnataka
E) Kerala
3) Which country is unlikely to exit 'grey list' as FATF meets?
A) China
B) North Korea
C) Qatar
D) Iran
E) Pakistan
4) Several development projects have been launched who among the following in Tamil Nadu and Puducherry?
A) Nirmala Sitharaman
B) Anurag Thakur
C) Narendra Modi
D) NS Tomar
E) Prahlad Patel
5) The Central government has Launched National Urban Digital Mission For Creating Digital Infra For Cities by which year?
A) 2024
B) 2022
C) 2023
D) 2025
E) 2026
6) The Central government has approved the PLI Scheme for which of the following sectors?
A) Highways
B) Medical Devices
C) Banking
D) IT Hardware
E) Insurance
7) Which edition of the Maritime India Summit 2021 has been inaugurated by PM Modi?
A) 6th
B) 5th
C) 2nd
D) 3rd
E) 4th
8) Which country has Surpassed US to become India's top trade partner in 2020?
A) Israel
B) France
C) Germany
D) Japan
E) China
9) Which country has passed law to Facebook, Google pay for news?
A) China
B) US
C) Australia
D) Germany
E) France
10) Which company has begin work on the world's largest electric two-wheeler factory in Tamil Nadu?
A) Audi
B) Ola
C) TVS
D) Honda
E) BMW
11) Hoshangabad in which state has been renamed as Narmadapuram?
A) Uttar Pradesh
B) Andhra Pradesh
C) Bihar
D) Madhya Pradesh
E) Haryana
12) The Chief Minister of which state has launched the PM FME Scheme?
A) Punjab
B) Bihar
C) Mizoram
D) Haryana
E) Manipur
13) Who among the following will participate in a series of programmes in Kolkata, West Bengal?
A) Anurag Thakur
B) Prahlad Patel
C) JP Nadda
D) Narendra Modi
E) NS Tomar
14) RBI will conduct a special OMO of Rs._______ crore on March 4.
A) 11000
B) 15000
C) 12000
D) 10000
E) 5000
15) Global rating agency Moody's ups India's growth projection for FY22 to _____ per cent.
A) 9.2
B) 11.5
C) 12.3
D) 13.7
E) 11.9
16) L&T-built Interceptor Boat, the _____ in series has been commissioned at Chennai.
A) 14th
B) 13th
C) 15th
D) 16th
E) 17th
17) Who among the following has taken charge as Chairman of the National Commission for Scheduled Castes?
A) Komal Tyagi
B) Surender Gupta
C) Vijay Sampla
D) Anand Singh
E) Rajat Chauhan
18) Who among the following has taken over as Flag Officer Commanding Easter Fleet?
A) Nikhil Kumar
B) Tarun Sobti
C) Anand Chauhan
D) Rajesh Gupta
E) Suresh Talwar
19) Siegwerk India appointed _______as its CEO.
A) Ganesh Shinde
B) Anmol Tandon
C) Ramakrishna Karanth
D) Anand Raj
E) Nilesh Kamath
20) The Central Government has signed a ______ million pact with AIIB for power transmission network in Assam.
A) 350
B) 530
C) 200
D) 304
E) 250
21) Which country along with Australia, and France will hold trilateral dialogue with Indo-Pacific in focus?
A) New Zealand
B) China
C) US
D) Japan
E) India
22) The IOC has named _______ as preferred bidder to host the 2032 Olympic Games.
A) New Zealand
B) Israel
C) Australia
D) Japan
E) Germany
23) Who among the following has inaugurated the International Commission on Large Dams (ICOLD) Symposium on Sustainable Development of Dams & River Basins?
A) Amit Shah
B) Narendra Modi
C) NS Tomar
D) Gajendra Singh Shekhawat
E) JP Nadda
24) Who has been appointed as CEO of Piramal Alternatives?
A) Narayanan Vaghul
B) Gautam Banerjee
C) Deepak Satwelkar
D) Swati Piramal
E) Kalpesh Kikani
25) Who among the following has been named for the newly-instituted anti-corruption award?
A) Bolot Temirov
B) Anjali Bharadwaj
C) Juan Francisco
D) Diana Salazar
E) Sophia Pretrick
26) Which state has bagged an award for fastest implementation of PM KSNY?
A) Bihar
B) Punjab
C) Uttar Pradesh
D) Madhya Pradesh
E) Haryana
27) How many awards have been conferred for Vijayawada postal division?
A) 6
B) 2
C) 4
D) 3
E) 5
28) Who among the following has bagged an award for best digital initiatives?
A) HSRTC
B) KSRTC
C) APSRTC
D) UPSRTC
E) JKSRTC
29) India and which country have agreed to strengthen multilateral cooperation?
A) Qatar
B) UAE
C) Japan
D) Uzbekistan
E) Kazakhstan
Answers :
1) Answer: C
The under-construction Kushinagar Airport in Uttar Pradesh has received the International Airport license from Director General of Civil Aviation (DGCA).
Once operational, this will be the third international airport in UP after Lucknow and Varanasi.
With this, UP is set to become the state with the highest number of airports after the upcoming Ayodhya Airport also joins the list.
That will boost tourism in the region & facilitate travel on Buddhist circuit by providing direct aviation connectivity to the city.
Currently the other two international airports functional in Uttar Pradesh are Chaudhary Charan Singh International Airport at Lucknow and Lal Bahadur Shastri International Airport at Varanasi.
Chitrakoot will be the first airport in Uttar Pradesh with 'Table Top' runway.
2) Answer: D
The Horticulture Department, Karnataka in collaboration with the International Flower Auction Bangalore (IFAB), is setting up a flower processing centre to convert unsold flowers into various useful products.
This incubation centre will process flowers and convert them to value-added products such as natural dyes, floral papers, incense sticks, flower petal powder for cosmetic usage, floral embedded works, floral arts, and silica-stored flowers.
A facility was needed as flower farmers have been suffering huge losses whenever there is a glut or market disruption. Growers can learn the art of flower processing from the centre.
3) Answer: E
Pakistan is unlikely to exit the 'grey list' of the FATF as some European countries have taken the stand that Islamabad has not fully implemented all the points of a plan of action set by it, on the eve of the plenary meeting of the global watchdog for money laundering and terror financing.
A global dirty money watchdog decided to keep Pakistan on its "grey list", despite progress by Islamabad on meeting international anti-terrorism financing norms.
4) Answer: C
Prime Minister Narendra Modi will be on a day's visit to Tamil Nadu and Puducherry to inaugurate and lay the foundation for several developmental projects.
Mr.Modi will depart from Chennai to Coimbatore after his visit to Puducherry.
Prime Minister Narendra Modi will lay the foundation stone of multiple infrastructure projects worth over 12 thousand 400 crore rupees in Coimbatore, the manchester of South India.
Mr. Modi  will dedicate the Neyveli New Thermal Power project, 709 MegaWatt Solar Power Project and the 8-laning of Korampallam Bridge and Rail Over Bridge built V.O.Chidambaranar Port, Tuticorin.
Mr.Modi will inaugurate over 4000 tenements constructed under the Pradhan Mantri Awas Yojana scheme.
Mr.Modi will lay the foundation stone for the extension, renovation and modernization of Lower Bhavani Project.
He will also lay the foundation for the development of Integrated Command and Control Centers.
5) Answer: B
The Central government launched 'National Urban Digital Mission" to create a digital infrastructure for cities in the country.
The Union Housing and Urban Affairs Ministry (MoHUA) said the move will institutionalise a citizen-centric and ecosystem-driven approach to urban governance and service delivery in cities by 2022, and across all cities and towns by 2024.
Union Housing and Urban Affairs Minister Hardeep Singh Puri and Minister of Electronics and IT Ravi Shankar Prasad launched the 'National Urban Digital Mission' (NUDM) at a virtual event.
The mission has three pillars – people, process, and platform.
6) Answer: D
Union Cabinet approved Production Linked Incentive Scheme for IT Hardware.
The scheme proposes incentives to boost domestic manufacturing and attract large investments in the value chain of IT Hardware.
Communication and IT Minister Ravi Shankar Prasad said, the target segments of the scheme include laptops, tablets, all-in-one PCs and servers.
Mr Prasad said, the total cost of the proposed scheme is around Rs 7,350 crore over four years.
Mr. Prasad added that the scheme has direct and indirect employment generation potential of over one lakh 80 thousand.
The Union Cabinet also approved Production Linked Incentive (PLI) Scheme for Pharmaceuticals over a period of Financial Year 2020-21 to 2028-29.
The Scheme will benefit domestic manufacturers, help in creating employment and is expected to contribute to the availability of a wider range of affordable medicines for consumers.
7) Answer: C
Prime Minister Narendra Modi will inaugurate the 2nd edition of the Maritime India Summit 2021.
The summit will be organised virtually between 2nd to 4th March 2021.
First summit was organised in 2016 in Mumbai.
Rajiv Jalota, Chairman, Mumbai Port Trust informed that the MIS 2021 will provide a unique platform where various stakeholders in the maritime sectors such as Senior Government Officials, Domestic and International Investors, Shipping Line Owners, Representatives of Major Ports from across the world as well as the Governments of Maritime States in India will participate.
The Summit will also include an exclusive CEOs' forum with the Minister of State (I/c) of Ports, Shipping & Waterways.
8) Answer: E
China has regained its position as the top trading partner of India in 2020, which was held by the United States, since 2018-19.
Two-way trade between the longstanding economic and strategic rivals stood at $77.7 billion last year, according to provisional data from India's commerce ministry.
The U.S. bilateral trade with whom came in at $75.9 billion amid muted demand for goods in the middle of a pandemic.
The bilateral trade gap with China was at almost $40 billion in 2020, making it India's largest.
Total imports from China at $58.7 billion were more than India's combined purchases from the U.S. and the U.A.E, which are its second- and third-largest trade partners, respectively.
9) Answer: C
Australia's parliament passed landmark legislation requiring global technology giants to pay for the news content shared on their platforms, in a move that is being closely watched around the world.
The law was passed after a last-gasp deal that watered down binding rules Facebook and Google had fiercely opposed and which last week prompted Facebook to remove all news from its Australian platform.
Google will now pay for news content that appears on its Showcase product and Facebook is expected to pay providers who appear on its News product, which is to be rolled out in Australia later this year.
10) Answer: B
Ola, said it had commenced construction of the world's largest two-wheeler mega-factory on its 500-acre site.
The company announced a Rs.2,400 crore MoU with the Tamil Nadu government in December 2020 and rapidly completed the land acquisition in January this year.
11) Answer: D
Madhya Pradesh Chief Minister Shivraj Singh Chouhan has announced that Hoshangabad city in the state would be renamed as Narmadapuram.
He made the announcement during the Narmada Jayanti programme held in Hoshangabad.
Narmada is the lifeline of Madhya Pradesh.
The city is famous for its beautiful ghats along the banks of the Narmada river.
Hoshangabad was so far named after an attacker Hoshang Shah, but will be known after the lifeline Maa Narmada, which is a matter of happiness.
12) Answer: E
In Manipur, the State Chief Minister N. Biren Singh launched the Prime Minister Formalization of Micro Food Processing Enterprises (PM FME) Scheme.
The launching of the Scheme was done during the inaugural function of Conference Cum Buyer Meet at Hotel Imphal.
The PM FME Scheme aims to provide financial, technical and business support to micro food processing units, Farmer Producer Organizations (FPOs) and Self Help Groups (SHGs).
The Scheme will also promote One District One Product to reap the benefit of scales in terms of procurement of inputs, availing common services and marketing of products.
13) Answer: C
BJP national president JP Nadda will participate in a series of programmes in Kolkata and North 24 Parganas in West Bengal.
Mr Nadda will launch Lokkho Sonar Bangla manifesto crowdsourcing campaign in Kolkata in the morning before visiting Rishi Bankim Chandra Chattopadhyay's residence and museum in Naihati.
The BJP president will have lunch at a jute mill worker's household in Gouripur and visit Anandpuri Kalibari Temple, Barrackpore.
He will visit Mangal Pandey Memorial before addressing Poriborton Yatra – Nabadwip zone culmination rally in Anandapuri Khelar Math.
Later in Kolkata, Mr Nadda is scheduled to begin the Lokkho Sonar Bangla intellectuals meeting in Science City.
14) Answer: B
The Reserve Bank of India (RBI) will conduct simultaneous purchase and sale of government securities for an aggregate amount of Rs 15,000 crore each on March 4.
The central bank will purchase and sell government securities through multiple price auction methods.
Accordingly, the details of securities for the simultaneous purchase and sale of Government securities under Open Market Operations (OMOs) for Rs.15,000 crore each on March 04, 2021 are as follows:
Purchase
15) Answer: D
Global rating agency Moody's upped India's growth projection for the financial year 2021-22 to 13.7 percent from 10.8 percent estimated earlier.
In its 'Global Macro Outlook 2021-22, Moody's said, India's Economy has rebounded quickly from one of the world's longest and most stringent lockdowns, which also came with the steepest fall in GDP in the second quarter of 2020.
For the current fiscal year, the agency expects the Indian economy to contract by 7 per cent, lower than its previous estimate of 10.6 percent contraction.
The revised numbers came on the back of normalisation of activity and growing confidence in the market with the rollout of COVID-19 vaccines.
16) Answer: E
Indian Coast Guard Ship C-453, the 17th of the 18 Interceptor Boat (IBs) project indigenously constructed by Larsen & Toubro Ltd, has been commissioned at Chennai.
ICGS C-453, the 27.8-metre-long Interceptor Boat with a displacement of 105 tonnes and Max Speed of 45 knots (85 kmph) is capable of undertaking multifarious tasks including Surveillance, Interdiction, close coast patrol, Search and Rescue, in addition to rendering assistance to boats and craft in distress at sea.
The vessel is equipped with advanced navigation and communication systems. The quick-reaction feature coupled with modern equipment endows the vessel with the capability to swiftly respond to any maritime situation at very short notice.
ICGS C-453 is commanded by Assistant Commandant Animesh Sharma and will be based at Chennai under the operational control of Commander, Coast Guard Region (East).
The ship will be deployed extensively for EEZ surveillance and other duties as enshrined in the Coast Guard Charter, to safeguard the Maritime interests of India.
The Indian Coast Guard with this Ship joining the fleet will have 157 Ships & Boats and 62 Aircraft.
17) Answer: C
Former Union Minister Vijay Sampla assumed the charge of Chairman National Commission for Scheduled Castes (NCSC).
Sampla has been the former Union Minister of State for Social Justice and Empowerment from 2014-19.
He was president of the BJP Punjab unit.
He also served as Chairman, Khadi and Village Industries Board, Punjab from 2009-12 and subsequently, his name was recommended for Rashtrapati Award.
18) Answer: B
Rear Admiral Tarun Sobti, VSM took over the Command of the Eastern Fleet, the Sword Arm of the Eastern Naval Command at Eastern Naval Command, Visakhapatnam.
He has taken over the Command from Rear Admiral Sanjay Vatsayan, AVSM, NM.
Rear Admiral Tarun Sobti was commissioned into the Indian Navy on 01 July 1988 and is a specialist in Navigation and Direction.
Prior assuming command of the Eastern Fleet, the Flag Officer was Deputy Commandant and Chief Instructor of Indian Navy's premier officer training establishment Indian Naval Academy at Ezhimala.
19) Answer: C
Ramakrishna Karanth appointed CEO of Siegwerk India.Ramakrishna's experience spans over 30 years, starting with a Short Service Commissioned tenure of 6 years with the Indian Air Force in Surface to Air Missiles division and a total industrial experience of 28 years
20) Answer: D
The Centre signed an agreement with Asian Infrastructure Investment Bank (AIIB) for borrowing $304 million (over Rs.2,200 crore) to improve power transmission network in Assam.
The fund will be utilised for the 'Assam Intra-State Transmission System Enhancement Project', aiming to improve reliability, capacity and security of the power transmission network in the state.
The project aims to strengthen Assam's electricity transmission system by constructing 10 transmission substations, laying transmission lines, upgrading 15 existing substations, transmission lines and the existing ground wire to optical power ground wire.
The total estimated cost of the project is $365 million. AIIB will finance $304 million while the remaining funding of $61 million will be done by the state government.
The programme will strengthen the existing intrastate transmission network of Assam by augmenting it with newer networks to achieve affordable, secure, efficient and reliable 247 power. This will, in turn, bring the state closer to ensuring long-term sustainability of its electricity supply.
21) Answer: E
A trilateral dialogue was held among India, France, and Australia on February 24, 2021 at the senior officials' level, with focus on further enhancing cooperation in the Indo-Pacific.
The first India-France-Australia Trilateral Dialogue was held virtually on September 9, 2020.
The meeting was held with the objective of building on the strong bilateral relations that the three countries share with each other and synergising their respective strengths to ensure a peaceful, secure, prosperous and rules-based Indo-Pacific Region.
The three sides agreed to hold the dialogue on an annual basis.
The Indian side was led by Joint Secretary (Europe West) in MEA, Sandeep Chakravorty, while the French side was led by Bertrand Lortholary, Director (Asia and Oceania), and the Australian side was led by Mr Gary Cowan, First Assistant Secretary (North and South Asia Division) and Mr John Geering, First Assistant Secretary (Europe and Latin America Division).
22) Answer: C
The International Olympic Committee (IOC) has named Brisbane, Australia as the preferred bidder to host the 2032 Olympic Games.
The IOC's future host commission recommended that the body enter "targeted dialogue" with Brisbane bid organisers and the Australian Olympic Committee.
The state of Queensland had hosted the 2018 Commonwealth Games and Brisbane was praised for its high percentage of existing venues, a good masterplan, experience in organising major events and its favourable weather.
Several cities and countries had expressed an interest in hosting the Games, including Indonesia, Budapest, China, Doha and Germany's Ruhr Valley.
The delayed 2020 Olympics will be held in Tokyo, Japan in the summer, with Paris in France staging the 2024 Games and Los Angeles in the United States hosting the 2028 Olympics.
23) Answer: D
The International Commission on Large Dams (ICOLD) Symposium on Sustainable Development of Dams & River Basins was inaugurated by Shri Gajendra Singh Shekhawat, Minister for Jal Shakti as Chief Guest and Shri R.K. Singh, Minister of State (IC) for Power and New & Renewable Energy, Govt. of India presided over the Opening Ceremony.
The theme of the symposium is "Sustainable Development of Dams & River Basins".
International Commission on Large Dams(INCOLD) in collaboration with Central Water Commission (CWC), Dam Rehabilitation Improvement Project (DRIP) and National Hydrology Project (NHP) is organising Symposium on "Sustainable Development of Dams and River Basins" under the aegis of ICOLD at New Delhi as Hybrid event from 24th – 27th February 2021. More than 300 delegates from across the country and abroad will participate in the Symposium.
24) Answer: E
Piramal Group appoints Kalpesh Kikani as CEO of Piramal Alternatives.
Diversified group Piramal Enterprises Ltd said it has appointed Kalpesh Kikani as Chief Executive Officer (CEO) of its Rs.11,000 plus crore AUM Alternatives business managed through its subsidiaries and joint ventures.
Kikani, who has more than 25 years of expertise in investing and financial services including a decade as founding Managing Director at AION Capital.
25) Answer: B
Anjali Bharadwaj, an Indian social activist working on issues of transparency and accountability, is one of the 12 "courageous" individuals named by the Biden administration for the newly-instituted International Anti-Corruption Champions Award.
According to the State Department, Bhardwaj, 48, has served as an active member of the Right to Information Movement in India for over two decades.
The Biden administration has announced this International Anti-Corruption Champions Award, to recognise individuals who have worked tirelessly, often in the face of adversity, to defend transparency, combat corruption, and ensure accountability in their own countries, so as to combat such issues.
Bharadwaj is the founder of the Satark Nagrik Sangathan (SNS), a citizens' group with a mandate to promote transparency and accountability in government and encourage active participation of citizens.
She is also a convener of the National Campaign for Peoples' Right to Information, which successfully advocated for the creation of an anti-corruption ombudsman and the WhistleBlowers' Protection Act, offering protection to those who expose corruption and abuse of power.
26) Answer: C
Uttar Pradesh received award for fastest implementation of Pradhan mantri Kisan Samman Nidhi Yojana.
Chief Minister Yogi Adityanath has congratulated the people of state for this achievement.
The Chief Minister said that under the guidance of Prime Minister Narendra Modi the state government is committed for the welfare of farmers of state.
Discussion on the budget in the state assembly Chief Minister informed the house about this achievement.
During his budget speech, the state Finance Minister had recently informed that more than 27110 crores has been transferred in the accounts of the farmers of state under PM Kisan Samman Nidhi yojna.
27) Answer: E
Vijayawada Postal Division bagged five AP Circle level awards in Aadhaar (first place), Sukanya Samriddhi Yojana (first place), postal life insurance (second place), India Post Payments Bank (second) and Philately (second) for the financial year 2019-20.
The awards were announced at the AP Circle Level Divisional Heads Conference held in Vizag.
KVLN Murthy, senior superintendent of post offices, Vijayawada division congratulated the staff and appealed to them to continue the same tempo this year also.
28) Answer: C
Andhra Pradesh State Road Transport Corporation (APSRTC) has received Digital Technology Sabha Award, consecutively for the second consecutive time (2020 & 2021) in the category of "Internet of Things".
The Corporation also received the award in 2017.
RTC Vice-Chairman and Managing Director RP Thakur received the award from the RTC House virtually.
29) Answer: D
India and Uzbekistan agreed to strengthen multilateral cooperation.
Uzbekistan Foreign Minister Abdulaziz Kamilov and Dr S. Jaishankar discussed the bilateral relations concerning both the nations.
Mr Kamilov, who is in Delhi, also discussed development, defence, connectivity, trade and culture.
Both the leaders also exchanged views on the Afghanistan situation.