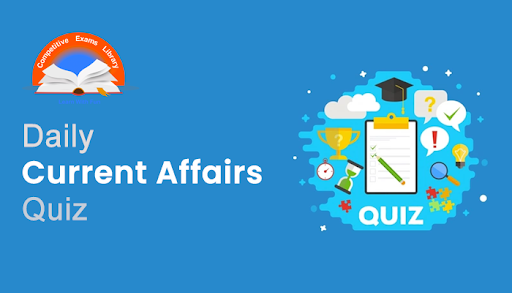 Dear Readers, Daily Current Affairs Questions Quiz for SBI, IBPS, RBI, RRB, SSC Exam 2021 of 26th January 2021. Daily GK quiz online for bank & competitive exam. Here we have given the Daily Current Affairs Quiz based on the previous days Daily Current Affairs updates. Candidates preparing for IBPS, SBI, RBI, RRB, SSC Exam 2021 & other competitive exams can make use of these Current Affairs Quiz.
1) International Customs Day is observed on which of the following date?
A) January 21
B) January 23
C) January 26
D) January 25
E) January 29
2) Which of the following has become the first state to have 2 airstrips on expressways for landing, take-off of fighter planes?
A) Bihar
B) Madhya Pradesh
C) Chhattisgarh
D) Uttar Pradesh
E) Haryana
3) The Prime Minister of which country has quit Mongolia after protests in the capital Ulaanbaatar over the government's handling of the Covid-19 pandemic?
A) Singapore
B) Finland
C) Vietnam
D) Brunei
E) Mongolia
4) SpaceX has broken India's record by launching ______ satellites on a single rocket.
A) 95
B) 126
C) 117
D) 143
E) 135
5) Which country has beaten the US as the largest recipient of FDI, receiving $163 billion in 2020?
A) Singapore
B) China
C) India
D) UAE
E) Qatar
6) Which armed force has launched Operation 'SardHawa' at Rajasthan border?
A) RPF
B) RAF
C) BSF
D) CRPF
E) CISF
7) India is Celebrating its _______Republic Day on 26 January 2021.
A) 73rd
B) 69th
C) 70th
D) 72nd
E) 71st
8) In UP Yogi Adityanath has launched which app for youth to explore self-employment?
A) Udyam Vikar
B) Udyam Abhyas
C) Udyam Sahayak
D) Udyam Sakshi
E) Udyam Sarathi
9) Narendra Luther who passed away at the age of 89 was an eminent ______.
A) Producer
B) Historian
C) Singer
D) Actor
E) Director
10) 20-year-old ShrishtiGoswami has become the chief minister of which state for a day?
A) Kerala
B) Assam
C) Uttarakhand
D) Haryana
E) Punjab
11) Indian Navy has conducted which exercise with Army and Air Force?
A) AMPHEX – 25
B) AMPHEX – 24
C) AMPHEX – 23
D) AMPHEX – 21
E) AMPHEX – 22
12) Who among the following has become the President of Portugal after winning the  landslide reelection?
A) Aníbal Cavaco Silva
B) Ana Gomes
C) André Ventura
D) Rui Rio
E) Marcelo Rebelo de Sousa
13) Government has extended the Ayushman Bharat health scheme to Central Armed Police Forces in which city?
A) Pune
B) Delhi
C) Guwahati
D) Surat
E) Chandigarh
14) Padma Awards 2021 have recently been announced and the government has approved ______ padma awards this year.
A) 118
B) 119
C) 120
D) 121
E) 122
Answers :
1) Answer: C
Every year on 26th January, International Customs Day (ICD) is celebrated worldwide .
To commemorate the very first official conference of the Customs Co-operation Council which means the World Customs Organization (WCO) which was established in the year 1952 comprising 182 custom administration members and is called as the only intergovernmental organization which solely features the customs matters.
Theme of  2021 is "Customs bolstering Recovery, Renewal and Resilience".
In 1994 the CCC was renamed World Customs Organization (WCO).
The day is observed for recognizing the role of custom officials and agencies in maintaining border security across the globe by focusing on the challenges and the working conditions that are faced by the customs officials.
2) Answer: D
In UP, a new 3300 meter long airstrip has been constructed near KurebharOnPurvanchal Expressway.
Uttar Pradesh has become the first state in the country with two airstrips on expressways to facilitate emergency landing and take-off of fighter planes.
Airstrips on expressways are designed to facilitate emergency landing and take-off of fighter planes.
One airstrip is on Lucknow-Agra Expressway while the other is on Purvanchal Expressway.
3) Answer: E
Mongolia's Prime Minister KhurelsukhUkhnaa submitted his resignation to parliament after protests in the capital Ulaanbaatar over the government's handling of the Covid-19 pandemic, the state news agency Montsame reported.
The 52-year-old served as the Prime Minister of Mongolia from 4 October 2017 to 21 January 2021.
Prime Minister KhurelsukhUkhnaa submitted his resignation and a proposal to dissolve his government Thursday after hundreds gathered outside the parliament building to demonstrate against the policies.
Parliament, which is controlled by Khurelsukh's Mongolian People's Party, voted overwhelmingly Thursday to accept his resignation.
4) Answer: D
On 24 Jan 2021, SpaceX created a unique world record of launching 143 satellites on a single vehicle.
The firm broke the record previously held by the Indian Space Research Organisation (ISRO), which launched 104 satellites in 2017.
In  this launch, SpaceX broke the record set by ISRO in February 2017 for deploying 104 satellites onboard PSLV in a single mission.
The US-based space company launched 143 satellites through its Falcon 9 rocket.
The launch vehicle for the SpaceX record-breaking flight was the Falcon 9 and the mission was designated as Transporter-1.
With these satellites, SpaceX aims to provide near-global broadband internet coverage all over the world by 2021.
The 143 satellites included 133 commercial and government satellites and 10 Starlink satellites of SpaceX
5) Answer: B
China climbed to the No.1 ranking globally attracting foreign direct investment (FDI) of $163 billion in 2020.
The report was released by the United Nations Conference on Trade and Development (UNCTAD).
China's $163 billion in inflows last year, compared to $134 billion attracted by the United States.
In 2019, the United States had received $251 billion in inflows and China received $140 billion.
China's gross domestic product grew 2.3% in 2020, official data showed last week, making China the only major economy in the world to avoid a contraction last year.
The world's second-largest economy has surprised many with the speed of its recovery from the coronavirus jolt, especially as policymakers have also had to navigate tense U.S.-China relations on trade and other fronts.
Overall, global FDI had collapsed in 2020, falling by 42% to an estimated $859 billion, from $1.5 trillion in 2019.
6) Answer: C
Border Security Force (BSF) launched Operation SardHawa on the western international border of Rajasthan.
It aims to increase security on the borders in Jaisalmer.
This operation will continue till January 27 with an aim that there is no intrusion.
It was launched on 21 January 2021, and will continue till 27 January 2021, keeping in view Republic Day of India.
7) Answer: D
India is Celebrating the 72nd Republic Day on 26 January 2021, with celebrations at the majestic Rajpath in New Delhi.
To commemorate the day the Government of India Act (1935) set by the British Raj was replaced by the Indian Constitution as the governing document of India.
This Day marks the date on which the Constitution of India came into effect on 26 January 1950.
On Republic Day, the President of India distributes Padma Awards to the civilians of India.
Padma Awards are given in three categories – Padma Vibhushan, Padma Bhushan and Padma Shri.
8) Answer: E
For the 71st foundation day of Uttar Pradesh, Chief Minister Yogi Adityanath launched 'UdyamSarathi' app to help youth to explore self-employment opportunities.
About the app :
This application will provide all information related to self-employment and the job industry at one click.
The app, prepared under the ODOP scheme and considered to be a master-key for exploring self-employment opportunities to the youth.
Through the UdyamSarathi app, youth would easily be able to get a varied range of business opportunities in different departments and sectors of the state and the Central government.
Under the vision of 'SabkaSaathSabkaVikas and SabkaVishwas', this App is poised to benefit the women and farmers looking for avenues of self-employment.
It has been launched under the One District One Product (ODOP) scheme.
The Uttar Pradesh Day celebration will run from 24 January to 26 January, 2021.
The theme of Uttar Pradesh Day 2021 is 'Respect for self-reliant Uttar Pradesh, women young farmers, development of all'.
Uttar Pradesh was recognised as a state of India on January 24, 1950.
9) Answer: B
Civil servant, historian, author, poet and chronicler Narendra Luther passed away. He was 89.
A 1955 batch IAS officer who served in various positions, Luther later wrote several books about the history and culture of Hyderabad.
In 1991, he was Chief Secretary of undivided Andhra Pradesh.
Luther wrote several books about the history and culture of Hyderabad. Muhammad QuliQutb Shah, the Founder of Hyderabad is one of the books he is well-known for. For those looking to learn more about the history of Hyderabad and Secunderabad, Luther's well-researched books are a goldmine of information.
10) Answer: C
To mark the National Girl Child Day, Haridwar teenager SrishtiGoswami will take charge as the chief minister of Uttarakhand for one day.
She will take part in the child assembly session in Dehradun.
Goswami, a student of BSc Agriculture, lives in Daulatpur village of the district.
For the first time in the history of Uttarakhand, a girl will become the state's chief minister.
It has received a nod from the incumbent chief minister Trivendra Singh Rawat.
The one-day chief minister will administer from Gairsain, the summer capital of the state, and will review various schemes run by the state government that include AtalAyushman Scheme, Smart City project, Homestay Scheme by the tourism department, and other development projects.
11) Answer: D
A large-scale tri-service joint amphibious exercise AMPHEX – 21 was conducted in the Andaman & Nicobar group of islands from 21 – 25 Jan 2021.
The exercise involved participation of Naval ships, amphibious troops of the Army and different types of aircraft from the Air force.
The exercise was aimed at validating India's capabilities to safeguard the territorial integrity of it's island territories.
It also sought to enhance operational synergy and joint warfighting capabilities amongst the three Services.
The exercise involved multi-faceted maritime operations by synergised employment of amphibious assault ships, surveillance platforms, execution of maritime air strikes and complex manoeuvres at sea.
Airborne insertion of Marine Commandos of Navy and Special Forces of the Army, naval gunfire support, amphibious landing of forces and follow-on operations also formed part of the exercise.
Ex KAVACH for defence of Andaman & Nicobar Islands formed a part of AMPHEX – 21.
12) Answer: E
Portuguese President Marcelo Rebelo de Sousa won a landslide reelection.
Results showed the incumbent president winning around 61% percent of the vote.
The lead is enough for Rebelo de Sousa to secure another 5-year term and avoid a runoff election.
Rebelo de Sousa, a 72-year-old former television personality and law professor.
Sousa has served as the President of the country since 9 March 2016, and would start his second term on March 9, 2021.
13) Answer: C
Union Home Minister Amit Shah has launched the Ayushman CAPF health scheme in Guwahati for about 28 lakh Central Armed Police Forces and their families in all the states where Ayushman Bharat- PradhanMantri Jan ArogyaYojana is operational.
Assam Chief Minister SarbanandaSonowal, MoS Home NityanandaRai, Assam Finance Minister HimantaBiswaSarma, Union Home Secretary Ajay Bhalla were also present on this occasion.
Centre is committed for the welfare of the security forces and their family members and the government decided to launch Ayushman Bharat CAPF for them.
14) Answer: B
The Ministry of Home Affairs (MHA) announced the Padma Awards 2021 – one of the highest civilian Awards of the country – on the eve of 72nd Republic Day.
These awards are conferred by the President of India at ceremonial functions which are held at RashtrapatiBhawan usually around March/ April every year.
This year the President has approved the conferment of 119 Padma Awards.
The list comprises 7 Padma Vibhushan, 10 Padma Bhushan and 102 Padma Shri Awards.
29 of the awardees are women and the list also includes 10 persons from the category of Foreigners/NRI/PIO/OCI, 16 Posthumous awardees and one transgender awardee.
Former Japanese prime ministerShinzo Abe and singer SP Balasubramaniam were among the Padma Vibhushan recipients.