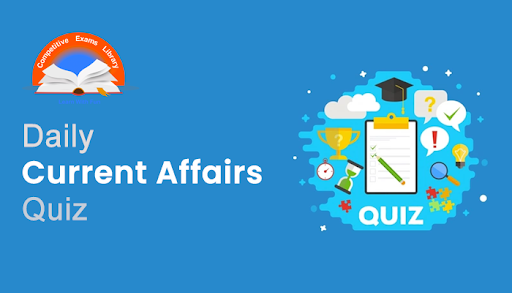 Dear Readers, Daily Current Affairs Questions Quiz for SBI, IBPS, RBI, RRB, SSC Exam 2021 of 26th March 2021. Daily GK quiz online for bank & competitive exam. Here we have given the Daily Current Affairs Quiz based on the previous days Daily Current Affairs updates. Candidates preparing for IBPS, SBI, RBI, RRB, SSC Exam 2021 & other competitive exams can make use of these Current Affairs Quiz.
1) The Education Minister has unveiled more than one hundred comic books over which of the following portal recently?
A) DBT
B) DigiLocker
C) DIKSHA
D) SWADHEEN
E) CPGRAMS
2) The Chief minister of which state has recently inaugurated the Kurnool Airport?
A) Delhi
B) Punjab
C) Bihar
D) Andhra Pradesh
E) Haryana
3) The government will roll out a GPS based toll collection system on which of the following routes?
A) Lucknow to Mathura
B) Delhi to Lucknow
C) Delhi to Chandigarh
D) Delhi to Dehradun
E) Delhi to Mumbai
4) Who among the following has held a virtual meeting with the Director General of UNESCO?
A) Narendra Modi
B) Nitin Gadkari
C) Ramesh Pokhriyal Nishank
D) Prahlad Patel
E) Amit Shah
5) More than 68 lakh 33 thousand beneficiaries have been benefited by maternity benefits in 2020 from which of the following schemes?
A) NMCG
B) ABY
C) PMGKY
D) PMMVY
E) PM-KISAN
6) Which of the following banks has honoured the WWII codebreaker Alan Turing on a new bank note?
A) ICBC
B) Bank of England
C) HSBC
D) Barclays
E) Deutsche
7) In which state was the 10 croreth Ayushman card handed over to a beneficiary?
A) Madhya Pradesh
B) Chhattisgarh
C) Punjab
D) Haryana
E) Bihar
8) Chitra Nayak has been appointed as Independent Director of which company?
A) HP
B) HCL
C) Infosys
D) Wipro
E) IBM
9) Who among the following has been appointed in TVS Motor board recently?
A) Maurice Wilks
B) William Lyons
C) Thierry Bollore
D) Ralf Speth
E) Karl Slym
10) Who among the following has been honoured as 'EY Entrepreneur of the Year 2020'?
A) Anand Kapoor
B) Harsh Mariwala
C) Rajan Mathur
D) Navneet Jaggi
E) Sudhir Mishra
11) My Experiments With Silence  has been authored by which of the following actor?
A) Ahana Soni
B) Keerti Nagpure
C) Samir Soni
D) Neelam Kothari
E) Chunky Pandey
12) Which of the following movie has bagged the top award at 2021 Producers Guild Awards?
A) Judas and the Black Messiah
B) Mank
C) Minari
D) Sound of Metal
E) Nomadland
13) Who among the following has launched the Central Scrutiny Centre and IEPFA's Mobile App to leverage digital solutions?
A) Prahlad Patel
B) Harsh Vardhan
C) Nirmala Sitharaman
D) Amit Shah
E) Ravi Shankar Prasad
14) India Ranks on ______ as per the International Intellectual Property Index.
A) 37th
B) 38th
C) 39th
D) 40th
E) 35th
15) The DGP of which state has been conferred with the SKOCH Award for outstanding policing performance?
A) Maharashtra
B) Andhra Pradesh
C) Haryana
D) Madhya Pradesh
E) Bihar
16) India ended the 2021 World Shooting Para Sport competitions with _____ medals in the UAE.
A) 9th
B) 8th
C) 7th
D) 6th
E) 5th
Answers :
1) Answer: C
Education Minister Ramesh Pokhriyal Nishank has launched more than one hundred comic books created by teachers and students of CBSE schools and curated by NCERT.
The comics are aligned with topics of NCERT textbooks and have specific storyline and characters.
It has been created in a linear progression which will help to understand basic concepts and decrease the learning gaps.
These comics can be accessed online on DIKSHA web portal and DIKSHA app.
Mr Pokhriyal noted that this innovative initiative will help in increasing the cultural and social sensitivity in our children while imparting knowledge.
2) Answer: D
The Andhra Pradesh Chief Minister, Y. S. Jagan Mohan Reddy has inaugurated the Kurnool Airport located at Orvakal  and  named it after the first ever freedom fighter of the country,  Uyyalavada Narasimha Reddy, as a tribute to him.
While addressing the gathering at Kurnool,   the CM has said that the flight operations from the airport will commence from March, 28th servicing to Bengaluru,Visakhapatnam, and Chennai routes.
He stated that the Airport is equipped with all the latest technology, fine infrastructure which can facilitate parking for four aircrafts at the same time.
Stating that this will be the sixth civilian airport in the State after Visakhapatnam, Tirupati, Vijayawada, Rajahmundry and Kadapa.
Jagan Mohan Reddy also said that the airport has been set up in the judicial Capital of Andhra Pradesh, connecting to other States.
He later said that the airport will make the judicial capital stand on par with other States.
3) Answer: E
The government is working to roll out a GPS based toll collection system and introducing the E-Highway from Delhi to Mumbai in the upcoming months.
This was stated by the Road Transport and Highways Minister Nitin Gadakari in the Lok Sabha.
Mr. Gadkari said that toll collection through the fast tag has reached to 93 per cent across the country which has resulted in 10 thousand crore more toll collection in comparison to previous year.
He said use of fast tag has also reduced the waiting time on the toll booths.
He added that introduction of GPS based toll collection system will facilitate smooth movement of traffic, bring transparency and remove the old mechanism of toll collection system.
Road Transport and Highways Minister Nitin Gadkari has said that the thrust in road building will provide jobs and sustainable growth of the economy.
Addressing a National Conference on Road Infrastructure in New Delhi, Mr Gadkari said that around 64.5 per cent of the goods and nearly 90 percent of passenger traffic use the road network to commute.
He said, the road infrastructure has a direct and indirect effect on sustainability of growth and overall development of the country.
The Minister also stressed on the need to move towards public transport on electricity and
exhorted the industry to come forward in this direction.
4) Answer: C
Education Minister Ramesh Pokhriyal Nishank held a virtual meeting with Director General UNESCO, Ms Audrey Azoulay in New Delhi.
They discussed key issues of mutual importance including National Education Policy, India's response to COVID Pandemic especially in the education sector.
Mr Pokhriyal said, Government has ensured that education reaches even the last child in the remotest part of the country.
He also spoke about Manodarpan, the government's initiative to provide online psychosocial support to students, teachers and families for their mental health and emotional wellbeing.
The Minister also mentioned that competitive entrance exams for almost 23 lakh students, the largest entrance examinations in the world were conducted successfully and safely during the covid pandemic.
5) Answer: D
More than 68 lakh 33 thousand beneficiaries were provided maternity benefits in 2020 under the Pradhan Mantri Matru Vandana Yojana, PMMVY.
Women and Child Development Minister Smriti Irani said this in a written reply in the Rajya Sabha.
The government implements the scheme with the objectives of providing partial compensation for the wage loss in terms of cash incentive so that the woman can take adequate rest before and after delivery of the first child.
Under the scheme, the government also provides cash incentive to improve health seeking behaviour amongst the Pregnant Women and Lactating Mothers.
6) Answer: B
The Bank of England unveiled the design of the new GBP 50 banknote, which features British scientist and World War II codebreaker Alan Turing.
The polymer note, which includes an image of Turing and other related imagery, will be issued for the first time on June 23, coinciding with what would have been the mathematician's 109th birthday.
"There's something of the character of a nation in its money, and we are right to consider and celebrate the people on our banknotes.
So I'm delighted that our new GBP 50 features one of Britain's most important scientists, Alan Turing," said Bank of England Governor Andrew Bailey.
7) Answer: E
Ayushman Bharat Pradhan Mantri Jan Arogya Yojana has registered a landmark achievement with the issuing of ten crore cards to a resident of Bihar.
A 25 year old Irfan Ali from Gopalganj district has received this card.
This landmark achievement is a result of the Aapke Dwar Ayushman campaign which was launched to spread awareness among the beneficiaries.
Under the scheme, any family can avail free medical benefits upto 5 lakh rupees per year.
CEO of Ayushman Bharat, Dr. Ram Sewak Sharma termed this a great achievement saying that 10th crore Ayushman card has been issued to a beneficiary in Gopalganj district in Bihar.
He expressed happiness over the adding of lakhs of new beneficiaries under AapkeDwarAyushman initiative.
He said targets have been set to take the number of identified beneficiaries to at least 20 crore next financial year.
8) Answer: C
IT services major Infosys  announced the appointment of former Salesforce executiveChitra Nayak as an independent director.
Her appointment, effective March 25, 2021, is based on recommendation of the Nomination and Remuneration Committee of the Infosys Board, a regulatory filing said.
The appointment is for a period of three years, subject to the approval of shareholders, it added.
Nayak has over 25 years of professional experience in go-to-market, general management, and operations leadership roles at various organisations.
She currently serves as a member of the board at Invitae, a medical genetics company; at Morneau Shepell, a tech-enabled HR services company; at Forward Air, a freight and logistics company; and at Intercom, a messaging platform company, the filing said.
9) Answer: D
To give wings to its global ambitions, TVS Motor Company has brought on board Ralf Speth, former CEO of Jaguar Land Rover.
Speth, who built Jaguar Land Rover into a global brand, will become Chairman of TVS Motor Company effective January 2023, when the present chairman, Venu Srinivasan, will become Chairman-Emeritus.
10) Answer: B
Harsh C. Mariwala, chairman of Marico, was named the EY Entrepreneur of the Year 2020.
He will now represent India at the EY World Entrepreneur of the Year Award on June 10.
Ernst & Young Entrepreneur of the Year Award:
The EY Entrepreneur of the Year Awards previously Ernst & Young Entrepreneur of the Year Awards is an award sponsored by Ernst & Young in recognition of entrepreneurship.
Awarded for: Entrepreneurship
Presented by: Ernst & Young
11) Answer: C
Actor Samir Soni will release his debut book, My Experiments With Silence, later this year.
This book will be published by OM Books International in 2021.
About the book :
My Experiments With Silence book highlights anxiety and self-discovery.
The book Soni will present personal accounts of his dialogues with himself during his growing-up years in Delhi, his stint at Wall Street and his time in Bollywood.
The actor will document in prose and poetry some of his 'darkest, intense and introspective thoughts'.
12) Answer: E
Chloe Zhao's "Nomadland" received a major boost ahead of the Oscars as the movie bagged the top prize at the 2021 Producers Guild Awards.
The winners for the awards were announced during a virtual ceremony.
"Nomadland", a frontrunner for the best picture Oscar, took home the trophy for Darryl F Zanuck award for outstanding producer of theatrical motion pictures.
The movie edged out fellow nominees "Promising Young Woman", "Minari", "Mank", "Judas and the Black Messiah", "Sound of Metal" and "The Trial of the Chicago 7".
"Nomadland" features Academy Award winner Frances McDormand as a woman who leaves home to travel around the American West after losing her job.
13) Answer: C
Union Minister for Finance & Corporate Affairs Smt. Nirmala Sitharaman here virtually launched Central Scrutiny Centre (CSC) and Investor Education and Protection Fund Authority's (IEPFA) Mobile App.
The two tech-enabled initiatives have been launched by the Ministry of Corporate Affairs
This will leverage digital solutions to achieve the Prime Minister's vision of 'Digitally empowered India.
14) Answer: D
India ranked 40 among 53 global economies on the latest annual edition of the International Intellectual Property (IP) Index.
India ranked 40th in 2020 also, scoring 38.4 out of 100 on a set of 50 intellectual property-related indicators.
The United States, Japan and Europe remained at the top of the global intellectual property rankings 2021, while emerging markets such as the UAE, China and Mexico continued to improve their scores.
15) Answer: B
Andhra Pradesh Governor Biswabhusan Harichandan has commended DGP Gautam Sawang for receiving the SKOCH Award as the best DGP in the country for outstanding performance in policing, public safety and taking up technical reforms in AP Police.
The DGP called on the Governor at the Raj Bhavan.
Harichandan also praised the DGP and his team for winning the FICCI Best State Award for Smart Innovative Policing and for being adjudged as the best in the country for connecting with Interoperable Criminal Justice System of National Crime Records Bureau (NCRB).
16) Answer: C
India ended the 2021 World Shooting Para Sport competitions with seven medals.
It was held at Al Ain in UAE from 15 to 25 March 2021.
India finished in third place with two gold medals, one silver and four bronze medals.
Ukraine topped with 11 medals (five gold, five silver and one bronze) ahead of hosts UAE which won five medals (three gold and two silver).
A total of 120 athletes from 24 nations competed at Al Ain 2021.
This was the first world shooting para sport competition in more than one year as the 2020 season was cancelled due to the Covid-19 pandemic.
Gold medal winners for India :
Manish Narwal (P4 mixed 50m air pistol SH2)
Singhraj (P1 men's 10m air pistol SH1)
Silver Medal Winner for India :
Avani Lekhara – R2 women's 10m air rifle SH1
Bronze Medal Winners for India :
Rahul Jakhar – P3 Mixed 25m Pistol SH1
Singhraj  – P4 Mixed 50m Pistol SH1
Sriharsha DEVARADDI RAMAKRISHNA – R4 Mixed 10m Air Rifle Standing SH2
Sidhartha BABU – R6 Mixed 50m Rifle Prone SH1