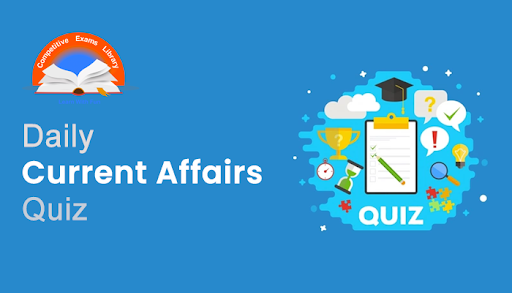 Dear Readers, Daily Current Affairs Questions Quiz for SBI, IBPS, RBI, RRB, SSC Exam 2021 of 26th May 2021. Daily GK quiz online for bank & competitive exam. Here we have given the Daily Current Affairs Quiz based on the previous days Daily Current Affairs updates. Candidates preparing for IBPS, SBI, RBI, RRB, SSC Exam 2021 & other competitive exams can make use of these Current Affairs Quiz.
1) World Thyroid Day is Observed in May ___.
A) 24
B) 23
C) 21
D) 22
E) 25
2) Who among the following interacted with UN Secretary General Antonio Guterres in New York?
A) Anurag Thakur
B) Narendra Modi
C) NS Tomar
D) S. Jaishankar
E) Amit Shah
3) Which country has introduced a plan for 'Global Pandemic Radar'?
A) Israel
B) France
C) UK
D) China
E) Denmark
4) Which organization has initiated an expert committee on Investment Funds?
A) NHB
B) IFSCA
C) RBI
D) SEBI
E) PFRDA
5) Social media firms seek time to obey with new digital rules as prescribed under Section ____ of the IT act.
A) 78
B) 67
C) 70
D) 71
E) 79
6) Who among the following has taken oath as new speaker of Kerala assembly?
A) Suhdri Raj
B) Nitin Prakash
C) M B Rajesh
D) Rajesh Kumar
E) Anand Varma
7) Who has been appointed as new CBI Director?
A) Raj Singh
B) Sudhir Verma
C) Nitin Desai
D) Subodh Kumar Jaiswal
E) Arun Dhawan
8) Which institution has been honouredwith the prestigious Etienne Glichitch Award?
A) Cricket India
B) Cycling India
C) Boxing India
D) Badminton India
E) Hockey India
9) Which institution has bagged the Social Media for Empowerment Awards South Asia?
A) IIT Kharagpur
B) IIT Madras
C) KITE
D) IIT Delhi
E) IIM Bengaluru
10) Cabinet gives nod for MoUs entered into by ICoAl& ___ with foreign countries.
A) Niti Aayog
B) FICCI
C) Assocham
D) ICSI
E) CII
11) LIC Raises stake in UBI to over ___ per cent.
A) 4
B) 5
C) 6
D) 8
E) 9
12) Microsoft will quit Internet Explorer in June ___.
A) 2026
B) 2025
C) 2024
D) 2023
E) 2022
13) Who has announced the autobiography 'Sach Kahun Toh' To be Released On June 14?
A) NS Tomar
B) Anurag Thakur
C) Neena Gupta
D) Amit Shah
E) RajKumar Rao
14) New species of African violet have been Discovered in which state?
A) Telangana
B) Kerala
C) Bihar
D) Mizoram
E) Haryana
15) Didymocarpusvickifunkiae Considered as the endangered species. There are currently ___ species of the genus.
A) 47
B) 52
C) 102
D) 101
E) 106
16) Boyd Rankin who retired recently was an eminent ___.
A) Tennis Player
B) Singer
C) Cricketer
D) Footballer
E) Badminton Player
17) Yuan Longping considered as the 'father of hybrid rice' who passed away recently belonged to which country?
A) France
B) Israel
C) Germany
D) China
E) Japan
Answers :
1) Answer: E
World Thyroid Day takes place on 25th May each year.
World Thyroid Day aims at increasing public awareness of thyroid diseases, namely the importance of their timely diagnosis, treatment and prevention.
Thyroid disorders are very common worldwide; they affect people of all ages and have a large range of symptoms.
The Department of Health (DOH) joins the rest of the world in observing the International Thyroid Awareness Week (ITAW) and World Thyroid Day (WTD) 2021, with the theme "Mother-Baby-Iodine: The Importance of Iodine on the Woman and her Baby", which aims to raise awareness on Iodine Deficiency Disorders on women of reproductive age, especially pregnant and lactating mothers, and on children during their first 1000 days of life from conception.
2) Answer: D
External Affairs Minister Dr S Jaishankar met UN Secretary General Antonio Guterres in New York and discussed the COVID challenge, underlining the importance of finding urgent and effective global vaccine solutions.
In his first face-to-face interaction with the UN chief since India entered the UN Security Council as a non-permanent member in January this year, Jaishankar also mentioned that the countering terrorism and radicalization remain priorities for the entire region.
He highlighted India's constructive role in UNSC and conveyed priorities of the country's Presidency in August.
3) Answer: C
The UK is working with the World Health Organization (WHO) to launch 'global pandemic radar' to identify emerging COVID-19 variants and track new diseases around the world.
Prime Minister Boris Johnson announced the plans, ahead of the Global Health Summit hosted by Italy and the European Union (EU).
The radar is expected to be fully up and running with a network of surveillance hubs before the end of 2021, with the aim of significantly improving global health security going into next year.
4) Answer: B
The International Financial Services Centres Authority (IFSCA) has been established as a unified regulator to develop and regulate financial products, financial services and financial institutions in the International Financial Service Centers (IFSCs) in India.
The Fund Industry has been playing an increasingly important role in intermediating between seekers of capital and investors.
IFSC has been actively engaging with stakeholders to enhance the Global reach of GIFT-IFSC.
The regulatory approach has been to benchmark with Global Standards and adopts a facilitative framework to provide ease of operations for seeker as well as provider of capital.
5) Answer: E
Internet tech giants including Facebook, WhatsApp, and Twitter could be in trouble as they are yet to fully comply with the new IT rules announced by the Government in February.
Under the Information Technology (Intermediary Guidelines and Digital Media Ethics Code) Rules, 2021 (IL Rules), prescribed by the Centre under Section 79 of the IT Act, social media companies and online entities, including OTT players like Netflix and Amazon Prime, where to put in place an oversight mechanism for digital media and online curated content.
They were asked to appoint chief compliance officers, who would be responsible for taking down objectionable content/posts within 24 hours of receiving a complaint from competent authorities.
6) Answer: C
CPM's MB Rajesh was elected the Speaker of the 15th Kerala Assembly with support from 96 legislators in the 140-member Assembly.
While Rajesh's victory was a foregone conclusion due to the LDF's brute majority in the Assembly, UDF had nominated Kundara MLA PC Vishnunath as its candidate.
The UDF candidate got support of 40 legislators.
The LDF and UDF have 99 and 41 legislators in the Assembly respectively.
7) Answer: D
Senior IPS officer from Maharashtra Subodh Kumar Jaiswal will be the new Director of the Central Bureau of Investigation.
The Appointments Committee of the Cabinet approved his name from a shortlist prepared by the high power panel, including Prime Minister Narendra Modi and Chief Justice NV Ramana.
"The Appointments Committee of the Cabinet has, based on the panel recommended by the Committee, approved the appointment of Shri Subodh Kumar Jaiswal as Director, Central Bureau of Investigation (CBI) for a period of two years".
8) Answer: E
Hockey India has won the prestigious Etienne Glichitch Award in recognition of its contribution to the growth and development of the sport in the country.
The awards were announced by the game's governing body FIH during the Hockey Invites virtual conference.
It was part of its 47th FIH Congress which concluded with the FIH Honorary Awards.
"Hockey India was announced as the winners of the Etienne Glichitch Award in recognition of its remarkable contribution to the growth and development of Hockey".
The award gives recognition to numerous individuals, teams and organizations for their outstanding contributions to the sport of hockey.
9) Answer: C
The Kerala Infrastructure and Technology for Education (KITE) under the Department of General Education has won the Social Media for Empowerment Awards South Asia ( SM4E) award for  using social media for social empowerment to ensure digital education through the 'First Bell; programme in the state.
The award was in the category 'Innovations @Covid19'.
General Education Minister V Sivankutty congratulated the KITE for achieving the milestone.
10) Answer: D
The Union Cabinet, chaired by the Prime Minister Shri Narendra Modi has granted ex-post facto approval to the Memorandum of Understandings (MoUs) entered into by Institute of Cost Accountants of India (ICoAl) and Institute of Company Secretaries of India (ICSI) with various Foreign Countries/Organizations.
The Institute of Cost Accountants of India (ICoAl) and the Institute of Company Secretaries of India (ICSI) have signed MoUs with foreign organizations namely Institute of Public Accountants (IPA), Australia, Chartered Institute for Securities and Investment, UK (CISI), Chartered Institute of Public Finance and Accountancy (CIPFA), UK, Institute of Certified Management Accountants, Sri Lanka and Institute of Chartered Secretaries and Administrators (ICSA), UK.
The signed MoUs would help in advancement of the goals on equity, public accountability and innovation among the beneficiaries' countries.
11) Answer: B
On May 20, 2021, The Life Insurance Corporation of India (LIC) raised its stake to 5.06% in state-run Union Bank of India with acquisition of nearly 2% additional stake in the bank.
Earlier, the LIC held 3.09% stake in UBI, representing 19,79,23,251 equity shares of the bank.
Now, It has increased to 5.06 percent (34,57,64,764 shares).
Union Bank of India had closed its Qualified Institutions Placement (QIP), in which it raised a total of ₹1,447.17 crore.
12) Answer: E
On May 19, 2021, Microsoft announced that the Internet Explorer 11 desktop browser will be retired on June 15, 2022, for certain versions of Windows 10.
It will be replaced by Microsoft Edge with IE mode that will support older Legacy Internet Explorer-based websites and applications until 2029.
Microsoft 365 will terminate support for Internet Explorer 11 in August 2021.
13) Answer: C
Bollywood actress & Television Director Neena Gupta's Autobiography Titled 'Sach Kahun Toh is set to be Released On June 14, 2021.
The Autobiography Can be Published by Penguin Random House India.
The Book was written by Neena Gupta in 2020 during the lockdown.
The Book is available for pre-order now.
14) Answer: D
Researchers of the Indian Institute of Science Education and Research (IISER), Bhopal, have discovered a new endangered species Didymocarpusvickifunkiae of a plant belonging to the African Violets family in Mizoram and its adjacent areas in Myanmar.
The discovery has been published in the reputed journal 'Systematic Botany'a peer reviewed journal published by the American Society for Plant Taxonomists.
15) Answer: E
There are 106 currently known species of this genus, of which 26 are present in the northeastern states of India,
The species is named after a renowned botanist in honour of Dr Vicki Ann Funk who worked at the Smithsonian Institute, USA.
16) Answer: C
England and Ireland pacer Boyd Rankin, has announced his retirement from international cricket.
17) Answer: D
On May 22, 2021, Yuan Longping, a Chinese agriculture scientist, passed away.
He was 91.