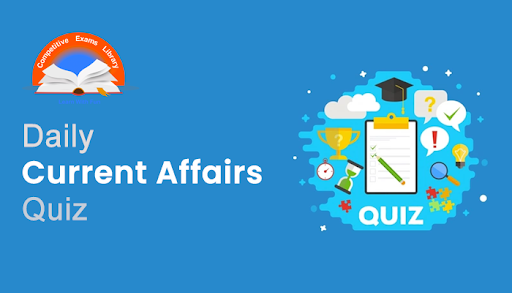 Dear Readers, Daily Current Affairs Questions Quiz for SBI, IBPS, RBI, RRB, SSC Exam 2021 of 27th April 2021. Daily GK quiz online for bank & competitive exam. Here we have given the Daily Current Affairs Quiz based on the previous days Daily Current Affairs updates. Candidates preparing for IBPS, SBI, RBI, RRB, SSC Exam 2021 & other competitive exams can make use of these Current Affairs Quiz.
1)  Revised COVID-19 guidelines has been released for which of the following Ministry recently?
A) Ministry of Health
B) Ministry of S&T
C) Ministry of Ayush
D) Ministry of Finance
E) Ministry of Education
2) WHO Launches global immunization strategy to save 50 million lives by which year?
A) 2045
B) 2040
C) 2035
D) 2030
E) 2025
3) The Chief minister of which state has encouraged the use of Ayurvedic, Homeopathic medicines to COVID-19?
A) Madhya Pradesh
B) Uttar Pradesh
C) Bihar
D) Haryana
E) Gujarat
4) Krishnamurthy Santhanam who passed away recently was an eminent ____.
A) Producer
B) Writer
C) Scientist
D) Dancer
E) Director
5) The President of which country has  announced to provide assistance to India to deal with COVID-19 pandemic?
A) France
B) Japan
C) China
D) US
E) Germany
6) Ministry of Steel said that Over ______ MTs of Liquid Medical oxygen supplied by steel Plants to various states
A) 2150
B) 2850
C) 2500
D) 3000
E) 3130
7) Indian Army has inaugurated Ignited Minds project in which city?
A) Gwalior
B) Pune
C) Ladakh
D) Surat
E) Kargil
8) PM Modi has thanked which country to provide the Covid-19 assistance?
A) Israel
B) Germany
C) US
D) Japan
E) France
9) Sichuan Airlines has done a "U-Turn" – plan to resume cargo services to which country?
A) Thailand
B) India
C) Germany
D) Sri Lanka
E) Vietnam
10) The Chief minister of which state has assured ex-gratia, govt job for family members of martyr sepoys Prabhjit and Amardeep Singh?
A) Haryana
B) Madhya Pradesh
C) Bihar
D) Kerala
E) Punjab
11) The government of which state has planned to reopen Vedanta's oxygen manufacturing plant at Tuticorin?
A) Bihar
B) Chhattisgarh
C) Tamil Nadu
D) Haryana
E) Punjab
12) The Odisha government has announced free vaccination to above ____ years of age.
A) 70
B) 60
C) 45
D) 18
E) 21
13) Which of the following bank has commenced operations as a small finance bank with effect from April 26, according to the Reserve Bank of India?
A) Neuvo
B) Shivalik
C) Equitas
D) Paytm
E) Aditya Birla
14) Gujarat govt declared free vaccinations for all above 18 years of age from which date?
A) May 2
B) May 3
C) May 4
D) May 5
E) May 1
15) Which company has launched Rs 1.2 lakh TV, flagship Mi 11 Ultra phones?
A) Oppo
B) Realme
C) Mi
D) Samsung
E) Nokia
16) Neobank Fi has partnered with which Bank to open an instant savings account?
A) Axis
B) SBI
C) ICICI
D) Federal Bank
E) UCO
17) The Punjab government has paid _____ crore online directly to farmers for buying wheat.
A) 14085
B) 13085
C) 10085
D) 11085
E) 12085
18) RBI has allowed a ____-year tenure for MD & CEO for private banks.
A) 9
B) 15
C) 12
D) 11
E) 10
19) RBI issued guidelines: UCBs and NBFCs to appoint auditors for _____ years.
A) 2
B) 6
C) 3
D) 4
E) 5
20) Rajan Mishra who Passed Away recently was an eminent ____.
A) Actor
B) Producer
C) Director
D) Singer
E) Dancer
21) Social workers in which state have opened oxygen banks to lend cylinders for free to needy patients?
A) Chhattisgarh
B) Tamil Nadu
C) Bihar
D) Haryana
E) Odisha
22) Which company has bagged Bootstrapped Saas startup award?
A) Plato
B) Netco
C) Kovai
D) Manicure
E) SaaSBoom
23) Which country has named its first Mars rover 'Zhurong'?
A) Britain
B) France
C) Germany
D) China
E) Japan
24) Rafael Nadal has won his _____ Barcelona Open Title.
A) 13th
B) 12th
C) 11th
D) 10th
E) 9th
25) Mohan M. Shantanagoudar who passed away recently was an eminent ____.
A) Director
B) Singer
C) Writer
D) Actor
E) Judge
26) Jagdish Khattar who passed away recently was the MD of which company?
A) Casio
B) Panasonic
C) Maruti
D) Honda
E) Xiaomi
Answers :
1) Answer: C
Responding to the need of fresh guidelines in the face of the emergence of the second wave of the pandemic, Ministry of Ayush released revised guidelines for Ayurveda and Unani Practitioners for COVID-19 Patients in Home Isolation and Ayurveda and Unani Preventive Measures for self-care during COVID-19 Pandemic.
These Guidelines and Advisories were developed through an extensive consultative process by the Empowered Committee within the Interdisciplinary Ayush Research and Development Task Force setup by the Ministry of Ayush.
The Ministry of Ayush issued an advisory on 29th January last year on how to protect oneself from COVID-19 and how to stay healthy.
In this context, the Ministry of Ayush has also promoted use of ready-made formulation like AyushKwath Ayurveda which is a simple admixture of four herbal ingredients.
2) Answer: D
WHO Launches global immunization strategy to save 50 million lives by 2030.A UN-led global immunization strategy was unveiled to reach more than 50 million children who have missed lifesaving jabs against measles and other diseases because of COVID-19 disruption.
WHO, along with UNICEF and the vaccine alliance Gavi, said their new global strategy has the potential to save 50 million lives within less than a decade.
WHO chief Tedros Adhanom Ghebreyesus said, to avoid multiple outbreaks of life-threatening diseases like measles, yellow fever and diphtheria, it must be ensured that routine vaccination services are protected in every country in the world.
A WHO survey showed more than one third of countries were still seeing disruptions to their routine immunization services.
The joint statement said, around 60 mass vaccination campaigns were currently postponed in 50 countries, putting 228 million people, mostly children, at risk of diseases such as measles and polio.
3) Answer: E
Gujarat Chief Minister Vijay Rupani has encouraged the state health and Ayush department for maximum use of Ayurvedic and Homeopathic medicines to win the war against Covid19.
He said that these will also help in increasing immunity of the people against the Coronavirus pandemic in the state.
Presiding over the state-level Core Committee meeting at Gandhinagar, Mr. Rupani has directed the administration to order and distribute about 60 thousand kilogram of 'Amrit peyaUkala' and 'Sanshamani-vati' and 10- lakh doses of Homeopathic Arsenicum album-30 medicines.
Meanwhile, Gujarat has recorded 14340 new cases.
According to the state health department, 7727 patients recovered during the last 24 hours.
Maximum 5619 new cases of Covid19 reported from Ahmedabad, while Surat recorded 1472 new cases.
158 patients lost their lives.
With these, the death toll due to Covid19 in the state has reached up to 6486.
Gujarat has now 1 lakh 21 thousand 461 active cases at present, out of which 412 patients are on ventilator.
Meanwhile, 1 lakh 59 thousand 93 persons were vaccinated in the state.
Now, Gujarat has vaccinated 1 crore 14 lakh 54 thousand 629 persons till now.
4) Answer: C
Indian nuclear scientist Krishnamurti Santhanam Passed away.
About Krishnamurthy Santhanam :
Dr Santhanam was a nuclear scientist and the field director of Defence Research and Development Organization (DRDO) during the tests of Pokhran-II
He was associated with institutions like DRDO, DAE and IDSA.
His role in successful 1998 nuclear tests was noteworthy.
He was awarded Padma Bhushan in 1999 by the Government of India.
5) Answer: D
US President Joe Biden assured to provide assistance to India to deal with the Covid-19 pandemic.
Mr. Biden said he spoke with Prime Minister Narendra Modi and pledged America's full support to provide emergency assistance and resources in the fight against COVID-19.
He said, India was there for America, and America will be there for India.
6) Answer: E
Ministry of Steel has said that over 3,130 Metric Tonnes of Liquid Medical oxygen was supplied by steel Plants to various states.
It said that steel plants have been able to enhance the supply of liquid medical oxygen by taking various initiatives.
This includes reduction in the production of Nitrogen and Argon and production of only liquid medical oxygen in most plants.
The Ministry said that through continuous engagement with steel producers, safety stock of liquid medical oxygen of steel plants has been reduced to 0.5 days instead of the earlier 3.5 days.
To facilitate faster movement of liquid medical oxygen, the Department for Promotion of Industry and Internal Trade has directed that a certain number of nitrogen and argon tankers be converted to carry oxygen.
The Petroleum and Explosives Safety Organization has issued permission for conversion.
This will remove a major bottleneck in transporting oxygen to states.
Bhilai Steel Plant is enhancing liquid oxygen production by 15 MT.
The Steel Ministry has said that similar directions have been given to other Central Public Sector Enterprises owned steel plants to explore the possibility of enhancing their capacity.
7) Answer: C
To provide better educational opportunities for Ladakhi students, the Indian Army has initiated the project Ladakh Ignited Minds.
A Centre of Excellence and Wellness.
On behalf of Indian Army, Fire and Fury Corps has signed a couple of MoUs with partner Hindustan Petroleum Corporation Limited (HPCL) and executing agency, a Kanpur based NGO, National Integrity and Educational Development Organization (NIEDO), in Leh.
Our correspondent reports that the project is aimed at providing better training facilities to disadvantaged Ladakhi students to give them opportunity to study in niche educational institutes.
In its continuous efforts to maintain cordial Civil and Defence relations and better future for Ladakhi youth, the Indian Army began a project called, Ladakh Ignited Minds: A Centre of Excellence and Wellness, in Ladakh.
Fire and Fury Corps of Indian Army with the support of HPCL and execution agency NIEDO will provide a holistic training for Ladakhi youth.
In the first batch, comprising 20 girls, 45 students from Leh and Kargil districts, would get training for JEE and NEET entrance examinations.
Fire and Fury signed MoUs with HPCL's J&K Chief Regional Manager Mr. Prince Singh and NIEDO's CEO Dr. Rohit Srivastav in the presence of the 14 Corps GoCLt.Gen PGK Menon, Member of Parliament JamyangTsering Namgyal and Advisor to Ladakh UT, Umang Narula.
8) Answer: D
Prime Minister Narendra Modi and his Japanese counterpart Yoshihide Suga discussed cooperation in key areas, including creating resilient supply chains and ensuring reliable supply of critical materials, to overcome challenges posed by the Covid-19 pandemic.
During a phone conversation, the two leaders discussed the Covid-19 situation in each other's country and close India-Japan cooperation to overcome regional and global challenges due to the pandemic.
Such bilateral cooperation includes "working together to create resilient, diversified and trustworthy supply chains, ensuring reliable supply of critical materials and technologies, and developing new partnerships in manufacturing and skill development", the external affairs ministry said in a readout.
9) Answer: B
China's state-run Sichuan Airlines retracted its announcement to suspend the cargo flights to India taking crucial supplies like oxygen concentrators to India after it created controversy.
In a "U-Turn" within hours of the cancellation, it said that it was working out a new plan to resume the services as reported by the state media.
A logistics arm under Sichuan Airlines said that it was discussing a new plan to resume cargo services to India, as the country has been going through COVID-19 resurgence, state media reported.
The sudden cancellation by Sichuan Airlines against the backdrop of China's offer for assistance to India in COVID management caused embarrassment for Chinese government.
Prasar Bharati Correspondent in Beijing reported that, Chinese Foreign Ministry did not comment on the cancellation at the regular press briefing.
Instead, it suggested checking with the company concerned.
10) Answer: E
Punjab Chief Minister Captain Amarinder Singh has announced ex-gratia compensation of 50 lakh rupees, along with a government job each to the family of Sepoy Prabhjit Singh and Sepoy Amardeep Singh of 21 PUNJAB, who laid down their lives in the line of duty.
Both the soldiers were reported killed in an avalanche in Siachen glacier.
Captain Amarinder Singh said that their utmost dedication to defend the country's unity and integrity, even putting their lives at risk, would inspire their fellow soldiers to perform their duties with far more devotion and commitment.
Sepoy Prabhjit Singh hailed from Village Hakamwala in Mansa district and is survived by his parents and one elder brother.
While Sepoy Amardeep Singh, a native of village Karamgarh in Barnala District, is survived by his father and a younger sister.
11) Answer: C
Tamilnadu Government after considering the urgent need for increased oxygen production has decided to reopen Vedanta's oxygen manufacturing plant at Tuticorin.
The Vedanta group approached the Supreme Court to allow production of oxygen through its plant in Tuticorin.
In an all party meeting headed by Chief Minister Palanisamy at the State Secretariat, Five resolutions including reopening of Vedanta production plant were passed.
The all party meeting has resolved to allow the plant to manufacture the much needed requirement of oxygen in the State.
The Government will render power supply to the plant for the manufacture of 1050 tonnes of oxygen for a period of four months.
All parties also resolved to prioritise the requirement of oxygen for the State and the remaining oxygen would be sent to other states.
The government also said that members of different groups which oppose the industry will be given a place in the expert group to monitor oxygen production along with the District administration.
The resolution states that according to the requirement the period of four months would be increased however the copper smelting plant will not be allowed to reopen.
According to the State Government in the High Court, only 35 tonnes of oxygen out of the 1050 tonnes of oxygen manufactured everyday in the plant is for medical use.
The oxygen manufactured from the plant would be given for medical purposes to the hospitals free of cost.
12) Answer: D
The Odisha government has announced free vaccination for people above 18 years of age.
Chief Minister Naveen Patnaik said that the State Government will incur an expenditure of two thousand crore rupees to meet the goal.
Ahead of the phase three of the nationwide vaccination drive to be rolled out from the first of May, the state government has geared up to inoculate about 1.93 crore people in the age group of 18 to 44 years.
Accordingly, it has placed orders before the Serum Institute of India for supply of 377 lakh doses of Covishield and Bharat Biotech for supply of a little more than 10 lakh doses of Covaxin, while designating Odisha State Medical Corporation Limited as the nodal agency for vaccine procurement.
13) Answer: B
Uttar Pradesh-based Shivalik Small Finance Bank has commenced operations as a small finance bank with effect from April 26, according to the Reserve Bank of India.
The Reserve Bank had issued a licence to the bank under Section 22 (1) of the Banking Regulation Act, 1949 to carry on the business of small finance banks in India, the RBI said.
Shivalik Mercantile Co-operative Bank Ltd. was granted an in-principle approval for transition into a small finance bank, as announced in the press release on January 6, 2020, under the "Scheme on voluntary transition of Urban Co-operative Bank into a Small Finance Bank" issued on September 27, 2018.
14) Answer: E
Gujarat government will provide free vaccinations for all above 18 years of age from 1st of May.
This decision was taken during the high level core committee meeting chaired by Chief Minister Vijay Rupnai at Gandhinagar.
State government has placed the order for one and half crore doses of vaccines for the third phase of vaccination in the state starting from 1st May.
These include the order for one crore doses of covishield vaccine from Pune based SII and 50 lakh doses of Covaxin vaccine from Hyderabad based Bharat Biotech.
Gujarat has 6 thousand government and private vaccination centers.
Meanwhile, Gujarat has recorded 14,296 new cases of Covid19.
6727 patients recovered during the last 24 hours and were discharged from the hospitals.
15) Answer: C
The Indian market's largest smartphone-seller Xiaomi introduced its flagship smartphone, the Mi 11 Ultra (5G),  for the local market with a Rs 69,999 price tag.
At this price band, Mi's new offering will compete against the likes of the Apple iPhone and the Samsung Galaxy S series.
The Chinese company also launched another premium segment product in a 75-inch smartTV the QLED TV 75 at Rs 1, 19,999.
Mi's pricey TV offering features a 75-inch QLED 4K UHD panel with 3,840 x 2,160 resolutions and a 178-degree viewing angle for wide visibility, according to the specifications.
The model also runs an Android 10 operating system and bundles Netflix, Amazon Prime Video, and YouTube apps.
The Mi 11 Ultra has two displays: a 6.81-inch WQHD alongside a Samsung E4 AMOLED display with a 120Hz refresh rate and Corning Gorilla Glass Victus.
16) Answer: D
The savings account, to be issued in three minutes, is aimed at digital-first millennials.
Fi, the Bengaluru-based neobank for salaried millennials, has announced its partnership with Federal Bank to issue an instant savings account equipped with a debit card, in three minutes.
Founded in 2019, Fi is the brainchild of ex-Googlers who pioneered Gpay, Sujith Narayanan and SumitGwalani.
It offers an interactive, personalized, and transparent digital banking experience.
Users gain access to a new-age savings account and money management tools with features that help users know their money, grow their money and organize their funds.
Fi aims to assist a consumer's financial journey beyond digital payments to other services — insurance, lending, and investment opportunities.
Commenting on the launch, Sujith Narayanan, CEO& Cofounder, Fi, said, "We are excited to introduce a proposition that reimagines the way digital-first millennials perceive and interact with their money.
Fi aims to be a meaningful partner in their money aspiration journey, enabling them to simplify finances and de-mystify savings.
Our platform leverages cutting-edge tech and data science for deriving actionable insights that empower users to take control and do more with their finances.
We look forward to delivering a first-of-its-kind, personalized, flexible and transparent banking experience and building long-term customer relationships."
17) Answer: C
Punjab Govt pays Rs.10,085 cr online directly to farmers for buying wheat.With wheat harvesting in full swing in Punjab and Haryana, farmers, for the first time, have started receiving minimum support price (MSP) payment directly in their bank accounts under the Direct Benefit Transfer Scheme (DBT).
The government data shows Rs.5,385 crore has been transferred so far in the ongoing procurement season by the Central and State procurement agencies to farmers against purchase of their crops in both the States.
In Punjab, Rs.2,600 crore has been paid to accounts of farmers till April 20 under the scheme.
In Haryana, Rs.2,785 crore have been transferred directly to the accounts of farmers.
Punjab Food Minister Bharat Bhushan Ashu said "under the DBT scheme payments more than Rs.2,600 crore has been paid to the accounts of farmers till April 20".
18) Answer: B
In a major reform step, the Reserve Bank of India (RBI) has capped the tenure of bank MD and CEOs with immediate effect.
In a circular to all the commercial banks, the RBI said that the posts of Managing Director (MD) and Chief Executive Officer (CEO) or Whole Time Director (WTD) cannot be held for more than 15 years.
Further, the MD and CEO or WTD who is also a promoter or a major shareholder, cannot hold these posts for more than 12 years.
Banks will have to comply with the instructions by October 1, 2021.
The central bank further said that the extant instructions on upper age limit for MD & CEO and WTDs in the private sector banks would continue and no person can continue as MD & CEO or WTD beyond the age of 70 years.
19) Answer: C
The Reserve Bank of India (RBI) issued guidelines for appointment of Statutory Central Auditors (SCAs)/Statutory Auditors (SAs) in commercial banks, urban co-operative banks and non-banking finance companies from FY22 onwards, whereby they will have to appoint SCAs/SAs for a continuous period of three years.
A Circular on 'Guidelines for Appointment of Statutory Central Auditors (SCAs)/ Statutory Auditors (SAs) of Commercial Banks (excluding RRBs), UCBs and NBFCs (including HFCs)' has been issued.
These guidelines provide necessary instructions for appointment of SCAs/SAs, the number of auditors, their eligibility criteria, tenure and rotation, etc. while ensuring the independence of auditors.
However, non-deposit taking NBFCs with asset size below Rs 1,000 crore have the option to continue with their extant procedure.
As the guidelines are being implemented for the first time for Urban Co-operative Banks (UCBs) and NBFCs from 2021-22, "they shall have the flexibility to adopt these guidelines from the second half of FY 2021-22, in order to ensure that there is no disruption".
20) Answer: D
Renowned classical music singer Pandit Rajan Mishra passed away.
He was 70.
About Pandit RajanMishra :
Pandit Rajan Mishra was born in 1951 into a family of classical music enthusiasts in Uttar Pradesh's Varanasi.
He was a vocalist in the khyal style of Indian classical singing.
21) Answer: E
Social worker in Odisha opens oxygen bank to lend cylinders for free to needy patients.In the midst of a dangerous second wave, a city-based social worker Atif Alam has opened a medical oxygen bank to lend oxygen cylinders to needy patients free of cost.
The 33-year-old man who runs a social organization 'Social Star Club', started the oxygen bank earlier this month and it currently has 45 cylinders in stock.
Last year in May when the Covid cases were on the rise, Atif through his organization had started providing oxygen cylinders, medicated beds, air beds and wheelchairs to patients in need on a rotation basis.
He had five oxygen cylinders then.
When people came to know about Atif's philanthropic works, some of his well-wishers and patrons offered to donate oxygen cylinders.
22) Answer: C
Kovai.co, Coimbatore-based software as a service (SaaS) start-up, was named "Bootstrapped SaaS startup of the Year" by SaaSBoomi, at the inaugural edition of SaaSBoomi awards.
It is a first-of-its-kind annual awards ceremony that facilitates a platform to recognize and laud most deserving SaaS start-ups in India.
For the current edition, eight different categories were introduced.
Each company's self-nominated applications were reviewed by the jury, and the top five finalists were selected.
Later, through a voting mechanism, winners were selected and announced.
23) Answer: D
On April 24, 2021, China's first Mars rover will be named Zhurong after a traditional fire god.
The rover is aboard the Tianwen-1 probe that arrived in Mars orbit on February 24 and is due to land in May to look for evidence of life.
It is part of Chinese space plans that include launching a crewed orbital station and landing a human on the moon.
China in 2019 became the first country to land a space probe on the little-explored far side of the moon and in December returned lunar rocks to Earth for the first time since the 1970s.
Tianwen-1's goals include analysing and mapping the Martian surface and geology, looking for water ice and studying the climate and surface environment.
24) Answer: B
On April 25, 2021, Rafael Nadal defeated Stefanos Tsitsipas 6-4, 6-7(6), 7-5.
He collected a record-extending 12th Barcelona Open Banc Sabadell trophy.
The Barcelona Open Title 2021 held from April 17 to 25, 2021, at Real Club de Tenis Barcelona, Spain.
25) Answer: E
On April 25, 2021, Supreme Court judge Justice Mohan M. Shantanagoudar Passed away.
He was 62.
About Mohan M. Shantanagoudar :
Justice Shantanagoudar was born in 1958 in Karnataka.
He was enrolled as an advocate in 1980.
He specialised in Civil, Criminal and Constitutional matters.
Justice Shantanagoudar had served as State Public Prosecutor of Karnataka from 1999 to 2002.
He was appointed permanent judge of the Karnataka High Court in September 2004.
He was appointed Chief Justice of Kerala High Court in 2016 and was elevated to the Supreme Court on February 17, 2017 and was scheduled to retire only on May 4, 2023.
He was the ninth senior most judge of the Supreme Court.
26) Answer: C
On April 26, 2021, Former managing director of Maruti Suzuki India, Jagdish Khattar, passed away.
He was 79.
About Jagdish Khattar :
He had served at Maruti Suzuki India Limited from 1993 to 2007.
He joined Maruti in 1993 as director of marketing and went on to become its MD in 1999, first as a government nominee and then in May 2002 as the Suzuki Motor Corporation nominee.
In October 2007 Khattar launched an entrepreneurial venture named Carnation Auto.
About Maruti Suzuki India Limited :
CEO: Kenichi Ayukawa
Headquarters: New Delhi
Chairman : R C Bhargava