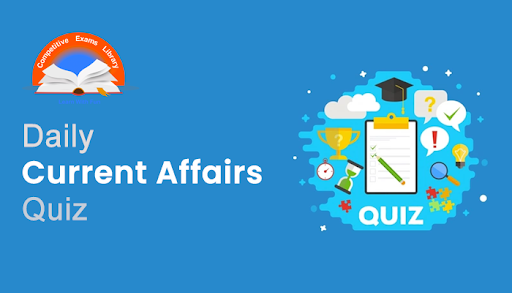 Dear Readers, Daily Current Affairs Questions Quiz for SBI, IBPS, RBI, RRB, SSC Exam 2021 of 27th February 2021. Daily GK quiz online for bank & competitive exam. Here we have given the Daily Current Affairs Quiz based on the previous days Daily Current Affairs updates. Candidates preparing for IBPS, SBI, RBI, RRB, SSC Exam 2021 & other competitive exams can make use of these Current Affairs Quiz.
1) PM Modi has inaugurated and laid the foundation stone of various development projects in which city?
A) Delhi
B) Chandigarh
C) Coimbatore
D) Pune
E) Surat
2) Who among the following will address Tamil Nadu Dr. M.G.R. Medical University's 33rd convocation?
A) Anurag Thakur
B) Prahlad Patel
C) Venkiah Naidu
D) Narendra Modi
E) Amit Shah
3) President's Rule has recently been imposed in which state/UT?
A) Punjab
B) Delhi
C) Chandigarh
D) Daman & Diu
E) Puducherry
4) The ______ edition of Global Bio-India has been organised from 1st to 3rd March.
A) 6th
B) 5th
C) 4th
D) 2nd
E) 3rd
5) Indian Railways has decided to reactivate the facility of ____ ON MOBILE App.
A) Where's my train
B) UTS
C) Catering
D) Reservation
E) Food Servicing
6) The India Toy Fair 2021 has been inaugurated by who among the following?
A) Venkiah Naidu
B) JP Nadda
C) Narendra Modi
D) Amit Shah
E) NS Tomar
7) The ______ edition of India-USA Executive Steering Group meeting has recently been concluded.
A) 27th
B) 26th
C) 25th
D) 23rd
E) 24th
8) 'Lantern Festival' a traditional festival celebrated by which country?
A) Netherlands
B) China
C) France
D) Sweden
E) Germany
9) The Governor of which state has Inaugurated India's First Digital University?
A) Haryana
B) Chhattisgarh
C) Bihar
D) Karnataka
E) Kerala
10) Which state's New Agriculture Pump Power Connection scheme has bagged good response since launch?
A) Punjab
B) Maharashtra
C) Kerala
D) Chhattisgarh
E) Haryana
11) 'E-Parivahan Vyavstha' has been launched by the chief minister of which state?
A) Kerala
B) Punjab
C) Bihar
D) Himachal Pradesh
E) Chhattisgarh
12) Retirement age has been raised to 60 years for which state for government employees?
A) Chhattisgarh
B) Madhya Pradesh
C) Tamil Nadu
D) Haryana
E) Punjab
13) The ______edition of Agartala International Book Fair has started at Tripura.
A) 36th
B) 35th
C) 37th
D) 38th
E) 39th
14) ICRA expects the Indian economy to contract _____ per cent in FY21.
A) 9.6
B) 7
C) 8.5
D) 7.5
E) 9
15) Who among the following has been roped as ambassador for BoroPlus products?
A) Amir Khan
B) Deepika Padukone
C) Ayushman Khuarana
D) Dia Mirza
E) Kareena Kapoor
16) Who among the following has been reelected as the TTFI president?
A) Prahlad Patel
B) Narendra Modi
C) Dushyant Chautala
D) Amit Shah
E) NS Tomar
17) Who among the following has recently been appointed as the new UN goodwill ambassador?
A) Charlize Theron
B) Amina J. Mohammed
C) Yo-Yo Ma
D) Natalia Vodianova
E) Natalia Kanem
18) Levi's has appointed who among the following as global brand ambassador?
A) Kartik Aryan
B) Deepika Padukone
C) Kareena Kapoor
D) Dia Mirza
E) Ananya Pandey
19) Who among the following will release the memoir 'Stories I Must Tell' in April?
A) Amir Khan
B) Kareena Kapoor
C) Kabir Bedi
D) Amit Shah
E) NS Tomar
20) TSSPDCL has bagged how many energy awards recently?
A) 8
B) 7
C) 6
D) 5
E) 4
21) Which institution has signed a pact with MOL for transportation of LPG through inland waterways?
A) ASSOCHAM
B) IWAI
C) CII
D) Niti Aayog
E) FICCI
22) The Ministry of Corporate Affairs has signed an MoU with which institution for data exchange.
A) Niti Aayog
B) CII
C) CBIC
D) ICAI
E) FICCI
23) Prime Minister Modi will inaugurate the _____ edition of Khelo India National Winter Games.
A) 6th
B) 5th
C) 4th
D) 2nd
E) 3rd
Answers :
1) Answer: C
On February 25, 2021, Prime Minister visited Tamil Nadu to dedicate to the nation and lay the foundation stone of multiple infrastructure projects in Coimbatore.
The Projects are :
1000 MW Neyveli New Thermal Power Project
709 MW Solar Power Project of NLCIL
He laid the foundation stone for design, supply, installation and commissioning of a 5MW grid connected ground based solar power plant at V.O.Chidambaranar Port and for the extension, renovation and modernisation of Lower Bhavani Project System.
He also laid the foundation stone for development of Integrated Command and Control Centers (ICCC) in nine Smart Cities including Coimbatore, Madurai, Salem, Thanjavur, Vellore, Tiruchirappalli, Tiruppur, Tirunelveli and Thoothukudi.
He inaugurated the 8-laning of Korampallam Bridge and Rail Over Bridge (ROB) at V.O.Chidambaranar Port and the tenements constructed under the Pradhan Mantri Awas Yojana (Urban) scheme.
The Prime Minister said that the modernization of Bhavani Sagar Dam will irrigate over 2 lakh acres of land and farmers of several districts will benefit from this project
Governor, Chief Minister and Deputy Chief Minister of Tamil Nadu and Union Minister Shri Pralhad Joshi were present on the occasion.
2) Answer: D
Prime Minister Narendra Modi will address the 33rd Convocation of the Tamil Nadu Dr. M.G.R. Medical University through video conferencing.
A total of 17 thousand five hundred 91 candidates will be conferred with Degrees and Diplomas in the Convocation.
Tamil Nadu Governor Banwarilal Purohit will be present on the occasion.
The University is named after the former Chief Minister Dr. M. G. Ramachandran.
It has a total of 686 affiliated institutions under its umbrella, encompassing the disciplines of Medicine, Dentistry, Pharmacy, Nursing, AYUSH, Physiotherapy, Occupational Therapy and Allied Health Sciences.
These institutions are spread across the length and breadth of the state, including 41 Medical Colleges, 19 Dental Colleges, 48 AYUSH Colleges, 199 Nursing Colleges, 81 Pharmacy Colleges and the rest being specialty post-doctoral medical and allied health institutions.
3) Answer: E
Puducherry has been placed under the President's rule days after the Congress-led Government collapsed after several resignations.
The Home Ministry issued a notification imposing the President's rule in the Union Territory.
President Ram Nath Kovind suspended the Puducherry Assembly as well.
The Legislative Assembly of the Union territory is now placed under suspended animation.
The Assembly polls are due in the Union Territory shortly.
4) Answer: D
To showcase the strength and opportunities of India's biotechnology sector at national level and to the global community, the second edition of Global Bio-India will be organized from 1st to 3rd March.
The theme for this year is transforming lives and the tag line is Biosciences to Bio economy.
Science and Technology Minister Dr Harsh Vardhan will inaugurate the event virtually.
Global Bio-India is one of the largest biotechnology stakeholders' conglomerates that is being co-organized by the Department of Biotechnology, Ministry of Science and Technology along with its Public Sector Undertaking, Biotechnology Industry Research Assistance Council, BIRAC in partnership with industry association CII, Association of Biotechnology Led Enterprises and Invest India.
5) Answer: B
Indian Railways has decided to reactivate the facility of UTS ON MOBILE App in zones where unreserved train services are reintroduced.
To decongest ticket booking counters and to ensure smooth compliance of social distancing norms, the facility to book unreserved tickets through UTS ON MOBILE app is being reactivated by Indian Railways.
The Railways Ministry said, it has been decided that in addition to the UTS ON MOBILE App facility available on suburban sections, this facility may also be reintroduced on non-suburban sections of zonal Railways.
6) Answer: C
Prime Minister Narendra Modi will inaugurate the India Toy Fair 2021 through video conferencing.
Toys play a significant part in the development of a child's mind and also help improve psychomotor and cognitive skills in children.
The Fair aims to provide an impetus to the underlying themes of Atmanirbhar Bharat and vocal for local campaigns, launched by the Government to promote indigenous industries.
It also aims to leverage the potential of toys in making learning joyful across all ages in education.
The four-day event aims to bring together all stakeholders including buyers, sellers, students, teachers and designers on a virtual platform to create sustainable linkages and encourage dialogue for the overall development of the industry.
Over one thousand exhibitors from across 30 States and Union Territories will display their products in e-commerce enabled virtual exhibitions.
It will showcase traditional Indian toys as well as modern toys including electronic toys, plush toys, puzzles and games.
7) Answer: E
The 24th edition of the India-USA Executive Steering Group meeting was held at New Delhi from 22nd to 24th February.
The meeting was attended by a 12 member delegation from the US Army in person and virtually by 40 officers from different locations from the US.Major General Daniel McDaniel, Deputy Commanding General; US Army Pacific was the Head of delegation from the US side.
Indian Army delegation consisted of 37 officers.
The forum is an Army to Army engagement that meets every year alternately in India and US to discuss Army to Army cooperation.
8) Answer: B
China is celebrating its traditional Lantern festival.
Celebrated on the 15th day of the first Chinese lunar month, the Lantern Festival traditionally marks the end of the Chinese New Year also known as the 'Spring Festival' period.
In 2021, China ushered into Lunar New Year – the 'Year of the Ox' on 12th February.
The Lantern Festival is also the first full moon night in the Chinese calendar, marking the return of spring and symbolizing the reunion of family.
According to China's various folk customs, people get together on the night of the Lantern Festival to celebrate with different activities.
Lantern Festival customs and activities vary regionally including lighting and enjoying lanterns, appreciating the bright full moon, setting off fireworks, flying drones, guessing riddles written on lanterns, eating tangyuan or dumplings, lion dances, dragon dances, and walking on stilts
9) Answer: E
Digital University has been set up in Kerala's Technocity, Mangalapuram. The Governor of Kerala Arif Mohammed Khan has inaugurated the country's first Digital University in the state.
Kerala University of Digital Sciences, Innovation and Technology (Digital University) is established by upgrading the two-decade old state government's Indian Institute of Information Technology and Management Kerala (IIITM-K).
The university is formed with a vision of creating a futuristic institution of higher learning, aspiring to set a global benchmark in Digital technologies and its management
The launch of the first Digital University in the country will open tremendous opportunities for youngsters.
India's first Digital University will focus on postgraduate programmes and research along with building strong industry-academic and academic-academic linkages with leading institutions in India and abroad. Developed on a 10-acre campus in Technocity, the university will provide education to 12,000 residential scholars on the campus and many technology-linked learners outside.
10) Answer: B
In Maharashtra, the State Government's New Agriculture Pump Power Connection scheme has been receiving a good response.
The scheme announced in October 2020 has provided various relaxations to farmers to pay their pending dues.
Since the scheme was announced, as many as three lakh 42 thousand farmers have paid dues to the tune of 312 crore 41 lakh rupees.
In a bid to provide more relief to the farmers' the State Government has waived-off pending dues of 15 thousand crore rupees, an official press statement said.
Farmers who will pay their Agri pumps dues in the first year will get 50 per cent relaxation on their actual dues.
Besides, the interest and late fees will also be waived off completely.
This apart, farmers who will pay their total dues will be given nearly 66 per cent concession.
11) Answer: D
Himachal Pradesh Chief Minister Jai Ram Thakur launched 'e-Parivahan Vyavstha' of the State Transport Department to provide faceless services to the people of the State regarding Driving Licence/Registration Certificates/Permits etc.
The Chief Minister said stress must be laid on educating the people to avail this facility.
He said the success of this system would largely depend on how better and easily the people adopt this service.
Jairam said credit for this goes to the officers and employees of the State.
He said the State Government first started e-Vidhan Sabha, then e-Budget and now it has started e-cabinet.
He said the e-Parivahan was a step forward in this direction.
12) Answer: C
In Tamil Nadu, Chief Minister Edappadi K. Palananiswami announced that the retirement age of State Government employees has been increased from 59 to 60 years.
Making a suo motu statement in the Legislative Assembly, he said, the order would be applicable to employees of the government and government-aided schools, legal and constitutional bodies, government sectors, local bodies, commissions, boards and unions.
He said, all those who were in service and those who would retire on 31st of May this year would be covered under the announcement.
13) Answer: E
In Tripura, the 39th Agartala International Book Fair with the theme "Ek Tripura, Shrestha Tripura" has begun at Agartala.
State Chief Minister Biplab Kumar Deb inaugurated the fair in presence of Bangladesh Assistant High Commissioner Md. Jobayed Hossain and other state cabinet ministers and MLAs.
The Chief Minister said a book fair helps in building a positive mindset among people and that ensures a positive approach for overall progress in society.
Cultural troops coming from Bangladesh, Northeastern States including Sikkim will be performing various cultural events on each day as part of the fair.
14) Answer: B
ICRA has projected the Indian economy to contract 7 percent in current fiscal (FY21).
For the next fiscal, i.e. FY22 (2021-22), ICRA expects a considerable rebound in India's economic growth to 10.5 percent due to higher central government spending, and a pick-up in consumption.
15) Answer: C
Kolkata-based FMCG company, Emami Ltd, has roped in National Award winning Bollywood actor, Ayushmann Khurrana, for its BoroPlus Soaps and Hand Wash range.
BoroPlus, India's No.1 Antiseptic Cream Brand, has launched soaps & hand washes under its Hygiene portfolio last year.
16) Answer: C
Haryana's Deputy Chief Minister Dushyant Chautala was unanimously re-elected as the president of the Table Tennis Federation of India (TTFI) for another four-year term at Panchkula
Chautala was elected unanimously during the 84th annual meeting of the TTFI
The 32-year-old was first elected as President of the TTFI in January 2017, becoming the youngest President in the history of TTFI.
17) Answer: D
Russian supermodel and philanthropist Natalia Vodianova became a United Nations goodwill ambassador
Purpose : To promote the sexual and reproductive rights of women and girls and tackle stigmas surrounding their bodies.
She will be a campaigner for the U.N. Population Fund, which now calls itself the U.N.'s sexual and reproductive health agency, known as UNFPA.
UNFPA Executive Director Natalia Kanem, who announced her appointment, called Vodianova "above all a passionate, longtime advocate for the rights and the needs of women and girls and in particular people living with disabilities."
Vodianova has focused on "breaking harmful taboos and tackling the stigmas that surround women's bodies and health, including menstrual health even during humanitarian crises, and all forms of gender-based violence."
18) Answer: B
Levi's announced the appointment of actor Deepika Padukone as its global brand ambassador.
The denim brand said the association will help attract a new generation of women consumers as it looks to expand the women's wear category.
Padukone is the first female celebrity to become the face of the brand in India. She will be seen spearheading the new campaign focused on a new range of fashion fits from Levi's.
Its strategy aims to attract the new generation of women consumers with a new "fashion-forward" offering in line with the brand's DNA and comfort.
19) Answer: C
Veteran actor Kabir Bedi will tell the story of his life "with raw emotional honesty" in his memoir which will be published this April.
About 'Stories I Must Tell:
The Emotional Journey of an Actor' will take readers through the highs and lows of Bedi's professional and personal life, his relationships, including marriage and divorce, why his beliefs have changed, and his exciting days in film, television and theatre, in India, Europe and Hollywood.
The book will be published by Westland Publications.
This is the story of a middle-class boy from Delhi who met with extraordinary successes as well as heart-wrenching setbacks and a man who holds nothing back, in love or in storytelling.
20) Answer: E
Telangana State Southern Power Distribution Company Limited (TSSPDCL) bagged four awards, two of which were the 'ICC – 8th Innovation with Impact Awards 2020', under the categories of Overall Innovation with Impact (General States) and Quality of Service and Customer Empowerment.
They were presented at the 14th India Energy Summit 2020-21.
The two other awards, as part of IPPAI Awards 2020, were bestowed on Discom under the categories of Best Distribution Company to Promote Consumer Awareness and Best Distribution Utility Achieving Highest Electrification, including metering of un-electrified households.
21) Answer: B
A Memorandum of Understanding was signed between the Inland Waterways Authority of India and the MOL (Asia Oceania) Limited for transportation of Liquefied Natural Gas through barges on National Waterways-1 and National Waterways-2.
The MoU was inked in the presence of Minister for Ports, Shipping and Waterways Mansukh Mandaviya.
The Inland Waterways Authority will provide support for, facilitating with adequate fairway, handling of LPG cargo on IWAI terminals or Multimodal Terminals at Haldia, Sahibganj and Varanasi.
MOL Group is the world's largest gas carrier company and will invest for construction and operation of dedicated LPG barges under the Make-in-India initiative.
22) Answer: C
The Ministry of Corporate Affairs and Central Board of Indirect Taxes and Customs signed a Memorandum of Understanding in New Delhi for data exchange between the two organisations.
It is in line with the vision of both organisations to harness data capabilities to ensure effective enforcement.
Both are going to benefit from access to each other's databases which include details of import-export transactions and consolidated financial statements of companies registered in the country.
The data sharing arrangement gains significance in light of development of MCA21 Version 3 which will utilise state of the art technology for enhancing ease of doing business in India and improve the regulatory enforcement and similar steps by CBIC like the launch of Advanced
Analytics in Indirect Taxation ADVAIT, a 360-degree taxpayer profiling tool.
23) Answer: D
PM Modi will virtually inaugurate and deliver the inaugural address at the 2nd Khelo India National Winter Games on February 26, 2021.
The games will commence from February 26 and will continue till March 2, 2021.
The games taking place in Gulmarg in Jammu and Kashmir will feature around 1200 athletes from 27 states and union territories, apart from the army personnel.
The event has been organised by the Union Ministry of Youth Affairs and Sports in collaboration with the Jammu and Kashmir Sports Council and the Winter Games Association of Jammu and Kashmir.