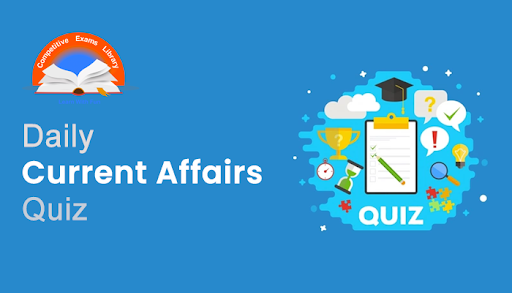 Dear Readers, Daily Current Affairs Questions Quiz for SBI, IBPS, RBI, RRB, SSC Exam 2021 of 27th March 2021. Daily GK quiz online for bank & competitive exam. Here we have given the Daily Current Affairs Quiz based on the previous days Daily Current Affairs updates. Candidates preparing for IBPS, SBI, RBI, RRB, SSC Exam 2021 & other competitive exams can make use of these Current Affairs Quiz.
1) World Theatre Day is observed on which of the following dates?
A) March 1
B) March 3
C) March 27
D) March 11
E) March 13
2) The Ministry of Skill Development and Entrepreneurship in association with _____ IIMS has invited applications for the Mahatma Gandhi National Fellowship till 27th of this month.
A) 6
B) 5
C) 4
D) 9
E) 3
3) The Swarna Jayanti scholarship for youths of which country have been announced by PM Narendra Modi?
A) Nepal
B) Maldives
C) Sri Lanka
D) Bhutan
E) Bangladesh
4) Which of the following company has made the 'World's First Mobile Water from Air Kiosk' at Vizag Smart City?
A) AWG
B) Maitri Aquatech
C) Uravu Labs
D) Meghdoot
E) Igniting Ideas
5) Earth Hour 2021 was Observed on last Saturday of March 27 2021. It was started in which of the following year?
A) 2002
B) 2006
C) 2003
D) 2007
E) 2004
6) Who among the following has unveiled 'Tribal TB Initiative' in pursuit of TB Mukt Bharat?
A) Anurag Thakur
B) Amit Shah
C) Harsh Vadhan
D) Prahlad Patel
E) Nitin Gadkari
7) India and which country have agreed to further economic cooperation?
A) Israel
B) Germany
C) France
D) Japan
E) US
8) The Ministry of Tourism inaugurated Chhatrasal Convention Centre developed under Swadesh Darshan Scheme in which city?
A) Orchha
B) Pune
C) Khajuraho
D) Surat
E) Gwalior
9) Three Wheels United has appointed who among the following as COO?
A) Sudhri Singh
B) Hardip Singh Goindi
C) Rajesh Gupta
D) Nitin Verma
E) Anand Tiwary
10) Which of the following singer has recently been nominated for Maharashtra Bhushan award- the state's highest honour?
A) Shaan
B) KK
C) Udit Narayan
D) Asha Bhonsle
E) Neha Kakkar
11) A team from which of the following institution has bagged the CoreNet Global Academic Challenge 6.0?
A) IIT Guwahati
B) IIT Bombay
C) IIT Madras
D) IIT Delhi
E) IIT Kharagpur
12) Who among the following has been appointed as the CEO of UIDAI?
A) Amit Verma
B) Nalin Singh
C) Sanjeev Kumar
D) Saurabh Garg
E) Atisha Chandra
13) Which of the following prize has been given to honour Bangbandhu Sheikh Mujibur Rehman – received by Rehman's daughter Sheikh Rehana?
A) Vayu Medal
B) Gandhi Peace Prize
C) Padma Awards
D) Kirtri Chakra
E) Indira Peace Prize
14) Indian Coast Guard ship _____ has recently been commissioned.
A) Beas
B) Kolkata
C) Vajra
D) Shivalik
E) Mysore
15) Which state has bagged three awards at 2021 International Exhibition and 6th Smart Cities India Expo?
A) Chandigarh
B) Surat
C) Dehradun
D) Hyderabad
E) Pune
16) To improve air quality of ____ cities under the action plan proposed in the National Clean Air Programme, a Memorandum of Understanding (MoU) with different stakeholders were signed in the presence of the union environment minister Prakash Javadekar.
A) 80
B) 58
C) 112
D) 120
E) 132
17) "Indians: A Brief History of A Civilization" has been authored by who among the following?
A) Rajat Prasad
B) Tamanna Sharma
C) Namit Arora
D) Arjun Singh
E) Subash Sharma
18) Indian Government will sell _____ per cent stake in Rail Vikas Nigam Limited.
A) 16
B) 15
C) 12
D) 13
E) 14
19) Which country recently fired 2 ballistic missiles into Sea of Japan?
A) Philippines
B) Vietnam
C) North Korea
D) China
E) South Korea
20) As per the IUCN Red list which of the following species has been recognised as Endangered & Critically Endangered?
A) Borneo elephant
B) Asian elephant
C) Indian elephant
D) Sri Lankan elephant
E) African elephant
Answers :
1) Answer: C
World Theatre Day is an international observance celebrated on 27 March. It was initiated in 1961 by the International Theatre Institute.
Theatre has always been a significant place to present ideas and ideologies before the audience. Hence, people started celebrating World Theatre Day on 27 March to generate awareness about the importance of theatre arts.
Every year the Executive Council of ITI choses an outstanding theatre personality to write the message for World Theatre Day.
The author of the Message of World Theatre Day 2021 is: Helen MIRREN, United Kingdom.
2) Answer: D
The Ministry of Skill Development and Entrepreneurship in association with 9 IIMS has invited applications for Mahatma Gandhi National Fellowship till 27th of this month.
The fellowship is a two-year blended program consisting of classroom sessions at IIMs and a unique opportunity to promote skill planning and development in district economies.
Following the success of the pilot cohort, Ministry of Skill Development and Entrepreneurship announced the launch of 'Mahatma Gandhi National Fellowship' (MGNF) 2021-23 in collaboration with IIM Ahmedabad, IIM Bangalore, IIM-Jammu, IIM Kozhikode, IIM Lucknow, IIM Nagpur, IIM Ranchi, IIM Udaipur and IIM Visakhapatnam.
It is a unique opportunity for young, dynamic individuals to combine classroom sessions at IIM with engagement in the district economies to promote skill development and skill planning.
Launched last year, the implementation of the programme has been a great success and has garnered appreciation from various stakeholders.
The Fellowship, 2021-23, has been rolled out nationally in more than 660 districts across India.
3) Answer: E
Prime Minister Modi announced Swarna Jayanti scholarship for youths of Bangladesh.
The Swarna Jayanti Fellowship is a research fellowship awarded annually by the Department of Science and Technology of India.
It is given for the notable and outstanding research by young scientists, applied or fundamental, in biology, chemistry, environmental science, engineering, mathematics, medicine and physics.
Referring to the completion of 50 years of diplomatic relationship between India and Bangladesh, Mr. Modi also announced to invite 50 entrepreneurs of Bangladesh to visit India and join start-up initiatives and meet Indian venture capitalists.
Remembering the struggle of Independence by Bangladeshi people, Prime Minister Modi also shared his personal contribution during that struggle.
He said that the struggle for independence of Bangladesh was one of the first movements that he participated in.
He said that he was 20 or 22 years old when he and his colleagues had organized Satyagraha for Bangladesh's freedom.
4) Answer: B
Hyderabad-based startup, Maithri Aquatech has set up the world's first mobile water from air kiosk and water knowledge centre in the smart city of Visakhapatnam, in Andhra Pradesh.
This innovative water kiosk is such that the potable water is harvested from the air instead of depending on scarce groundwater and surface water resources.
This initiative is supported by Greater Visakhapatnam Municipal Corporation and project SEWAH (Sustainable Enterprises for Water and Health), an alliance between USAID and SWN (Safe Water Network).
The kiosk will provide clean, mineral-enriched potable water harvested from the air by making use of Maithri Aquatech's own Meghdoot solution as a source to generate water.
Apart from this, the kiosk will also function as a Water Knowledge Resource Centre by creating awareness and imparting necessary information to members of the local underserved communities as well as nearby schools on the benefits of good water, sanitation and hygiene (WASH) practices.
5) Answer: D
Every year, the Earth Hour is celebrated worldwide on the last Saturday of the March month to show support for the fight against climate change and commitment towards a better planet.
Earth Hour 2021 is being marked on March 27, 2021.
The Earth Hour 2021 theme will focus on "Climate Change to Save Earth."
The Day is a worldwide movement organized by the World Wide Fund for Nature (WWF), encouraging individuals, communities, corporates, and households to turn off their lights for one hour, from 8:30 to 9:30 p.m.
It was started as a lights-off event in Sydney, Australia, in 2007 to raise awareness for energy consumption and effects on the environment.
6) Answer: C
Health Minister Dr Harsh Vardhan launched 'Tribal TB Initiative' in pursuit of TB Mukt Bharat.
He said that the government accords top priority to ensuring Universal Access to free treatment and care for TB across the country.
The Minister said, over ten crore tribal population is living with a huge diversity in their population dynamics.
He said, the government has already increased the Budget allocation for TB in India four-fold in the last five years.
Dr Harsh Vardhan said, the Union Territories of Lakshadweep and district of Badgam in Jammu and Kashmir have been declared TB Free on World TB Day this year.
During the function, Tribal Affairs Minister Arjun Munda was also present.
7) Answer: E
India and US have agreed to further India-US economic cooperation on the basis of shared objectives and resolve pending legacy issues through mutual dialogue and discussion.
Indian Minister of Commerce and Industry Piyush Goyal had a very productive discussion with the United States Trade Representative (USTR), Ambassador Katherine Tai, over a video call.
Mr Goyal congratulated Katherine Tai on her appointment as USTR.
Mr Goyal said that both sides discussed a range of issues and agreed to strengthen the India-US trade and investment relationship.
They also agreed to strengthen the India- US Trade Policy Forum (TPF) and to convene the next Ministerial-level meeting of the forum in 2021.
8) Answer: C
Union Minister of State for Tourism and Culture (Independent Charge) Prahlad Singh Patel and Chief Minister of Madhya Pradesh Shivraj Singh Chouhan inaugurated the 'Chhatrasal Convention Centre at Khajuraho.
Union minister Prahlad Singh Patel mentioned that we have to develop the iconic tourism places in various States of India but simultaneously we will have to conserve our ancient old culture also.
Central government and state government have to work together to develop these new iconic tourism places.
We all will have to realise our responsibility towards our tourism places accordingly.
Chief Minister Shivraj Singh Chauhan assured full cooperation of the state government in developing all tourism places in the state with the help of the Central Government.
He also said that under the table guidance of the Prime Minister Narendra Modi, development of many tourism places are undergoing in the state.
9) Answer: B
Three Wheels United (TWU), a Bengaluru-based tech-enabled financier of light electric vehicles, has appointed Hardip Singh Goindi as the company's Chief Operating Officer (COO).
An industry veteran, Hardip Singh Goindi, brings 38 plus years of leadership experience in managing operations for well known automotive brands in domestic and international markets.
As COO of Three Wheels United, he will lead TWU's expansion across multiple cities and focus on building strategic partnerships for the company.
Hardip Singh Goindi has previously worked at Piaggio Vehicles as Executive Vice President where he was responsible for manufacturing operations, domestic marketing, sales, after market service, international business and parts business.
Prior to Piaggio, Hardip was President-Marketing at TVS Motor Company.
In his 12 year long stint at TVS, he also served as the Senior Vice President for international Business and three Wheelers.
10) Answer: D
The Maharashtra Government has named legendary singer Asha Bhosle for the Maharashtra Bhushan Award, the highest honour presented by the government of Maharashtra.
Bhosle has been chosen for the award for the year 2020, by a committee chaired by Chief Minister Uddhav Thackeray.
Instituted in 1996, the Maharashtra Bhushan Award recognises distinguished work and achievements of eminent persons from the state, representing different walks of life.
It carries a cash prize of Rs 10 lakh and a citation.
Bhosle's sister Lata Mangeshkar won the award in 1997.
11) Answer: E
A team of four undergraduate students from the Indian Institute of Technology, Kharagpur (IIT-K) has achieved historic win as they emerged as winners at the CoreNet Global Academic Challenge 6.0, sponsored by Cushman and Wakefield, KI and IA: Interior Architects.
It is for the first time that a squad from India has emerged as winners in the CoreNet Global Academic Challenge since the inception of the competition in 2015.
The members of the team comprised of Siddhant Samarth (3rd year, Department of Civil Engineering), Pratim Majumdar (3rd year, Department of Chemical Engineering), Rishita Raj (2nd year, Department of Mechanical Engineering) and Utkarsh Agrawal (3rd year, Department of Manufacturing Science and Engineering), and were guided by Prof. Jenia Mukherjee (Department of Humanities and Social Sciences).
The IIT Kharagpur team was one of the four teams to enter into the final round out of 1,300 teams from all over the world.
12) Answer: D
The Appointments Committee of the Cabinet has approved various new appointments on March 25, 2021, as part of a bureaucratic reshuffle.
Senior bureaucrat Saurbah Garg, a 1991 batch IAS officer of Odisha cadre, has been appointed as the Chief Executive Officer (CEO) of Unique Identification Authority of India (UIDAI).
Similarly, Sanjeev Kumar, a 1991 batch IAS officer of Maharashtra cadre, has been appointed as the Chairman, Airports Authority of India (AAI).
Atish Chandra,  a 1994 batch IAS officer of Bihar cadre, has been appointed as the Chairman and Managing Director, Food Corporation of India (FCI).
13) Answer: B
Prime Minister Narendra Modi handed over the Gandhi Peace Prize 2020 to Bangabandhu Sheikh Mujibur Rehman's younger daughter.
Mr. Modi said that it is a matter of pride for all Indians that we got the opportunity to honor Bangbandhu Sheikh Mujibur Rahman with the Gandhi Peace Prize.
He said that we salute the brave soldiers of the Indian Army who stood with the brothers and sisters of Bangladesh in the 'Muktijuddho'- Liberation War of Bangladesh.
He recalled the contribution of India in the liberation of Bangladesh and condemned the atrocities committed by Pakistani forces on the liberation fighters.
Mr. Modi said that during the liberation war of Bangladesh, the blood of Bangladesh and Indian soldiers flowed together.
This blood will form such a relationship that will never break down or fall in any situation in the future.
14) Answer: C
On March 24, 2021, Indian Coast Guard ship 'Vajra', the sixth offshore patrol vessel to enhance coastal security, was formally commissioned into service.
Chief of Defence staff General Bipin Rawat formally unveiled a 'plaque' and the ship's name board 'Vajra' meaning 'Thunderbolt' at the Chennai Port Trust.
The ship was indigenously designed and built by Larsen and Toubro Shipbuilding Ltd.
It is fitted with state-of-the-art Navigation and Communication Equipment, Sensors and Machinery.
The ship would be based at Tuticorin under the operational control of the coast guard eastern region.
15) Answer: D
Hyderabad bagged three awards in different categories at the 2021 International Exhibition and 6th Smart Cities India Expo held during March 24-26 in New Delhi.
The awards were given by the India Trade Promotion Organisation, a Government of India Enterprise.
Under the Green and Clean City category, the Rain Garden developed by the HMDA underneath the Begumpet flyover at the intersection of Kukatpally and Yousufguda nalas has bagged the award.
In the Smart Waste Disposal Project category, the New Municipal Solid Waste Management project bagged the award.
The project comprises a city-wide network of fully mechanised Secondary Collection and Transport Points (SCTPs).
In the Startup category, We Hub, a one of its kind initiative that has been instrumental in empowering women won the award.
We Hub is a one of its kind initiative that has been instrumental in empowering the women.
It has created a supportive community for aspiring women entrepreneurs.
16) Answer: E
To improve air quality of 132 cities under the action plan proposed in the National Clean Air Programme, a Memorandum of Understanding (MoU) with different stakeholders were signed in the presence of the union environment minister Prakash Javadekar.
Prakash Javadekar, Minister of Environment, Forest and Climate Change on the occasion emphasised the idea of 'Swachh Bharat, Swachh Vayu' and urged different bodies and individuals to work towards the goal of curbing air pollution by roughly 20 per cent in the upcoming four years.
"It is not an easy task but a tough challenge which we all need to achieve together," he added.
Regretting despite allocating funds for 6,000 e-buses to different cities, only 600 buses have been procured and operational.
He warned that if any town fails to utilise the funds sanctioned for procurement, the allocation will be moved to other cities.
17) Answer: C
A Book Titles Indians: A Brief History of A Civilization" Authored by Namit Arora.
It is published by India Viking.
About the Book :
The Book Covers Feature of 5 Chapters on travellers like
Megasthenes
Faxian
Xuanzang
Yijing
Alberuni (al-Biruni)
Marco Polo
François Bernier.
On Six Places
Dholavira
Nagarjunakonda
Nalanda
Khajuraho
Hampi
Varanasi
This book conveys the way of Indian lived, ate, built, loved, fought, and made sense.
18) Answer: B
The Indian Government has announced it will sell a 15% stake in Rail Vikas Nigam Limited (RVNL) to raise nearly $103m (Rs7.5bn).
Out of  15% the government would divest 10% equity with a 5% Green Shoe option.
About RVNL :
RVNL was established as a 100 per cent owned PSU of the Ministry of Railways in January 2003
19) Answer: C
On March 24, 2021, North Korea fired two ballistic missiles into the Sea of Japan.
Its first such launch in a year and put pressure on the administration of the U.S. President Joe Biden.
The launch was a violation of U.N. Security Council resolutions banning North Korea from firing ballistic missiles
Note :
Previously in March, South Korea,and the USA held a joint military exercise in korean peninsular region.
20) Answer: E
The African forest elephant is listed as Critically Endangered and the African savanna elephant as Endangered on the IUCN Red List of Threatened Species.
This is the first time the two species have been assessed separately for the IUCN Red List, following the emergence of new genetic evidence.
The number of African forest elephants fell by more than 86% over a period of 31 years, while the population of African savanna elephants decreased by at least 60% over the last 50 years
At Present Only 4,15,000 African Elephants are present.
This is due to In 2008 both species suffered a sharp decline due to increases in poaching