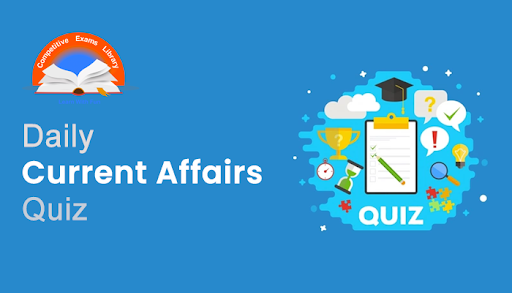 Dear Readers, Daily Current Affairs Questions Quiz for SBI, IBPS, RBI, RRB, SSC Exam 2021 of 27th May 2021. Daily GK quiz online for bank & competitive exam. Here we have given the Daily Current Affairs Quiz based on the previous days Daily Current Affairs updates. Candidates preparing for IBPS, SBI, RBI, RRB, SSC Exam 2021 & other competitive exams can make use of these Current Affairs Quiz.
1) Kiren Rijiju to launch ACCR web portal, the ____ version of Ayush Sanjivani App .
A) 7th
B) 6th
C) 3rd
D) 4th
E) 5th
2) Panjab Singh who passed away recently won which of the following award?
A) Samrat Ratna
B) Bharat Ratna
C) Mahavir Chakra
D) Vir Chakra
E) Param Vir Chakra
3) Government to give assistance of Rs ____ to each Transgender person.
A) 1400
B) 1300
C) 1000
D) 1200
E) 1500
4) Which state CM has launched an online portal named 'Akanksha'?
A) Kerala
B) Chhattisgarh
C) Delhi
D) Karnataka
E) Gujarat
5) Which company has bought James Bond owner MGM ?
A) Disney
B) Facebook
C) Amazon
D) Apple
E) Microsoft
6) Blade India has launched air ambulance services. It is from which country?
A) Sweden
B) US
C) Japan
D) France
E) Germany
7) Which Bank has introduced a new feature to link UPI ID with digital wallet?
A) BOI
B) UCO
C) Axis
D) SBI
E) ICICI
8) Which Bank has appointed Balakrishna Alse S as an additional director?
A) ICICI
B) SBI
C) Karnataka
D) UCO
E) Axis
9) RBI Innovation Hub Appointed who among the following as CEO?
A) Sundar Raj
B) Rajesh Bansal
C) Anand Raj
D) Amit Singh
E) Rajesh Thapar
10) Nobel Laureate Amartya Sen honoured by which country's top award in social sciences?
A) Sweden
B) Germany
C) Denmark
D) Spain
E) France
11) NASA Plans to Launch its first mobile robot on the moon in ___.
A) 2027
B) 2026
C) 2025
D) 2024
E) 2023
12) British Antarctic Survey Found Breakage of World's Largest Iceberg from Antarctica. The iceberg is named __.
A) G-76
B) E-76
C) A-76
D) B-76
E) C-76
13) New Book Titled 7 Lessons from Everest Expedition Learnings from Life and Business has been Authored by ___.
A) Pankaj Mathur
B) Amit Prakash
C) Sundar Patel
D) Aditya Gupta
E) Vaibhav Sharma
14) Which International Hockey Stadium will be renamed to legendary Balbir Singh Senior?
A) Kolkata
B) Mohali
C) Dehradun
D) Chandigarh
E) Delhi
15) Sami Khedira, who announced retirement recently was an eminent ___.
A) Badminton player
B) Tennis player
C) Hockey player
D) Cricketer
E) Footballer
Answers :
1) Answer: C
Union Minister of state (IC) for Ayush Shri Kiren Rijiju will launch the Ayush Clinical Case Repository (ACCR) portal and the third version of Ayush Sanjivani App in a virtual event.
The Ayush Clinical Repository (ACCR) portal (https://accr.ayush.gov.in/) will serve as a platform to support both Ayush practitioners and general public.
This portal aims to aggregate information about clinical outcomes achieved by Ayush practitioners on a large scale.
It will facilitate not just dissemination of information but also further analysis and research.
It is expected to document the strengths of Ayush systems for treatment of various disease conditions.
The Ayush Sanjivani App (Third Version) is now published on Google Play Store and iOS.
This version facilitates a significant study/ documentation regarding the efficacy of selected Ayush interventions, including Ayush 64 and KabasuraKudineer medicines in the management of asymptomatic & mild to moderate Covid 19 patients.
2) Answer: D
On May 23,2021, Vir Chakra awardee Panjab Singh passed away.
He was 79.
About Panjab Singh :
He is a hero of the Battle of Poonch during the 1971 India-Pak war.
Col Panjab Singh was the director of Sainik Welfare, Himachal Pradesh.
He was also the vice-president, Indian Ex Service League, Himachal Pradesh of Southern Area.
He was in the Sixth battalion of the Sikh Regiment.
3) Answer: E
As the country is fighting with COVID19, members of the Transgender community have been critically affected by the pandemic majorly because of serious disruption of livelihoods.
The current situation in the country is compelling this marginalized community into extreme distress and acute shortage of basic needs like food and health.
The Ministry of Social Justice & Empowerment being the nodal ministry for Transgender Welfare has decided to provide a subsistence allowance of Rs.1500 to each Transgender person as immediate support to meet their basic requirements.
4) Answer: D
A comprehensive portal on Corporate Social Responsibility (CSR) activities by companies in Karnataka, `Akanksha,' was launched by chief minister B S Yediyurappa in Bengaluru.
The chief minister said the portal Akanksha providing details of all CSR activities in the state will help in enabling the corporate, government and donors to utilize the CSR funds for needy programmes by serving as a transparent platform.
The UN agency UNSPU has collaborated in the creation of the portal, which will help in easy, simple and transparent utilization of CSR fund grants, Yediyurappa described the effort as the first of its kind initiative in the country.
Total demand for Rs 75,000 crore grants, Rs 61,000 crore have already been allocated in the budget.
The total expenditure for the health sector during the last financial year was Rs 11,527 crore and a sum of Rs 11,650 crore have been set apart during the current financial year.
5) Answer: C
Amazon.com Inc buying MGM, the fabled US movie studio home to the James Bond franchise, for 8.45 billion US Dollars.
The deal will give Amazon a huge library of films and TV shows and ramp up competition with streaming rivals led by Netflix and Disney.
The acquisition is Amazon's second-biggest after Whole Foods Market, which it bought for 13.7 billion US Dollars in 2017.
6) Answer: B
US-based helicopter transport services provider Blade's Indian subsidiary announced the launch of medical emergency services across the country, amid an increasing demand for air ambulance services in the wake of the pandemic.
The new services, Blade Care, are also open for regular air travel for people who want to travel inter-state, return to their hometowns or any other place they feel the safest.
For a seamless, medical evacuation and bed-to-bed transfer, the company has partnered with 'MyHealthcare', a specialty healthcare ecosystem, to manage all the medical requirements for patients on ground and with Blade being the air carrier service network.
The brand will arrange aero-medical charters for such patients with a team of certified doctors, paramedics and clinicians onboard
7) Answer: E
ICICI Bank officially revealed the debut of a one-of-a-kind feature that allows users to link their UPI (Unified Payments Interface) IDs to their digital wallet 'Pockets'.
New users, even non-ICICI Bank customers, can now have a UPI ID that is automatically linked to their 'Pockets' account.
Customers who already have a UPI ID will receive a new one when they use the 'Pockets' app.
It will assist customers in streamlining the transactions made regularly from their savings account, hence reducing the number of listings on their savings account statement.
8) Answer: C
Karnataka Bank Ltd has appointed Balakrishna Alse S, former Executive Director of Oriental Bank of Commerce (OBC), as Additional Director (Non-Executive, Independent) at its board meeting.
During his 35 years of tenure at Corporation Bank, Alse had worked in Agriculture Policy and Lending, Credit Sanctions, Credit Risk Management, HR, Integrated Risk Management (as Chief Risk Officer) and Information / Cyber Security (as Chief Information Security Officer).
He also had concurrent charge of Chief Vigilance Officer for over seven months.
9) Answer: B
The Reserve Bank of India's Innovation Hub (RBIH) appointed Rajesh Bansal as its chief executive officer.
The RBIH was set up in August last year to promote innovation across the financial sector with the help of technology.
Bansal, who was part of the founding team of the Unique Identification Authority of India (UIDAI), has advised several RBI committees in the past and has worked with the Centre in areas of technology, financial inclusion and payment systems.
RBIH stated that He played a key role in designing India's Direct Benefits Transfer system and electronic KYC.
10) Answer: D
Indian economist and Nobel Laureate Amartya Kumar Sen has been conferred with Spain's top Princess of Asturias Award in the social sciences category, the Spanish prize foundation announced.
Sen, 87, was selected out of the 41 candidatures from 20 nationalities put forward for the Social Sciences Award, the Princess of Asturias Foundation.
He won the Nobel Prize in Economics in 1998.
11) Answer: E
The United States National Aeronautics and Space Administration is sending its first mobile robot VIPER to the moon in 2023.
Volatiles Investigating Polar Exploration Rover (VIPER) is part of the Artemis program.
Purpose :
It will map and explore the moon's resources on and under the lunar surface, particularly water-ice.
This will help them in providing a sustained human presence on the moon.
12) Answer: C
A massive chunk of iceberg named A-76 has broken off Antarctica.
It Becomes the largest iceberg in the world.
It was first spotted by a British Antarctic Survey researcher
It was then confirmed by the U.S. National Ice Center (USNIC) using images from the Sentinel-1A satellite.
It was captured by the European Union's Copernicus Sentinel
The finger-shaped chunk of ice, which is roughly 105 miles (170 kilometers) long and 15 miles (25 kilometers) wide and with an area of 4320 square km.
13) Answer: D
Aditya Gupta, a Delhi-based entrepreneur and mountaineer authored a book titled 7 Lessons from Everest Expedition Learnings from Life and Business.
About the book :
The coffee-table book, with 350 stunning images spread over 250 pages.
It narrates the author's experience of scaling Mt Everest at the age of 50 in 2019 and shares the virtues of "preparation, passion, perseverance, mental toughness, and resilience.
The proceeds from the book will be given to NGO Child Rights and You (CRY).
It supports in ensuring care, protection and education to children amidst these trying times.
It aims to raise Rs 1 crore for COVID-19 relief from the sale.
The campaign, initiated by The Rug Republic (a brand owned by Gupta).
14) Answer: B
On May 25, 2021, The Mohali International Hockey Stadium was renamed after the legendary Balbir Singh Sr on the occasion of his first death anniversary.
After the COVID – 19 Pandemic, an international hockey tournament would be held in the stadium to mark the hockey stalwart's sporting journey.
A statue in his memory would be installed at the stadium entrance.
15) Answer: E
Germany's World Cup-winner midfielder Sami Khedira announced his retirement.
About Sami Khedira :
Khedira, 34, began his career at VfB Stuttgart and he won the league title in the 2006-07 season.
He moved to Real Madrid, where he won the league and Champions League in a trophy-laden spell.
He won five Serie A titles at Juventus in 2015.
Khedira played 77 games for Germany scoring seven goals and helped them win the 2014 World Cup in Brazil.