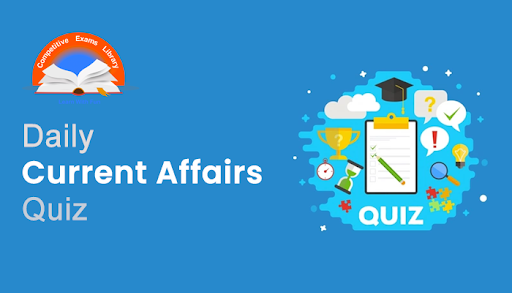 Dear Readers, Daily Current Affairs Questions Quiz for SBI, IBPS, RBI, RRB, SSC Exam 2021 of 28th & 29th March 2021. Daily GK quiz online for bank & competitive exam. Here we have given the Daily Current Affairs Quiz based on the previous days Daily Current Affairs updates. Candidates preparing for IBPS, SBI, RBI, RRB, SSC Exam 2021 & other competitive exams can make use of these Current Affairs Quiz.
1) The Public Health Department, Maharashtra and National Health Mission, government of India dedicated _______air conditioned Mobile Medical Vans to the nation in Jalna district of Maharashtra.
A) 6
B) 5
C) 2
D) 3
E) 4
2) Inauguration of a new building of Bombay High Court in Goa was addresses by who among the following?
A) NS Tomar
B) Amit Shah
C) Prahlad Patel
D) Ravi Shankar Prasad
E) Nitin Gadkari
3) The UP Chief Minister has grand initiated Shaheed Ashfaq Ulla Khan Zoological Park in which city?
A) Lucknow
B) Aligarh
C) Ghaziabad
D) Gorakhpur
E) Meerut
4) As per the Ek Bharat Shreshtha Bharat scheme, which state has been paired with Jharkhand?
A) Madhya Pradesh
B) Goa
C) Jharkhand
D) Chhattisgarh
E) Bihar
5) Prasar Bharati run DD Free Dish recently touched ____ million subscribers.
A) 60
B) 55
C) 40
D) 45
E) 50
6) Which company has partnered with Libbs Farmaceutica – for launch generic formulations in Brazil?
A) Sun Pharma
B) Ranbaxy
C) Pfizer
D) Biocon Pharma
E) Cipla
7) Which of the following Film has won the Filmfare Awards 2021?
A) Lootcase
B) Tanhaji
C) Angrezi Medium
D) Gulabo Sitabo
E) Thappad
8) Which of the following Range officer has won the International Ranger Award?
A) Nalini Singh
B) Mahinder Giri
C) Anand Kumar
D) Ramesh Verma
E) Sudhir Srivastava
9) Which of the following institution has won the Cities India Awards?
A) BMTC
B) AICTSL
C) CRUT
D) JnNurm
E) JCTSL
10) India has recently inked _______MoUs with Bangladesh.
A) 8
B) 7
C) 6
D) 4
E) 5
11) Anil Dharker who passed away recently was a noted ____.
A) Hockey player
B) Actor
C) Journalist
D) Musician
E) Director
12) Pakistan has test Fired Nuclear-Capable Ballistic Missile Shaheen-1A with a range of ____ kilometers.
A) 750
B) 800
C) 850
D) 900
E) 950
13) New Bacteria Methylobacterium ajmalii Found on ISO has been Named After which Indian Scientist?
A) Sudharshan Tiwary
B) Ajmal Khan
C) Rashid Khan
D) Sikander Khan
E) Sakib Qureshi
14) Who among the following has won the Rathbones Folio Literary prize?
A) Zinzi Cinnoms
B) Helen Oyeyemi
C) Carmen Maria Machado
D) Val Howett
E) Kelly Link
15) Mumbai, Ahmedabad and Bhubaneswar will host AFC Women's Asian Cup 2022 with the final set to be played on which date?
A) February 1
B) February 2
C) February 3
D) February 4
E) February 6
16) Laxmipriya who passed away recently was a noted ____.
A) Actor
B) Singer
C) Dancer
D) Painter
E) Writer
Answers :
1) Answer: C
The Public Health Department, Maharashtra and National Health Mission, government of India dedicated 'Two air conditioned Mobile Medical Vans' to the nation in Jalna district of Maharashtra.
The program was inaugurated by State Health Minister Rajesh Tope with a green flag.
Rs 20 lakh cost van will be used to provide health facilities and state-of-the-art clinics in remote areas of the district.
The van will provide information on health schemes of the Central and State Governments and all types of check-ups, obstetrics, other treatments etc.
Health Minister Rajesh Tope has said that 20 districts have been selected under this national campaign and this will make it easier to implement the national health campaign in rural areas.
He further said that two air-conditioned vehicles have been provided for Jalna district, through which the poorer will be given 100 percent free treatment.
It has been ensured that 60 patients will be examined.
Daily efforts will be made to improve the quality of health services under the National Health Mission.
Former Minister Arjun Khotkar, MLA Kailash Gorantyal, Zilla Parishad Chief Executive Officer Pratap Sawade, District Surgeon Archana Bhosale were present on the occasion.
2) Answer: D
Union Minister of Law and Justice Ravi Shankar Prasad has said that whenever various types of challenges arose in India, Judiciary always came with an apt and competent answer to it.
He was speaking in the event of inauguration of a new building of the Bombay High Court at Goa in Porvorim near Panaji.
Digital technology did a stellar performance during Covid pandemic in as much as 82 lakh cases were heard virtually in various courts, Minister Prasad added further.
There has to be a robust answer on the claims regarding environment and development, he added.
Chief Justice of India Sharad Bobde after inaugurating the building said that the bench at Goa always maintained the highest standards and made significant contribution to development of law.
New building is a sign of a new time, he added.
3) Answer: D
Uttar Pradesh Chief Minister Yogi Adityanath inaugurated Shaheed Ashfaq Ulla Khan Zoological Park in Gorakhpur.
This is the first zoo in Purvanchal and the third in the state.
In his address, the Chief Minister said the construction of the zoo has been completed in a record time of four years.
He added that the zoo will not only provide entertainment and learning to the people but it has also opened the possibilities of tourism in the region.
The Chief Minister said the zoo has been named after great freedom fighter Shaheed Ashfaq Ullah Khan.
He said that the nation is celebrating the 75th anniversary of its Independence as Azadi Ka Amit Mahotsav this year, and it is a tribute to the great freedom fighter.
The foundation of the Gorakhpur zoo was laid a decade ago in May 2011 but its construction gained momentum after the year 2017.
4) Answer: B
Under the Ek Bharat Shreshtha Bharat State of Goa is paired with Jharkhand.
During this COVID Pandemic period, various educational institutions carried out online and offline activities.
Ek Bharat Shreshtha Bharat' campaign has been launched to promote cultural unity among various states of the country.
Coastal State Goa has got rich cultural heritage.
Before this Pandemic Goa students had visited Jharkhand for a cultural Exchange Programme.
5) Answer: C
Prasar Bharati CEO, Shashi Shekhar Vempati has expressed happiness that the public broadcaster-run Direct to Home (DTH) platform DD Free Dish has crossed 40 million subscribers.
According to FICCI-EY Media Entertainment Annual Report for 2021, DD Free Dish has an estimated base of more than 40 million households.
The growth has been attributed to less expensive television sets, economic issues, launch of the DD Retro Channel and return of big broadcasters to the Free Dish platform.
DD Free Dish has also become a second set top box within the home, used when there are no large events on television in some cases.
Free Dish distributors have mentioned year on year growth in sales as well as the inability to keep up with demand due to a shortage of China-manufactured chipsets.
Television households will continue to grow at over 5 percent till 2025, driven by connected TVs which could cross 40 million by 2025 and DD Free Dish could cross 50 million.
DD Free Dish, is a multi-channel Free-To-Air Direct to Home service of Prasar Bharati.
6) Answer: D
Biocon Ltd, an innovation-led global biopharma company, has announced a partnership between Biocon Pharma Limited, a wholly owned subsidiary of Biocon Limited, and Libbs Farmaceutica, a pharmaceuticals company in Brazil, to launch generic drugs in Brazil, the world's sixth most populous country.
In a regulatory filing to exchanges, the company said, "The partnership, which marks the entry of Biocon's generic formulations into Latin America, builds upon a successful association with Libbs, which began in 2017 to launch biosimilar Trastuzumab in Brazil.
It reflects Biocon's commitment to make affordable healthcare accessible for patients the world over, by establishing a strong global presence for its formulations portfolio, either directly or through strategic partnerships."
7) Answer: E
The star-studded 66th Filmfare Awards saw Anubhav Sinha's 'Thappad' recording the most wins with seven awards, followed by 'Gulabo Sitabo', winning six, both emerging as big winners.
Here is a complete list of the winners:
Best Film: Thappad
Best Film (Critics): Prateek Vats (Eeb Allay Ooo!)
Best Director: Om Raut (Tanhaji – The Unsung Warrior)
Best Actor in a Leading Role (Male): Irrfan Khan (posthumous) (Angrezi Medium)
Best Actor in a Leading Role (Female): Taapsee Pannu (Thappad)
Best Actor in a Leading Role (Male – Critics): Amitabh Bachchan – (Gulabo Sitabo)
Best Actor in a Leading Role (Female – Critics): Tillotama Shome – (Is Love Enough? SIR)
Best Actor in a Supporting Role (Male): Saif Ali Khan (Tanhaji – The Unsung Warrior)
Best Actor in a Supporting Role (Female):Farrokh Jaffar (Gulabo Sitabo)
Best Debutant Actress: Alaya F (Jawaani Jaaneman)
Best Debutant Director: Rajesh Krishnan (Lootcase)
Best Story: Anubhav Sinha and Mrunmayee Lagoo (Thappad)
Best Screenplay: Rohena Gera (Is Love Enough? SIR)
Best Dialogue: Juhi Chaturvedi (Gulabo Sitabo)
Best Cinematography: Avik Mukhopadhayay (Gulabo Sitabo)
Best Editing: Yasha Pushpa Ramchandani (Thappad)
Best VFX: Prasad Sutar from NY VFXWaala (Tanhaji: The Unsung Warrior)
Best Action: Ramazan Bulut, RP Yadav (Tanhaji: The Unsung Warrior)
Best Music Album: Pritam Chakraborty (Ludo)
Best Lyricist: Gulzar – Chhappak (Chhappak)
Best Singer (Male): Raghav Chaitanya – Ek Tukda Dhoop (Thappad)
Best Singer (Female): Asees Kaur- Malang (Malang)
Best Choreography: Farah Khan for Dil Bechara (Dil Bechara)
8) Answer: B
Minister for Environment, Forests and Climate Change Prakash Javadekar has congratulated Mahinder Giri, range officer of Rajaji Tiger Reserve for being the only ranger from Asia to win the prestigious International Ranger Award for his contribution towards conservation.
The award has been announced for 10 professionals across the world by the International Union for Conservation of Nature IUCN and World Commission on Protected Areas WCPA.
Developed through collaboration between the IUCN WCPA, the International Ranger Federation, Global Wildlife Conservation, and Conservation Allies, these awards, created in 2020, aim to highlight and felicitate the extraordinary work that rangers do in protected and conserved areas worldwide.
9) Answer: C
The Capital Region Urban Transport (CRUT) that manages Mo Bus service has won the Cities India Awards-2021 in the Smart SPV/Municipal Corporation category.
The award was presented to CRUT at an event organized by the India Trade Promotion Organization under the Ministry of Commerce and Industry and Exhibitions India Group in Delhi. CRUT general manager Dipti Mahapatro received the award.
The award recognises projects from the designated special purpose vehicles (under Smart City Mission) that are promoting sustainable development in urban areas.
10) Answer: E
India and Bangladesh signed 5 MoUs in the fields of trade, IT and setting up of sports facilities on the concluding day of the 2-day long official visit of Prime Minister Narendra Modi.
Five MoUs were signed between India and Bangladesh in various fields like disaster management, ICT equipment, and sports in the presence of Prime Minister Narendra Modi and Bangladesh Prime Minister Sheikh Hasina in Dhaka.
Wrapping up the visit, the delegation level talks were held between Prime Minister Narendra Modi and Prime Minister Sheikh Hasina.
Both the leaders discussed the progress achieved in areas of health, trade, connectivity, energy, developmental cooperation and many more.
Prime Minister Modi and Sheikh Hasina discussed bilateral issues covering areas of commerce and trade, water resources, security and defence, power and energy among others.
Spokesperson of the MEA mentioned that the meeting between the Prime Ministers reiterates the highest priority India attaches to Bangladesh.
Several important announcements were also made after the summit meeting between the Prime Ministers.
Both leaders agreed that a direct passenger train named 'Mitali Express' will run between Dhaka and New Jalpaiguri.
India gifted 109 ambulances to Bangladesh and also 1.2 million doses of the Covishield vaccine
11) Answer: C
On March 26, 2021, Noted journalist and author Anil Dharker passed away in Mumbai.
He was 74.
12) Answer: D
On March 26, 2021, Pakistan conducted a successful test-firing of a Shaheen-1A nuclear-capable surface-to-surface ballistic missile.
It has a range of 900 kilometers.
It was Jointly designed and developed by the joint venture of National Engineering & Scientific commission (NESCOM) and the National Defence Complex.
The launch was witnessed by senior officials from Strategic Plans Division, strategic forces, scientists and engineers of strategic organisations.
In February, Pakistan successfully test-fired a nuclear-capable surface-to-surface ballistic missile which can strike targets up to 290 kilometres.
13) Answer: B
The new bacterial strains discovered from different locations aboard the ISS .
The researchers named the novel species as Methylobacterium ajmalii, in honour of the renowned Indian biodiversity scientist, Dr Ajmal Khan, a former professor at Annamalai University in Tamil Nadu.
The genome analysis of Methylobacterium ajmalii strains revealed the presence of genes that are involved in promoting plant growth.
The bacterial strains belonging to the family Methylobacteriaceae.
It was isolated from different locations aboard the ISS across two consecutive flights.
The findings of the study were published in a recent issue of the journal Frontiers in Microbiology.
14) Answer: C
The American author Carmen Maria Machado has won the £30,000 Rathbones Folio prize.
It is for her memoir In the DreamHouse, which examines the domestic abuse she was subjected to by her ex-girlfriend.
15) Answer: E
On March 26, 2021, The Asian Football Confederation (AFC) announced the venues for the AFC Women's Asian Cup 2022.
AFC Women's Asian Cup 2022 Venues :
DY Patil Stadium – Navi Mumbai,
TransStadia – Ahmedabad
Kalinga Stadium – Bhubaneswar
The Women's Asian Cup will kickstart on January 20 with the final set to be played on February 6 in 2022.
The 2022 AFC Asian Women's Cup is the second of the two international women's football competitions to be held in India next year, with the 2022 FIFA U-17 Women's Cup being the other.
16) Answer: C
Noted Odissi dancer Laxmipriya Mohapatra, Passes away.
She was 86.
She is the wife of legendary classical dancer Kelucharan Mohapatra
She Starting her dancing career at an early age at the Annapurna Theatre in Puri in 1947
Laxmipriya debuted in a drama 'Mohini' and went on to perform in popular plays like  'Manager', 'Aloka', 'Bharasa', 'Tapoi', 'Mulia', 'Kalapahada', 'Jahara', and 'Dasavatara'.