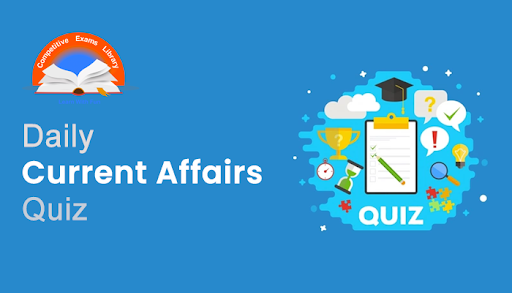 Dear Readers, Daily Current Affairs Questions Quiz for SBI, IBPS, RBI, RRB, SSC Exam 2021 of 28th April 2021. Daily GK quiz online for bank & competitive exam. Here we have given the Daily Current Affairs Quiz based on the previous days Daily Current Affairs updates. Candidates preparing for IBPS, SBI, RBI, RRB, SSC Exam 2021 & other competitive exams can make use of these Current Affairs Quiz.
1) World Day for Safety and Health at Work is observed on which date?
A) April 11
B) April 3
C) April 28
D) April 14
E) April 15
2) Agriculture Infrastructure Fund has marked its applications crossing Rs. ______ crores.
A) 6,000
B) 6,500
C) 7,000
D) 8,000
E) 7,500
3) Health Minister has initiated blood donation camps at _____ different locations in four states.
A) 8
B) 10
C) 11
D) 12
E) 13
4) National Fertilizers Limited has been directed to set up _____ Oxygen plants recently.
A) 8
B) 7
C) 4
D) 5
E) 6
5) Railways has made _____ Covid Care coaches with almost 64,000 beds.
A) 6000
B) 5500
C) 4500
D) 4000
E) 5000
6) Which state has attained the target of Har Ghar Jal by December next year under JJM?
A) Bihar
B) Meghalaya
C) Haryana
D) Chhattisgarh
E) Madhya Pradesh
7) Which institution has projected India GDP growth to rebound to 11% in FY21-22, moderate to 7% in FY22-23?
A) IMF
B) AfDb
C) ECB
D) AIIB
E) ADB
8) ADB has sanctioned $______billion fiscal support to India for the pandemic situation.
A) 3
B) 2
C) 2.5
D) 1.5
E) 1
9) Which Bank and BSNL have signed an MoU recently?
A) Bandhan
B) Indian
C) SBI
D) ICICI
E) Axis
10) Which company in India has appointed Roland Bouchara as CEO?
A) IntelliSoft
B) Optimar
C) Winred
D) Wilcox
E) Stellantis
11) Suprajit Engineering has appointed who among the following as its President?
A) Kristen Robbie
B) William Dafoe
C) James Ryan
D) Phillip Knight
E) Kevin Bacon
12) Which State Government has appointed HSIIDC MD Anurag Agrawal & Director MSME, Dr. Vikas Gupta for mapping of liquid oxygen manufacturing plants?
A) Madhya Pradesh
B) Kerala
C) Chhattisgarh
D) Haryana
E) Bihar
13) Dadudan Gadhvi who Passed Away recently was an eminent ____.
A) Producer
B) Director
C) Actor
D) Dancer
E) Poet
14) Switch Mobility has signed a pact with which company for a sustainable logistics network?
A) Volkswagen
B) Kia
C) TVS Supply chain
D) Hero
E) Bajaj
15) Which state Government has signed two MOUs with Bhutan & Nagaland ?
A) Punjab
B) Delhi
C) Chhattisgarh
D) Assam
E) Bihar
16) Which institution has developed single crystal blades?
A) BDL
B) BEL
C) HAL
D) ISRO
E) DRDO
17) Which institution has indigenously developed Oxygen enrichment technology?
A) Niti Aayog
B) BDL
C) CSIR-CMERI
D) DRDO
E) BHEL
18) India is world's ______ largest military spender in World in 2020.
A) 5th
B) 3rd
C) 2nd
D) 4th
E) 1st
19) Who among the following is coming up with a new book – Whereabouts?
A) Sudhir Mishra
B) Anand Raj
C) Neeraj Kumar
D) Amitav Ghosh
E) Jhumpa Lahiri
20) Book Titled "The Living Mountain: A Fable for Our Times" has been written by _____.
A) Nalini Verma
B) Sudhir Raj
C) Anand Gupta
D) Amitav Ghosh
E) Neeraj Kumar
21) Workers' Memorial Day is Observed on which date?
A) April 1
B) April 11
C) April 13
D) April 14
E) April 28
Answers :
1) Answer: C
The annual World Day for Safety and Health at Work on 28 April promotes the prevention of occupational accidents and diseases globally.
The day is promoted by the International Labour Organization (ILO) since 2003 to prevent accidents and illnesses at work.
The theme for 2021 is "Anticipate, prepare and respond to crises – Invest Now in Resilient Occupational Safety and Health Systems".
As workers we are responsible to work safely and to protect ourselves and not to endanger others, to know our rights and to participate in the implementation of preventive measures.
The whole objective of Occupational Safety and Health is to prevent diseases, injuries, and deaths that are due to working conditions; no one should have to a job related injury or disease because of their employment.
Significant changes are constantly occurring in the workplace for example: Longer working hours.
2) Answer: D
Agriculture Infrastructure Fund has crossed the eight thousand crore mark.
The investment will give a boost to several agricultural projects which will unlock value for farmers across the country.
The Ministry of Agriculture and Farmers Welfare has informed that a total of eight thousand 665 applications worth eight thousand 216 crore rupees have been received for the fund.
The largest share of 58 per cent has been contributed by Primary Agricultural Credit Societies followed by agri-entrepreneurs and individual farmers.
The Agriculture Infrastructure Fund has brought farmers and agri-businesses together with newer partnership models.
The fund will facilitate medium and long-term debt financing facilities for investment in agricultural projects through interest subvention and credit guarantee.
Under the scheme, one lakh crore rupees will be provided by banks and financial institutions as loans with interest subvention of 3 percent per annum and credit guarantee coverage for loans up to two Crore rupees.
3) Answer: E
Health Minister Dr. Harsh Vardhan inaugurated blood donation camps at 13 different locations in Chandigarh, Punjab, Haryana and Himachal Pradesh.
The blood donation camps are being organized by the Competent Foundation with the help of various associations, NGOs and blood banks to fulfill the blood demand during COVID pandemic.
He appreciated the efforts of the foundation to organize blood donation camps with more strength and expansion for fulfilling the blood requirement due to COVID pandemic.
Dr. Harsh Vardhan exhorted masses to at least donate blood once a year.
He also said that in 2021, the country is better prepared mentally and physically with more experience to beat the COVID pandemic as compared to last year.
The Minister appreciated the fact that this blood donation camp has been set up following all COVID protocols, guidelines and SOPs.
4) Answer: C
National Fertilizers Limited has ordered the setting up of four Oxygen plants.
These plants will be set up in government hospitals in Noida, Lucknow, Gorakhpur and Bhopal.
Each plant will have a capacity of 70 cylinders per day. Madhya Pradesh CM ensured large oxygen plants will be set up in all divisional headquarters.
Madhya Pradesh Chief Minister Shivraj Singh Chouhan has said that large oxygen plants are to be set up in all divisional headquarters of the state.
He was addressing a review meeting with the core group regarding prevention and arrangements for containing the spread of Covid-19.
The state reported 13,417 fresh COVID cases while 11,577 patients recovered from the infection.
Chief Minister Mr Chouhan said that the pace of infection has come down in the state. The Chief Minister informed that the availability of oxygen in the state is continuously increasing.
Meanwhile, the number of active cases in the state rose to 94,276.
With 98 patients succumbing to the infection, the death toll reached 5,319.
Both Indore and Bhopal have more than 13,000 active cases.
The growth rate of infection cases in 8 districts of Shajapur, Panna, Agar-Malwa, Umaria, Katni, Rajgarh, Anuppur and Guna has decreased.
Under the Kill Corona Campaign, 12 thousand 800 survey teams are doing survey work in the state.
5) Answer: D
Railways has made nearly four thousand Covid Care coaches with almost 64 thousand beds ready for use by States.
Railway Ministry said, at present 169 coaches have been handed over to various states for Covid care.
It has deployed Covid Care Coaches in Uttar Pradesh, Madhya Pradesh, Maharashtra and Delhi to assist the states in view of rising corona cases in the country.
In Delhi, Railways has catered to the full demand of State Governments' for 75 Covid Care coaches with a capacity of one thousand 200 beds.
The Ministry said, 50 coaches are positioned at Shakurbasti and 25 Coaches at Anand Vihar stations.
In Uttar Pradesh, ten coaches each are placed at Faizabad, Bhadohi, Varanasi, Bareli and Nazibabad totalling to a capacity of 800 beds.
The Ministry said, new demand for Covid coaches have come from Nagpur District.
In this direction, a Memorandum of Understanding has been signed between Divisional Railway Manager, Nagpur and Commissioner, Nagpur Municipal Corporation.
The Railways are also mobilising isolation Coaches at Ajni ICD area in Maharashtra as per the State demand.
6) Answer: B
Meghalaya has planned to achieve the target of Har Ghar Jal by December next year under Jal Jeevan Mission.
Jal Shakti Ministry said, the annual action plan meeting on planning and implementation of Jal Jeevan Mission in Meghalaya was held through video conferencing.
The mission is a flagship program of the Central government to provide household tap water connection to every rural household of the country by 2024.
Meghalaya has five lakh 89 thousand rural households, out of which tap connections are provided to 16 per cent rural households.
The State has provided 87 thousand tap connections on 2020-21.
7) Answer: E
The Asian Development Bank (ADB) has projected India's gross domestic product (GDP) growth to rebound strongly to 11 per cent in current fiscal on the back of continued economic recovery boosted by increased public investment, vaccine rollout and surge in domestic demand.
The IMF forecast pitches India as the fastest-growing major economy and the only one expected to record a double-digit recovery from pandemic-hit 2020. China's economy is seen growing 8.4% in 2021 and 5.6% in 2022.
8) Answer: D
The Asian Development Bank (ADB) said it has provided $ 1.5 billion to India to deal with the COVID-19 pandemic.
The institution had announced a package of $ 20 billion in April 2020 to provide financial support to 26 countries to help fight the pandemic, it said in a release.
"ADB's $ 16.1 billion pandemic response in 2020, through a $ 20 billion package announced in April 2020, was provided in various ways, most notably via a new COVID-19 Pandemic Response Option which had provided quick-disbursing fiscal support to 26 countries, including $ 1.5 billion to India, by the end of the year," it said.
Out of the $ 16.1 billion, $ 2.9 billion was for the private sector, which included direct support to companies, as well as through trade and supply chain finance to keep trade networks functioning.
ADB committed a record $ 31.6 billion in 2020 to help Asia and the Pacific tackle the COVID-19 outbreak; support a green, sustainable recovery from the pandemic; and address long-term development challenges.
The $ 31.6 billion ADB committed from its own resources in 2020 was 32 per cent higher than 2019's $ 24 billion.
9) Answer: B
Indian Bank signed an MoU with Bharat Sanchar Nigam Limited to provide seamless telecom services to the bank at a competitive rate.
The release said, the MoU was signed in the presence of executive director of Indian Bank and chief general manager of BSNL, Chennai Telephones and will provide access to latest technologies at great competitive rates.
The bank is already using services of BSNL and Mahanagar Telephone Nigam Limited for its Wide Area Network across the country Dr VK Sanjeevi, chief general manager of Chennai Telephones said that BSNL and its subsidiary MTNL is connecting 5,000 branches and ATMs of Indian  Bank.
10) Answer: E
Roland Bouchara has been elevated to the role of CEO & MD of automaker Stellantis India operations with full responsibility for the Jeep and Citroen national sales companies (NSCs), along with the group's manufacturing activities.
Newly formed automaker Stellantis after the merger of Fiat Chrysler Automobiles and Groupe PSA has merged the operations of both the erstwhile carmakers in India and announced the appointment of Roland Bouchara as the new chief executive and managing director of Stellantis India.
Bouchara was leading the entry of PSA's Citroën brand in India as the senior vice president of sales and marketing prior to this.
He will oversee Jeep and Citroën national sales companies in India as well as the group's manufacturing operations, as per a company statement.
11) Answer: C
Auto parts maker Suprajit Engineering has appointed James Gerard Ryan as President – Controls & Cables Global Operations (except India). The company, in a regulatory filing to exchanges, said Jim Ryan is a US national and a seasoned professional with rich experience in the controls and cables space.
He has been in executive and general management roles within a global manufacturing environment, with a proven record of providing impactful results to overall business performance and development.
12) Answer: D
Haryana Government has appointed the Managing Director of Haryana State Industrial Infrastructure Development Corporation Anurag Agrawal and Director, MSME, Dr. Vikas Gupta for mapping of liquid oxygen manufacturing plants and monitoring their production and diversion to medical use.
Mr Anurag Aggarwal will be responsible for Industrial Estates and Dr Vikas Gupta for the rest of the State for mapping of liquid oxygen manufacturing plants and monitoring their production and diversion to medical use.
Giving this information the government spokesperson informed that the Ministry of Home Affairs under the Disaster Management Act, 2005 had issued directions that the use of liquid oxygen is not allowed for any non-medical purpose and that all units manufacturing liquid oxygen shall maximize their production and make it available to the Government for medical purposes only with immediate effect and until further orders.
13) Answer: E
The famous and noted Gujarati poet and folk singer Dadudan Pratapdan Gadhvi Passed Away.
He was 80.
He was also known as Kavi Dad.
Besides, he had written songs for 15 Gujarati films.
14) Answer: C
Switch Mobility Ltd, an electric vehicle arm of Ashok Leyland Ltd, and TVS Supply Chain Solutions (TVS SCS) has entered into an agreement for establishing a sustainable logistics network.
Under the arrangement, TVS Supply Chain Solutions will operate 1,000 e-light commercial vehicles through their partners for its logistics operations provided by Switch Mobility.
TVS Supply Chain Solutions has over two decades of experience in providing supply chain solutions across the globe through their fully integrated service offerings.
15) Answer: D
The Assam Government has signed two MOUs in Guwahati with Bhutan and Nagaland for procurement of oxygen.
A new oxygen plant is being set up in Bhutan.
The Assam government has also come to know of an oxygen plant in Dimapur in Nagaland and both the states have signed a Memorandum of Understanding.
16) Answer: E
The Defence Research and Development Organisation (DRDO) has developed single crystal blades that are used in helicopter engines.
It has supplied 60 of them to the Hindustan Aeronautics Limited for the company"s indigenous helicopter development program.
This single crystal blades technology has been developed by the Defence Metallurgical Research Laboratory (DMRL), one of the DRDO"s laboratories.
The DRDO will develop a total five sets (300 blades) of single crystal blades.
Helicopters need compact and powerful aero-engines for operating at extreme conditions and to achieve this, state-of-the-art single crystal blades having complex shape and geometry, manufactured out of nickel based super-alloys capable of withstanding high temperatures of operation are used.
17) Answer: C
On April 25, 2021, CSIR-CMERI, Durgapur, in association with MSME-DI, Raipur, Chhattisgarh, Government of India jointly organised a Webinar on 'Oxygen Enrichment' Technology.
Oxygen Enrichment' Technology, effective for treating COVID- 10 Patients.
The unit is capable of delivering medical air in the range of up to 15 LPM with oxygen purity of more than 90%.
This unit can even deliver up to 70 LPM at a purity of around 30%.
18) Answer: B
On April 26, 2021, India was retained as the third biggest military spender in the world in 2020 according to new data titled 'SIPRI Military Expenditure Database.
It is published by the Stockholm International Peace Research Institute (SIPRI).
List of Top 5 Nations :
United States ($778 billion)
China ($252 billion)
India ($72.9 billion)
Russia ($61.7 billion)
United Kingdom ($59.2 billion)
The three countries were ahead of Russia and Saudi Arabia together made up the world's top military spenders, accounting for 62% of the global military.
19) Answer: E
Pulitzer Prize-winning author Jhumpa Lahiri is coming up with a new book Titled Whereabouts.
It will be published under the Hamish Hamilton imprint of Penguin Random House.
This is the English translation of her first Italian novel and will come out in April 2021.
The book is an English translation of Italian novel 'Ias Dove Mi Trovo' which was written by the author Jhumpa Lahiri  itself and published in 2018.
20) Answer: D
Renowned Amitav Ghosh authored A new book titled "The Living Mountain" is set to hit stands in January 2022.
The book will be published by HarperCollins Publishers India.
The book will also be published simultaneously in Hindi, and as an ebook and an audiobook.
It is a fable for the current times: a cautionary tale of how humans have systematically exploited nature, leading to an environmental collapse.
21) Answer: E
Workers' Memorial Day, also known as International Workers' Memorial Day or International Commemoration Day for Dead and Injured takes place annually around the world on April 28, an international day of remembrance and action for workers killed, disabled, injured, or made unwell by their work.
The day has been organized worldwide by the International Trade Union Confederation since 1996.
Its purpose is to remember workers killed in incidents at work or by diseases caused by work and honour the victims of occupational accidents and diseases by organizing worldwide mobilizations and awareness campaigns on this date.
Theme 2021: 'Health and Safety is a fundamental workers right.'