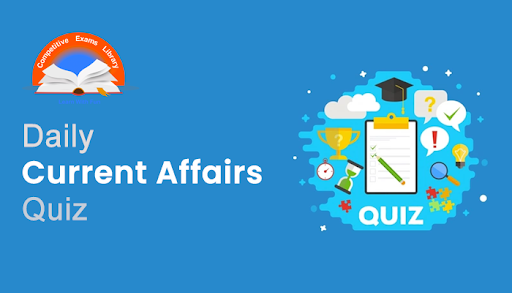 Dear Readers, Daily Current Affairs Questions Quiz for SBI, IBPS, RBI, RRB, SSC Exam 2021 of 28th May 2021. Daily GK quiz online for bank & competitive exam. Here we have given the Daily Current Affairs Quiz based on the previous days Daily Current Affairs updates. Candidates preparing for IBPS, SBI, RBI, RRB, SSC Exam 2021 & other competitive exams can make use of these Current Affairs Quiz.
1) Menstrual Hygiene Day is Observed on May ___.
A) 29
B) 11
C) 28
D) 22
E) 13
2) HS Doreswamy who passed away  recently was a ___.
A) Director
B) Actor
C) Writer
D) Freedom fighter
E) Musician
3) Guillermo Lasso has been sworn in as President of which country?
A) Sweden
B) Uganda
C) Ethiopia
D) Denmark
E) Ecuador
4) Fiame Naomi Mata'afa sworn-in as First female Prime Minister of which country?.
A) Tonga
B) Samoa
C) Vanuatu
D) Fiji
E) Iceland
5) Which international hockey stadium has been renamed as Balbir Singh Senior International Hockey Stadium?
A) Surat
B) Chandigarh
C) Mohali
D) Delhi
E) Kolkata
6) WHO and which country have signed an agreement to launch the first WHO BioHub Facility?
A) Germany
B) Japan
C) Sweden
D) Switzerland
E) Denmark
7) Which state's CM has launched the MHIM Mobile App ?
A) Uttar Pradesh
B) Haryana
C) Agartala
D) Tripura
E) Manipur
8) TCS labelled as Best Big Company to work for in ___,
A) Germany
B) Japan
C) UK
D) Sweden
E) Netherlands
9) Barclays predicts India's FY22 GDP growth at ____ per cent.
A) 7.1
B) 7.2
C) 7.3
D) 7.7
E) 7.5
10) Zeta has become the ___ Indian unicorn in 2021 .
A) 9th
B) 14th
C) 10th
D) 12th
E) 11th
11) NPCI partners with ___ for accept contactless payments.
A) OlaPay
B) GPay
C) PayU
D) PayPal
E) PayCore
12) Biden has nominated which Indian American to a key administration post?
A) Raj Singh
B) Arun Venkataraman
C) Sudesh Lahiri
D) Anand Talwar
E) Mukesh Mehta
13) Centre has named ___ members on CBDT board.
A) 5
B) 6
C) 4
D) 2
E) 3
14) Who has been appointed as Amazon's CEO?
A) Amrit Talwar
B) Anurag Kumar
C) Sudesh Raj
D) Andy Jassy
E) Anand Mehta
15) David Barnea has been named as which country's Next Mossad Chief?
A) Germany
B) Thailand
C) Israel
D) Pakistan
E) Bangladesh
16) Which professor has bagged the  Eni Award 2020 for renewable energy research?
A) Amit Gupta
B) Amit Talwar
C) Anand Raj
D) Sudesh Mehta
E) CNR Rao
17) Who has bagged the FIH President's Award ?
A) Amrit Mohan
B) Sudesh Kapoor
C) V Karthikeyan Pandian
D) Rakesh Kumar
E) Anand Gupta
18) Which company has bagged the Gold Stevie Award 2021?
A) Spice Mcoy
B) Spice Health
C) Spice Tag
D) Spice Move
E) Spice Fix
19) Which country will launch a mobile tech platform for UN peacekeepers ?
A) Denmark
B) Sweden
C) Germany
D) France
E) India
20) Who among the following has launched online medical service SeHAT OPD for armed forces personnel?
A) NS Tomar
B) Amit Shah
C) Rajnath Singh
D) Narendra Modi
E) Anurag Thakur
21) Which state government has extended the Essential Services Maintenance Act in the state?
A) Bihar
B) Kerala
C) Haryana
D) UP
E) MP
22) Who has won the 2021 ATP Lyon open Title?
A) Arnie Smith
B) Cameron Norrie
C) Roger Fedrer
D) David Miller
E) Stefanos tsitsipas
23) Who has won the men's single title at 2021 Geneva Open Tennis?
A) Arnie Smith
B) Roger Fedrer
C) Casper Rudd
D) Denis Shapovalov
E) David Miller
Answers :
1) Answer: C
Menstrual Hygiene Day is an annual awareness day on May 28 to highlight the importance of good menstrual hygiene management at a global level.
This year's theme is 'Action and Investment in Menstrual Hygiene and Health.'
It was initiated by the German-based NGO WASH United in 2014.
The objective behind this day is to create awareness among every individual regarding the challenges and hardships girls and women face during menstruation.
2) Answer: D
On May 26, 2021, Eminent Gandhian and freedom fighter HS Doreswamy passed away,
He was 103.
About HS Doreswamy
Born on April 10, 1918, Bangalore.
He took part in the Quit India movement and was jailed for 14 months from 1943 to 1944.
He was also a journalist and ran a newspaper called Paura Vani, which voiced the aspirations of an independent India.
3) Answer: E
Conservative Guillermo Lasso assumed the presidency of Ecuador, becoming the country's first right-wing leader in 14 years.
The 65-year-old former banker beat left-wing economist Andres Arauz in a second-round run-off last month and succeeded the hugely unpopular Lenin Moreno.
He inherits an oil-producing country battling economic and health crises with the coronavirus pandemic having infected almost 420,000 people and killed more than 20,000, according to an AFP count.
4) Answer: B
Mata'afa was sworn in as the country's first female prime minister at an extraordinary ceremony in a tent outside parliament after the island nation's long-serving ruler refused to cede power and ordered the doors of the building to be locked.
Fiame Naomi Mata'afa took the oath of office in a marquee in the parliament's gardens, leaving uncertainty over who controls the Pacific island nation.
The Federated States of Micronesia became the first country to recognize her as the legitimate Prime Minister of Samoa.
5) Answer: C
After a one-year wait, the Punjab Government finally announced to rename the Mohali International Hockey Stadium, Sector 63, after triple Olympian and Padma Shri Balbir Singh Sr.
The stadium will now be known as Olympian Balbir Singh Senior International Hockey Stadium.
"Due to certain circumstances, the project got delayed.
We had decided last year to dedicate this stadium to Balbir Singh Sr.
His contribution towards promoting hockey is immense and unmatchable," mentioned by Punjab Sports Minister Rana Gurmit Singh Sodhi, who formally made the announcement on the first death anniversary of the legendary hockey player and coach.
6) Answer: D
The World Health Organization (WHO) and Switzerland May 25, 2021 signed a Memorandum of Understanding (MoU) to launch a BioHub facility for pathogen storage, sharing and analysis.
The move is significant in the view of the novel coronavirus disease (COVID-19) pandemic and the need to underline the importance of sharing pathogen information to assess risks and launch countermeasures.
The BioHub will enable member states to share biological materials with and via the BioHub under pre-agreed conditions, including biosafety, biosecurity, and other applicable regulations.
This will ensure timeliness and predictability in response activities.
7) Answer: E
ManipurChief Minister N Biren Singh launched Manipur Home Isolation Management (MHIM) mobile application for home isolation patients at the Chief Minister's Secretariat.
The mobile app is developed by Pentabyte Technologies LLP and it can be downloaded from mhim.in.
It will also be available on Google Play Store soon.
The mobile app is being developed to avail real-time health data and information of Home Isolation COVID-19 patients at monitoring level.
With this app, patients can upload their health status including pulse rate, SPo2, body temperature and blood pressure among others using fixed parameters at fixed intervals as set by the Health Department from time to time.
The data uploaded will then be divided as critical and normal depending on the parameters and conditions set by the Health Department.
8) Answer: C
Tata Consultancy Services stated it has been listed among top 25 Best Big Companies to work for in the United Kingdom and among the Best Companies in the Consultancy sector.
The Best Big Companies list honours 25 organizations with at least 2,000 employees based on an anonymous survey that assesses employee experience across engagement, culture, work environment, leadership, well being, diversity and giving back to the community.
9) Answer: D
Barclays has pegged India's economic growth for fiscal 2021-22 (FY22) – as measured by gross domestic product (GDP) – at 7.7 per cent in the bear-case scenario, if the country is hit by the third wave of the Covid pandemic going ahead.
The economic cost, it believes, could rise by at least a further $42.6 billion, assuming another round of similar stringent lockdowns are imposed across the country for eight weeks later this year.
10) Answer: B
Banking technology startup Zeta has raised $250 million from Japanese investment major SoftBank at a valuation of $1.45 billion, its co-founder and chief executive Bhavin Turakhia.
Zeta has become the 14th Indian startup to cross the valuation of $1 billion in 2021.
SoftBank has backed a slew of Indian startups, with many attaining the coveted 'unicorn' status with a valuation of $1 billion or more.
11) Answer: E
The National Payments Corporation of India (NPCI) has partnered with a Turkish global payment solutions company PayCore as a certified partner for RuPay Soft POS to promote contactless payments across the country.
NPCI stated that, "This solution can be integrated into bank or aggregator acquiring systems to enable acquiring of RuPay using mobile phones enabled with NFC (near field communication-enabled) capability or add-ons".
Using the RuPay Soft PoS system, the merchants will be able to accept the contactless payments of up to INR 5,000 by a simple tap and pay mechanism using their smartphones.
This system will be providing a cost-effective acceptance to the infrastructure for the retailers at a nominal cost.
This will also help to acceptance of digital payments in millions of underserved Indian MSMEs.
12) Answer: B
U.S. President Joe Biden announced his intent to nominate Indian American Arun Venkataraman to a key position in his administration related to foreign commercial service.
Mr. Venkataraman is the nominee for Director General of the United States and Foreign Commercial Service and Assistant Secretary for Global Markets, Department of Commerce.
While at the Office of the US Trade Representative (USTR), he led the development and implementation of the US-India trade policy as the Director for India, for which he received the agency's Kelly Award for outstanding performance and extraordinary leadership.
Before joining the USTR, Mr. Venkataraman was a legal officer at the WTO, advising the organization on a wide range of issues raised in appeals of trade disputes between countries.
13) Answer: E
ACC approves appointment of Anu J Singh, J B Mohaparta and Anuja Sarangi as new members. The Government approved appointment of three members for the Central Board of Direct Taxes (CBDT). CBDT is the apex policy making body for direct taxes such as Personal Income Tax and Corporate Tax.
Department of Personnel and Training (DoPT) stated that The Appointments Committee of the Cabinet has approved the appointment of Aditya Vikram and Pramod Chandra Mody as the CBDT members.
The CBDT is headed by a chairman and can have a maximum of six members.
Its chief, Sushil Chandra, will be in office till May 31 next year.
Senior tax officers Shabri Bhattasali and Arbind Modi are the other CBDT members.
14) Answer: D
Amazon.com Inc. 's stated in annual shareholder meeting new chief executive officer will take the reins on July 5, the 27th anniversary of the company's incorporation, outgoing CEO Jeff Bezos.
Andy Jassy, who now runs the Amazon Web Services cloud computing division, was named the company's next CEO in February.
Bezos, who founded the world's largest online retailer in 1994, will become executive chairman and focus on new projects and initiatives.
15) Answer: C
Prime Minister Benjamin Netanyahu announced that David Barnea will be the next head of Israel's Mossad espionage agency.
Barnea's appointment was cleared following consultations among the prime minister, Attorney General Avichai Mendelblit and the outgoing Mossad chief, Yossi Cohen.
On December 15, Netanyahu gave notice of Barnea's appointment to replace Cohen, who will be stepping down on June 1 after five and a half years at the helm of the Mossad.
16) Answer: E
CNR Rao has received International Eni Award 2020 for research into renewable energy sources and energy storage, also called the Energy Frontier award.
This is considered to be the Nobel Prize in Energy Research. Professor Rao has been working on hydrogen energy as the only energy source for the benefit of all mankind.
The Energy Frontiers award has been conferred for his work on metal oxides, carbon nanotubes, and other materials and two-dimensional systems.
Professor Rao has been working on hydrogen energy as the only source of energy for the benefit of all mankind.
17) Answer: C
Private Secretary to Odisha Chief Minister Naveen Patnaik and IAS, V Karthikeyan Pandian was named as a recipient of the prestigious FIH (International Hockey Federation) President's Award.
Karthikeyan was awarded for his contribution towards the development and promotion of hockey in Odisha.
Pandian was instrumental in successfully organizing the men's Hockey World Cup and other international hockey events in the state capital Bhubaneswar.
18) Answer: B
SpiceHealth, a healthcare company founded by the promoters of SpiceJet, has won the Gold Award at the 2021 Asia-Pacific Stevie Awards for 'Most Valuable Medical Innovation' under coronavirus disease (Covid-19) response category.
This award is based on the average scores of more than 100 global professionals for more than 900 nominations from organizations and over three months of judging.
The Stevie Awards are widely considered to be the world's premier business awards, conferring recognition for achievement in programs such as The International Business Awards for 19 years.
19) Answer: E
India has announced it will launch a mobile tech platform UNITE AWARE' for the United Nations Peacekeepers.
It will be launched during India's United Nations Security Council (UNSC) Presidency term in August 2021.
India, in partnership with the UN Department of Peacekeeping Operations and the Department of Operational Support, has been working to develop the mobile tech platform
20) Answer: C
On May 27, 2021, Union Defence Minister Rajnath Singh launched an online portal called 'Services e-Health Assistance & Tele-consultation' or 'SeHAT' OPD.
The services can be availed by registering on the website https://sehatopd.in/.
Purpose :It will provide health services to armed forces personnel, veterans and their families.
21) Answer: D
The Uttar Pradesh government extended the Essential Services Maintenance Act in the state, banning strikes in all departments and corporations under it for a period of another six months.
ESMA, as it is commonly known, gives police the right to arrest without a warrant anybody violating the Act's provisions.
It has been invoked after taking permission from Governor Anandiben Patel.
Under ESMA, employees in a long list of "essential services" like post and telegraph, railway, airport and port operations are prohibited from going on strike.
22) Answer: E
2021 ATP lyon open Title World No.5 Stefanos tsitsipas defeated Briton Cameron Norrie to win the Single Title.
It was held at Velodrome Georges Preveral, Lyon, France from May 17,2021 to May 23, 2021.
It is Stefanos tsitsipas's seventh ATP title
23) Answer: C
Casper Ruud won the Men's Single Title of the 2021 Geneva Open Tennis (18th edition) held in Tennis Club de Geneve, Geneva, Switzerland, from May 16, 2021, to May 22, 2021.
He defeated Denis Shapovalov of Canada 7-6 (6), 6-4 for his second ATP Tour title.
Victory in Geneva means the Norwegian world No 21 is going to be among the top 16 seeds at French Open.