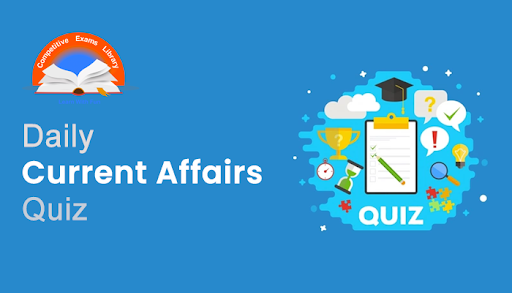 Dear Readers, Daily Current Affairs Questions Quiz for SBI, IBPS, RBI, RRB, SSC Exam 2021 of 29th April 2021. Daily GK quiz online for bank & competitive exam. Here we have given the Daily Current Affairs Quiz based on the previous days Daily Current Affairs updates. Candidates preparing for IBPS, SBI, RBI, RRB, SSC Exam 2021 & other competitive exams can make use of these Current Affairs Quiz.
1) International Dance Day is Observed on which date?
A) April 1
B) April 11
C) April 29
D) April 3
E) April 12
2) Which institution has Conducted a Maiden Trial of Python-5 Air to Air Missile?
A) HAL
B) ISRO
C) BDL
D) DRDO
E) BHEL
3) Sanjay Kumar who Passed away recently was an eminent ______.
A) Producer
B) Director
C) Singer
D) Dancer
E) Civil Servant
4) PM Modi has approved _____ lakh Portable Oxygen Concentrators under PM Cares Fund.
A) 5
B) 4
C) 3
D) 1
E) 2
5) Justice Vimla Singh Kapoor has been appointed as judge of ____ High Court.
A) Delhi
B) Chhattisgarh
C) Punjab
D) Chandigarh
E) Madras
6) DRDO will build _____ Medical Oxygen Plants within 3 months.
A) 300
B) 350
C) 500
D) 450
E) 400
7) Cabinet has approved customs cooperation agreement with which country recently?
A) China
B) Israel
C) Germany
D) France
E) UK
8) Which institution has projected growth rate of Bangladesh for FY 2020-21 to 5.5-6.0 per cent?
A) ECB
B) Afdb
C) ADB
D) AIIB
E) IMF
9) Who among the following has spoken in video conferencing with Foreign Minister of Portugal Augusto Santos Silva?
A) NS Tomar
B) Prahlad Patel
C) Amit Shah
D) S Jaishankar
E) Nitin Gadkari
10) Government has left the GPF, other non-government PF interest rate unchanged at _____%.
A) 8
B) 7.1
C) 6.5
D) 7
E) 7.5
11) Which company has topped the list of best workplaces for 2021 by Linkedin?
A) Infosys
B) TCS
C) HCL
D) Apple
E) Google
12) Who among the following has been designated the board of Memorial Sloan Kettering Cancer Center?
A) Sudharshan Aggarwal
B) Neeraj Kumar
C) Narayan Rane
D) Kiran Mazumdar-Shaw
E) Amit Patel
13) Who among the following has taken charge as new Finance Secretary?
A) Neeraj Pandey
B) TV Somanathan
C) Rajesh Aggarwal
D) Sudhir Sharma
E) Anand Raj
14) Who has appointed First Women Executive Engineer to command Road Construction Company?
A) ONGC
B) BHEL
C) BRO
D) HAL
E) BDL
15) Which company has appointed Martin Uhlarik as global design head?
A) Ford
B) BMW
C) Audi
D) Volkswagen
E) Tata Motors
16) In a bid to monitor preventive measures taken against the spread of Covid-19, the State government has appointed_______, Executive Director of Guidance Bureau.
A) Dr Anand Kumar
B) Dr Sudhir Singh
C) Dr Darez Ahamed
D) Dr Amit Srivastava
E) Dr Narayan Rane
17) Which company has introduced a new monoclonal antibodies facility that won ISPE's 2021 award?
A) Aurobindo
B) Zydus
C) Cipla
D) Biocon Biologics'
E) Syngene
18) Production manager ______ has won an Oscar Award-winning documentary 'My Octopus Teacher'.
A) Raj Kanwar
B) Ramit Anand
C) Anand Tiwary
D) Sumit Raj
E) Swati Thiyagarajan
19) OneWeb has launched the Batch of ____ LEO satellites from Russian cosmodrome.
A) 32
B) 40
C) 36
D) 30
E) 45
20) India has been ranked ____ in CGGI 2021.
A) 45th
B) 46th
C) 47th
D) 49th
E) 48th
21) Serum Institute of India has dropped the price of Covishield from Rs 400 to Rs ____ for states.
A) 100
B) 300
C) 350
D) 200
E) 250
22) Manoj Das who passed  away recently was an eminent ___.
A) Actor
B) Producer
C) Writer
D) Singer
E) Director
Answers :
1) Answer: C
International Dance Day is a global celebration of dance, created by the Dance Committee of the International Theatre Institute, the main partner for the performing arts of UNESCO.
Several dance events and festivals held on this date all over the globe.
The International Dance Day 2021 theme is: 'Purpose of dance'.
The event takes place every year on 29 April, which is the anniversary of the birth of Jean-Georges Noverre, the creator of modern ballet.
International Dance Day was started to spread the message of the benefits of dance, celebrate dance and bring people together.
International Dance Day on April 29th is an annual celebration of how dancing positively impacts our lives.
The human body's ability to move, groove, pop, and lock has captivated the way we interact with music and express ourselves artistically.
2) Answer: D
On April 27, 2021, the DRDO successfully fired the 5th generation Python-5 Air-to-Air Missile (AAM) from Tejas aircraft, at Goa.
Trials were also aimed to validate the enhanced capability of the already integrated Derby Beyond Visual Range (BVR) AAM on Tejas.
It is a series of missile trials to validate its performance under extremely challenging scenarios.
The missiles were fired from Tejas aircraft of Aeronautical Development Agency (ADA) flown by Indian Air Force (IAF) Test pilots belonging to National Flight Test Centre (NFTC).
Python-5 air-to-air missile (AAM) has been manufactured by Rafael Advanced Defense Systems of Israel
It is one of the most sophisticated guided missiles in the world.
3) Answer: E
Senior Indian Information Service officer Sanjay Kumar passed away.
He was 56.
About Sanjay Kumar :
Sanjay Kumar, Deputy Director (Media and Communication) in PIB was looking after the publicity requirements of the Ministry of Social Justice and Empowerment.
He was also associated with publicity work of the Ministry of Tourism in additional capacity.
He also served in the personal staff of a central Minister.
Sanjay Kumar also served as PRO in NCERT.
4) Answer: D
Prime Minister Narendra Modi has sanctioned the procurement of one lakh Portable Oxygen Concentrators from the PM Cares Fund.
The decision was taken at a high-level meeting chaired by Mr. Modi to discuss the measures needed to improve Liquid Medical Oxygen Supply for COVID management.
The Prime Minister instructed that these Oxygen Concentrators should be procured at the earliest and provided in States with high case burden.
In addition to the earlier sanctioned 713 Pressure Swing Adsorption, PSA oxygen plants under PM Cares Fund, 500 new PSA oxygen plants have been sanctioned under PM CARES Fund.
The PSA plants will augment the supply of Liquid Medical Oxygen at hospitals in district headquarters and Tier 2 cities.
These 500 PSA plants will be established with transfer of the indigenous technology developed by DRDO and CSIR to the domestic manufacturers.
5) Answer: B
The President has appointed Justice Vimla Singh Kapoor, Additional Judge of the Chhattisgarh High Court, to be a Judge of the Chhattisgarh High Court.
It will be with effect from the date she assumes charge of her office.
A notification in this regard was issued by the Ministry of Law & Justice.
6) Answer: C
Defence Research & Development Organisation, DRDO will set up 500 Medical Oxygen Plants within 3 months under the PM CARES Fund.
Defence Minister Rajnath Singh informed that the Medical Oxygen Plant technology developed by DRDO for On‐Board Oxygen Generation for Light Combat Aircraft, Tejas will now help in fighting the current crisis of Oxygen for the COVID-19 patients.
Mr. Singh appreciated the DRDO for using its technology to generate much needed oxygen for COVID-19 patients which he said will help in overcoming the present crisis.
7) Answer: E
The Cabinet, chaired by Prime Minister Narendra Modi, has approved the signing and ratification of an Agreement between India and the United Kingdom on Customs Cooperation and Mutual Administrative Assistance in Customs Matters.
The agreement would provide a legal framework for sharing information and intelligence between the Customs authorities of the two countries.
It would help in proper application of Customs laws, prevention and investigation of Customs offences and the facilitation of legitimate trade.
The agreement takes care of Indian Customs' concerns and requirements, particularly in the area of exchange of information on the correctness of the Customs value, tariff classification and origin of the goods traded between the two countries.
8) Answer: C
The Asian Development Bank (ADB) has cut down the projected GDP growth rate of Bangladesh by at least 1 per cent from its earlier figure of 6.8 per cent for the FY 2020-21.
The reduction in the projected figure is attributed to the recent surge in pandemic and lockdowns to control the spread of the Coronavirus.
However, the growth rate is projected to pick up at 6.8 per cent in 2021-22 and 7.2 per cent in 2022-23, said the ADB in its latest Asian Development Outlook (ADO) 2021 released.
Country Director of ADB Manmohan Parkash said that the government of Bangladesh managed the first wave of COVID 19 in 2020 well with stimulus packages and other economic policies.
Future economic growth will depend on recovery in domestic economic activities boosted by the implementation of the stimulus packages, rising inflow of remittances and rebound in the global trade.
9) Answer: D
External Affairs Minister Dr S Jaishankar had a conversation with Foreign Minister of Portugal Augusto Santos Silva through video conferencing.
The Ministers reviewed the preparation for India-European Union Summit.
Dr Jaishankar expressed confidence that both will produce strong outcomes.
10) Answer: B
Government has left the GPF and other non-government PF interest rates unchanged at 7.1 percent.
The Department of Economic Affairs said that GPF and other Special Deposit Scheme interest rates of 7.1 percent will be applicable for April to June quarter of the current financial year.
The government has decided to maintain the status quo on General Provident Fund (GPF) and other non-government PF, gratuity funds interest rate at 7.1 percent.
The deposits made under the Special Deposit Scheme for Non-Government Provident, Superannuation and Gratuity Funds will also bear interest at 7.1 percent with effect from April 1, 2021.
The decision is in-line with its earlier decision to keep interest rate on small savings schemes such as Public Provident Fund (PPF), NSC, etc unchanged for the current quarter.
11) Answer: B
IT services companies including Tata Consultancy Services, Accenture, Cognizant, Infosys, Wipro are some of the top workplaces in India in 2021, as per a survey by professional networking platform, LinkedIn.
With the rapid acceleration of digitization undertaken by many sectors, the IT firms have provided a positive revenue guidance outlook for FY22 and expect a double-digit growth and expansion in operating margins.
The IT service majors have also stated that the hiring momentum will remain strong during this fiscal with skill-based talent in demand especially as the companies grow their digital businesses.
As per the LinkedIn survey, the emergence of the remote workplace model has especially made the tech services firm a favourite among the employees since these companies have said that they are looking at a permanent hybrid model in the future.
12) Answer: D
Biocon Ltd announced that its executive Chairperson Kiran Mazumdar-Shaw has been appointed to the Board of Trustees of Memorial Sloan Kettering Cancer Center (MSK), a world leader in cancer treatment and research, based in New York, the US.
She is among the 52 members on the board and will serve for a term of three years with effect from April 14, 2021, the Bengaluru-headquartered company said in a statement.
Mazumdar-Shaw is the first woman of Indian nationality to be appointed for this role, it said.
MSK is ranked as one of the top two hospitals for cancer care in the US for more than 30 years and among the nation's top pediatric hospitals for cancer care, according to US News & World Report, the statement said.
13) Answer: B
IAS Officer T V Somanathan who is serving as Secretary, Department of Expenditure in the Finance Ministry has been designated as the Finance Secretary.
He is a 1987 batch IAS Officer of Tamil Nadu Cadre.
The Appointments Committee of the Cabinet approved.
14) Answer: C
Taking a step in the direction of women empowerment, the Border Roads Organisation (BRO) appointed its first women officer to command a Road Construction Company (RCC).
Announcing the appointment, the Army in a statement said, "Feels proud to announce the First woman Officer Executive Engineer (Civil) Vaishali S Hiwase for taking over as Officer Commanding of a Road Construction Company that is responsible to provide connectivity of an Indo China Border Road."
Vaishali who is from Wardha, Maharashtra is an M. Tech and was posted in a demanding tenure at Kargil, Ladakh prior to her taking over the command to undertake this challenge of cutting through the rocks.
15) Answer: E
Tata Motors has appointed Martin Uhlarik as the new Global Design Head of the Indian car manufacturer.
The announcement came soon after its outgoing global design Chief Pratap Bose decided to step down.
Uhlarik has been previously working as the Head of Design for Tata Motors European Technical Centre (TMETC).
He comes with an experience of 27 years working for different carmakers over the time.
He had joined Tata Motors back in 2016 as the Head of Design in the United Kingdom.
He is also credited with the development of the Impact 3 generation of vehicles.
16) Answer: C
In a bid to monitor preventive measures taken against the spread of Covid-19, the State government has appointed Dr Darez Ahamed, Executive Director of Guidance Bureau, to monitor private healthcare institutions, Covid hospitals, medical college hospitals and listed hospitals which have the coverage of Chief Minister's Comprehensive Health Insurance Scheme in and around Chennai, along with MA Siddique, Secretary of Commercial Taxes, who has been nominated as special coordinator for Greater Chennai Corporation.
17) Answer: D
Biocon Biologics' New Monoclonal Antibodies Manufacturing Facility Wins ISPE's 2021 Facility of the Year Honorable Mention Award.
Bengaluru, India; April 28, 2021: Biocon Biologics Ltd., a fully integrated 'pure play' biosimilars company and a subsidiary of Biocon Ltd.
Biocon Biologics, subsidiary of Biocon, announced that it has been awarded with the 2021 Facility of the Year Award (FOYA) from the International Society for Pharmaceutical Engineering (ISPE).
The company received an Honorable Mention award for its monoclonal antibodies drugs substances manufacturing facility located at Biocon Park, Bengaluru, a 100-acre integrated complex with all infrastructure and utilities.
18) Answer: E
Environmental filmmaker Craig Foster and his team scarcely imagined that their documentary, My Octopus Teacher, would travel around the world, let alone win the highest honours at BAFTA and the Oscars.
Craig, who was supposedly going through a rough patch in his life, found hope in the form of an octopus in the Great African Sea Forest.
His wife, and production manager of My Octopus Teacher, Swati Thiyagarajan, shares that his daily encounters with the creature got him back on track, made him feel closer to his family once again, and now, have helped win an Academy Award.
Swati believes that acquisition of the film by Netflix convinced them that they were onto something.
19) Answer: C
OneWeb, a Low Earth Orbit (LEO) satellite communications operator, launched another batch of 36 satellites by Arianespace from the Vostochny cosmodrome in Russia.
It is co-owned by Bharti Global and the UK government.
The latest launch takes OneWeb's total in-orbit constellation to 182 satellites.
These would form part of OneWeb's 648 LEO satellite fleet that will deliver high-speed, low-latency global connectivity.
It will enable OneWeb to offer services across the UK, Alaska, Northern Europe, Greenland, Iceland, the Arctic seas and Canada.
20) Answer: D
Among 104 nations India has been placed at 49th position in the Chandler Good Government Index (CGGI) 2021.
Finland has topped the CGGI 2021 list.
Venezuela is the last ranked country in the CGGI 2021.
21) Answer: B
Serum Institute of India has dropped the price of COVISHIELD vaccine by Rs 100 for the state government.
Serum's CEO Adar Poonawala said that, as a philanthropic gesture, serum institute will provide COVISHIELD to states in Rs 300 with immediate effect.
This will save thousands of crores of state funds going forward.
He said, this will enable more vaccinations and save countless lives.
Serum had priced Covishield at Rs 400 for state government hospitals and Rs 600 for private hospitals.
22) Answer: C
On April 27, 2021, Manoj Das, an eminent Indian author who wrote in Odia and English, passed away.
He was 87.
His first book of poetry, SatavdiraArtanada, in Odia, was published when he was in high school.
He published a novel JeebanaraSwada, a collection of short stories Vishakanyar Kahani, and a collection of poems Padadhawani.
Achievements :
Das was awarded Padma Shri in 2001 and Padma Bhushan in 2020 for his contributions in the field of literature and education.
He received the first Sri Aurobindo Puraskar for his research on the lesser-known facts of India's freedom struggle led by Aurobindo.
He was also honoured with the Sahitya Akademi Award fellowship.