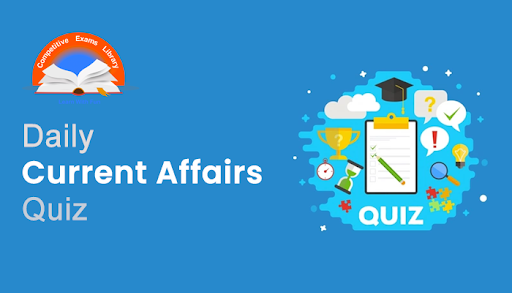 Dear Readers, Daily Current Affairs Questions Quiz for SBI, IBPS, RBI, RRB, SSC Exam 2021 of 29th May 2021. Daily GK quiz online for bank & competitive exam. Here we have given the Daily Current Affairs Quiz based on the previous days Daily Current Affairs updates. Candidates preparing for IBPS, SBI, RBI, RRB, SSC Exam 2021 & other competitive exams can make use of these Current Affairs Quiz.
1) International Day of Action for Women's Health is Observed on May ___.
A) 23
B) 22
C) 21
D) 28
E) 29
2) Eric Carle who passed away recently was an eminent ___.
A) Director
B) Dancer
C) Actor
D) Singer
E) Author
3) World Hunger Day is Observed on May __.
A) 21
B) 22
C) 28
D) 27
E) 31
4) Amnesty International Day observed on which date?
A) April 2
B) May 28
C) June 1
D) April 30
E) September 2
5) International Everest Day observed on May __.
A) 11
B) 12
C) 30
D) 29
E) 28
6) World Digestive Health Day: Observed on which date?
A) May 24
B) May 23
C) May 22
D) May 21
E) May 29
7) Which IIT has developed a unique detector 'FakeBuster' ?
A) Roorkee
B) Bombay
C) Ropar
D) Delhi
E) Guwahati
8) Syria's Bashar al-Assad wins the presidential election in __ term .
A) 5th
B) 4th
C) 3rd
D) 2nd
E) 1st
9) Firm from which state has introduced portable oxygen cylinders for first aid?
A) Chhattisgarh
B) Bihar
C) Haryana
D) Kerala
E) Uttar Pradesh
10) Which state's CM has introduced the new Smart Kitchen Scheme?
A) Madhya Pradesh
B) Chhattisgarh
C) Uttar Pradesh
D) Haryana
E) Kerala
11) Which institution will be renamed as Indian Broadcasting and Digital Foundation?
A) ICAN
B) ICAR
C) IBF
D) IVF
E) ISBEC
12) Canara Bank's board has approved capital raising plan to raise up Rs.____ crore.
A) 7500
B) 7000
C) 8000
D) 9000
E) 8500
13) International Day of United Nations Peacekeepers observed on May __.
A) 13
B) 29
C) 21
D) 22
E) 23
14) RBI imposes a penalty of Rs.10 crore on which Bank?
A) BOB
B) BOI
C) ICICI
D) SBI
E) HDFC
15) Which Bank has established the TransUnion's onboarding solution?
A) HDFC
B) SBI
C) Yes
D) Axis
E) Bandhan
16) PNB Housing Finance modifies its agreement with which bank?
A) BOI
B) ICICI
C) SBI
D) PNB
E) HDFC
17) Who will take oath as an additional charge of NIA?
A) Sukesh Singh
B) Sunil Singh
C) Amit Singh
D) Karan Singh
E) Kuldeep Singh
18) Who has been appointed as Commerce Secretary?
A) Anand Talwar
B) Suresh Raj
C) B.V.R. Subrahmanyam
D) Amit Singh
E) Mukesh Gandhi
19) Laurence des Cars appointed as ___ female President of Louvre Museum.
A) 5th
B) 4th
C) 3rd
D) 1st
E) 2nd
20) The Union Government has extended the tenure of IB and RAW chief by ___ years.
A) 3
B) 2.5
C) 1.5
D) 2
E) 1
21) BAI president Himanta Biswa Sarma elected to BWF Council for a ____ year period.
A) 8
B) 7
C) 4
D) 5
E) 6
22) Who has bagged the Europe's Golden Shoe award?
A) Kylian Mbappe
B) Ronaldinho
C) Paul Pogba
D) Robert Lewandowski
E) Anrie Schmidt
23) Aashritha V Olety graduated as India's ___ woman flight test engineer.
A) 5th
B) 1st
C) 2nd
D) 3rd
E) 4th
24) Which institution has Approved for intra-group reorganisation of the Motherson Group?
A) HUDCO
B) FICCI
C) ACCA
D) Niti
E) CCI
25) Which organsiation has developed an isothermal forging technology for aero-engines?
A) BHEL
B) BEL
C) DRDO
D) ISRO
E) HAL
26) Cyclone Yaas makes landfall in Balasore district, Balasore district belongsto which state?
A) Chhattisgarh
B) Haryana
C) Uttar Pradesh
D) Odisha
E) Madhya Pradesh
27) Who has won the back-to-back men's high jump titles in the Big 12 Outdoor Track and Field Championships in Manhattan, USA?         
A) Amit Gupta
B) Surender Singh
C) Mukesh Talwar
D) Anand Raj
E) Tejaswini Shekhar
Answers :
1) Answer: D
The International Day of Action for Women's Health is an international observance celebrated on May 28 every year since 1987.
International Day of Action for Women's Health Day 2021: Theme this year is '2021 Call for Action'.
The focus is to remind everyone, especially the government leaders and parliamentarians, that every woman's health matters.
Since then each year this day is celebrated by women's and health groups.
Latin American and Caribbean Women's Health Network (LACWHN) and Women's Global Network for Reproductive Rights (WGNRR) are working together to make this campaign successful.
The main objective of this day is to raise awareness on the issues related to women's health and well being such as Sexual and Reproductive Health and Rights (SRHR).
It is one of the best platforms to remind everyone, especially the government leaders and parliamentarians, that women's health matters.
2) Answer: E
On May 23, 2021, The children's author and illustrator, Eric Carle, Passed away.
He was 91.
About Eric Carle :
Carle, who was born in Syracuse, New York.
He began writing children's books in his late 30s.
Carle wrote and illustrated more than 75 books.
Carle was a noted artist and designer.
Carle's most famous bookThe Very Hungry Caterpillar which tells the story of a ravenous caterpillar, was published in 1969.
The book has sold more than 50 million copies.
3) Answer: C
World Hunger Day takes place on 28 May with the aim of raising awareness of those who are going hungry around the world and to spur those with means to support them.
The Hunger Project started an initiative known as World Hunger Day.
Celebrating sustainable solutions to hunger and poverty is the aim of this day.
2018 will see people, organizations, companies and communities marking this awareness day on May 28.
4) Answer: B
Amnesty International Day takes place on May 28, because it was on that day in 1961 when lawyer Peter Benenson published "The Forgotten Prisoners" in The Observer, which was then reprinted around the world.
He referenced the Universal Declaration of Human Rights, in particular, articles 18 and 19, which deal with freedoms of thought and expression.
He also announced an amnesty campaign called "Appeal for Amnesty".
Celebrate the day by getting involved with Amnesty International.
Help out with one of the many issues they are currently focusing on, see if there are any volunteering opportunities at their global offices, become a member, or give them a donation.
You could also read the Universal Declaration of Human Rights, or learn about human rights in general.
5) Answer: D
International Everest Day 2021 is celebrated on May 29 every year.
This day is observed in the memory of the first summit of Mount Everest by New Zealand's Sir Edmund Hillary and Nepal's Tenzing Norgay Sherpa that took place on May 29, 1953.
They climbed Mount Everest on this day.
They were the first humans to scale the height of Mount Everest.
In 2008, Nepal decided to observe the day as International Everest Day after Sir Edmund Hillary died.
Since then, every year, Mount Everest Day is celebrated with processions, memorial and special events in Kathmandu, Nepal, and the Everest region.
6) Answer: E
World Digestive Health Day is celebrated every year on 29th May.
World Digestive Health Day 2021 theme is Obesity: An Ongoing Pandemic.
WGO and IFSO will be partnering to present a 4-hour virtual event on 29 May.
World Digestive Health Day was launched in 2004 to mark the 45th anniversary of the creation of the World Gastroenterology Organization.
In 1948, the WHO held the First World Health Assembly.
The World Health Day is held to mark WHO's founding and is seen as an opportunity by the organization to draw worldwide attention to a subject of major importance to global health each year.
The organization has over 100 member societies and 50,000 individual members all over the world.
7) Answer: C
The Indian Institute of Technology in Punjab's Ropar stated that the institute along with Australia based Monash University has developed a unique detector named 'FakeBuster' to detect imposters attending a virtual conference without anybody's knowledge.
The detector can also find faces manipulated on social media to defame or make jokes of someone.
In the present scenario of pandemic when most of the official meetings and work is being done online, this standalone solution enables a user to detect if another person's video is manipulated or spoofed during a video conferencing.
The IIT team asserted that 'FakeBuster' is one of the first tools to detect imposters during video conferencing using DeepFake detection technology.
8) Answer: B
Syrian President Bashar Assad was re-elected in a landslide, ushering in a fourth seven-year term in the war-torn country following an election described as illegitimate and a sham by the West and his opposition.
A decade-long conflict has devastated Syria as it began after the Assad-led government used deadly force against peaceful pro-democracy protests in March 2011.
9) Answer: D
In Kerala, a portable oxygen cylinder has been introduced for use in the event of corona suffocation.
1.86 lakh persons in India have been targeted for corona in the previous 24 hours.
Oxygen cylinders are quite useful for corona patients.
Portable oxygen cylinders have been introduced in this regard to help corona sufferers in their time of need.
A private company in Kerala has developed a portable oxygen cylinder to avoid this.
A cylinder of oxygen with a capacity of 10 litres costs 680 rupees.
10) Answer: E
The implementation of promises made in the Left Democratic Front (LDF) manifesto, Kerala Chief Minister Pinarayi Vijayan mentioned a Secretary Level Committee will make the guidelines and recommendations for the implementation of Smart Kitchen by July 10.
Vijayan noted the aim of the scheme is to reduce the workload of women's domestic labour.
"A three-member Secretary Level Committee will make the guidelines and recommendations by 10 July for the implementation of Smart Kitchen.
The Chief Minister stated, It aims to account and reduce the workload of women's domestic labour".
In its manifesto for the 2021 Assembly elections, the LDF had promised to ease the domestic workload of women.
11) Answer: C
The Indian Broadcasting Foundation (IBF), the apex body of broadcasters, is being renamed Indian Broadcasting and Digital Foundation (IBDF), as it expands its purview to cover digital platforms to bring all digital over-the-top streaming firms under one roof.
IBDF is in the process of forming a new wholly-owned subsidiary to handle all matters pertaining to digital media, it added.
Government mentioned that "The foundation will also form a self-regulatory body (SRB), as per the Information Technology (Intermediary Guidelines and Digital Media Ethics Code) Rules.
About Indian Broadcasting Foundation:
Indian Broadcasting Foundation also known as is a unified representative body of the television broadcasters in India.
The organization was founded in the year 1999.
Over 250 Indian television channels are associated with it.
The organization is credited as the spokesman of India Broadcasting Industry.
12) Answer: D
State-run Canara Bank's board approved a plan to raise up to Rs 9,000 crore in the current financial year (FY22), of which Rs 2,500 crore will be through a Qualified Institutional Placement (QIP), to meet regulatory norms and support growth.
The total amount would be raised through a mix of equity and debt instruments and is subject to market conditions and necessary approvals, the bank informed the BSE.
The bank had raised Rs 2,000 crore through another QIP in December 2020.
13) Answer: B
The "International Day of United Nations Peacekeepers", May 29, is "an international day to pay tribute to all the men and women who have served and continue to serve in United Nations peacekeeping operations for their high level of professionalism, dedication, and courage and to honor the memory of those who have lost their lives in the cause of peace".
The theme for this year's Day is "The road to a lasting peace: Leveraging the power of youth for peace and security."
14) Answer: E
The Reserve Bank of India (RBI) imposed a Rs.10 crore fine on private sector lender HDFC Bank Ltd for selling vehicle-tracking devices to its auto loan customers.
RBI stated that the decision was taken after an examination of documents pertaining to allegations of improper lending practices in its vehicle-financing operations.
On 23 July 2020, Bloomberg reported that RBI had sought details about HDFC Bank's probe into the irregularities in its vehicle finance division.
The complaint pertained to the customers of the bank being forced to purchase a vehicle tracking device for about four years ended December 2019, in a possible breach of guidelines that prohibit banks from non-financial businesses.
HDFC Bank executives, including the auto loan head Ashok Khanna, had pushed auto loan customers to buy GPS devices costing Rs.18, 000-19,500 from 2015 to December 2019.
15) Answer: C
YES BANK announced the implementation of TransUnion's onboarding solution.
This solution will enable YES BANK to onboard its credit card customers efficiently and quickly.
The solution has been designed to enable a digital, streamlined on boarding process that delivers the experience consumers prefer such as fewer customer information fields to input, no physical paperwork, and comparatively lesser time required for completing the credit card application.
What traditionally required an in-person interaction with customers for physical documentation and processing is now replaced with a completely digital process wherein a digital application link is sent to the customer, which the customer can complete from the comfort of their homes along with a video KYC (Know Your Customer).
Further, the solution significantly reduces the integration time and effort for the Bank, while encompassing credit/risk decision workflow for digital end-to-end on boarding.
16) Answer: D
Recently Punjab National Bank (PNB) and PNB Housing Finance have stepped into a new agreement.
This brand agreement gives PNB the right to withdraw their brand name from the mortgage lender.
PNB has an NSE of 1.40% and PNB housing finance has an NSE of 2.79%.
There might be a change in the holding pattern in the near future due to the revised brand agreement.
As of now, PNB holds 33% of PNB housing.
The existing brand arrangement dated 07 December 2009 will continue to govern use of PNB trademark until PNB's shareholding in the Company is 30% or more.
According to the fresh agreement, if the shareholding of PNB goes below 30%, then PNB housing will have to pay anything between 15 crores to 30 crores as royalty.
It is called a royalty clause.
The royalty clause would be the higher amount of 2% of the profit or 0.2% of their revenue.
17) Answer: E
The Home Ministry order stated that CRPF chief Kuldiep Singh has been given the additional charge of the Director-General of the National Investigation Agency (NIA) to replace Y C Modi, who will retire on May 31, 2021.
Modi, a 1984-batch IPS officer of the Assam-Meghalaya cadre, was appointed chief of the federal anti-terror probe agency in September 2017.
18) Answer: C
J&K Chief Secretary, B V R Subrahmanyam, was posted as OSD in the Union Commerce Ministry and will succeed Commerce Secretary Anup Wadhawan on his retirement next month-end.
The Union Ministry of Personnel, Public Grievances and Pensions stated that "The appointments committee of the cabinet (ACC) has approved the appointment of B.V.R. Subrahmanyam IAS, Chief Secretary Jammu & Kashmir as an officer on special duty in the Department of Commerce.
"The ACC has also approved his appointment as Secretary, Department of Commerce upon superannuation of Anup Wadhawan IAS, Secretary Department of commerce on 30-06-2021."
AK Mehta was appointed in Subrahmanyam's place as the new chief secretary of the union territory.
19) Answer: D
For the first time since its creation in 1783 in the wake of the French Revolution, the Musée du Louvre will be headed by a woman, Laurence des Cars, the current head of the Musée d'Orsay and the much smaller Musée de l'Orangerie.
Des Cars, 54, was appointed as the museum's president-director by the president of France, Emmanuel Macron.
On 1 September, des Cars will replace the museum's leader of eight years, Jean-Luc Martinez, who had waged an intense media campaign to stay on for a new five-year term.
20) Answer: E
The Union Government stated an order extended the tenure of Research and Analysis Wing chief Samant Kumar Goel and Intelligence Bureau head Arvind Kumar.
Both were given a one-year extension in their services.
The extensions were cleared by the Appointments Committee of Cabinet.
Both have played a huge role in shaping India's security grid with key roles in Kashmir.
The decision to extend tenures of the two spy chiefs was taken on the basis of their work and also taking the future of organizations into consideration.
Goel has been a hard-core operations man, while Kumar is known for political reading of the internal situation.
Both work under the directions of Prime Minister, Home Minister Amit Shah and National Security Advisor Ajit Doval.
21) Answer: C
Badminton Association of India (BAI) President Himanta Biswa Sarma was elected to the BWF Council for a four-year period till 2025.
Sarma, who is also the Vice President of Badminton Asia, got 236 votes as 31 members contested for 20 places in the Council at the virtual AGM and election of the sport's global governing body.
BWF President Paul-Erik Hoyer was re-elected unopposed, so were Deputy President Khunying Patama of Thailand and Vice President Paul Kurzo of Switzerland.
22) Answer: D
For the first time in his career, Robert Lewandowski has won the European Golden Boot.
The Bayern Munich striker scored an incredible 41 goals in 29 Bundesliga appearances to claim the top scorer spot in Europe.
It truly has been an incredible campaign from Lewandowski who was also able to break Gerd Muller's 49-year single-season scoring record en route to becoming the European Golden Boot winner.
Lewandowski not only broke his record but also became the first Bundesliga player in 49 years to claim the award.
Muller is one of only 11 players to have won two European Golden Boot titles or more during their careers and that is a group Lewandowski will certainly be looking to join in the future.
23) Answer: B
Squadron Leader Aashritha V Olety graduated as the first woman flight test engineer in India from the Air Force Test Pilot School.
She is the only female officer to have undergone the training and passed till date.
In her new role of a flight test engineer, she will assess aircraft and airborne systems before they are inducted into the armed forces.
She was part of the 43rd Flight Test Course and Systems Testing Establishment (ASTE).
A Bangalore Mirror article stated her family mentioned that 'there are only about 275 graduates to ever clear this course ever since the course inception in 1973 and that she has become the first female officer in the history of IAF to ever clear this course after strenuous training'.
24) Answer: E
On May 27, 2021, Competition Commission of India (CCI) approved an internal restructure of Motherson Group that has been granted.
It was made by Motherson Sumi Systems Ltd. (MSSL), SamvardhanaMotherson International Ltd. (SAMIL) and Sumitomo Wiring Systems Ltd. (SWS).
As per the transaction, MSSL's entire domestic wiring harness undertaking (DWH) will be demerged into a newly incorporated wholly-owned subsidiary of MSSL called Motherson Sumi Wiring India Ltd. (MSWIL).
25) Answer: C
On May 28, 2021, The Defence Research and Development Organisation (DRDO) has developed the near isothermal forging technology used in manufacturing parts for aero engines.
The technology has been developed by Defence Metallurgical Research Laboratory (DMRL), a premier metallurgical laboratory of DRDO in  Hyderabad.
The DRDO established the near-isothermal forging technology to produce all the five stages of high-pressure compressor (HPC) discs out of difficult-to-deform, titanium alloy, using its unique 2000 MT (metric tonne) isothermal forge press.
26) Answer: D
On May 26, 2021, the India Meteorological Department (IMD) informed that the very severe cyclonic storm Yaas caused landfall between Bahanaga and Remuna coast of Balasore in Odisha.
Cyclone Yaas has crossed north Odisha coast about 20 km south of Balasore with wind speed of 130-140 kmph gusting to 155 kmph.
The Cyclone Name Yaas was given by Oman.
27) Answer: E
Representing Kansas State University, India's Tejaswini Shankar won back-to-back men's high jump titles in the Big 12 Outdoor Track and Field Championships in Manhattan, USA.
He cleared the bar at 2.28m to win high jump gold, but his efforts fell short of the Tokyo Olympic Games qualification standard of 2.33m.
He had also won the men's high jump title in the 2019 edition.
He won the high jump bronze by clearing 2.24m in the NCAA meet.
Shankar is the third Indian to compete in the highly competitive USA circuit, the breeding ground for many US track and field Olympians.