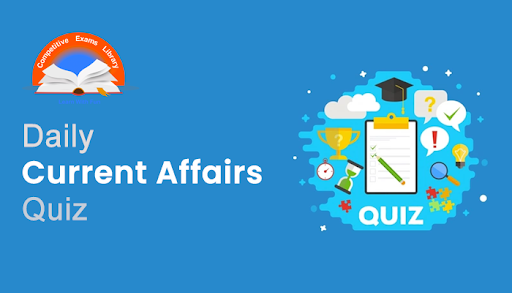 Dear Readers, Daily Current Affairs Questions Quiz for SBI, IBPS, RBI, RRB, SSC Exam 2021 of 30th & 31st May 2021. Daily GK quiz online for bank & competitive exam. Here we have given the Daily Current Affairs Quiz based on the previous days Daily Current Affairs updates. Candidates preparing for IBPS, SBI, RBI, RRB, SSC Exam 2021 & other competitive exams can make use of these Current Affairs Quiz.
1) International Week of Solidarity with the Peoples of Non-Self-Governing Territories – Observed Between May ____.
A) 10-15
B) 18-20
C) 25-31
D) 24-30
E) 23-29
2) M. Anandakrishnan who passed away recently was the Vice Chancellor of which university?
A) Chennai
B) Amity
C) Delhi
D) Anna
E) Pune
3) World No-Tobacco Day observed in May __.
A) 11
B) 4
C) 3
D) 29
E) 31
4) PM Modi has declared Rs ___ Lakh PM CARES Fund for kids orphaned due to COVID.
A) 8
B) 10
C) 4
D) 5
E) 11
5) Government has launched the YUVA – Prime Minister's Scheme, where ___ authors will be selected through all India content.
A) 55
B) 60
C) 65
D) 75
E) 70
6) Government rolled out some measures to help families who lost the earning member due to Covid. The provision of minimum insurance benefit of Rs.2.5 lakh has been restored and will apply retrospectively from 15th February 2020 for the next ___ years.
A) 6
B) 5
C) 3
D) 2
E) 4
7) Who recently chaired the GST Council meeting and exempt import duty on COVID-19 related supplies?
A) Narendra Modi
B) NS Tomar
C) Anurag Thakur
D) Amit Shah
E) Nirmala Sitharaman
8) Which institution has ordered private TV channels to promote four national level COVID-19 helpline numbers?
A) ASSOCHAM
B) MIB
C) PIB
D) Niti
E) CII
9) Centre has granted Rs. 5,117 crore to which state under Jal Jeevan Mission?
A) Uttar Pradesh
B) Bihar
C) Chhattisgarh
D) Madhya Pradesh
E) Haryana
10) Tamil Nadu: State govt has announced financial assistance of Rs.___ lakh fixed deposit for children who lost parents to Covid.
A) 6
B) 2
C) 3
D) 4
E) 5
11) Which state government has announced CM's Sishu Sewa Scheme financial support for children who lost parents due to COVID-19?
A) Bihar
B) Kerala
C) Assam
D) Haryana
E) Chhattisgarh
12) Which State Government has launched Bal-Seva Yojana to support children who lost their parents due to COVID?
A) Chhattisgarh
B) Kerala
C) Bihar
D) Haryana
E) Uttar Pradesh
13) J&K: LG has launched Scheme 'SASCM' for families of lost earners of the family. Cash assistance of Rs ___ per month shall be provided to the spouse and the eldest member of the family.
A) 2500
B) 2000
C) 1000
D) 1500
E) 1200
14) Which institution has developed new technology for COVID testing?
A) IIT Madras
B) NEERI
C) CMRI
D) IIT Bombay
E) IIT Delhi
15) The __ BRICS Sherpas' and Sous Sherpas' meeting has recently been concluded.
A) 6th
B) 1st
C) 4th
D) 3rd
E) 2nd
16) Which organization will introduce Nano Urea in the market next month?
A) Niti Aayog
B) ASSOCHAM
C) IFFCO
D) CII
E) HUDCO
17) Which institution has joined hands with GIZ ?
A) IIT Guwahati
B) IIT Roorkee
C) IIT Madras
D) IIM Indore
E) IIT Delhi
18) Paytm Plans to Launch $___-Billion IPO.
A) 5
B) 1
C) 2
D) 4
E) 3
19) Which state government has appointed 'guardian ministers' for its growth?
A) Telangana
B) Assam
C) Chhattisgarh
D) Uttar Pradesh
E) Kerala
20) Public Sector Banks initiate new loans to mitigate the impact of Corona. This will include the unsecured loans of upto __ lakh rupees to individuals to meet their and family members' COVID-19 treatment cost.
A) 6
B) 4
C) 2
D) 3
E) 5
21) Which company has appointed Harmohan Sahni as CEO of realty business?
A) Uber
B) Ola
C) Raymond
D) Harman
E) Samsung
22) Who has been elected as President of International Narcotics Control Board?
A) Sudhri Raj
B) Raj Mehta
C) Surender Singh
D) Jagjit Pavadia
E) Amit Aggarwal
23) The US Senate has named Christine Wormuth as ___ female Army secretary.
A) 5th
B) 1st
C) 2nd
D) 3rd
E) 4th
24) ____ Indian peacekeepers among 129 personnel to be honoured with UN's prestigious medal.
A) 7
B) 6
C) 5
D) 4
E) 3
25) Who among the following has sets New Record for Fastest Ascent of Everest by Women?
A) Chun-ming
B) Wan-Li
C) Tsang Yin-hung
D) Yan-ming
E) Lui Chin
26) IAU has Confirmed ___ features on moon with chinese names.
A) 6
B) 8
C) 7
D) 4
E) 5
27) Which institution has Introduced a 'FakeBuster' to detect imposters in virtual conferences?
A) IIT Chennai
B) IIT Madras
C) IIT Roorkee
D) IIT Delhi
E) IIT Ropar
28) New Book Titled Savarkar- A Contested Legacy has been Authored by ___.
A) Sudha Mudgal
B) Surender Pal
C) Vikram Sampath
D) Amit Singh
E) Sudhir Raj
29) 2020-21 UEFA Champions League Final: which team has beaten Manchester City?
A) Liverpool
B) Munich
C) Barcelona
D) Chelsea
E) Arsenal
30) Asian Boxing Championships 2021 Mary Kom On cloud nine after winning Silver Medal. It was held in ___.
A) Tbilisi
B) Tokyo
C) Dubai
D) Georgia
E) Beijing
31) Poul Schlueter, who passed Away was the former prime minister of which country?
A) Netherland
B) Denmark
C) Sweden
D) Germany
E) France
Answers :
1) Answer: C
International Week of Solidarity with the Peoples of Non-Self-Governing Territories Observed on May 25 – 31
In the UN Charter, a Non-Self-Governing Territory is defined as a Territory "whose people have not yet attained a full measure of self-government."
In 1946, several UN Member States identified a number of Territories under their administration that were not self-governing and placed them on a UN list.
Countries administering Non-Self-Governing Territories are called administering Powers.
As a result of the decolonization process over the years, most of the Territories were removed from the list.
2) Answer: D
On May 29, 2021, Former Vice Chancellor of Anna University and Prominent educationist M. Anandakrishnan Passed away.
He was 93.
3) Answer: E
World No Tobacco Day (WNTD) is observed around the world every year on 31 May.
The 2021 theme and campaign of World No Tobacco Day: "Commit to Quit".
This yearly celebration informs the public on the dangers of using tobacco, the business practices of tobacco companies, what the World Health Organization (WHO) is doing to fight against the use of tobacco, and what people around the world can do to claim their right to health and healthy living and to protect future generations.
According to the World Health Organization (WHO), "Over 70 per cent of the 1.3 billion tobacco users worldwide lack access to the tools they need to quit successfully.
4) Answer: B
Prime Minister Narendra Modi announced a number of welfare measures for children who lost their parents to COVID-19, including ensuring a corpus of Rs 10 lakh when they turn 18 and providing for their education.
While chairing a meeting to deliberate on steps that can be taken to support children who have lost their parents due to Covid-19, PM Modi stated they will be supported under the "PM-CARES for Children" scheme.
The Prime Minister's Office (PMO) mentioned that fixed deposits will be opened in the names of such children, and the PM-CARES fund will contribute through a specially designed scheme to create a corpus of Rs 10 lakh for each of them when he or she reaches 18 years of age.
All children will be enrolled as a beneficiary under Ayushman Bharat Scheme (PM-JAY) with a health insurance cover of Rs 5 lakh.
The premium amount for these children till the age of 18 years will be paid by PM CARES.
5) Answer: D
The government launched YUVA — Prime Minister's Scheme for Mentoring Young Authors, an author mentorship programme to train 75 selected young and budding authors (below 30 years of age) with an aim to promote reading and writing.
All-India contest details:
75 authors to be selected through all-India contest from June 1 to July 31
The winners will be announced on Aug 15
Will be trained by eminent authors
Manuscripts to be readied for publication by December 15
Published books to be launched on January 12, 2022, on National Youth Day (Yuva Diwas)
Scholarship of Rs50,000 per month to be paid to winners for six months
The Education Ministry stated that "The launch of YUVA (Young, Upcoming and Versatile Authors) is in tune with PM's vision to encourage young authors to write about India's freedom struggle.
6) Answer: C
The Centre announced some measures to financially help families who lost earning members to the corona virus disease (Covid-19).
These measures are meant to help families maintain a good standard of living.
The Centre also liberalized and enhanced existing schemes to cover families of contractual and casual workers.
The central government is extending the Employees State Insurance Corporation (ESIC) scheme, meant for employment-related deaths, to those who died due to Covid-19.
Dependent family members of the deceased are entitled to pension benefits, which would be 90% of the average daily wage drawn by the employee as per the existing norms.
The government mentioned that, the insurance benefits provided under the Employees' Deposit Linked Insurance Scheme (EDLI) has been enhanced by increasing the maximum benefit from Rs.600, 000 to Rs.700, 000.
The provision of minimum insurance benefit of Rs.2.5 lakh has been restored and will apply retrospectively from 15thFebruary 2020 for the next three years.
7) Answer: E
The GST Council, which is headed by the Union Finance Minister Nirmala Sitharaman and comprises representatives of all states and union territories, exempted levy of I-GST on import of Amphotericin-B, which is used for the treatment of black fungus.
Currently, vaccines attract 5 per cent GST.
Sitharaman said the Council decided to continue a waiver of I-GST on free COVID-19 related supplies imported from abroad.
Also, the panel decided that the Centre will borrow Rs 1.58 lakh crore and pass it on to the states to make up for the shortfall in their revenues from the implementation of the GST.
A special session of the Council will be held soon to consider extending the five-year GST shortfall compensation period to states beyond 2022.
8) Answer: B
The Centre issued an advisory for private television channels, asking them to help the government spread awareness about the corona virus disease (Covid-19) pandemic by displaying four national level helpline numbers.
The government stated it wants to create awareness about three things – Covid treatment protocol, Covid-appropriate behaviour and vaccination.
The National Helpline of the Ministry of Health and Family Welfare for Covid related queries is  –  1075, the Child Helpline Number of  Ministry of Women and Child Development is  – 1098.
For Senior Citizens, the Helpline number of the Ministry of Social Justice and Empowerment is – 14567 and it is for Delhi, Karnataka, Madhya Pradesh, Rajasthan, Tamil Nadu, Telangana, Uttar Pradesh and Uttarakhand.
While the Helpline number of National Institute of Mental Health and Neurosciences (NIMHANS) for psychological support is – 08046110007.
9) Answer: D
Jal Shakti ministry stated that, The Centre has allocated Rs 5,117 crore to Madhya Pradesh under the Jal Jeevan Mission, a four-fold rise than last year, and released its first tranche of Rs 1,184 crore.
Jal Shakti Minister Gajendra Singh Shekhawat had two rounds of detailed review meeting with Madhya Pradesh Chief Minister Shivraj Singh Chouhan.
The Centre has earmarked Rs 50,000 crore to the Jal Jeevan Mission which aims to provide piped drinking water to all rural households by 2024.
The ministry mentioned "In 2019-20, the Central Government allocated Rs 571.60 crore which was increased to Rs 1,280.13 Crore in 2020-21".
10) Answer: E
Chief Minister M.K. Stalin stated that, Children who have lost their parents to COVID-19 will be given Rs.5 lakh in assistance in the form of a fixed deposit, and the sum will be given to them with interest when they turn 18.
He said the government would bear the expenses on account of the education and accommodation of these children until they graduate from college.
It would also ensure that they get priority in accommodation at government homes for children.
For those who have lost one parent, Rs.3 lakh in relief will be given to the living parent.
Those who lost a parent earlier and then the other to COVID-19 will be given Rs.5 lakh in fixed deposit, he said in a statement.
11) Answer: C
Assam Chief Minister Himanta Biswa Sarma announced the Mukhyamantri Sishu Sewa Achoni scheme which will provide relief to children who have lost their parents due to Covid-19.
As per this scheme, those children who have lost both their parents and are being looked after by their extended family members will be entitled to Rs 3,500 financial aid per month.
Children below the age of 10 years without any family support will be provided shelter at child care institutions.
They will have access to the required education facilities.
Adolescent girls who have been orphaned will be accommodated at reputed institutions like Kasturba Gandhi Balika Vidyalaya to ensure that they are cared for sensitively and provided proper protection.
In the case of girls of marriageable age who have lost their parents, the government of Assam will provide one tola of gold under the Arundhati Gold scheme and one-time financial assistance of Rs 50,000.
12) Answer: E
The Uttar Pradesh government launched a welfare scheme for children who have either lost both of their parents to COVID-19 or the earning parent.
As part of the scheme, the government will provide a monthly financial assistance of Rs 4,000 to a child's guardian or caretaker until he or she attains adulthood.
Children below 10 years who do not have any family members will be taken care of by the state government children's homes.
A minor girl child will be housed in Kasturba Gandhi Girls (Residential) Schools run by the Government of India or children's homes (girls) run by the state government.
The state government will also provide an amount of Rs 1, 01,000 for the marriage of such girls.
The state government will also provide tablets or laptops to all such children studying in schools, colleges or pursuing vocational education.
13) Answer: C
Lieutenant Governor Manoj Sinha launched a Special Scheme for financial assistance to families which have lost their only bread earner due to COVID pandemic.
The J&K Government has adopted a comprehensive approach, by creating a Special Cell in the Social Welfare Department to identify and track support to these families over time, in the spirit of leaving no one behind.
Under the scheme, called 'Special Assistance Scheme for COVID Mortalities (SASCM)', cash assistance of Rs 1000 per month shall be provided to the spouse and the eldest member of the family.
Apart from this, the scheme provides for a scholarship of Rs 20,000 per annum for school going students and Rs 40,000 per annum for college going students.
14) Answer: B
The National Environmental Engineering Research Institute (NEERI) has developed a simple and fast method of swab collection and processing for the RT-PCR coronavirus test which could be used in rural and tribal areas.
The Council for Scientific and Industrial Research (CSIR) stated that The method is simple, fast, cost-effective, patient-friendly and comfortable.
It is well-suited for rural and tribal areas, given minimal infrastructure requirements, it said.
The Nagpur-based NEERI is a constituent laboratory of CSIR.
Krishna Khairnar, senior scientist, Environmental Virology Cell at NEERI, mentioned the swab collection method requires time.
Moreover, since it is an invasive technique, it is a bit uncomfortable for patients.
15) Answer: E
Under India's Chairship, BRICS countries held second Sherpas and Sous Sherpas' meeting for four days from May 25 to May 28, wherein they discussed the preparations for the upcoming meeting of the BRICS Foreign Ministers, which is scheduled to be held on June 1.
The meeting was chaired by Indian delegates, Secretary (CPV & OIA) Sanjay Bhattacharyya and Additional Secretary (Economic Relations), P. Harish, as India's BRICS Sherpa and Sous Sherpa respectively.
BRICS (Brazil-Russia-India-China-South Africa) partners appreciated the positive leadership of Indian Chair in advancing intra-BRICS cooperation, despite challenges of COVID-19 pandemic.
"They negotiated key deliverables for India's BRICS 2021 Chair ship, including outcome documents for the Foreign Ministers' meeting.
The Ministers had exchanged views on major international and regional issues in the political, security, economic, trade, financial and sustainable development spheres.
16) Answer: C
Indian Farmers Fertiliser Cooperative (IFFCO) will launch Nano Urea in the market next month.
500-ml Nano Urea, which costs 240 rupees, is equivalent to 45kg of normal urea.
Besides reducing the cost of cultivation, it increases the yield.
Chemicals and Fertilizers Minister DV Sadananda Gowda said, the Nano Urea will be a game-changer for the farming sector as it is expected to reduce the consumption of normal urea substantially thus saving a huge sum on subsidy and forex.
It is also eco-friendly.
17) Answer: D
In line with its mission to stay contextually relevant and contribute to nation building, Indian Institute of Management Indore has joined hands with The Deutsche Gesellschaft für Internationale Zusammenarbeit GmbH (GIZ), German Federal Ministry for Economic Cooperation and Development (BMZ), to connect the dots across myriad sectors to understand how they grappled with COVID-19 for forthcoming pandemic preparedness.
For this, IIM Indore has received a research grant of Rs 85.3 lakh.
18) Answer: E
Digital payments provider Paytm is all set to make its market debut as early as this year, with an aim to raise $3 billion (around Rs 22,000 crore).
If successful, this could be the biggest initial public offering (IPO) by an Indian company, breaking Coal India's 2010 record of Rs 15,475 crore.
Paytm has emerged as one of the largest digital payments players in the country and ranks third in terms of UPI payments with a market share of around 12 per cent.
It aims to achieve over 10 million users and 75 million yearly transactions for Paytm Money, its stocks and mutual fund investment platform, in the financial year 2021-2022, with the majority of users from small cities and towns.
19) Answer: B
The Assam government will implement the "Guardian Ministers" system by allocating each of the 13 ministers two to three districts for supervision of all aspects, including policy decisions and schemes.
Chief Minister Himanta Biswa Sarma appointed the Guardian Ministers for balanced, speedy and sustainable developments of all 34 districts.
Assam's Chief Minister's Office stated that the ministers would be responsible for the implementation of state and Central government schemes in the district and would resolve issues pertaining to them.
"The Guardian Minister would supervise the government's policy decisions, administrative reforms, and other welfare schemes for the public.
The Guardian Minister of the district concerned would see how quickly the people can get the benefit of the government's schemes and projects".
Of the 13 ministers, eight ministers including the lone woman minister Ajanta Neog were allocated three districts each while five other ministers' assigned two districts each.
20) Answer: E
Public sector banks in India have announced various support measures and launch of new loan products to mitigate the impact of Covid pandemic.
This will include the unsecured loans of upto 5 lakh rupees to individuals to meet their and family members' COVID-19 treatment cost.
The Indian Banks Association and State Bank of India jointly announced three new loan products in Mumbai.
The measures are designed to provide fresh lending support to vaccine manufacturers, hospitals or dispensaries, pathology labs, manufacturers and suppliers of Oxygen, Ventilators, importers of vaccines and Covid related drugs, logistics firms and patients for treatment.
Apart from individual loan for treatment, the other two loans include Healthcare Business Loan of upto 2 crore rupees and Business loans for Healthcare Facilities of upto 100 Crore rupees.
Healthcare business loan is for setting up oxygen plants under Emergency Credit Line Guarantee Scheme (ECGLS) with 100 per cent guarantee cover of NCGTC.
21) Answer: C
Raymond Ltd stated it has appointed Harmohan Sahni as chief executive officer (CEO) of its realty business.
"Raymond Ltd strengthened its executive leadership team with the appointment of Harmohan Sahni as chief executive officer of its realty business.
An industry stalwart, Harmohan was till recently the COO of Real Estate business of ECL Finance Ltd (Edelweiss Group) and has enormous experience in executing projects".
22) Answer: D
Former Indian Customs officer, Jagjit Pavadia has been elected as the President of the International Narcotics Control Board (NCB) becoming the first Indian to head this international body based in Vienna.
"The Board will pay particular attention to the timely supply of and access to controlled drugs during emergency situations.
It will also continue its work on the development of guidelines for the control and monitoring of cannabis and cannabis-related substances".
Pavadia has held several senior positions in the Indian Revenue Service for 35 years in the Government of India and has been a member of the Indian delegation to the Commission on Narcotics Drugs, Vienna (2007-2012).
23) Answer: B
The U.S. Senate confirmed Christine Wormuth, an international security expert and Defense Department aide during the Obama administration, as secretary of the Army.
She is the first woman to serve in the role.
The confirmation was not a straightforward process.
After the Senate gave its unanimous consent, Senate Majority Leader Chuck Schumer, D-N.Y., asked the Senate to overturn Wormuth's nomination, according to reporting from The Hill.
Sen. Kevin Cramer, R-N.D., stated the unusual course of events was related to a hold he had previously placed on Wormuth.
Terms used: D-N.Y stands for Downstate New York, R-N.D stands for R North Dakota.
24) Answer: E
Three Indian peacekeepers, who laid down their lives while serving in UN peacekeeping missions last year, are among 129 military, police and civilian personnel honoured with a prestigious UN medal awarded posthumously for courage and sacrifice in the line of duty.
Corporal Yuvraj Singh who served with the United Nations Mission in South Sudan (UNMISS) and two civilian peacekeepers Ivan Michael Picardo, who served with UNMISS, and Mulchand Yadav, who worked for the UN Assistance Mission in Iraq (UNAMI)  were honoured posthumously with the Dag Hammarskjold Medal during a sombre virtual ceremony here on the occasion of the International Day of United Nations Peacekeepers.
India is the 5th largest contributor of uniformed personnel to UN peacekeeping with more than 5,500 military and police personnel serving in peace operations in Abyei, Cyprus, Congo, Lebanon, the Middle East, Somalia, South Sudan and the Western Sahara, according to the UN.
25) Answer: C
Ms Tsang Yin-hung, 45, reached the top of the world's highest mountain from base camp in 25 hours and 50 minutes.
That was fast enough to beat the previous record, set by a Nepalese climber in 2017, by more than 12 hours.
Climbers from the United States and Hong Kong have set new records as they scaled Mount Everest.
Arthur Muir, 75, became the oldest American to climb the world's highest peak at 8,848.86-metres (29,031 feet.
Separately, Hong Kong's Tsang Yin-Hung, 45, scaled the peak in less than 26 hours, the shortest time taken by any woman after starting from the base camp.
26) Answer: B
The International Astronomical Union (IAU) has approved China's application for naming eight new features on the moon around the landing site of the Chang'e-5 probe.
It was launched last November and landed December 1, collected lunar samples and returned to Earth on December 17.
It was the first attempt to bring the lunar samples in over 40 years after the US sent astronauts to the Moon to collect samples.
27) Answer: E
The Indian Institute of Technology in Ropar, Punjab has developed a detector called FakeBuster.
It is a deep fake detector to identify and prevent imposters from attending video conferencing and manipulating faces on social media.
It has been developed by IIT Ropar in partnership with Australia based Monash University.
28) Answer: C
A New book, titled "Savarkar: A contested Legacy (1924-1966), was authored byVikram Sampath.
The book is Published by the Penguin Random House India.
The release of the book was announced on the occasion of the 138th birth anniversary of the Hindutva ideologue.
29) Answer: D
On May 29, 2021, Chelsea beat Manchester City 1-0 in the 2020-21 UEFA Champions League final to win their 2nd title.
It was held at the Estádio do Dragao in Porto, Portugal.
In the football match German forward Kai Havertz scored the only goal
30) Answer: C
On May 30, 2021, The 2021 ASBC Asian Boxing Championships, Indian pugilist Mary Kom, lost to two-time world champion Nazym Kyzaibay of Kazakhstan, to settle for silver medal.
It was held in Dubai.
The five-time Asian Championships gold medallist Mary Kom was competing in a high-octane 51kg final.
Meanwhile, Pooja Rani won the gold medal in the 75kg Women's Middle category final.
This is Mary Kon's second silver Medal at the Asian Championships.
Previously Mary Kom won a silver Medal in 2008.
Mary Kom won world championship titles on five occasions including 2003, 2005, 2010, 2012, and 2017.
31) Answer: B
On May 27, 2021, The Conservative Prime Minister of Denmark, Poul Schlüter Passed away.
He was 92.
Poul Schlueter served as the prime minister of the country from 1982-1993.
He was the longest serving prime minister.