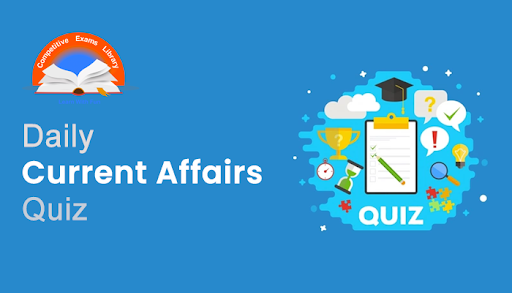 Dear Readers, Daily Current Affairs Questions Quiz for SBI, IBPS, RBI, RRB, SSC Exam 2021 of 30th April 2021. Daily GK quiz online for bank & competitive exam. Here we have given the Daily Current Affairs Quiz based on the previous days Daily Current Affairs updates. Candidates preparing for IBPS, SBI, RBI, RRB, SSC Exam 2021 & other competitive exams can make use of these Current Affairs Quiz.
1) National Honesty Day is Observed on which date?
A) April 1
B) April 3
C) April 30
D) April 4
E) April 11
2) Which bank has given nod to re-appointment of Amitabh Chaudhry as MD & CEO?
A) ICICI
B) SBI
C) UCO
D) Axis
E) Bandhan
3) Michael Collins who passed away was the astronaut of ______.
A) Apollo 1
B) Apollo 3
C) Apollo 12
D) Apollo 4
E) Apollo 11
4) Covaxin Prices for State government has reduced from 600 to _____ rupees.
A) 300
B) 550
C) 500
D) 400
E) 450
5) Which institution has unveiled WhatsApp helpline number for pregnant women?
A) FICCI
B) Niti Aayog
C) NCW
D) CII
E) NASSCOM
6) Who among the following has spoken for India at G-7 Digital and Technology Ministerial Meeting?
A) Narendra Modi
B) NS Tomar
C) Amit Shah
D) Ravi Shankar Prasad
E) Prahlad Patel
7) Which Bank has unveiled a contactless banking platform for merchants?
A) UCO
B) Bandhan
C) HDFC
D) SBI
E) ICICI
8) Transport Minister Nitin Gadkari has initiated a mobile COVID RT-PCR test laboratory in which city?
A) Delhi
B) Chennai
C) Nagpur
D) Surat
E) Pune
9) The Government has acquired over ____ lakh tonnes of Wheat benefiting more than 25 lakh farmers so far.
A) 218
B) 228
C) 232
D) 258
E) 248
10) IRDAI has demanded insurers to settle Covid related cashless insurance claims within ____hour.
A) 3
B) 1
C) 2
D) 1.5
E) 2.5
11) Which company has unveiled a virtual showroom to sell vehicles amid coronavirus pandemic?
A) Realme
B) Panasonic
C) Samsung
D) Hero Motocorp
E) Bajaj
12) Vedanta Chairman Anil Agarwal has pledged Rs _____crore to help India fight against COVID-19.
A) 85
B) 90
C) 150
D) 110
E) 100
13) Which state government has asked everyone on state Day celebration in a simple manner?
A) Chhattisgarh
B) Punjab
C) Kerala
D) Haryana
E) Maharashtra
14) Resolution to appoint who among the following as MD and CEO, Ujjivan Financial Services has not been approved by requisite share of votes?
A) Raj Gupta
B) Sudhir Mishra
C) Samit Ghosh
D) Ranjit Sinha
E) Anand Kumar
15) Which of the following company has appointed Milind Kulkarni as CTO?
A) Apollo Munich
B) Religare
C) Bajaj Allianz
D) Vikram Solar
E) Bajaj Finance
16) Who has succeeded Rahul as Bajaj Auto chairman?
A) Anand Bajaj
B) Niraj Bajaj
C) Arun Bajaj
D) Sudhir Bajaj
E) Susheel Bajaj
17) Which company has appointed Olusegun (Segun) Ogunsanya new MD, CEO?
A) Airtel West Indies
B) Airtel Sri Lanka
C) Airtel France
D) Airtel US
E) Airtel Africa
18) International Jazz Day is observed on which date?
A) April 1
B) April 3
C) April 30
D) April 4
E) April 12
19) Which institution has conducted a webinar on NavIC Opportunities for the Telecom Industry?
A) FICCI
B) NABARD
C) IFFCO
D) NTIPRIT
E) TCIL
20) Which country has launched a robot prototype NEO-01?
A) South Africa
B) Israel
C) Germany
D) France
E) China
21) UK to get world's most powerful weather, climate change forecasting supercomputer by _____.
A) 2026
B) 2022
C) 2023
D) 2024
E) 2025
22) At the Archery World Cup who among the following has won gold?
A) Anandi Tiwary
B) Neerja Vohra
C) Atanu Das
D) Preeti Kumari
E) Sushila Raj
Answers : 
1) Answer: C
Honesty Day is celebrated on April 30 in the United States to encourage honesty and straightforward communication in politics, relationships, consumer relations and historical education.
It was invented by M. Hirsh Goldberg, who chose the last day of April for two reasons.
First, since the first day of that month, which is April Fools' Day, celebrates falsehoods.
Second, it is the anniversary of the First inauguration of George Washington on April 30, 1789.
Hirsh Goldberg, who was a former press secretary of Maryland and writer of many novels, created the holiday in the early 1990s while writing the first draft and researching for his book The Book of Lies: Fibs, Tales, Schemes, Scams, Fakes, and Frauds That Have Changed The Course of History and Affect Our Daily Lives.
People can ask each other question and expect radically honest answers on Honesty Day, provided each of them are aware of the holiday.
Honesty Day is a campaign for the prevention of political lies, and serves to increase awareness of the most deceitful lies in history such as the 1972 Richard Nixon Watergate Scandal, France's Dreyfus Affair, and Bernard Madoff's Ponzi Scheme.
It is to urge politicians to stay away from lies and tell the truth.
Every April 30th, Goldberg himself gives out honesty awards to companies, organizations, groups, and individuals that have remained truthful to their people.
2) Answer: D
Private sector lender Axis Bank said its board has approved the re-appointment of Amitabh Chaudhry as its Managing Director and CEO for three years with effect from January 1, 2022.
"The board of directors of the bank considered and approved the proposal relating to re-appointment of Amitabh Chaudhry as the Managing Director and CEO of the bank, for a further period of 3 years, with effect from January 1, 2022 up to December 31, 2024," Axis Bank said in a regulatory filing.
The appointment will be subject to the approval of the Reserve Bank of India (RBI) and shareholders of the bank, the filing added.
Chaudhry was appointed as Managing Director (MD) and CEO of Axis Bank for a period of three years, with effect from January 1, 2019 up to December 31, 2021.
3) Answer: E
On April 28, 2021, The American astronaut, Michael Collins, Passed away.
He was 90.
About Michael Collins :
He was the command module pilot for the Apollo 11 mission to the moon.
Collins spent seven years of his career as an astronaut with NASA.
Astronaut Collins was a part of three crew members of Apollo 11 that went to the moon in 1969.
He travelled nearly 238,000 miles to the moon and came within 69 miles.
Collins later worked as a director of the National Air and Space Museum in Washington.
In the three-man Apollo 11 crew mission in 1969, Collins kept the command module flying while the other two members, Neil Armstrong and Buzz Aldrin became the first humans to walk on the moon.
4) Answer: D
Bharat Biotech reduced the cost of COVAXIN vaccine for State governments.
It will now cost 400 rupees per dose for State Governments instead of the earlier announced price of 600 rupees per dose.
Bharat Biotech has said the decision has been taken recognizing enormous challenges being faced by the public health care system.
The COVAXIN will cost 1200 rupees per dose for Private Hospitals.
The price of vaccines for export is 15 to 20 dollar.
Earlier, the price of Covishield vaccine for states was also reduced from 400 to 300 rupees.
5) Answer: C
The National Commission for Women has launched a WhatsApp helpline number for providing emergency medical assistance to pregnant women.
The number is 9354954224.
The move came after NCW noticed that pregnant women were facing difficulty in accessing medical aid.
Expectant mothers from across the country can reach out to the Commission through this number which will be functional round the clock.
A dedicated team is looking after speedy redressal of grievances.
The commission can also be reached on the email [email protected]
6) Answer: D
Union Minister Ravi Shankar Prasad represented India at the G-7 Digital and Technology Ministerial Meeting.
He spoke about India's efforts to bring digital inclusion and empower ordinary citizens through the use of technology under the Digital India programme.
The Minister also shared India's views on ensuring trust in the digital ecosystem, securing data privacy of users and creating a safe cyberspace with the G-7 Digital Ministers.
7) Answer: E
India's second largest private sector lender, ICICI Bank, announced the launch of a comprehensive digital banking service that aims to empower over two crore offline and online retailers in the country.
According to data from the Reserve Bank of India, the market for merchant services is expected to increase 45 per cent to Rs 31 lakh crore by financial year 2022, and ICICI bank intends to grab a large share of this market with its new offering, it said.
"We believe that the self-employed and the MSME segment form the backbone of the Indian economy.
There are over two crore merchants in the country with approximately $780 billion in value of transactions in 2020.
8) Answer: C
Union Transport Minister Nitin Gadkari inaugurated a mobile Covid RT-PCR test laboratory in Nagpur.
Operated by Spice Health and Nagpur Municipal Corporation, this lab has capacity to test 3 thousand samples per day and can give reports within 24 hours.
He said that this facility will enable patients to diagnose the disease early.
The Minister, while expecting to lower the time interval for obtaining the test report, said that the lab should work to get the report within 12 hours.
Since this report will be available on mobile, there is no need to come in person here.
Apart from Nagpur city, COVID samples from districts like Bhandara, Chandrapur and Gadchiroli in East Vidarbha will also be tested in this laboratory.
In view of the shortage of oxygen in hospitals of Nagpur city, Gadkari informed that 200 Ventilators have arrived and soon 500 oxygen concentrators will also be provided, all of which will be distributed in rural Vidarbha.
He expected that this move would ensure uninterrupted supply of medical oxygen in Nagpur.
The lab will test samples at a cost of Rs 425.
A team of medical technicians is working in this mobile lab.
The lab is available in the service of Nagpur's citizens from itself.
9) Answer: D
Government has said that the procurement of Wheat in Rabi Marketing Season 2021-22 is going on smoothly in States and Union Territories.
The Consumer Affairs Ministry said, over 258 lakh tonnes of Wheat has been procured in the ongoing Rabi Marketing Season, benefitting over 25 lakh farmers.
The procurement of Wheat has recently commenced in Rabi Marketing Season in the States of Punjab, Haryana, Uttar Pradesh, MadhyaPradesh, Rajasthan, Uttarakhand, Chandigarh, Himachal Pradesh, Delhi, Gujaratand Jammu and Kashmir at Minimum Support Price.
The Ministry said that Paddy procurement in the ongoing season Kharif 2020-21 is continuing smoothly in the procuring States with purchase of over 715 lakh tonnes of paddy against the last year corresponding purchase of 651 lakh tonnes.
The Ministry said, more than one crore seven lakh farmers have already been benefited from the ongoing Kharif Marketing Season procurement Operations with MSP value of more than one lakh 35 thousand crore rupees.
10) Answer: B
Insurance regulator IRDAI has directed insurers to approve Covid-related cashless claims within 60 minutes of receiving appropriate documents from the claimant.
IRDAI announced the new rules after the Delhi High Court directed it to inform insurers to hasten the process of cashless claims so that hospital beds can be freed quickly for new patients.
IRDAI also said that the decision on authorization for cashless treatment for COVID-19 claims shall be communicated to the hospital within a period of 60 minutes from the time of receipt of authorization request.
Decision on the final discharge of patients covered in COVID-19 claims shall be communicated to the network provider within a period of one hour from the time of receipt of the final bill along with all necessary requirements from the hospital.
It was earlier reported that network hospitals are turning back Covid patients with cashless insurance.
11) Answer: D
The country's top two-wheeler maker Hero MotoCorp said it has launched a virtual showroom feature to help customers buy its motorcycles and scooters through a seamless digital experience amid rising in COVID-19 cases in the country.
The virtual showroom would enable customers to discover, engage and purchase the company's motorcycles and scooters digitally, Hero MotoCorp said in a statement.
Providing a 360-degree view of the space and the product, the feature allows customers to easily browse and explore the design, features, and technical details of each model right from the comfort of their homes, it added.
12) Answer: C
Vedanta said its Chairman Anil Agarwal has pledged Rs 150 crore to help India in its fight against deadly COVID-19 second wave.
The amount is over and above Rs 201 crore that was spent by Vedanta Group in 2020, it said in a statement.
"Anil Agarwal has pledged Rs 150 crore to help the country in its fight against the rapidly spreading second wave of COVID-19," Vedanta said.
The company will create additional capacity of 1,000 critical care beds in 10 cities across the country in an effort to support the Centre and states in this challenging time.
The critical care beds will be placed in state-of-the-art 'field hospitals' which will be attached to recognized and reputed hospitals.
Each facility will have 100 beds in an air-conditioned tent with full electrical support and designed specifically for COVID care.
13) Answer: E
Maharashtra government has asked everyone to celebration Maharashtra Day in a simple manner on May 1.
Various restrictions have been imposed in the state under the break the chain guidelines and it will continue till 7 am on 1st May.
Due to which, flag hoisting function will only be carried out at the office of district collectors in district headquarters.
State government has asked that only the Parent Minister of district, Divisional Commissioner, District Collector, Police Commissioner, ZP's CEO, Municipal Commissioner should attend the functions and no other guests should be invited.
State has clarified that any kind of cultural or social programmes should not be organised at any place.
It has also urged everyone to follow covid guidelines during the function.
14) Answer: C
A special resolution to appoint Samit Ghosh as chief executive officer of Ujjivan Financial Services Ltd. was defeated as it didn't get the requisite share of votes.
Ghosh, founder of Ujjivan, is currently non-executive chairman.
According to details available on the stock exchange, the proposal for appointment Ghosh only received 70.5% votes in favour.
Since this was a special resolution, it needs 75% votes in favour to be passed.
75% of votes from the public non-institutional category were against the resolution.13.87% of votes from the public institution category were also against the resolution.
A special resolution to reappoint Abhijit Sen as independent director for a period of five years was also defeated with 30% shareholders rejecting the proposal.
The major shareholders of Ujjivan Financial Services included Aberdeen Standard Investments, NewQuest Asia Investments, International Finance Corporation, among others.
The public non-institutional investor category includes high net worth investors.
Ghosh is the founder of Ujjivan Financial Services, which started operations as a non-bank microfinance lender in 2005.
In 2017, it launched Ujjivan Small Finance Bank after getting a licence from the RBI.
Subsequently, the lending business was transferred to the bank and Ujjivan Financial Services is now a holding company.
15) Answer: D
Vikram Solar said it has appointed Milind Kulkarni as its Chief Technical officer (CTO).
Kulkarni's role will be critical in product and technology development and manufacturing as well as design and process development, while supporting the company's expansion and achieving technological breakthroughs, it said in a statement.
With a PhD in chemical engineering and a master's degree in business administration from Washington University in St. Louis, he has a diverse experience spanning 24 years in the fields of technology development and deployment, product development, application engineering and pre-sales.
He has rich experience in the renewables sector and is also experienced in various leadership roles across semiconductor technology and solar energy, it added.
16) Answer: B
Rahul Bajaj, one of the most successful business leaders in the country, has finally decided to hang his boots at Bajaj Auto, the company he nurtured and steered to one of the leading firms in two and three-wheeler space.
The non-executive chairman of the Pune-based two and three-wheeler maker has tendered his resignation which would come into effect from close of business hours on April 30, 2021, Bajaj Auto said in a regulatory filing.
In place of Rahul Bajaj, the company has appointed Niraj Bajaj as Chairman with effect from May 1, 2021, it added.
Rahul Bajaj would continue as Chairman Emeritus of the company for a term of five years with effect from May 1, 2021.
As a non-executive Chairman of the company, he has been at the helm of the company since 1972 and the group for five decades.
17) Answer: E
Airtel Africa named Olusegun (Segun) Ogunsanya, MD and CEO of Nigeria as the successor of Raghunath Mandava, as the new Managing Director and Chief Executive Officer for Africa business,, following Mandava's announcement to retire.
Segun Ogunsanya will join the Board of Airtel Africa with effect from October 1, 2021, the Sunil Mittal-driven telco in a statement said.
Additionally, the telecom operator has appointed Chief Financial Officer Jaideep Paul as an Executive Director who would join the Board of Directors with effect from June 1, 2021.
Airtel shares were 0.15% down at Rs 543.50 on BSE.
18) Answer: C
International Jazz Day is an International Day declared by the United Nations Educational, Scientific and Cultural Organization in 2011 "to highlight jazz and its diplomatic role of uniting people in all corners of the globe."
The International Jazz Day is celebrated on 30 April every year to highlight the importance of jazz and its diplomatic role of uniting people in all corners of the globe.
This Day was declared by the United Nations Educational, Scientific and Cultural Organisation (UNESCO) in 2011.
The 2021 celebration marks 10th Anniversary of International Jazz Day.
The day was created on the idea of jazz pianist and UNESCO Goodwill Ambassador Herbie Hancock.
19) Answer: D
On April 28, 2021, National Telecommunications Institute for Policy Research, Innovation and Training (NTIPRIT), the apex training institute of Department of Telecommunications, Government of India conducted a webinar.
The topic of the webinar is"NavlC Opportunities for the Telecom Industry" in collaboration with ISRO and Telecom Industry.
20) Answer: E
On April 27, 2021, China launched NEO-01 into low earth orbit.
The NEO-01, which looks into deep space and observes small celestial bodies, was launched by the government's Long March 6 rocket with a small number of satellites.
It is a 30kg robot developed by Shenzhen-based Origin Space will pave the way for future technologies capable of mining asteroids.
NEO-01 will use a large net to capture debris left behind by other spacecraft and then burn it using its electric propulsion system.
China was stepping up efforts to land a probe on a near-Earth asteroid to collect samples, and also expediting a plan to build a defence system against near-Earth asteroids.
Beijing has grand space ambitions, aiming to catch up with Russia and the United States and transform China into a major space power by 2030.
21) Answer: B
Microsoft and the United Kingdom's Meteorological Office have decided to team up to build the most powerful supercomputer in the world to forecast weather and climate change.
The supercomputer, which is most likely to be operational in 2022.
It will also help in protection from the impact of increasingly extreme floods, storms, and snow in the UK.
The UK Government, in February 2020, announced the funding of about 1.2 billion pounds (Rs. 12,400 crores) for developing this supercomputer, which has been expected to be one of the top 25 supercomputers in the world.
The Met Office will provide the highest quality weather and climate datasets as well as more accurate forecasts that will enable the decisions to allow people to stay safe.
This will be a unique opportunity that will help in keeping not just the Met office but the UK at the forefront of high-performance computing and environmental modeling.
22) Answer: C
On April 25, 2021, Indian Archery newly-wedded couple Atanu Das and Deepika Kumari  won individual gold medals at the ongoing Archery World Cup Stage 1 in Guatemala.
Atanu Das outclassed Spanish World Cup debutant Daniel Castro 6-4 to claim his maiden individual World Cup medal.
Deepika defeated Mackenzie Brown of the USA 6-5, via the tie breaker, in the gold medal matches.
Atanu has also won the mixed category with Ankita.
India produced its best-ever performance in the Archery World Cup with 3 gold and 1 bronze medal.