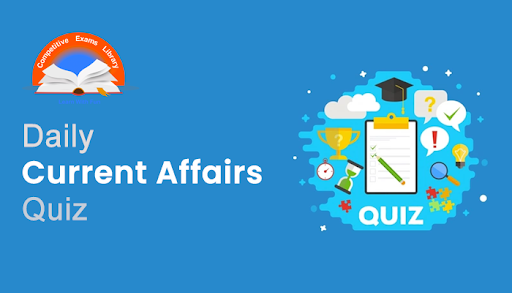 Dear Readers, Daily Current Affairs Questions Quiz for SBI, IBPS, RBI, RRB, SSC Exam 2021 of 30th January 2021. Daily GK quiz online for bank & competitive exam. Here we have given the Daily Current Affairs Quiz based on the previous days Daily Current Affairs updates. Candidates preparing for IBPS, SBI, RBI, RRB, SSC Exam 2021 & other competitive exams can make use of these Current Affairs Quiz.
1) Cabinet has approved the MSP of copra at ________ per quintal for 2021 season.
A) Rs 8,335
B) Rs 9,335
C) Rs 10,335
D) Rs 11,000
E) Rs 12,335
2) What is the theme of the Economic Survey 2020-2021?
A) Covid & Livelihood
B) Saving Lives During Pandemic
C) Covid Response
D) VShaped Recovery
E) Recovery From Covid
3) The National Marine Turtle Action Plan has been launched recently by which of the following ministry?
A) Ministry of Earth Sciences
B) Ministry of Education
C) Ministry of Agriculture and Farmers Welfare
D) Ministry of Commerce and Industry
E) Ministry of Environment Forest and Climate Change
4) The government of which state will soon establish India's first leather park?
A) Kerala
B) Punjab
C) Chhattisgarh
D) Uttar Pradesh
E) Haryana
5) What is India's rank on the corruption perception index 2020?
A) 65th
B) 86th
C) 80th
D) 78th
E) 76th
6) Which state government has put the pension payments on auto-pilot which is a first of its kind initiative in the country?
A) Chhattisgarh
B) Punjab
C) Karnataka
D) Kerala
E) Haryana
7) Reliance Jio has been ranked _____ strongest brand globally.
A) 3rd
B) 4th
C) 7th
D) 6th
E) 5th
8) What is India's rank on the recently released Covid-19 Response Index?
A) 81
B) 82
C) 83
D) 86
E) 85
9) Cloris Leachman who passed away At 94 was an eminent _____,
A) Writer
B) Actor
C) Singer
D) Director
E) Producer
10) ICC has introduced which category of awards to recognise best performances of cricketers?
A) Best ICC Player of the Week
B) Best ICC Player of the Month
C) ICC Player of the Month
D) ICC Player of the Week
E) ICC Player of the Quarter
11) Cabinet has approved the appointment of SwaminathanJanakiraman and Ashwini Kumar Tewari as MDs at which bank?
A) HDFC
B) ICICI
C) Bandhan
D) SBI
E) Axis
12) Who among the following has been appointed as the new vice-chief of Army Staff?
A) Lt. General RakeshVerma
B) Lt. General Chandi Prasad Mohanty
C) Lt. General Anand Sharma
D) Lt. General Rajesh Gupta
E) Lt. General Narendra Singh
13) Which of the following insurance provider has launched the 'KrishiSakha' App for farmers?
A) Nippon
B) Religare
C) Bharti AXA
D) Aviva
E) Max
14) The AFC Women's Asia Cup will be held in which year in India?
A) 2026
B) 2024
C) 2025
D) 2023
E) 2022
Answers :
1) Answer: C
Cabinet Committee on Economic Affairs has approved Minimum Support Price (MSP) of copra at Rs 10,335 per quintal for 2021 season which is an increase of Rs 375 over 2020 rates.
The approval is based on recommendations of the CACP.
Briefing the media in Delhi, Union Minister PrakashJavadekar said this will benefit millions of farmers engaged in copra farming and impact the farmers of 12 coastal states.
The MSP for ball copra has increased by Rs.300, to Rs. 10,600 per quintal for the 2021 season from 10,300 per quintal in 2020.
2) Answer: D
Union finance minister NirmalaSitharaman presented the Economic Survey, that details the state of the economy ahead of the government's budget for the fiscal year beginning April 1, 2021.
The Economic Survey 2020-2021, authored by a team led by chief economic adviser (CEA) Krishnamurthy V Subramanian, focused on the state of different sectors of the economy, the effect of the coronavirus pandemic as well as reforms that need to be taken.
The survey expects the Indian economy to grow by 11 per cent during 2021-22 which is close to the growth forecast of 11.5 per cent made by the International Monetary Fund (IMF).
This means that the Indian GDP in 2021-22 is expected to be at Rs.149.2 lakh crore.
The Theme of Economic Survey 2020-21 :
#SavingLives&Livelihoods
#VshapedRecovery
3) Answer: E
A conservation paradigm for marine mega fauna and marine turtles, the Ministry of Environment Forest and Climate Change (MoEF&CC) has released 'Marine MegaFauna Stranding Guidelines' and 'National Marine Turtle Action Plan' in New Delhi.
The documents launched contain ways and means  to not only promote inter-sectoral action for conservation but also guide improved coordination amongst the government, civil society and all relevant stakeholders on the response to cases of stranding, entanglement, injury or mortality of marine mammals and also conservation of marine turtles.
These two documents highlight actions to be taken for handling stranded animals on shore, stranded or entangled animals in the sea or on a boat, management actions for improved coordination, reducing threats to marine species and their habitats, rehabilitation of degraded habitats, enhancing people's participation, advance scientific research and exchange of information on marine mammals and marine turtles and their habitats.
4) Answer: D
Uttar Pradesh government will establish the first leather park of the country in Kanpur district.
The park is expected to provide employment to 50 thousand people directly and more than 1 lakh 50 thousand people indirectly.
The project will be established in 268 areas of land in Ramaipur village of Kanpur district and is expected to attract an investment of more than 5850 crores.
The leather park will also have an effluent treatment plant of 20 million litre per day capacity so that it will not pollute the Ganga river.
The establishment of leather park Kanpur City will be able to strengthen its position among the 10 big leather manufacturing states of the country.
The leather park will have all the facilities for production as well as exhibition of leather products.
It will also have  fooding and lodging arrangements for the  investors who will come here from all over the world.
5) Answer: B
India's rank has slipped six places to 86th among 180 countries in corruption perception index (CPI) in 2020.
For 2020, Transparency International (TI)'s Corruption Perception Index (CPI) was released.
The index, which ranks 180 countries and territories by their perceived levels of public sector corruption according to experts and business people, uses a scale of 0 to 100, where 0 is highly corrupt and 100 is very clean.
India's rank is 86 out of 180 nations with a score of 40.
This year, New Zealand and Denmark rank at first position with scores of 88. Somalia and South Sudan rank lowest at 179th position with scores of 12.
India is sharing its position jointly with Burkina Faso, Morocco, East Timor, Trinidad and Tobago and Turkey.
6) Answer: C
The Karnataka government launched a first-of-its-kind initiative in the country to automatically select beneficiaries for old-age pensions that will be paid through the direct benefit transfer (DBT) mode.
This model was piloted in Udupi and Ballari districts where officials enrolled beneficiaries for old-age pensions using the 'Navodaya' app.
All persons above 60 years will be automatically selected as beneficiaries of old-age pension based on their annual income.
The government will make use of the Aadhaar and income certificates database in selecting beneficiaries.
Purpose : To enable beneficiaries to get the pension without the need of middlemen.
7) Answer: E
Billionaire MukeshAmbani's four-year-old telecom venture Reliance Jio has been ranked the fifth strongest brand globally behind the likes of Ferrari and Coca-Cola.
Jio was MukeshAmbani's re-entry into the telecom business, offering free voice calling and dirt cheap data for mobile phones.
As per the ranking, Reliance Jio has emerged as the 5th strongest brand in the world.
The Brand Finance's Global 500 ranking of the strongest brands globally, which determined the relative strength of brands, is topped by WeChat, according to its annual report on most valuable and strongest global brands.
Entering the ranking for the first time this year and claiming the title of the world's 5th strongest brand, is Indian telecom giant, Jio, with a BSI score of 91.7 out of 100.
8) Answer: D
India has ranked at 86th position among 98 countries in the new Coronavirus Performance Index.
It was Released by Australia-based Lowy Institute.
According to the performance index New Zealand handled the pandemic more effectively than any other country in the world, while Brazil sits at the bottom of the list.
The study measured a number of key indicators, including confirmed cases, deaths, cases per million people and deaths per million people.
Countries were ranked based on the publicly available and comparable data on Covid-19 response. China was excluded from the list due to lack of publicly available data.
China was not included in the study because all of its testing rates are not publicly available.
9) Answer: B
Academy Award winner ClorisLeachman, one of the most decorated actors in television history, best known for playing nosy neighbor Phyllis on "The Mary Tyler Moore Show," died. She was 94.
Leachman won eight Emmy Awards in her storied television career, tied with Julia Louis-Dreyfus for the most individual acting awards in Emmys history.
Leachman, who was inducted into the Academy of Television Arts & Sciences' Hall of Fame in 2011, won the award for best supporting actress in a comedy series in 1974 and 1975 for her work as Moore's snobbish neighbor, Phyllis Lindstrom.
The show and the character were so popular that Leachman was spun off into her own show, "Phyllis."
10) Answer: C
The International Cricket Council (ICC) on January 27, 2021 announced the 'ICC Player of the Month' awards to recognise the best performances of male and female cricketers across all three forms of international cricket.
The ICC elaborated further by saying that an independent ICC Voting Academy comprising former players, journalists and broadcasters from around the world will team up with fans to vote for the ICC Men's and Women's Player of the Month.
The awards will be conferred starting from this month onwards.
ICC stated that there have been some sensational cricketing performances during January 2021, which will make an inaugural player of the month awards a highly competitive affair.
January 2021 has seen some of the finest performances, especially by young cricketers such as Washington Sundar (India), Rishabh Pant (India), Mohammed Siraj (India) and T. Natarajan (India) and established players including Steve Smith (Australia), Joe Root(England), RavichandranAshwin (India), Nadine de Klerk (South Africa), MarizanneKapp (South Africa) and Nida Dar (Pakistan).
11) Answer: D
The Appointments Committee of the Cabinet (ACC) has approved the appointment of SwaminathanJanakiraman as Managing Director of State Bank of India, the country's largest commercial bank.
Janakiraman, who is currently Deputy Managing Director, has been appointed as MD for three years.
ACC has also approved the appointment of Ashwini Kumar Tewari, Deputy Managing Director, as Managing Director of SBI for three years.
In October, 2020, the Banks Board Bureau (BBB) recommended the names for the two posts of managing director at the State Bank of India.
The bureau interviewed 16 candidates from SBI and nationalised banks for the two positions.
The country's largest bank SBI is headed by a chairman with four managing directors to assist.
12) Answer: B
Lieutenant General Chandi Prasad Mohanty on February 1, 2021, will take over as the next vice-chief of Army Staff.
Currently, he is the Southern Army Commander and will be succeeding Lt General SK Saini.
Lt General CP Mohanty is an alumnus of Rashtriya Indian Military College, Dehradun, and National Defence Academy.
He is a June 1982 batch Infantry Officer from the Rajput Regiment.
Lieutenant General Mohanty has served across a wide spectrum of terrain and conflicts, along the fronts with both Pakistan and China.
He has also been a part of the counter-terror operations in the Northeast and Jammu and Kashmir.
13) Answer: C
Bharti AXA General Insurance has launched its new app 'KrishiSakha' to cater to the specific needs of the farmers in the country and guide them in adopting best farming practices and enhancing productivity.
About the 'KrishiSakha' :
Bharti AXA 'KrishiSakha' aims at helping Indian farmers make informed decisions through customized information related to their farming requirements. It shares relevant information about the scientific way of farming, crop cultivation, sowing, or harvesting of major crops.
The app is a one-stop shop for all crop insurance-related requirements and offers the farmers a variety of innovative and tailored solutions along with curated crop advisories by experts to help them protect their invaluable crops and increase the overall farming productivity.
It guides the farmers about weather forecasting, market and crop prices and government schemes related to insurance and agriculture.
14) Answer: E
2022 AFC Women's Asian Cup, set to be held in India, has been confirmed by the continental governing body.
The marquee women's football event will start on January 20, 2022, and will finish on February 6, 2022.
The tournament has also been expanded to feature 12 of the best teams on the continent. It must be noted that the previous edition of the Women's Asian Cup, which was held in Jordan, had featured only eight teams.
The 12 teams will be divided into three groups of four and eight teams will qualify to the quarter-finals, including two third-placed teams.
A total of 25 matches will be played across 18 days during the tournament.
The 2022 Women's Asian Cup will also serve as a qualification tournament for the 2023 Women's World Cup which will be held in Australia (affiliated to the AFC) and New Zealand (affiliated to the OFC).
The best four teams from the 2022 Women's Asian Cup, along with Australia, will take part in the 2023 Women's World Cup.