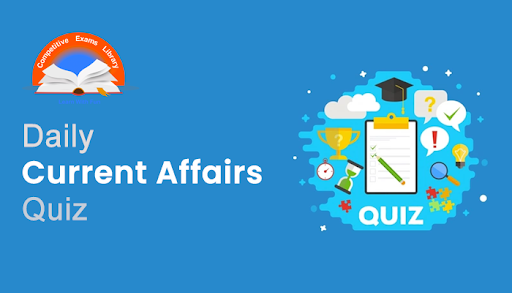 Dear Readers, Daily Current Affairs Questions Quiz for SBI, IBPS, RBI, RRB, SSC Exam 2021 of Feb 28th & 01st Mar 2021. Daily GK quiz online for bank & competitive exam. Here we have given the Daily Current Affairs Quiz based on the previous days Daily Current Affairs updates. Candidates preparing for IBPS, SBI, RBI, RRB, SSC Exam 2021 & other competitive exams can make use of these Current Affairs Quiz.
1) World NGO Day is observed on which date?
A) February 1
B) February 3
C) February 27
D) February 4
E) February 21
2) The bridge on which river will be the world's highest rail bridge taller than Eiffel Tower, and will be completed by the end of 2021?
A) Yamuna
B) Ganga
C) Sutlej
D) Chenab
E) Ravi
3) Rare Disease Day is observed on which of the following date?
A) February 11
B) February 3
C) February 4
D) February 17
E) February 28
4) National Science Day is observed On which of the following date?
A) February 11
B) February 13
C) February 15
D) February 28
E) February 18
5) India recently observed its _____Protein Day on February 27, 2021.
A) 6th
B) 5th
C) 2nd
D) 3rd
E) 4th
6) NPCI enables UPI AutoPay live on which of the following streaming platform app?
A) Wynk
B) Gaana
C) Paytm
D) Spotify
E) Hungama
7) New guidelines for social media intermediaries have been released by who among the following?
A) Prahlad Patel
B) NS Tomar
C) Narendra Modi
D) Prakash Javadekar
E) Amit Shah
8) DGCA offers flight operators to give concessions in ticket prices to travellers who carry no baggage. At present, a traveller can carry up to _____ kilograms of cabin baggage.
A) 9
B) 4
C) 8
D) 7
E) 10
9) SarasAajeevika Mela has recently opened at Noida Haat by who among the following?
A) Nitin Gadkari
B) Prahlad Patel
C) NS Tomar
D) Narendra Modi
E) Amit Shah
10) Indian company Omega Seiki to set up an electric vehicle plant in which country?
A) Netherlands
B) Bangladesh
C) France
D) Germany
E) Japan
11) The Attukalpongala festival is being celebrated in which state?
A) Madhya Pradesh
B) Gujarat
C) Punjab
D) Haryana
E) Kerala
12) Odisha CM Naveen Patnaik has launched ____ online services of WCD, Mission Shakti Department.
A) 4
B) 8
C) 5
D) 6
E) 7
13) SIDBI has joined hands with the government of which state for Development of MSME ecosystem?
A) Chhattisgarh
B) Punjab
C) Haryana
D) Andhra Pradesh
E) Madhya Pradesh
14) Union Health Minister has laid the foundation stone of Mon Medical College in which state?
A) Rajasthan
B) Nagaland
C) Bihar
D) Punjab
E) Haryana
15) The government of which state has launched its Budget mobile app?
A) Punjab
B) Madhya Pradesh
C) Haryana
D) Bihar
E) Gujarat
16) Indian economy will contract by ____ per cent in 2020-21 as per NSO.
A) 9
B) 7.5
C) 8
D) 8.5
E) 7
17) E-Daakhil portal for consumer grievance redressal has now been made operational in ____ states and UTs.
A) 16
B) 11
C) 12
D) 15
E) 13
18) IRDAI has issued guidelines for standard personal accident cover to come into effect from which date?
A) 1 June, 2021
B) 1 March, 2021
C) 1 April, 2021
D) 1 January, 2021
E) 1 February, 2021
19) HDFC Bank and Kotak Mahindra Bank will pick up 9.99% stake each in which of the following company?
A) Airtel Digital
B) Ferbine
C) NUE
D) Business Line
E) Inc 42
20) Who has been Appointed as the President & CTO At AU Small Finance Bank?
A) Neeraj Sanketi
B) Aditya Saklani
C) Sharad Goklani
D) Anand Raj
E) Suresh Gupta
21) Who among the following has announced Retirement From All Forms Of Cricket?
A) Suresh Raina
B) Tanmay Srivastava
C) Wasim Jaffer
D) Yusuf Pathan
E) Parthiv Patel
22) Which of the following bank has joined JPMorgan's blockchain-based payment network?
A) UCO
B) Axis
C) Bandhan
D) ICICI
E) SBI
23) Who among the following has attended the virtual G20 Finance Ministers and Central Bank Governors Meeting?
A) Anurag Thakur
B) Prahlad Patel
C) Nirmala Sitharaman
D) Amit Shah
E) ShaktiKanta Das
24) Michael Somare who passed away at 84 was the first Prime minister of which country?
A) Fiji
B) Papua New Guinea
C) Guinea
D) Timor Leste
E) Palau
25) Vishnunarayanan Namboothiri who passed away recently was an eminent _____.
A) Actor
B) Director
C) Poet
D) Cricketer
E) Musician
26) Vinay Kumar who announced his retirement recently was a famous______.
A) Actor
B) Producer
C) Director
D) Musician
E) Cricketer
Answers: 
1) Answer: C
World NGO Day is commemorated on 27th February every year across the world.
This commemoration is specifically important to boost the social work that has been organised by every country and to honour the activists and social workers who are diligently working for the betterment of the society.
The celebration was embarked in the UN in 2014, but after then World NGO Day was officially recognised and declared by the 12 member countries of the IX Baltic Sea NGO Forum of the Council of the Baltic Sea States in 2010.
World NGO Day gives an opportunity for these people to take time and make an effort by attributing the best they can provide within a given period of time.
World NGO Day was established by MārcisLiorsSkadmanis as an effort to recognise, appreciate and celebrate the great contributions that NGOs have made and the impact they have on the entire world.
2) Answer: D
Chenab bridge, the world's tallest railway bridge over Chenab River in Kouri area, will achieve another engineering milestone.
The Konkan Railway Corporation Limited (KRCL) is building the Chenab bridge over a challenging 111 km-stretch under the Udhampur-Srinagar-Baramulla Rail Link (USBRL) project.
It will connect the Valley with the rest of the country through railways.
The Chenab bridge is being constructed 359 metres above Chenab's river bed and will be 35 metres taller than the Eiffel Tower (which has a height of 324 metre).
The length of the Chenab bridge will be 1,315 metres with 17 spans, of which the span of the main arch across Chenab river will be 467 metres. The viaduct portion comprises a straight and curved portion. The curvilinear portion is located on a 2.74-degree sharp curve.
3) Answer: E
Rare Disease Day is held on the last day of February every year to raise awareness of rare diseases.
Rare Disease Day was first launched by EURORDIS and its Council of National Alliances in 2008.
The main objective of Rare Disease Day is to raise awareness amongst the general public and decision-makers about rare diseases and their impact on patients' lives.
About Rare Disease :
A rare disease, also referred to as an orphan disease, is any disorder that affects a small percentage of the population. Although the disease may be rare, patients and families share a common struggle.
Rare diseases currently affect 3.5% – 5.9% of the worldwide population.
72% of rare diseases are genetic whilst others are the result of infections (bacterial or viral), allergies and environmental causes, or are degenerative and proliferative.
4) Answer: D
Every year, National Science Day is celebrated on February 28, to mark the discovery of the Raman effect by Indian physicist Sir CV Raman, back in 1928
The theme for this year's National Science Day celebration is "Future of STI: Impacts on Education, Skills and Work".
The day is aimed at spreading the message of the importance of science and its application in human life.
On this day, Physicist  CV Raman announced the discovery of the 'Raman Effect' for which he was awarded the Nobel Prize in 1930.
History of National Science Day
In 1986, the National Council for Science and Technology Communication (NCSTC) asked the Government of India to designate February 28 as National Science Day.
The event is now celebrated all over India across schools, colleges, universities and other academic, scientific, technical, medical and research institutions.
5) Answer: C
India observes Second Protein Day on February 27, 2021.
Protein Day is an annual awareness day observed on February 27th, that aims to rally towards the mission of protein awareness and sufficiency in India.
Theme for 2021:  Powering with Plant Protein.
This year's theme shines the spotlight on plant-based sources of protein and encourages Indian citizens at large to learn and know more about different types of sources available and their importance in daily meals for better nutrition and health.
2021 marks the second year for this nutritional awareness milestone in India by 'Right to Protein'.
6) Answer: B
National Payments Corporation of India (NPCI) has announced that UPI AutoPay has now gone live on Gaana.
Its integration with UPI AutoPay has made Gaana the first player in the Media and Entertainment industry to roll out the innovative e-mandate feature on UPI.
The introduction of UPI AutoPay will empower Gaana's users to experience a smooth and seamless mechanism of renewing their subscriptions.
Customers can enjoy premium, uninterrupted streaming of their choicest music, podcasts and radio without having to remember about the subscription renewal date.
The strategic role played by Paytm and Juspay as payment aggregators will create a superior transaction experience for the customers.
Based on the mandate, the subscription amount will be deducted automatically on the authorized date without entering UPI PIN.
7) Answer: D
Information & Broadcasting Minister Prakash Javadekar has said that the new guidelines for social media intermediaries, OTT platforms and Digital Media will bring uniformity among all in the field of media.
The Intermediary Guidelines and Digital Media Ethics code notified by the government, Mr. Javadekar said this will empower the users and will for the first time ensure grievance redressal mechanism for them.
The Minister asserted that the new guidelines which have been welcomed by the world community is based on the principle of responsible freedom.
The government had notified the new guidelines based on the principle of soft-touch self-regulation mechanism for Digital Media, Social Media Intermediaries and OTT platforms in the country.
8) Answer: D
Directorate General of Civil Aviation, DGCA has allowed domestic flight operators to give concessions in ticket prices to travellers who carry no baggage or only cabin baggage.
At present, a traveller can carry up to 7 kilograms of cabin baggage and 15 kilograms of check-in baggage without having to pay any additional cost.
The new rule will allow airline operators to provide tickets at lesser prices to those who opt to travel with no baggage or only with cabin baggage within the permissible weight limit.
As part of the new airline baggage policy, scheduled airlines will be allowed to offer free baggage allowance as well as zero baggage or no check in baggage fares.
The airlines will however have to prominently display the additional charges applicable in case
the passenger turns up with extra baggage.
9) Answer: C
Agriculture and Farmers Welfare Minister Narendra Singh Tomar inaugurated SarasAajeevika Mela 2021 at Noida Haat.
Minister of State for Agriculture and Farmers Welfare, Kailash Choudhary was also present on the occasion.
MrTomar said that the Ministry of Rural Development is working to include more women in Self Help Groups (SHGs).
He said these SHGs played a vital role in increasing family income and improving quality of life.
Prime Minister's call for self-reliant India, the minister said Atmanirbharta can't be achieved only by Government's schemes and efforts.
He urged the empowered SHGs to come forward and help other SHGs to become Atmanirbhar.
The SarasAajeevika Mela 2021 is being organized from 26th February to 14th March 2021 by the Ministry of Rural Development.
More than 300 rural self-help groups and craftsmen from 27 states are participating in the Mela.
10) Answer: B
An Indian company Omega Seiki will set up an electric vehicle plant in Bangladesh.
The manufacturing unit will be set up near Dhaka with an investment of Rs. 100 crore.
It is the first project of any Indian company producing Electrical vehicles in the international market.
The project will be a modern greenfield facility and will focus on manufacturing two-wheelers, three-wheelers, and electric bicycles.
The Chairman of the Omega Seiki mobility Uday Narang said that Bangladesh does not have a policy on Electrical Vehicles as yet but it may change fast.
According to a press release issued by the Omega Seiki, the company will focus on coming out with best in class vehicles and quality service experience for the buyers.
11) Answer: E
In Kerala, amid the Covid-19 pandemic the devotees will take part in the Attukalpongala from their homes.
Pongala is the annual ritual of the AttukalBhagavathy Temple in Thiruvananthapuram and holds the Guinness world record as the largest gathering of women.
Every year nearly 20 lakh devotees take part in the festival.
However, this time the authorities have decided to scale down the festival rituals by confining the ritual to the temple premises.
The devotees have been asked to offer the ritual at their homes to avoid crowding.
Pongala offerings at public places have been banned.
12) Answer: C
Odisha Chief Minister Naveen Patnaik launched 5 online services of the Women and Child Development Department and Mission Shakti.
The initiatives launched are 'Mo-Chhatua App' for streamlining supply chain management of Take Home Ration (Chhatua)
e-Kalika, an application for monitoring crèches for children under three;
'Mo Sishu portal', a comprehensive web based information management and monitoring system exclusively for child protection services;
'MAMATA App & MIS', making the flagship conditional cash transfer benefit scheme for pregnant women hassle free, paperless and citizen centric.
The 'e-manadeya' portal launched is for seamless, paperless transfer of honorarium to 1, 34,758 AWWs, mini anganwadi workers and helpers.
On this occasion WCD Department also entered into technical collaboration with CFTRI (Central Food Technological Research Institute) for improving the quality of THR (Take Home Ration) including testing of samples of THR and hot cooked meals, mentoring THR producing women self help groups and capacity building of ICDS functionaries and women SHG.
Also an understanding has been entered into with ICMR- RMRC (Indian Council of Medical Research – Regional Medical Research Centre) to conduct an annual nutrition survey.
The WCD & MS Department also entered into a technical collaboration with UNICEF on capacity building of the Odisha State Child Protection Society to strengthen the capacities of the statutory bodies, service delivery structures and caregivers under the State Child Protection Scheme and with the World Food Programme for technical support for fortification.
13) Answer: D
Small Industries Development Bank of India (SIDBI) has entered into a Memorandum of Understanding (MoU) with the Government of Andhra Pradesh to develop the MSME ecosystem in the State.
The MoU was signed by  J V N Subramanyam IAS,Director of Industries, Commerce and Export Promotion, Government of Andhra Pradeshand Sanjay Jain, General Manager, Regional Head, Small Industries Development Bank of India (SIDBI), Hyderabad, in the presence of Mekapati Goutham Reddy, Cabinet Minister of Industries, AP government.
Under the agreement, a Project Management Unit (PMU) will be deployed by SIDBI to design schemes/programmes in the areas of equity support, interest subvention, resolution of stressed MSMEs, and facilitate intervention based on evaluation of the existing status of MSMEs.
The PMU will study the existing framework of schemes currently available for MSMEs in the State and shall suggest modifications, if any, to enhance efficacy.
14) Answer: B
Union Health Minister Dr. Harsh Vardhan laid the foundation stone of Mon Medical College covering 30 acres of land at District Hospital Mon, Nagaland.
Dr.  Harsh Vardhan said Prime Minister Modi has always been committed to the people of Northeast region since the day he entered the Parliament.
He said PM Modi has a vision to ensure that a place like Mon situated in the extreme corner of the country should not be deprived of the various facilities and services.
15) Answer: E
In Gujarat, Deputy Chief Minister Nitin Patel launched 'Gujarat Budget' mobile application at Gandhinagar.
Briefing media at Gandhinagar, Mr Patel said the mobile app will have five different sections, comprising budgetary allocations for 27 departments, budget highlights, finance minister's speech, and important aspects of the budget and news coverage of it.
He added that since budget publications will be available online, the government will print only 20 percent of material, which would save 55 lakh pages.
The month-long budget session of the Gujarat Assembly would begin on March 1st and the budget for the financial year 2021-22 will be presented on March 3rd.
16) Answer: C
The growth in India's real GDP during 2020-21 is estimated at -8 percent as compared to the growth rate of 4.0 per cent in 2019-20.
The government had projected a GDP contraction of 7.7 per cent in its first advance estimate.
About National Statistical Commission :
The objective of its constitution is to reduce the problems faced by statistical agencies in the country in relation to collection of data.
17) Answer: D
The 'E-Daakhil' portal for consumer grievance redressal is now operational in 15 states and Union Territories (UTs).
The Consumer Protection Act, 2019, which came into force from July 20, 2020, has a provision for e-filing of consumer complaints in the consumer commissions and online payment of the fees for filing a complaint.
A web application for e-filing of consumer complaints named 'edaakhil.nic.in' has been developed by NIC for the purpose.
18) Answer: C
The Insurance Regulatory and Development Authority of India (IRDAI) has directed all general and health insurance companies to mandatorily offer a standard personal accident insurance policy by 1 April, 2021.
The policy will be named Saral Suraksha Bima, succeeded by the name of the insurance company. It will be offered with a tenure of one year.
As per the final guidelines issued by the Insurance Regulatory and Development Authority of India (IRDA), the minimum sum insured will be Rs.2.5 lakh and maximum sum insured Rs.1 crore.
19) Answer: B
Private lenders HDFC Bank and Kotak Mahindra Bank have initiated exchanges that they have invested in Ferbine Private Limited.
In its regulatory filing, HDFC Bank said that the bank has executed an agreement for subscribing to 4,995 equity shares of the face value of Rs. 10 each fully paid up issued by Ferbine Private Limited for a consideration of Rs. 10 per equity share.
HDFC Bank will hold about 9.99% stake in Ferbine.
Meanwhile, Kotak Bank said that the bank has agreed to subscribe to 4,995 Equity Shares in Ferbine Private Limited for a consideration of Rs. 49,950 translating into an equity shareholding of 9.99%. The deal was completed.
Ferbine has been incorporated to make an application to the Reserve Bank of India ('RBI') for setting up a pan-India Umbrella Entity ('PUE') for retail payments.
20) Answer: C
Sharad Goklani has been appointed as President & CTO at AU Small Finance Bank.
He joins from Equitas Small Finance Bank where he served as the EVP & CTO.
Earlier, he was associated with esteemed organizations like Bharti Airtel and NIIT among others.
Goklani completed his MCA and BSc from University of Rajasthan.
About AU Small Finance Bank :
AU was started 25 years ago by Sanjay Agarwal, a merit holder Chartered Accountant and a first-generation entrepreneur. As per the official website, it was founded in Jaipur in 1996 as Au Financiers, a non-deposit taking Non-Banking Finance Company (NBFC), it effectively worked on funding economic growth, especially for the under-served and un-served low & middle-class individuals.
Au Financiers converted into AU Small Finance Bank in April 2017 after receiving the license from RBI.
21) Answer: D
Yusuf Pathan, former India all-rounder, announced his retirement from all formats of cricket.
Yusuf, the older brother of another former India cricketer Irfan Pathan, is a two-time World Cup winner.
Yusuf has also won the Indian Premier League twice with Kolkata Knight Riders – in 2012, 2014 – and once with Rajasthan Royals in 2008.
Yusuf played 57 ODIs and 22 T20Is for India since making his international debut in 2007.
He was part of the Indian team that won the ICC T20 World Cup 2007 and ICC Cricket World Cup 2011.
Yusuf played 100 first-class matches, scoring 4825 runs and picking up 201 wickets. In List A cricket, the right-handed batsman accumulated 4797 runs and got 124 wickets from 199 matches.
22) Answer: E
State Bank of India has tied up with JPMorgan to use the US bank's blockchain technology to speed up overseas transactions.
The tie up is expected to reduce SBI customers' transaction costs and time taken for payments.
Time taken to resolve cross-border payments-related inquiries can be reduced to a few hours from up to a fortnight.
This will help cross-border payments reach beneficiaries faster and using limited steps.
With this, SBI has become the first bank in India to go live on the blockchain-based payment network of JPMorgan on implementation and exploring application as part of the network to better serve our clients
23) Answer: C
Union Finance and Corporate Affairs Minister Nirmala Sitharaman has participated virtually in the First G20 Finance Ministers and Central Bank Governors (FMCBG) meeting under the Italian Presidency to discuss policy actions for transformative and equitable recovery.
Purpose : to discuss policy actions for transformative and equitable recovery along with other issues on the agenda including global economic outlook, financial sector issues, financial inclusion and sustainable finance.
It must be noted that this meeting is follow-up for the upcoming 2021 G20 Summit, the sixteenth meeting of Group of Twenty, scheduled to take place in Rome, Italy, on 30–31 October 2021.
The Finance Minister also stressed the importance of transfer of green technologies and scaling up of climate finance.
24) Answer: B
Michael Somare, Papua New Guinea's first prime minister, who played a major role in leading the country to independence from Australia, died  in Port Moresby, the capital. He was 84.
Michael Somare was known as the "father of the nation" because he led the Pacific archipelago to independence from Australia in 1975.
Mr. Somare was Papua New Guinea's longest-serving prime minister, over three separate terms, for 17 of the country's 45 years of independence.
He held the office from 1975 to 1980; from 1982 to 1985; and from 2002 to 2011.
25) Answer: C
Renowned Malayalam poet, priest and academician Vishnu Narayanan Namboothiri died on. He was 81 years old.
He is a winner of prestigious literary awards like the Ezhuthachan Award, the highest literary award instituted by the Kerala government and the Vayalar Award (instituted in the name of the late poet and lyricist Vayalar Rama Varma), the poet was an eminent presence in the world of Malayalam literature for decades.
He was honoured with the Padma Shri in 2014.
He also won the Kerala Sahitya Akademi Award, Kendra Sahitya Akademi Fellowship, Vallathol Award, Odakkuzhal Award and the Mathrubhumi Literary Award, among others.
Some of his noted works are are 'Swaathandhryathe- KurichOruGeetham', 'Bhoomigeethangal', 'India Enna Vikaram', 'Aparaajitha', 'Aranyakam', 'Pranayageethangal' and 'UjjayiniyileRappakalukal', among others.
He was also a noted scholar of language and the Vedas, as well as an orator.
26) Answer: E
Pacer Vinay Kumar announced his retirement from all forms of cricket.
Davangere Express" after running for 25 years and passing so many stations of cricketing life, has finally arrived at a station called "retirement".
An intelligent pacer and a capable batsman, Vinay played one Test (against Australia in Perth in 2012), 31 ODIs and nine T20Is.
The 37-year-old last featured for India in the limited-overs leg of a home series against Australia in 2013.
Vinay was an outstanding performer in his 17-year domestic career.
He scalped 504 wickets in 139 first-class matches and is the highest wicket-taker among fast bowlers in Ranji Trophy history.
He also has 225 and 194 wickets in List A and T20 matches respectively. With the bat, he scored two centuries and 17 fifties in first-class matches.
Vinay made his Ranji Trophy debut for Karnataka in the 2004-05 season and quickly rose through the ranks to become their lead seamer.
The 2007-08 season marked his arrival as he finished as the second leading wicket-taker in the Ranji Trophy season – a performance that ensured a call-up to the IPL where he represented Royal Challengers Bangalore.
It soon got better as the 2009-10 Ranji Trophy season saw him take 46 wickets and lead his Karnataka side to the final.