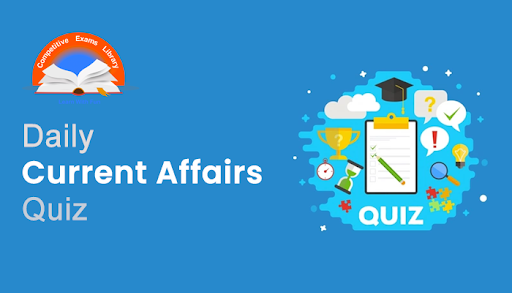 Dear Readers, Daily Current Affairs Questions Quiz for SBI, IBPS, RBI, RRB, SSC Exam 2021 of 05th March 2021. Daily GK quiz online for bank & competitive exam. Here we have given the Daily Current Affairs Quiz based on the previous days Daily Current Affairs updates. Candidates preparing for IBPS, SBI, RBI, RRB, SSC Exam 2021 & other competitive exams can make use of these Current Affairs Quiz.
1)  National Safety Day is observed on which of the following date?
A) March 11
B) March 3
C) March 4
D) March 14
E) March 5
2)  Who among the following held meetings with OTT industry representatives?
A) NS Tomar
B) Piyush Goyal
C) Nitin Gadkari
D) Prakash Javadekar
E) Harsh Vardhan
3)  Government has amended the Insurance Ombudsman Rules of ______.
A) 2011
B) 2012
C) 2015
D) 2013
E) 2017
4)  Indigenously designed and developed Spectrograph has recently been commissioned in which city?
A) Surat
B) Mathura
C) Nainital
D) Chandigarh
E) Delhi
5)  National Security Day is observed on which of the following date?
A) March 1
B) March 3
C) March 5
D) March 4
E) March 7
6)  Nag River Pollution Abatement Project approved at a cost of over ______ crores.
A) 2,445
B) 2,117
C) 2,050
D) 3,110
E) 3,115
7)  Which company has joined the World Economic Forum initiative to advance racial justice, social equality?
A) Dell
B) HCL
C) IBM
D) Wipro
E) Infosys
8) Which of the following has been Declared As International Year Of Millets As UN General Assembly?
A) 2025
B) 2024
C) 2021
D) 2022
E) 2023
9) Separate cell for the National Commission for Women has been commissioned in which state/UT?
A) Gujarat
B) Chandigarh
C) Ladakh
D) Punjab
E) Delhi
10)  Karnataka CM has admired which city for its model of citizen centric initiatives development?
A) Raipur
B) Bengaluru
C) Chandigarh
D) Pune
E) Surat
11) Who among the following has taken additional charge as CRPF DG?
A) Rakesh Khullar
B) Neeraj Srivastava
C) Rajesh Gupta
D) Kuldiep Singh
E) Anand Talwar
12) Which of the following mutual funds has launched its First Overseas Fund?
A) Yes
B) Bandhan
C) Axis
D) ICICI
E) SBI
13)  Which of the following Banks has launched a salary account of Indian army personnel?
A) Yes
B) Axis
C) Kotak Mahindra
D) ICICI
E) SBI
14) Bharat Petroleum Corporation Board approves sale of its ______ % stake in Numaligarh Refinery.
A) 40.55
B) 61.65
C) 51.55
D) 52.53
E) 26.55
15) India has bagged the highest ever FDIs of over _____ billion US dollars for first nine months of the current fiscal.
A) 61
B) 62
C) 67
D) 65
E) 60
16) How many cities participated in the Ease of Living Index-2020?
A) 115
B) 114
C) 113
D) 111
E) 112
17) Who has been appointed as Chairperson of AIBA's champions & veterans committee?
A) VK Yadav
B) Akhil Kumar
C) Umar Kremlev
D) Vijender Singh
E) Mary Kom
18)  Who has become the first cricketer to have 100 million followers on Instagram?
A) Rahul Dravid
B) Sachin Tendulkar
C) Virat Kohli
D) MS Dhoni
E) Hardik Pandya
19) Bihari Puraskar 2020 will be awarded to who among the following?
A) Rajat Gupta
B) MohankrishnaBohara
C) Anand Raj
D) Sudhir Kumar
E) Gopal Krishna
20) Which team has beaten ATK Mohun Bagan to Win 2020-21 ISL League Winners' Shield?
A) MPFc
B) ChandigarhFc
C) MumbaiFc
D) PuneFc
E) SuratFc
21) Indian shuttlers Varun, Malvika has won which of the following International titles?
A) Thailand
B) Vietnam
C) Kazakhstan
D) Uganda
E) Uzbekistan
Answers:
1) Answer: C
National Safety Day is observed on March 4 every year to commemorate the foundation of the National Safety Council.
Aim:
To raise awareness about safety measures that need to be undertaken to prevent accidents and mishaps.
The objective of the day is to renew the commitment of employees and the general public to work safely and ensure the integration of a safe and sound work culture and lifestyle.
This year's theme is 'Sadak Suraksha (Road Safety).'
National Safety Day was observed for the first time in 1972, on the foundation day of the National Safety Council.
2) Answer: D
Information and Broadcasting Minister Prakash Javadekar held a meeting with representatives of Over the Top, OTT industry and explained to them the provisions of the new OTT rules.
The Minister mentioned that the Government has done several rounds of consultation with the OTT players in the past and stressed the need for self-regulation.
Informing them about the provisions of the rules, Mr. Javadekar said, it merely requires them to disclose information and that there is no requirement of registration of any kind with the Ministry.
He added that a form for this will be ready soon.
It was highlighted that the rules focus on self classification of content instead of any form of censorship.
3) Answer: E
Government on 2nd March 2021 notified comprehensive amendments to the Insurance Ombudsman Rules, 2017, with a view to improve the working of the Insurance Ombudsman mechanism to facilitate resolution of complaints regarding deficiencies in insurance services in a timely, cost-effective and impartial manner.
About the amendments :
The Ombudsman mechanism was administered by the Executive Council of Insurers, which has now been renamed as the Council for Insurance Ombudsman
Earlier, the scope of complaints to the Ombudsman was limited to only disputes, but now it has been enlarged to include deficiencies in service on the part of insurers, agents, brokers and other intermediaries.
The amended rules have also enlarged the scope of complaints to the Ombudsman and insurance brokers have been brought within the ambit of the redressal mechanism.
To strengthen the timeliness and cost-effectiveness of the mechanism, policyholders will now be enabled for making complaints electronically to the Ombudsman.
The new rules notified through an official gazette also pave way for setting up a complaints management system to enable policyholders track the status of their complaints online.
Further, the Ombudsman may use video-conferencing for hearings.
4) Answer: C
The 'Made in India' optical spectrograph named as Aries-Devasthal Faint Object Spectrograph & Camera (ADFOSC) is indigenously designed and developed by Aryabhatta Research Institute of observational sciences (ARIES), Nainital.
About the Spectrograph :
The spectrograph is presently being used by astronomers from India and abroad to study distant quasars and galaxies in a very young universe, regions around supermassive black-holes around the galaxies, cosmic explosions like supernovae and highly energetic Gamma-ray bursts, young and massive stars, and faint dwarf galaxies.
It is about 2.5 times less costly compared to the imported ones and can locate sources of light with a photon-rate as low as about 1 photon per second.
This low-cost optical spectrograph can locate sources of faint light from distant quasars and galaxies in a very young universe, regions around supermassive black-holes around the galaxies, and cosmic explosions. The total cost of this instrument is nearly Rs. 4 Crore.
The spectroscope, the largest of its kind among the existing astronomical spectrographs in the country, has been successfully commissioned on the 3.6-m Devasthal Optical Telescope (DOT), the largest in the country and in Asia, near Nainital, Uttarakhand.
 5) Answer: D
On March 4 India is celebrated as National Security Day (Rashtriya Suraksha Diwas) every year, in the honor of the Indian Security Forces.
Aim :
To show gratitude to all the security forces, including policemen, paramilitary forces, commandos, guards, army officers, and other persons involved in security, who sacrifice their life in maintaining the peace and security of the people of the country.
March 4 also marks the day when the National Security Council (NSC) of India was established, in 1966 by the Ministry of Labour under the Government of India.
The first National Security Day (NSD) was held in 1972.
6) Answer: B
Union Minister Nitin Gadkari announced that the Nag River Pollution Abatement Project has been approved at a cost of over Rs 2,117 crore.
The river which flows through Nagpur city thus giving its name to the city is now a highly polluted water channel of sewage and industrial waste.
It will reduce the pollution level in terms of untreated sewage, flowing solid waste and other impurities flowing into the Nag river and its tributaries.
The project approved under the National River Conservation Plan will be implemented by the National River Conservation Directorate.
7) Answer: D
Wipro has joined the World Economic Forum's (WEF) 'Partnering for Racial Justice in Business' initiative to promote a culture of diversity, inclusion, equity and justice for people of all racial backgrounds in the workplace.
The initiative is aimed towards driving action and accountability for companies to confront racism at a systemic level, set new global standards for racial justice in business and accomplish necessary policy changes for inclusion and advancement of professionals with under-represented racial and ethnic identities, said the company in a press release.
8) Answer: E
The UN General Assembly adopted by consensus a resolution sponsored by India and supported by over 70 nations declaring 2023 as the International Year of Millets
It aimed at raising awareness about the health benefits of the grain and their suitability for cultivation under changing climatic conditions
The resolution titled 'International Year of Millets 2023' was initiated by India with Bangladesh, Kenya, Nepal, Nigeria, Russia and Senegal and was co-sponsored by over 70 nations.
The 193-member General Assembly unanimously adopted the resolution, declaring 2023 as the International Year of Millets.
In April 2016, the UN General Assembly had proclaimed the UN Decade of Action on Nutrition from 2016 to 2025, recognising the need to eradicate hunger and prevent all forms of malnutrition worldwide.
The Decade of Action on Nutrition provides an "umbrella for a wide group of actors to work together to address these and other pressing nutrition issues."
9) Answer: C
Newly formed Ladakh and Jammu and Kashmir Union Territories will have a separate cell in National Commission for Women (NCW).
The Commission's Chairperson Rekha Sharma said that by the end of this month, separate cells for the new UTs will be created.
Four days ahead of International Women's Day, Ladakh became the launching pad for the first-ever online training programme Empowering Women through Entrepreneurship.
In collaboration with IIM, Bangalore and India SME Forum, the Commission is providing online training to five thousand women entrepreneurs from across the country.
Chairperson Rekha Sharma said that NCW chose Ladakh for the occasion, to involve the women in the journey of development.
10) Answer: B
Karnataka Chief Minister B S Yediyurappa has tweeted that Bengaluru has emerged as the most livable city in India in the Ease of living Survey conducted by the Ministry of Housing and Urban Affairs.
He has said that the Bengaluru model of development of citizen centric initiatives and delivery of services have ensured this top ranking.
11) Answer: D
IPS officer Kuldiep Singh has assumed the additional charge of Central Reserve Police Force (CRPF) director general (DG).
The Ministry of Home Affairs has given Singh an additional charge of DG CRPF to Kuldiep who is a 1986 batch officer from the West Bengal cadre.
Special DG CRPF Kuldiep Singh will look after the duties of Director General, CRPF after A P Maheshwari who retired.
12) Answer: E
The State Bank of India (SBI) Mutual Funds has launched its first overseas offering on 1 March 2021.
The fund titled SBI International Access US Equity FOF is an open-ended fund of funds scheme investing in mutual fund schemes/ETFs that invest in US markets, which are domiciled overseas.
The scheme will invest 95-100 percent of its net assets generally in AmundiFunds  US Pioneer Fund (including ETFs), which invest predominantly in the US markets.
Main features of the scheme :
International diversification: Provides international diversification to the portfolio and provides investors the opportunity to invest in themes not available in the Indian market.
Lower correlation: Aids in mitigating overall risk by investing in a market that has lower correlation to Indian markets.
Currency depreciation: Provide investors the opportunity to benefit from any depreciation in the Indian currency as against the currency of the underlying fund.
Minimum Investment Amount :
The customers interested in the scheme are required to invest at least Rs 5,000 for the first time. However, for additional purchase the minimum application amount is Rs 1,000.
There is no upper cap for the investment in this fund.
13) Answer: C
Private sector lender Kotak Mahindra Bank will handle the salary account of the Indian army personnel.
The bank has signed a memorandum of understanding (MoU) with the Indian Army here for a salary account.
14) Answer: B
Bharat Petroleum Corporation Board has approved sale of its 61.65 percent stake in Numaligarh Refinery for 9,875 crore rupees.
Oil India Limited, Engineers India Ltd and Assam Government will be picking up the stake.
Government has also received Multiple Expressions of Interest for privatisation of Shipping Corporation of India Limited.
 15) Answer: C
India received the highest ever Foreign Direct Investments of over 67 billion US dollars for the first nine months of a financial year, last year.
During the period of April to December 2020, FDI equity inflow grew by 40 percent as compared to the corresponding period in the last financial year.
As per Ministry of Commerce & Industry, these trends are an endorsement of India's status as a preferred investment destination amongst global investors.
Measures being taken by the Government on the fronts of policy reforms, investment facilitation and ease of doing business have resulted in tremendous FDI inflows into the country.
16) Answer: D
Minister for Housing and Urban Affairs Hardeep Singh Puri announced the release of the final rankings of Ease of Living Index-2020 and the Municipal Performance Index-2020 in New Delhi in an online event.
The rankings under Ease of Living Index-2020 were announced for cities with a population of more than a million and cities with less than a million people.
In all, 111 cities participated in the assessment exercise that was conducted last year.
Bengaluru emerged as the top performer in the Million Plus category, followed by Pune, Ahmedabad, Chennai, Surat, Navi Mumbai, Coimbatore, Vadodara, Indore and Greater Mumbai.
In the Less than Million categories, Shimla was ranked the highest in ease of living, followed by Bhubaneshwar, Silvassa, Kakinada, Salem, Vellore, Gandhinagar, Gurugram, Davangere and Tiruchirappalli.
Similar to the Ease of Living Index index, the assessment framework under Municipal Performance Index-2020 has classified municipalities based on their population, Million plus and less than Million Population.
17) Answer: E
Six-time world champion pugilist Mary Kom has been appointed as the Chairperson of the International Boxing Association's (AIBA) champions and veterans committee.
The Committee, formed in December last year, consists of most respected worldwide boxing veterans and champions who have achieved significant results and who are ready to share their experience.
AIBA President Umar Kremlev said this in a letter to the 2012 Olympic bronze-medallist. Mary Kom was elected by the Board of Directors of AIBA.
18) Answer: C
India captain Virat Kohli has recorded another century, albeit not on the pitch this time, as he became the first cricketer in the world to have 100 million followers on social media platform Instagram.
The 32-year-old Kohli is also the first person in the Asia-Pacific region to achieve the feat.
Kohli is also the fourth most followed sportsperson on Instagram.
Portugal football star Cristiano Ronaldo tops the chart with 265 million followers, ahead of Argentina football captain and FC Barcelona legend Lionel Messi and Brazil's Neymar, who are second and third in the list with 186 million and 147 million followers respectively.
The others in the 100 million club are Hollywood actor and former pro-wrestler Dwayne (The Rock) Johnson, American singer-songwriter Beyonce, and Ariana Grande. Kohli, regarded as the one of the best batsmen in the world, has 27 centuries in Test matches and 43 tons in ODI cricket.
For over two years now, Kohli has been the most followed person on Instagram in India.
19) Answer: B
The 30th Bihari Puraskar for 2020 will be given to MohankrishnaBohara for his Hindi book of Criticism, titled Taslima: Sangharsh aur Sahitya.
The K.K. Birla Foundation announced this in New Delhi.
The book was published in 2016.
About Bihari Puraskar
Bihari Puraskar carries an award money of two lakh 50 thousand rupees, a Citation and a Plaque. The award is one of the three literary awards instituted by the K.K. Birla Foundation in 1991.
Named after famous Hindi poet Bihari, the award is given every year for an outstanding work in Hindi or Rajasthani published in the last 10 years by a Rajasthani writer.
20) Answer: C
Mumbai City FC beat ATK Mohun Bagan 2-0 and finished at the top of the ongoing Indian Super League, thereby clinching the ISL League Winners Shield and securing a spot in the 2022 AFC Champions League.
The finals of the ISL was held at the GMC Stadium in Goa on February 28, 2021.
Mumbai City FC, coached by Sergio Lobera, is one of the eight clubs worldwide whose majority stakes are owned by City Football Group (CFG). Manchester City, a top side in the English Premier League, is the flagship club of the CFG.
In 2019, Mumbai City sold 65 percent of its stake to CFG whose majority stakeholders are Abu Dhabi United Group.
21) Answer: D
On Feb 25 to 28, 2021, Indian shuttlers Varun Kapur and MalvikaBansod registered hard-fought wins to clinch the men's and women's singles titles respectively at the 2021 Uganda International in Kampala.
Varun beat his Indian counterpart Sankar Muthusamy, 21-18 16-21 21-17 to win the men's singles final.
Meanwhile Malvika won 17-21 25-23 21-10 over compatriot Anupama Upadhyaya in the women singles summit clash.