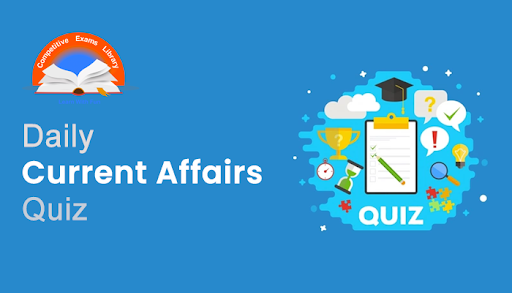 Dear Readers, Daily Current Affairs Questions Quiz for SBI, IBPS, RBI, RRB, SSC Exam 2021 of 06th March 2021. Daily GK quiz online for bank & competitive exam. Here we have given the Daily Current Affairs Quiz based on the previous days Daily Current Affairs updates. Candidates preparing for IBPS, SBI, RBI, RRB, SSC Exam 2021 & other competitive exams can make use of these Current Affairs Quiz.
1)  PM Modi recently paid tribute to _____ Birth Anniversary of former Odisha CM Biju Patnaik.
A) 100
B) 105
C) 103
D) 102
E) 101
2)  Union Education Minister has announced opening of ____ new KVs in Punjab and Karnataka.
A) 6
B) 5
C) 2
D) 3
E) 4
3) Combined Commanders' Conference has started in which of the following states recently?
A) Bihar
B) Gujarat
C) Madhya Pradesh
D) Haryana
E) Chhattisgarh
4)  Which of the following company has decided to sell products on the Government e-Market portal?
A) Paytm
B) Flipkart
C) Amazon
D) Snapdeal
E) IMPCL
5)  SpaceX successfully has recently tested which of the following rocket recently?
A) SN14
B) SN13
C) SN10
D) SN11
E) SN12
6) Who among the following will hold a virtual summit with his Swedish counterpart Stefan Löfven?
A) Nirmala Sithraman
B) Narendra Modi
C) NS Tomar
D) Prahlad Patel
E) Nitin Gadkari
7)  Which of the following nations has launched the national app portal?
A) Myanmar
B) Philippines
C) Thailand
D) Vietnam
E) Bangladesh
8)  Udaipur Science Centre has recently been inaugurated at Udaipur, Tripura by who among the following?
A) GC Murmu
B) Ramesh Bains
C) Prahlad Patel
D) Amit Shah
E) NS Tomar
9)  Which station has recently become the first railway station to get IGBC Gold Certification?
A) Surat
B) Chandigarh
C) Patna
D) Mumbai
E) Delhi
10) Which armed force has launched the Community Radio Station?
A) CRPF
B) Territorial Army
C) Indian Army
D) ITBP
E) CISF
11) Which state government has launched an engineering research policy?
A) Uttar Pradesh
B) Haryana
C) Madhya Pradesh
D) Bihar
E) Karnataka
12) Which State Government has launched an online registration portal for migrant workers?
A) Manipur
B) Mizoram
C) Meghalaya
D) Nagaland
E) Tripura
13)  The World Bank has planned a_____ guarantee scheme for solar rooftop projects.
A) 150
B) 100
C) 120
D) 130
E) 140
14)  Which of the following companies recently changed its app icon?
A) Snap
B) Uber
C) Amazon
D) Ola
E) Snapdeal
15) India signs pact with which country for supply of BrahMos missile?
A) Malaysia
B) Laos
C) Thailand
D) Philippines
E) Vietnam
16) Manpreet Vohra has been Appointed India's High Commissioner To which country?
A) Thailand
B) Vietnam
C) Myanmar
D) Philippines
E) Australia
17) PNB Housing Finance has signed a strategic co-lending pact with which bank?
A) PNB
B) ICICI
C) Yes
D) Axis
E) SBI
18)  Which of the following Cricketer has been appointed as brand ambassador of Glenmark Pharma?
A) Ashok Dinda
B) Rohit Sharma
C) Virat Kohli
D) MS Dhoni
E) Hardik Pandya
19) Who among the following will receive the CERAWeek Global Energy and Environment Leadership Award?
A) Nirmala Sitharaman
B) Anurag Thakur
C) NS Tomar
D) Prahlad Patel
E) Narendra Modi
20)  Which company has bagged the ICOTY 2021 and Tata Nexon EV bags Green Car award?
A) Mahindra Thar
B) Hyundai Creta
C) Hyundai i20
D) Honda City
E) Toyota Innova
21) QS World University Rankings has ranked ______Indian Institutions on securing position in top 100.
A) 16
B) 12
C) 13
D) 14
E) 15
Answers:
1) Answer: B
Prime Minister Narendra Modi paid tributes to former Chief Minister of Odisha Biju Patnaik on his 105th Birth Anniversary(5th March).
Mr Modi said, Biju Babu's futuristic vision for India, emphasis on human empowerment as well as social justice inspires us all.
He said, the nation is proud of his efforts for Odisha's progress.
2) Answer: C
Education Minister Ramesh Pokhriyal 'Nishank' announced opening of two new Kendriya Vidyalayas in Karnataka and Punjab.
KV Sadalaga, Belagavi, in Karnataka and KV IIT Ropar in Punjab will be two new additions to Kendriya Vidyalaya Sangathan.
With this, the total number of KVs across the country will rise to 1247.
Initially, these two Vidyalayas will function with classes I to V and grow consequentially upto class XII.
When these Vidyalayas start functioning in full capacity, around 1000 students of the area will be benefited in each school.
The Admission process in both the Vidyalayas will start in the academic session 2021-22.
3) Answer: B
A three-day Combined Commanders' Conference will begin at Kevadia in Gujarat.
Theaterisation of armed forces, self-reliance in the defence sector and evolving threats in the region will be the focus areas during the three-day annual event.
Defence Minister Rajnath Singh will address the top commanders of the Indian Army, Navy and Air Force.
During the conference, the setting up a new air defence command and maritime command is likely to be discussed at length.
Implementation of the air defence command timeline is also likely to come up for discussion.
The formation of theatre commands will synergise the capabilities and combat potential of the three forces during war and peace
4) Answer: E
Indian Medicines Pharmaceutical Corporation Limited (IMPCL) will sell products on the Government e-Market (GeM) portal.
The IMPCL and GeM has finalised a deal in this regard and now the Ayurvedic and Unani medicines of IMPCL will figure on the GeM portal to hundreds of government sector buyers.
This will facilitate quick procurement of these medicines by Central and State Government institutions for their healthcare programmes.
It will also help to streamline the procurement and distribution of Ayurvedic and Unani medicines by State Units.
The thousands of patients and other clients who visit Government Ayush hospitals every day stand to gain because of this increased availability of such medicines even in far-flung Ayush Hospitals and Clinics.
The GeM has created 31 categories covering 311 medicines which live in the marketplace and IMPCL can now upload these medicines on GeM Portal.
IMPCL, the 100 crore rupees turnover PSU of the Ministry of AYUSH, is one of the most trusted manufacturers of Ayush medicines in the country and is known for the authenticity of its formulations.
5) Answer: C
SpaceX successfully tested its Starship SN10 prototype rocket after two recent failed attempts.
The rocket prototype was launched to an altitude of 10,000 kilometers and then landed back on the ground. However, the rocket exploded about six minutes after landing.
The test launch is deemed successful because the goal was to gather information on how the flaps work to control the rocket when it is horizontal as it is falling back to earth.
The SN10 is an early prototype of the Starship Mars rocket of SpaceX which aims to get people and payloads to the moon, Mars and other distant destinations.
This rocket is also a part of the company's strategy to phase out its other flight hardware including, the Falcon 9 and Falcon Heavy rockets and Dragon cargo and crew capsules, and let Starship shoulder the entire load.
6) Answer: B
Prime Minister Narendra Modi will hold a virtual summit with his Swedish counterpart Stefan Löfven.
This will be the fifth interaction between the two leaders since 2015.
India and Sweden have warm and friendly relations based on shared values of democracy, freedom, pluralism and rules-based international order.
During the Summit, the two leaders will hold comprehensive discussions on the entire spectrum of the bilateral relations and exchange views on regional and global issues including further strengthening of cooperation in the post-COVID era.
Around 250 Swedish companies are actively operating in India in various sectors such as health and life sciences, auto industry, clean technology, defence, heavy machinery and equipment. Around 75 Indian companies are also active in Sweden.
7) Answer: E
The Government of Bangladesh has launched its national app portal bdapps.com.
The agreement between the ICT division of the government of Bangladesh and the telecom company Robi was signed in Dhaka.
Through this agreement, BDApps will be established as the hub of the ICT division for application developers.
Under the agreement, the ICT division will collaborate with bdapps to organise exclusive boot camps and software development events in the country.
Launching the app portal as the national app portal, ICT minister Zunaid Ahmed Palak said that app developers from any organisation can use this platform to upload their apps.
He said that the ICT division will seek exemption on income tax for the developers and the abolition of VAT on apps.
The minister announced that training facilities of the ICT department will be extended to developers seeking to put their apps on the portal.
BDApps is the largest mobile application platform in Bangladesh hosting more than 23,000 apps developed by 12,000 developers.
8) Answer: B
The Udaipur Science Centre, at Udaipur, Tripura was dedicated to the people by the Governor of Tripura, Shri Ramesh Bais on 28th February 2021.
The Udaipur Science Centre has been developed at a cost of Rs 6 crore funded jointly by the Ministry of Culture, Government of India and Department of Science, Technology and Environment, Tripura Government and with this; National Council of Science Museums (NCSM) has now set-up science centres in all the north eastern states
It is the 22nd Science Centre which has been developed by NCSM and handed over to the State Governments under the Ministry of Culture's Scheme for Promotion of Culture of Science
It is funded jointly by the Ministry of Culture, Govt. of India and Dept. of Science, Technology & Environment, Government of Tripura and with this; NCSM has now set-up science centres in all the north eastern states.
9) Answer: D
Chhatrapati Shivaji Maharaj Terminus Railway Station of Central Railway is the first railway station in Maharashtra to be awarded with Gold certification as per CII's Indian Green Building Council (IGBC) ratings.
The rating system gives impetus to the national priorities like energy efficiency, water conservation, handling of waste measures and motivates the adoption of green standards for buildings and its environment.
Central Railway has implemented various green initiatives across its zone, with plantations creating green areas, installation of solar panels, customer-friendly initiatives at many stations, LED bulbs and lights etc.
10) Answer: C
The first of its kind in North Kashmir, Community Radio Station with the tagline "Radio Chinar 90.4, Har Dil Ki Dhadkan" was inaugurated 04 Mar 2021 by the Indian Army for the Awam in Mazbugh, Sopore.
The Radio Station was inaugurated by Lt Gen BS Raju, General Officer Commanding Chinar Corps in presence of Maj Gen HS Sahi, General Officer Commanding Kilo Force and various Army and civil dignitaries.
The reach of the Community Radio Station will be Sopore, Bandipora and Baramulla Districts.
This Community Radio Station has been started with an aim to revitalize the connection within different segments of the community.
This will provide a good platform for a community dialogue, sharing of information, art & culture.
It will build a community environment, which is better connected with issues which are local and important to the community.
11) Answer: E
The Karnataka government has launched the country's maiden Engineering Research & Development (ER&D) Policy to raise its contribution to the sector in the country to 45% in the next five years.
The new policy envisages creation of an additional 50,000 jobs.
According to industry apex body Nasscom, ER&D has the potential to become a $100-billion industry in the country in the next five years.
The new policy, drafted jointly by the Department of Electronics, IT, Biotechnology and Science and Technology, Karnataka Innovation and Technology Society, and Nasscom in consultation with industry stakeholders
It has identified five key focus sectors such as
aerospace and defence;
auto, auto components and EV;
biotechnology, pharma and medical devices;
semiconductors, telecom, ESDM;
software products.
12) Answer: C
In Meghalaya, the State Government launched the online registration portal for migrant workers under the Meghalaya Identification Registration (Safety and Security) of Migrant Workers Act 2020, in a function organized by the Labour Department in Shillong.
Launching the portal, Deputy Chief Minister Prestone Tynsong said, the online portal will improve the ease of doing business.
He urged all stakeholders to utilize the portal so that a record of genuine migrant labourers or workers is maintained in the State.
He said, this move is crucial for the development of the State as labour forces from other parts of the country are required to complete projects of different departments.
He reiterated that only those migrant workers/labourers who fulfil various criteria stated under the Act, will be issued with a labour license.
13) Answer: B
The World Bank plans to introduce a $100-million credit guarantee scheme to boost India's rooftop solar programme.
The scheme will allow micro, small, and medium enterprises (MSMEs) to avail concessional debt financing for setting up rooftop solar units.
The World Bank scheme, along with State Bank of India (SBI) and the MSME ministry to accelerate adoption of rooftop solar units, will help MSMEs access credit of around $1 billion.
The arrangement will be beneficial for the firms that often do not meet the lending criteria of banks and other financial institutions, with their financial woes being exacerbated by the covid-19 pandemic.
14) Answer: C
E-commerce Company Amazon has renewed its iOS and Android app icon again.
According to Mashable, a month ago, the company introduced a new icon for its mobile apps, replacing the old 'shopping cart' icon with one that combined Amazon's smile logo and a blue adhesive tape strip on a brown background, as a nod to Amazon's shipping boxes.
The problem with that design, apparently, was that the adhesive tape strip looked a bit too much like the moustache of Adolf Hitler, which was noticed on social media.
The new design is very similar, but the adhesive tape strip has been redesigned to look nothing like a moustache.
15) Answer: D
India and the Philippines have signed a key agreement to facilitate government-to-government deals on military hardware, including the potential supply of BrahMos cruise missiles.
The BrahMos missile is produced by an India-Russian joint venture "BrahMos Aerospace" and it can be launched from submarines, ships, aircraft or from land platforms.
The pact was signed by under-secretary Raymundo Elefante of the Philippines' department of national defense and Indian ambassador Shambu Kumaran at Camp Aguinaldo, headquarters of the Filipino armed forces
It is the fastest supersonic cruise missile in the world.
Currently the missile is used only by India, however several countries including Philippines, Vietnam, South Africa, Egypt, Oman, Chile and Brunei have expressed interest in the procurement of the missile.
Current Affairs : Appointments
16) Answer: E
Senior diplomat Manpreet Vohra has been appointed as India's next High Commissioner to Australia, the Ministry of External Affairs
Mr Vohra, a 1988-batch Indian Foreign Service (IFS) officer, is presently Ambassador of India to Mexico.
He is expected to take up the assignment shortly.
Mr Vohra's appointment comes at a time India-Australia ties are at an upswing and the two countries are stepping up cooperation particularly in the Indo-Pacific region.
17) Answer: C
PNB Housing Finance said it has tied up with Yes Bank for a strategic co-lending service that will facilitate retail home loans at competitive rates.
PNB Housing Finance said in a regulatory filing that PNB Housing and Yes Bank will synergise capabilities to provide an efficient and seamless experience to existing and new retail home loan customers.
It added that this strategic co-lending agreement will offer "convenient and customised retail loans to homebuyers at competitive interest rates".
PNB Housing and Yes Bank will jointly do due diligence and co-originate the loan at an agreed ratio.
18) Answer: B
Drug major Glenmark Pharma said it has signed cricketer Rohit Sharma as brand ambassador for its product Candid Powder.
The company said in a statement that Sharma has "officially signed on to represent Glenmark's Candid Powder, a legacy brand of the company's consumer care division".
19) Answer: E
Prime Minister Narendra Modi will receive the CERAWeek Global Energy and Environment Leadership Award.
He will also deliver a keynote address at the Cambridge Energy Research Associates Week -2021 via video conferencing.
CERA Week was founded in 1983 by Dr. Daniel Yergin.
CERA Week Global Energy and Environment Leadership Award was instituted in 2016.
It recognizes the commitment of leadership on the future of global energy and environment and for offering solutions and policies for energy access, affordability and environmental stewardship
20) Answer: C
The Tata Nexon EV won the inaugural Green Car award.
Hyundai i20 has won the 2021 Indian car of the year award (ICOTY).
The third-gen hatchback was amongst the nine contenders competing for the most esteemed car award in the country.
Tata Nexon EV claimed the top honour in its category with 106 points, followed by Hyundai Kona with 99 points, and the MG ZS EV in third with 93 points.
21) Answer: B
Union Education Minister Ramesh Pokhriyal 'Nishank' has congratulated 12 Indian Institutions on securing a position in top 100 in the QS World University Rankings by Subject 2021.
These institutions are IIT Bombay, IIT Delhi, IIT Madras, IIT Kharagpur, IISC Bangalore, IIT Guwahati, IIM Bangalore, IIM Ahmedabad, JNU, Anna University, University of Delhi, and O P Jindal University.
IIT Madras has been ranked 30th in the world for Petroleum Engineering, IIT Bombay has been ranked 41st and IIT Kharagpur has been ranked 44th in the world for Minerals and Mining Engineering, and University of Delhi has been ranked 50th in the world for Development Studies.